---
March 24, 2009 5:10 PM
"Ada Lovelace"
,
"geek girls"
,
"role models"
,
AdaLovelaceDay09
,
Computing
,
Gaming
,
school
,
Women
When I was a little girl, I wanted to be, variously, a singer, a bestselling author, a teacher, and a veterinary surgeon. Around the age of 10, thanks to an inspirational teacher in my last year at junior school, I added to that list mathematician and computer programmer. Milk bottle...
March 24, 2009 12:45 PM
"Ada Lovelace Day"
,
"Computer Weekly"
,
"women in IT"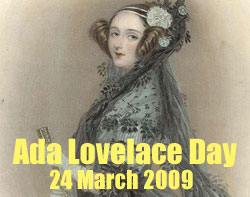 Got your copy of this week's issue of Computer Weekly? Then you'll already be aware that
---
March 24, 2009 8:45 AM
"katharine berry"
,
AdaLovelaceDay09
,
ajaxlife
As part of the Finding Ada Day celebration, I'm taking part in the pledge to write a post about a woman in Technology I admire.


AjaxLife is a web based service that allows you to log into the Second Life Client, access your friends list and chat...
---
March 23, 2009 5:51 PM
"Ada Lovelace"
,
"role models"
,
AdaLovelaceDay09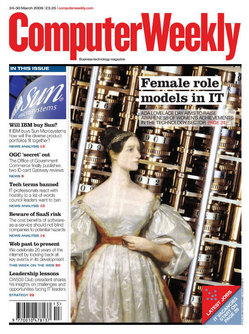 ---
March 12, 2009 11:43 AM
"UKRC SET annual conference"
,
#ukrc
,
Women in Technology
Today's the date of the 2009 annual conference from the UK Resource Centre for Women in Science, Engineering and Technology. Unfortunately I didn't discover this in time to attend (note to self - must set aside some research time to ensure I don't...
---
March 11, 2009 11:22 AM
"Ada Lovelace"
,
IT
,
Liskov
,
Turing
,
Women
I'm really pleased that my first post to this blog is to tell you about the work of a woman who has had a huge impact on computing during her career.
Barbara Liskov, an MIT Professor, who is head of the Programming Methodology Group in the Computer Science department , and the Artificial...
---
---