---
November 18, 2009 5:20 PM
The Professional Developers Conference is taking place in Los Angeles this week, and to no surprise, the Microsoft keynotes were all about the cloud. As we heard from Brent Ozar last month, developers are the company's targets for its current and upcoming slate of cloud-based technologies, so what better place to show them off than PDC?
The crux of this of course is Microsoft's Azure and SQL Azure programs, which will be available as a paid service starting Jan. 1, 2010. While much of the new improvements surrounding SQL Azure were already talked up during the PASS Community Summit earlier this month, there were also a few new Microsoft cloud developments that made news this week.
Continued »
November 11, 2009 9:00 PM

While Windows Server 2008 R2 has certainly gotten its fair share of attention over the past year, it's hard to argue that it still hasn't been somewhat overshadowed by the hype surrounding Windows 7. After all, even Microsoft has dubbed it "Windows 7 Server" on occasion.
The new server OS is getting it's due this week, however, at Tech-Ed Europe 2009 in Berlin. During the opening keynote, for example, R2 was featured prominently. Mary Jo Foley at ZDNet wrote a piece about this very subject, with details on some of the new R2 features Microsoft is touting.
Some of these enhancements underscore the fact that Windows is continuing to become greener and greener, which is evident by the operating system's increased efficiency and power consumption improvements. Since this is one area that can have a direct (and potentially immediate) effect on the bottom line, it's no surprise that Microsoft is shining a light on it this week.
Continued »
---
November 6, 2009 3:27 PM
UPDATE! (06/22/2010)
And there you go. Exchange 2007 SP3 is now available with Windows 2008 R2 support.
UPDATE! (06/15/2010)
The SP3 for Exchange Server 2007 will be available by the end of June with added R2 support, though Microsoft still recommends that those who have yet to install 2007 should opt for Exchange 2010 instead.
UPDATE! (12/03/2009)
Microsoft has officially announced that support on R2 will not be ready until Exchange Server 2007 SP3 is released late next year.
ORIGINAL POST (11/06/2009)
Who says peer pressure is a bad thing?
Over the summer it was reported that Windows Server 2008 R2 would be out in October — without native support for Exchange Server 2007. Needless to say, this decision had many customers calling for Microsoft's heads mildly dismayed.
Well guess what? The people have prevailed.
Continued »
---
November 3, 2009 9:15 PM
The PASS Community Summit 2009 is being held in Seattle this week, and naturally a lot of attention is being given to Microsoft's upcoming database releases, particularly SQL Server 2008 R2.
We've been doing a lot of PASS coverage recently, but for those interested, here are some quick hits on a few of the more noteworthy topics:
Continued »
---
October 28, 2009 6:28 PM
Just days after the official release of Windows 7 and Windows Server 2008 R2, Microsoft has now made its new Windows Management Framework (WMF) available as well. The major component here is PowerShell 2.0, which is supported out-of-the-box for the two new operating systems. The download also includes WinRM 2.0 and BITS 4.0.
As Microsoft's Lee Holmes said in a recent blog post, the Windows Management Framework provides "a consistent management interface across the various flavors of Windows." What he means is that in addition to Windows 7 and Server 2008 R2, PowerShell 2.0 remoting can now also be used to manage machines running Windows XP, Vista, Server 2003 and Server 2008.
Continued »
---
October 26, 2009 3:15 PM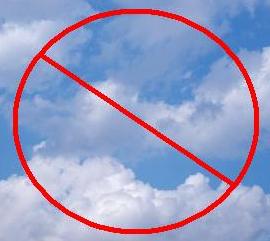 It seems the biggest reservation people have when it comes to the cloud involves the added security risks – the whole idea that "you can't control what you can't see." But is that really the case, or is it more of a knee-jerk reaction from those unfamiliar with the cloud?
Last week I spoke with John Welch about how data warehousing fits into a cloud-based model. Welch is a chief architect with North Carolina-based business intelligence consulting firm Mariner, and he's scheduled to speak at PASS 2009 on BI and cloud computing.
During our conversation, I asked him a general question about whether he thought the security risks associated with the cloud are myth or reality. Here's what he had to say:
Continued »
---
October 19, 2009 5:32 PM
General availability for Windows Server 2008 R2 and Windows 7 is just around the corner, and while most organizations won't upgrade to both at the same time, there are some compelling reasons to run them together.
This month, IT author, speaker and consultant Greg Shields calls in to discuss some of the best reasons to use the two new operarting systems as a tandem, and shares some of his favorite Windows 2008 R2 features.
---
October 14, 2009 7:45 PM
For Windows admins, there's always something to fix. In a recent SearchWindowsServer.com survey, over 800 IT administrators and managers named troubleshooting as far and away their most time-consuming task.
Nearly half of respondents ranked it number one (47%), followed by provisioning and configuration (37%), performance tuning (37%), backup and recovery (32%) and migrations (29%).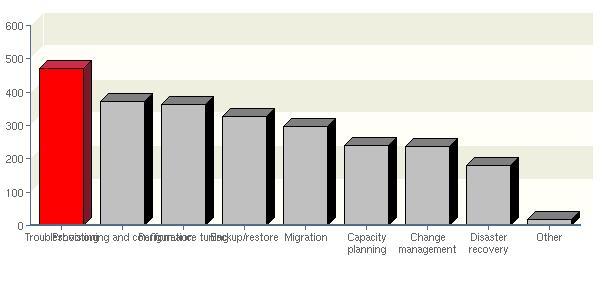 While these results are far from shocking, it doesn't make them any less true. Here is a small collection of really great troubleshooting tips for a variety of common issues that will hopefully help speed up the process.
Continued »
---
October 9, 2009 8:08 PM
Lots going on in the world of Windows this month, as you might expect. Here's a roundup of some of the top news from this past week:
Forget Live Migration; AD is king in R2
While most of the attention around Windows Server 2008 R2 has been given to Hyper-V enhancements and brand new features like Direct Access, when it comes right down to it, Active Directory is still No. 1 on the priority list for admins.
Continued »
---
October 5, 2009 7:31 PM
Windows Server 2008 R2 and Windows 7 aren't the only new releases Microsoft has on tap this month. The new Microsoft Desktop Optimization Pack 2009 R2 (usually pronounced emm-DOP) will be out by late October, with enhancements for Group Policy and application virtualization.
The new pack will include Windows 7 support for nearly all of its components, including Advanced Group Policy Management 4.0 (AGPM), which will also support Windows Server 2008 R2.
Continued »
---