Mar 3 2014 11:08AM GMT

Profile: Ed Tittel
The Web's been abuzz with rumors of a low-cost/no-cost version of Windows 8.1 that could be offered as an "upgrade" to Windows 7 users who might otherwise be disinclined to migrate to Windows' upcoming Update 1 release scheduled for April 8 or thereabouts. Outlets as varied as TheVerge and Forbes have reported on this phenomenon, but Russian überleaker WZOR scores BIG with his leak of a EULA screen for "Windows 8.1 with Bing"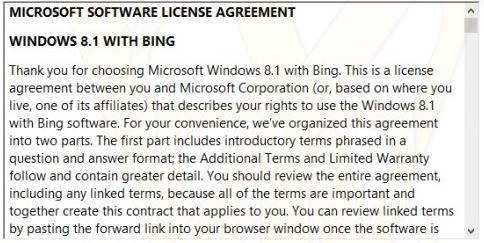 How convincing is a "possible EULA" for Windows with Bing? You decide…
Rumor has it that Windows 8.1 with Bing may be offered for free or a nominal cost, and made available to OEMs dirt-cheap, to encourage uptake of the upcoming Windows 8.1 Update 1 release scheduled for April, 2014. Forbes also reports that this version would include some form of Microsoft Office (I'm guessing Home and Student, through a one-year online subscription), Skype, and, of course, OneDrive (formerly known as SkyDrive). Charley Blaine at Forbes hits the "what's wrong with this picture?" button perfectly with the following observation, though (emphasis mine):
It's not clear if "Windows 8.1 With Bing"  will ever exist in a commercial form. Some pieces of the idea don't really make sense for a company that monetizes as much of its software as it can.
This adds additional interest and zest to monitoring the rumor mill for Windows 8.1 Update 1, though. It should be very interesting to see how this plays out when April 8 (the consensus date for the Update 1 release to drop) rolls around no so very long from now.