Mar 24 2014 11:13AM GMT

Profile: Ed Tittel
I saw with some interest this morning that Paul Thurrott is nearing completion of his Windows 8.1 Field Guide, a real e-book bargain at a mere $2 (though the actual amount you pay is up to you, and could be more or less, as you might choose: I used PayPal to fork over the $2 default price myself). After buying the book, however, I found myself faced with a bit of a conundrum: I downloaded the .mobi version of the book, expecting to be able to launch it in Kindle with a simple double-click after depositing it in the directory of my choice. If only it had been that easy…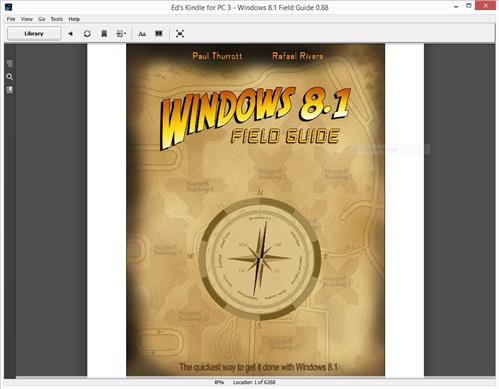 The book is (almost) done, but how to read it on Kindle in Windows 8.1?
First try: Windows 8 Kindle Reader
Because I'm running Windows 8.1 I assumed that having installed the Kindle reader for Windows 8 I'd be able to access the book immediately through the app. But after trying the double-click on the file, I got the "choose an App" dialog box from the OS rather than an immediate launch of the program. After I found myself unable to successfully penetrate the mysteries of the .../Program Files/WindowsApps folder, to target the Kindle app directly (I need to spend some time fooling around with this to see if there's a way to do this when an item like the Kindle app fails to show up on the list of available apps that Windows presents by default), I realized this wasn't going to be as easy as I'd thought. Some poking around online quickly convinced me that there's no easy way to do this with the Windows 8 version of the Kindle reader, so following suggestions from other trailblazers who walked this path ahead of me I "downgraded" to the Windows 7 version of the Kindle reader instead.
Second try: Windows
At last, I found myself with a version where I could access the built-in controls, upon which I learned that the easiest way to access any Kindle document is to copy it into the .../Documents/My Kindle Content folder. Once I accomplished this feat (which required me to do some additional online spelunking to identify the default repository for "local content" in Kindle parlance), I was finally able to access the book inside the Kindle reader.
While it's absurdly easy to synch with the Amazon cloud to access books purchased from that company, sliding reading material into the reader acquired from other sources — such as Mr. Thurrott's interesting-looking book — takes a little more ingenuity. When it comes to making things work in Windows, I've learned there's nearly always some way to accomplish one's reasonable goals, but it's not always as obvious or straightforward as one might hope or wish. And so it goes…