Dec 24 2018 11:45AM GMT

Profile: Ed Tittel
Tags:
On November 19, I wrote a blog post about an "interesting" UI issue in Event Viewer. On some PCs, its pulldown menus didn't work properly unless the display on which the tool runs was set to 100%. Because the Win10 default for True HD and higher resolution monitors is 125%, this means the program may not work properly unless jiggered with. Now, it seems, the same phenomenon also affects Task Scheduler. In fact, Win10 Task Scheduler pulldown menus fail under those very same circumstances on some PCs.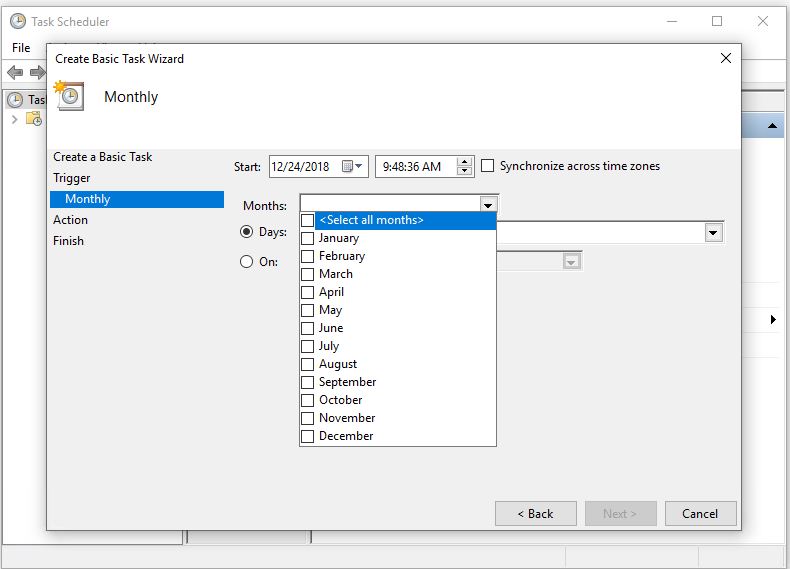 Unless this display on which the pane appears is set to 100%, that list of months is absent. I was able to replicate this on some 1809 (Build 17763.195) and 19H1 (Build 18305.1003) PCs.
[Click Image for Full-Sized View.]
If Win10 Task Scheduler Pulldown Menus Fail, What Else?
If you look at properties for both Event Viewer and Task Scheduler, you'll see that they are Microsoft Console (.msc) files. Furthermore, you can find at least 44 such files in the C:\Windows\System32 folder. Just for grins I did a random sampling of those files, including tools I know well. I looked at Device Manager, Local Security Policy, Group Policy Editor, Services, Certificate Manager, Performance Monitor, Reliability Monitor, Disk Management, and more.
None of those other consoles suffered from the pulldown menu fail at alternate resolutions. In some cases, that was because they didn't use pulldown menus much, or at all. In other cases, pulldown menus worked as they should. Thus, I'm not able or willing to assert that this issue is more general than it appears. In other words, AFAIK only Event Viewer and Task Scheduler appear subject to this gotcha.
That said, when using a different Windows Console if you find yourself unable to access pulldown menus in the future, you might want to try changing your display resolution to 100%, at least temporarily. It might just cure what ails ya!
On the other hand, your PC(s) may not be subject to this gotcha. When I reported this to my friend and business partner Kari Finn, he was unable to repeat this issue on either a 4K display or a 1920×1080 Full HD display, at any resolution. He tried 100%, 125%, 150% and 175% and it worked fine for all of them. Apparently this is a hit-or-miss gotcha. If it doesn't hit you (or your PCs), no worries. If it does, you know what to do: reset display resolution to 100% long enough to do what you must, after which you can revert to whatever you like.