Feb 21 2014 11:19AM GMT

Profile: Ed Tittel
The word has been out for a few days now that MS has refreshed (and renamed) its cloud storage offering. What was SkyDrive on Windows 8 devices may now be replaced with OneDrive instead (download link). After installation, the SkyDrive icons and naming remain present on Windows 8 devices (except for smartphones that run Windows 8 Phone), so don't be surprised when you jump into File Explorer afterwards and see the old nomenclature still present. The only thing that changes for desktop, notebook, or tablet users, really, is what's on the cloud side of the SkyDrive/OneDrive connection and that's where the new look and naming come into play.

The logo still looks more or less the same, but the name has definitely changed.
To add some interest to this makeover, MS is offering extra free storage to those who add their camera rolls to the OneDrive environment, and also to those who invite their friends to sign up for OneDrive service (at 500 MB per successful invite, up to 5 GB altogether). To add a camera roll, you must download the OneDrive app to your smartphone or tablet, then backup your camera roll (or Photos, or whatever it's called) to your OneDrive/SkyDrive storage (by default, this goes into a folder named "Pictures"). The Camera Roll bonus adds 3 GB to your overall storage. Here's what mine looks like after jumping through these various hoops (I got onto SkyDrive early enough to get the 25 GB allotment for early adopters):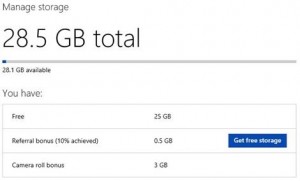 Up to 8 GB of added storage is available for free to those who recruit 10 friends, and backup their camera rolls.
I'm a little disappointed to understand that the Windows 8 desktop doesn't change as a result of going through the upgrade to OneDrive. The only real tangible evidence of the change that I can see is when logging into OneDrive on the Web, and on my iPhone, where I now have a OneDrive app that I can use any time I like.