---
January 22, 2014 10:12 AM
Anybody who's been reading this blog for awhile knows I have a fondness for helpful Windows utilities of interest to admins, power users, and others who must make Windows behave properly on a day-to-day basis. Ditto, long-time readers will know that I have great regard and respect for the former Sysinternals utilities from Mark Russinovich and Bryan Cogswell. That's why I'm very pleased to report that yesterday witnessed an update to the already-stellar Windows Sysinternals Disk2vhd utility, now available in version 2.01 dated 1/21/2014. The program works with MS Virtual PC or Hyper-V with equal facility, and will take any physical disk and create a virtual hard disk (VHD) analog for use in a Microsoft Virtual Machine (VM). The utility will work on any version of Windows from XP SP2 to 8.1 on the client side, and any Windows Server version from 2003 and up.

That's a whole lotta functionality out of 873 KB (compressed) worth of code! (Click the image to launch the download)
I find this utility incredibly useful for turning existing Windows installations into VHDX files I can then run as virtual machines later on, inside a newer or clean and pristine Windows install running on the same hardware. That way, if I left anything important behind in the files on that older system/boot disk, I can launch it in a VM and grab what I need later on, which confers great piece of mind when moving up from or replacing any Windows installation. Disk2vhd will do likewise for you, and a whole lot more, if you let it. Grab your free copy now!
January 20, 2014 10:47 AM
Unusually attentive owners of Microsoft's Surface Pro 2 might have noticed a partial, out of band firmware update for the Surface Pro 2 this weekend (Saturday, January 18). Mary Jo Foley reports on ZDnet that some users remarked on Twitter and the Surface Forums that MS pushed a 4.2 MB firmware update that day, well after this month's Patch Tuesday on 1/14. Here's a partial screen snippet from that Surface Forums posting:

Unusual to see updates issued over a weekend, more so to see a much-awaited fix trickled into the field sans fanfare.
Further investigation indicates that the firmware patch is not comprehensive, but seems to address the unscheduled wake and battery drain problem reported for the December, 2013, firmware patch released 12/10, then pulled later that month when users reported battery life problems following in its wake.
Foley contacted MS for comments about the update's content and coverage and received this reply (quoted verbatim from her 1/19 story):
"This weekend we released an update that addresses the unexpected wake and battery drain behavior experienced by a small number of Surface Pro 2 customers who installed the December Windows Update. This should have no impact on customers who had not received the December update. We are working hard to deliver the rest of the December update to those customers who had not received it prior to it being removed from distribution."
Also according to Foley, some users reported no problems with Wi-Fi, Bluetooth, stylus/pen or the Type Cover 2 after the patch was installed, but that others indicated issues with cold booting with a microSD card in the card reader still showed "excessive CPU consumption issues." It seems MS still has some firmware work to do for the Surface Pro 2, and there's no word yet on when this firmware update will be pushed out through normal Windows Update channels. Stay tuned for more news as it becomes available.
[Note added 1/22/2014: Paul Thurrott has a must-read commentary on the Surface 2 and Surface Pro 2 firmware updates on his Supersite. Entitled "Surface Firmware Update Fracas," it's definitely worth a read, and adds more interesting details to this whole saga or debacle, if you agree with many owners' assessments of how MS has handled the whole situation since the inital update appeared on 12/10, only to be yanked from the site a week to ten days later… Find this story at http://windowsitpro.com/microsoft-surface/surface-firmware-update-fracas]
[Note added 2/12/2014: Indeed, MS did complete its promised round of Surface firmware updates (RT, Surface Pro, Surface 2, and Surface Pro 2) with the latest "Patch Tuesday" updates on 2/11. See this WinBeta.org story: "Microsoft rolls out firmware updates for Surface Pro 2 and Surface 2, fixes various issues." No confirmation yet that these fixes address the "wake and drain" problem or other issues reported by owners of various Surface tablet models.]
---
January 17, 2014 1:42 PM
Tablets, data centers, wearables and more are Intel's Next Big Thing.
In fact new technologies is where Intel intends to place more emphasis as it seeks to capture new sources of revenue and reduce its reliance on a mature PC market.
The company is laying the foundation to be the powerful core that enables new devices and technology to take computing to a new level of user experience.
Intel's goal for 2014 is to ship 40 million chips for tablets, said CEO Brian Krzanich during this week's fourth quarter and year-end call with financial analysts.  Krzanich is optimistic the company can reach that figure, especially with Android-based tablets coming to market in the second quarter based on the Bay Trail chipset.
The forthcoming tablets are designed for the Atom segment and upper-end of the tablet market, Krzanich said during the earnings call. The company will also determine the Bill of Materials cost at the system level for what low- to mid-range tablets will need.
Intel is no different from any other tech titan looking for the Next Big Thing. Its own partners like Dell, HP and others seek new revenue sources to move away from the low margin PC hardware business and have focused on software and services too.
But this transition also illustrates the difficulties for traditional PC giants to move quickly and generate revenue from new market areas. While PCs will never go away despite reports of the death of the PC by naysayers, the market will transform and rely on mobile technologies like tablets and smart phones as strong alternatives for enterprise and consumer applications.
The company recently demonstrated support for a dual Windows and Android OS strategy, and reference designs for wearables and the unveiling of its new Edison chip.
Regardless of where Intel's NBT might be, the $53 billion company is still at the heart of the PC business and must continue work in this area as well.  Financial results from Intel's PC Client Group reflect the overall PC industry growth or decline.
Intel posted fourth quarter and end of year results this week. For the 4Q13, Intel posted revenue of $13.8 billion and net income of $2.6 billion, up 3% in revenue and 6% in net income respectively a year ago.
Intel also reported year-end revenue of $52.7 billion and net income of $9.6 billion. The results represented a loss of 1% in revenue from last year's results of $53.3 billion and 13% drop in net income of $11 billion a year ago.
The big winner for the year-end revenue was Intel's Data Center group, which reported year-end revenue of $11.2 billion, up 7 percent from 2012. The PC Client Group revenue was down 4 percent from a year ago, posting $33 billion.  Other Intel architecture segments dropped 7 percent from 2012 with $4.1 billion in revenue.
---
January 17, 2014 10:14 AM
Look no further than TechNet for some great input and advice from Microsoft on how to deploy Windows versions — including Windows 8 or 8.1 — to user desktops. This week, I re-read an article there entitled "Streamlining Windows 8 Deployment with the Microsoft Desktop Optimization Pack" (better known as MDOP), that walks readers through the deployment process from initial analysis and planning stages all the way through roll-out across the network.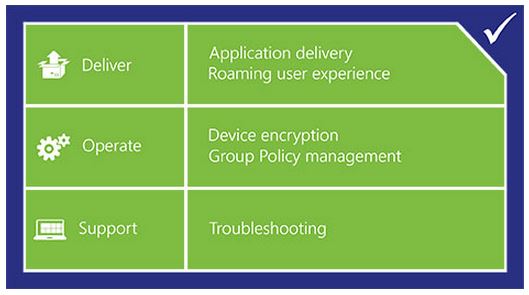 The TechNet MDOP article reviews all the various steps in the deployment process for Windows 8 desktops.
In fact, Microsoft recommends using virtualization for so-called "application portfolios" (the Windows Store apps and regular desktop applications that organizations wish to make available to users on their desktops) to increase overall manageability and flexibility. Not only does it make what's available to users on their desktops easier to manage and control, it also minimizes what the company calls "application-to-application conflicts" that can occur when users need to run two versions of the same application at the same time (MS uses MS Office 2013 for normal productivity tasks versus MS Office 2003 with line-of-business apps as its case in point).
The Microsoft Application Virtualization (App-V) tool is included with MDOP. It's designed to make applications available in the form of network services, to stream them to users on demand without requiring local installation. This helps reduce local image sizes, and thus makes deployment faster and cleaner. Updating and managing such applications occurs in the datacenter, completely under IT control. And when applications need to be replaced or retired, there's no need to physically uninstall them from user's PCs; they need only be made unavailable through App-V.
There's a lot more useful and interesting information about deploying Windows 8 and virtualized applications in this TechNet article, so be sure to check it out. MDOP does require its own subscription (and use of the Windows Enterprise editions), but free evaluation versions are available to MSDN and TechNet subscribers. To get started digging in, here's a link to the MDOP page.
---
January 15, 2014 11:01 AM
My eyebrows rose so far this morning, they almost left my forehead completely. That was my immediate reaction upon reading the headline of Ed Bott's latest opus for ZDnet entitled "Google's latest Chrome release tries to replace the Windows 8 desktop" (1/15/2014, The Ed Bott Report). And sure enough, although some contortions are required, that's exactly how the latest Chrome version — numbered 32.0.1700.76 –behaves in a Windows 8 or 8.1 desktop environment. Here's the "About" info for that particular Chrome version which, according to the Chrome Releases blog, was pushed out yesterday as stable release (1/14/14).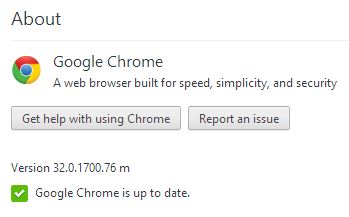 An interesting new Chrome menu entry "Relaunch Chrome in Windows 8 mode" lets you set up a pseudo-desktop on Windows 8.
First, there are a couple of gotchas involved, some of which may be deal-breakers for some Windows 8.x users:
1. To use this Chrome mode, you must designate Chrome as your default Web browser (no workaround to this so far, as near as I can tell, though some may be forthcoming).
2. Numerous plug-ins for the Chrome "desktop mode" don't work in Metro UI mode (here, desktop mode means Chrome running on the Windows 8 desktop, not running as the Windows 8 desktop; that latter approach actually involves running Chrome as a special kind of Modern UI app, even though it doesn't come from the Windows Store). Thus, for example, my Norton Identity Safe is unavailable in this mode (which is something of an issue for me, because it's my primary password repository).
3. There is a screen snap capability of sorts inside the Chrome desktop Window, but it's strictly left/right, and takes up half the working area inside the Chrome "desktop area."
4. I observed some flakiness in working with Chrome in the Modern UI as a "desktop of sorts:" several times, either the entire program or windows on the desktop (analogous to tabs in the "real desktop" version of Chrome, I guess) closed themselves down without warning. Checking  my reliability monitor, I don't see any Chrome related errors, though I do see that the PSI Agent and Skype both stopped working shortly after I started playing with this new Chrome facility. I'm speculating, but I have to believe it might have some minor stability issues. Google's usually both conscientious and quick when it comes to fixing such things, though.
Overall, this facility is interesting, but I don't perceive it as a viable alternative to true Windows 8 desktop replacement environments such as Stardock's Start8 or the SourceForge Classic Shell project. I'm somewhat put off by the loss of some key plug-ins (but that could be fixed by switching to a Metro UI friendly password manager, of which there are many in the Windows Store). But the stability issues (which have kept recurring as I've kept using the Metro UI version through the "Relaunch …" menu option) are a pretty definite no-no for me. Chrome is the browser of choice for my second monitor, so that when I'm researching or writing on the first monitor, I'm looking stuff up and checking things out in Chrome. To keep losing my open windows and tabs while I'm working simply isn't acceptable. But again, Google is usually pretty good a catching and fixing such things. Thus, I plan to try again later, in the expectation that a more solid and reliable computing experience no doubt awaits.
---
January 13, 2014 5:45 PM
My son, Gregory, is in the fourth grade this year, so we're working on his first-ever science project for school. In collaboration with his science teacher, we selected a very interesting topic to help him develop testing, analysis, and reporting skills — namely "Which Windows Power Plan setting has the biggest impact on battery life?" The answer to the question is actually more interesting and less obvious than it might immediately appear, because like the answer to any good question, it begins with "That depends…"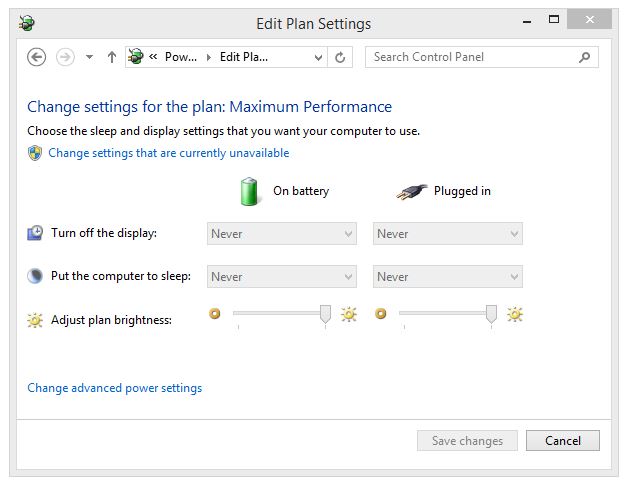 The funny thing is, when testing battery life, you will often use Power Plan settings that make no sense for real-world, everyday usage scenarios.
What battery life depends on more than anything else is whether a notebook is idle or busy. If the notebook is idle, the best thing you can do is put the machine to sleep as quickly as possible to avoid wasting too much energy essentially on doing nothing (or very little, since even when a computer is idle, it's still running the OS, checking in with peripherals, refreshing the RAM, handling interrupts and so on and so forth, without necessarily doing much for the computer's user). If the notebook is busy, the best thing to do is to strike a variety of compromises between high performance (which consumes lots of power) and throttling back (which consumes less) on screen brightness and CPU activity (the two biggest energy suckers on notebook PCs, in terms of actual power drain over time).
As with any kind of compromise, one must accept certain trade-offs when setting intervals. It does take some time for a computer to wake up when it goes to sleep, so you'll want to avoid going to sleep too terribly quickly, to avoid having to pay the "wake-up penalty" after pausing to think before entering input into a text window, or while reading a page of text. That's probably why Windows sets the default in many power plans in the 5 to 10 minute range to give users enough time to cogitate and reflect between key presses or mouse clicks to let the OS know they remain actively engaged. On the busy front, one must choose how dim one can stand screen the screen to be in active use, then select a dim-out interval at which to cut that level in half without likewise interfering overmuch with productivity and real-world use. In our testing, Gregory and I observed that he had no trouble going to 40 percent brightness for regular use, and 20 percent for dimmed status, while I (with my sexagenarian eyeballs) couldn't really tolerate much less than 60 percent (80 preferred) for workaday use, and 40 percent for dimmed status.
We also observed that trimming spin-down or turn-off intervals for most devices with timeout intervals (HDD, display, LAN/WWAN, and so forth) had a noticeable effect on battery life, but that managing sleep (when idle) or screen brightness (when active or busy) had the biggest overall impacts. The former played heavily when idle, and the latter when busy, so a fruitful combination of the two actually resulted in the best overall battery life. Careful examination of the Maximum Battery Life and Energy Saver Power Plans (or their moral analogues from vendors other than Lenovo) will show that their engineers agree completely with this approach. If you tune your power plan to fit your normal working modes, you'll probably agree as well.
---
January 10, 2014 6:24 PM
In my last blog post, I lamented the high costs that come with some special-purpose (ruggedized) or high-function Windows 8.1 tablets. In this post, I take a look at what's available on the other end of the market, both in terms of price and functionality, to explore other, more affordable options for business use. To begin this conversation, I have to observe that Intel's new quad-core Bay Trail Atom CPU is a real game changer for this market segment. Why do I say this? Because the chip finally offers enough power (and enough simultaneous threads of execution) to cope with modern Windows in a usable and not-too-frustrating way.
Next, I'll digress by way of historical comparison and contrast: I bought an Atom-based Asus EEE PC a few years back when the netbook fad struck the market. It was a cute little machine and worked sorta kinda OK. But ultimately, it was just too slow and underpowered for me to enjoy working on it, no matter how much I appreciated its excellent battery life, small form factor, and supreme portability. Surfing the Web was an endurance test, typing text would sometimes involve enough lag between striking the key and seeing it appear in a text window that I might lose track of my thoughts, and even navigating the file system on Windows 7 involved more patience that I really had to bring to such a no-brainer mundane task. Suffice it to say I did everything I could to speed up the EEE, including a 128 GB SSD and doubling up from 1 to 2 GB of RAM, all to no real avail. Thereupon, I gave up on netbooks with this personal summation: "Nice. Cute. Too slow. Not for me."
Since then, I've been waiting for Moore's Law and the inexorable march of technology to produce a netbook like form factor with all-day battery life, enough computing horsepower to get the job done, and enough pixels on a small(ish) screen to make looking at the UI tolerable. Touch isn't a bad thing, either, and on a small tablet (I've learned to love my iPad 2, while living within its sometimes restrictive limitations) it's reallyi quite handy. So for me — and I suspect for a great many other PC-savvy business users — I've been waiting for a small, light, portable PC that's powerful enough to let me surf the Web, read and write e-mail, work in MS Office, and run the various applications and apps I use to get my job done, with enough battery power to make it for 8 hours or longer.
Until quite recently, I've been waiting in vain. MS came close with the Surface Pro 2, but it's still a little too heavy, battery life a little too short, and the price tag a little too high. But in the last quarter, I've seen a whole slew of smaller form-factor tablets (7 and 8 inch mostly, but even some 10 inchers) that use Intel's new Bay Trail Atom with 4 GB of RAM, a 32 to 128 GB SSD, Intel GT2 graphics, and sufficient battery capacity to keep them going 8 hours or longer when running a light or mixed workload that matches most workday use. They might not make 8 hours playing games or watching videos/movies, but many of them also offer accessible and removable batteries, so that users can swap a depleted one with a charged-up replacement and keep on going even when the first battery runs out. All I can say is "Way cool!" I plan to add several to my gadget collection, and see how they hold up in everyday use.
Of the current crop available — and there are possibly as many as a dozen already in the marketplace — these five have captured my particular attention:
1. Dell Venue 8 Pro ($299-349) [8.0″ display at 1280×800, Z3740D CPU, 2 GB RAM, 32 or 64 GB SSD, no card reader, dock and cover/keyboard options available)
2. Lenovo ThinkPad 8 ($399 and up) [8.3″ display at 1980×1200, Z3770  CPU, 4 GB RAM, 64 or 128 GB SSD, micro SDXC card reader, dock and cover/keyboard options available]
3. Asus VivoTab Note 8 ($299 – 349) [8.0″ display at 1280×800, Z3740 CPU, 2 GB RAM, 32 or 64 GB SSD, micro SDHC card reader, dock and cover/keyboard options available]
4. Toshiba Satellite Encore ($329 and up) [8.0″ display at 1280×800, Z3740 CPU, 2 GB RAM, 32 or 64 GB SSD, microSDHC card reader, no info on dock or cover/keyboard available]
5. Acer Iconia W4 ($330 – 380) [8.o" at 1280×800, 2 GB RAM, 32 or 64 GB SSD, microHDMI and microUSB ports, microSDHC card reader, cover and keyboard available, no info on dock]
Based on such reviews as are available and comparing the specs, the Lenovo stands out for its higher-res display, and bigger storage options. The Dell also gets great reviews, but is a little lacking on expansion options (no microSD card reader is kind of a drag, nor any video out either, except for wireless Miracast). The Acer gets dinged for sub-par construction and a less-than-bright display, and I don't know much about the Toshiba or Asus units just yet. Stay tuned, as I keep digging further. There's still time for some new entrants to pop up as well, as CES comes to a close today (or this weekend).
---
January 9, 2014 11:08 PM
Intel is looking to light a path into uncharted territory as it unveils reference designs for smart wearables and a new Edison chip.
The chip behemoth introduced a number of smart reference designs this week for new wearable technologies that include a smart watch, smart sports ear buds, and smart Bluetooth headset, in addition to support for dual operating systems on a single device.
What could potentially be Intel's most compelling offering is the tiny chip dubbed Edison. The SD-card sized chip could greatly impact Intel's influence in the emerging market for the Internet of Things.
Edison is a system-on-a-chip that includes an x86 compatible core supporting Linux, WiFi, Bluetooth, flash storage and more. The new low-power chip is designed for smart computing and wearable devices that require a small, powerful and low-power processor form factor.
The company demoed the chip at the Computer Electronics Show in Las Vegas this week. Edison was installed in a toy turtle and linked to sensors connected in a baby's onesie, which tracked the child's temperature and movement. The baby's temperature was sent to the mother's coffee cup, for example. If the signal was green the baby's temperature was fine. If it was red, the baby was hot or distressed and needed something.
While Intel showed Edison in a consumer application, one can also think how the chip might be applied to enterprises. In fact the emerging phrase of the "Enterprise of Things" is beginning to be used to highlight business deployment applications in the whole IoT market.
Connectivity is going beyond the datacenter and PCs and mobile devices to really developing serious business applications.
Theoretically, why not add an Edison chip to an employee's PC or tablet? If something is wrong with the device, an alert can be sent immediately to the organization's IT department and IT staff can be more proactive in delivering a resolution for the wayward device to ensure an employee remains productive. The employee may not even need to enter a help desk ticket because the IT staff already identified the problem. The possibilities are endless.
Intel also debuted new smart wearables that could actually be useful to one's life, rather than being a futuristic concept. For example, the smart ear buds enable one to link to an app and keep track of exercise time, distance and heart rate all in one unit. Other technologies require one to wear a separate heart rate device.
The company also showed a smart watch reference design that offers geo-fencing capabilities. This would allow parents or caregivers to keep close track of their kids or elderly people by ensuring they are in the right place and to digitally notify them if they are off the beaten path.
In addition, Intel also showed Jarvis, a smart Bluetooth headset that acts like your personal secretary. (Is it a mere coincidence that Intel named the smart headset J.A.R.V.I.S. just like Tony Stark's a.k.a. Iron Man's artificial intelligent computer?)
While Intel's big news for smart wearables and Edison portends the possibility of innovative things to come, the biggest shocker during Intel CEO Brian Krzanich's CES keynote were the violent images in the  video clip Intel showed on screen about the consequences of mining key minerals used in electronics in the Democratic Republic of Congo. The area is strife with regional fighting and trade from the minerals fund armed groups.
After four years of working with the industry and governments around the world, tracking the supply chain for the minerals from the mines to its factories, Krzanich revealed all of Intel's microprocessors manufactured this year would be conflict-free. That statement received the biggest applause of the night. Kudos to Intel for being socially responsible.
---
January 8, 2014 3:44 PM
All this week, the Consumer Electronics Show (CES) is underway in Las Vegas, so it's "prime time" for all the PC companies to make product announcements — especially those that target US markets and buyers. In the past few months a number of business oriented Windows 8.1 tablets have made their debut, and more are popping up every day in Las Vegas right now. What I find interesting is that tablets that specifically target business users often tend to cost more than those aimed at consumers, even though their innards may not differ much (or at all) from consumer oriented makes and models.
When a business unit does come along, it can bring more and more advanced features to such products, and those do justify some added expense. Thus, it's not unusual to hear about support for Smart Cards, fingerprint scanners, improved durability features (heavier chassis, stronger materials, adherence to MIL-STD-810G specifications for drops, vibration, humidity, and outsized temperature ranges at both hot and cold ends of the spectrum), better manageability (vPro, Intel's AMT), and so forth.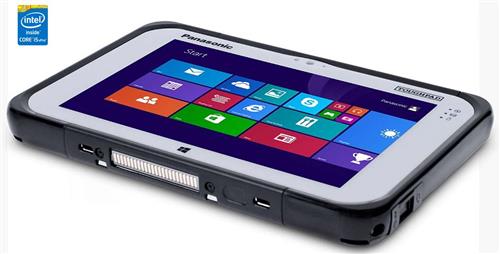 The FZ-M1 is an incredible workhorse of a small Windows 8.1 tablet, but the price is nothing short of staggering.
Here's the rub: some of these business oriented models cost a small fortune. Panasonic has just introduced a 7″ Touchpad FZ-M1 ruggedized Windows 8.1 tablet, for example. It is designed to cope with modest abuse, water, and harsher-than-normal working environments, while delivering a classic "thin and light" Windows 8.1 tablet experience. It's fanless, and includes a Haswell i5 or Celeron ULV mobile processor, offers 1280×800 resolution, supports a 128 or 256 GB SSD, with 8 GB RAM for the i5 model (and probably 4GB for the down-market Celeron model). This unit also includes 4G LTE, Bluetooth 4.0, and 802.11 abgn-ac networking, with a USB 3.0 port, a microSDXC card slot, and a docking connector. Add-on options available include docking station, GPS, barcode scanner, RJ-45 Ethernet and serial ports, plus NFC, RFID or a magnetic stripe readers. It weighs 1.2 pounds (540g) and measures 0.7″ (1.8 cm) thick. Battery life is rated at 8 hours, and the battery is replaceable, so that field use may be further extended by swapping in a spare, fully-charged battery. The unit also boasts a 3-year warranty, unusual in today's PC marketplace. But ouch, this puppy costs some serious scratch: with the i5 CPU and a 128GB SSD, sans any of the many add-ons available, pricing starts at $2,099. I'm guessing that fully tricked-out version could easily cost between $2,500 and 3,000.
Another case in point is the fascinating and feature-laden Fujitsu Stylistic Q704 I blogged about last week ("Fujitsu Makes Bold-Entry into High-end...") Though its screen is bigger (12.5″) with full HD (1920×1080) resolution, and it offers an i7 CPU option as well — so you get more for the money — it, too, starts at around $1,500. The unit I configured for myself with i7, keyboard cover with extra battery, GPS, NFC, 8 GB RAM, and a 256 GB SSD came in at just under $3,000 with a $75 discount coupon to help ease the pain ever so slightly.
Problems with business uptake of Windows 8 and 8.1 aside for the moment, it's also clear that cost is another potential hurdle which business buyers must overcome to get onto the Windows 8.* tablet bandwagon. My fundamental question is "Does it really have to be this way, or is it just a case of determining by iteration just what the traffic will bear?" So far, it looks like OEMs are starting high, and seek to be forcibly ratcheted downward, which may be a good strategy to protect them from financial exposure, but appears at least in part responsible for lukewarm market reception and uptake as well.
---
January 6, 2014 3:32 PM
Over the past three months — more or less since the release of Windows 8.1 — I've finally started to see some PC-based tablets that appear poised to give Apple actual competition for the market niche that the iPad has more or less owned for the past four-plus years. This platform has become so popular and ubiquitous that when I looked up the launch date for the iPad 1 (April 3, 2010) I was stunned to realize that it's really only been a little over four years since the first IPad came out.
The release of several new Windows 8 (and 8.1) tablets in the past quarter appears to put some potentially game-changing new entrants into the 8-10″ tablet market. As far as I can tell, it's the energy efficient but sufficiently high-powered quad core Bay Trail models of Atom processors that are finally going to give PC makers a valid comeback to the ever-popular iPad platforms in 7″ and 10″ formats. Thus, for example, I've looked at the $350 Dell Venue 8 Pro (Z3740D, 64GB SSD, 2 GB RAM, Intel HD graphics) and the Lenovo ThinkPad 8 (Z3770, up to 128 GB SSD, up to 8 GB RAM, Intel HD graphics; pricing not yet available: base level set at $399 so top-line must be at least $800) as the first of what will no doubt be a whole slew of small and light tablets that offer sufficient power and capability to give iPad a run for consumer's money.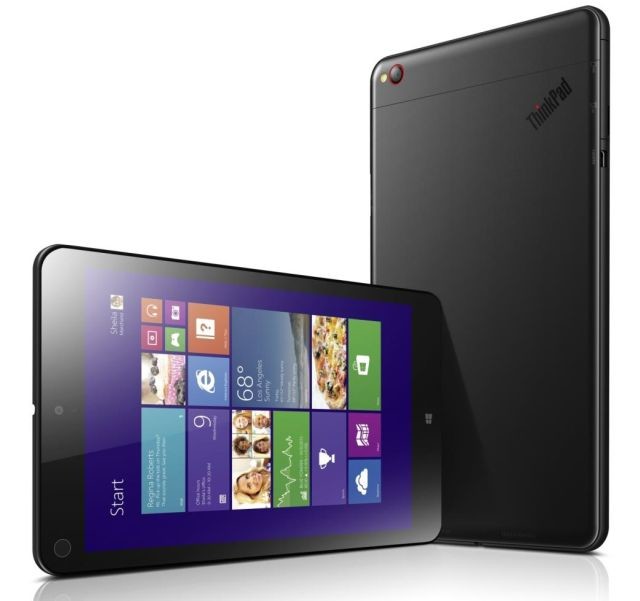 At 8.8mm thick, under a pound in weight, with full HD (1920×1200) resolution, and up to 8 GB RAM, and 256 GB SSD, the high-end ThinkPad8 could give Apple heartburn — as long as it's not too much over $900 in price.
I expect we'll start to see more machines of this type showing up at CES (underway in Vegas right now, starting today) and that Windows will finally be able to pose a meaningful counter to the iPad. Will this be enough to make a difference, and change market dynamics and consumer inclinations? We'll see!
---