---
January 18, 2019 4:41 PM
Windows 10
,
Windows Upgrades
Man, I have to chuckle. Just a little. Seems that MS has finally, finally let go of the latest Windows 10 upgrade through "normal channels." That release, of course, is named 1809. As I understand it, this decodes to September (the ninth month of) 2018. Look at what's on the MS Windows 10 Update History page, as of 1/16/2019. That's why I titled this post: Windows 10 1809 versus 1901.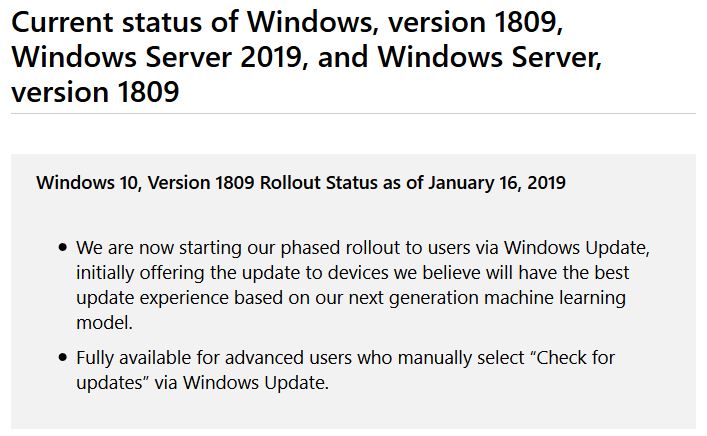 Notice that only on 1/16/2019 did 1809 become generally available. You can ask for it (manual download). Or, you can wait for MS to decide you qualify for "the best update experience."
Why Say Windows 10 1809 versus 1901, Anyway?
Poor Microsoft. They've really been through it with the two semi-annual 2018 upgrades. 1803 had file loss potential and other issues. 1809 has been beset with one gotcha after another. It's been 108 days since the end of September, which means it's really been 106 days since MS made its first, quickly withdrawn 1809 release on October 2. By my calculator, an average month has 30.4 days (365/12), so that means it's been almost three-and-a-half months from the initial botched release to real GA status. (GA means "general availability" and it's an older MS buzzword to denote when an OS is ready for general consumption.)
Note further, that MS is still restricting access to this latest 1809 version based on telemetry info. That means it's gently steering those away who might otherwise get it through Windows Update until they're a bit more sure that the upgrade will complete successfully. Why, oh why, one wonders did this attitude not prevail from the get-go?
January 16, 2019 6:31 PM
windows 10 upgrade
,
Windows 7
Monday was the 14th of January. When the next year comes and goes, that's the end for Windows 7. That puts Windows 7 inside last extended support year, as this snippet from the Windows lifecycle fact sheet shows. Of course, if history is any guide, a certain cadre of desperate organizations will decide to pay MS for ongoing support thereafter. That's what happened when Windows XP finally hit the same expiration date. And who was among the biggest buyers of said support? Uncle Sam, that's who (especially for some military systems).

Not bad for an OS that made its debut on 2/22/2011. Nevertheless, the end (of extended support) draws near!
[Click image to see full-sized view.]
Put Windows 7 Inside Last Extended Support Year, Then What?
Good question. This certainly puts the heat on efforts to migrate from Windows 7. But I find myself wondering how seriously some businesses take this deadline. I've visited certain small retail outlets, medical businesses, even some shipping and freight companies, and more, in the past quarter. All are still running Windows 7. When I ask them if they plan to upgrade soon, answers vary from "IT's working on it" to "Who knows?" This could be a serious business opportunity for IT shops with outside sales staff who can wander around town. When they find a shop running Windows 7, they can show them the lifecycle fact sheet. Or this blog post. Hopefully, it might spur some action.
MS provides custom support beyond the extended support date only under contract, customer by customer. If memory serves, such contracts are neither cheap nor terribly easy to set up or administer. Though the Feds and the military can think about such things, it's outside the budget and grasp for most smaller organizations. Some of those small business owners might be interested in hearing about that, too. Time's a wastin'!
---
January 15, 2019 10:46 AM
Those of you who follow my blog regularly will note that I posted zilch last week. That's because I was busy, busy, busy with a legal report turned in on Friday, 1/11. That doesn't mean zilch happened with Windows 10 last week, though. It just means I was too busy to report it. In fact, I got (briefly) stung by a minor gotcha from the Patch Tuesday update that emerged on Tuesday, January 8. After rebooting from the cumulative update it included, I found my production PC unable to access the Start Menu or any UWP apps. I could click icons or see menu items via Search, but nothing would run. A quick check with SFC and DISM /Scanhealth turned up no system pathology. So I simply rebooted one more time and Presto! those problems vanished. And that, dear readers, is why I say that CU KB4480116 hiccup offers easy fix.

Here's what WU left on my 1809 machines last Tuesday. Pretty sure the base CU is what caused the hiccup.
Performing CU KB4480116 Hiccup Offers Easy Fix
In a way, this situation reminds me of one of the foundations of Windows troubleshooting. We used to do that by running the so-called "three fingered salute" (CTRL-ALT-DEL) in the Windows 3.x days. "If all else fails," ran an old saying in those days, "reboot Windows!" It worked sometimes, even often back then. It worked this time, too. So if you find yourself troubleshooting mysterious, post update issues with more modern Windows versions, remember that some of the old, tried and true fixes still work today, too — at least sometimes!
---
January 7, 2019 10:25 AM
Troubleshooting
,
Windows 10
,
Windows Upgrades
Here's an interesting and new possible gotcha for Windows 10 1809, courtesy of Martin Brinkmann at Ghacks.net. It's not inevitable, merely possible. The gotcha depends on two conditions to manifest. Condition 1: the built-in Administrator account is enabled (it's disabled by default in Windows 10). Condition 2 is it's the only account with admin level access a PC upgrading from 1803 to 1809. Should both conditions hold true, users of affected PCs would be devoid of admin-level access on those machines. That's why I assert that a potential 1809 admin lockout discovered could pose problems for some PCs.

For those who read Japanese, the original report from the Network & AD Support team in that language may make sense.
[Click image for full-sized view.]
Avoiding the Potential 1809 Admin Lockout Discovered
The easiest way to steer clear of this gotcha is to make sure to disable the built-in Admin account on 1803 PCs before upgrading them to 1809. Of course  the PC needs at least one other account with Administrator privileges. This prevents the problem from occurring altogether. According to Brinkmann's article: "MS reveals that it is working on a solution for the issue." In the meantime, they recommend avoiding upgrades on PCs where the built-in admin account is the only elevated account defined or available.
Here's a quick way to check. Run Manage Accounts in Control Panel, then click "Manage another account." You'll see a list of accounts and their privilege levels appear in response. You want to see at least one account that's not named "Administrator" with Administrator privileges to avoid the possibility of an admin lockout on a PC upgraded from 1803 to 1809. Then, it's safe to proceed. Safer still, you could temporarily disable the built-in Admin account before upgrading, then re-enable it afterward.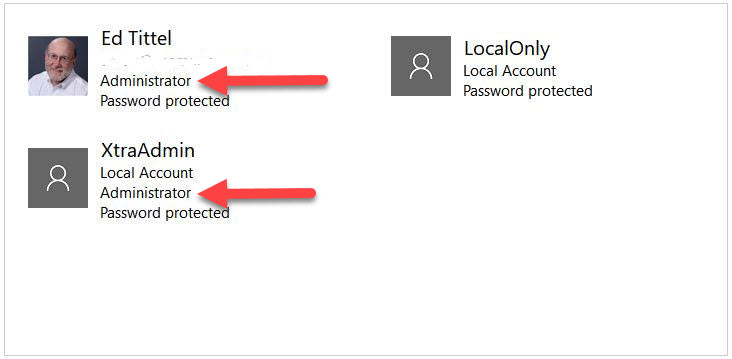 For various reasons, my production PC has two Administrator level accounts enabled: my usual login, and an "extra."
---
January 2, 2019 6:03 PM
Windows 10
I've been following Paul Thurrott's Windows news and commentary for nearly two decades. In fact, I've always found him a useful and occasionally entertaining source of insight and information, Windows-wise. With his wrap-up story for 2018, Thurrott delivers stinging Win10 indictment. The title is "Top Windows and PC Stories of 2018." Do please read it. Be prepared, however, as your eyebrows encroach on your hairline. For a bald guy like me that's a serious challenge!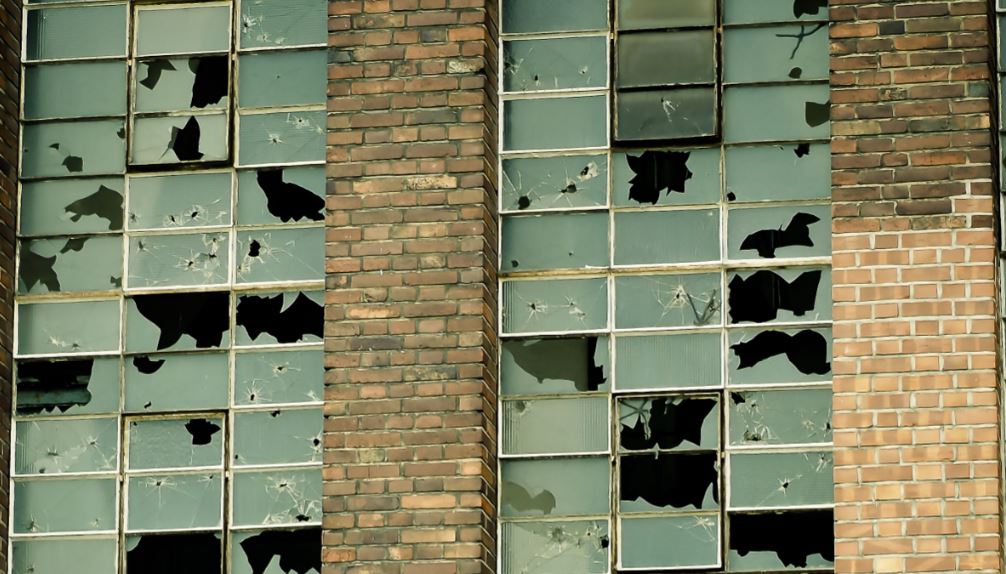 Thurrott's of Windows might be summarized as "badly broken."
[Source: Pexels 162630/Royalty-free/No attribution req'd.]
When Thurrott Delivers Stinging Win10 Indictment, What's Up?
A quick recitation of his subheadings is evocative and illuminating:
1. Windows as a (dis)service (major stumbles on both feature upgrades in 2018: 1803 bad, 1809 worse)
2. Windows demoted in major upheaval at Microsoft (nobody with exclusive Windows responsibility sits on the MS senior leadership team)
3. Microsoft Edge moves to Chromium (the Edge engine is toast because nobody uses it and it's "full of nonsense")
4. Windows 10 on ARM users in the Always-Connected PC era (two fails so far owing to lackluster performance, possible 2019 rescue from 835 chipset)
5. Microsoft Embraces Linux with Azure Sphere (MS chooses Linux over Windows because it's better compartmentalized and runs on lower-end PCs)
6. Microsoft lied about the number of Windows 10 users (MS never hit the 700 million target till late in 2018 because it counted VMs for most of the year)
7. Windows 10 S  fails, and then so does S mode (minimal Windows proves unworkable, though MS keeps trying)
8. Go time: MS finally offers another affordable Surface PC (Thurrott hates it but his sidekick Brad Sams loves it: go figure)
9. PWAs fails to make a difference in 2018 (Progressive Web Apps never take off with only a handful available)
10. Microsoft's bizzare relationship with USB-C and Thunderbolt 3 (MS simply can't jump onto both of these essential buses)
Tell Us What You REALLY Think
Throughout the story I'm agog at Thurrott's in-your-face cataloging of Windows woes, warts, and shortcomings. He's normally something of a cheerleader for Windows stuff, so it blew me away for him to lay things out in such a brutal, matter-of-fact way. I hope he's trying to goad MS into getting its Windows act together. I hope somebody at Microsoft reads this article, and decides to do something about it. And FWIW, I agree with every single one of his observations, though I may not see them quite so dark and dire. I'm by no means ready to abandon Windows (and I don't think Mr. Thurrott is, either). But clearly, there's LOTS of work in need of doing.
---
January 1, 2019 3:58 PM
Microsoft MVP
,
Windows 10
Woo hoo! Just got the email today from the Windows Insider team. Seems they accepted my (belated) renewal application for Windows 10/Windows Insider MVP. So I'm in the program for another year, and will be attending the MVP Summit in Redmond and Bellevue in March (3/17-22). I really, really enjoyed last year's meetings. Thus, I'm looking forward to a happy repeat in about three months. That's one major reason I'm really tickled that my Windows Insider MVP renewed 2019.

The upcoming conference is one of the program's best benefits. Last year, over 2,100 MVPs of all kinds (and related insiders) attended the conference.
The coolest thing about the 2018 MVP Summit was that over half the attendees came from the Eastern Hemisphere. It's the first big conference I've ever attended in the US that had "natives" in the minority. That made it very cosmopolitan, and way cool.
What Windows Insider MVP Renewed 2019 Really Means
Sure, the program does include benefits. We get free MS subscriptions, access to regular online meetings with MS employees, and inside information from time to time. About that last item: anything hot is under NDA, so please don't ask me for inside scoop. Sorry: sharing not allowed! But the real and best benefit is access to a savvy, active and knowledgeable community of experts, practitioners, and developers. I get to rub shoulders with most of the TenForums team (the core group that runs the site), plus people like Ed Bott, Rafael Rivera, Greg Carmack, Andre da Costa, Dan Godin, Jason Coombes, Corrine Chorney, Sherry Malik, Richard Hay, Nuno Silva, and a whole bunch more.
There's also a Yammer set up just for Windows Insider MVPs. I get a daily dose of info and discussion from those colleagues there, too. It often provides an excellent source for info about Windows 10 issues, sometimes with answers or workarounds, too. It's a great program, and I'm proud and pleased to find myself still in it. Happy New Year, all!
---
December 31, 2018 11:41 AM
Windows 10
,
Windows enterprise
I watched a significant anniversary for this blog slip past earlier this year. Depending on how you count, it hit its tenth-year anniversary this year. September 29 and October 1 of 2008, featured the initial announcement and the first post of substance, respectively. The reigning title at inception was "Vista Enterprise Desktop." When Windows 7 came along, the name changed to follow suit. By the time 8 arrived, TechTarget and I agreed something more enduring would be good. Windows Enterprise Desktop (WED) proved more durable and descriptive. And that's what it's been ever since.
The original list of proposed topics, with a little tweaking remains surprisingly relevant even today. If you like, you can find that whole list in Post#1: Welcome to Vista Enterprise Desktop. Here's an abridged sampling of key elements:
Working with Windows Upgrades
Dealing with failed Microsoft Updates
Managing application compatibility
Setup, configuration, updates, maintenance, and uninstalls for Windows
Windows deployment tools
Windows Automated Installation Kit (WAIK)
Using the Windows Preinstallation Environment (WinPE)
Working with Sysprep
Desktop virtualization and VMs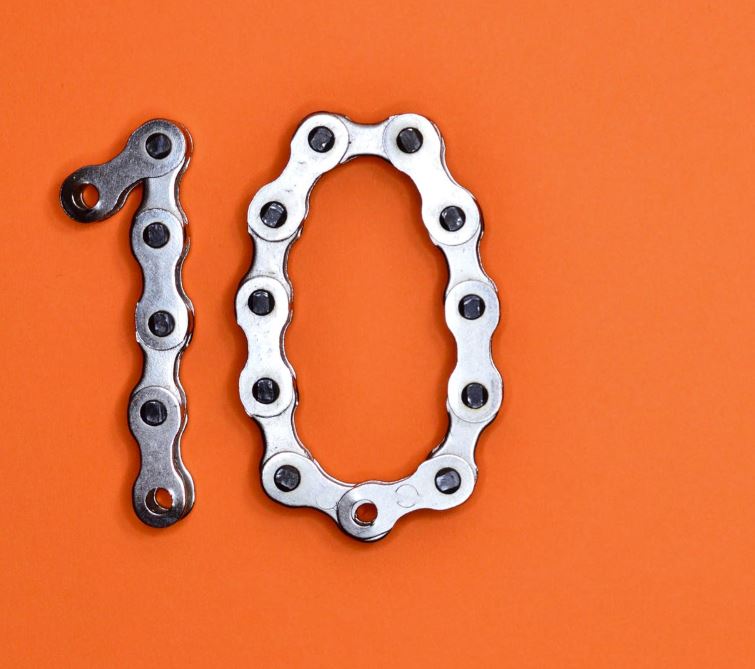 A ten year anniversary for a blog that now covers Windows 10 deserves a numeric image, yes?
[Source: Miguel A. Padrinan, Pexels 10161133]
When Windows Enterprise Desktop Turns Ten Years Old, What Does History Say?
To a large degree, these topics still inform and drive the kind of coverage I provide in WED today. Looking back at the WordPress environment in which the blog runs, I see nearly 1,500 posts (1,499 to be exact) of which I wrote 1,427. That works out to roughly 143 posts per year. My contract with TechTarget actually calls for me to provide 12 posts a month at a frequency of three posts per week (144 per year). Given vacations, illness, family situations, and the way life sometimes interferes with work, I'd say this proves I've come as close to meeting my commitments as anybody could.
This blog has been pretty popular with TechTarget readers, too. Each of the most visited blog posts (the top 10) averages 6,700 page views. The most popular of them all, at nearly double the average (12,277), dates back to 2011. Surprisingly, it deals with Microsoft Security Essentials (MSE). MSE was a precursor to Windows Defender, available as a free add-on to Windows 7. Actually, while those details are stale now, the general advice it offers still describes a good all-around approach to dealing with Windows updates, and the problems they can occasionally cause. Most of the rest of the top 10 posts feature interesting and possibly helpful troubleshooting and problem-solving advice. I'd to think that's what keeps the readers coming back. Average annual pageviews have been over 200K for the past 7 years, so at least some readers appear to agree.
As WED moves into its second decade, let me wish readers a happy New Year. May you all have a safe and prosperous 2019, with surprises mostly pleasant, and a rising tide to float all boats. I hope you'll stick with me for another ten years or longer. RIP 2018, here comes 2019!
---
December 28, 2018 6:59 PM
Found a simply magnificent MS reference thanks to the great folks at TenForums today. With special thanks to user Caledon Ken, check out this technical guide entitled "Resolve Windows 10 Upgrade Errors." Thankfully, it brings a huge amount of valuable and useful technical advice together in one place.  It's especially informative for those seeking insight and possible fixes for upgrade issues and errors.

Trust me: This innocuous title does no justice to the Guide's many treasures.
Exploring the Windows 10 Upgrade Errors Guide
Really, you want to spend some time curled up with this reference. While you're at it, get comfortable and grab a beverage. In fact, you'll find yourself immersed in this material for half an hour or more. It's simply chock-full of good and useful information.
Need proof? No problem. Next, I reproduce the Topic Index from the Guide (with live links) verbatim as the best possible advertisement for its wealth of riches:
Quick fixes: \Level 100\ Steps you can take to eliminate many Windows upgrade errors.

SetupDiag: \Level 300\ SetupDiag is a new tool to help you isolate the root cause of an upgrade failure.

Troubleshooting upgrade errors: \Level 300\ General advice and techniques for troubleshooting Windows 10 upgrade errors, and an explanation of phases used during the upgrade process.

Windows Error Reporting: \Level 300\ How to use Event Viewer to review details about a Windows 10 upgrade.

Upgrade error codes: \Level 400\ The components of an error code are explained.

Result codes: Information about result codes.

Extend codes: Information about extend codes.

Log files: \Level 400\ A list and description of log files useful for troubleshooting.

Log entry structure: The format of a log entry is described.

Analyze log files: General procedures for log file analysis, and an example.

Resolution procedures: \Level 200\ Causes and mitigation procedures associated with specific error codes.

0xC1900101: Information about the 0xC1900101 result code.

0x800xxxxx: Information about result codes that start with 0x800.

Other result codes: Additional causes and mitigation procedures are provided for some result codes.

Other error codes: Additional causes and mitigation procedures are provided for some error codes.

Submit Windows 10 upgrade errors: \Level 100\ Submit upgrade errors to Microsoft for analysis.
Windows 10 Upgrade Errors Explained
Let me help to make sense of this gem. Please understand that Level 100 is Basic, 200 Moderate, 300 Moderate advanced, and 400 Advanced in terms of technical level. In fact, the actual entry that caught my eye was the one for error code 0xC1900101. It includes a raft of tried-and-true techniques for avoiding errors that sometimes occur during the upgrade process. Among other good suggestions, these include:
Uninstall antivirus applications beforehand
Remove all unused/unnecessary SATA devices
Remove all unused devices and drivers
Update drivers and BIOS, especially the graphics/display driver(s)
Disconnect all peripherals except keyboard, mouse and monitor
Take the "Download and install update updates (recommended)" offer at the outset of the upgrade process
Great stuff. I've learned, used, and needed every single one of these exhortations over the years. Add this Guide to your bookmarks or favorites. You'll be back!
---
December 26, 2018 10:54 AM
Display drivers
,
Graphics Card Drivers
,
Windows 10
When a program gets installed onto Windows, it can extend all kinds of hooks into the OS. It might make numerous Registry changes, add services, schedule tasks, and much, much more. When the same program gets uninstalled, even its makers may have trouble completely rooting out all traces of its former presence. That's one reason why specific "removal tools" exist for a range of applications. These include things like security software or heavy-duty devices such as graphics cards.These programs are seldom standalone. Rather, they are best understood as tool suites, collections of intertwined programs. Where so much infrastructure needs cleaning up, removal tools can help. For cleaning up graphics card drivers and their attendant tool suites, Display Driver Uninstaller (DDU) is a nonpareil. That's why I assert that DDU removes display drivers completely.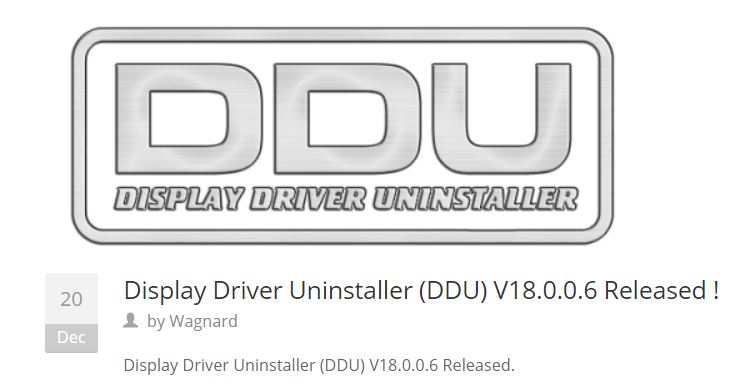 As you can see from the preceding tagline, the latest DDU version arrived on 12/20/2018, as of this writing. [Download page for 18.0.0.6.]
Why DDU Removes Display Drivers Completely Is a Good Thing
DDU is a free program (donationware) that comes from software toolmaker Wagnardsoft. You can always download the program from the Wagnardsoft home page, under the "Software" heading there. I've known about this tool for years, which does an ace job of rooting out any and all traces or remnants of Intel, Nvidia, and AMD graphics drivers.
I've used DDU on numerous past occasions. Recently, I had to put it to work on a couple of my PCs. Two of my PCs include GeForce GTX 1070 graphics cards. Nvidia's been issuing beaucoups graphics drivers lately, not all of which have agreed with my 1809 or 19H1 Windows 10 installations. In fact, I've been subject to a spate of LiveKernelEvent (Code 117) errors lately on both machines. Turns out that issues with a couple of November and December GeForce drivers have been responsible.
It just so happens that when graphics driver errors recur, it's often a good idea to root them out completely. After that, a clean install of a newer, better, or different driver may address (or prevent) further issues. That's what I used DDU for last week, just before I upgraded to GeForce 417.35 on those machines. No subsequent problems since, either. DDU is worth knowing about because it can sometimes resolve graphics driver issues amenable to no other solution. Don't bother to download it until you need it, though: the folks at Wagnardsoft update it regularly (usually in synch with driver releases from AMD, Intel and Nvidia).
---
December 24, 2018 11:45 AM
Console application
,
Console errors
,
Event Viewer
,
task scheduler
,
Windows 10
On November 19, I wrote a blog post about an "interesting" UI issue in Event Viewer. On some PCs, its pulldown menus didn't work properly unless the display on which the tool runs was set to 100%. Because the Win10 default for True HD and higher resolution monitors is 125%, this means the program may not work properly unless jiggered with. Now, it seems, the same phenomenon also affects Task Scheduler. In fact, Win10 Task Scheduler pulldown menus fail under those very same circumstances on some PCs.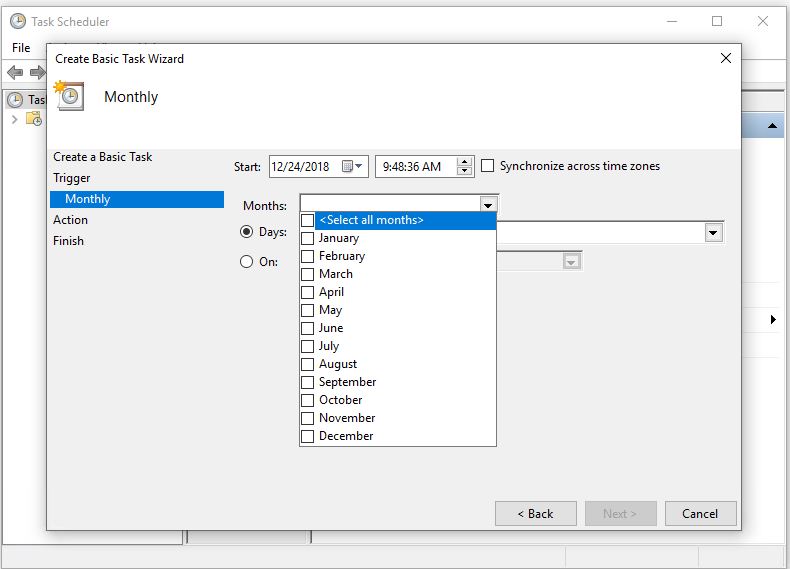 Unless this display on which the pane appears is set to 100%, that list of months is absent. I was able to replicate this on some 1809 (Build 17763.195) and 19H1 (Build 18305.1003) PCs.
[Click Image for Full-Sized View.]
If Win10 Task Scheduler Pulldown Menus Fail, What Else?
If you look at properties for both Event Viewer and Task Scheduler, you'll see that they are Microsoft Console (.msc) files. Furthermore, you can find at least 44 such files in the C:\Windows\System32 folder. Just for grins I did a random sampling of those files, including tools I know well. I looked at Device Manager, Local Security Policy, Group Policy Editor, Services, Certificate Manager, Performance Monitor, Reliability Monitor, Disk Management, and more.
None of those other consoles suffered from the pulldown menu fail at alternate resolutions. In some cases, that was because they didn't use pulldown menus much, or at all. In other cases, pulldown menus worked as they should. Thus, I'm not able or willing to assert that this issue is more general than it appears. In other words, AFAIK only Event Viewer and Task Scheduler appear subject to this gotcha.
That said, when using a different Windows Console if you find yourself unable to access pulldown menus in the future, you might want to try changing your display resolution to 100%, at least temporarily. It might just cure what ails ya!
On the other hand, your PC(s) may not be subject to this gotcha. When I reported this to my friend and business partner Kari Finn, he was unable to repeat this issue on either a 4K display or a 1920×1080 Full HD display, at any resolution. He tried 100%, 125%, 150% and 175% and it worked fine for all of them. Apparently this is a hit-or-miss gotcha. If it doesn't hit you (or your PCs), no worries. If it does, you know what to do: reset display resolution to 100% long enough to do what you must, after which you can revert to whatever you like.
---