---
October 6, 2014 9:32 AM
Windows 10
,
Windows installation
In addition to the Windows Insider Program, qualified MSDN subscribers can also grab the Windows 10 Technical Preview ISO files from the MSDN pages, where the New Subscriber downloads page looks like this at the moment: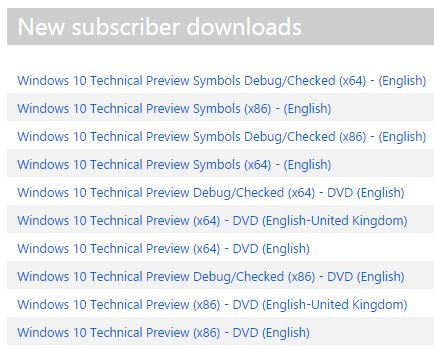 Chances are high that most readers of this blog will want item 7 counting down from the top: the x64 English version.
For those installing on Windows 8.1, all you really need to do is to copy the ISO to a directory accessible on your system, then double-click that file in Windows File Explorer. It should mount as a CD drive, but if that doesn't work you can select "Mount" from the pop-up right-click menu to achieve the same result. Then you need only navigate into that drive (or mount point, rather), where you'll launch setup.exe from its root directory. This will commence the installation, and you'll be off and running. Just remember: the usual rules on previews apply. You should always make a backup of your old system image before installing a new OS. On the off chance that something in the new install goes amiss, you can point the repair utility at that system image and restore it (which is why I usually copy such things to a fast, USB3 external drive to reduce overall rebuild time should that prove necessary). And remember, unless somebody comes out with a registry hack to cheat the "real Windows 10 installer" when it finally emerges next year, you'll have to perform a clean install of the final version on the test machine that will be running the preview until that time comes.
October 1, 2014 9:39 AM
OK, so MS has confounded the pundits and bloggers, and has skipped a version to announce its latest incarnation of the Windows desktop operating system as Windows 10, not Windows 9, or something else completely. At an event in San Francisco aimed at "enterprise"/business users, the company promised to re-establish continuity with older Windows versions, especially and including Windows 7, and to create an entirely desktop-friendly working environment, since most business uses for PCs aren't exactly touch-oriented (or even touch-capable) at the moment. As has been reported for quite some time now, the Start menu is back, and while tiles remain visible on the desktop, the impetus to force users into the Modern UI has apparently been blunted, if not sidelined altogether. Even so, Windows 10 retains touch capabilities for touch-enabled systems, and will operate across a full spectrum of host devices, including not just PCs (be they desktops, laptops, notebooks, or Wintel tablets), but also "other" tablets (non-Wintel, that is), smartphones, and embedded systems.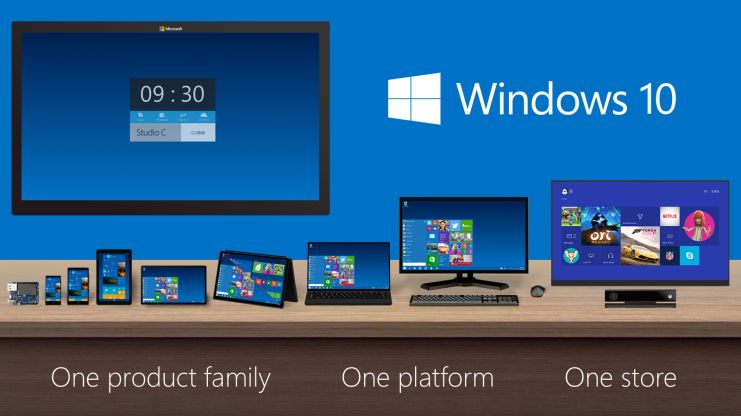 A smattering of systems from tiny to titanic, all running Windows 10.[Source: Blogging Windows]
Microsoft VP Terry Myerson explained the reach of Windows 10 this way "It will run on the broadest types of devices ever, from the smallest 'Internet of things' device, to enterprise data centers worldwide. Some of these devices have 4-inch screens, and some will have 80-inch screens. And some don't have any screens at all." Figuring out the details of exactly how this is to be accomplished, and what it means to work across such a broad device spectrum, and what things must change or stay the same across all of them, will be some of the most interesting aspects of Windows 10 for early and experimental adopters to explore — including yours truly, as soon as I get the chance. MS also claims that the distinction between the Modern UI and the traditional desktop UI will no longer be important. In yesterday's event, Joe Belfiore a VP with the OS group explained that "We want users on PCs with mice and keyboards to have their familiar desktop UI — a task bar and a start menu. And regardless of how an app was written or distributed to your machine, it works the way you expect." Here again, it will be very interesting indeed to see how this plays out in actual practice.
As I write this blog post, the Windows Insider page is still proclaiming that it is "almost here." Later today, users will be able to sign up for the program, and then download the technical preview. As with Windows Updates, I'm guessing that means 9 AM PST (UCT -08:00), which translates into late morning my time. I'll be aiming my Fujitsu Q704 tablet hybrid machine at this software, and very interesting to see how it fits onto that temperamental hardware platform. Soon, we'll all be finding out how much of the recent breathless hype translates into something of interest or use in the workplace. For more information on Windows 10 of the official MS variety, check out the Blogging Windows post entitled "Announcing Windows 10;" for third-party reporting and reaction, please run this Google Search.
---
September 29, 2014 7:50 AM
Windows 8.1
OK, so maybe I've been reading too much science fiction lately, and perhaps I'm seeing patterns where they don't exist. But please: ponder these data points and tell me if you can't agree that Microsoft appears more poised than it has for a long, long time to break out of its corner of the market and start busting folding chairs over the heads of Android, Chrome OS, and Google Play?
1. Microsoft has made Windows 8.1 and Windows Phone available at no cost to OEMs on devices with screens 9″ or smaller (see Thurrott's "Microsoft's Master Plan for Winning Back Market Share" 9/28/14 over at WindowsITPro). Likewise, a low-cost version of Windows 8.1 called "Windows 8.1 with Bing" is also available to OEMs at a price carefully calculated to be cheaper to license than Android or Chrome OS.
2. MS has removed impediments on Android device makers designed to make it hard to run either Windows Phone or Android on the same device, so that device makers in search of better margins can easily switch from Android to Windows without making hardware changes to current designs (also discussed in the aforelinked Thurrott story).
3. Starting with Windows 8.1 Update 1 and going forward, MS has lowered the hardware bar on devices that can run Windows or Windows Phone. 1GB of RAM, and 16GB of flash is all it takes now, and that's well within the purview of all but the cheapest Android devices out there. Thurrott observes that 15 new hardware partners showed up for Windows phone right after the changes were instituted, and that now Chrome PC makers are releasing Windows versions running on the same hardware (see also Thurrott's 9/27/14 story "Better than Chromebook? A $250 PC Gets It Done" which explains pretty nicely how Windows PCs at the traditional Chrome PC price points might just represent a better bang for a relatively small number of bucks).
4. Today's hot rumor on Neowin.net from Brad Sams indicated that the president of Microsoft Indonesia has said that "…for users upgrading from Windows 8 to Windows 9, the upgrade will be free" (Windows 9 said to be free…). Sams goes on to speculate that should MS do likewise for Vista and Windows 7 users, MS could stimulate more likely upgrades to the entire user base, especially if the company's "…business model has changed from upfront payments to recovering revenue through its app stores" as he opines in that story.
Tell me, please: Am I adding 1+1+1+1 and coming up with more for the total resulting import than I should be? I don't think so, but I could always be wrong. So tell me, readers, what do YOU think? I'm starting to believe that MS may be trying some creative disruption of its own, and that the apparent future of computing may not be quite as clear-cut, or as settled, as many pundits have considered it to be of late, with the ascendance of Google and Android assured, and MS gradually slinking off into the mist. Of course, MS won't go gentle, but perhaps they won't go anywhere at all. That's what remains to be determined, and it should be interesting to watch…
---
September 26, 2014 9:54 AM
Windows 8.1
,
Windows utility
DataNumen is a Hong Kong based software company that specializes in data recovery technologies. For an outfit I'd never come across before, I was interested to observe a who's-who list of flagship customers for their software on the company's "About" page that includes AT&T Global Network Services, GE, IBM, Dell, Motorola, Procter & Gamble, FedEx, Xerox, and HP, among many others. In addition to a suite of data recovery tools and an SDK to permit developers to integrate those tools into their own applications, DataNumen also offers an interesting collection of repair utilities for a broad range of file formats that includes major Office formats (Access, Excel, Word, Outlook, and so forth), ZIP, TAR, CAB, PDF, and other popular compressed archives or content delivery mechanisms. Most of those tools only perform analysis for free (in the trial versions available for free download), but the company's DataNumen Disk Image (DDKI) tool is freeware that can copy or clone a disk at the byte level from a source to a target drive. As the company explains, this tool is useful for both data recovery and computer forensics uses, particularly when the source drive may be failing or corrupt. Because recovery inevitably involves writing new files as pieces of old ones get stitched back together to reassemble them in as close to their original form as technology allows, it's often best to simply copy the original drive to another drive, and then to perform recovery on the copy rather than the original (and for forensics use, leaving the original unchanged is necessary to preserve the chain of evidence as well).

DDKI offers byte- and sector-level raw data copy/clone capability from a source to a target drive for all modern Windows versions (and older OS variants as well).
For those whose duties include the occasional data recovery job, DDKI is a worthwhile addition to their Windows utility toolkit, especially if that toolkit does not already include forensics software suites such as EnCase, FTK, TSK, ProDiscover, and so forth (all of which routinely also include low-level disk copy/clone utilities as well, albeit not freeware versions). Obviously, DataNumen makes this tool available for free to help stimulate sales of its other commercial recovery utilities, because one can't really recover the files from a cloned drive without some kind of tool to pick up their pieces on disk and put them back together in readable form. But low level drive copy/clone capability is valuable all by itself, so kudos to them for giving it away.
---
September 24, 2014 10:14 AM
Toolbox
,
Windows 8.1
,
Windows utility
In trolling over some of the Windows 8 Forums looking for "interesting" Windows 8 problems, I ran across numerous references to another nice tool from the folks at Piriform (about whose CCleaner free version I blogged recently). This one is called Speccy (which I assume speaks to its ability to elicit information about your PC, and what kinds of hardware and software it is using) and it provides useful information to those looking for specifics about their machines. Here's the program's Summary page: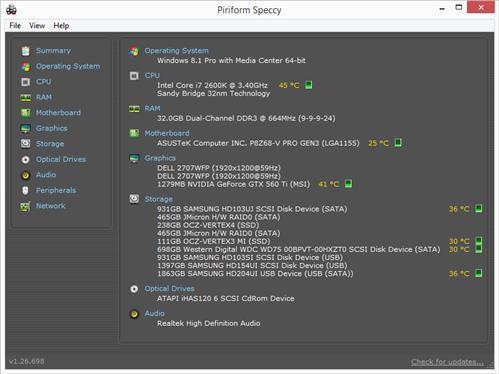 Your PC summary in Speccy includes basic info and temps for devices that measure them.
Over the years, I've gotten hooked on a commercial software package from Gabe Topala called SIW Pro (System Information for Windows) that does much the same thing as Speccy. It's an excellent program, but I pay around $5 a year per copy for 10 or so copies (it costs $10 for the first year, $5 thereafter). After spending a couple of days with this program, I've observed that Speccy does enough of what SIW does for admins to consider making it a part of the standard utility directory on PC images they construct or, if they prefer not to put such tools in the hands of their users, to add to their standard traveling toolkit.
In particular, I found the "Device Tree" information which appears buried at the bottom of the Operating System pane to be especially interesting and informative. It unpacks the results of Windows device enumeration into a tree structure that you must expand manually, node-by-node. This takes a little time and effort but does reveal lots of detailed information about the devices Windows sees on your PC. For my PC, for example, it showed me exactly which storage devices are attached to the Marvell 91xx SATA controller, versus those attached to the Intel SATA ACHCI Controller, something I'd had difficulty determining up to that point without opening and closing lots of windows in Device Manager. Not even SIW makes this information readily available, and not in such clear form.
This tool is definitely worth checking out for sysadmins and power users. I'm adding it to my standard toolkit, in fact.
---
September 22, 2014 10:14 AM
Windows 8.1
Looking at the desktop operating system market share pie chart over at NetMarketShare.com this morning, I couldn't help but observe that Microsoft's "zombie OS" — by which I of course mean Windows XP, now nearly half a year out of ongoing support status — still outnumbers installations of Windows 8.1 (7.09%) and Windows 8 (6.28%) by a whopping 10.52% (XP still runs on 23.98% of those desktops that NetMarketShare surveys). Here's what that pie chart looks like: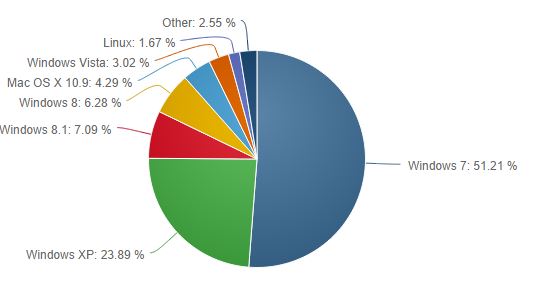 It's a weird world in which a thirteen-year-old — and obsolete — desktop OS still outnumbers the latest MS flagship versions.
[Source: NetMarketShare.com Desktop OS by Version chart 9/2//2014]
Also taking Windows 7's bare majority status on this chart into account, I guess that makes it painfully obvious why the upcoming release of Windows 9 is such an important make-or-break moment for the mavens at Microsoft. If they can't get this one right, the overwhelming tide of users onto mobile devices may make Microsoft a historical footnote in another few years.
There are those who believe that desktop OS releases at Microsoft come in sort of a "two-stroke" rhythm, where one good version is followed by a bad one. Certainly the recent sequence of XP-Vista-7-8 seems to bear this out, with Vista and Windows 8 versions being the bad boys in this particular bunch. That may instill optimism about Windows 9 in those who believe in this phenomenon, but it only underscores just how very important it is for MS not to screw the next release up. Ditto for being able to sell the "one Windows" notion across desktops, notebooks, and mobile handheld devices, so as to permit Windows to surf upon the cresting and tsunami-like mobile computing wave sweeping across the face of the computing world for the foreseeable future.
All of this makes me await the upcoming Windows 9 preview scheduled for late this month or early October with unusual interest. The smart money is backing a "later, rather than sooner" date for that unveiling, as MS no doubt continues to struggle valiantly and mightily in the background to make sure that Win9 will create the biggest possible splash and best possible first impression on pundits, press folks, and prospective users alike. In the meantime, I've found Paul Thurrott's 9/18 article "A First Look at the Windows Technical Preview" to offer the best illumination of what's about to come our way in a more public fashion. Be sure to check it out, if you're curious about this upcoming pre-release.
Maybe those whose continued employability depends on a Windows to explain, support, or make more workable should keep their fingers crossed that Win9 will be a success, whatever MS actually ends up calling the next desktop OS release. I'm pretty sure that will keep them in close league with its maker, whose employees are no doubt doing likewise!
---
September 19, 2014 9:10 AM
troubleshoot
,
Windows 8.1
,
Windows Hardware
Take a look at this recent graph from Reliability Monitor: it's today's output from my production PC and it shows a dismal reliability graph, with Internet Explorer leading the way into the cellar of late. Because I run enough other Windows 8.1 PCs, I know the problem is somewhere on this particular system rather than with Windows in general. As a result, I've purchased a new motherboard (with a Z77 chipset that supports Intel Rapid Start, unlike the current motherboard whose Z68 does not), a faster 512 GB mSATA SSD, and a new low-end GeForce GTX 750TI graphics card to replace the current GTX 560TI) so I can rebuild that system.

Over the past week, 11 of 16 critical events on this PC come from Internet Explorer. Enough already!
I've been struggling with reliability on this machine for months as reported in this utility. Until recently, I've been able to tweak applications to reduce Appcrash frequencies to a manageable level. But following the latest round of Windows Updates, this particular (over 3-year-old) build has started to wobble on a more-than-once-a-day basis. I figure I can speed things up and get another 18 months out of this machine for the $430 I laid out for the new parts, plus a half-a-day's work to tear down the old build and put together the new one. That's still a lot cheaper than a strong mid-grade new PC, so I'm happy to tinker over the weekend and try again with some newer parts.
At any rate, it should be interesting to see how it all turns out. Before I turn off the current system for the last time, I'll take some performance snapshots so I can do likewise with the new build, then blog again about the 'before' and 'after' versions of this system. Please: wish me luck!
---
September 17, 2014 10:12 AM
Clean install
,
Windows 8.1
,
Windows installation
I'm not sure exactly what happened to my son's Dell XPS2720 All-in-One PC last week, but following the application of the Update Tuesday patches and fixes, the machine started flaking out big-time. The most obvious symptom was a set of recurring errors reporting a damaged or corrupt file named iertutil.dll, which apparently exerts a fairly profound impact on overall Windows 8 behaviors. Alas, I was unable to address the issue using the sfc /scannow command-line utility, nor did attempted registry repairs make things right, either. Even a "copy-over" of a known, good, working version of the offending dll into the WinSXS folders that underlay the C:\Windows\System32 (and other key) folders didn't help.
Conditions quickly worsened, when the corruption problems made it impossible to revert to a pre-patch Restore Point, or indeed to even restore an image backup on the affected machine (the built-in, Control-Panel-based image backup/restore didn't work, nor did RecImgManager). Reluctantly, I came to the conclusion that a clean reinstall was called for, and I dreaded the hours of drudgery that seemed inevitable in the wake of this decision.
I shouldn't have worried. The rebuild process went much better than I had expected. I was able to reinstall Windows 8 in under 10 minutes, and I got the added benefit of switching from the RAID pairing of a small (32 GB) SSD and the built-in 2GB conventional HDD to booting from the larger (256 GB Samsung EVO 840) SSD I had since installed on that machine, with the HDD now serving only as extended storage for that system. Bootups and shutdowns sped up enormously, and the overall operation of the system was much snappier, too.
After re-installing Windows 8, I discovered only about 15 drivers out of date as reported by DriverAgent, over half of which were fixed by applying the proper Intel Chipset Utility to the machine. It took me less than 15 minutes to bring all drivers completely up to date, much to my surprise and delight.
I did have to apply around 90 updates from Windows Update to bring the system up to full Windows 8.1 Update 2 status, though, which took about two hours to complete, even with a fast Internet connection. I don't know why, but downloading huge numbers of updates is slowed considerably by pauses in the download process every now and then that can stretch out for four or five minutes at a time (I had two big batches of updates to apply, each with over 40 items in the hopper, plus another dozen or so additional items here and there). I relied on my Network Meter desktop gadget and/or watching the NIC through Task Manager's Performance tab to observe network activity while the update process was underway. I'm not sure if I fell victim to the old "watched pot never boils" phenomenon or not, but eventually, everything was up to date.
After that, I downloaded and applied my usual suite of applications. These days, that means WinDirStat, SIW Pro, FileZilla, CCleaner Slim, Start8, GadgetPack8, and a few other odds and ends. All told, this took another 40 minutes or so.
The final situation was that I took the XPS2720 from bare metal to a finished, ready-to-use system in under 5 hours. This is something of a personal record, and reflects how much simpler and easier rebuilding a Windows system has become over the years. I can remember when dealing with media (floppies or CDs/DVDs) consumed a great deal of time all by itself, and when finding and grabbing drivers was another terrible time-sucker. It's a shame I had to rebuild this system at all but as such experiences go, this one turned out to be a relative breeze. What a relief!
---
September 16, 2014 2:57 PM

Profile: Diana Hwang
Microsoft is covering its bases on the enterprise and consumer fronts.
First, the company on Sept. 30 will show a technical preview of Windows 9 highlighting its enterprise focus. Second, Microsoft said it would acquire Mojang, the popular maker of the addictive Minecraft game for $2.5 billion.
It's no surprise Microsoft is touting Windows 9 for the enterprise. The company tried to be radically hip with a new user interface when Windows 8 first shipped and we all know how that turned out. Windows 8.1 Enterprise was an improvement, but when the industry likens Windows 8 to Vista, you know it's all over.
Today 51.2% of the desktop operating system installed is Windows 7 with only 13.4% attributed to Windows 8 and Windows 8.1, according to last month's figures from NetmarketShare. Even the now defunct and unsupported Windows XP commands 23.9% market share.
But as we all know, Microsoft is like a Weeble that wobbles but doesn't fall down.
With Windows 9, its clear how the enterprise might embrace this operating system if and when their organization is ready to move beyond Windows XP and Windows 7.
The look and feel is reminiscent of the enterprise's beloved Windows 7 with the traditional desktop user interface. And, more importantly, the Start Button returns. Now the Start Button shows how the operating system can display menus in both the traditional and modern look. There is also the ability to show virtual desktops, similar to what Apple's Mac OS X does.
The company also worked out many of the security features enterprise IT pros expected in Windows 8.1 that should continue with Windows 9.
With some of these new snazzy features, Microsoft hopes to marry both the enterprise and consumer needs, providing an operating system enterprise IT can deploy while also bringing the more vibrant consumer flair to the table.
What Microsoft must work on, however, is improving its track record for updates. Several times the company has recalled Windows 8.1 updates. If this continues in Windows 9, who knows whether enterprise IT will seriously consider upgrading to the new operating system.
As Microsoft readies its Windows 9 debut on Sept. 30 we can only hope the software giant doesn't move far away from its enterprise roots. Live and learn, but Microsoft needs to remember the enterprise customer is its bread and butter.
What will be interesting is whether Microsoft can get more businesses to adopt Windows Phone. Unless Minecraft is pushing BYOD with young consumers, I don't think that's the answer. Windows Phone is a far distant third in smart phone market share compared with iPhones and Google Android devices. Will Minecraft on Windows Phone be the next Angry Birds or Candy Crush that motivates both business users and consumers to adopt the platform? That's an iffy proposition.
For now, let's just hope Microsoft does it right with Windows 9 and gives what IT pros need to consider deploying the next operating system into their organization.
---
September 15, 2014 10:20 AM
Windows 8.1
,
Windows Sysinternals
,
Windows tools
For those not already in the know, Sysinternals is the name of a former company that's now part of Microsoft that's long been a source for some of the very best Windows monitoring, management, and troubleshooting tools around. The brainchild of Microsoft Fellow Mark Russinovitch (whose praises I've sung many time in this blog and elsewhere in my writings) and Bryce Cogswell, the Sysinternals Suite from Microsoft contains a total of 68 Windows tools, including my personal favorite, Process Explorer, whose capabilities have been around for years, but which became part of the expanded capabilities of Task Manager in Windows 8, just to give you some idea about how much sway over MS Mr. Russinovich can occasionally exert.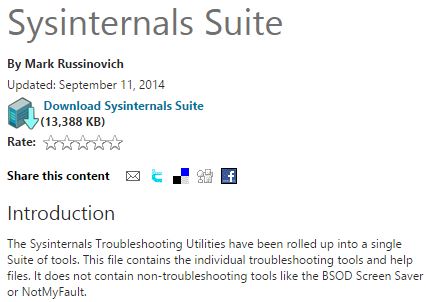 A new version of the Sysinternals Suite posted to the MS pages on 9/11/2014.
Here's a list of the utilities contained in this sterling collection, now available as a single download file, with links to the "man-page-equivalents" for each one, for those curious enough to want to read more about them.
"Fie on that!" sez I: grab and download the whole set right away and play with it on your machine instead. You won't be sorry.
---