---
June 9, 2014 10:51 AM
In the past few weeks, I've been involved in some BIOS updates and also with upgrading the firmware on a number of SSDs from makers including Samsung, Intel, OCZ, and Plextor. On a couple of occasions, the installation routine has called for converting an ISO to a bootable image so the computer can work its magic outside of the Windows OS environment, usually in the embrace of an alternate Linux-derived OS that runs the installer and firmware update process independently. This is often handled by burning a bootable CD or DVD to perform the necessary tasks, but that comes with some time disadvantages — namely, it take a while to burn optical media for use, and optical drives generally run at the bottom of the secondary storage performance hierarchy (slower than everything else:  hard disks, SSDs, and USB flash drives).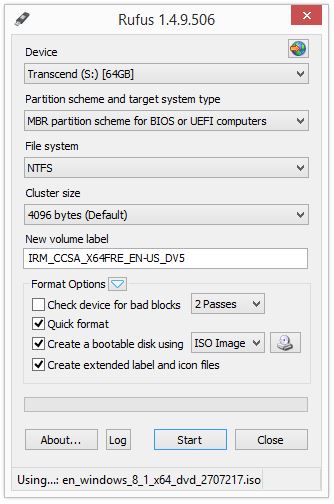 Here's Rufus with the Windows8.1-iso file as its install target, but any iso will do.
That's why I turned to the latest version of Pete Batard's excellent tool Rufus (The Reliable USB Formatting Utility), currently out in version 14.5.9 (Build 506) as I write this blog post. It works with any .iso file to build a bootable UFD to deliver the contents of that image to the target system at boot-time, simply by targeting the host UFD as the focus for the next boot-up. I used it to build bootable UFDs to update the BIOS on one of my Lenovo laptops (the X220 Tablet, model 4294-CTO). I also used it to update the firmware on the Samsung 840 SSD on my wife's primary desktop machine. In both cases, it took less than 5 minutes to prepare the bootable UFD, and a similar amount of time to boot the machine to the UFD, and then let the corresponding utilities do their thing.
Rufus excels at building OS install UFDs so I was pretty familiar with the program already. This added capability makes it incredibly handy in those occasional situations where vendors don't provide firmware or BIOS update utilities that run inside the normal host OS, but instead require a boot-up into an environment that they control completely (the Paragon disk migration and re-org tools do this as well, but they've created their own standalone environment that handles the process for you transparently, from start to finish). Good stuff!
June 6, 2014 11:24 AM
Next Tuesday, June 10, is not only Patch Tuesday for the month, but also represents the point in time by which those running Windows 8.1 who get their updates from Microsoft Update or Windows Update MUST have applied the April 2014 Windows 8.1 Update patches to keep receiving patches and fixes for their Windows installations (those who use WSUS or other staging services to get updates, usually internally managed, have until Patch Tuesday next month — August 2014, that is — to do likewise). With a major and important fix for a long-standing Internet Explorer vulnerability (Larry Seltzer says it's likely to appear as security bulletin MS14-030) in the mix, and another remote code execution vulnerability labeled "critical" that affects all supported versions of Windows (including Server Core), plus various other server add-ons and even MS office (2007 and 2010), it's probably a good idea to get right with those April updates before next Tuesday rolls around.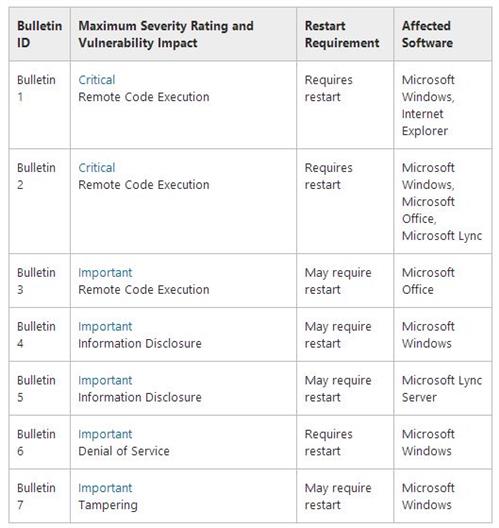 A preview of the seven updates scheduled for next Tuesday from the MS Advance Notification.
Of course, the real issue in achieving a successful application of the Windows 8.1 Update is in KB2919355, about which I have blogged repeatedly in the past couple of months (and about which Woody Leonhard has done the best job of digging into the dirty details over at InfoWorld; see my post "Woody Gets Down and Dirty on KB 2919355 Details" for pointers and links). For most Windows 8.1 installs, KB 2919355 (which includes a new installer that is apparently involved in such problems as can occur) mounts without a hitch. But for a certain and tangible percentage of Windows 8.1 installs, applying KB2919355 fails, provoking a pretty spectacular array of error codes (7 or 8 at last report, with more still possibly remaining to be reported). For those unlucky few for whom such failures occur, a reinstallation of Windows 8.1 seems to be the surest fix (a thankless and time-consuming task). But that's how things work, or sometimes not, in Windows-land. For those in need of next Tuesday's updates, and in this fix, it's time to get cracking to prepare for that deadline…
---
June 4, 2014 11:37 AM
Every now and then, it's a good idea to run a reality check against Microsoft's relentless drive to bring all parties into the Windows 8 fold ASAP. Netmarketshare's latest "Desktop Share by Version" does a pretty good job of showing where the market is today, versus where Microsoft would like us to be. Take a look at this pie chart, so I can user it put some slices of that pie into context, especially where business use is concerned: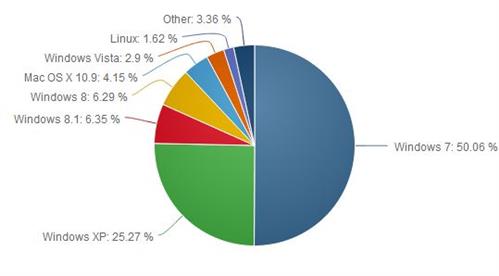 On the one side, we have Windows 7; on the other side, we have everything else, with Windows XP matching the remaining quarter-pie.
Source: www.netmarketshare.com (Operating Systems/Desktop Share by Version 6/4/2014)
What this tells me is that Windows 7 has finally reached maturity and now represents the primary desktop OS for business (and most other) uses. Given that we're almost two months past the "end of life" for XP, it's interesting that just over one quarter of the installed base is still running that venerable old operating system. One wonders what percentage of such users are business-based (I'm guessing it's at least half, perhaps more) and how quickly that slice of the pie will deflate. Given that XP's share has dropped by 50% in about 18 months, it seems reasonable to speculate that it will drop by 50% again by the end of 2014.
Will Windows 8 versions pick up that slack, or will Windows 7 slide inexorably into the other half of the pie as XP shuffles off the stage? That's the really interesting question, indeed, and one I'm sure that keeps some people at Microsoft up at night. Let's keep watching, and see what happens.
---
June 2, 2014 10:54 AM
I'm reading some reports from CompuTex 2014 right now with a degree of bemusement. Among the slew of new product announcements typical of this event, there's news from Asus about a new convertible tablet named the Transformer Book T300 Chi that's billed as "the world's thinnest 12.5-inch detachable tablet" (quote source: Engadget). At 7.3 mm thick (0.29″) it beats the previous record holder in this interesting category (the Microsoft Surface Pro 3, 9.1 mm) by a significant 1.8 mm (~0.071″).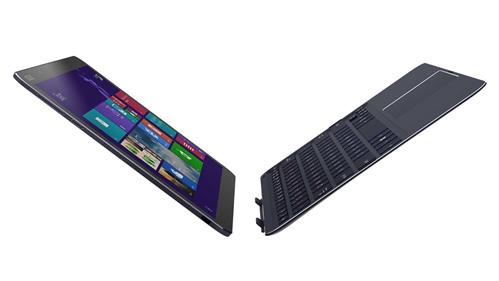 Last week we saw the SP3 at 9.1 mm; this week it's the Asus Transformer Book T300 Chi at 7.2 mm; what's next?
Details on the new offering are still pretty sketchy. According to FirstPost (my best source of such skinny as is available at the moment), we've got a device with some kind of Haswell (or possibly Broadwell) "next-gen Core microarchitecture" (undoubtedly of the ULV variety, given the form factor), "up to 128 GB of flash" SSD, 4 GB of DDR3 RAM, and this surprising element "up to 1 TB of storage" (which may mean a hybrid HD, or perhaps an add-in second mSATA SSD). I'm pretty sure it will be available in at least i3 and i5 models, but would be surprised if i7 also joins the mix because the slim package doesn't leave much room for battery capacity. The keyboard dock is itself quite slender (total width for the device with keyboard and tablet folded together is reported at a mere 14.3 mm, which indicates it's only 7.1 mm (~0.29″) thick on its own. I have to suspect that doesn't leave much room for a second internal battery, nor for too many additional ports (from the various photos currently available, there may be one or two USB ports of some kind, possibly a mini DisplayPort, and perhaps a Kensington Lock port, but it's really hard to tell).
One thing's for sure: aspiring to be the thinnest tablet is an interesting proposition nowadays, and apparently gives contenders little or no time to rest on their accomplishments before being dethroned. But at 7.2mm, Asus may be in a position where other vendors will be challenged to match them, let alone surpass them. We'll just have to wait and see about that!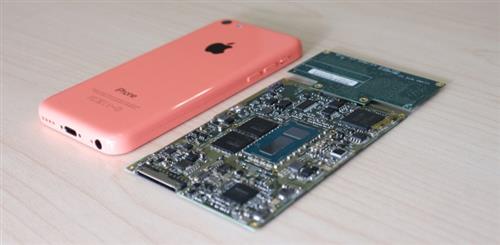 The Llama Mountain motherboard faces one way, the sisterboard the other way, to help heat dissipation. The entire package is just a little bigger than an iPhone. Wow!
[Note added 6/3/2014 10:22 AM: Part of the mystery behind the new Asus tablet is addressed by coverage from Computex that emerged this morning, regarding the so-called "Llama Mountain" prototype laptop from Intel, which provides a reference implementation built around the upcoming Broadwell incarnation of the company's ultra-low voltage Haswell processors, now called the "Core M" (M is for Mobile) line. This is a "die shrink" from 22 to 14 nm of the already-popular Haswell family, and results in a set of mobile processors for which all members enjoy a TDP of under 10 watts. The best Llama Mountain story I've found so far — and there are already oodles of them out there — is from TheNextWeb and is entitled "Intel introduces incredibly thin Llama Mountain reference design running Windows 8.1." Among other things, this story reveals that the Asus Transformer Book T300 Chi is indeed based on the Core M processor line, that it's an entirely fanless design, and that Intel's own reference tablet is a mere 7.2mm thick itself. TheNextWeb includes photos of the motherboard (which contains RAM and CPU plus the bulk of the PC's circuitry) and a so-called "sisterboard" that houses SSD storage and the Wi-Fi radio components. The whole package is just slightly bigger than an iPhone (looks like a 4c model from what I can tell from the side-by-side photo). Here's my favorite quote from the story: "Because of the small motherboard, the 12.5 inch tablet can house more batteries. The board is flanked by two batteries that give the device 32 hours of battery life. The tablet without the keyboard is 670 grams and 7.2mm thick. It's thinner than an iPad air but running Windows 8.1 Pro."
My! My! My! Hasn't the tablet scene just suddenly gotten a lot more interesting? I have two thoughts on this: Poor Microsoft, with its triumphant SP3 announcement from last week now completely eclipsed. And is it possible that Apple will finally start feeling some heat from the long-downtrodden PC-derived tablet sector?]
---
May 26, 2014 9:42 AM
Windows 8.1
A few months back, I posted a whimsical post right here entitled "Windows 8.1 Bada Bing!?" (March 3, 2014). It not only reported on rumors of a low-cost/no-cost version of Windows 8.1 which turned out to be correct, but speculated that it "…could be offered as an 'upgrade' to Windows 7 users who might otherwise be disinclined to migrate to Windows' upcoming Update 1 release scheduled for April 8 or thereabouts" which turned out to be wrong, wrong, wrong.

Windows spokesguy Brandon LeBlanc explains what Windows with Bing is all about: cheap bits for cheaper low-end PCs.
You can find Mr. LeBlanc's post on the subject and see for yourself, but these two blue-lined "call-out" points plucked from its content (plus the title of the blog itself) pretty much tell the whole story:
Combine all this happy rhetoric with the retuning of Windows 8.1 Update's hardware requirements to 16 GB of storage and 2 GB of RAM, and you've got some a more competitive recipe for low-end devices that don't impose a hefty hardware burden on hardware builders, and likewise limit the cost of climbing aboard the Windows wagon to grab some OS bits along the way. Throw in LeBlanc's remark that "some of these devices, in particular tablets, will also come with Office or a one-year subscription to Office 365" and the whole thing starts to make sense.
My favorite part of the release: the line where Mr. LeBlanc reminds us that "… more people … will have access to an even broader selection of new devices with all the awesomeness that Windows 8.1 provides, and get Office too…" Who knew? Look out Android: here comes Windows!
---
May 24, 2014 12:34 PM
SSD
When I saw the headline at pocket-lint.com this morning, my first thought was "marketing/advertising spam!" But when I dug a bit more deeply into "SSD breakthrough makes drives 300 per cent faster and 60 percent more power efficient" it actually started making some kind of sense. Here's the scoop, in the simplest possible terms: SSDs use a complicated method to write data to their storage chips, which basically depends on writing entire "disk blocks" (memory blocks/pages, really) any time new information needs to be recorded. Researchers at Chuo University in Japan have figured out a new method that uses a "logical block address scrambler" to stop data from being written to a new page, and targets it at a block that's scheduled to be erased in the next garbage collection sweep anyway. This means fewer new pages to write, less copying of data from page to page, and longer drive lifetimes (less writing overall means more time until the so-called "write ceiling" for individual memory locations is reached).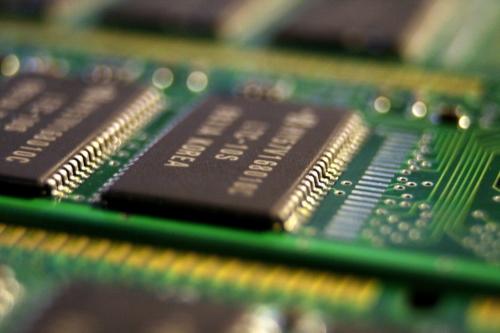 This time, it's not faster hardware that delivers performance and power gains: it's smarter software!
The real beauty of this discovery is that it involves only firmware changes and doesn't require new hardware. Assuming SSD controller makers would be willing to implement these new algorithms (and why would they risk incurring customer ire by refusing to do so?) your next SSD firmware update could be something really special indeed. I'm going to be very curious to see if the big players in this space — Intel, Samsung, Marvell, LSI, and so forth — will ante up and invest in existing products, or if this will become a strictly next-generation-only phenomenon.
This should be an interesting set of developments to watch out for and track, that's for sure! How often does one get a shot at a threefold speedup, while saving energy at the same time? That's why my initial take was "Too good to be true!" Only time will tell if that turns out to be the case, not because the speed-up and savings aren't possible, but because the SSD makers decide not to offer retroactive updates to owners of existing –especially older — SSDs.
[Note added 5/27: Robin Harris, a knowledgeable and tech-savvy writer for ZDNet, posted a story this morning about this research entitled "An SSD speed jump by four-times? Not so fast." He provides more context, including the revelation that the research (unsurprisingly) is based on a simulation of how NAND Flash behaves and works in real devices. He provides some useful analysis, too, and concludes with this "bottom line" remark: "Don't expect to see this impressive speed up in the next three years. Flash vendors have other techniques for speeding flash performance." So indeed, perhaps it was truly "too good to be true!"]
---
May 23, 2014 11:09 AM
Windows 8.1
In the wake of Microsoft's announcement of the new Surface Pro 3 earlier this week, and the blizzard of articles that have followed in its wake, I'm both amused and bemused to understand that things at the upper end of the laptop and tablet marketplace are becoming increasingly blurred. But it's also the case that the upper end of this market puts the considerations, concerns, and outright obsessions that drive design and critiques for this narrow niche well outside the mainstream. Nobody says this better at the moment, than Paul Thurrott of the Windows SuperSite (who himself has produced a plethora — 10! — articles in the period between May 20 and May 22 taking the Surface 3 as their primary focus) in his recent story entitled "Surface Pro 3: Let's Talk About the Price." The subtitle of his story sums up the results of his cogitations: "It's expensive, yes, but still a good value."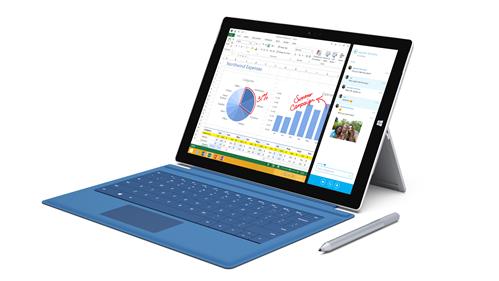 The key selling points for SP3 are: lighter, bigger screen, better PPI, and improved pen-based UI/interaction.
Thurrott makes some telling points in his cost analysis piece where he observes that pricing a tablet or ultrabook over $1-1.2K puts it outside of the interest zone for many, if not most, casual users. That places the focus of that market on business users (who are essentially spending OPM to get something they might not ordinarily buy for themselves) and high-end consumers (who are well-heeled enough to cover the costs, and conscious enough of the old adage "you get what you pay for" to understand that spending more can also mean getting more — or less, where reducing weight and thickness are concerned — for the outlay). For this market — the same general audience that buys the 13″ MacBook Air, the various MacBook Pro models, the Lenovo X1 Carbon, the Toshiba Kirabook, and so forth — what the Surface Pro 3 brings to the party is at least interesting and possibly compelling to those used to traveling and buying in such circles. For the record, the jury's still out on usability issues,  including what many writers, including Brad Sams of Neowin.net and Microsoft itself, call "lapability" (Sams has already written a story about using the SP3 on a four hour plane ride on his way home yesterday from the announcement in NYC the day before that tackles this subject). The jury's still out on SP3 battery life, a particularly important characteristic for many prospective buyers, include your humble correspondent.
What about the legions of other people who don't want to fork out $1,200 or more to get a work-ready model of the SP3? (Note: Thurrott and others rightly spec such a model out with an i5, plus 8 GB of RAM, and a 256 GB SSD or better, with Type Cover, at a suggested retail price of $1,428.) There are still plenty of good options around for those who want a usable Windows 8 tablet, with enough accessories (meaning a good keyboard/cover at a minimum, and better yet, a good docking station for at-the-desk use) to make a well-rounded offering for semi-serious use.
In following this marketspace recently, I'm particularly inclined to call out the Dell Venue 8 and 11 Pro models, plus the newly-announced Lenovo Thinkpad 10. Be sure to look for at least a quad-core Atom CPU — which usually means Z3740 or better, or an i3/i5 in the case of the Dell Venue 11 Pro — 4 GB RAM, and 128 GB SSD if you want to use them more seriously. (Note: the new Thinkpad 10 models won't be available until June, 2014.) All three are worthy of serious consideration and possible purchase. Better still, all three cost under $1,000 (the i5 Dell Venue 11 Pro model costs $850 at the upper end of the price spectrum, sans any accessories, though) and all will handle light to medium duty Windows use in quasi-laptop-mode as well as working nicely as standalone Windows 8 tablets. For the majority of prospective Windows 8 tablet users who must fund such acquisitions on their own, these options are bound to be much more attractive.
In closing, here's another perhaps more important question to ponder, in an era of increasingly large Android tablets: What do these offerings portend for the future of Windows tablet computing, when a usable 10″ Android device — such as the Samsung Galaxy Tab 2 or Tab 3 — routinely goes for $300-350?
---
May 21, 2014 9:54 AM
There's been quite a bit of coverage over the past few days about a recent announcement from the Chinese government that it will "ban the use of Microsoft's Windows 8 on its computers" (this quotation comes from Paul Thurrott's May 20 story from WindowsITPro entitled "China Bans Windows 8 on Governmental Computers"). Reasons for this ban vary according to the source from whence such information originates, and include the following options or alternatives:
1. The government's own posting on the subject indicates that the ban is in response to a planned move to "energy saving" products, which turns out to mean a home-grown combination of the Linux OS, open source software, and various security enhancements
2. Xinhua, one of the premier Chinese news agencies, reports that the ban is intended "to enhance computer security" in the wake of the end of life (and free support) for Windows XP, of which hundreds of millions of (mostly pirated) copies are in use in China, including in all aspects of government operations
3. On April 22, The Economic Times quoted the deputy director of China's National Copyright Administration, Yan Xiohong, as saying "Windows 8 is fairly expensive and will increase government procurement costs" but that Chinese authorities are negotiating with MS on this matter. The paper reports further that Windows 8 sells for approximately $142 per license in China at this time.
When combining these various takes on the situation, I find myself wondering if the Chinese government might not be conducting high-stakes price negotiations with Microsoft through the press, while at the same time expressing its pique about the security threats to existing XP installations posed by lack of ongoing support and security updates for that venerable and widely used operating system. On the other hand, it's also easy to see worries about security backdoors in US information technology products (including software) raised by the ongoing reports from Mr. Snowden. It's hard to tell if this is a genuine matter of decided policy, or a gambit to ensure a better deal for the hundreds of millions of licenses that the Chinese government might have to buy in the future, if not all of these things at work simultaneously. Interestingly, current reports also indicate that the Chinese government is continuing to buy Windows 7 licenses, at least for the time being. It should be very interesting to see how this all plays out.
---
May 19, 2014 9:53 AM
Windows 8.1
For the past couple of weeks rumors have been flying thick and fast that MS will be introducing a new model of the Surface Pro on May 20, 2014, along with the long awaited Surface Mini. I finally picked up some more substantial (though still speculative) "details" about the upcoming release from numerous sources including ZDNet, the Latin Post, and PC Magazine.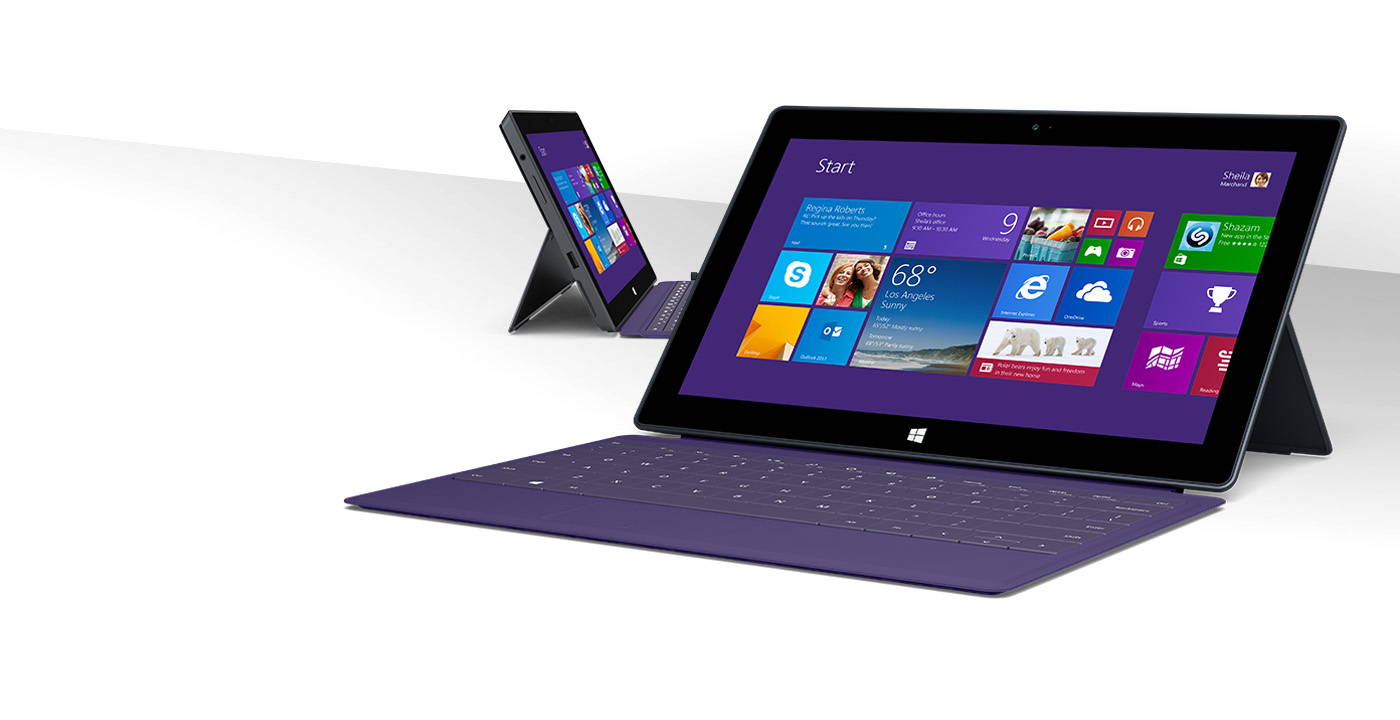 No Surface Pro 3 images have leaked yet, so here's the MS official still for the preceding version.
There are some fascinating elements among the supposed device's rumored new capabilities, including:
1. Larger screen size: LT indicates 12.9″ at 290 ppi (2,560 x 1,440); other sources put the display around a nominal 12″ and don't mention resolution
2. A variety of processors form the 14 nm Core "Skylake" family of CPUs, including one i3 model, 2 i5 models, and 2 i7 models with SSD storage of 64 GB, 128 GB, 256 GB, 256 GB, and 512 GB as you climb the performance scale. Memory is 4 GB for the two lowest models, and 8 GB for the three highest ones
3. Price points fall at $799, $999, $1,299, $1,549, and $1,949 likewise ascending the performance scale
4. Wi-fi will reportedly include 802.11 ac coverage on this latest iteration
5. PC Mag reports the concomitant debut of new Type covers for the larger tablet as well (likely accessories for a device designed to do double duty as a laptop/desktop replacement, no doubt)
6. LT speculates battery life of 9 hours for HD video playback, and 15 hours for light-duty surfing and e-mail use. For sure a bigger device provides more room for a bigger battery, but it remains to be seen if this rumor reflects reality or wishful thinking (LT also reported storage up to 1 TB on the Surface Pro 3, and the ultra-high screen resolution; one wonders likewise about such details as well).
But if enough of these rumors turn out to have real substance to back them, I think I may finally find myself willing to plunk down the cash for the lastest Surface Pro model. In fact, what's reported appears to tick off all the elements from my November 2012 wish list for a business-capable Windows 8 tablet ("Wish List: Windows 8 Tablet Requirements for Business Use," 11/14/2012). Here's hoping, then, that the rumors are mostly correct! For the record, I care most about the battery life, next about storage and processing power, and only distantly about Retina-class resolutions.
---
May 16, 2014 10:50 AM

Profile: Diana Hwang
By Diana Hwang
Microsoft was all about the cloud at this year's TechEd North America 2014 but IT pros wanted something more down to earth: news and previews about the on-premises System Center Configuration Manager.
This was the first time Microsoft consolidated its annual Microsoft Management Summit (MMS) with TechEd and for many attendees, it was a bit of a letdown.
Microsoft combined MMS and TechEd  in part because many of the tracks overlapped, according to a blog post written by Brad Anderson, Microsoft corporate vice president.
Even Anderson's keynote and subsequent demos failed to generate a high level of excitement about the cloud, said an attendee, which set the tone for a much more subdued conference.
Longtime MMS attendees were disappointed at the lack of news surrounding Microsoft's flagship on-premises System Center Configuration Manger (SCCM).
Instead, the Redmond behemoth focused its attention on encouraging IT pros to move to a hybrid cloud model using Azure, previewing the ability to manage Office 365 using Intune, a new ASP.Net framework and unveiling Azure RemoteApps.
But more importantly, one of the key elements many MMS alumni missed at TechEd was the lack of attention on management topics.
The MMS community represents a more traditional customer and Microsoft wants enterprises to make the shift toward adopting newer cloud technology, said Steven Hosking, a consultant engineer for Vigilant IT based in Australia.
Attendees like JD Young, technology systems engineer for the Tahoma school district in Maple Valley, Washington, said they missed the sense of community surrounding MMS.
That missing feeling has sparked talks of a community-driven MMS conference.
"This would allow a focus on System Center and on-prem solutions, which are still pre-dominant," said  an SCCM administrator for an IT consulting organization based in Massachusetts. "There is a lot of support among MMS alums for this kind of solution. It will be interesting to see where it goes."
For some seasoned attendees, the classes disappointed.
"Almost every class and everyone is low-key this year," said one system administrator for a Florida water utility company who requested anonymity, adding many sessions were too general. He did like some SharePoint level 400 classes and technical tips he received from the experts, however.
"It [seemed] disorganized this year," the system administrator said.
Attendees also wished Microsoft's new CEO Satya Nadella was the keynote speaker this year to address the IT pro community. Since taking the helm of Microsoft, Nadella has repeatedly voiced his support for IT pros, calling the community the third constituency.
Whether Nadella's appearance at TechEd might have made a difference for IT pros in how they responded to the conference is "cloudy." But what is clear is that IT pros still want their on-premises SCCM and they're looking hard for Microsoft to give them the answers.
---