---
March 31, 2014 11:47 AM
With the Microsoft Build conference teed up for next week, and the Spring Update to Windows 8.1 timed to more or less coincide with that event, I'd have to guess at least some readers are curious as to what this upcoming update holds in store for them. I missed my opportunities to grab all the update files for the upcoming release (there were two of them at various points in March), but PC World didn't. Their author Brad Chacos has put together an informative slide show captured from a Windows 8.1 test system with the most recent versions of the upcoming update files that he could lay hands on. It's entitled "Deep inside Windows 8.1's spring update: New changes in pictures" and I strongly urge curious readers to pay it a visit, and flip through the 15 screens it contains (of which 13 actually present substantive content take direct from the new update itself).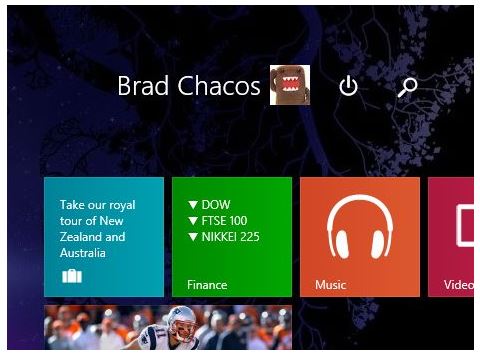 The image on slide 7 in the PC World slideshow shows a snippet of the author's own test Windows 8.1 Spring Update (Metro) Start Screen."
The titles for the slides in the show provide a nice capsule summary of what's inside Windows 8.1 Spring Update:
1. Is the third update the charm?
2. Boot to desktop by default
3. Metro apps on the desktop taskbar
4. Taskbar everywhere
5. Mouse-friendly title bar menus for Metro apps
6. Right-click context menus on Metro Start screen
7. Power, Search buttons on the Start screen
8. New apps installed notification
9. Show more apps on Apps view screen option
10. IE interface tweaks
11. Media files default to Windows Photo Viewer and Media Player
12. Hello, OneDrive!
13. Disk space menu in PC Settings
14. Reduced system requirements
15. Anticipation BUILDs
I'll be watching MSDN this week to see if the Spring Update doesn't appear a little early there, as it sometimes does. Count on hearing from me as soon as a legit version pops up anywhere! Ready or not, it's coming soon…
March 28, 2014 3:47 PM
Microsoft's CEO Satya Nadella hammered home this week the message of reaching out to IT professionals, end users and developers with its Office for iPad and Enterprise Mobility Suite.
First, Microsoft revealed Office for iPad and its Enterprise Mobility Suite (EMS) to the IT community, including a free version of the iPad Office apps and full versions to Office 365 subscribers.
Second, the company sent out an online promotion to customers offering a free year of Office 365 for the first 50 people who go to selected Microsoft retail stores. The hook is to be more productive by putting the iPad to work and getting Office on more devices.
Next week Microsoft will  host its Build Developer Conference in San Francisco to discuss its Windows development.
And then the message circles back to IT pros with the North America TechEd 2014 conference in May.
This three-pronged constituent approach could be Microsoft returning to its roots and ensuring its core enterprise IT customers are given top billing. For Nadella to highlight IT pros with the EMS package alongside the long-awaited Office for iPad, he's capitalizing on both constituents to push his mobile and cloud first message.
Office for iPad
The industry has awaited Microsoft to launch an Office for iPad productivity suite. For years, Microsoft suffered through harsh criticisms for its lack of an offering and lost revenue on the industry's most popular tablet. But now Microsoft can draw in new users and businesses not yet subscribed to Office 365 by baiting them with the Office for iPad apps.
I went to my local Microsoft store expecting a long line of people out the door waiting for their one-year license for Office when the store opened. The line wasn't long at all but the end users had some pretty good reasons for wanting to try Office 365
And here is where Microsoft's strategy works. Not only do you get the business end user who wants to try Office 365 and Office for iPad but you also get IT professionals who are looking to try out the cloud-based service for their business for free. If these end users get hooked on Office 365, through the Office for iPad apps or just by using the cloud-based service, they may go back to their IT department and push to have their organization license the service.
Buddy Newman, an IT manager for the Metropolitan Area Planning Council (MAPC), a state agency of 70-80 people based in Boston, wanted to compare Office 365  with his company's current Citrix virtualized environment.
Newman was unsure whether Office 365 would be cost effective, as previously, other cloud services Newman explored did not provide a cost benefit for MAPC.
But Newman is willing to explore Office 365 for his business, especially since the promotion is free for a year.
Other waiting end users were curious about accessing files across multiple devices.
The ability to synchronize files across multiple platforms was key for Greg Imbrie, a doctor at Tufts Medical Center, a hospital based in Boston.  In addition, since Imbrie already is a Microsoft Office user, he wanted to see if the functionality of his iPad could be improved with the new Office for iPad apps.
Microsoft would not reveal how many stores in the U.S. were selected for the promotion. As of January 2014, Microsoft has 83 retail stores worldwide.
Even if Microsoft only offered the promotion to 30 stores, it would cost about $150,000. That's small change for Microsoft to continue seeding a market to IT professionals and business end users in the hopes of snagging new Office 365 subscribers. And what better way to do it than through an iOS tablet? It's the new Microsoft.
---
March 24, 2014 11:13 AM
I saw with some interest this morning that Paul Thurrott is nearing completion of his Windows 8.1 Field Guide, a real e-book bargain at a mere $2 (though the actual amount you pay is up to you, and could be more or less, as you might choose: I used PayPal to fork over the $2 default price myself). After buying the book, however, I found myself faced with a bit of a conundrum: I downloaded the .mobi version of the book, expecting to be able to launch it in Kindle with a simple double-click after depositing it in the directory of my choice. If only it had been that easy…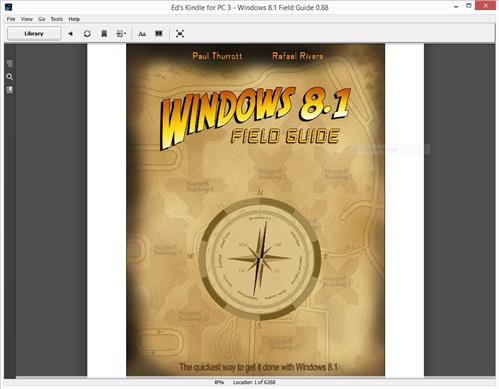 The book is (almost) done, but how to read it on Kindle in Windows 8.1?
First try: Windows 8 Kindle Reader
Because I'm running Windows 8.1 I assumed that having installed the Kindle reader for Windows 8 I'd be able to access the book immediately through the app. But after trying the double-click on the file, I got the "choose an App" dialog box from the OS rather than an immediate launch of the program. After I found myself unable to successfully penetrate the mysteries of the .../Program Files/WindowsApps folder, to target the Kindle app directly (I need to spend some time fooling around with this to see if there's a way to do this when an item like the Kindle app fails to show up on the list of available apps that Windows presents by default), I realized this wasn't going to be as easy as I'd thought. Some poking around online quickly convinced me that there's no easy way to do this with the Windows 8 version of the Kindle reader, so following suggestions from other trailblazers who walked this path ahead of me I "downgraded" to the Windows 7 version of the Kindle reader instead.
Second try: Windows
At last, I found myself with a version where I could access the built-in controls, upon which I learned that the easiest way to access any Kindle document is to copy it into the .../Documents/My Kindle Content folder. Once I accomplished this feat (which required me to do some additional online spelunking to identify the default repository for "local content" in Kindle parlance), I was finally able to access the book inside the Kindle reader.
While it's absurdly easy to synch with the Amazon cloud to access books purchased from that company, sliding reading material into the reader acquired from other sources — such as Mr. Thurrott's interesting-looking book — takes a little more ingenuity. When it comes to making things work in Windows, I've learned there's nearly always some way to accomplish one's reasonable goals, but it's not always as obvious or straightforward as one might hope or wish. And so it goes…
---
March 21, 2014 11:25 AM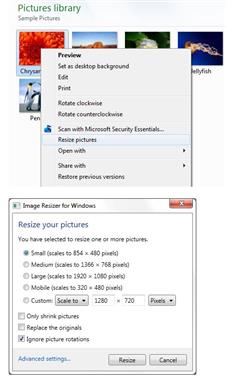 For those not already familiar with the terminology, the software tool "Image Resizer for Windows" is what's called an Explorer Shell Extension (aka ShellEx). When you install it on a Windows PC, it adds to Explorer's capabilities. Thus, if you can puzzle your way into the screen capture to the left (which I resized using the very tool I'm writing about at the moment), you'll see that an entry in the right-click Explorer menu called "Resize pictures" has been added to call put this utility to work. Selecting that menu entry produces the Image Resizer window that appears beneath the menu snippet, and shows that you can pick any of a number of default resizings (small, medium, large, or mobile). You can also create you own custom resizings as well (as I typically do for my blog posts, which are limited to 500 pixels in width, maximum).
For anybody who must work with images or screen captures on a regular basis, Image Resizer for Windows is a great add-in for their software toolbox. It's a CodePlex project so it's Open Source, free, and safe for general and widespread use. There's even a server version that's based on ASP.NET available through imageresizing.net. And for those whose memories go back far enough, yes indeed, this is a faithful replacement for the old Windows XP PowerToy also named Image Resizer. It's pretty popular, too: according to the CodePlex home page for the tool, it's been downloaded over 1.4 million times.
Additional Note:
Working with Shell Extensions can sometimes get interesting on Windows PCs. Because I'm advocating adding one in this blog post, I also feel compelled to mention Nir Sofer's outstanding tool for viewing and managing Windows Shell Extensions in this connection. It's called ShellExView (currently at version 1.86) and it, too, is a nice, compact, and free tool for Windows PCs. I've used it many times to identify and root out shell extensions I no longer use, or didn't want, and you may be able to do likewise as well. Worth downloading.

---
March 19, 2014 11:07 AM
Through the Microsoft Virtual Academy, the company has released the complete set of videos from its recent Windows 8.1 Deployment Jump Start, free to anybody who wants to look them over. Here's a screencap of the items on offer (check the link to dig more deeply into any of them, and/or to access the video content):

All the major tasks involved in creating, setting up, managing, and deploying Windows 8.1 images to desktops is covered in this free online course.
There are four separate modules, each of which includes a video and a support PPT deck, along with a 10-minute self-assessment test worth up to 5 points upon completion. First you begin with an overview that walks through the various tools that MS makes available to support Windows deployment, including ADK 8.1, WDS, and MDT. Second, you explore the process of engineering a Windows 8.1 image, to create a reference image using automated and repeatable processes. Next, actual deployment is explored and explained, with special emphasis on driver management and application deployment. The final module melds the Microsoft Deployment Toolkit (MDT) with System Center 2012's Configuration Management facilities to deploy Windows 8.1, including managing drivers.
All in all it's a nice introduction to the tools and techniques that MS recommends for Windows 8.1 Deployment. For those wishing to learn more about what's involved and to get a general idea of how it's done, this is a perfect way to spend a half-day learning the necessaries. Those who really want to dig in and learn this stuff from end to end will find it makes a nice point of departure, but one that must then be augmented by lots of hands-on interaction and experimentation with the tools and platforms covered in the course.
---
March 18, 2014 9:42 AM
Microsoft's Surface 2 with 4G LTE capabilities became available this week but there are downsides that may prevent IT professionals from deploying it to their end users.
Anything with Windows 8.1 — whether the full blown PC or RT version –represents an uphill battle for the majority of enterprise deployments. Businesses continue to struggle to migrate off of Windows XP, or have recently spent gobs of money migrating to Windows 7.
Deploying the Windows 8.1 operating system is still a faraway prospect except for pockets of companies testing the latest OS or deploying the Surface, Surface 2, or Surface Pro 2 for specific mobile needs.
The new Surface 2 with AT&T's 4G LTE capabilities enters an environment with workers already using Apple iPads as a secondary unit to their workhorse PC or even as a primary device for some users.
It's hard for IT to even think about supporting a Windows 8.1 RT tablet, given that it doesn't easily support Active Directory , unlike the Surface Pro 2. It's a no brainer for many enterprise IT administrators to simply not place a Surface 2 on the approved list when they can't easily manage the device.
The specs for the Surface 2 LTE unit add up to a decent system.  It includes an NVIDIA Tegra 4 processor, 10.6-inch display with full HD that renders 1080p videos, 3.5 MP front camera and 5 MP back camera, battery life of about 10 hours, Microsoft Office Home and Student RT version, Outlook 2013, unlimited Skype-WiFi for one year, 200GB free storage on OneDrive for two years, and full USB 3.0 slot. It also includes the Surface product line's signature kickstand – a feature that makes Surface exceptionally useable on many surfaces (pardon the pun).
The product lists for $679 for a 64 GB version, $130 more than the $549 64GB WiFi only Surface 2. The 4G model of the Surface 2 is cheaper than a comparable WiFi plus cellular 64GB iPad Air which lists for $829, while a WiFi only 64GB iPad Air is $699.
The Surface 2 (with and without 4G) can serve as replacement for an iPad if your company is a Microsoft shop and you absolutely need a version of Microsoft Office for workers. That is, if you don't care about the small number of available Windows RT apps compared with the enormous number of apps for iOS devices. Of course, this could change if Microsoft releases its Office for iPad app.
But with Surface 2, IT administrators have to deal with the unknown factor of Windows 8.1 RT compared with the more prevalent iOS or Android platforms.  And, they'll be wondering if they should bet their mobile efforts based on an RT operating system that may or may not be around a few years from now.
---
March 17, 2014 10:36 AM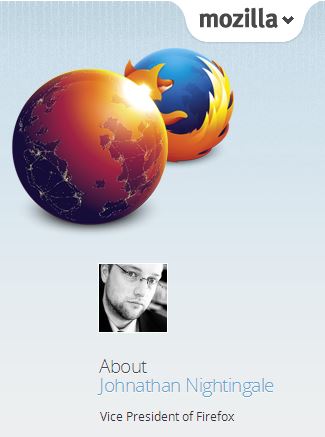 Last Friday, Firefox VP Johnathan Nightingale posted a very interesting blog post entitled "Update on Metro." The first paragraph of this post basically announced the company's decision to "take the Windows Metro version of Firefox off the trains" and goes on to opine that "shipping a 1.0 version, given the broader context we see for the Metro platform, would be a mistake." As it turns out, the decision is based on uptake of the Metro platform in the wild, where Nightingale reported flatly that "On any given day we have…millions of people testing pre-release versions of Firefox desktop, but we've never seen more than 1000 active daily users in the Metro environment."
To some extent, the size of this limited beta test community helped sway Firefox's decision to back away from Metro Firefox because of the potential impact of incomplete and less-than-thorough testing. But my reading of the situation also demands consideration of the company's determination that Metro just isn't going to pick up the kind of momentum or critical mass to justify an ongoing investment in the environment in the years ahead. As Nightingale puts it "This opens up the risk that Metro might take off tomorrow and we'd have to scramble to catch back up, but that's a better risk for us to take than the real costs of investment in a platform our users have shown little signs of adopting" (emphasis mine).
Instead, Firefox plans to "…focus our efforts in places where we can reach more people." I'm wondering if this decision, and the factors that drove it, don't also spell out some important lessons and observations for the whole Modern UI side of the Windows world at present. With everything that MS is doing to restore ease of use and navigation to mouse-and-keyboard based Windows users, the company itself appears to be recognizing that not everybody is interested in Modern UI.  Consider also that mouse-and-keyboard setups serve the majority of the Windows user population by no less than a 90% margin — MS itself reported on 2/23/14 that only 40 percent of Windows 8 machines are touch-enabled, and Windows 8 versions currently represent no more than 10% of all Windows installations active on the Internet — and I see a situation where more companies that Firefox must surely be pondering the soundness of investing further in a narrow-niche UI that nevertheless requires a major effort to buy into and develop for. I repeat my initial reaction: "Very interesting!"
---
March 14, 2014 9:58 AM
Though units won't ship until March 19 (mid next-week), Paul Thurrott offers up a nice preview of the Surface Power Cover over at his SuperSite. Though this new device will add 1.2 lbs to the weight of the Surface 2. Surface Pro, or Surface Pro 2, it also promises to extend battery life by as much as 70% over an unattached Surface tablet of one of these kinds (this cover does not work with the original Surface RT).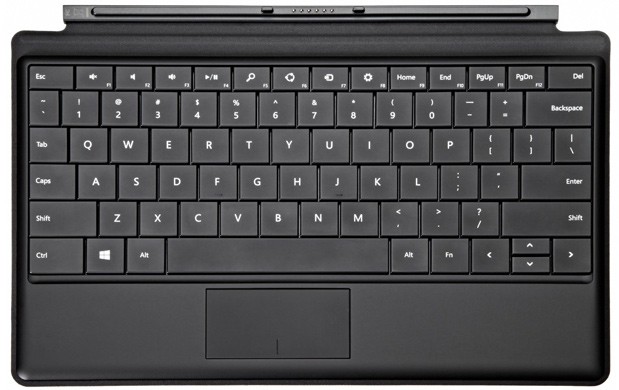 It's about twice as thick as the backlit Type Cover, and its built-in battery adds some heft, too. [Image credit: Engadget]
Here are some further details from Thurrott's preview:
Though some claims from MS rate battery life increases as high as 70%, MS used a 50% figure at its product launch of the Surface 2 last year.
The pre-order price for the Surface Power Cover is $199.99 at the MS Store. No backlit keys like the original Type cover, primarily to save on power consumption.
At 9.75 mm the Surface Power Cover is 4.35 mm thicker than the Type Cover at 5.4mm.
With the Power Cover at 1.2 pounds and the Surface Pro 2 at 1.5 pounds, the combined weight is 2.7 pounds, or 0.3 pounds heavier than a MacBook Air 11 model. But, as Thurrott points out, it's still 0.3 pounds lighter than the average ultrabook PC. It still works well as a detached tablet, too. It's also 1.4 pounds lighter and $1,500 cheaper  than my recently-acquired i7 U4600 Fujitsu Stylistic Q704 tablet with its battery powered keyboard dock (which also includes two full-size USB 3.0 ports, plus HDMI, VGA, and GbE connections as well).
If the Power Cover can up the Surface Pro 2's battery life to 8 hours or better, it gets my approbation. Because it currently sits at about 5 hours, and a 50% boost would up that to 9 hours, this may very well be the case! Stay tuned for further follow-up and testing.
---
March 12, 2014 9:34 AM
In January of this year, I purchased a very nice Stylistic Q704 Tablet PC from Fujitsu's online store. The unit shipped with Windows 7 installed, but I immediately upgraded to Windows 8.1 on the premise that it makes no sense to use a touch-oriented device with the less touch-friendly Windows 7 rather than its more touch-friendly (and current) 8.1 counterpart. Fujitsu even sent me a Windows 8.1 install DVD so I could do the upgrade myself.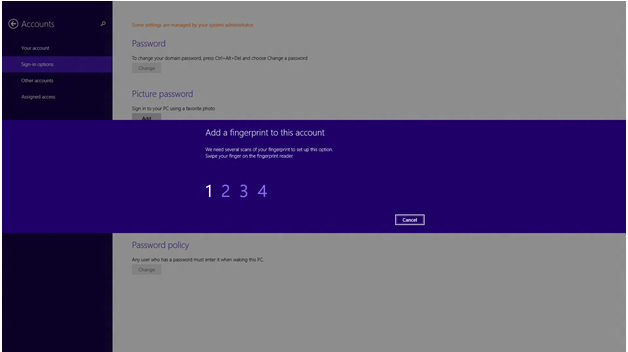 Once I gave up on Fujitsu and started looking for fingerprint scanner support on my own, I learned that Windows 8.1 itself provides basic device support in PC Settings.
After working through that process, I quickly realized that Fujitsu provided no software to put the tablet's fingerprint scanner nor its Near Field Communications (NFC) sensor to work. In conversations with the company's tech support staff, I emerged under the impression that they would be releasing Windows 8.1 software for those two devices around the end of February. Thus when the first week of March came and went, and I saw nothing new on the support page for the Q704 for those devices, I contacted Fujitsu by e-mail to inquire further about the availability of this software. I received a reply saying that there has never been a delivery date published for those items, and that my understanding of the delivery date must therefore have been faulty (or perhaps, deluded). Sigh.
Given this disheartening response, I went digging for information about the unit's Validity Sensors fingerprint scanner through Device Manager and the Fujitsu site itself. I learned that the installed device is compatible with the Windows Biometric Framework (WBF), and that it is natively supported in Windows 8.1, Windows Server 2012 (and R2). I also found an article in TechNet entitled "What's New in Biometrics in Windows 8.1" that contains the following and very interesting quote in the "Fingerprint registration experience and fingerprint management application" section:
Windows 8.1 includes a fingerprint registration application, thereby removing the need for a hardware manufacturer to provide such an application. This application is integrated with the account settings page in PC settings.
Furthermore, the article provides step-by-step instructions on how to register fingerprints with that built-in application, so that users can easily begin using the fingerprint scanner to log into Windows 8.1. Almost immediately after reading this article — set-up took less than two minutes — I was able to start using the fingerprint scanner that I had mistakenly believed to be unusable on the Fujitsu for lack of vendor-supplied software to support same. This raises the even more interesting question of "Why didn't Fujitsu know about this?" (and to make sure they did, I emailed them again to tell them about what I'd learned, and to point them at the TechNet article with the step-by-step instructions others can use to put their fingerprint scanners to work under Windows 8.1).
Now, if only I could find something similar for the NFC device. It looks like I can download some example applications from MSDN to put that device to work, but that's going to require downloading and installing Visual Studio on that machine. I'm not sure I want to do that on a mobile device with limited storage space, but I'm pondering that possibility right now. If anybody knows of other options for NFC on Windows 8.1 (surely, there's got to be some commercial software out there?) please let me know!
It all goes to show that while information from Tech Support may be nice, and sometimes helpful, it's still up to those who own the devices to root around and figure out how to get things working. Otherwise, one might have to wait for the infernal regions to ice up before obtaining genuine relief!
---
March 10, 2014 11:08 AM
Although I missed this particular boat last Thursday, it seems that files for the upcoming Windows 8.1 Update (apparently to be called the Spring 2014 Update) appeared online by mistake that day. For a while, editing a Registry key was all it took to gain access to the upcoming new bits for Windows 8.1. While MS has now blocked that form of access, I just tried the links to update files via Knowledge Base (KB) downloads, and was able to access two of them without difficulty while the other four produced 404 errors.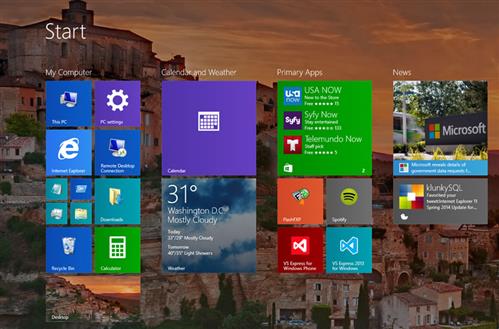 Snapshot of a typical Win 8.1 Update 1 Start screen (source: WinBeta.org).
.
You can find a complete list of these links at Microsoft-News.com in a story entitled "Windows 8.1 Update Leaks…Sort Of" (click the 32-bit or 64-bit elements in the middle of each list item to get to the corresponding KB items). The story goes onto opine that "…these links are intended for internal Microsoft employees [who] have been testing or "dogfooding" Windows 8.1 Update 1," which may explain why some of those links still work.
If you're interested, you'll also find the recommended order for KB article items by number is as follows:
1 KB2919442 Preparation Update
2 KB2939087 Preparation Update
3 KB2919355 Update 1 done
4 KB2932046 Supplement File
5 KB2938439
6 KB2937592
So far, published reactions to the new update have been mixed, with some individuals reporting bugs or an inability to start the OS after installation of some KB items, and others reporting no such problems. Neowin.net already has an interesting summary from those members of its user forums who've installed the update: it's entitled "Neowin members offer impressions of Windows 8.1 Update 1." If you're interested in a preview of things to come, it's probably too late to grab them from Microsoft, so you'll have to ask yourself if curiosity trumps caution when it comes to seeking out the BitTorrent versions likely to proliferate soon, if not already available.
---