---
December 19, 2018 10:58 AM
Troubleshooting
,
Windows 10
,
Windows Upgrades
As of December 17, the latest version of Windows 10 is publicly available. Its version name is 1809. This indicates September 2018. After a trouble-wracked initial release on October 2, MS took 6 weeks to start dribbling out 1809 to a subset of users once again. Now, the latest word from the Windows 10 Update History page is "the taps are open!" Thus, it's finally safe to proclaim Win10 1809 publicly available. Here's a snip from the afore-linked Web page:

As of Monday (12/17), anyone who manually selects "Check for updates" in WU will get the 1809 upgrade. It's been a long time coming.
[Click image for full-sized view.]
Win10 1809 Publicly Available, Now What?
Just because this update is available, does this mean that wholesale upgrades are a good idea? As with many interesting questions, the real answer is "That depends…" There are still enough potential gotchas out there — see Martin Brinkmann's GHacks story for a good summary — to make "try it and see" the right approach to this upgrade. In other words, I wouldn't recommend jumping on the upgrade without first making an image backup. Then, if something goes sideways, you'll also want to have a bootable USB flash drive (UFD) with backup/recovery capability ready for action. Should the upgrade fail or manifest issues, use the UFD to restore the previous version and wait for the next Cumulative Update to 1809 to try again.
For me, this approach is SOP for Win10 feature upgrades anyway. I use the excellent Macrium Reflect Free. It includes a Rescue Media facility, which builds a bootable UFD with built-in backup recovery capability. I generally make an image backup just before applying a feature upgrade. Then, if the upgrade doesn't complete (or the PC bluescreens or won't boot), I can simply boot to the rescue UFD and tell it to restore that backup and keep on trucking. And FWIW, if the upgrade does succeed, I make another backup after I clean up Windows.old and the system disk. That way I can get back to a pristine image of the latest version any time I might need to. Please consider doing likewise yourselves: this strategy minimizes downtime and inconvenience.
December 17, 2018 6:30 PM
DISM
,
Troubleshooting
,
Windows 10
,
Windows Upgrades
Drat! I really like the built-in Windows 10 Deployment Image Servicing and Management (DISM) command. But I've discovered some DISM schisms. They embrace Version 1809 (Build 17633.134) and the Insider Preview (Build 18298.1000). Usually, DISM supports get and set operations for something called OSUninstallWindow. This describes the command's ability to query (get) the number of days the OS will keep a previous version around after an upgrade. There's also a corresponding command to change that number (set). Right now, neither will run with current Win10 versions. That leads me to claim OSUninstallWindow DISM difficulties.
Detecting OSUninstallWindow DISM Difficulties
It's pretty easy to tell these commands don't work as they should. On Version 1809, they throw "Error 3: The system cannot find the path specified." On Version 19H1 (Build 12298), they throw "Error 1168: Element not found." I've reported this to the Windows 10 Feedback Hub under the title "dism /online /get-osuninstallwindow not working." I hope you'll check the status on your Windows 10 PCs and upvote this item if you experience the same errors. I've checked all 9 PCs here at Chez Tittel, and all are subject to these errors. [As explained in the concluding section below, these errors will present on any PC where Windows.old has already been cleaned out.]
Here's an illustration from a 19H1 Insider Preview test machine. It shows proper syntax for both commands in an admin PowerShell session. You can run them in an Administrative Command Prompt window, if you prefer.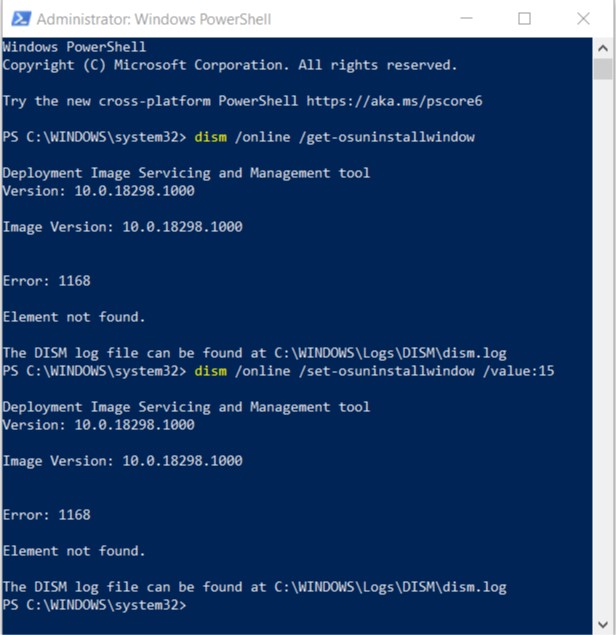 Something, somewhere is going sideways with this usually ho-hum, dead easy DISM command sequence.
At present, default value for the OSUninstallWindow is 10. In fact, that means ten days. Thus, on Day 11 after you upgrade Windows 10, it fires off a disk cleanup task that gets rid of Windows.old and other leftovers from an upgrade install. When the aforementioned DISM command (Set-OSUninstallUpgrade) is working, that's easy to change. But for the time being, it's stuck at 10 days. You've been warned!
Again: check your PCs. If one of these errors pops up for you, please upvote my Feedback Hub item. Look for "dism /online /get-osuninstallwindow not working." Thanks in advance for your help and support!
Explanation for the Errors
Having now spent a bit more time researching this matter, and working with my friend and business partner Kari Finn, I've got it figured out. These DISM commands work only if a Windows.old folder is present on the system drive. The retention info is apparently stored within that folder structure. If it's not around, you can neither get nor set the value for OSUninstallWindow. How do I know? Because when those commands run on a Windows 10 install with Windows.old present, they work as advertised. When Windows.old is absent, either the path is missing or the item is absent depending on Win10 version.
I disagree with Microsoft's implementation. To my way of thinking, right or wrong, the retention interval is an abstract value. Users should be able to set it whether Windows.old is present or absent. But that's not how Microsoft handles the OSUninstallWindow. Thus, I'm changing my feedback hub request to ask them to turn it into a Group Policy or a Registry setting. It shouldn't depend on the presence or absence of a specific folder hierarchy. 'Nuff said.
---
December 14, 2018 12:13 PM
Windows 10
,
Windows Update Management
,
Windows Updates
Here's an interesting tidbit of information, courtesy of Forbes magazine. That story references a December 10 Windows Insider Program blog post. It's from Michael Fortin, MS CVP for Windows, entitled "Windows monthly security and quality updates overview." In that memo, Fortin identifies update release labels: B, C, and D. The B release comes in the second week of the month: it's the usual Patch Tuesday stuff. Likewise, C and D  releases to WU come in weeks 3 and 4, respectively. Thankfully, Fortin describes  C and D releases clearly. "These are preview releases, primarily for commercial customers and advanced users 'seeking' updates."  Thus, my post title that late-month WU items equal update previews. Like I said: interesting, eh?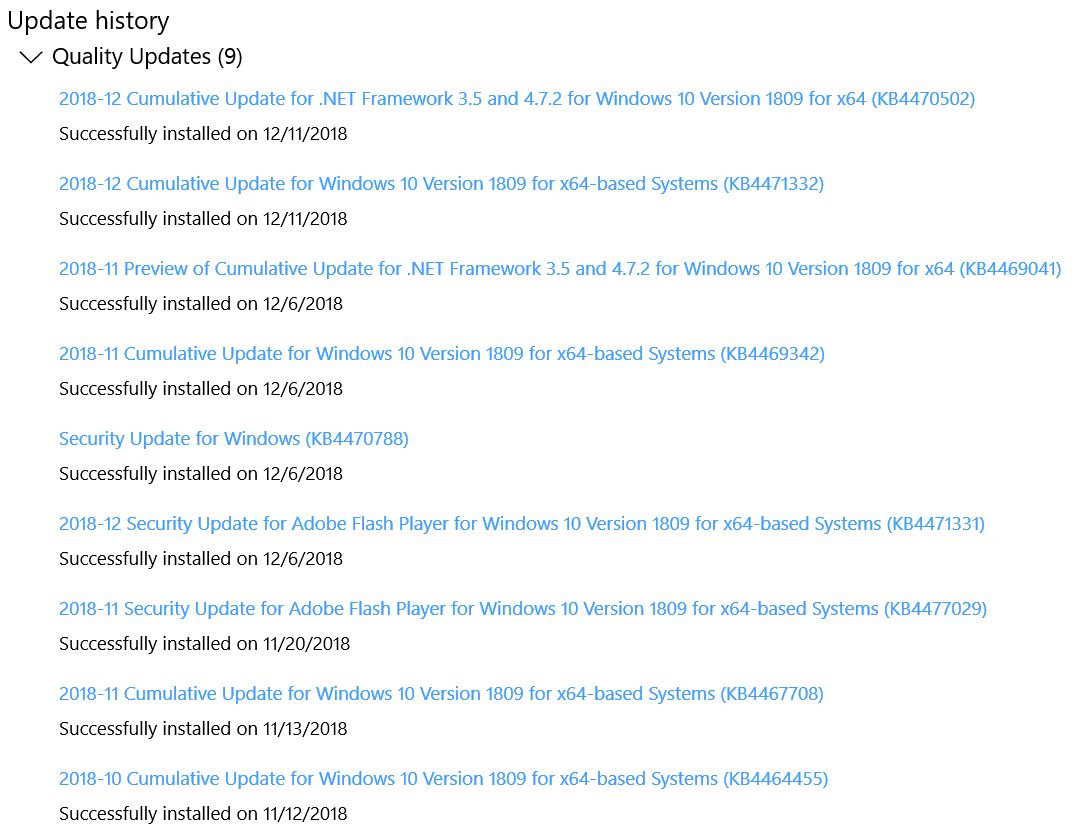 Knowing recent Patch Tuesday dates are 11/13 and 12/11, it's easy to tell that several updates shown here may qualify as "previews." One 12/6 item even says "Preview."
[Click image for full-sized view.]
What Late-Month WU Items Equal Update Previews Really Means
In addition, the afore-cited blog post explains further about C and D releases:
These updates have only non-security fixes. The intent of these releases is to provide visibility into, and enable testing of, the non-security fixes that will be included in the next Update Tuesday release. Advanced users can access the "C" and "D" releases by navigating to Settings > Update & Security > Windows Update and clicking the "Check for updates" box. The "D" release has proven popular for those "seeking" to validate the non-security content of the next "B" release.
OK, then. What does this really mean for run-of-the-mill users? Admins working on test/staging PCs? For one, ordinary users should "wait for WU updates." Jumping early means installing preview level update code. For others — namely, admins, power users, and insiders — this is stuff for which advanced access is helpful. In fact, this goes double if you're trying to create canonical images for your next upcoming, scheduled in-house update cycle.
If you want to play the WU game well, it helps to know the rules. Though they come as a bit of a surprise, I'm still grateful to Mr. Fortin and MS for clarifying things somewhat.
---
December 12, 2018 3:56 PM
IP networking
,
Network interface
,
Windows 10
Last week, I blogged about Intel Windows 10 Modern Drivers. As it turns out, there was more going on with that than I recognized. In addition to a new set of drivers, Intel also offers a new set of UWP software as well. By grabbing the latest version of the Intel Ethernet Adapter Complete Driver Pack, downloaders will get a copy of a UWP-based PROSet tool. Because it's named the Intel ProSet Adapter Configuration Utility, this blog post is entitled Intel Win10 UWP configuration utility. Here's what it looks like: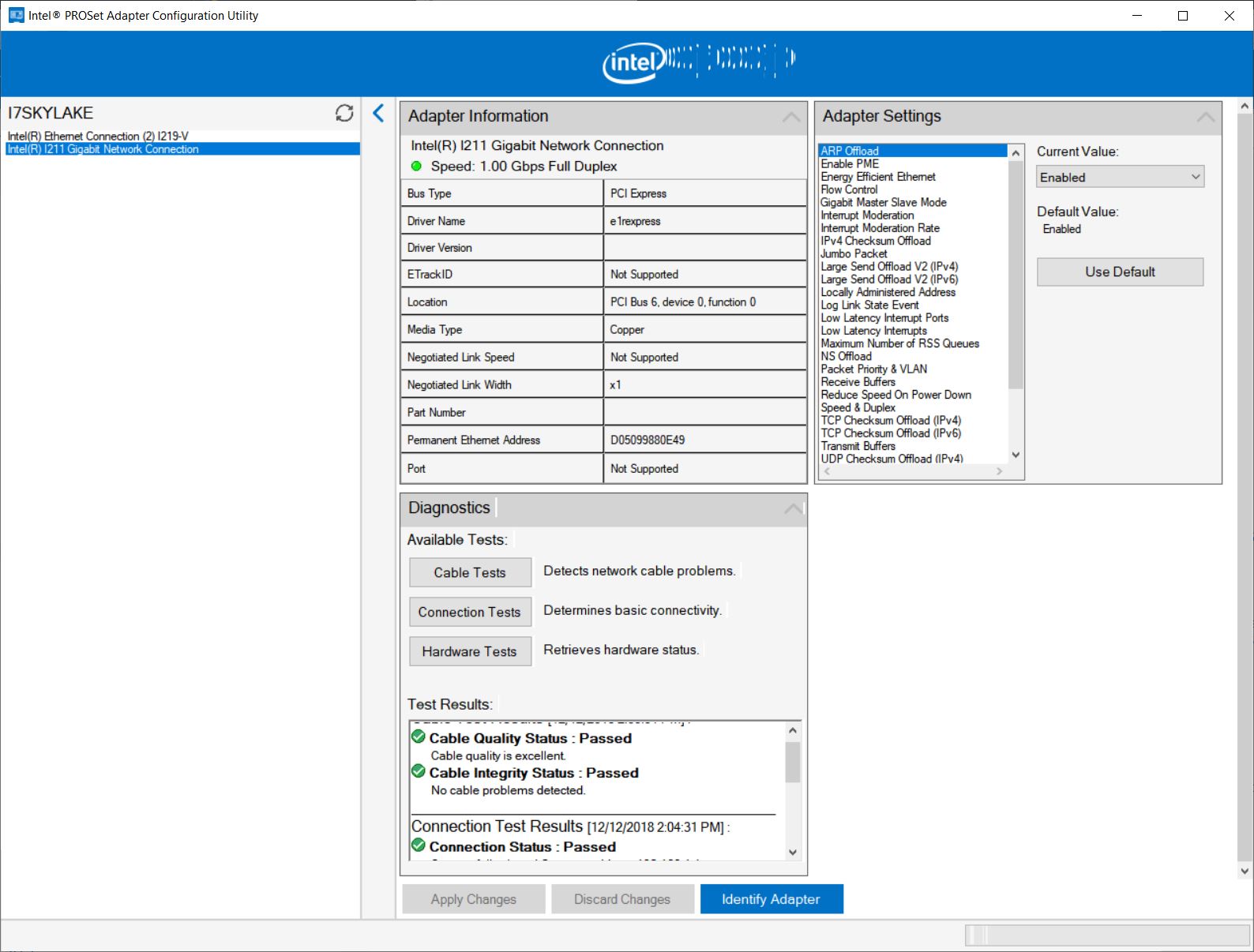 This handy utility runs from the Start menu, and provides all kinds of useful information about and control over Intel Ethernet adapters
[Click image for full-sized view.]
What's in the Intel Win10 UWP Configuration Utility?
If you inspect the preceding screenshot, you'll see four panes of information inside its window. The left-hand pane lists all Intel Ethernet adapters present on the host PC. There are two panes in the center. Up top, you'll find adapter info, including bus type, driver name, media type, and so forth. Down below, you'll find buttons for cable, connection and hardware tests. There's a display area at the very bottom of the pane for test result display. At right, users can access and update each network interface's adapter settings. Previously available only in Device Manager's Advanced Connection properties window, this interface is less cramped and more friendly.
I did encounter a couple of gotchas when using the tool, though. After running either the Cable or Connection tests, the network interface would drop off the network. This proved easy to fix, however. A restart does the trick. So does jumping into Device Manager, after which you'll disable then re-enable the affected network interface. Either maneuver restores the network to normal, proper operation. Hopefully, some alert Intel networking developer will read this blog post, and take corrective action for an upcoming tool update.
Nevertheless, this tool is worth downloading, installing and using, IMO. If you try it yourself, I hope you'll agree.
[Note added after initial publication] The runtime for this software also includes some interesting PowerShell stuff. Read this support note "Intel PROSet for Windows PowerShell Software" and you'll be able to try this stuff out for yourself. Works like a champ!
---
December 10, 2018 12:04 PM
Disk cleanup
,
Hidden files
,
Windows 10
Checking over my production PC this weekend, I noticed a half-dozen folders at the root of my system drive (C:). By definition such files are system related and ordinarily hidden from view. Looking them over, I quickly realized I neither wanted or needed most of them. Hence my exhortation: Out darned Win10 dollar files (with apologies to the Immortal Bard). Here's what I saw at the head of the C: drive's folder list (the initial $ takes them to the head of the collating sequence):
Note the list of items here, each starting with the dollar-sign ($) character.
[Click image for full-sized view.]
Tossing Out Darned Win10 Dollar Files
Let's tackle each item in the foregoing list of hidden system files as they appear from the top down. I'll dig a bit into each one, and explain why I decided to get rid of 5 of those 6 entries. Sometimes that means I don't need the contents any more, sometimes it's an empty directory somehow left behind by Disk Clean up or Settings → Storage → Free Up Space now. Actually, only the Recycle Bin is a must-keep item (it supports the familiar desktop trashcan).
$GetCurrent
This hidden folder is created on Windows 10 machines during the upgrade process. It contains log files about a specific upgrade, in fact. The files in this folder are dated April 30, 2018, which means they're tied to the 1803 upgrade. I'm running 1809 on this PC, so I absolutely don't need this folder any more. Out it goes.
$Hyper-V.tmp
There's little or no information about the $Hyper-V.tmp folder available anywhere, either from Microsoft or third parties. Its extension — .tmp — usually indicates temporary files which means it's not necessary to keep them around. Closer inspection of the folder shows it to be empty. I'm not running Hyper-V on this PC anyway. Out it goes, too.
$Recycle.Bin
This one's legit and must be kept around to keep the Windows 10 Recycle Bin working as intended. I'm leaving one alone, and you probably should, too.
$SysReset
According to a variety of sources, the $SysReset folder is created only when a Reset or Refresh operation fails on a PC. Since I regularly mess around with system functions on this PC for research and learning purposes, I probably triggered it unintentionally at one time or another. It includes log files intended to help troubleshooting reset and refresh issues. I have none that I know of, so this one goes, too.
$Windows.~BT and $Windows.~WS
These folders are created during the upgrade process to support rollback if needed. I use image backups to roll back when necessary, so I don't need these folders. I'm not sure why Disk Cleanup and/or Settings → Storage → Free Up Space hasn't already removed them, but I have no qualms about doing this manually myself. I don't need these folders, nor their contents. Besides, 1809 backup happened for me on October 5 at Build 17763.1, and no longer matches the official ISO build source 17763.134. I don't even want this stuff. Out it goes!
Say Bye to those Dollar Files
In an administrative Command Prompt session within PowerShell, I'll use the rd (remove directory) command with /s (recurse directories) and /q (quiet, ignore error messages) to tackle these items. Here goes: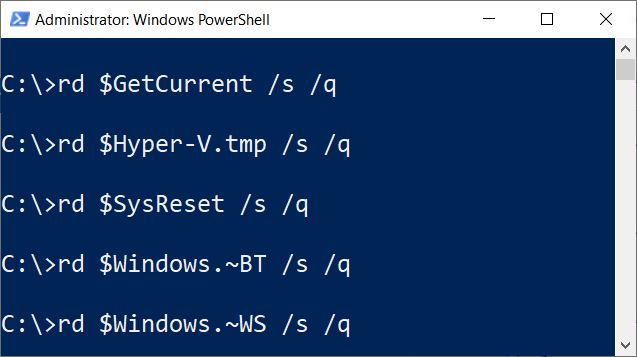 As I entered these commands inside the PowerShell/Cmd window, I watched the corresponding folders disappear in Explorer. Cool!
All taken care of. If it worked for me, it will also work for you. Say G'bye now!
---
December 7, 2018 1:10 PM
Windows 10
,
Windows Update
,
Windows Update Management
In this case, CU means cumulative update for Windows 10. Servicing stack updates, also known as SSUs, pave the way for successful CU installs. As the MS Servicing stack updates web page explains, these updates "provide fixes to the servicing stack, the component that installs Windows updates." In essence, that means SSU updates make sure that any potential gotchas that might prevent the CU from installing correctly are addressed before the gotchas can bite. This quote explains what's up. "If you don't install the latest servicing stack update, there's a risk that your device can't be updated with the latest Microsoft security fixes." Hence also the title: Win10 Servicing Stack updates support CUs. Got that?
How Is It That Win10 Servicing Stack Updates Support CUs?
SSUs are supposed to be released at the same time that monthly quality updates and CUs are released. Sometimes, an SSU may go out on its own to address issues that affect systems installing a monthly update of some kind. Starting November 2018, new SSUs are classifed as Security updates with a "Criticial" severity rating. You can look at SSUs as a kind of just-in-time update that prepares systems to accept and work with other updates. It's all good, right?
There's just one little gotcha when it comes to SSUs. They don't appear in the Windows 10 Update History. For the record, the most recent SSU (dated 12/4/2018) is KB4470788. Note this snippet from my Lenovo T520 laptop, onto which I installed the latest updates yesterday.

Note the absence of an SSU entry in the preceding list. Nothing is numbered 4470788.  What's up with that?
[Click image for full-sized view.]
If There's No SSU Visible, Is It Really There?
Oh, it's there all right. MS chooses not to show it in its Update History list for some odd reason or another. If you use the DISM /Online /Get-Packages command, it shows up near the end of that listing, like this:
The red arrow flags the KB4470788 entry, and shows it appears as a Security Update as claimed earlier. Perforce it's installed before the CU (RollupFix item at end of list).
[Click image for full-sized-view.]
I learned by trial and error on Wednesday/Thursday that sometimes the SSU may NOT precede a CU. If that should happen, this may manifest in WU failing to offer the CU. I noticed that four of the five machines I have running 17763.167 got the offer, but the fifth did not. On a whim, I downloaded and installed the SSU from the Microsoft Update Catalog. Immediately thereafter, WU offered the missing CU (KB4469342). I'm not sure why this happened, but I was glad to find a way to address the situation. Should you ever find yourself in the same boat, this technique might also work for you. Find the Servicing Satck Update KB article numbers in Microsoft Security Advisory ADV990001 Latest Servicing Stack Updates. Then you can use that info to grab what you need from the Update Catalog.
---
December 5, 2018 10:42 AM
What can one say about a Windows 10 Cumulative Update that goes through four iterations? Quite a lot, as it turns out. In fact, KB4469342 has led to three or more point release values for Build 17763. A quick Google Search on KB4469342 at Microsoft.com produces info for .165, .167 and .168 point releases in the Insider Preview Release Preview program. Woody Leonhard vents some interesting spleen on this CU at ComputerWorld "Win10 Version 1809 gets another jolt, fourth KB 4469342 now runs build 17763.18." There's been a lot of recent action on this front, which is why I assert that Cumulative Update KB4469342 weaves tortuous Win10 track.
One Tale On How Cumulative Update KB4469342 Weaves Tortuous Win10 Track
Take my Surface Pro 3 as an example. I've been tracking the Release Preview stuff on that PC since the .165 version of KB4469342 appeared on November 16. I've read about various graphics driver and other issues for this update in its various forms. I didn't get bitten until the .168 release appeared December 3.
When I checked WU no new KB4469342 update appeared. It wasn't until yesterday that I decided to visit the Microsoft Catalog and grab the update for manual installation. But I couldn't find it until some kind soul named Dave44 offered download links to the x64 and x86 .cab files at TenForums. I had checked various UUP-based download sites. Alas I couldn't grab those files, despite numerous other reports of success from posters to the afore-linked thread.
The Tortured Track Continues
Once I used DISM to add this package to my online Win10 image things got interesting. After the package was integrated, DISM asked to reboot my PC. Prior to reboot, I saw the spinning balls and the typical "Processing updates" verbiage that counted through to completion. Following the reboot, the OS hung. It presented me with a set of "Choose your default keyboard" selections. When I did, the machine would restart and eventually return to the same screen. This is a so-called "Windows 10 boot loop." After exhausting recovery options to the resident recovery partition without success, I booted to a Macrium Rescue Media UFD, and performed boot repairs.  After the next reboot, Windows 10 went through its OS rollback ("reverting to previous OS version") maneuvers and I was back running the .167 point release.
Light at the End of the Tunnel?
This morning, WU finally offered me KB4469342 directly for the first time. After a quick image backup and crossing my fingers, I fired it off. To my surprise and delight, it completed successfully all the way through. But when I ran DISM /cleanup-image /startcomponentcleanup on the .168 image it failed partway through. The error message read: "The operation cannot be performed because another transaction is depending on the fact that this property will not change."
That's a new one on me, so I looked it up in Microsoft Docs. It occurs when two transactions compete for the same resource, so neither can grab it and complete. I've noticed that sometimes running startcomponentcleanup causes two progress bars to appear, one that stops short of 100% and a new one that kicks off and usually runs to completion. Could it be that a second process gets spawned when the first one hangs and that this time they conflicted with one another? Hard to think of another more likely cause here. Very interesting.

Notice the two lines reported for progress. My best guess is that each represents a separate process. Each apparently requests a resource that the other needs to cause the error.
[Click image for full-sized view.]
I'm wondering now if this version of KB4469342 is the one that will go official next week on Patch Tuesday (December 11). There's still time for another version to make its way into the Release Preview channel before then, though. Can't ever remember seeing the same KB go through four iterations before. Anybody going for five?
---
December 3, 2018 3:21 PM
Device drivers
,
Intel
,
Intel Chipset Drivers
,
Windows 10
Starting in November, 2018, Intel began supplying Modern Windows Drivers for its products. You can read about this switchover on the Intel site. Find the Support post entitled "Introduction of Modern Windows Drivers for Intel Products." If you download a new version of the  Intel Driver & Support Assistant (IDSA), it will grab those drivers for you should they be available. The latest version runs as a web-based app, and does a pretty good job. But the change comes with a caveat, where Intel Windows 10 modern drivers are concerned. It's only available for newer Intel graphics chipsets, including Skylake, Apollo Lake, Coffee Lake, Gemini Lake and Kaby Lake (510 or higher and 605 or higher, by chipset model number).

Interesting implications emerge from a new Windows driver architecture, Windows Modern Drivers(MWD).
The Read More link in the graphic is the Intro article linked in the preceding paragraph.
Switching to Intel Windows 10 Modern Drivers
The switchover is easy, if your hardware is new enough to support the new driver family. If so, you'll also want to visit the Windows Store. Search for and install the Intel Graphics Control Panel, for an interactive set of driver controls tightly integrated into Windows 10. For myself though, all of the PCs I own run Intel graphics chipsets of Haswell or Ivy Bridge vintage. That means neither the new drivers nor the Store app work for me. In fact, although I can download and install that Store app, I get an error message when I try to launch it:

Alas, without a MWD driver, the Store app won't run.
Implications of Switching to Intel Windows Modern Drivers
So far, reaction to the drivers has been mostly positive, if somewhat mixed. The only way to load these drivers is to run an .exe file. Attempts to extract typical driver file components (.inf files, .dlls, and so forth) apparently don't produce anything usable. Why is this a potential concern? Because such individual files are REQUIRED by DISM to integrate drivers into offline image files. This is explained in the MS Docs article "Add or Remove Drivers to an offline Windows Image." So far, nobody's figured out how to do this using MWD drivers in general, and Intel graphics drivers in particular. This could be a gotcha for some admins who maintain Windows image libraries for deployment. Hopefully, some kind of resolution will soon be forthcoming.
---
November 28, 2018 11:49 AM
icloud
,
Troubleshooting
,
Windows 10
,
Windows Upgrades
OK, then. Another interesting tidbit about recent Windows 10 woes for the 1809 release has emerged.  As ZDNet reports, Apple has fixed a compatibility problem with iCloud. iCloud is Apple's cloud-based storage solution. It lets  iDevice and iCloud users on PCs access,  exchange and synchronize files. That story is entitled "Microsoft lifts Windows 10 1809 block after Apple fixes iCloud for Windows." It explains that iCloud for Windows version 7.7.027 "caused problems syncing Share Albums after users updated to Windows 10 1809." That's why Microsoft blocked the 1809 update offer for Windows users running iCloud until the fix came in. They also prevented 1809 users from installing iCloud likewise.  That's why I say that an iCloud issue hampers 1809 user proffer (in such cases, at least).
Overcoming iCloud Issue Hampers 1809 User Proffer
Yesterday, Apple released iCloud for Windows 7.8.1. It addresses the 1809 compatibility issue. To take advantage of its capabilities, MS and Apple recommend that users first update iCloud. Only then should they upgrade their PCs to 1809. Here are the details on the recommended approach. They come from the November 27 entry on Microsoft's Windows 10 update history page.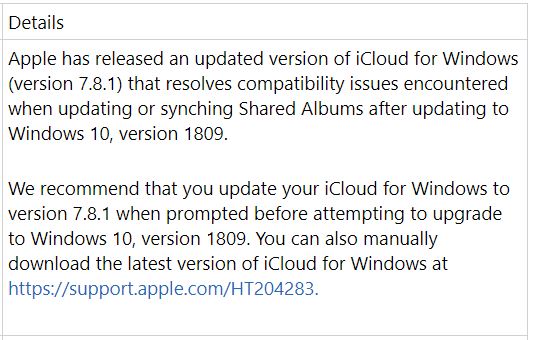 This is the info about iCloud that appeared on 11/17. This page is a handy source of useful info about release status and issues. Bookmark it!
Other Interesting 1809 Issues
While you're visiting that update history page, it's informative to check out other recent entries, too. The block dated 11/21/18 describes an Intel display driver issue. It attributes potential problems when "Intel inadvertently released versions of its display driver (versions 24.20.100.6344, 24.20.100.6345) to OEMs that accidentally turned on unsupported features in Windows." Ouch! The upshot could affect audio playback through a monitor or TV connected using HDMI, DisplayPort, or USB-C. A workaround is also documented.
Older items include F5 VPN client issues, drive mappings that fail to reconnect, Trend Micro OfficeScan and Worry-Free Business software, older AMD GPUs, and more. Definitely worth reading over, especially for those facing any or all of such issues.
---
November 26, 2018 12:18 PM
Thanks to MSPowerUser.com I stumbled upon a very interesting UK survey this morning. Its title tells much of the story: "Survey finds Laptops, Tablets steady while Desktop PC ownership plunges." There's an even better picture of what's reported. I reproduce it from page 6 of the stunning interactive report around which the story is based. Basically it shows that in the period from 2008 to 2018, tablets and laptops increasingly represent the computing platform of choice for end-users. As the same time use of (desktop) PCs for computing has declined by more than half. If I read the chart correctly, only 30% of users now turn to PCs for computing. But just over 60% use laptops for that purpose, and just under 60% of users turn to tablets likewise. That's why I say Tablets and Laptops Supplant Desktop PCs.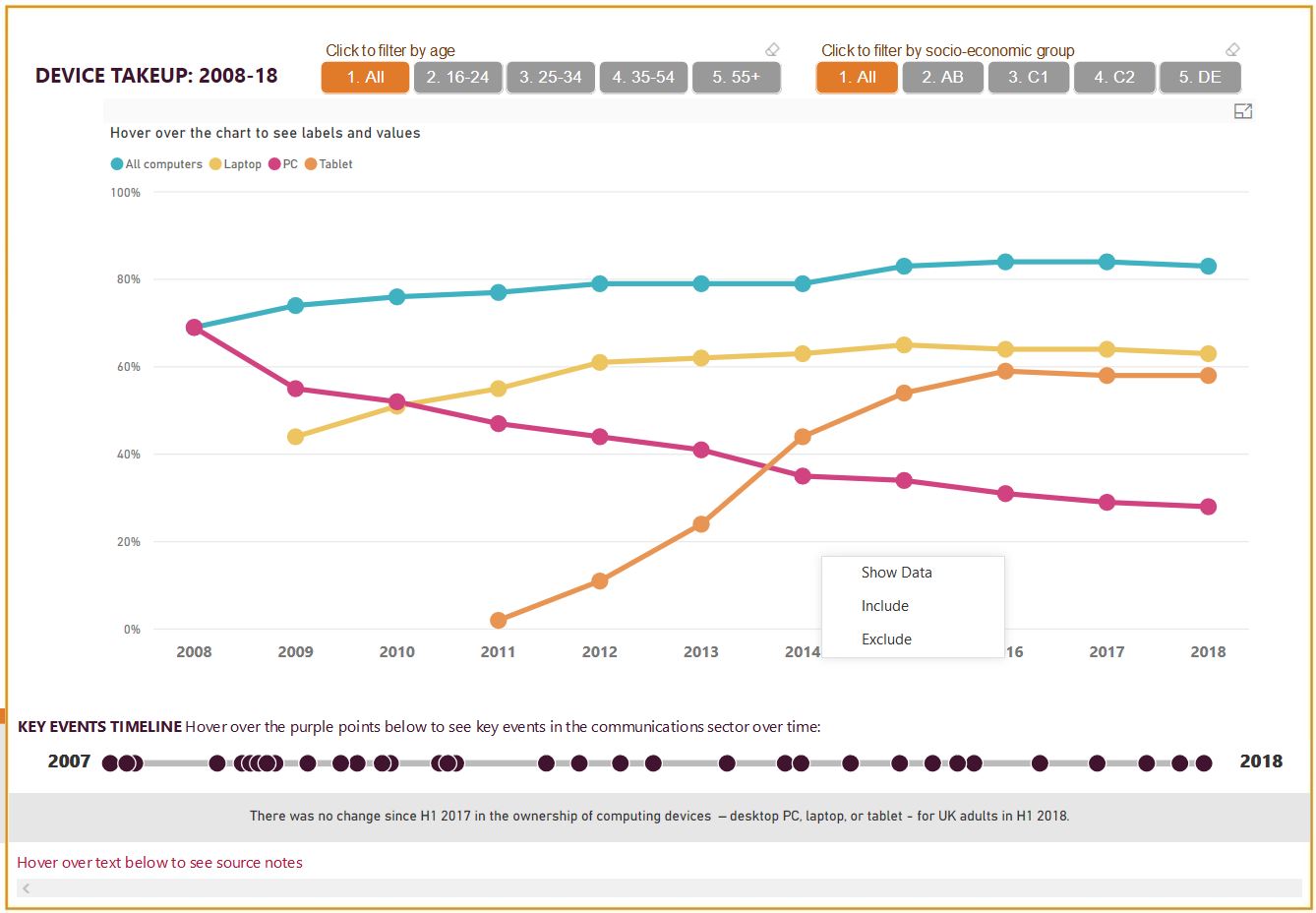 Note that tablets and laptops are up, while desktops are down, reflecting a sea change in computing device use patterns and preferences.
Tablets and Laptops Supplant Desktop PCs for Good Reasons
Ofcom is the UK government's regulatory agency for communications services, including broadband, home and mobile phone services, TV and radio, postal services, and even wireless devices such as walkie talkies, wireless auto keyfobs and even wireless doorbells (often, with surveillance cameras embedded). As far as I can tell, it serves the same role in the UK that the FCC does in the USA, plus a lot more. The organization's role includes an educational mandate for users, and to handle and respond to customer complaints. Thus, their report is very much media and communications focused, it doesn't really delve much into computing practices and behaviors, except to observe and quantify Internet and smart phone use. That said, I think I understand what's driving a long-term shift from desktop PCs to tablet and laptop alternatives:
Price: laptops and tablets are often cheaper, sometimes much cheaper, than desktop PCs. With many families desiring device-per-member usage this makes more sense for many of them.
Mobility: For most desktop PCs, the user has to go to the machine and work in front of it. More mobile devices go to (or with) their users and fit better into typical multi-device modern media consumption habits. (My 14-year-old son, for example, seldom watches TV without also interacting with his iPhone.)
Apps not Applications: Most users want the same capability on their computing devices that they get from their smartphones. Mobile computing devices do a better job of supporting that kind of experience. Although its popular, fewer users want Office on their smartphone than want their iPhone or Android apps on their computers.
The whole Ofcom report is well worth reading. Besides the amazing interactive charts they've put together, the narrative that accompanies the charts is also worth reading (PDF format). Be sure to check it out!
I am NOT a Dinosaur!
I have a cheerful confession to share. Indeed, the foregoing survey shows clearly declining use of desktops. We own 5 laptops (2 of which are hybrid tablets), 2 full-time tablets (both iPads), 4 smartphones, and 3 desktops here at Chez Tittel. When I have work to do, though, I will always turn to my production PC by choice. That's because it has two good (and big) monitors. Let me explain.
A lot of what I do requires reading and checking stuff in one or more "input windows" while writing something related in at least one "output window." That's still not something I can do well on the road on a laptop just yet (though it's fun to try). My needs are pretty special, though, and I do consider myself primarily a writer/researcher. Thus my desktop PC is my primary work instrument. When I'm working that's what I use. As I think of how my family uses PCs, and how I use them when I'm not working, I'm inclined to agree wholesale with the findings of the Ofcom survey myself. I just wanted to observe that special circumstances, like mine, explain why the usage rate is still at 30% for 2018, and likely to stay that way for some time to come.
---