---
July 24, 2013 1:08 PM
Anybody who's been reading this blog for the last year knows that I'm a big fan of the $5 Stardock software utility known as Start8. While it's not free (and for those who want to spend absolutely nothing on a Win8 start menu replacement, I recommend Classic Shell instead), it's not exactly expensive, either, and I find it to be the best option out of the nearly two dozen start menu replacements I've been able to find out there on the Internet. Thus, as I've started digging into the Windows 8.1 Preview and exploring lots of features and functions — thanks in large part to a Sybex book I'm tech-editing on the MCSA: Windows 8 exams (70-687 and 70-688) — I found myself struggling to get the production version of Start 8 working on the new 8.1 version. That's when I remembered seeing a forum post about a new beta version on the Stardock forums:

After a couple of unsuccessful tries to get the production version working on Win8.1 Preview, I remembered there was a new beta version available…
And indeed, my suspicions and hopes were confirmed once I perused said post, entitled "Start 8 1.17 Beta Available for Download" (if you'd rather, you can just go straight for the download link instead). Download in hand, I ran the installer (which also removed the previous production 1.16 version before installing the new beta) and once again found myself in possession of a workable start menu replacement for Windows 8.1. If you try the 8.1 Preview, you may want to do likewise as well. And while 8.1 stays in Preview, the beta is free — though you should expect to have to "license up" as soon as a commercial version of Windows 8.1 becomes available.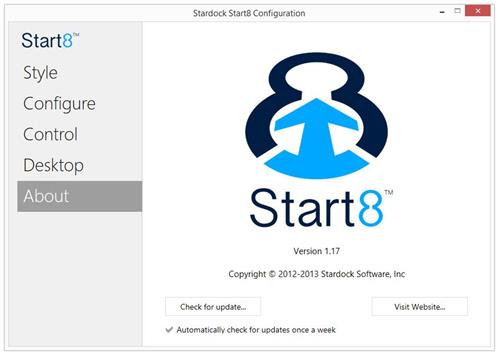 It doesn't say "Beta" anywhere, but the version number is indisputably 1.17.
July 22, 2013 1:34 PM
Late last week, Microsoft pushed out a batch of new fixes for the Windows 8.1 Preview for x86, x64, and RT versions. This comes about a week after Patch Tuesday, and includes five fixes — one labeled "Important," with four others "Recommended" — that are separate and distinct from the Patch Tuesday fixes that appeared on July 9. This signals an apparent departure from Microsoft's prior practice of holding most patches and fixes until the second Tuesday of the month (aka "Patch Tuesday"). According to Ed Bott's recent story for ZDnet, Microsoft calls this a "rapid update cadence."

More frequent updates mean more time spent evaluating updates, and probably also more time in the test lab, checking for adverse or unwanted side effects.
That story also provides some interesting information about the specific updates pushed, which include an app compatibility roll-up, plus a welcome fix that addresses jerky scrolling behavior in the Windows 8.1 Preview (see story for details). But what I find interesting about this approach is that it apparently signals a move from a "periodic update" regime to a "as needed" update regime. This is all well and good for individual and small business operations where updates will be applied automatically in most such situations. But this may mean more work for larger organizations and enterprises, where updates must be tested and vetted, and only those that don't cause problems integrated into periodic pushes dictated by internal schedules — typically, on a once-a-month or a once-per-quarter planned refresh/update basis, over a three-day weekend or holiday if possible, so as to minimize potential productivity impacts.
What does this signify for enterprise admins, especially those who manage change control for updates, patches, and fixes? Let me speculate that it will mean more frequent attention to incoming patches and fixes, and perhaps also more frequent scheduling for test lab work to assess the need for and impact of pending patches and updates. I doubt that it can affect internal refresh/update cycles themselves, but it will have at least some impact on the activities that lead up to approval of pending changes for each "next cycle" and will probably require more time and effort in the test lab to keep playing catch-up.
---
July 22, 2013 12:33 PM
It's a little known fact that the first CCIE number issued was CCIE #1025 (210+1). Apparently, Cisco didn't want to start the program with number 1, so they started it with one more than two raised to the tenth power — a fitting designation for a technical arena where manipulating binary numbers and managing IP addresses matters so much. In trolling over the Cisco website this morning, I noticed with some sadness that Stuart Briggs, who not only earned the very first CCIE, but who also helped to develop the program and its credential starting twenty years ago in 1993, passed away at age 53 on June 24, 2013.

Here's the banner from the Cisco announcement page about Mr. Briggs (he ran a small farm in northern CA in his spare time, which is why he's shown driving a tractor in the right-hand photo).
Mr. Briggs endeared himself to his peers and colleagues by not only helping to design and improve the CCIE program during his tenure with that group, but also by organizing a team of Cisco professionals who created a knowledge base about Cisco products for use by its customers. The announcement pays homage to him by saying "…Stuart quickly made a name for himself not only as a keenly intelligent and imaginative contributor but also as a revered colleague and peer always willing to help and by extension teach, those who were in need."
Paul MacNamara of NetworkWorld, also wrote a short obit about Mr. Briggs on June 27, entitled "Stuart Biggs, first Cisco CCIE, dies at age 53." The piece is very well worth reading because of its recitation of the early days of the CCIE program, and Briggs' instrumental role in helping to bring it to life. So here's a request to all my readers who are also CCIEs — or who aspire to earn that august credential: the next time you raise a glass, please toast Mr. Stuart Biggs, who helped to make your nonpareil certification possible.
---
July 19, 2013 4:43 PM
It's probably part of Microsoft's push to extend uptake of Windows 8.1 beyond the enthusiast/home user level, but I'm seeing some very interesting security improvements in Windows 8.1. Some of them appear designed specifically to appeal to corporate/enterprise users. Here's a partial list, lifted from a TechEd presentation by Chris Hallum, Senior Product Manager for Windows Client Security at MS (Madrid, 6/26/2013), entitled "What's New in Blue Security?"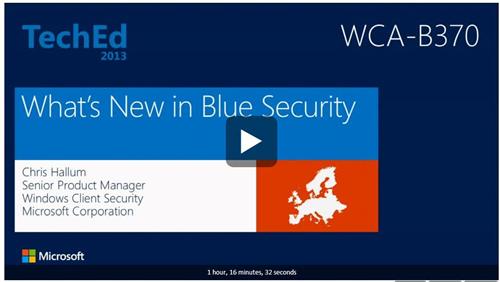 Title slide from the pre-recorded version of Hallum's presentation.
Here's an abbreviated list of what Windows 8.1 adds to its security arsenal, with some brief discussion for each item:
Device encryption, which uses BitLocker encryption technology to encrypt entire devices or storage volumes, as well as sub-containers, for all versions of Windows 8.1. Also works with SkyDrive to store encryption keys securely on the Internet.
Direct, native support for fingerprint readers: instead of relying on third-party drivers and pass-throughs, Windows 8.1 will interact directly with fingerprint scanners and other biometric devices for which native Windows 8.1 drivers are available. Thus, you'll be able to use the fingerprint scanner throughout OS operation, instead of as a login feature for UAC prompts, Windows Store access, and other password- or access-protected Windows features.
Remote business data removal supports partial wipes of personal laptops or devices, to remove corporate data while leaving personal data alone (valuable for situations where BYOB devices are used, as is increasingly common these days). Admins can use this to schedule deletion of specific data assets on a PC whenever it checks in with a server on the Internet.
Support for a wider range of VPN clients, including the ability for third-party apps to initiate VPN sessions automatically (a list of supported elements isn't yet available, or I simply can't find it).
Windows Defender adds network behavior monitoring, so it can detect and stop execution of known malware, or software behaving suspiciously (presumably, unrecognized malware).
Improved security software tie-ins for Internet Explorer 11, especially for anti-malware programs, plus default enablement of the Enhanced Protected Mode (EPM) operation introduced with IE10.
Looking over this list of features, I see them aimed much more toward business and enterprise operations than toward single or family user situations, or even the lower end of the SMB spectrum. If Microsoft gets the desired results from these additions, those results would have to include increased adoption in the business computing space.
---
July 19, 2013 3:09 PM

Profile: Eugene Demaitre
By Diana Hwang
As I sit on my friend's porch in New Hampshire staring at a lake, I can see and hear the woodpeckers as they drum on various trees around her property in search of food.
Microsoft reminds me of a woodpecker as it hops from tree to tree pecking to find the one with the treasure trove of food. Microsoft has enough money to pick the tree it wants, work on it for a while and see if it likes the results. If not, it can fly away. If Microsoft does, it can stick with it and see how it can mark it as their own territory.
Microsoft has done this as it has come out with a host of new products such as Windows 8, Surface, Office 365 and the Azure cloud platform as the company transitions into a devices and services organization. Microsoft is playing in all spaces and deciding which one is best and building its strategy around it.
Indeed, as the $77 billion company wends its way through a changing technology landscape, Microsoft disclosed its fourth-quarter earnings and fiscal year's end this week, following a sweeping reorganization of its business.
The industry has eagerly awaited the results.
The biggest winner? Office 365. The company is now on track to do a $1.5 billion run rate. As expected, the Windows business was down but still grew by 5% during the fiscal year. Like Intel, this was reflected by a sagging traditional PC market.
"This quarter, the Windows business declined as the market evolves beyond traditional PCs," said Amy Hood, in her first earnings call as chief financial officer upon Peter Klein's retirement at the end of June. "We're working to transition the market to new computing with Windows 8. The journey will take time."
And that journey will be long indeed, especially since customers are still moving off of Windows XP. Hood noted that three quarters of Windows users are now on Windows 7. If enterprises recently moved to Windows 7, why would they go to Windows 8 unless the new operating system makes sense for specific departments or use in a company?
Microsoft has taken a more conservative stance with Windows 8 after trying to innovate too fast with the modern interface and alienating its enterprise customers. This is too bad, given that the company has finally begun to turn Windows 8 around with more enterprise-level features and management capabilities in the Windows 8.1 version.
But does Microsoft have time to turn Windows into the one interface and OS the customers will use across all mobile devices? Net MarketShare recently noted Windows 8 surpassed Vista in operating system market share with just over 5% (not exactly a high point since nobody seems to like Vista anyway).
And speaking of devices, what about the Surface tablet?
"Surface is one part of our journey to bring innovative and compelling devices in the modern era of computing," Hood said. "[Microsoft will] fine tune our action plan as needed."
They need to, and fast, especially for Surface RT. It's a device in no man's land despite Microsoft's attempts to get the product into the enterprise. Microsoft just slashed the price of the RT by $150 this week, but is this really going to be enough to stimulate adoption? I doubt it. I don't think Microsoft will give Surface RT up yet, but if people are truly waiting to buy a Windows 8 tablet, they're going to go after it this fall when Windows 8 Bay Trail-based tablets come out with price points that are expected to be $199 and below.
We've already seen the first 8-in. Windows-based tablet come to market by Acer for only $350, and Hood hinted at more to come.
Microsoft recently launched a commercial channel program for Surface, enabling enterprises to buy the product through authorized distributors and resellers. Hood promised more would be coming in the following months. Microsoft should have had this out at the beginning if it knew that Surface, especially the Surface Pro, was going to be aimed squarely at the business user.
Nowadays, it's all about the apps for mobile devices, and if Microsoft can't get developers to create more compelling apps for Windows 8, buyers won't be satisfied. Microsoft sits somewhere between Apple and Google — both are strong in the consumer market. Those consumers are enterprise users too, and they buy apps. If apps sell devices, then there had better be some good apps for Windows mobile devices. It's a vicious cycle, but it's part of the bigger ecosystem.
It will be interesting to see how Microsoft moves going forward. Terry Myerson is at the head of the Windows operating system team for all products, while Julie Larson-Green heads up the devices and entertainment team. That's good news because everyone can now "talk" to one another without feeling that they're working in competitive silos.
But doing this on paper doesn't mean it's going to work in practice. It's collaboration in a big way, and that's not easy. It's kind of like that "one interface across all mobile devices" strategy, a la the Modern UI. The leaders of all engineering groups need to make sure they can pull their teams together. It's the three C's: create, collaborate and communicate. All C's intertwine, and Microsoft needs its new senior leaders to do so to take the company forward.
---
July 18, 2013 3:04 PM
I've known about this since the beginning of July, but am just now getting around to sharing the news with my blog readers that MS is preparing to phase out its long-time, highly-valued TechNet subscription service. The banner on the TechNet Subscription page covers the important details:

TechNet Subscriptions may be purchased through August 31, 2013, which means all access to TechNet Subscription benefits will end on August 31, 2014.
This is sad news for many individuals, especially free-lance writers like me who specialize in Windows operating systems and platforms, and need affordable access to licenses for most Microsoft products. At prices ranging from $199 to $599 (the higher priced versions offer more training collections and/or DVD media as well as download access), this kind of subscription has been the go-to deal for lots of IT professionals and other individuals interested in Windows for some time now.
I myself switched over to the MSDN Premium with Visual Studio back in 2009, to retain access to MS Office licenses, and to gain broader access to development tools, but it's still a little sad to see the TechNet Subscription be put out to pasture (I had subscribed to TechNet since the late 1990s myself). Consequently, I was relieved to learn that the TechNet online content is not going away, and will remain a key conduit for technical information for Microsoft employees, partners, and professionals around the globe.
---
July 18, 2013 12:03 PM
Can a huge organization become a faster and nimbler company to capture emerging markets? Intel seems to think so.
After taking the helm as Intel Corp.'s new CEO in May, Brian Kzanich met with the company's partners to discuss its priorities and strategy.
He is now implementing a strategy to deliver on promises to customers and  is being vocal about it.
In the company's second quarter earnings call yesterday, Kzanich took responsibility for the company moving like molasses when it came to the fast-paced ultra-mobile PC market.
Intel was slow to respond to the ultra-mobile PC trends, Kzanich admitted. The ultra-mobile PC market for devices like tablets is up while the traditional PC market has declined, he explained.
It's no surprise Intel has yet to reap the profits from this space. Microsoft's Surface Pro is not the iPad killer yet and Windows-based tablets have only recently arrived.
Intel seemed confident on the call that it can refocus its strategy on capturing new and nascent markets. Krzanich pointed out Intel recently went through a restructuring to flatten the organization and deliver more accountability, elements he sees as critical for the ultra-mobile environment.
He also highlighted a series of product releases the company recently made in the mobile space including the unveiling of the Silvermont microprocessor and shipment of Haswell chips. Intel is also set to ship its Bay Trail chips with vendors expected to come out with new low-cost touch-based mobile devices by the fourth quarter of this year.
What's interesting is the Silvermont architecture which supports both Windows and Android-based operating systems. This gives Intel a backup plan so that it won't need to solely rely on the emerging Windows 8 market to support the sagging PC business. The company can do just as well if Android-based tablets capture a good portion of the market. It's a win-win for Intel, as long as the resulting devices are priced appropriately for the enterprise and consumer markets.
And speaking of Bay Trail, Intel is banking on recapturing some of their declining revenue when vendors unveil new devices based on these microprocessors during the second half of this year. These new mobile devices are designed to capture the low-priced market with touch-based ultra-notebooks coming in  sub-$400 and even tablets under $199 and $150.
But here's the industry's concern. Could Intel's aggressive push into the low-cost ultra-mobile device market cannibalize sales of its higher performing Haswell chips and other mobile processors?
"Our view on Bay Trail is that it will not be cannibalistic," said Krzanich. "It gets [Intel] into these markets that we are not in, in a big way."
There is a clear segmentation of markets Intel is going after: Bay Trail for low-price ultra-mobile devices and Haswell for the power users or the enterprise. These low-priced devices are aimed at consumers but given that we could see Windows 8.1 tablets hitting $150, this could kick start the Windows-based tablets in the corporate enterprise if users buy the systems themselves and bring it into their companies. It's BYOD that could play well with existing corporate Microsoft environments.
And, if companies are on a tight budget, why not purchase lower-cost devices, reimage the system and know that it works just as well in their existing environment? Not everyone needs a high performing notebook for data crunching or software development. IT departments could segment their own users based on need and purchase devices through their commercial channels, especially if traditional corporate vendors add the lower-priced notebooks to their lineup. (Of course, this could mean lower margins for the hardware vendors but it could be made up long-term in overall volume).
Whether Intel's focus on the ultra-mobile PC market gives the company the returns it desires remains to be seen. Their outlook for the second half of the year and hints at new products to be discussed during their November investor meeting place the company on a long-term strategy to reposition itself and become a strong player in the new ultra mobile space. Like any large company, Intel is suffering from growing pains as it adjusts its business to transition into a nimble to capture new markets.
It will be interesting to see how this all plays out. With Intel's profits down this quarter by 29% compared with the same time last year, the company won't be able to sustain continued losses in this competitive industry.
---
July 15, 2013 1:28 PM
The folks at Romanian software company KirySoft have put together the Windows System Control Center, aka WSCC, which gathers the cream of the Windows systems tools together under a single self-updating console. Tools included in its collection include all of the excellent Systinternals tools from Windows wizards, Mark Russinovich and Bryce Cogswell (Sysinternals is now part of Microsoft, and Russinovich is a Microsoft Fellow) and from Israeli Windows guru, Nir Sofer, whose Nirsoft collection also appears under the WSCC umbrella.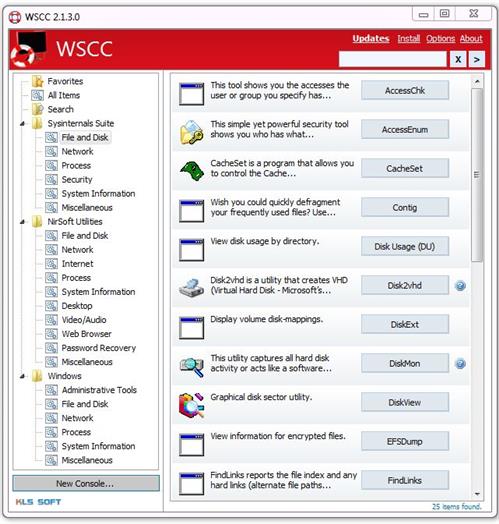 The WSCC console organizes utilities by maker and by category, as shown here.
The program has a nice self-update capability, that's smart enough to fire off a download when a new version is available, and then to uninstall the old version, before installing the newest one. Much better, however, is the program's ability to scan the utilities under its control, and to update any or all of them that might be out of date. Also, the Kirysoft team is always adding new utilities to its mix, so running an update causes them to be downloaded and installed as well. Here's a screen cap of this morning's updates, which shows new utilities in green, and indicates possible updates when it can't recognize versions already installed ("unknown local version" in blue) or for recognized versions ("update available" also in blue). By default, new software and recognized updates are selected for download and installation, unknown versions are not. Here's what this looks like: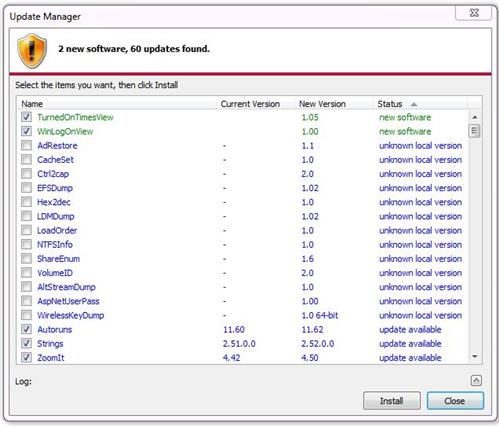 The update facility is nicely engineered, and dispatches sizable numbers of updates quickly and efficiently.
All in all there are a total of 309 utilities available to systems admins inside the WSCC, including a mix of built-in Windows utilities, the aforementioned Sysinternals and NirSoft utilities, and numerous others as well. The program is free, and reproduces third-party items by permission of their owners while retaining full original copyrights. It may also be loaded on a USB key as a portable tool, which makes it a great item for system admins to carry with them when they need to conduct system maneuvers in the field, or to have at their disposal when working remotely on machines under their control. It's a great tool, and a great convenience: something, in short, that no serious Windows admin should be without.
---
July 15, 2013 1:10 PM
A while ago I wrote about the $99 Surface RT I scored for my kids at TechEd North America in June, which for that price was a steal. To this day, I still believe it, although my kids don't use the RT much because they'd rather play their favorite game, Minecraft, on the PC.
But when my kids argue for more screen time and I ask them to read a book instead, the Surface RT is a win-win solution. It satisfies their need to get more screen time and for me, I get them to read more.
Now Microsoft just slashed the price of Surface RT on its website by $150 to spur sagging demand. On Microsoft's website the RT starts at $349 for a 32GB version while the 64GB model goes for $449. Still pricey but a comparable 32GB model of the iPad goes for $599.
The lack of apps and the high price tag has given the Surface RT a tough time making any inroads into the tablet market. Many IT buyers remain cautious of an RT, or any Surface device for that matter.
But with Redmond's push to drop Surface RT to $349, and the ability to get a free update to Windows 8.1 and Outlook, the question is whether the price slash will kick-start demand. I don't believe Microsoft will cancel Surface RT in the short-term as the company tends to support projects for at least two to three iterations.
However, Julie Larson-Green is now at the helm and she's got a long road ahead of her. If Surface RT doesn't  pull its weight in Microsoft's new devices and services strategy, then energy may be better spent with a low-cost version of Surface Pro that offers more battery life or developing a mini-tablet form factor. (Think Acer Iconia Windows 8 mini-tablet). Or, they could just put all their support behind their partners and not worry about their own Microsoft-labeled tablet.
Regardless, I've spoken to a few Surface RT users recently and they actually do like their device. One of these users has a Surface RT and a Surface Pro. (Isn't one enough?) But what's interesting is that this user actually prefers his RT because of the longer battery life for all day meetings or conferences. He is willing to forgo the lack of RT apps and use it as a companion to his main PC.
And that is the key. Microsoft needs to do a better job at marketing Surface RT as a companion to one's main PC, whether it's a laptop or desktop. User expectations change when they accept that the Surface RT is not designed to be your main computing device but as a partner. It's the unit on the go when you don't need to have everything with you all the time – just like my iPad.
---
---
July 12, 2013 1:15 PM
Microsoft regularly offers one- and two-day Jump Start seminars through the Microsoft Virtual Academy (MVA). Shortly, the first of a two-part series on the outstanding PowerShell OS scripting language will get underway. This is a very worthwhile toolset for network and systems admins, to the tune of if you don't sign up and attend, you'll want to tune into the recordings of these materials that will be posted after the fact. If you need more convincing, zip over and thru the excellent "Learning PowerShell" materials in the SQL Server 2008 R2 pages (don't worry, PowerShell works with all MS server and many desktop facilities, so there's no danger of painting yourself into a corner here).

The TechNet Script Center is another great clearinghouse for learning PowerShell stuff.
Here are some links to this two-part Jump Start series, with (hopefully) tasty descriptive blurbs and registration links. If you want to do this live, don't tarry: only six days until Part 1 of this two-part series kicks off!
Part 1: Getting Started with PowerShell 3.0. Ace instructors Jeffrey Snover (Distinguished Engineer and Lead Architect for the Windows Server and System Center Division — pre-reorg, I'm guessing) and Jason Helmick (Senior Technology at Concentrated Technology) will provide a full-day, hands-on intro to PowerShell structure, syntax, and basic script development tools and strategies. (visit page link above to register) Takes place on July 18, 9AM-5PM PDT (UCT -08:00)
Part 2: Advanced Tools & Scripting with PowerShell 3.0. The same ace instructors (Snover and Helmick) take attendees through a full day of data and parameter driven scripting activities, including help and support systems, error handling, and debugging tools and techniques. They will also deal with script and manifest workflows, as well as tools and workflows. This is where working with PowerShell is more like real programming and less like throwaway, one-off scriptlets. Should be great fun! (visit page link above to register) Takes place on August 1, 9AM-5PM PDT (UCT-08:00).
---