---
February 4, 2015 4:00 PM
Microsoft Office
,
Windows 10
Drat! It was with interest and curiosity that I jumped up to the Windows Store (beta) a few minutes ago, hoping to download and install the latest so-called "Universal Office apps for Windows 10" through the Windows Insider program. Brandon LeBlanc's "now available" blog post makes this sound like a snap, yet when I started poking around online, no search would produce a link to the promised software items: Word, Excel, PowerPoint, Outlook and OneNote. On a hunch, I followed his link "for more information on the universal Office apps" and found this disclaimer at the head of said posting: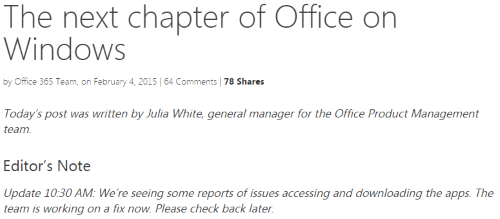 As I write this blog post, the warning remains turned on and the files invisible in the Windows Store (beta). You can do the same as I, and keep checking back yourself, or keep your eyes peeled for the followup item I'll post when those files become available. It's hard to live out the dream in the harsh glare of daylight sometimes, but I have to respect MS for letting it all hang out, rather than taking down the announcements, and pretending this all never happened. Stay tuned!
[Early morning: Thursday, 2/5/2015: They're heeeere! Don't know when the items were posted yesterday because there's no time stamp I can see on the Windows Store (beta). Off to check the Office Blogs…a user comment made just before 7 AM CDT this morning leads me to believe that Word, Excel, PowerPoint, Outlook and OneNote finally made their appearance early this morning. If you're in North America, have at it! Elsewhere in the world, it looks like the wait may continue…]

Here's what the new Word tile looks like in the Windows Store (beta). TP users can grab it (and the others) for free while the preview is underway.
February 3, 2015 2:49 PM
Windows 10
,
Windows Server
Amidst the TechNet blogs let loose last weekend, this interesting little item from the Server & Cloud Blog let it be known that, for the first time since the Windows Vista era, the next release of Windows Server (which Paul Thurrott handily calls "Server vNext," so I will too) will no longer be released in tandem with the next Windows desktop version. That is, though Windows 10 remains on the table for the latter half of 2015 (the smart folks are looking for a September or October release date), Server vNext won't be headed out the door until sometime later than that.

Be it by design or by happy accident, Server vNext won't release until 2016, so for now we'll stick with WinServ 2012 R2.
Here's what the blog post entitled "Windows Server and System Center roadmap update" has to say on the topic of release timing:
As we continue to advance the development of these products, we plan to release further previews through the remainder of 2015, with the final release in 2016. Our next preview is planned for the spring of 2015.
I agree with the consensus of the Microsoft-watchers who've opined on this change to what has been "standard operating procedure" with MS for some time now. Business users in general, and enterprises in particular, tend to follow behind the timeline when investigating, procuring, migrating to, and deploying new Windows Server versions. With Windows 2012 R2 less than two years old at the moment, releasing a new Server version simply lengthens the time span in which that new version might receive consideration and the barest beginnings of due diligence from business IT operations. Thus, there's no reason to rush Server vNext out the door, and letting it slide until 2016 means that 2012 R2 remains the best target for migration for the many, many, many copies of Windows Server 2003 whose end-of-life data pops on July 14, 2015. In fact, I wouldn't be surprised if Server vNext were to slip still further, and would wonder if that caused even the barest ripples of concern from its target customers.
---
January 22, 2015 4:09 PM
Indexing
,
Performance/Tuning
,
Windows 8.1
I am a great fan of checking in on my disks from time to time, especially my system/boot disk, which goes by C: on my system. The last time I fired up WinDirStat on my production system, my eyes goggled at the sight of a file named Windows.edb thereupon that had waxed enormous and perhaps even malefic, at a whopping 37GB in size. A little quick research and I learned the following:
1. Windows.edb is the index file that Windows Search creates on most modern Windows systems as long as the indexing service is turned on (as mine was, obviously). Visit the Indexing Options in Control Panel to get at its settings and location.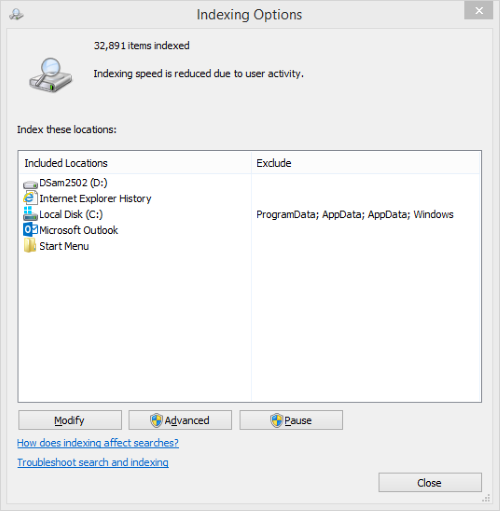 That's not very much stuff for a 37GB index! [click image for full-size screencap]
2. Some number of users have reported mushrooming or ballooning sizes on this file, particularly in Windows 8 (8 and 8.1) versions. Some of these online postings talk about corrupt indexes growing incontrollably large; I suspect it has more to do with how much stuff you want to index.
3. There are any number of ways to nip this monster at the roots, including turning off the indexing service (which does away with it completely), reducing the maximum amount of disk space the service is allowed to consume (it seems to run in 5% increments, assuming you leave it on the boot/system drive, otherwise it gets free rein over the entire disk), rebuilding the index, or moving the index file to another drive.
Because I like to search my huge trove of email messages in Outlook (1.2 GB of active messages, 10.6 GB of archived ones), I feel compelled to leave the Indexing Service turned on when it comes to my production PC. First thing, I tried re-indexing, but it didn't seem to make any difference on my machine, even after a quick reboot. But with 1.5 TB of other SSD storage on that machine, I could — and did — easily move the index files to another fast disk without giving up on performance. So that's the option I ultimately took, relocating it to my F: drive (which is a 256 GB OCZ Vertex 4. and no slouch as disk speed, though not as fast or vast as my 500 GB Samsung 840 EVO system/boot disk).
The upshot of this activity, including the reindexing of my included storage, is a Windows.edb file that is now a mere 517 MB in size. That's a whole lot better than the 37-plus GB it occupied on the system/boot disk before I transferred it to a different disk.
---
January 21, 2015 2:35 PM
Windows 10
,
Windows migration
It's a big day for MS news today, what with the Windows 10 Customer Preview dog-and-pony show today at Global HQ in Redmond. There's all kinds of interesting news on that front, but the item that's undoubtedly of greatest interest is also recounted in a Blogging Windows post from Terry Myerson that went public this morning before that show got on the road ("The next generation of Windows: Windows 10").
Here's what he said therein: "We announced that free upgrade for Windows 10 will be made available to customers running Windows 7, Windows 8.1, and Windows Phone 8.1 who upgrade in the first year after launch.*" And here's the asterisk disclaimer text: "*Hardware and software requirements apply. No additional charge. Feature availability may vary by device. Some editions excluded. More details at http://www.windows.com."
Courtesy of Paul Thurrott who posted a photo of this wall banner from the event, I even got a cheesmo version of the new Windows 10 logo:

The real thing will no doubt be properly proportioned and color balanced, but this gives you the idea…
I think this is a long-overdue and very wise move on Microsoft's part, which can look forward to moving a good portion of the non-business side of the user base to Windows 10 fairly soon after GA, and which also just gave businesses a pretty darn compelling reason to consider upgrading sooner rather than later, in the wake of the upcoming Windows 10 release. I'll definitely be taking advantage of this for all of my PCs, and I'm sure lots of others will at least think about it, if not do it, within 12 months of GA just to exercise this offer.
---
January 19, 2015 9:11 AM
Deployment tools
,
Windows 7
,
Windows 8
,
Windows 8.1
From the "better late than never" school of information sharing, I just found an October 2014 TechNet Solution Guide that many Windows administrators are likely to find captivating. It's entitled "Automate and manage Windows operating system deployments" and it explains how to use the Microsoft Deployment Toolkit (particularly LTI, aka Lite Touch Installation) and System Center Configuration Manager (SCCM) Zero Touch Installation (ZTI) to easily bridge from test/pilot one-offs to large-scale production environment deployments. The former part lets you get the images you wish to distribute just right before going into production, and the latter lets you broadcast your canonical images wherever you need them to go. Good stuff. This nice little diagram illustrates the kinds of very typical situations that the Guide is intended to address: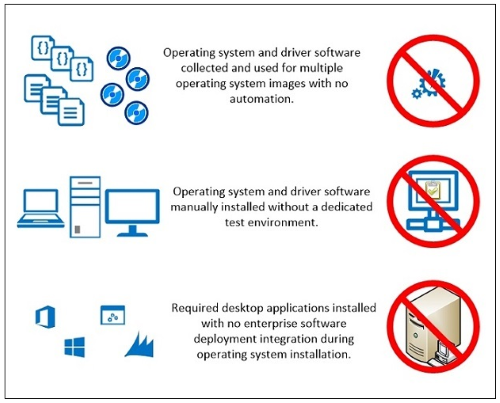 For many readers (and me) this list of common scenarios is distressingly familiar.
Here's a link to the latest version of the Microsoft Deployment Toolkit (MDT) for 2013, from the MS Download Center. You can't, of course, use SCCM unless you have the proper licenses, so in the dread phrase from my old math textbooks, that portion of this assignment (obtaining, installing, and configuring System Center and so forth) is left "as an exercise for the reader!" 😉 Enjoy!
---
January 17, 2015 12:10 PM
Windows
Huh? What's a "Punditsphere?" Glad you asked! It's the group of industry insiders, experts, gurus, and gadabouts that attach themselves to specific technology platforms, tools, and operating systems. Windows, in this case. You could have knocked me over with the proverbial feather when I saw yesterday that Paul Thurrott was leaving his SuperSite for Windows (the site's banner still reads "Paul Thurrott's Supersite for Windows" BTW) and going off on his own to work with Blue Whale Web and team up with the Petri IT Knowledgebase. Here's a visual "Tale of Two Website Logos" for you to ponder in this connection:
Old on top, new on the bottom, same Thurrott.
Wow! Thurrot's "Goodbye" article on the old site is quite an interesting document, and a masterpiece of a genre that might be appropriately labeled: "It was great while it lasted, but I'm outta here." With tongue now removed from cheek, I can speak more seriously to observe that it's worth reading, and even more worth reading between the lines. It's also worth comparing to his companion piece "Hello" on the new site, which means you'll probably want to read that, too, if only to learn what Mr. Thurrott will be up to next. One great change I already appreciate: I was able to post a comment on one of his stories (a nice rundown on the Windows Surface Pro Firmware Updates that posted on Windows Update on 1/15/2015) and it popped right up, without having to wait for a moderator to approve my input. At the old digs, it could sometimes take days to make it through the pipeline and see one's contributions pop up (or not, as the case remains for those with rants, obscenities, and other forms of inappropriate input).
I can only wonder how he feels, leaving his name behind on the old and former hobbyhorse, while climbing onto a new one that bears nothing but that same name. It also makes me chuckle to think about what this is going to do to his site operator's SEO shenanigans to keep ahead of the "once and former competition" to mangle E.B. White's appellation perhaps beyond recognition. For my part, I'm glad he's still around, and happy to wish him both luck and success in his latest venture. He's already retained at least one loyal reader across the divide!
---
January 14, 2015 9:04 AM
Windows 7
,
Windows migration
OK folks, here's a transition point for you to note. As of today, January 14, Windows 7 is no longer on mainstream support at Microsoft. Going forward, it will get no new functionality, no new service packs, nor bug fixes that are not security-related. Should IT pros be concerned? Not really: MS will continue to provide extended support — yes, that's right, it means security fixes only from now on — until six years from today (January 14, 2020: a Thursday, should you care to know). Here's a snippet from Microsoft Product Lifecycle Search (search string = "Windows 7") by way of both illustration and confirmation:

OK then: Windows 7 transitions from mainstream support to extended support, but still has six years of effective life left.
Does this mean it's time to drop everything, and start migrating like crazy from Windows 7 to 8 or beyond? Heck, no! But it is a signal that Windows 7 will become increasingly distant from the latest features and functions making their way into newer versions of Windows. For those who pondered Windows 8 versions and declined that opportunity, it means that Windows 10 will be the first illustration of what (mostly business) users might have to forgo to maintain the status quo. This will be easy at first, but will get harder over time.
My best guess is that enterprises and organizations should start paying attention to new Windows versions, starting with 10, and begin planning for migration when and as they see features, functions, and reliability/stability good enough to go for emerge. This could be a couple of years out (which should take us through some interesting evolution in Windows, given the company's new "rapid update cadence") or it could be longer. Time will tell. But it's only time to start thinking about migration, and getting ready to plan for same, rather than time to get moving down that trail.
---
January 12, 2015 10:58 AM
Dell tablets
,
Windows 10
About two months ago, I purchased a Dell Venue 11 Pro model 7130, when I read that it featured a Broadwell "M" class CPU in a compact 11″ format. By the time all was said and done I spent around $1,300 to get a tablet with an Intel i5-4210Y (1.5 GHz) processor, 8GB RAM, a 10.8″ IPS 1920×1080 touch display, and a 256 GB SSD with a snap-in external keyboard with rotating hinge that essentially turns the tablet into a small format notebook PC. The unit includes no additional ports on the keyboard deck, but that deck does add an extra battery that doubles battery life from a respectable 5-7 hours depending on usage patterns, to a device that easily delivers 10 or more hours of battery for all-day use — on my unit BatteryBar Pro rates total battery life at 12:06 with both batteries, and at 6:01 with the internal battery only.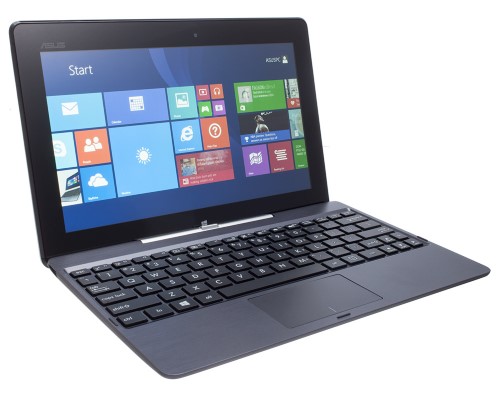 The matt-finish plastic backing on the unit is non-slip, resists fingerprints, and feels good in the hand.
The tablet itself offers a single USB 3.0 port, headphone/microphone combo jack, and a mini HDMI jack. Near Field Communications (NFC) circuitry comes standard, and the networking interface is a Dell 1537 802.11 a/g/n adapter. There's also a micro SD slot that accommodates SDXC memory cards (I've tested it with a 128 GB unit and it works fine; I'm using a 64 GB SanDisk unit in that slot at the moment because I don't really need that much extra storage). The rear deck is easily removable, and provides access to the NIC, an unoccupied WWAN slot (for which both 3G/HSPA+ and LTE/HSPA/EVDO options are available), and the removable battery (you can buy spares, and swap them easily in the field to literally buy extra battery life without buying the keyboard dock).
Total weight of the tablet is 796g/1 lb 12 oz by itself, and the keyboard/battery unit weighs 670g/just under 1 lb 8 oz, for a combined weight of 1466g/3lb 4 oz. Overall it's pretty portable, fairly friendly in the hand, solidly constructed, and user friendly. I'm running Windows 10 on it and except for some issues with sleep (losing network connectivity, occasional loss of keyboard/touchpad upon wake or after removal/reinsertion when the tablet is running) it works like a champ.
So far, I've used it as a light-duty general purpose PC (surfing the net, reading e-mail, light writing activity) and also as a personal entertainment PC (watching TV/movies, reading books, playing low-grade Web-based games). It seems to function pretty darn well in either role, and it makes for dandy in-bed viewing and reading, with 3-4 hours of battery life while binge-watching The Wire on Amazon Prime lately, and up to 5 hours when using the Kindle Reader. I learned all this from actual experience over the holiday break while laid up with a nasty sinus infection, which is perhaps not the recommended way to gain such experience.
Now that I've lived with the unit long enough to get familiar with it, I find it a much better value than the Fujitsu Q704 i7 tablet I bought at the beginning of 2014, and perhaps even a better deal and user experience that the i7 Surface Pro 3 that replaced the Q704 in September/October of 2014. It's not as fast, nor can it run as many applications simultaneously, but I don't really benefit much from that capability on a 10.8″ screen anyway. The only time I really notice the lesser performance of the i5 is when I remote into the machine from my production desktop to try to exercise its capabilities more thoroughly. Methinks this is not something most users will be interested in doing. I find the Venue 11 Pro to represent a good set of price/performance tradeoffs, though I would like it even more if the rig as it stands cost $1,000 instead of the $1,292.48 I just found on the Dell invoice for this unit (including 8.25% sales tax). Nevertheless, the Venue 11 Pro is well worth checking out, and for many personal and business users, probably also worth owning.
---
January 10, 2015 1:19 PM
Security updates
For the past year or so, Patch Tuesday has been remonikered Update Tuesday. In a blog post from the Microsoft Security Response Center on Thursday, January 8, Chris Betz discussed the topic of "Evolving Microsoft's Advance Notification Service in 2015." To cut directly to the chase, this post announces that distribution of or access to the company's Advance Notification Service (ANS) is changing, to wit:
Moving forward, we will provide ANS information directly to Premier customers and current organizations involved in our security programs, and will no longer make this information broadly available through a blog post and web page.
What does this mean? Because MS has observed that even large customers no longer make extensive use of ANS, MS is pointing customers (and end-users) to their myBulletins dashboard on TechNet instead. This service requires users to log in with a Microsoft Account, and to set up that dashboard by picking the names of products, platforms, and development environments in use in their workplaces, so that the service will reflect only those Security Bulletins that affect those things. Here's a snippet from the Dashboard I set up for my office network for the period from October 1, 2014 through today, January 10, 2015.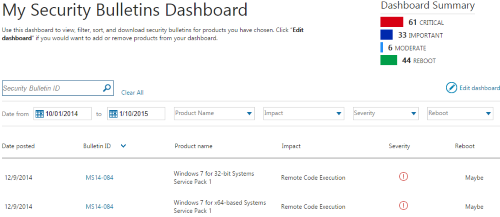 The dashboard at the upper right summarizes relevant metrics, with detail access to related Security Bulletins in list form below.
Given the volume of Security Bulletins that emerge on a monthly basis nowadays (usually anywhere from half-a dozen to three times that many, with an average of just over 7 per month for 2014, for example) it's easy for Microsoft to position this screening of bulletins on the basis of what admins are most inclined to attend to anyway. Advance notification certainly served me (and others who follow Windows Security topics) with a tantalizing view of what the next Update Tuesday would bring to Windows Update, but beyond that narrow audience I have no trouble understanding why a dashboard approach tuned to items actually in use (and hence also, subject to security exploits and vulnerabilities) makes more sense in an increasingly active security environment.
Be sure to check out myBulletins to see what you think of it yourself. It's the new face for Windows Security (and other) Updates. Cheers!
[Thanks to Brink at Windows 8 Forums for bringing this to my attention in his news posting on 1/9/2015.]
---
January 6, 2015 6:48 PM
Beta Testing
,
Windows 10
Previous releases of the Windows 10 Technical Preview have come via a special online update through PC Settings. Only two weeks after Build 9879 was released did MS provide ISOs to permit clean installs (or bare metal builds). Next time around, says Engineering General Manager Gabe Aul, MS will make ISOs available through MSDN and TechNet at the same time it pushes the update out to self-selected "Fast Ring" members of the Windows Insider group. Here's a screencap of a Twitter exchange, courtesy of WinBeta.org, that makes this promise: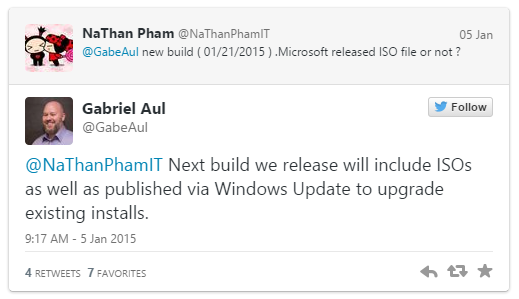 Visual evidence that ISOs will be available from the get-go for the "Customer Preview" analog for Win10.
This is a welcome departure from previous practice, and will make it much easier for those jumping into Windows 10 for the first time, especially if they plan to install on multiple test rigs at the same time. The timing of the upcoming release is still in the air, though many interested observers assume it will happen on January 21, the same day that Microsoft has set aside for its next public Windows 10 event, or shortly thereafter (as was the case with the initial Technical Preview event last September).
---