---
November 20, 2014 10:11 AM
DISM
,
Windows 10
As I work with a new Windows version, I have a strong tendency to go haring off after internals info to better understand how things work. Recently, I've had great fun digging into the volume shadow copy files and behavior under Win10TP. Somewhat less fun have been my attempts to figure out why the "Deployment Image Servicing and Management" tool, aka DISM, reports that both Windows 10 Technical Preview plain-vanilla and enterprise versions suffer from repairable corruption in their component stores, but neither are fixable using the command's various /RestoreHealth options. The following screenshot tells the story in a single capture, which I'll explain further below: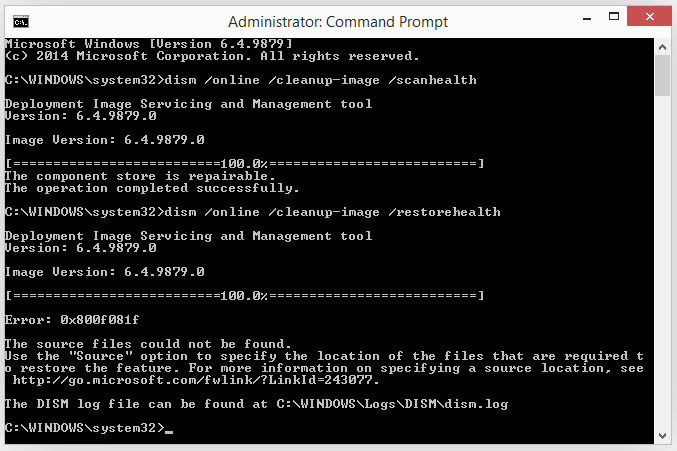 The symptoms look simple, but the fix provides impossible to perform.
Here's what's involved in the two commands shown, and what else I tried in my attempts to remedy the apparent defect reported:
1. The first DISM command simply inspects the running Windows image (that's why /online is included), and checks its overall health and well-being.
2. The second DISM command attempts to repair any outstanding issues it finds in the component store (which resides in %windir%\winsxs, that often impenetrable repository for large and mysterious Windows OS component files).
3. To perform its repairs, DISM must have access to a known good working Windows image file (usually in the .wim format) so as to grab replacements for any damaged or corrupted items it might find. Alas, all my /RestoreHealth attempts produce the same error message, which indicates that the program can't find the image file it needs to make repairs.
4. DISM supports a /LimitAccess option that prevents the utility from turning to Windows Update to find a working image (this is useful in environments where the Internet is not available, where access is purposely restricted, or when problems present and difficulties in accessing WU must be ruled out, as may be the case here). Turning this option on (or leaving it off, as by default) made no different.
5. DISM supports a /Source option that enables the command to target a specific set of source files. I downloaded the only Win10 TP ISO for build 9879 that's currently available — namely, for the Enterprise version, through the MS TechNet Evaluation Center — mounted the ISO as a drive on my test system, and pointed the /Source option at the \Sources directory in that collection of files. No joy there, either, alas.
In short, nothing I tried let me fix the problem that /ScanHealth was reporting, despite access to all of what should have been the right stuff for either version of the Technical Preview, Build 9879. I am reluctantly forced to conclude that something in this Build is sufficiently wonky to prevent the utility from working as it should, and can only look forward to finding it fixed in some future build. I've reported the issue to MS via the "Windows Feedback" app, in hopes that their superior investigative talents and image analysis tools will help them to figure out how to link up the right sources to the repair utility to put the fix in. As is so often the case in a preview situation, it is interesting to see and learn from how such things unfold.
November 17, 2014 10:07 AM
Microsoft Windows Vista
,
Volume Shadow Copy Service
,
Windows 10
,
Windows 7
,
Windows 8.1
In working on this blog over the years, I've written repeatedly about a great open source file management project named WinDirStat. Short for Windows Directory statistics, this SourceForge project provides a nice compact tool for investigating and visualizing Windows volume layouts and contents. In working with Windows 10, however, I've noticed that Windows' Volume Shadow Copies have more or less disappeared from view in that utility. In versions of Windows starting with Vista, WinDirStat has previously shown these files as Unknown when listing the contents of a boot/system drive, and has proved itself to be decent at keeping tabs on how much of a disk's storage space is being consumed for the snapshots of disk volumes that the Volume Shadow Copy Service (which I'll abbreviate as VSCS in future mentions, for brevity's sake) is maintaining for Windows.
But as newer versions of Windows have appeared, the amount of disk space allocated for the VSCS has dropped, most likely in response to the increasing tendency for systems to incorporate faster but usually smaller SSDs for their boot/system drives. Whereas Vista allocated 15% of a disk's overall storage for VSCS to use, Windows 7 took 5%,  and Windows 8 2%. Thus, I was a little surprised to see the default Windows 10 VSCS allocation increase to 4% (though this could easily reflect increasing size for most newer SSDs, which are now typically 256 GB or larger). I was also surprised to see that the Unknown file bucket in WinDirStat no longer appears in Win10 displays in the %Homedrive% listing.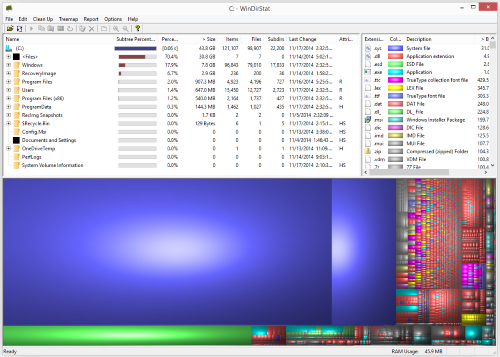 Shades of D Rumsfeld: In Windows 10 the Unknown bucket is no longer known to WinDirStat.
Given that WinDirStat could no longer give me the goods on VSC storage consumption, I turned to the Windows vssadmin command inside an administrative command prompt window. Readers unfamiliar or out of practice with this command will find the Vssadmin Command Reference useful in putting its many capabilities to work. I made use of the list shadows and list shadowstorage subcommands to determine that VSC was still active and working on my boot/system drive, and that volume shadow copies were indeed still consuming disk space as this screen shot illustrates:
Note: 2.16GB of a 10 GB allocation is already in use for the two snapshots on my Build 9879 C: drive.
---
November 14, 2014 11:38 AM
forums
,
Windows 10
I've been a big fan of the various Windows Forums sites for years. This tight-knit but small group of Windows mavens punches well above its weight class, and has had great success with similar sites for Windows 7 and Windows 8 pretty much since they first appeared. Thus, it came as no surprise to me that the same intrepid band has already put a Windows TenForums site together. What did come as a pleasant surprise, however, was how much useful content the group has already amassed on this still-new and emerging desktop OS. In particular, I want to give a special shout-out to their excellent Tutorials collection, whose total number is already closing on 60 in all, and which appears to be active and growing quickly as well.
The TenForums logo on top, and the tutorial categories underneath, just hint at the trove of good stuff available here.
Checking over the available tutorials can be a little challenging, because there are so many screens worth of information to peruse. That's why the "Tutorial Index" that's also available there can be helpful (though I wish they'd also produce a compact downloadable text-only version because perusing that list is itself a time-consuming process) to get a good sense of what's available. I've already found a number of useful items myself there, so I'll provide links to prevent the need for intensive scanning for others to find them, blithely assuming that what's of interest to me might also be of interest to them as well. Here's a list:
ESD to ISO – Create Bootable ISO from Windows ESD File (adds lots of useful information to my 10/24 post on this subject "New Win10 user? Build 9860 ISO for clean install")
Hyper-V – Create and Use VHD of Windows 10 with Disk2VHD (lots of other Hyper-V tutorials as well)
Reinstall Windows Technical Preview with this media (new option in Boot Options menu: quick reinstall for Win10 TP that keeps only existing user accounts and associated personal files)
System Image – Create Hardware Independent System Image (lets admins create a Win10 image that includes a default user profile and additional post-install applications generalized to be hardware independent)
Upgrade to Windows 10 Technical Preview from Windows 7 or 8 (what you can bring forward from the earlier OS to the TP depends on which version of Windows you're running: get those details here)
WinDBG – Install & Configure (how to install and configure the Windows Debugger, WinDBG, to perform "blue screen of death" or BSOD analysis)
If you want to learn about the Windows 10 Technical Preview, or would simply like to explore the information that's available, check out the Windows TenForums today. And don't forget the forums themselves, either: they're active and you'll find occasional gems among the forum traffic as well as in the tutorials.
---
November 12, 2014 3:01 PM
Windows 8.1
,
Windows installation
,
Windows tools
For those who don't want to run a tool like the great Rufus, MS offers another option via the Windows 8 Web pages. Prosaically named mediacreationtool.exe, this utility is available as a free download to all interested parties. Because it black-boxes access to the OS binaries used to create the UFD, and running the OS requires a valid key, this tool lumps the ISO download together with media creation and hides all the behind-the-scenes details from those who take advantage of its capabilities. Just for grins, I downloaded and ran the tool to see what it looked like, how it behaved, and how long it took to do its thing. I'll recount my experiences in a series of screen captures numbered 1 through 7.
Before using the tool, one must first download it. Those who wish to skip the aforeliniked free download page, can go straight to the download link to grab it immediately. Move the file to a target directory from whence you'll run it, and plug a USB flash drive into the host system (the contents of that drive will be obliterated as a part of the image creation process, so back anything up you want to keep around).
1. What kind of installation file do you want to create?
This is where you'll enter a language choice (mine was "English – en-us"), the Windows edition you wish to install (mine was "Windows 8.1 Pro"), and the target architecture (32 or 64 bit; I chose "64bit (x64)").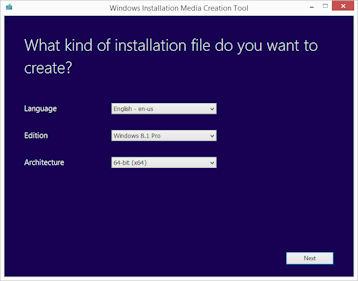 2. Choose where to save the installation file
You can either create an ISO file (for later transfer to optical media, like a DVD) or set up a USB flash drive (I chose the latter).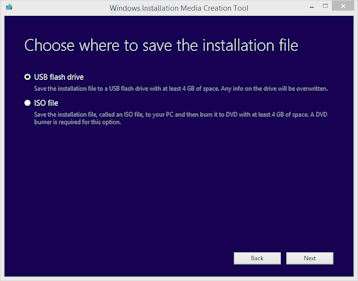 3. Choose a USB Flash drive
Pick an option from the local file system as the target for UFD creation (I chose the Mushkin 8 GB Atom drive named "Transfer" I'd mounted on my production PC for this test; you can use any UFD of 4 GB or larger for this task).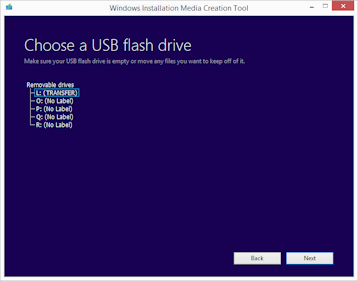 4. Downloading installation file
This is the phase of the process where the program finds and downloads the appropriate ISO file from MS servers to your local machine. It doesn't access the UFD at this point, so presumably that means it's writing to a temp file on the target PC's %SystemDrive% somewhere. That file is around 3 GB in size, so you'll want to make sure you've got sufficient disk space to accommodate it while the program is running. This was the longest part of the exercise: it took about 15.5 minutes on my production PC to grab the image necessary to create a 3.18 GB image on the UFD. If the size of the download is equal to the size of the resulting files on the UFD, actual throughput for this operation was 2.2 MBps/17.5 Mbps across my nominal 110 Mbps RoadRunner Internet link. The file was probably smaller, but I observed data rates in the 16-20 Mbps range during most of the transfer period through the Network Meter gadget, so that strikes me as a reasonably fair assumption.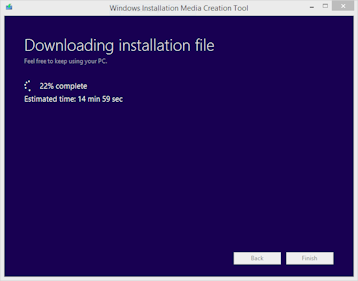 5. Checking the download
The program performs an integrity check on the download once the file transfer has completed; this took about 1 minute to complete.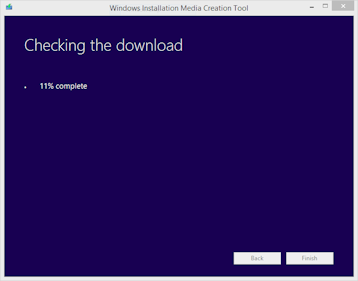 6. Creating the USB flash drive
If the download checks out OK, the process of formatting and building the bootable install image on the USB flash drive gets underway. I plugged the Mushkin unit into a USB 2 port on my production PC to get a worst case idea of how long that might take. With slower IO (data rates seldom exceeded 30 MBps during the process, and sometimes dipped below 10 MBps) this took just over 15 minutes to complete. Based on prior comparisons, this tells me that using USB 3 would cut that time to 5 minutes or just under.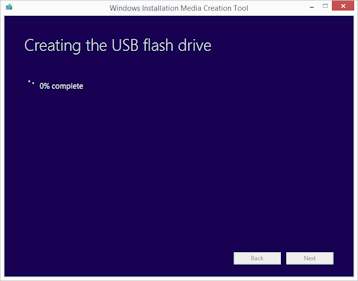 7. Your USB flash drive is ready
If all goes well, you'll get a final screen that tells you the process has completed. You must then click the "Finish" button to exit the program.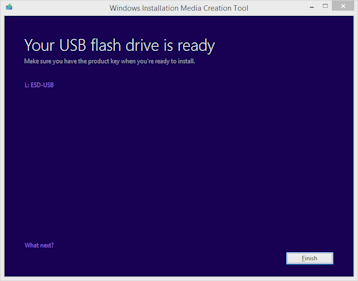 Once I had the final UFD to inspect, I observed that the file layout and contents are identical to what Rufus builds from the Windows 8.1 Pro ISO and its own capabilities. Thus, it appears that this tool should work for both UEFI and conventional BIOS PCs for installing Windows 8.1. Because I have easy access to all the current, supported Windows ISOs through MSDN, this tool doesn't appeal to me as much as it will to other readers who lack such access. But this tool is worth knowing about and using, especially if one must build a bootable Windows 8.1 install device on the road or when otherwise separated from one's usual admin toolkit. Overall time required to run it appears to involve something between 30 and 40 minutes over a medium-speed Internet link, so budget your time accordingly.
---
November 10, 2014 9:46 AM
SSD
,
Windows 8.1
,
Windows Performance Management
Having just rebuilt my production desktop one week ago, I'm still in the process of tweaking and tuning that system to bring it up to max performance. Over the weekend, I installed Samsung Magician 4.4, the latest version of the SSD utility for the 500GB EVO 840 drive installed as the boot/system drive on that machine. Then, I ran a pair of tests to see what impact this had on system performance. By at least one measure, the difference is astounding, as the following before and after screenshots will attest:
BEFORE: CrystalDiskMark shows that the mSATA port on the Gigabyte Z77X-UD3H is running only at 3 Gbps (half-speed, in other words).

AFTER: CrystalDiskMark shows an improvement of 1.5 orders of magnitude, WEI shows no change. What gives?
Turns out that the massive performance boosts on sequential read and write shown in the first two blocks of CrystalDiskMark measurements while dramatic, simply don't reflect much file system activity in the real world (except perhaps when transferring files larger than the 1 MB default block size shown). The second two blocks (4K normal access, and 4 K with a queue depth of 32) are closer to real life, except that queue depths on most Windows desktops seldom exceed a range of 6-8, even under heavy read/write IO loads (see Samsung's informative discussion of "Benchmarking Utilities: What You Should Know" for more good information on what's going on here).
Thus, the results that stay more or less the same for Sergey Tkachenko's implementation of the old Windows Experience Index (WEI) for Windows 8.* (and the Windows 10 Technical Preview) really reflect the overall impact of the drive optimization software on performance for Windows desktops. That's not to say that these utilities are worthless, or that you shouldn't use them: firmware updates, disk optimization, and over-provisioning capabilities can indeed improve performance and extend the usable life of such devices. I just don't think anybody should expect them to offer major performance improvements simply by virtue of their ongoing presence in the runtime environment. At best, I believe that improvements they can offer are incremental (probably less than 10% on overall I/O) rather than dramatic (an order of magnitude or better, as the first two blocks of the CrystalDiskMark results might lead one to hope for).
---
November 7, 2014 10:27 AM
Volume Shadow Copy
,
Windows 10
,
Windows 7
,
Windows 8
Anybody who's been reading this blog for a while knows that I collect – and blog about – useful Windows tools on a pretty regular basis. Here's another one for consideration for your Windows toolbox, from developer and Windows-head Nic Bedford (whose UK-based Nic's Blog is also worth tuning into from time to time): it's called System Restore Explorer (SRE)and it finds all of the restore points defined on the current running Windows image, and allows you to choose one at a time for mounting as a folder on the system drive using Windows (or File) Explorer like this: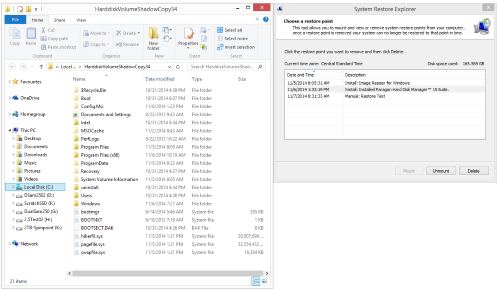 SRE finds and exposes the Volume Shadow Copies that represent Restore Points.
India's Tech Gizmo wrote a nice review of this tool (though it's pretty brief), and developer Paul Pruitt (who has developed a similar tool for more general exploration of volume shadow copies called Shadow Explorer) also gives Nic credit for crafting a useful tool as well. I need only point out that System Restore Explorer lets anyone explore the entire contents of any chosen Restore Point, and copy files from that restore point as needed, for most readers to fully appreciate what it's good for. Followed with the observation that it provides a way to grab and restore or replace missing or damaged files from a current runtime image for Windows Vista, 7, 8, or 10, this lets Windows admins know why it's useful to keep around for those occasions when it might come in handy. Great stuff!
---
November 5, 2014 9:26 AM
Windows 10
,
Windows installation
I've been running the Windows 10 Technical Preview (Win10TP, as I abbreviate it in my blog post title) for about two weeks now, and I'm feeling better about the environment and the experience of running this latest desktop OS from Microsoft than I expected to be. In fact, I'm more than just a little bit impressed with the new environment's ease of use, stability, and its willingness to accommodate a production system's hardware and software components. So far, the only program that has flat-out refused to install on Win10TP is Franck Delattre's excellent and informative CPU-Z utility (currently at version 1.71, which raises an incompatibility flag for build 9860, despite the Web site's assertion that CPU-Z 1.71 "…adds the support of Windows 10," which probably applies to build 9841 but does not yet extend as far as 9860).
Sergey Tkachenko's WEI runs fine in Build 9860, despite issues with 9841, to report basic system performance ratings.
From an install and setup perspective, Win10TP follows very much in Windows 8's entirely respectable footsteps: installation is quick, painless, and pretty easy. Applying updates ditto, though I've been spoiled by using Start8 on Windows 8 sufficiently that I've had to retrain myself to key search text in straight at the start menu/start window without jumping right into menu navigation.
Frankly, I was amazed to see Win10TP get 99% of the drivers right on the first boot-up into the OS following the initial install. It did miss a couple of devices (which showed up as "Unknown" in Device Manager) from the MSI Z87-G45 motherboard in my primary test machine, and like Windows 8, Win10TP doesn't recognize Killer/Atheros Ethernet devices, either. Thanks to the StarTech ASIX GbE USB 3 NIC I keep around for tablets and notebooks devoid of wired interfaces, I was able to plug that bad boy into the test machine, and gain network access with which to obtain updates and download missing drivers lickety-split. DriverAgent (my driver analysis and access tool of choice) runs fine on Win10TP, and I was able to use it to grab the elements that I needed to bring that machine up to snuff.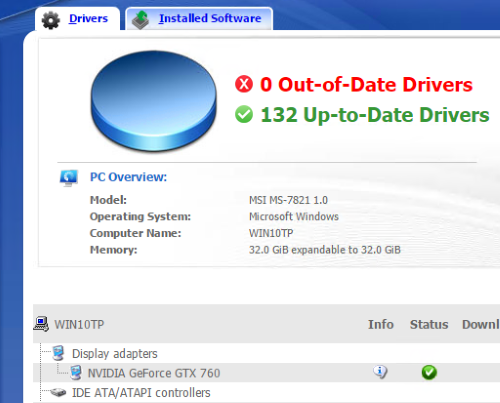 It took me less than 15 minute — a new "personal best" — to bring all the Win10TP drivers up-to-date after a clean install. Amazing!
I'm still in the process of re-creating a typical production environment on my test machine, beavering away in my spare time. So far I've installed the following items successfully, reading from the "All Apps" menu on that PC: 7-Zip, 8GadgetPack (Core Temp even works with the CPU Usage gadget), CCleaner, Chrome, Intel Management Engine Interface and the great new Driver Update Utility v2.0, Logitech SetPoint, Microsoft Mouse and Keyboard Center, NVidia 3D Vision center and so forth, SlimImage, and WinDirStat. All appear to work correctly. I'll be moving onto MS Office 2013 next, as soon as time permits.
---
November 3, 2014 9:57 AM
User account management
,
Windows 8.1
Earlier this month, I sold the Fujitsu Q704 Stylistic tablet PC that I purchased last January, having learned as much from it as I could, and having also decided it didn't present enough performance and stability for the costs involved in acquiring and maintaining that platform. Early last week, I ordered a Surface Pro 3 (i7-4650U CPU, 8 GB RAM, HD Graphics 5000, 256 GB SSD) to replace that unit, so as to give me a Windows tablet to play and work with. It arrived on Friday afternoon, about the same time my son came home from school. I was in the middle of upgrading my production PC, so the last thing I wanted to do was to unbox and set up another new PC. "That's OK, Dad," said Gregory, "I'll do it." And do it he did, all by himself (with a little help logging into my Microsoft Account) to the point where he used the system to do his homework this weekend.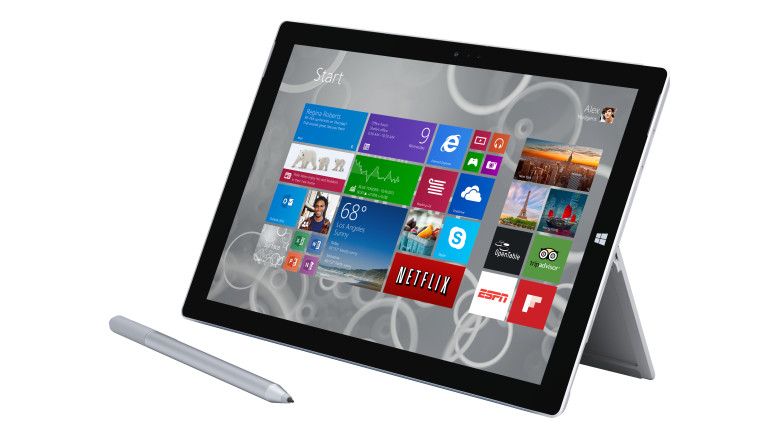 The latest addition to our computing stable is already a huge hit with the younger generation.
I stayed busy through the weekend working on my production PC (which I'm writing this blog post on right now), applying updates, catching up drivers, installing MS Office and a bunch of other applications. I also decided to consolidate 4 of my older and smaller 3.5″ hard disks (ranging in size from 750 GB to 1.5 TB) onto my remaining spare Toshiba 3 TB SATA3 3.5″ HD, which supported data throughput over 100 MB/sec in its USB3 drive caddy for really big files (and probably averaged about half that overall during the entire drive copy marathon session involved).
An interesting and terrifying dilemma emerged on Sunday morning, as I was continuing my setup marathon. Suddenly, for no reason I could discern, I found myself unable to use my keyboard on any of the machines I was logged into with the shared Microsoft account I typically use. When my son "accidentally" reset the desktop theme on the Surface to High Contrast, and the same theme immediately popped up on my production PC's screen and that of my traveling Lenovo laptop, I realized that something about the account settings made on the Surface was preventing my other machines from using their keyboards. A little poking around on the notification area showed me that my son had enabled Sticky Keys and Filter Keys on the Surface to improve use of the Type cover on that machine. Unfortunately, those settings also turned off the keyboard on the other Windows systems that shared those settings. Though it took me over half and hour to get to the bottom of the situation and find a fix (turn off both of them completely), once properly diagnosed it was relatively easy to work around. Of course, because I didn't immediately understand what was going on, I first tried multiple keyboards on my production desktop without success. It was only when I turned to the Lenovo and found its keyboard out of commission as well, even though the keyboard drivers reported those peripherals as present and working, then saw the sudden change of desktop them across all systems, that I figured out the shared account settings must be involved.
This is a level of synchronization that I hadn't encountered as a problem before. I'll use this experience to warn admins to tell their users that they should be careful with account settings, particularly when they run the same Microsoft account across multiple machines. That also raises the interesting query of how all this will play out when people start running the same account on their smartphones as well as on conventional PCs.
---
October 31, 2014 11:20 AM

Profile: Diana Hwang
Next month HP is expected to reveal a new PC product line up aimed at the commercial market, a little over a month after it split the company in two.
But questions still remain as to whether the move will succeed in getting itself on track with its hardware business and address the gaping holes in its mobile strategy with Hewlett-Packard Enterprise.
Longtime high-tech industry observers wondered why it took HP so long to do the split.
"It was overdue," said Rob Enderle, principal analyst for the Enderle Group, based in San Jose, Calif. "The two halves of the company have been pretty separate for some time." As separated partners, both companies should become more agile, he said.
It's a model that companies like IBM started to follow a while ago. For example, IBM sold off its hardware business to Lenovo, allowing them to focus solely on the enterprise with its software and services business. IBM also aligned itself with Apple with a far reaching enterprise alliance to benefit both companies.
But on the flip side, there's a danger in splitting the company in two. There's nothing so far that says HP Enterprise is required to sell HP Inc.'s hardware when they sell to customers.
Indeed, what's to stop HP Enterprise from selling a Lenovo or Dell PC for that matter?
"In this model, it's unclear how [the two entities] will work together," said Tim Bajarin, a long-time industry analyst and founder of Creative Strategies Inc., based in San Jose, Calif. "Does the enterprise group support a 2000 PC sale? Will the PC business be able to innovate on their own? Where does HP Labs fit in all of this? While I understand the reasoning and the goals there's too many outstanding questions that makes it hard to determine whether it will be successful."
What's the mobile story?
While the industry contemplates HP's, it seems like the company is beginning to fill in the gaps of a cohesive mobile strategy. With new 2-in-1s coming down the pike and a recent partnership with VMware, HP could be on track for the future.
In fact, the HP-VMware deal is a strategic move that could plug the hole from the lack of an enterprise mobile management platform strategy. But, the partnership may be confusing too.
"It's a good offering and reflective of where the companies need to go [for] management services," says Bob O'Donnell, chief analyst and founder of TECHnalysis Research LLC, FosterCity, Calif. "[However] If I'm from HP Inc. … part of what I want to offer is the software and services. If [I was a customer] and wanted services I could go straight to VMware whereas [before] I was going to HP because I wanted the hardware piece and services to be bundled along with it."
Other analysts agree.
This is a good example of large organizations selling anything they can get their hands on, says Chris Hazelton, research director, enterprise mobility, for 451 Research, in Boston. Before, HP didn't list enterprise mobility management as part of its mobile offering, which was a mistake, he adds.
For its part, Hazelton calls the deal between HP and VMware a big win for VMware and Airwatch.
"The idea is to create a one-stop shop for mobility and that's what these system integrators, app developers and ERP vendors are jumping on this door opener to the mobile enterprise," he says. "One manages mobile devices, another manages the user data and together [they] start building the ecosystem for apps and services. That's where HP is going to provide value."
And with that, here's hoping HP's new strategy and its new commercial PC offerings is enough to begin plugging in the gaps.
---
October 29, 2014 11:14 AM
Chromebook
Right now, you can buy an el-cheapo HP Windows laptop for $200. It's designed to compete with Chromebooks, while offering a more familiar (and complete) computing experience — at least, in the minds of some — than the "other platform" can provide. Curious as to what's inside the New HP Stream 11 (official product name: HP Stream – 11 – d010nr Laptop) after reading about it on Paul Thurrot's SuperSite for Windows, I wandered over to HP's specs page to learn more about what makes this device tick.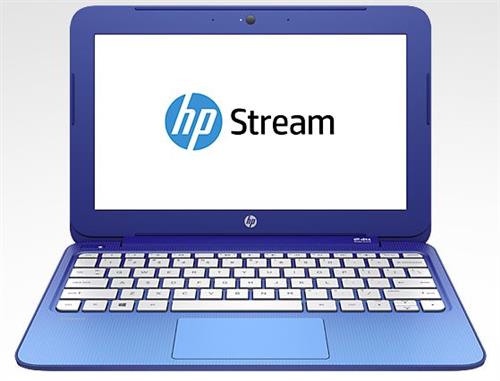 Thurrott loves the look of the new HP Stream 11; I see it as just another 11″ notebook, albeit a very inexpensive one.
Here's what HP provides buyers for their $200 bucks. It's not overwhelming, and to me it's very reminiscent of what those of us who decided to give netbooks a try about 5 years ago were likely to encounter, updated to reflect more modern OSes and mobile device components:
HP Stream 11 Specifications
Item
Details
Processor
2.16 GHz dual-core Intel Celeron N284
Operating System
Windows 8.1 x63 with Bing
Graphics
Intel HD Graphics
Display
11.6″ WLED-backlit 1366×768
Memory
2GB 1333 MHz DDR3 SDRAM
Hard disk
32 GB eMMC
Wireless
802.11 b/g/n, BT 4.0
Power Supply
45W AC adapter
Battery
3-cell, 37 Wh Li-polymer
Ports
USB3x1, USB2x1, HDMI, audio
Expansion slots
SD card reader
Energy Efficiency
Energy Star qualified; EPEAT Silver
Webcam
HP TrueVision Webcam with digital mike
Audio
DTS Sound+
Color
Horizon blue
Pointing device
HP ImagePad with multi-touch gesture
Keyboaerd
97% size island-style
Dimensions
11.81×8.1×0.78″
Weight
2.74 lbs (1.24 kg)
Warranty
1-year limited
Software Included
See specs page: bottom row of table
The secrets to the low price come primarily from four elements. First, the Windows 8.1 with Bing option involves no MS license costs to HP, and brings the price down by $50-80 right there. Second, the Celeron processor is a no-frills workhorse that provides basic functionality sans bells and whistles, and in large lots, can't cost more than $20 apiece. 2 GB of memory isn't the absolute minimum, but it's a workable amount; in large quantities, such SO-DIMMs probably cost $10. The real secrets to the low cost of the device are the slow but cheap eMMC storage device ("eMMC" stands for embedded MultiMediaCard, which is essentially the same kind of flash chips and controller found in an SD card or a low-end UFD, with low speeds to match; less than $25 in large quantities) and the all-plastic clamshell enclosure for the laptop itself. The device is a close match for many Chromebooks in components and by no coincidence whatsoever, also in cost.
Now, it remains to be seen if there's an appetite for such devices. I'm planning on buying one for my son's 5th grade class at school. His fourth-grade teacher loved the Chromebook I gave her for that class to use. Now, we'll see if a workable Windows analog gets the same reception.
---