---
November 4, 2013 12:55 PM
I learned an interesting if somewhat painful and time-consuming lesson this weekend — namely, the Windows 8.x "Refresh your PC" mechanism will not permit you to restore a backup from Win8.x one install on a computer to another Win8.x install on the same computer. I have to believe that's because each time you install (or re-install) Windows, it gets a unique Security Identifier (SID) that tags the OS installation. I had hoped otherwise, because I had to reinstall Windows 8.1 on a miniITX PC when switching it from a conventional WD Scorpio Blue drive to a faster Samsung 840 EVO SSD drive this weekend. I started by cloning the WD drive onto the Samsung SSD, but the machine refused to boot no matter what shenanigans I tried in the motherboard's BIOS, nor would a UEFI boot UFD repair the SSD's apparently invalid boot-up disk layout.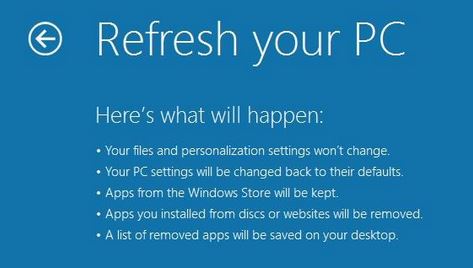 The default refresh rolls you back to factory or clean install defaults, but a custom refresh lets you return to a last known good working OS state — in most cases, anyway…
"Aha!" I thought, "I'll do a base-level Win8 install, then use last night's RecImg data to overwrite the new install with my complete and up-to-date refresh data instead." At first, I was encouraged to see the refresh operation proceed to 100% completion and then reboot my PC. But as soon as the reboot turned control over to Windows 8, it informed me that the refresh was invalid, after which it rolled back all of the changes automatically. "Rats!" I observed, and then went about the process of rebuilding the PC on the new SSD from scratch, which took me about four hours all told (I'm 90% of the way back to where I started, with a handful of drivers still to troubleshoot, and a somewhat greater number of tried-and-true utilities to install, including WinDirStat, CCleaner, Norton Internet Security, CPU-Z, SIW, Chrome, FileZilla, and Revo Uninstaller).
If anyone can shed more light on how I could've better managed the HD to SSD transition, I'd be happy to learn from that information. I'm thinking perhaps I should've used my copy of  Paragon's Migrate OS to SSD (doh!) when the initial drive clone operation through Acronis True Image Home 2014 failed to produce a bootable SSD. That I can still (and probably should) try. [Note added 11/5/2013: my current version of Migrate OS to SSD returns an "Unknown windows version" error message when I try to run it. I can't make the program provide version information and it's not included in the Properties for its .exe file either, which shows a 7/18/2012 creation date, well before the GA release of Windows 8. I also see on the Paragon website that a new 3.0 version is out, and it's labeled "Windows 8 Compatible," so I've requested them to send me a review copy. I'll report back later, as soon as I've obtained the program and completed my testing.]
Other ideas or approaches to making the move on Win8 would be greatly appreciated: I've never encountered these kinds of issues on prior Windows versions, going back to Vista (the first version of Windows I ran on an SSD). Heretofore, drive cloning has worked just fine to produce a bootable drive when moving from HD to SSD. But that does not appear to be the case on Win8, so I'm guessing it uses a different drive layout for HD and SSD drives.
Other than the extra time it took to restore the affected system to proper operation, it's not really that big of a deal. But it is important to recognize that you can't use "Refresh your PC" except when all aspects of the source and target Windows installation (specifically, the OS SID) remain the same. That is one important aspect in which it differs from a more standard backup/restore scenario. This may actually be one case (different source and target OS SIDs) where restoring a conventional file-by-file backup works, but an image backup does not.
November 1, 2013 4:33 PM
Numerous outlets are reporting about Windows 8.1 usage figures online, generally based on NetMarketShare numbers (see "Windows 8.1 Market Share on Desktop" for an illustration). Baldly stated, Windows 8.1 "market share" (which really reflects its percentage of the overall clients that bang the Web on servers to which NetMarketShare.com pays attention) has jumped from 0.87 percent in September to 1.72 percent in October. This 0.85 percent jump represents a near-doubling of the number of 8.1 clients in active use (98%, actually) on the Internet. In the grand scheme of things these percentages are small potatoes indeed, but they also present a steeper growth curve than that for Windows 8, which didn't hit the same level until two months after its GA (general availability) release.

The graph from NetMarketShare shows a nicely steep growth curve for Windows 8.1 out of the gate.
Does this mean that Windows 8.1 is bound for success and other forms of glory? It's still too early to tell. But what with Windows XP nearing it's "drop dead date" in April, 2014, and a huge mass of PCs in need of some kind of upgrade, it looks like perhaps more of those machines may wind up running Windows 8.1 rather than Windows 7 SP1 as conventional wisdom might otherwise dictate.
An interesting analysis from Alex Wilhelm at TechCrunch entitled "Windows 8.1 Doubles Its Market Share in October to 1.72%, Handily Beating Winodws 8's Initial Rollout," also provides further analysis of the distribution of Windows 8.1 licenses. Through means not disclosed in the story, Mr. Wilhelm attributes half of that market gain to sales of Windows 8.1 OSes (mostly OEM licenses on new computers, I would presume) and the other half to upgrades from machines with Windows 8 already installed. He also observes that Windows 8's market share hit its high of 8.02 percent for September 2013 and says "it won't ever reach a higher level than that," though that number does exceed the 7.73 percent of all PCs that run one kind of Apple OS X version or another.
---
October 28, 2013 5:19 PM
The much-awaited and anticipated Surface Docking Station from Microsoft gets a once-over in a recent piece from Paul Thurrot. The piece is entitled "Surface Docking Station: First Impressions and Photos," and it's chock-a-block with interesting observations and details. His subtitle really speaks to the meat, tenor, and tone of the story: "A high-quality accessory that turns your Surface Pro or Pro 2 into a desktop workstation."
Surprisingly, the Docking Station is already shipping in limited quantities, even though MS materials have led many to believe — including both Mr. Thurrott and myself — that the device wouldn't be available at all until January 2014. According to this story "…it will occasionally pop-up as available at Microsoft Store locations as well as online."
More details on what's coming in this device:
1. A single mini DisplayPort jack limits direct monitor connections to 1 (though USB will work to add more)
2. Only a single USB 3.0 port and 2 USB 2.0 ports are provided
3. Users can keep on using the typing cover with the dock if they like
4. Price is $200 ($199.99 actually)
5. Unit features neat-o, keen-0 locking sick tabs that extend to permit the unit to be docked (or when the unit needs to be removed) but which otherwise lock the unit into the dock with all connectors firmly seated
6. The dock is dark plastic that matches the VaporMg finish on the Surface Pro and Surface Pro 2 units.
7. The Ethernet port, quite surprisingly, is 10/100 not 10/100/1000 (GbE)
User reaction is mixed, where some take issue with the lack of GbE and others with support for "only" a single external monitor. Others are lining up to buy the docking station, looking for a way to use the Surface Pro (or Surface Pro 2) as a genuine "travel-and-desktop" PC.
---
October 28, 2013 11:19 AM
Microsoft is like a Weeble. The company wobbles time after time but it doesn't fall down.
This ability for Microsoft to bounce back up after wobbling on shaky ground this past fiscal year came to a head this week as the company began shipping the Surface 2 and Surface Pro 2, and reported its commercial business was up by 10% during the first fiscal quarter of 2014.
Microsoft also declared its devices and consumer hardware division enjoyed an uptick in overall Surface revenue of $401 million while the Windows OEM Pro licensing revenue was up 6%. The 32GB Surface RT was the primary contributor to the division's revenue, with demand stemming from the retail and education sectors. Microsoft in August offered steep price cuts of Surface RT.
Indeed, Microsoft this quarter made steady strides in the commercial business, with Office revenue up 11% and its server products up 12%. The company's commercial cloud business – including Office 365 and Windows Azure — also grew by a whopping 103% when compared year over year – with more customer adoption for Office 365 seats and Azure customers, but Microsoft did not disclose a more granular level of details regarding the reason for such growth. Revenue for commercial licensing came in at nearly $9.6 billion, up from $8.9 billion the previous year.
Overall, Microsoft posted revenue of $18.6 billion, up 7% compared with $16 billion from the first fiscal quarter of 2013. Microsoft's revenue included the deferral of $113 million of Windows 8.1 pre-sales to OEMs and retailers. Microsoft also posted a net income of $5.2 billion, compared with $4.4 billion for the same time last year.
The first fiscal year's quarterly earnings represent a bright spot for Microsoft. The company has suffered from major events that impacted the company over the last year:
In addition, just as Microsoft let out Windows RT 8.1 update last week during its official commercial availability, there was a snafu involving the configuration file reboot and Microsoft had to pull the update off the Windows store for a few days, tarnishing the commercial roll out of Windows 8.1 and Surface tablets.
And the list goes on. But Microsoft  has enough cash to keep it afloat as it transitions into a "new" company, hires a CEO, encourages enterprises to adopt Windows 8.1 and integrates the Nokia acquisition into its company pending approval. The company also steadily enjoys some positive highlights with the growing adoption of Office 365, Azure and positive reception to Windows Server 2012 R2.
I don't believe Microsoft's wobbles will end this coming year. It remains to be seen how the company entices the enterprise to embrace Windows 8.1 when companies are just migrating to Windows 7, or whether they'll gain market share in the growing tablet space when iPads and Android-based products already enjoy commanding leads in the market.
But at least the company started the fiscal year on a good note with an uptick in Surface revenue which they said stemmed from its education and retail sales. During its September quarter, Microsoft had drastically cut the price of the Surface to $349 and had a special education offering that enabled K-12 schools and colleges to purchase the device for $199. Microsoft also dropped the price of the Surface Pro to $799 and this week, and cut the price of Surface Pro to $699.
Can Microsoft take some lessons learned this past year and apply it for the future? Of course.
For example, in recent meetings with Microsoft's commercial Windows enterprise team, they said the decision to provide the Windows Enterprise 8.1 RTM about a week after Windows 8.1 and Windows 8.1 Pro RTM was made available to developers and the IT community early was all about timing. (And those releases only came out after developers and IT pros were up in arms when they did not get the Windows 8.1 and Windows 8.1 Pro RTM bits along with the PC OEMs.) If the new Microsoft really wants the enterprise, developer and IT community to support them, they have to court them in ways that work best for these communities.
Regardless, Weebles wobble but they don't fall down.
---
October 23, 2013 10:37 AM
When I installed the Soluto startup and runtime monitoring and reporting tools on my production machine a while back, soon afterward I discovered that the Windows Reliability Monitor had quit working. I was never fully able to resolve why this happened, and went a couple of rounds with Soluto tech support on this topic, before reluctantly realizing that I could either have Reliability Monitor on that machine or Soluto, but not both. After upgrading that machine to Windows 8 and then last week to Windows 8.1, I uninstalled Soluto just to see if I would get Reliability Monitor back. No dice! Or rather, no data: Reliability Monitor would run, but it wouldn't show me any data.

After deleting the old log files for Reliability Monitor, then waiting a few days, the data display resumed working.
As the preceding screen capture shows, I've gotten Reliability Monitor back to monitoring reliability data and while I can't say I'm happy with what's on display — which shows some of the niggling stability problems I've encountered since upgrading to 8.1 (the bumpy part) preceding by a rock-steady "no trouble" display beforehand running Windows 8 — I am glad to have regained access to this source of system monitoring and information. I found the secret to restoring ReliMon (as I call the facility to myself) in an interchange on answers.microsoft.com entitled "What to do if reliability monitor in action center does not show any activity?"
The trick is to navigate to C:\ProgramData\Microsoft\RAC and to delete that folder's contents. If you want to restore your prior data after this clean-up maneuver, you should first make a copy of the PublishedData and StateData sub-folders therein to a safe place somewhere else (I copied mine to another drive). Reboot your PC after you delete the RAC folder contents. If you want to restore the prior data, copy (and replace) the contents of the PublishedData and StateData folders from your safe copy elsewhere to put things back the way they were.
In reading the responses of those afflicted with this situation — namely, one where Reliability Monitor reports no reliability data — I see that this fix doesn't work for everyone in every situation. But it worked for me on my machine, once I'd upgraded to 8.1 and uninstalled Soluto. If you find yourself in a similar boat, or your users come to you with such a complaint, this solution may very well also work for you. As with so many other Windows fixes, there's no way to know for sure until you try!
---
October 21, 2013 11:35 AM
I've upgraded three machines to the Windows 8.1 GA release now, including my primary production machine (I reported on an in-place upgrade on this machine from Windows 7 SP1 to Windows 8 on October 4 in a post entitled "True Win7 to Win8 Upgrade Goes Suprisingly Well"). I can now observe that I'm experiencing many more noticeable behavioral changes in Windows 8.1 since I completed that upgrade on Friday of last week. Most noticeable — and sometimes vexing — has been the tightened up security inside Internet Explorer 11 in the wake of this latest software update.
So far, I've noticed the following changes:
1. Tightened security for use of Java and JavaScript in web pages
2. Requirements to add https:// URLs to the Trusted Sites list (these had been included automatically, in earlier releases, even if the "require server verification" option was unchecked on the Trusted sites display — no longer true!)
3. Much tighter controls on log-in pages, or other pages requiring authentication of any kind
4. I get quizzed pretty much any time a web page wants to run active content (ActiveX, Java, JavaScript or whatever) to do its thing.
For me, the symptoms of this trouble popped up in working with LinkedIn, a site I visit multiple times daily, and to which I post blog and article notifications as the fruits of my labor become available to the general public. I found myself unable to login to LinkedIn at all, until I added both the plain-vanilla http://www.linked.com home page and the secure https://www.linkedin.com/uas/login?goback=&trk=hb_signin login page to my Trusted sites list in IE. I'd never, ever been required to do this before, not even in the RTM version of Windows 8.1. On the plus side, IE now balks at loading advertisements in LinkedIn and lets me block such items:
Some other interesting gotchas have cropped up, including:
1. An inability to access my contact information from iCloud in MS Outlook 2013 (this worked fine until I applied the 8.1 upgrade to my 8.0 production machine; now I have to open iCloud on the web to access contact data). So I went back to a recent backup of my PST file and have re-imported my Contacts from there. I'm guessing the iCloud/Outlook synch operation is broken, too.
2. I did have to re-install two drivers after the Windows 8.1 upgrade had completed (the ICH10 Family SMBus Controller – 3A30 item, previously updated last week using the 9.4.4.1006 version of the Intel chipset drivers, and the RealTek HD audio drivers, which may actually have been a legit update). I've noticed only a few such items in the wake of upgrading to 8.1, but they do seem to occur on a onesie-twosie basis (somewhat puzzling, since I'd updated these items under 8.0 previously).
3. My printer drivers (Samsung ML-2850 and Dell 2255cn) had to be reinstalled on networked machines in all cases, and on the machine to which the Dell has a USB connection as well.
Although the upgrade has gone smoothly on every machine to which I've applied it, there have still been a few mostly minor hiccups in its wake. Nothing I can't live with, or fix, so far though.
---
October 18, 2013 10:30 AM
Having deliberately installed the Windows 8.1 RTM version on my primary Windows 8 test machine recently, I was naturally eager to jump all over the promised "Update Rollup" yesterday when it appeared through Windows Update. Its application took all of 5 minutes, including both download and installation. When I saw an entry in the list of pending updates there named "Update for Windows 8.1 for x64-based systems (KB2883200)" I hied me off to the cited knowledge base article where I immediately espied the following banner that resolved all uncertainty:

The size of the download is 230.1 MB, somewhat bigger than the "around 200 MB" mentioned in earlier disclosures from Microsoft regarding the roll-up, but by no means gargantuan (the full-blown 8.1 Pro x64 VL version, dated 10/17/2013, weighs in at 3,674 MB or ~3.59 GB). Since installing the roll-up yesterday, my test system has been rock-solid stable and shows little or no signs of major changes or updates. Here's what Winver says after the roll-up is installed, showing that the OS designation remains at Windows 8 (no big 8.1 logo, as some — including me — might have expected):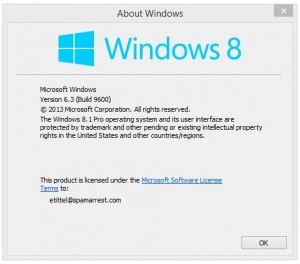 Expectations to the contrary, the OS designation for 8.1 still remains "Windows 8."
The only visual tell-tale about the new OS version I can find easily appears in Control Panel, where the following entry appears in the "Small icons" view:

In turn, that applet provides a Windows Store link where one can purchase the Windows 8.1 Media Center Pack for $9.99, which is not a bad price to bring DVD and other media playback into the Windows 8 environment, which otherwise lacks such capability. As I dig into the final, final version of 8.1, I'll report on other findings as they come up. But it looks like there's really nothing too earth-shattering here (and no, I haven't found or even heard about any promo codes to bring upgrade or add-on prices down, either).
---
October 18, 2013 12:05 AM
Microsoft has made good on its promise to release its software at a faster cadence with the release of Windows 8.1 today with some features that may grab the attention of IT.
This means you can now download Windows 8.1 from the Windows Store and upgrade your Windows 8 PC.  But should enterprise users care?
If you use Windows 8 at home or in your workplace, sure. Now you can take advantage of the pseudo-Start button, boot up your system in the familiar desktop mode, and have better support for multitasking.
IT administrators may also want to consider Windows 8.1. The community was part of the Windows 8.1 second wave of release to manufacturing version (they should have been part of the first wave), and now they can evaluate a final copy of the operating system which offers more enterprise management and security features, including biometrics.
Depending upon the version of Windows 8.1 — Pro or Enterprise – the software provides IT administrators with more control by enabling domain group/policies, support for BitLocker encryption, work folders, workplace join and open mobile device management. There also is a tighter integration with Internet Explorer 11.
However, we all know that many enterprises are not ready to adopt the Windows 8 platform as this would mean not only a software upgrade but also a hardware upgrade to take advantage of touch capabilities. And, many of them just spent a lot of money moving from Windows XP to the stable Windows 7 operating system, as Windows XP end of life looms.
But take note: mainstream support for Windows 7 ends January 13, 2015. At that time, the industry enters the five year extended support phase, which ends on January 14, 2020.  At that point we're back to square one of migrating businesses off of Windows 7 to whatever version of Windows is going to be out at that time.
Businesses will probably take advantage of the extended support phase, as they have with Windows XP. The Windows 8 platform is still in evaluation mode among many enterprises.
CIOs and CTOs say they want IT administrators to gain a better understanding of the company's business, its employees and market trends so that they think more strategically when it comes time to make technology decisions.
It's only a matter of time before enterprises have to think about the tried and true Windows 7 going away and the industry entering another cycle of major upgrades. IT pros: be prepared.
---
October 16, 2013 10:23 AM
I volunteer at my son's school, where one of my gigs involves assisting with a Wednesday morning programming class on Microsoft's SmallBasic, and another one has me helping out with a way-cool robotics club orchestrated around the Lego MindStorms robot kits. It's not only fascinating and fun, it also has me rubbing shoulders with the school's main (and only fulltime on-site) IT guy who's the sponsor of the robotics club and who also supports the programming class. This morning, as we often do before things get rolling, we talked about what he's up to and what projects lie ahead on his planning horizon.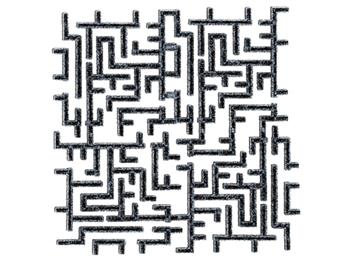 The maze of issues that faces early migrators to new Windows versions abates substantially for those who wait … and wait … to make that move.
[Image Credit: Shutterstock 27511863]
"What's up with the refresh?" I asked him this morning, alluding to the school district's upcoming plans to migrate classroom and admin systems from Windows XP to Windows 7. Because Round Rock ISD has an enterprise volume licensing agreement with Microsoft, I learned that they are required to phase out all systems running XP just after the start of 2014, some months ahead of Windows XP's last-and-final retirement date (April 8, 2014). When I asked how he planned to handle that migration, he informed me that the centralized IT group for the school district is preparing a set of reference images for the targeted systems, and he'll pull those images from network drives at the school to perform clean installs of Windows 7 on the 400 or so PCs, laptops, and netbooks currently deployed in the elementary school where he works.
Another interesting wrinkle emerged from the discussion — namely, that some systems will use images with the Microsoft Office 2013 release slip-streamed in. I knew this would increase the size of the download involved, but was a little surprised to learn that this would just about double the download time required to move  the image across the network from the servers where it resides to the target machines where it will be installed. My colleague's efforts will also be somewhat complicated by having to work around the schedules of teachers and administrators, who are usually busy using the computers at their disposal the whole time they're on campus, be it in their offices or their classrooms, depending on their various job roles.
He expects this effort to consume most of his working hours for the entire month of January, and possibly even into the first week or two in February, depending on how successful he is at wresting the machines that need to be upgraded from their normal users to perform the installs, and how many problems he encounters on the path from getting started with the netbooks and laptops in groups of 10 or 20 on the dozen or so computer carts he manages for the library and the computer labs in the school, to the pairs of PCs in individual classrooms, and onto the other office and mobile machines scattered around the campus. He plans to use a spreadsheet to keep track of all the machines that need handling during this process, and expects that while it will be time-consuming it shouldn't be too difficult. All of the machines the school district uses are of Windows 7 vintage (more than a year old, but less than 4 years old) so drivers and compatibility issues have been worked out a long time ago.
This is a typical large user base scenario and reflects what lots of "trailing edge" organizations have experienced recently or right now, except for those planning to follow along at the back of the pack in the next few months. This should make it very interesting to see how much XP remains in use after the April 2014 retirement date comes and goes. In the interim, those organizations with relationships to Microsoft that mandate moving up the food chain must go through the final motions involved in keeping themselves current, no matter how much or little they may like having to do so!
---
October 14, 2013 11:48 AM
I found a fascinating article on WinBeta.org this weekend. If you can get past its enormous title "Windows 8.1 'GA Rollup A' update will finalize the Windows 8.1 code, comes with fixes" there's some useful and interesting substance to the story as well. In fact, this story goes a long way toward explaining the mechanics of how code changes can follow in the wake of the RTM (release to manufacturing) version of Windows 8.1 that became available in early September (9/9 on MSDN, a few days earlier to the OEMs).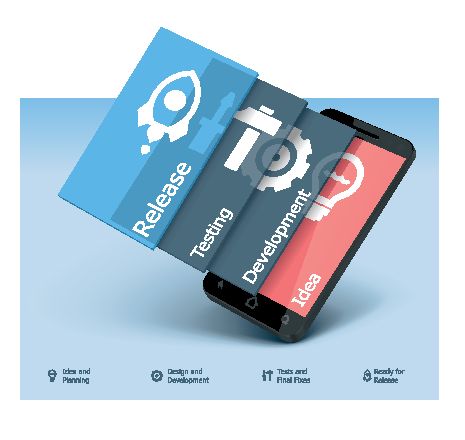 Shorter dev-cycles require interesting final release maneuvers, including a last-minute "update to the upgrade!"
[Image Credit: Shutterstock 151265540]

The story reports that Microsoft will release an update to the update called "GA Rollup A" that will accompany the actual release bits for Windows 8.1 (presumably, the same as the aforementioned RTM release). This will take the nearly-finished RTM version and add the necessary changes, fixes, and finishing touches that have followed in the wake of last month's RTM release. According to WinBeta, the roll-up is about 200 MB in size for x64, and 100 MB or thereabouts for x86 and ARM versions, and is said to "address bugs and various components throughout the operating system." The GA rollup may or may not appear in tandem with the release of  8.1 to update channels on October 17/18, or it may follow a day or two later.
What we're seeing here is, I think, the way that future Windows releases will be orchestrated to better accommodate the new short-cycle approach for major Windows versions, which Microsoft has said will occur on a more-or-less annual cycle going forward. Given such a compressed timeframe, developers will need whatever time interval is available to them between RTM push and the following GA date, to keep polishing the latest release, to fix bugs, and to slide whatever last-minute additions and enhancements can make it into the OS before the lock-down date for the GA release is imposed.
Will this have an effect on OS stability, reliability and quality? I'm not convinced that a short schedule and working up to the deadline has to mean more such problems are inevitable. But you can bet IT professionals and service providers (especially those in the "Desktop as a Service" business) will be watching the upcoming cycle with more than usual interest. It will no doubt set the tone for how quickly (and enthusiastically) such organizations jump onto new Windows releases in the future, and how soon they will commit themselves to rolling out such releases to their user bases thereafter.
---