---
July 8, 2015 2:18 PM
Backup
,
Troubleshooting
,
Windows 8.1
I'm working on my traveling laptop this week, so I'm on a different PC from usual. It's my trusty bigger-screen Lenovo T420 (Sandy Bridge 2.8 GHz i7, 16 GB RAM, Plextor 256 GB mSATA SSD, and so forth). In checking over the system, I discovered that File History was turned off, and when I tried to turn it back on I got an error message to the effect that the Service wasn't turned on or no enabled device was available. Neither of these conditions led me to a working File History, so I started spelunking on the Web.
Finding relief often means knowing what to ask for.
I found relief, as I often do, at answers.microsoft.com, where I learned that Windows Search and Indexing must be turned on for File History to work. After I recovered from that "Doh!" moment, I ran the Indexing and Search troubleshooter which returned the service to normal operation. As soon as I had done so, I was able to turn File History back on, no sweat.
Now, all I have to do is figure out how Windows Search got turned off, and I'll be able to understand how all this happened in the first place. I will also opine that although many Windows performance optimization and tuning resources recommend turning off Windows Search, none of them that I can recall (e.g. BlackViper is a favorite) point out that turning it off causes File History to become nonoperational.
Sigh. Windows: it's a living, but sometimes, not a happy one!
July 6, 2015 10:40 AM
Windows 10
,
Windows Upgrades
As reported on lots of Windows watching sites — WinBeta and betanews, for example — a first Windows 10 build numbered 10176, labeled as a release candidate, has made its debut.  Most of these stories originate from BuildFeed.net which tracks Windows 10 builds as a kind of public service. WinBeta speculates further that "if all goes well, Microsoft could have an RTM build of Windows 10 ready by the end of the week…"
That same story also provides an interesting "rough consensus model" for how the latest RTM process will work at Microsoft, which reminds me of how things work at IETF with draft specifications:
If you are unaware how the sign off process works, Microsoft will compile a number of builds they consider 'worthy' of RTM, these are called RTM candidates. These builds will be tested, and if the builds are found to have no bugs or issues, will be then voted on by employees. The build which is voted for the most is then selected as the RTM build, and recompiled into the winmain branch. The build number then usually jumps to a number which is divisible by 16 and 100, like 10400.
Needless to say, this is a major departure from the more buttoned-down approach to RTM that MS has employed in the past, even with the RTM for Windows 8.1. This points to the new facts of Windows OS release life, in which the target keeps moving and always remains a work in progress (for a fascinating discussion of what this means for OEMs who must track and release systems to run this stuff, see Paul Thurrott's story "Dell + Windows 10" which dives into some of the elements of making all of this work for customers who buy new Dell PCs for Windows 10, or who seek to upgrade existing systems to Windows 10).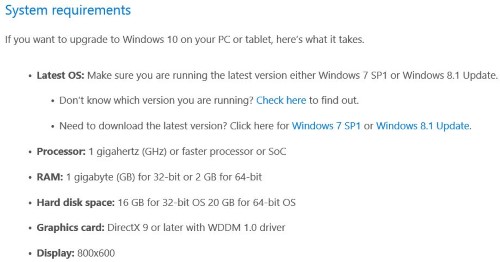 On the face of it, Win10 system requirements are modest, but the Devil lurks in the driver details.
As for myself, I'm particularly curious about how older but still viable systems released with Windows 7 will fare in the brave new Windows 10 world. For example, I have two pretty thoroughly tricked out Sandy Bridge i7 Lenovo notebooks — an X220 Tablet and a T520 notebook, each with 16 GB RAM, a fast mSATA 256 GB SDD, a second 256 GB SSD, and high capacity SDXC cards that remain pretty capable but face an uncertain Win10 future. I'm pretty sure my newer Haswell tablets will do just fine with Windows 10 (Surface Pro 3, i7, 8 GB RAM, 256 GB SSD; Dell Venue 11 Pro 7139, ditto). But it will be interesting to see how well those older systems take to the newest OS, when the upgrade becomes available. Not coincidentally, I'm also curious to see how well the release candidates that will start showing up over the next three weeks will fade into whatever emerges for RTM. Stay tuned: I'll keep you posted as this all unfolds.
---
July 3, 2015 10:18 AM
Windows 10
,
Windows installation
Confounding all expectations, MS followed up the wham, bam sequence of two Windows 10 builds on June 30 (10158) and July 1 (10159) with a third build yesterday (July 2: Build 10162). I'm hopeful this will be all for a while because it's been time consuming and a bit frustrating to grind through the process so many times and so quickly of late. I always follow a new build with driver updates, which have fortunately been mostly nugatory with this last three builds on both of my test machines, and with image backups for each system which take an average of half-an-hour to complete on each of those systems.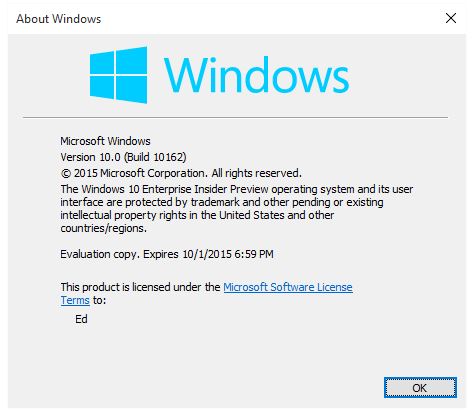 Here we go again: I get mixed results from the install of Build 10162 on my test PCs.
As always, my i7-4770K desktop has been quietly stellar in absorbing the upgrades. I had no trouble with Builds 10158 and 10159 on the Dell Venue 11 Pro, but hit a snag yesterday on 10162. It hung on the download from Windows Update twice, at which point I gave up trying for the day, resolved to try again this morning first thing. I'm not sure if my patience was rewarded, or if the cold start I forced upon the machine did the trick, but the third try may turn out to be the charm for that machine, which is currently 28% through the "Upgrading Windows" process as I'm writing this paragraph, and just successfully rebooted for the second time while working through installation.
So far, I can't really tell much difference between the three builds. MS claims that each one fixes issues (hundreds of them for each new iteration. Here's what Gabe Aul of MS has to say about this hurry-up sequence in the latest Blogging Windows post, aptly entitled "Welcome to the faster fast ring!":
We just released Build 10159 with our new wallpaper and logon UI on Tuesday, but this is a holiday weekend in the US and we thought that some of you might want to get an even fresher build on your PCs to play with over the long weekend. Build 10162 is another great one. In fact, our testing and internal telemetry metrics show it has better reliability, performance, battery life, and compatibility than any Windows 10 Insider Preview build so far.
And now, I have experienced a driver failure on the Dell PC at about 50% complete during installation, so it looks like the Windows Update version of 10162 is not going to work out on this machine. I also lost my touchpad at that point in the process, and had to install an external mouse (a Logitech 325 with external Unifying receiver, which worked immediately, thank goodness) so I'm guessing it's the driver at fault here. My next move is to download the ISO files for 10162(which MS has already released even though 10162 has yet to hit the slow ring) and see if those don't do the trick for me on this machine. I don't relish rebuilding my usual image after a clean install, but that's the way the Windows mop flops from time to time. Sigh.
---
July 1, 2015 10:26 AM
Windows 10
,
Windows installation
No sooner did I get Build 10158 installed than did Windows Update inform me that a new fast ring build (10159) was available. That's the smallest build ID increment I've seen so far, and the shortest interval between fast ring builds, too. I'm in the process of installing it right now  — and hopeful that my Dell Venue 11 Pro will jump straight from 10130 where I left it before heading out on vacation, to 10159 directly, instead of forcing me to grind through both upgrades in sequence. So, I'm firing off both machines to see what happens…
According to WinBeta.org, Gabe Aul of MS tweeted yesterday that "there's some kind of surprise in this build" so I'm going to see if I can find out what that might be once I get the darn thing installed. Here's a snippet of that post from Gabe, courtesy of Windows TenForums, that whets my appetite even more:

One day between releases; one surprise, coming up!
Further courtesy of the extensive back chatter on the Windows 10 Forum entry for Build 10159, I learned that lots of users experienced hangs when trying to download and/or install the latest build. So far, no such problems on my machines. I also learned there are now images on the Win10 sign-in screen (even as I'm still waiting for the upgrade to finish installing), which you can see on page 6 of the aforelinked forum post, if you like. And indeed the splash screen graphic has changed, and the sign-in screen features a pretty snazzy "light streaming in from a four-pane window" motif like that shown in the "page 6" link above. Total process took less than half an hour for the i7 4770K desktop, the Dell did skip 10158 and is currently downloading 10159, but it just finished the preceding regular updates, so it'll be a while before I can say anything about that particular upgrade experience.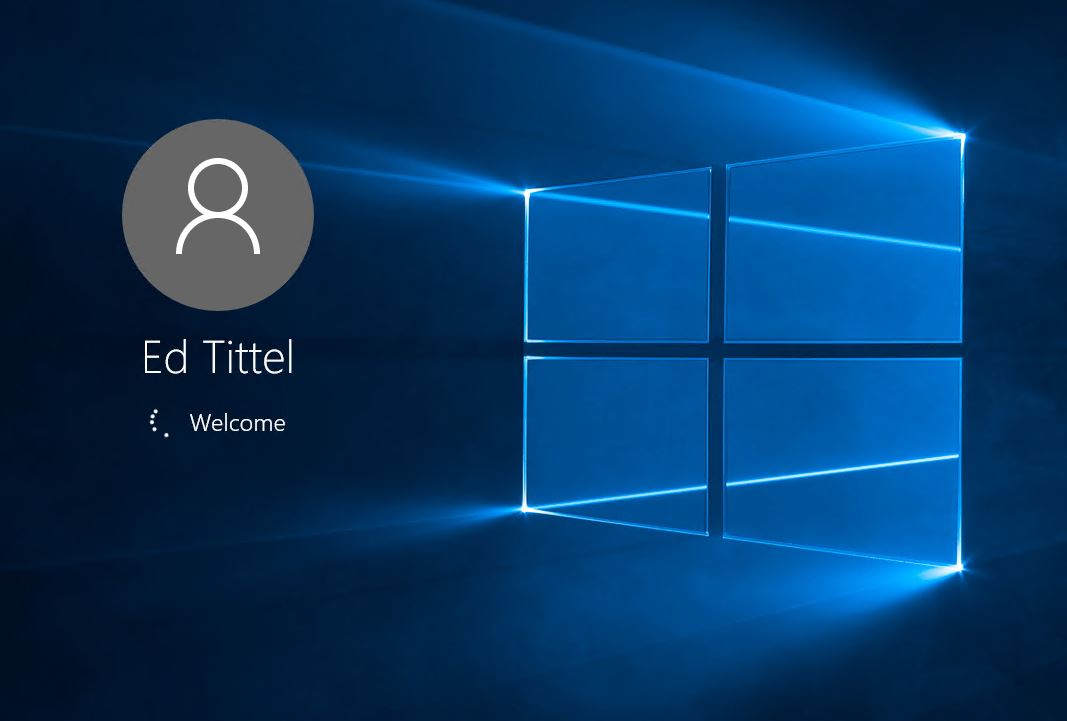 RDP login obligingly let me capture the new sign-in screen, for your perusal.
I guess that means Build 10158 is toast, and "Vive le Build 10159!" I'll keep reporting on other new stuff as I find it. What a ride, eh? All I can say so far, is that the Enterprise version of 10159 activated itself automatically without me having to find and provide a key manually. So far, so good!
---
June 30, 2015 12:34 PM
Windows 10
,
Windows installation
Upon my return to the office after a week off this morning, I discovered the latest (and probably last) build before the upcoming 7/29 RTM for Windows 10 was available. The first install went pretty smoothly, with only a couple of minor glitches to clean up after the fact. Overall, things are looking pretty good, and I've now installed Windows 10 often enough to feel entirely comfortable with that process.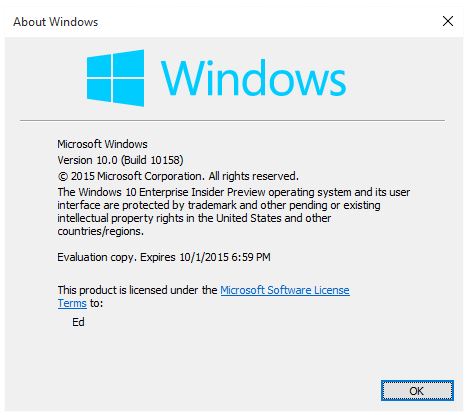 Build 10158 appears stable and functional.
I found the Build 10158 Enterprise activation key on Windows 10 Forums, along with keys for all the other versions currently available from that build — namely Home and Pro. This info has taken some digging to unearth on earlier releases, so I was pleased to find it from a "usually reliable source" both quickly and easily.
The Windows.old installation on my desktop test machine weighed in at 19.2 GB, so I was quick to remove it once I was comfortable working with the newest Win10 build. I use CCleaner (slim version) for that cleanup job, or you can also use the built-in Disk Cleaner, but you must instruct it to clean up system files and rescan the boot/system drive to fire off that task. CCleaner is my preference because it's so much faster than Disk Cleaner (under a minute versus several minutes makes this no contest in my book).
In attempting to update the RealTek Audio drivers on that system to the latest version, the installer hung after the first reboot (following the uninstall of the old drivers, before the installation of the new ones). I had to unpack the installer file into a folder, then use the Update Driver facility in Device Manager to get this new driver installed and running on my Windows 10 test machine. In troubleshooting this issue, I rebooted about three more times than I wanted to, but once I determined that the installer was hung, it was easy to address.
My take on Build 10158 is best summed up as "So far, so good." I'll be spending as much time as I can with it over the next few days, and will report other findings as they make themselves known.
---
June 19, 2015 10:23 AM
full text search
,
Windows 7
,
Windows 8
As a full-time writer and researcher, I am forever compiling materials that need to be combed for nuggets of information. Sometimes, particularly in connection with my occasional work as an expert witness, this means LOTS of text and/or source code to search for specific strings — gigabytes of material, on some recent cases. Finding the proverbial needle in the haystack takes time and good tools to accomplish. Caught in a hurry-up pinch recently, I found myself buying and using a tool called Text Finding Professional (V2.1.0, $40 retail download).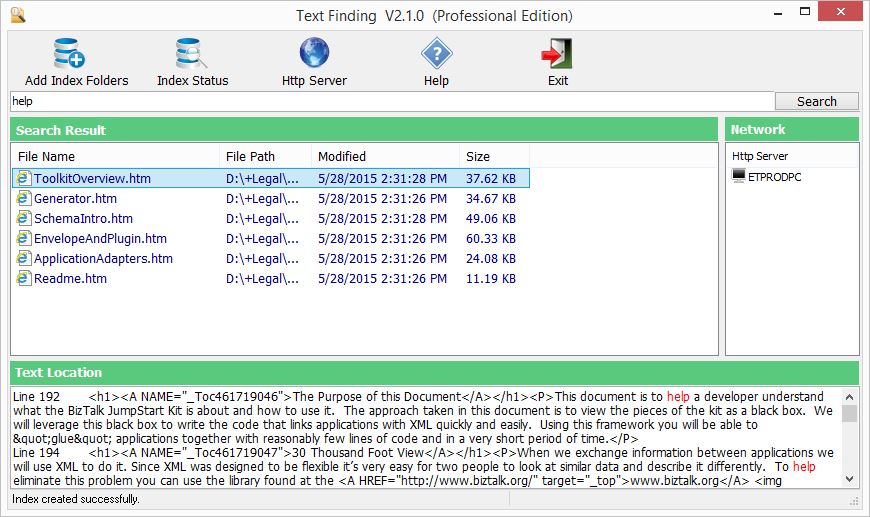 Point TFP at a directory tree, let it index the material therein, and it'll find stuff fast, fast, fast.
As you can see from the foregoing screenshot, the tool will index and search just about any kind of file that contains text (it can handle ASCII, UTF, and other formats with equal aplomb) and show you the names of the files in which hits occur in the results pane at the center. For any given file selected in that pane, it will also show where those hits occur on a line-by-line basis. At $40 for a single-PC license the price is right, too. I had no trouble pointing it at networked or shared drives, though I did have to map them to local drive letters, so it isn't strictly limited to indexing or reporting on files on a single machine, though that may be thanks to Windows flexible Multiple UNC Provider (MUP) file access abilities.
If you have occasional or regular needs to search files on your PC, especially large collections of textual data, I recommend this tool highly.
---
June 18, 2015 11:57 AM
Device drivers
,
Hardware Drivers
,
Windows 10
,
Windows 7
,
Windows 8
Over the years, I've always struggled with some Windows drivers that prove more tricky or difficult to install than others. This goes double for those devices whose vendors provide installable executables to handle driver and environment updates, such as Nvidia, Intel, RealTek, Atheros, and others. I don't blame them for taking this approach because it shields most users from the complexities of updating drivers manually (Device Manager, select device, right-click, Update Driver software, and so forth). But sometimes, the automated tools omit to install some drivers either by accident, oversight, or for more mysterious reasons.  That's when my bag of tricks gets hauled out and brought into play.
1. I use 7zip more or less exclusively as my decompression and unpacking tool. It just so happens to be great at unpacking files inside most executables (like the aforementioned "installable executables") and letting me inspect their contents. Often, I can find the .cat, .inf, and other driver files in some nicely named directory (e.g. x64Drivers) and use them to attempt a manual driver update. Surprisingly, this works about half the time. The other half requires further fooling around, especially for those executables that don't unpack into usable files (like the latest Intel chipset drivers, for example).
2. When the unpack and manual update technique fails, it's time to get more creative. I'll often turn next to the fantastic and incredibly well-stocked French driver site Station-Drivers (where do they find that stuff? I wonder…) For all the major device makers — Intel, RealTek, most laptop and desktop OEMs, all the networking players, USB, and oodles more) — this site usually has the latest and greatest drivers including stuff that may not ever be officially released or that won't go public for months and months. Often, a driver found here will bring my devices more up-to-date.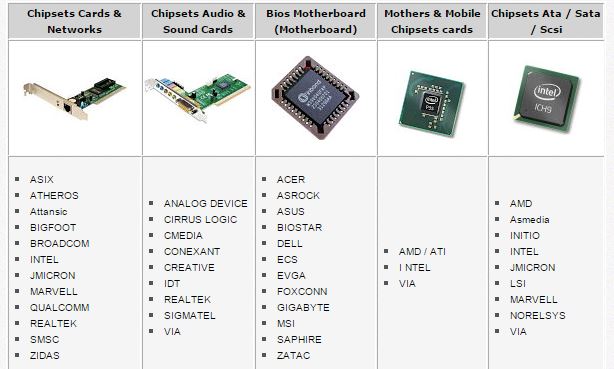 If some of the rumors I hear are true the vendors whose drivers appear here would also like to know where they come from and how they get here!
3. Sometimes, I have to digging inside the driver itself to figure out what it is and starting chasing down related software. Inside the Device Manager, click a Device's Properties, then the Details tab, then copy the Hardware IDs field(s). These are typically strings that look like this: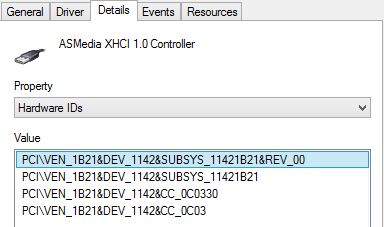 Jump onto your favorite search engine, and enter these strings accurately, and you'll find info and drivers to match quite readily.
You can then look these strings up in your favorite search engine, and sift carefully through whatever pops up in response. This technique is particularly helpful when Windows itself can't find a driver for some device and it shows up in the Unknown Device category in Device Manager. It can also be helpful when you can't find a driver using either of the two preceding approaches I've described here.
With a little persistence, a certain amount of doggedness, you can use these tricks to solve most driver problems. They've served me well in the past decade and more as I've worked to keep up with the never-ending parade of new devices and drivers to go with them, and new versions of Windows to help uncover their deficiencies (or outright absence).
---
June 15, 2015 11:07 AM
asktoolbar
,
malware
Over the weekend, I saw an interesting news item on the Windows 10 Forums. Entitled "Ask Toolbar gets the banhammer on Windows," it observes that "the Ask Toolbar is a bad thing that nobody wants on their PC." Having been faced with extirpating this toolbar more times than I would like to recall, and having now trained myself to always refuse its "install by default" behavior when updating Oracle Java, I have to agree with the prevailing consensus that whether or not the Ask Toolbar qualifies as malware, it is indisputably unwanted software for most ordinary mortals. It also includes certain built-in persistence features that make its removal more challenging than most people would like.
For the past 5 or 6 months, Microsoft has agreed with this assessment, primarily because prior versions of the Ask Toolbar caused a pop-up window to appear recommending against resetting the default search provider to some engine other than ask.com. The posting from the Win10 Forums folks starts from the presumption that Microsoft now agrees with other assessments of Ask as "unwanted software." But when I went to visit the Ask listing at the Microsoft Malware Center this morning, here's what I found there:

No sooner found than changed: recent updates to the Ask toolbar cause MS to reclassify the Ask toolbar.
I'm not sure that the current and revised MS assessment is warranted — I concur with the ongoing prevailing consensus that the Ask Toolbar remains at least a major PITA, if not something worse than that — but MS has its rules, and it apparently applies them equally to all contenders. Now that Ask has changed its behaviors to no longer "restrict or limit your control over your search provider" and no longer "prevent[s] you from disabling or modifying your search provider," MS no longer needs to classify it as unwanted software. But at least from February 12 through June 13 of this year, that's exactly what they called it, and older versions do still retain that classification. Go figure!
---
June 12, 2015 9:35 AM
Troubleshooting
,
Windows 10
,
Windows 8
What with running two Win10 test machines — a desktop and tablet/convertible — I've been banging up against the limits of this new software from time to time, and have had to refurbish some troubleshooting skills. This was called to mind yesterday by two very nice bits of information I came across, each of which related to at least one of those gotchas that helped me formulated to the title for today's blog post.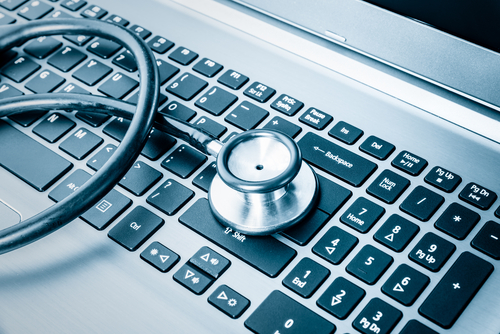 When it comes to shooting trouble nothing beats good technique, except perhaps good automated tools.
Those two items are:
1. Sergey Tkachenko runs a small but potent Website called WinAero.com where he comments on Windows stuff, and publishes a wide variety of useful little Windows utilities and tools. Several of them, such as the Winaero WEI (Windows Experience Index, which brings the quick-n-dirty performance ranking back to Win 8 and 10 versions), have showed up in my own postings to this very blog. This particular item popped up a couple of days ago and is entitled "Change network location type (Public or Private) in Windows 10." Apparently Sergey and I have often experienced the same problem, which is that after updates, between reboots, or upon waking from sleep Win10 often resets the network type from "Private" to "Public." As he notes in this June 11 post, there actually is a way to get to this setting from the Network and Sharing Center. But it does require a reboot. I've found what I think is a simpler, if less direct method: I simply open Homegroup, which tells me that the network is the  wrong type to participate. Click Fix and it resets the network type to Private, after which I can again use RDP to remote into my test machines.
2. I subscribe to the great and informative Windows Secrets Newsletter for the princely sum of $15 a year. I like it so much, in fact, that I have it set up to bill my credit card annually for ongoing coverage. Longtime Windows maven Fred Langa has a piece in this week's offering, also posted 6/11, entitled Free first aid for a wide range of Windows ills, wherein he reminded me of the many windows FixIt tools available and taught me about Microsoft's Support Diagnostics Program (SDP) and the Microsoft Automated Troubleshooting Server (MATS), two programs about which I'd heard bits and pieces but had never bothered to dig into more deeply than hearsay would allow. What I discovered was a treasure trove of tools for detecting Windows ills, often with fixes to match, that address all kinds of problems from the merely persnickety to the downright catastrophic. Just for grins, I ran MATS on my production PC, and it seemed to chunk through its lengthy laundry list of checks without difficulty.
Always nice to find techniques for troubleshooting, but even better to gain access to good automated tools for that purpose. Thanks, guys!
---
June 10, 2015 3:00 PM
Windows 10
,
Windows Upgrades
When the Win10 flag showed up on my Windows 8.1 machines, perforce I signed up for the upgrade, knowing that I must track the latest and greatest of Windows OSes no matter what. I've read various opinions on Microsoft's early upgrade offer that vary all the from clever marketing ploy to a trick from the infernal master and found myself somewhere in the middle of that spectrum. But when a congratulatory e-mail showed up in my inbox yesterday, I found myself leaning more in the former direction (clever marketing) rather than the latter (devilish trick):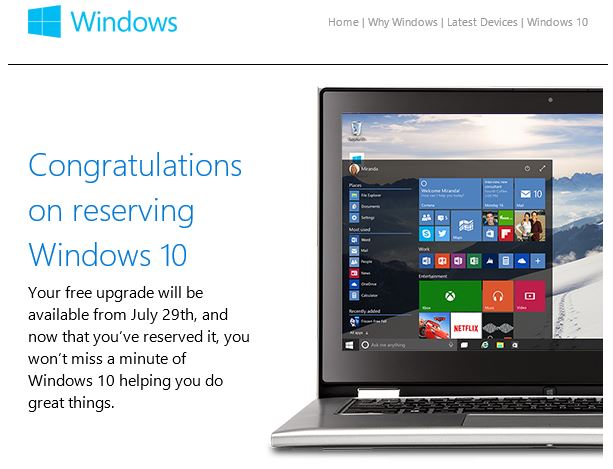 If you hand over an email address when you register for the upgrade, you'll get this e-mail, too.
Having now had a bit more time to think about what's going on here, I'm still inclined to think of it as a clever marketing ploy and not the Devil's handiwork. Here's why: MS is getting an early gauge of interest in Windows 10, and grabbing an early opportunity to reduce its support burden by lowering the number of users of older products and concentrating them (or trying to, anyway) on their latest and greatest desktop offering. At the same time, MS can reduce the first- and early-days load on the Akamai servers that usually provide the downloads (and this one is bound to be 2-3 GB in size) by trickling out those big files starting days before July 29 when the real onslaught begins.
Upon further reflection I do have to say it appears to be a very clever marketing and business ploy because it helps get the word out, keeps the new release in the public's eye (or on their notification bar, at least), and helps the company make best use of bandwidth and server resources. Very interesting, and quite possibly also, a nice piece of work.
---