---
January 8, 2014 3:44 PM
All this week, the Consumer Electronics Show (CES) is underway in Las Vegas, so it's "prime time" for all the PC companies to make product announcements — especially those that target US markets and buyers. In the past few months a number of business oriented Windows 8.1 tablets have made their debut, and more are popping up every day in Las Vegas right now. What I find interesting is that tablets that specifically target business users often tend to cost more than those aimed at consumers, even though their innards may not differ much (or at all) from consumer oriented makes and models.
When a business unit does come along, it can bring more and more advanced features to such products, and those do justify some added expense. Thus, it's not unusual to hear about support for Smart Cards, fingerprint scanners, improved durability features (heavier chassis, stronger materials, adherence to MIL-STD-810G specifications for drops, vibration, humidity, and outsized temperature ranges at both hot and cold ends of the spectrum), better manageability (vPro, Intel's AMT), and so forth.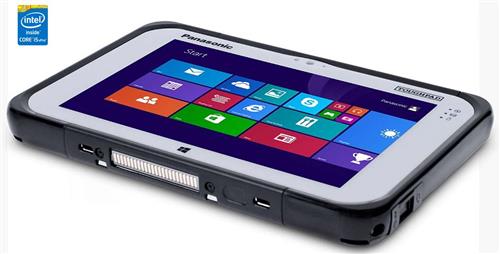 The FZ-M1 is an incredible workhorse of a small Windows 8.1 tablet, but the price is nothing short of staggering.
Here's the rub: some of these business oriented models cost a small fortune. Panasonic has just introduced a 7″ Touchpad FZ-M1 ruggedized Windows 8.1 tablet, for example. It is designed to cope with modest abuse, water, and harsher-than-normal working environments, while delivering a classic "thin and light" Windows 8.1 tablet experience. It's fanless, and includes a Haswell i5 or Celeron ULV mobile processor, offers 1280×800 resolution, supports a 128 or 256 GB SSD, with 8 GB RAM for the i5 model (and probably 4GB for the down-market Celeron model). This unit also includes 4G LTE, Bluetooth 4.0, and 802.11 abgn-ac networking, with a USB 3.0 port, a microSDXC card slot, and a docking connector. Add-on options available include docking station, GPS, barcode scanner, RJ-45 Ethernet and serial ports, plus NFC, RFID or a magnetic stripe readers. It weighs 1.2 pounds (540g) and measures 0.7″ (1.8 cm) thick. Battery life is rated at 8 hours, and the battery is replaceable, so that field use may be further extended by swapping in a spare, fully-charged battery. The unit also boasts a 3-year warranty, unusual in today's PC marketplace. But ouch, this puppy costs some serious scratch: with the i5 CPU and a 128GB SSD, sans any of the many add-ons available, pricing starts at $2,099. I'm guessing that fully tricked-out version could easily cost between $2,500 and 3,000.
Another case in point is the fascinating and feature-laden Fujitsu Stylistic Q704 I blogged about last week ("Fujitsu Makes Bold-Entry into High-end...") Though its screen is bigger (12.5″) with full HD (1920×1080) resolution, and it offers an i7 CPU option as well — so you get more for the money — it, too, starts at around $1,500. The unit I configured for myself with i7, keyboard cover with extra battery, GPS, NFC, 8 GB RAM, and a 256 GB SSD came in at just under $3,000 with a $75 discount coupon to help ease the pain ever so slightly.
Problems with business uptake of Windows 8 and 8.1 aside for the moment, it's also clear that cost is another potential hurdle which business buyers must overcome to get onto the Windows 8.* tablet bandwagon. My fundamental question is "Does it really have to be this way, or is it just a case of determining by iteration just what the traffic will bear?" So far, it looks like OEMs are starting high, and seek to be forcibly ratcheted downward, which may be a good strategy to protect them from financial exposure, but appears at least in part responsible for lukewarm market reception and uptake as well.
January 6, 2014 3:32 PM
Over the past three months — more or less since the release of Windows 8.1 — I've finally started to see some PC-based tablets that appear poised to give Apple actual competition for the market niche that the iPad has more or less owned for the past four-plus years. This platform has become so popular and ubiquitous that when I looked up the launch date for the iPad 1 (April 3, 2010) I was stunned to realize that it's really only been a little over four years since the first IPad came out.
The release of several new Windows 8 (and 8.1) tablets in the past quarter appears to put some potentially game-changing new entrants into the 8-10″ tablet market. As far as I can tell, it's the energy efficient but sufficiently high-powered quad core Bay Trail models of Atom processors that are finally going to give PC makers a valid comeback to the ever-popular iPad platforms in 7″ and 10″ formats. Thus, for example, I've looked at the $350 Dell Venue 8 Pro (Z3740D, 64GB SSD, 2 GB RAM, Intel HD graphics) and the Lenovo ThinkPad 8 (Z3770, up to 128 GB SSD, up to 8 GB RAM, Intel HD graphics; pricing not yet available: base level set at $399 so top-line must be at least $800) as the first of what will no doubt be a whole slew of small and light tablets that offer sufficient power and capability to give iPad a run for consumer's money.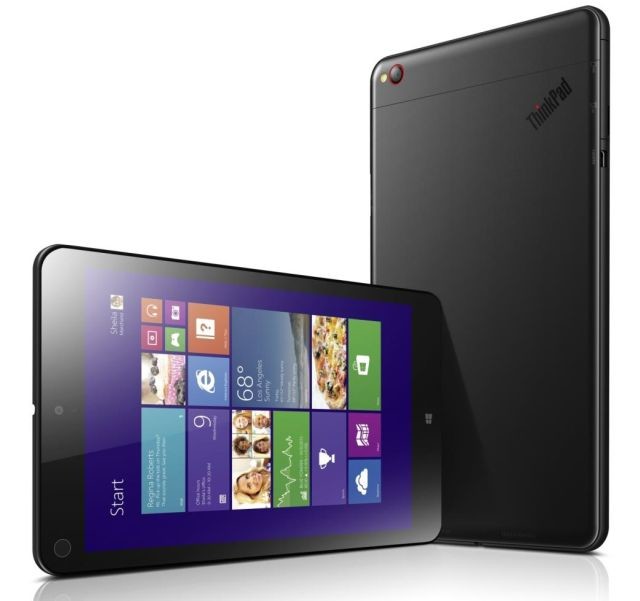 At 8.8mm thick, under a pound in weight, with full HD (1920×1200) resolution, and up to 8 GB RAM, and 256 GB SSD, the high-end ThinkPad8 could give Apple heartburn — as long as it's not too much over $900 in price.
I expect we'll start to see more machines of this type showing up at CES (underway in Vegas right now, starting today) and that Windows will finally be able to pose a meaningful counter to the iPad. Will this be enough to make a difference, and change market dynamics and consumer inclinations? We'll see!
---
January 3, 2014 12:57 PM
Thanks to Brad Sams at Neowin and Ron G (Editor-in-Chief) at WinBeta, I just learned this morning that MS is building its latest Surface Pro 2 tablets with Intel i5 4300U processors, instead of the 4200U models featured in their first batch of machines initially released in late October 2013. The older model clocks at 1.6 Ghz with a "Max Turbo" frequency of 2.6 GHz (i5-4200U ARK page), while the newer model clocks at 1.9 GHz with Max Turbo at 2.9 GHx (i5-4300U ARK page). That's about 18% more oomph, which probably isn't enough for most users to notice. Also, Graphics Max Dynamic Frequency for the 4300U is 1.1 GHz, where the 4200U is 1 GHz, a 10% bump. Otherwise, there's no real difference between those two parts, in terms of cores, threads, cache, memory capacity, and so forth.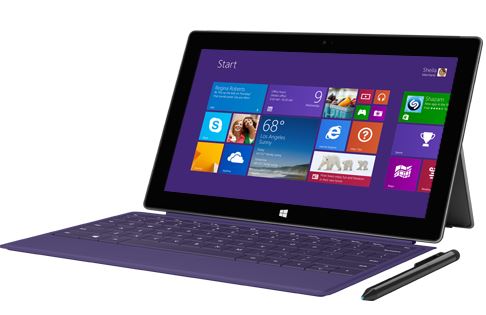 Does a modest CPU upgrade indicate that Surface Pro 2 sales are better than expected, so MS had to switch to a new part? Or is it a form of expiation for recent firmware woes?
WinBeta reached out to Microsoft to inquire about this change, first reported on machines returned for exchange to the company in the wake of last month's flawed firmware update for the Surface Pro 2. They report hearing from a Microsoft spokesperson "…that small changes to internal components do take place over the lifetime of the product…in order to ensure that the product experience remains excellent." That firmware update still hasn't appeared, despite MS's decision to pull the change after users reported issues with installation of the update and with sharply reduced battery life in the wake of some successful installs. However, the latest rumors indicate that a new firmware version probably won't be released until Patch Tuesday for January, which occurs on the 14th of this month.
---
January 2, 2014 12:13 PM
Here's an interesting graph from the Market Share Reports for "Desktop Operating System Market Share" at netmarketshare.com. Today, January 2, it shows The Windows 8.1 number at 3.6%, with the Windows Vista number at 3.61%. I'm pretty sure that means by next month, if not sooner, Windows 8.1 will pull ahead of Vista for once and for all, and won't look back at such numbers for some time to come.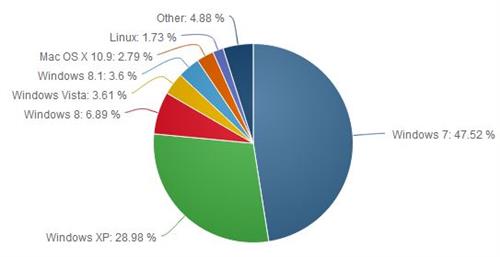 The numbers for desktop OS share on the Internet show Windows Vista and 8.1 neck-and-neck for the moment.
But Vista's share never climbed much above 10% at any time in its lifecycle, and has steadily declined in recent years. Although 8.1 has yet to make significant inroads into the business side of the market, it's picking up momentum on the consumer side. I have to believe that it will surpass Windows 8 some time in the next calendar quarter or two, and cross the ten percent mark that represents something of perihelion for Vista's approach to the center of our desktop "solar system" before too much longer after that.
What's really interesting is to observe and learn how Microsoft's new rapid cadence will play out in terms of desktop share as NetMarketShare measures it. I expect we'll see Windows itself becoming something of a "long tail" distribution, with popular versions trailing somewhat behind the leading edge (as leading versions Windows 7 and XP now occupy slots 2 and 3 releases behind the leading-edge 8.1 version). It should also be interesting to observe how long XP maintains the number two slot after April 2014 when long-term support for the OS is discontinued at Microsoft.
---
December 30, 2013 1:33 PM
Here's a classic good news-bad news scenario for serious Windows users seeking a lightweight Windows 8.1 tablet with acceptable battery life (which I define as more than 8 hours, or enough to get users through a whole day, or a long flight away from AC power). The Fujitsu Stylistic Q704 offers a true HD (1920×1080) 12.5″ screen, with options for a dual core i7-4600U CPU with 8 GB RAM and a 256 GB SSD, and up to 10 hours of battery life. Its dimensions are svelte: 0.47″ x 12.19″ x 7.85″ and it weighs just 2.16 lbs (under 981 grams). It offers a dual-boot with Windows 7 SP1 and Windows 8.1 both preinstalled, Bluetooth 4.0, 802.11 a/g/n Wi-Fi, one each USB 3.0 and 2.0 connectors, Intel HD 4400 graphics, and a media card reader (to add up to an additional 64 GB of microSDHC or SDXC flash memory, and 128 GB as such modules become more widely available and affordable; I even see discussion of a 256 GB module at myego360.com though product links are not currently available). The package is described as "semi-ruggedized" and it offers a number of waterproofing options (notice the water droplets artfully arranged at the lower right in the photo below):
The bad news is that this sucker is extraordinarily expensive. Just for grins, I jumped onto www.shopfujitsu.com to configure a top-of-the line Q704, and nearly fell over when it priced out at $2,852.00, including a $50 off promotion code I was able to find and put to work. For that money, the build includes a Core i7-4600U CPU (dual core, 4 threads, 2.1 GHz clock with 3.3 GHz max turbo, 4 MB cache, 15W max TDP), 8 GB RAM, built-in GPS, 256 GB SSD, a keyboard dock with external battery, NFC, and a SmartCard reader. But still, this is nearly $1,000 more than a similarly configured Surface Pro 2, so you're paying a hefty premium for the four hours of additional battery life and added processing power that this unit should deliver.
Still looks like a great machine, though, and one worth pondering at length. Pick the "Customize" button in the middle column on the Fujitsu store's Q704 page to configure a system to your heart's content, too. Will the "chancellor of the exchequer" here at home (my wife, that is) authorize such an extravagance? Not bloody likely!! But it's still nice to dream a little … or a lot, as is the case here.
[Note added 1:05 PM CST 12/30/13: To my amazement and delight, my request for the Q704 has been approved. I went looking again for coupons, and found a $75 discount that beat my earlier $50 off discovery. It's "FUJITSUTECHBARGAIN" and you can use it, too, if you like. I've applied for a 36-month business lease just to see how that all goes, and will report back here further after New Year's when my application will no doubt get processed. No word on build or ship dates until then either, but the site told me that the ship date was still "TBD" when I submitted that application.]
---
December 27, 2013 10:49 AM
Last summer, my trusty Dell All-in-One 968 became unusable, thanks to the failure of one of its color inkjets (if memory serves it was either red or magenta, depending on whether that device uses an RGBK or CMYK color model). Ever since its retirement via the safe electronics disposal available from the great folks at Goodwill Industries, I've been struggling to remove all traces of its existence from the driver files on the Windows PCs belonging to the Homegroup on my house network. I finally took out the heavy artillery over the holiday, and used Driver Store Explorer [RAPR] and its "Force Deletion" option to forcibly remove all remaining traces of the AIO drivers from those machines. [Warning! RAPR requires an older .NET version –which means either version 2.0 or 3.0 — serviced by the MS 3.5 Framework download. It will manage the download process for you, but you may need to apply relevant Windows Updates to patch potential security issues and functionality gaps as well. When I added this to one of  my 8.1 PCs that lacked this support, however, Windows Update gave it a clean bill of health immediately thereafter.]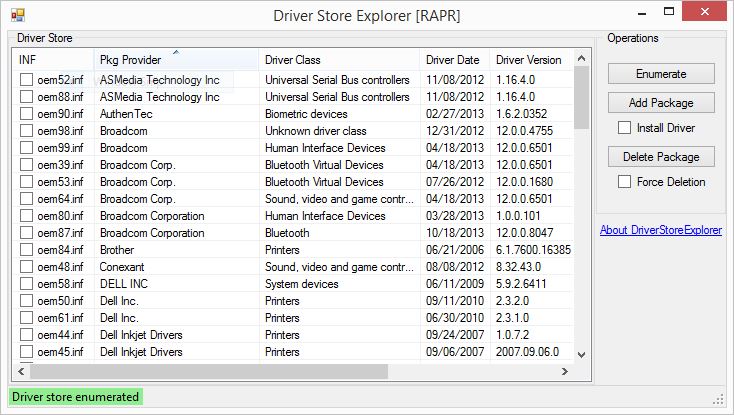 The key to removing persistent drivers is in checking the "Force Deletion" box below the Delete Package button.
Only by checking the boxes to the left of the two Dell Inkjet Drivers entries shown (oem44.inf and oem45.inf), and then checking the "Force Deletion" box beneath the Delete Package button in RAPR was I able to make these pesky and persistent printer drivers disappear from my Windows PCs. This technique works for any such persistent drivers that otherwise resist removal, but you'd better be darn sure that you don't need those drivers (or can find them again) should their return ever be mandated. To ease any concerns you might have in restoring them, you can first use the right-click "Export" option in RAPR to make backup copies in another directory of your choosing, before getting rid of them. I had no such concerns for the inkjet drivers, because I have replaced that printer with a very nice Dell 2155 cn color laser printer, whose drivers you see already resident in the foregoing RAPR display as well.
---
December 23, 2013 1:52 PM

Profile: Diana Hwang
Surface Pro 2 is being touted as a notebook replacement and I've been using it for the last few weeks to see if I can get my job done. But there's a world of IT administrators out there who view the Surface Pro 2 with a skeptical eye.
I put the Surface Pro 2 through its paces using our own TechTarget environment as an informal test bed to see how our admin respond to the mobile device.
The good? It's a Windows PC and it was no harder or easier to get the system up and running in TechTarget's environment. It supports many of TechTarget's existing corporate policies without any additional work.
The bad? It's Windows 8.1 and TechTarget's VPN and other corporate applications don't support the new operating system yet. The $899 for an entry-level 64GB unit is still high, especially if one needs to purchase a $129 Touch Type cover and $199 docking station.
Paul Gonzalez, Tech Target's systems architect, gave me a first-hand look of what he, like many other IT administrators, would have to do to get a new device up and running if an end user wanted to use the Surface Pro 2 as a bring your own device (BYOD) unit.
Like any organization, TechTarget has its own set of policies and processes required for deploying a new device to an end user. Paul said the device should image easily. He created an Active Directory account called Surface Test giving himself full admin rights. The name popped right up in the Active Directory.
As Paul restarted the Surface Pro 2 , we chatted about Windows 8.1. It only took a minute to restart the device. He, like many other IT admins and end users, prefer the classic desktop instead of the glitzy tiles interface. In fact, as Paul explained, when TechTarget was a Windows XP shop, there was a policy put into place that would automatically boot a system into the classic desktop mode. Paul was particularly pleased to see when the Surface Pro 2 finally finished its restart; the policy withstood the test and in Windows 8.1 booted right up in the desktop mode.
As an IT professional, Paul worried about security. Our company has added in some extra security layers with our wireless network. For example, only certain organizational business units can jump on the wireless network, thus providing our IT administrators with an additional level of control.
Paul tried installing some off-the-shelf applications such as Adobe Reader and set up his email on Outlook 2013. It went without a hitch. In addition, he tried Remote Desktop, and it worked well during the test.
So what was the biggest issue from our exercise? The Surface Pro 2 cannot access our VPN. Just to be clear, this is not a function of the Surface Pro 2 or Microsoft's Windows 8.1 but rather Tech Target's lack of support for Windows 8.1, which would require the company to rework our licensing agreement with Microsoft.
Unless there is a true business need for Windows 8.1, our organization will not upgrade our software just to support it, due to the time and expense.
I also handed a Surface 2  to Paul as well to get his IT administrator thoughts.  It took him all of one minute to say: "I'm out." Why? Because Surface 2 uses Windows RT and it does not support Workplace Domain Join. As an IT administrator, he cannot easily  manage the unit. Enough said.
So what's the conclusion? The Surface Pro 2 could be useful as a BYOD unit and it certainly served my needs well during my travels. But it's not a corporate notebook replacement for companies that aren't on Windows 8 yet.
There are ways to work around the issue, but if an organization wants to do it right, it could be an expensive proposition. At the end of the day, there has to be a specific business need for upgrading to Windows 8.1 and deploying the Surface Pro 2s.
---
December 20, 2013 3:30 PM
When I found out from Woody Leonhard in early November that the Windows Experience Index (WEI) widget was missing from Windows 8.1 (reported in this 11/13/13 post), I immediately set about writing a PowerShell script to recapture that functionality and produce a Web page to provide that information. I made the script available in another post two days later (Bringing Back WEI to Win8.1) and recruited a professional developer friend to help me turn it into an executable that would run the winsat formal command with admin privileges, and then present a nicely-formatted version of its output. But the two of us have been busy enough that we hadn't complete our efforts, when I saw a Lifehacker story online this morning that let me know we'd been beaten to the finish line: "WEI Tool Brings the Windows Experience Index Back to Windows 8.1." Here's what the output of the Winaero WEI tool v1.0 looks like:
While I can say I'm sorry we didn't finish our little exercise in sharing free code with the masses quickly enough to be first out, I am glad to see a version of this tool available to Windows 8.1 users everywhere. This one is the work of talented programmer Sergey Tkachenko, whose Winaero.com site offers a plethora of excellent freeware Windows utilities. Be sure to grab this utility, and to check out the many other interesting tools and widgets available on his site.
---
December 18, 2013 4:57 PM
Those who make the update transition from Windows 8 to Windows 8.1 via download may encounter a situation where the "Refresh your PC" or "Reset to factory defaults" options may no longer be available to them. Refresh works with the most recent image created by the built-in RecImg command, where Reset takes the system back to the first image created immediately after the system is completely set up for the first time (or the first time the RecImg command is run on that system). In Windows 8.1 (and 8) these functions may usually be accessed by searching for "refresh" from the Windows 8.x Start screen, and produce a display that includes these items:
Reports have surfaced in both Neowin and McAkins Online that using an online download to update from Windows 8 to 8.1 sometimes causes these options (and the underlying functionality) to become unavailable to Windows installations. The remedy in this case is to provide a working ISO (or installable image) for Windows 8.1 from which the necessary ESD (electronic software download) files that contain the OS source image may be read. Numerous articles explain how to build a usable UFD or DVD ISO for Windows 8.1, including this follow-up piece at McAkins which I have followed and used myself to generate a bootable UFD containing the Windows 8.1 installer files (I can't get it to work with a Windows 8 key, but that's a whole 'nother problem already documented extensively in other recent blogs last week). Given a source for the necessary files, the reset or refresh operations will work properly from that media.
---
December 16, 2013 11:13 AM
I've been reading lots of rumor coverage lately about what's coming in the next major version of Windows, which has picked up a Threshold code name/moniker in some reporting. My favorite story in this vein is from Windows (and Office) maven Woody Leonhard who's been nailing quite a few gems in his InfoWorld coverage of late. The story is entitled "Cause for hope: Windows 8 gets the heave-ho in the next wave of updates." While I strongly recommend interested reader also consult the original, I will recite the primary items that the story visits and speculates upon, very much in a vein with which I agree, and which I also endorse with some degree of fervor. Woody himself draws on (and points to) recent reporting from Mary Jo Foley and Paul Thurrott, themselves often sources of Windows insight and juicy rumors about upcoming changes and revisions to the OS.
Here are the juiciest tidbits, somewhat out of order from the original (Woody's take on items numbered 1 and 2 combined is that this is "the biggest, best Windows story this decade"):
1. Metro apps will be made available running in Windows on the desktop. Anybody already familiar with Startdock's ModernMix already knows what this looks like.
2. The return of a real Start menu, not just a way to get to the so-called "Start screen" in the Windows Store UI for Windows 8/8.1. Here, Stardock's excellent Start8 illuminates this principle nicely.
3. Enterprise and consumer versions of Windows that enable it to operate directly (and entirely) from the desktop, possibly with support for Win32 APIs for legacy application support (Woody calls this "an updated version of Windows 7 to ease everyone into the Metro world").
Woody also expresses the hope that Microsoft might decide to purchase Stardock as a step toward what he calls "its move to a better future." I already use Start8 and ModernMix on all of my production Windows 8.* PCs, so I couldn't agree more, though I'm not sure that being purchased by MS is the realization of anybody's dream of ultimate success. But all of these rumored moves seem like Microsoft is indeed figuring out where the bleeding is, and at least thinking about taking stops to fix the problems that caused all that hemorrhaging. The timeframe on this stuff isn't until mid-2015, though, so they still have plenty of time to change their minds and screw things up further. Here's hoping that they stick to this rumored vision, and don't decide to do something different…
---