---
August 14, 2015 11:41 AM
Device drivers
,
Disk image
,
Windows 10
,
windows installer
The question that entitles today's blog post turns out to be more than fuel for idle speculation. I recently spent 9-plus hours trying to upgrade my Lenovo X220 Tablet from Windows 8.1 to Windows 10. Just for the record, this notebook PC was purchased in February 2012, and is outfitted with an i7-2640M 2.8 GHz Sandy Bridge CPU, 16 GB RAM, and a 246 GB Plextor mSATA SSD and 128 GB OCZ Agility SSD. It came with Windows 7, which I immediately upgraded to the Windows 8 Technical Preview, this machine being one of the few available and affordable touchscreen tablet units on the market at the time with more than two simultaneous touchpoints. I bought it with 4 GB of RAM (2×2 GB SoDIMMs) which I later upgraded to 16 GB RAM (2×8 instead). I also plugged the mSATA drive into the PCI-e port inside the unit, which can accommodate either an SDD or a wireless WAN device. In the three-plus years I've owned it, it's been a reliable workhorse though the display (12.5″ diagonal, 1366×768 resolution) is a bit smaller than I like it.
I signed the X220T up for the Windows 10 upgrade as soon as it became available. Earlier this week, upon my return from a family vacation, I started the process of upgrading my PCs from Windows 8.1 to 10. So far, this is the fourth machine I've taken through the installation process. Unfortunately for me, I encountered a particularly nasty install problem while trying to upgrade this machine from 8.1 to 10, using either the automated upgrade via Windows Update, or the Windows 10 bootable UFD that the Windows 10 Download Tool will build for you. Here's a brief description of what happens, followed by my thinking on what's causing the upgrade install to fail:
1. Either running setup.exe while booted into Windows 8.1, or booting up from the Windows 10 UFD, the upgrade goes all the way into the install process to the point where the PC gets into the Pre-installation environment (no longer running Windows 8.1, but before 10 is completely in control). For a nicely illustrated overview of this process, and related on-screen visuals, see the How-to-Geek's "How to Install Windows 10 on Your PC."
2. When the round progress indicator labeled "Installing Windows 10" gets to 25%, a second reboot occurs (the first one is to hand control over from the previously-running OS to the pre-installation, or PE, environment. On the X220T, instead of rebooting into the WinPE environment, I get an error message that tells me the boot/system drive is inaccessible, with error code 0xC000000F. Further research on that error code and some spelunking using the command shell in the Advanced Troubleshooting portion of the Repair side of the Windows 10 installer shows me that the primary boot/system partition has changed from "NTFS" to "RAW" (never a good sign), while the research shows that the 300 MB recovery partition originally created by Windows 8 is thoroughly munged.
3. I spent hours trying to fix the ondisk layout so that the upgrade install could proceed without success. No amount of diskpart activity, BCD reconstruction, and so forth produced a workable WinPE environment so that the upgrade could proceed. I even went so far as to spend 2.5 hours working with a Microsoft Support technician who remotely logged into that system and blew it up for me long-distance with exactly the same results as I had experienced on my own recognizance in two prior tries.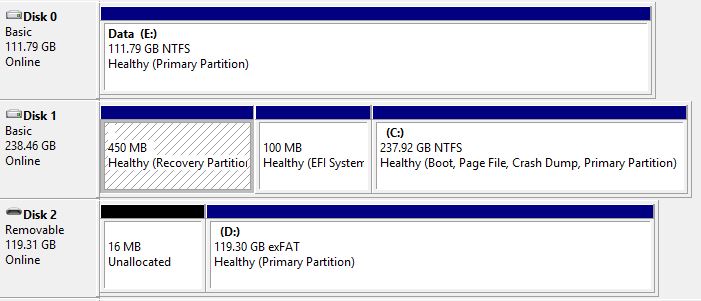 The default disk layout for Windows 10 now allocates 450 MB to the recovery partition, which leaves more room for image backup action.
In short, I'm confronted with some kind of ugly, time-consuming problem — most likely, a driver-level issue with the OCZ Agility 3 boot/system drive that was the focus of the upgrade install — that has so far made it impossible for me to take advantage of the free upgrade for that machine. Because my MSDN subscription gives me access to up to 5 Windows 10 Pro keys for testing and research purposes, I burned one of those keys to perform a clean install on this machine, which took all of 20 minutes to complete, though it put me in the position of having to reinstall all of my applications and so forth. This also gave the opportunity to switch the boot/sys drive over from the OCZ 128 GB SSD to the Plextor 256 GB SSD, where I noticed that the size of the recovery partition has gone up from 300 to 450 MB (a good thing, because Win 8.1 was unable to use its own built-in image backup utility that resides in the File History applet, because of a shortage of space in that partition through which to move files from the boot/system drive to the backup drive: the bigger partition in Windows 10 works just fine). Also, I went into the install from 8.1 where a decidedly cluttered-up DriverStore encompassed over 100 device drivers, to a post-install Windows 10 environment with only 13 drivers present. That's the most amazing post-install change I've ever seen in all my years of running and installing Windows 10, and makes me believe that the latest desktop from Microsoft has been thoughtfully engineered to manage devices and drivers far more efficiently than earlier desktop OS versions (this also augurs well for Windows Server 2016, which likely shares this same approach to drivers and devices).
After a clean install of Windows 10, my X220T shows only 17 drivers present in the DriverStore, down from over 100 in Windows 8.1!
Eventually, I got through to a manager in the Microsoft Support organization last night, when we spoke at about 9 PM my time. After I explained my situation to him, he explained that while MS is offering a free upgrade from valid-key installations of Windows 7 and Windows 8.1, that offer does not extend as far as providing a key for Windows 10 to those who are unable to get the upgrade installer to work all the way to completion. I understand Microsoft's stance, and believe they don't want to tie up their support techs verifying hosed installs to hand out keys to would-be Windows 10 users whose upgrade attempts result in failure, rather than success. It just goes to show you that there's more than one way to read the phrase "free upgrade," and in this case MS apparently means that "if you can get your PC through the upgrade install process, then your upgrade is free." Alas, that's probably not the same reading that Windows users are likely to want, where they'd like it to mean something more like "If you're running Windows 7 or 8 on your PC, you can run Windows 10 on that PC for free." MS emphasizes the means, while users are more likely to focus on the desired outcome.
In fact, my support contact emphasized that the "free upgrade" applies ONLY to the results of getting a PC through the upgrade install process with a successful outcome. Any clean installs, he averred, must come from a valid Windows 10 license and key obtained through any of the legitimate means available to buyers — retail license purchase, volume licensing agreements, and so forth — where a new license is obtained at some cost to its user (or the organization that employs her or him). I didn't discuss OEM licenses with this person, but the cheapest deal available right now for Windows 10 Pro is a $140 OEM license that's intended for use on a home-brew or custom-built computer. I'm going to test his further assertion that an upgrade key cannot be used for a clean install over the weekend on my son's Dell XPS27 PC by extracting its key data, creating an image backup of that PC, and then using the Windows 10 UFD to run a clean install with that key. We'll see if it works or not: stay tuned for those results.
August 13, 2015 8:47 AM
In complete and stark contrast to my experience with the Surface Pro 3, the upgrade from Windows 8.1 to 10 on my son's Dell XPS27 went without a single hitch or hiccup. I turned the upgrade via Windows Update loose on that machine when we left to go out to eat last night, and when I got home from dinner, provided account and password to login to Windows 10. It was just that easy, and worked like a charm.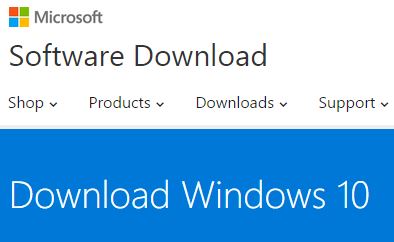 The Win10 Download Utility allows the impatient to upgrade sooner than MS may be willing to grant access via Windows Update.
Here's what else I had to do to get the system completely up to snuff following that upgrade install:
1. Uninstall Start8 and install Start10: Start8 sorta kinda worked in Windows 10, but didn't permit elements to be pinned to the Taskbar, or provide all of its other usual features and functions. Start10 works like a charm with Windows 10 (I still like it better than the built-in Start menu that comes with the base OS; at $5 a copy, it remains part of my standard Win10 set-up collection).
2. Install IntelRST.exe to get Rapid Storage Technology working: this software doesn't transition when upgrading from one version of Windows to another, so must be re-installed after an upgrade like this one.
3. Before I installed IntelRST, I compared the driver count in DriverStore Explorer from Win 8.1 before the upgrade install to the driver count in the same program after Win10 was up and running. The base-level install increased the driver count from 45 to 47, both of which were older versions of Nvidia audio drivers. A simple delete of the drivers with lower version numbers, and the count was back to 45. And indeed the Intel driver count skyrocketed after installing IntelRST on that machine (but again, was easy to clean up).
4. As always, I had to clean up the leftovers from the upgrade (Windows.old; 20.7 GB), which worked like a charm using CCleaner.
I must say, after my experiences with the Surface Pro 3 earlier this week, I'm glad to see an upgrade go this smoothly. Along the way to targeting this machine for my second and successful Windows 10 upgrade install, I also learned (or revisited) a few other interesting things:
1. My "pre-upgrade/clean install" ritual for new Windows versions always includes the following elements: (a) apply all pending upgrades from Windows Update; (b) update drivers with DriverAgent, and clean up drivers with DriverStore Explorer (aka rapr.exe); (c) update applications based on a scan from Secunia PSI; (d) make a complete image backup, using either the image backup from File History or Acronis True Image; (e) create a fresh bootable recovery UFD from which to boot and install said backup, should that prove necessary. I've already had multiple occasions to take advantage of (d) and (e) when, as sometimes happens, an installation goes wonky.
2. If you build a UFD using the Windows 10 download tool from Microsoft, you can run Setup.exe from inside Windows 8.1 to start the install process, but the info on the installer screens is kinda sketchy. For example, immediately after showing a "Decide what to keep" screen on my Lenovo X220 Tablet, the installer jumps into grabbing updates and checking install-worthiness. Only then does it report that it will "Keep personal files and apps" a phrase that's open to interpretation because apps can mean Modern UI apps only, or all applications already installed on the PC (an upgrade install, in other words). After reading and re-reading the language on the afore-linked download too page, I decided to go ahead and try (the page says "the media creation tool won't work for an upgrade" with Enterprise editions of Windows, but that implies that it should work with Home and Pro editions). Although the words "Upgrade install" never appear in any of the installer panes that you can peruse and parse on-screen while that program is running, when you finally get far enough along — past the first reboot, that is — a screen labeled "Upgrading Windows" finally appears. So yes, Virginia, you can use the download tool to perform an upgrade install, if you like.
3. If you start a Windows 10 upgrade but can't bring the step following the first reboot to completion, you will find a folder named $Windows.~BT on your boot/system drive. The leading dollar sign means it's a hidden file, and won't show up in Explorer, unless you've instructed it to "Show hidden files." CCleaner does not recognize and clean up this directory, but the "Clean up system files" option in Explorer will get rid of it for you. Otherwise, you can manually reset file attributes to turn off  "Read-only" status, and delete it directly yourself (it took me two tries to get the attribute reset to take, and for manual deletion to work). This latter approach goes faster than working within the Disk Cleanup utility, so it's the one I usually take.
4. Having signed up all of my various Windows 8.1 PCs for Windows 10 upgrades, I find myself wondering how MS decides when to grant access to the software through Windows Update. I signed up 6 machines at around the same time but so far, only 2 of them have been granted permission to install the upgrade through that vehicle. What's up with that? At this point, I'm almost ready to conclude that manual control over the upgrade process via the download tool is preferable.
I'm only about 1/3 of the way done with my various machines, so there will be plenty more to learn, and to write about here, as I chew my way through these various challenges. Stay tuned for more news from the trenches, please!
---
August 11, 2015 12:20 PM
Device drivers
,
Windows 10
,
Windows installation
Drat! I wrote too soon, or too optimistically, in yesterday's blog post about the contortions necessary to bring my Surface Pro 3 into "Windows 10 land." After getting more or less everything working from the factory reset followed by the Windows 10 upgrade, my SSD disappeared from Windows' ken after adding support for older .NET versions (2.x and 3.x) as required to run the Windows DriverStore Explorer (aka rapr.exe). What followed next was a comedy of errors in figuring out how to boot from a recovery UFD (don't turn off BitLocker encryption, but do turn off TPM, and make sure either the dock or the built-in USB ports are enabled for booting) which included finding the recovery keys for BitLocker for that failed Surface install (use the MS FAQ page for a link to a login to grab any such keys you might need, unless you're managing them on your own domain controller, in which case you don't need me to tell you how to do that).
After all kinds of further contortions — and a fair amount of salty language — I realized my only out was to perform a clean install of Windows 10 on the damaged system, which further necessitated burning one of my 5 MSDN Windows 10 Pro keys so as to be able to get the unit up and running. For a future blog post, I'll describe what's involved in capturing the upgrade key from the backup image of the initial installation that remains at my disposal. This should let me recapture and re-use the key that Windows granted for the initial and apparently successful upgrade install that went down in flames mid-afternoon yesterday. To make a long and probably unbearably tedious story short, I didn't finish rebuilding the system until about 11:20 last night, but I did take a couple of hours off to help the Boss cook dinner and consume the fruits of our labors during that period, too.
Here's what I learned in setting that system back to rights after the dread "boot drive inaccessible" blue screen bit me on the hindquarters:
1. The resulting install still got all the drivers right at the end of the process. However, investigation with DriverStore Explorer after that install was done resulted in my removal of over 100 duplicate or obsolete drivers from the driver store, including more than 60 copies of various Intel ATA/ATAPI drivers, more than 20 Intel USB drivers, and a variety of other miscellaneous but unnecessary elements therein. Total space recovered as a result was more than 4 GB. Given the high number of Intel drivers involved, I'm inclined to blame the IntelRST.exe program rather than the OS install for that portion of the excess. I'll experiment on future installs to confirm or disprove this hypothesis.
2. For the first time I can recall, the startup repair function in the repair installation fork of the Windows Install UFD (and DVD) functionality failed to find and/or fix the missing boot drive when run, once I puzzled my way into making that happen. This led to an attempt to reset the initial installation and ultimately to a clean install of Windows 10 using the aforementioned MSDN key.
3. Because part of my recovery efforts included a (failed) reset of the initial OS install, followed by a clean install of a brand-spanking new OS that didn't involve rebuilding the SSD partitions and their contents from scratch, I found myself with two Windows.old files after all was said and done (Windows.old was 19.5 GB, and Windows.old.000 was 17.5 GB). For some reason or another CCleaner didn't detect and thus couldn't clean up those folders, so I turned to WinDirStat instead, which got rid of Windows.old.000 for me, and used Disk Cleanup for Windows.old — WinDirStat balked at getting rid of WinSXS in that folder, so I had no choice but to turn to the built-in utility — to reclaim that wasted drive space (I made three backups along the way to finishing the system rebuild, so can dig into those folders should I need to do so).
4. Final size of my on-disk OS partition including all applications I like or need to use  was 33.3 GB, around 40 GB smaller than where I started before driver cleanup and removal of the Windows.old folders.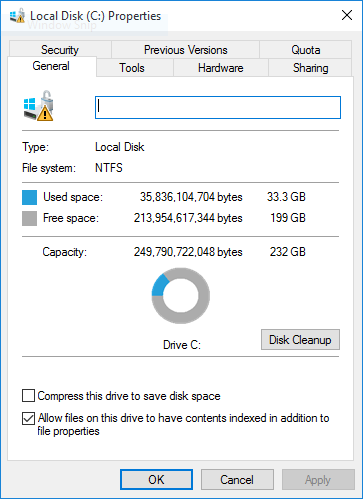 The final size of the Boot/Sys drive is a svelte 33.3 GB; note the yellow warning symbol that denotes BitLocker is turned off.
5. Because of publication requirements, I have to shoot screencaps against an all-white background. Interestingly Personalization no longer offers plain white as a solid color option in Windows 10. To produce an all-white background, I had to provide an image (I captured a big chunk of a window background, saved it as a PNG file, then chose the "Picture" option and browsed to that image, to produce the desired results).
6. It took me a while to figure this out, but I finally determined that the unlock icon on the boot drive originates from turning BitLocker off during the install process. Once the encryption is turned back on the yellow warning symbol affixed to the drive icon goes away.
Concluding Unscientific PostScript: In commenting on yesterday's post, Stu Sjouwerman described his recent Dell desktop Windows 10 install experience as resembling a "dog's breakfast." Upon further reflection on the Surface issues that popped up, I'm feeling a bit less enthusiastic about the process myself. However, I still have 6 more machines to upgrade, so I'll have plenty of further grist for this mill in the posts here still to come.
---
August 10, 2015 4:10 PM
Windows 10
,
Windows installation
,
Windows Upgrades
In case you've been wondering, I've been on vacation since my last post went up on July 27. Though I had a great trip to Germany with my family, I ended up skipping blithely past the Windows 10 RTM date, and am just now catching up on production PC updates to Build 10240. My first candidate is a Surface Pro 3, and I found myself in an interesting Catch-22 situation on that machine: thanks to some uncaught and apparently incompatible recent driver update, the PC won't restart without a "Process has pages locked in memory" blue screen. That's all well and good, except that it renders the upgrade process on that machine inoperable, because of the hiccup that occurs when it tries to restart to install the new OS, after downloading all the files and performing various prep activities.
I found myself chatting online with the Surface Support team at MS this morning, looking for a Windows 10 key to permit me to perform a manual clean install of the new OS instead of trying to troubleshoot and fix the old one. That ain't happening, according to my support contact, but at his urging I did perform a factory reset of the ailing machine — it took me two tries to get it to work, and even after the aforementioned restart hiccup as that process got underway, it did run to completion. Next, I had to apply all 122 of the updates pending on Windows 8.1 since the version on my boot/system disk recovery partition was written, last of which was the upgrade to Windows 10. In fact, the option to upgrade to Windows 10 appeared as soon as Windows Update opened on the running and reset image — however, once selected, all of the preceding upgrades still had to be applied before it got that far.
This process took some time to complete — about 3.5 hours all told, and over 10 GB of downloads overall — but the end result was what I wanted: a running licensed version of Windows 10 on my Surface Pro 3. Now, all I need to do is reinstall all of my applications and I'll be back in business. No wonder I can't help but see Windows (in all its forms and glorious manifestations) as a continuing guarantee for lifetime employment for those brave and interested enough to figure out its many quirks and foibles.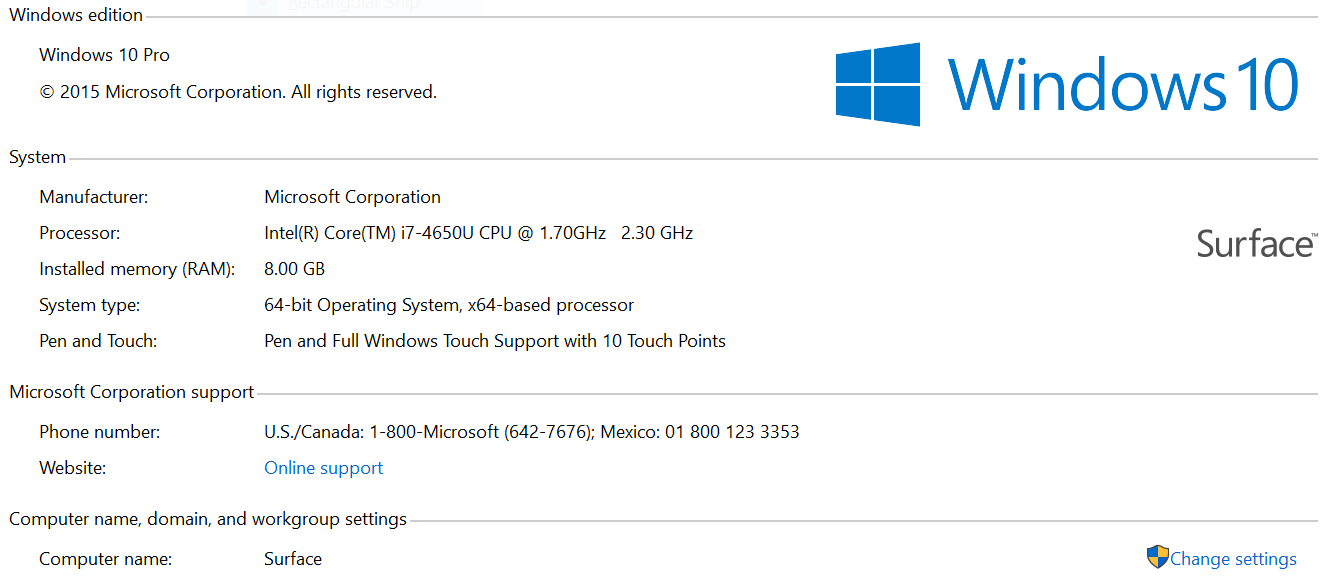 After all is said and done, here's what the Surface shows for its new OS in the System widget.
In future blog posts for some time to come, I'll be documenting my upgrade adventures on other Windows 8.1 machines here at Chez Tittel. Stay tuned!
[Note: Update added late afternoon, 8/10…]
MS wins big points for me for getting ALL the drivers right following the Win10 install on the Surface. DriverAgent reported all drivers up-to-date upon my initial post-install, post-app-update scan. Also, I learned that the excellent tool, Ninite, grabs the latest and greatest versions of the programs it's instructed to install (not the versions that existed at the time the config file is built, as I'd feared might be the case). So far, I'm pretty pleased with the way things are going on the Surface Pro 3!
---
July 27, 2015 10:10 AM
Device drivers
,
Windows 10
,
Windows installation
Hmmmmm. Looks like I wasn't the only Win10 cowboy stuck out in the pasture with no lasso for a badly-behaved Windows driver updates. Numerous reports surfaced this weekend about an Nvidia graphics driver update that caused headaches for users with multi-monitor setups. In response MS has published a troubleshooting tool called "Show or hide updates" available for free download, documented in KB 3073930.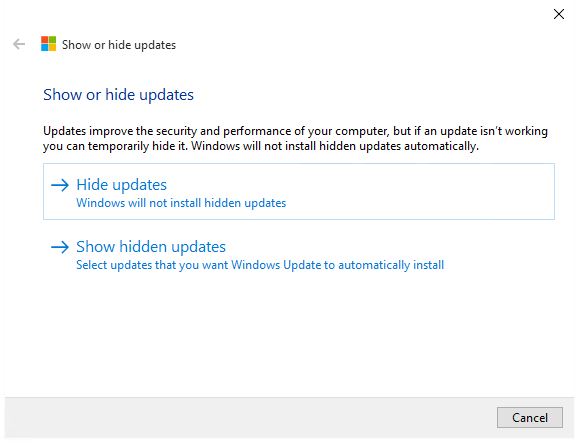 With this troubleshooting tool, MS restores show/hide updates in Win10.
Essentially, here's how the tool works in a best-case scenario:
1. User installs bad update successfully, discovers failing functionality.
2. User uses "View installed Updates," selects the bad one and uninstalls it.
3. User downloads afore-linked tool, blocks the unwanted update and Presto! problem solved.
Alas, my issue with the Synaptics driver on my Dell VP11-7139 is probably more typical in that the driver installation fails, but also mungs the device it is supposed to service. In that case, the recovery scenario involves an extra step or two, as follows:
1. Download "Show or hide updates" tool onto a UFD or other external storage device.
2. Find a restore point or backup that precedes the application of the bad update, and roll back to that state.
3. Disconnect from Internet while system is rebooting, and install "show or hide updates" tool before restoring connectivity.
4. Run tool immediately after restoring Internet access, to hide problem update before update process can proceed, block problem update.
I'm so glad that MS realized this was a significant enough issue to warrant a tool. As I mentioned in an earlier blog, many notebooks and tablets are sensitive enough to updates that they warrant application of curated or vetted updates from the OEM, rather than general updates from the component maker (e.g. for my Dell VP11-7139, that would mean getting a vetted driver from Dell, rather than a one-size-fits-all touchpad update from Synaptics as was the case with my particular problem).
This looks like something that anybody with multiple Windows 10 systems to manage and maintain will want to grab pronto. Tell 'em: "Ed sent me!"
---
July 24, 2015 5:19 PM
Windows 10
,
Windows installation
,
Windows Update Management
Starting on July 22, Windows Update on Win10 Build 10241 started offering me a Synaptics driver update for the touchpad on my Dell Venue 11 Pro 7139. And man, did my system get caught in a crack, because not only did that update fail to install, but my touchpad quit working completely on that machine. In fact, device enumeration no longer detects that the touchpad is present, though an HID composite device with Synaptics hardware IDs shows up in Device manager. Even after running down some Windows 10 software to try to reinstall the driver — courtesy of Lenovo, which is apparently on something of a tear, with lots of Windows 10 drivers becoming available for its notebooks and tablets over the past couple of weeks — I get no joy from this situation at all. Even uninstalling the drivers doesn't seem to help (though I haven't tried the option that clears the files out of the DriverStore directory, so maybe I should try that next). No dice there, either. Sigh.
This is the last thing you ever want to see when trying to re-install a munged driver.
It looks like I'll have to perform a clean install of the final Win10 version whenever that comes along (something that probably makes sense anyway, given how many different builds I've installed on that machine over the past 8 months or so) to get my complete set of drivers back. I have to question the logic and/or controls offered to users or admins by Windows 10 update, in that it forces driver installation with no way to refuse. Given that notebooks and tablets can be very touchy about what drivers they will and won't work with, it seems to me that these items in particular should be optional, so that those responsible for such systems can decline wholesale driver updates until they're known to be good and working. I've spent an inordinate amount of time jacking around with the touchpad on the Dell VP11 keyboard, as numerous earlier posts to this very blog will somewhat cheerlessly attest.
And another thing: even for Windows 8.1, MS provided links to TechNet for standalone installers for update items. Maybe something was wonky with the WU installer when it tried to update the Synaptics drivers. Maybe a standalone installer could have gotten me over that hump. It would be nice to have that choice, but if it's available to me, I am clueless as to how to find it. Sigh again.
I really like Windows 10, and I think it's a good, solid OS. But some of its ancillary features, particularly those relating to update selection and update management make me a little bonkers. Are you listening Microsoft? I sure hope so…
---
July 23, 2015 7:53 AM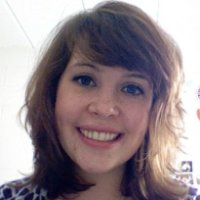 Profile: Margaret Jones
DENVER — Considering all the attention desktop as a service has gotten in the IT world over the last year, the technology has been a big failure.
That's what Brian Madden said in his welcome address at this week's BriForum U.S. 2015. According to Madden, desktop as a service (DaaS) has gotten a lot of lip service, but no one is really doing it.
At first I was surprised to hear him say that DaaS just hasn't taken off, but when I thought about it, it made sense.
You could argue that VDI hasn't really taken off either. VDI might never crack a 20% adoption rate, and it would be logical to assume that DaaS will see similar rates. VDI has been around a long time, so you have to consider that any shop where desktop virtualization was the answer to a big problem would likely have rolled out a deployment by now.
Mark DeBord, a senior systems analyst for Eastman Chemical Company based in Kingsport, Tennessee, heads up a shop where VDI was the answer, so he's not itching to do DaaS.
"We already do VDI on-premises, so I'm not sure [DaaS] would really do us much good," he said.
But that hasn't stopped management from putting heat on DeBord to move desktops and applications to the cloud.
"I'm getting a lot of pressure at work to use DaaS," he said. "During my review, my manager actually asked me why I haven't been looking into it more."
But moving resources to the cloud just for the sake of joining the cloud trend isn't a good enough reason to do DaaS. Eastman's existing VDI setup works for its global workforce, and shifting to DaaS could result in a lot of money wasted on a thriving deployment.
"I have an open mind about it," DeBord said. "Maybe I could use [DaaS] for disaster recovery or to support outside contractors or for cloud bursting."
For some companies, DaaS may never be the answer to their employees' needs. But as Madden said in his keynote, there are plenty of other rapidly advancing technologies available to help IT make its end users more mobile, virtual and productive: There has been a new focus from vendors on integrating cloud and on-premises infrastructure, as well as improved support for Remote Desktop Session Host. And virtual mobile infrastructure has the potential to find a home in enterprise IT shops, too.
Do you agree that DaaS hasn't taken off? Has your organization deployed cloud desktops? Share in the comments.
---
July 22, 2015 12:10 PM
Device drivers
,
Windows 10
,
Windows installation
For the last three builds of Windows 10 (10159, 10162, and 10166) the OS was remarkably well-behaved in installing drivers for my newest PC (a less-than-one-year-old Dell Venue 11 Pro 7139 with an i5 4210Y CPU aka Haswell M, 8 GB RAM, 256 GB SSD, NXP, and so forth). Alas that record was shattered with the installation of the current release candidate build numbered 10240.
I'm not sure troubleshooting drivers for half a day counts, but here's a current Win10 slogan to ponder…
When I finally got around to checking the successful install on Monday of this week, I found a raft of device driver issues in the wake of that installation. Here's a list:
1. The Dell 1537 a/b/g/n Wi-Fi driver for the wireless network interface failed to load (the device was apparently not recognized and showed up in Device Manager as Unknown Device)
2. The SATA AHCI driver loaded was two generations back from the current installed version
3. The O2Micro SD card reader driver was likewise older than it should have been
4. The SMBus driver for the Synaptics touchpad did not load (and also showed up as an unknown device)
5. The WPD FileSystem driver (which also showed up as an unknown device with hardware ID root/IWDbus) did not load
6. The Bluetooth Bus driver (unknown device with hardware ID root/BTath) also did not load
7. Two Dell pseudo-drivers with hardware IDs "*DellProf" and "*DDDriver" still show up as Unknown Devices and I haven't taken the time to research how to repair them. I'm pretty sure one is associated with my Dell 2150cdn color printer, and the other with their Diagnostics software, but a quick search turned up no fixes, so I plan to wait for the official RTM to figure out how to resolve these items.
Needless to say, this came as a big, rude, and unpleasant surprise after all my good luck on the three previous installations. In fact, I'm still scratching my head as to why this would pop up unexpectedly after several successful experiences. But in putting my system back together I learned several useful things, too:
1. Intel, NVidia, and other device makers are starting to release drivers that specifically mention and target Windows 10 directly. In truth, I've had little problems with all of the Win10 builds getting Windows 8.1 drivers to work with Windows 10 so driver compatibility issues between these two OSes seem to be few and far between. Nevertheless, it's cheering to see explicitly labeled Win10 drivers as the RTM date is nearly upon us.
2. I was able to go to the Dell Support site and get most of the drivers I needed for the VP11Pro with little muss or fuss.
3. After some Internet research, I learned that for the IWDbus driver, the easiest fix was simply to uninstall what Win10 install had left behind, then discover new hardware in Device Manager, and let Windows take care of the problem (worked like a charm, so I tried this with other Unknown Device items, with varying degrees of success).
4. I had to repair my Intel Rapid Storage Technology (RST) installation because the existing version carried over through the install didn't work any more (I'm starting to learn it may be a good idea to uninstall this service before upgrading modern Windows OSes).
The bottom line is that it's a good idea to get your drivers lined up and ready to reinstall on any newer systems that may include devices or need drivers that Windows 10 doesn't recognize on its own. I use a tool called "DriverBackup! 2" that does a decent job of capturing all the drivers on any machine it targets and creating a backup set of same (some drivers, however, require installation programs and these may not always restore properly directly from the .inf, .cat, .dll and other files that the application captures on your behalf). You'll probably want to take similar precautions if you're going to be upgrading a machine from Windows 7 or 8.1 to Windows 10 soon, or converting a preview/release candidate version to the RTM version when it becomes available.
---
July 20, 2015 1:21 PM
QuickTime
,
Windows 10
,
Windows Updates
If you've been reading this blog for any length of time, you already know I'm a big proponent of Secunia products, most notably Secunia's Personal Software Inspector (PSI, but they also have a corporate version called CSI as well). Recently, I've been noodling about with Win10 because of a persistent warning from PSI that the installed version of QuickTime — Apple's video playback engine — is out of date on my test machines. Interestingly, running the Apple Software Update scanner has found nothing out-of-date for the past couple of weeks. So when I saw a new version of iTunes available this morning, I figured the QuickTime fix would probably be bundled along with all the other changes involved in updating to a new version.
Long story short: I was wrong. The version I was running on my test machines was 7.76.80.95, and thanks to a bit of poking around on the Internet, I learned the latest version of QuickTime available for Windows 8.1 is 7.77.80.95. That said, the official download available from Apple is version 7.7.7 (released October 2014) and mentions only Windows 7 and Windows Vista as valid install targets.
The official download page for Quicktime for Windows only mentions versions 7 and Vista (a support search turns up no explicit mention of Windows 8.1 for this software)
It wasn't until I refined my download search to include Windows 8.1 that I learned that version 7.77.80.95 is now available, and has been since July 3, 2015. I found a reliable 3rd party download source (DownLoadx64.com),  and grabbed a copy. (Make sure to click the right download link, or you'll grab stuff you don't want — a typical "red herring design trick" nearly universal on such sites, which generate revenue by harvesting clicks from misdirected users.) Upon installation, PSI accepted that I'd installed the latest version and turned off its warning for that software item.
Problem solved, but I have to wonder why the Apple Software Update widget didn't detect this discrepancy, and then fix it automatically. Everything I can find about Apple support for Windows fails to mention Windows 10 (not unusual for a beta OS version), so I can only speculate that the latest and soon-to-be-current version of Windows hasn't yet been fully integrated with their update/patch utility. Methinks this will have to change soon, with Windows 10 RTM due in less than two weeks. But Apple may prove stubborn and wait until General Availability (October ?) to catch things up. We'll see!
---
July 17, 2015 1:28 PM
Device drivers
,
Windows 10
,
Windows installation
Ha! Ha! No sooner did I post a blog about a build hiatus for Windows 10 Insider that did Microsoft release an honest-to-gosh release candidate in the form of Build 10240. How do I know this is a candidate for sure? Simple: no more watermark at the lower right of the screen (which labeled the software as an evaluation copy and a preview of some kind or another: technical, insider, and so forth). Also, check out what Winver now shows for the 10240 build: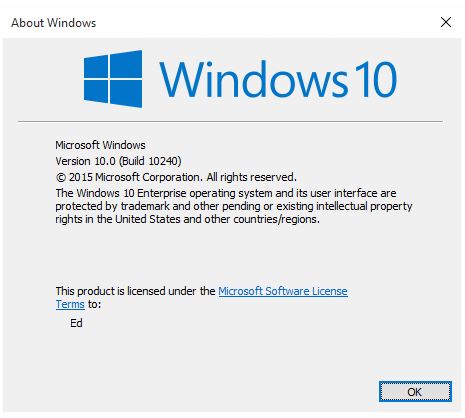 No more expiration date, no more mention of evaluation or preview of any kind.
In its comments on this build, WinBeta raises some interesting questions about whether or not it's an RTM version. Whatever its status, all the signs point to something that's really close to finalized, if not the actual cigar itself. The old Windows installation (build 10166, in my case, for both test machines) still weighs in at just under 20 GB, so it's still worth cleaning up. I did have to update the RealTek Audio driver after this install, and I also found 72 copies of that driver in the DriverStore after running the DriverAgent installer for same, of which I was successfully able to delete 71 without difficulty. I also found three extra copies of the Nvidia GeForce drivers as well, and tossed them, too. If there's one thing I've learned from all the many Windows 10 installs I've done during the preview period, it's that checking and cleaning the DriverStore afterward is every bit as important as getting rid of Windows.old. Use Driver Store Explorer aka RAPR to get this job done.
---