---
January 16, 2017 11:30 AM
preview
,
Windows 10
,
windows 10 upgrade
Last week, Microsoft released a new Insider Preview — build 15007 — to the fast track. I was not alone in experiencing problems getting that upgrade to download and install. Many people reported problems completing the download successfully (I was in that group). Others reported subsequent failed installations as well. Once upon a time you could grab .esd and other files before the first Windows reboot during the upgrade process. Then, you'd use them to create an ISO file on your own. But the recent adoption of the Unified Update Program (UUP), results in a bunch of files in driving the install. UUP's file structure now means building Insider Preview ISOs add complexity to the usual contortions previously involved.
Why Does UUP Make Insider Preview ISOs Add Complexity?
Microsoft's goal with UUP is to slim down the volume of updates by picking (and transmitting) only items that target clients need from Windows Update. Thus, updates (and upgrades) are delivered piecemeal rather than in monolithic form when UUP is active. Working around this limitation involves two potential paths to ISO compilation and alternate installation for Fast Ring users.
The first path comes from one of the gurus at TenForums.com whose nomme de forum is "Kari." He's put together a tutorial entitled "UUP to ISO — Create Bootable ISO from Windows 10 Build Upgrade Files." For DYIers, this approach involves copying the various UUP download files, then compiling them with a tool named UUPtoISO.cmd. This tool builds the ISO for you, after which it will serve nicely on a bootable USB flash drive.

For the Fast Ring, getting ISOs for current builds means building them yourself, or finding them online.
[Image source: WinAero.com]
The other method is to find an alternate source for Fast Track Insider Preview ISOs. My favorite is Sergey Tkachenko's WinAero.com, which usually provides links to reputable third-party sources when it doesn't host them itself. Last Friday (1/13) he shared a post entitled "Download Windows 10 Build 15007 ISO images." It included links to 32- and 64-bit ISO files for Home, Pro, and Enterprise versions of Build 15007.
The Tradeoffs in Insider Preview ISOs Add Complexity
There's a tradeoff involved in DIY construction vs. ISO download. On the one hand, there's the time and effort involved in constructing your own. This took me about 22 minutes on my test hybrid tablet (a Dell Venue Pro 11 7130). On the other hand, there's little time and effort involved in downloading a third-party download except for the download time involved. But one must trust the provider, and absorb the download costs involved. Because that download came from New Zealand, it also took about half an hour to complete.
For me, because I had two machines in the game, one of which succeeded in completing the download, I did have access to the files needed for DIY. Others who didn't and can't complete the download can only turn to third parties for downloads elsewhere, or wait for MS to move the build to the slow ring. That's when they publish official ISOs for the safest possible download option.
January 13, 2017 12:12 PM
Windows 10
,
Windows Upgrades
When the cutoff date for free upgrades arrived on July 27, 2016, Windows users assumed that was the end of that. But as time has elapsed since then — almost 6 months — free upgrades are still on. True: the hated and obnoxious "Get Windows 10" (GWX) tool is history. So are FORCED upgrades. But those running Windows 7 or 8.1 PCs can visit the "Download Windows 10" page. There, if they follow instructions, the result is a working Current Branch Windows 10 installation, Version 1607. Thus, the claim of a free Win10 upgrade still available is completely true.
How Is the Free Win10 Upgrade Still Available?
The secret to this continuing bonanza, according to Ed Bott at ZDnet, is that Microsoft's activation servers keep activating upgrades based on Windows 7 and 8.1 license keys. As long as those servers continue to issue valid digital licenses for those older keys, the free upgrades will continue.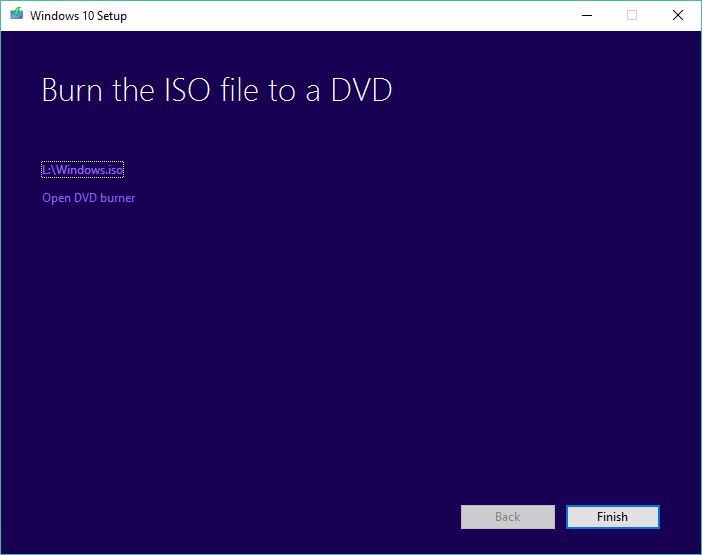 The last step in the process shows the name of the ISO file you'll use to build a bootable UFD.
[Source: Windows Media Creation Tool; filename: L:\Windows.iso]
Here's an overview of the steps involved in obtaining a copy of Windows 10 to install:
Download Media Creation tool
Select "Create Installation media for another PC"
Select Language, Edition, and Architecture (recommended options should work, otherwise, see table)
Select ISO file (or it can build a bootable USB flash drive instead)
Click "Finish" when writing the ISO file completes
Now you can use any of a variety of tools to build a bootable USB flash drive to install Windows 10 on your system. Finally, the Windows Activation servers will still accept your Win7 or 8.1 key to activate this new Win10 install. You'll get a valid digital license to keep and use going forward. The excellent Windows 10 tutorial "USB Flash Drive — Create to Install Windows 10" explains and shows how to do this in step-by-step detail, with copious illustrations and examples.
---
January 11, 2017 12:31 PM
Desktop images
,
image compression
,
Image management
,
Windows 10
Among built-in tools that reduce disk footprint in Windows 10, the compact command supports compressing OS files. Essentially it works because it compresses static OS executable files. These remain unchanged over time, unless replaced outright.  Most modern CPUs can decompress data faster even than most SSDs can read it. This goes double for the  eMMC (embedded MultiMedicaCard) devices found in inexpensive tablets and notebooks. Because these are typically 32 GB or smaller, they also benefit most from whatever space-saving techniques savvy admins use for Windows 10. In short, Win10 compact saves room on disk!
How Win10 Compact Saves Room Pays Off
A quick look at the command line reference info for the compact command shows most of its capabilities: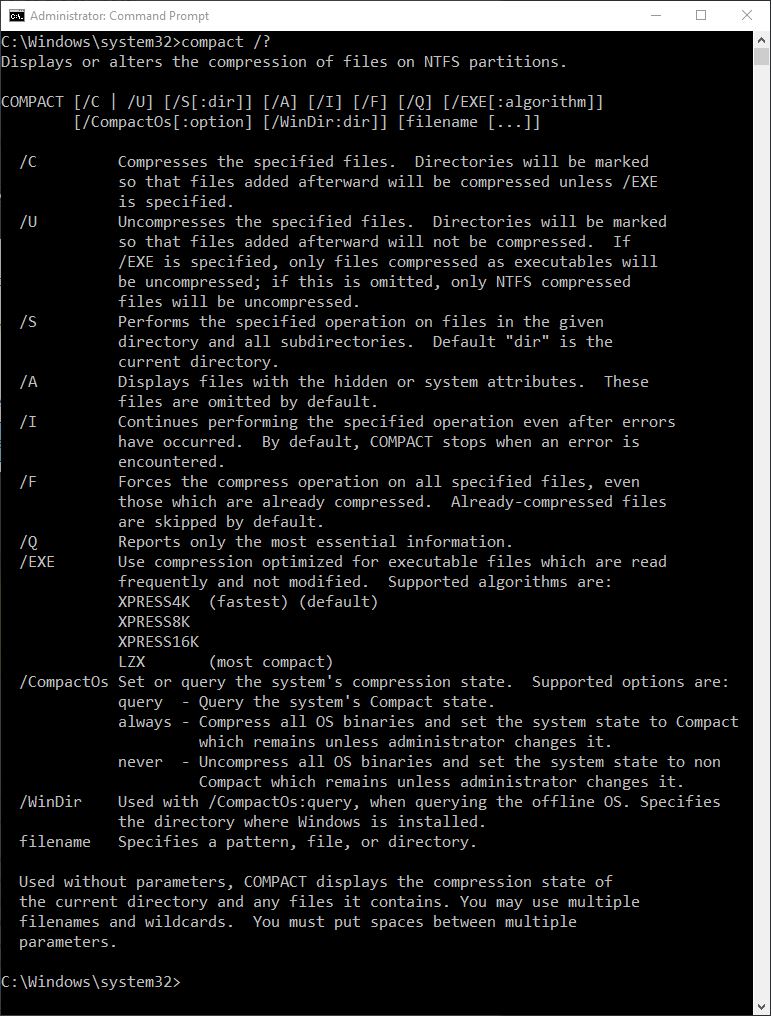 Key attributes for maximum space savings include /CompactOS and /EXE.
[Click image for full-size rendering]
The secrets for best results from this command come from compressing all OS binaries, using the /CompactOS:always directive. This makes the system state "Compact" and keeps things that way. The other key directive is /EXE, which can select a more compact compression algorithm than the default XPRESS4K value. Although it is fastest, it is also the least compressed of the options available. But smaller tablets and low-powered notebook PCs, especially those with eMMC storage, are slow. Thus, admins may need to experiment with other options for the best speed-space tradeoff. Users don't like painfully slow systems, even if they do provide more storage space!
A January 5, 2017 Microsoft Developer Resources article entitled "Compact OS, single-instancing, and image optimization" goes into more detail on this subject. It also explains how DISM helps achieve maximum compaction and image optimization, for those who manage Windows images for deployment, or hardware devices that use them. Other techniques include Full Flash Updates (FFUs), or unattend.xml files with SysPrep. All in all, this is great stuff, especially for those who manage smaller and slower Windows 10 tablets or notebook PCs.
---
January 9, 2017 1:00 PM
Troubleshooting
,
Windows 10
Here's a Win10 troubleshooting alternative when attempting fixes: image repair or an in-place upgrade install. This insight has bubbled up as I've worked with the TenForums community over the past six months and more. Fixing many Windows 10 problems takes hours and hours. But using sfc and dism for file and image repairs seldom takes more than an hour and fixes many problems. Likewise, you can always perform an in-place upgrade using the current version of Win10. This replaces all Windows files but leaves applications and other files alone. IMO, these two strategies can fix most serious Windows issues.
All of this insight urges a new Win10 fix strategy: any time troubleshooting comes up, consider the time involved. If it looks like it could take more than an hour, consider one or both alternatives instead. Use the sfc/dism strategy when running dism /online /cleanup-image /checkhealth  calls for repairs. This command completes in under a minute on most PCs, for a quick call on these tools. Use in-place upgrade/repair install when research reveals nasty or intractable problems, or when a PC won't boot or run properly.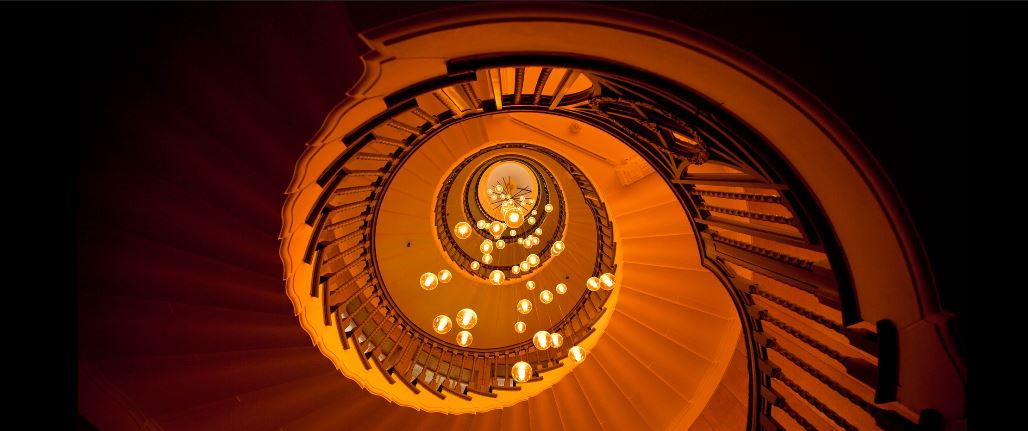 Don't let troubleshooting run you around in circles!
[Source: Microsoft Lockscreen/Wallpaper Images]
Beyond the Win10 Troubleshooting Alternative
But wait, there's more! If you face virus or malware issues, wiping affected drives and restoring a (clean) backup makes most sense. Clean install is the final solution for systems unfixable through other methods. Also, if you've got image(s) for (re)install that include all applications users need, jump this fix to the head of the queue. There are very few problems a clean install with new user credentials added won't fix.
From personal experience, I can report that the thrill of chasing down and resolving a problem can cloud one's judgement. Consider your options carefully before you start down the troubleshooting trail. Then, should you take that path, keep an eye on the clock as you go. Once you've spent more than an hour troubleshooting anything, my suggested alternatives will look increasingly attractive as the clock keeps ticking.
Here are some terrific TenForums tutorials to help with various elements of this process:
SFC Command – Run in Windows 10
DISM – Repair Windows 10 Image
Repair Install Windows 10 with an In-place Upgrade
Windows 10 – Clean Install
Enjoy!
---
January 6, 2017 2:09 PM
Command line
,
Windows 10
,
Windows PowerShell
I reported here back on November 28, 2016, that MS swapped the command line prompt for PowerShell. This affects the Start and File Explorer context menus in Insider Preview build 14971. This change continues in recent builds as well. However, there are well-documented fixes to restore cmd.exe throughout the OS. But recently certain sources suggest that cmd.exe is doomed. That's untrue, says Microsoft Senior Program Manager Rich Turner in an MS Developer blog post. Published January 4, it's entitled "Rumors of Cmd's death have been greatly exaggerated." Thus "CMD.exe NOT going away in Win10" is a fair and truthful claim. This tagline from the blog post says it more emphatically:

How's this for emphasis?
Why Say "CMD.exe NOT Going Away in Win10?"
To explain his emphatic rejection, Turner offers the following points (reproduced verbatim from his blog post):
Much of the automated system that builds and tests Windows itself is a collection of many Cmd scripts that have been
created over many years, without which we couldn't build Windows itself!
Cmd is one of the most frequently run executables on Windows with a similar number of daily launches as File Explorer,
Edge and Internet Explorer!
Many of our customers and partners are totally dependent on Cmd, and all it's quirks, for their companies' existence!
I hope this clarification renders this tempest in a teapot moot. Anyway, it's hard to assert that CMD.exe is on its way out, in the face of the preceding claims. And FWIW, my own testing confirms that what works at the command line in Windows 10 (mostly) works completely unaltered inside PowerShell equally well. So please: let's drop this issue and tackle another controversy instead! For example, I'm ready for a frank and candid discussion about the huge number of reports of freezing and instability in Window 10's Current Branch release. What about you?
---
January 4, 2017 11:35 AM
Network Scanners
,
Windows 10
In the song Hey You, Pink Floyd raises a question that all network admins have surely uttered. That question goes: "Is there anybody out there?" While its nuances aren't as dark for networks as in the song, this question is one that occasionally demands an answer. To that end, some kind of network scanning tool helps. I just found a good, free tool from Northwest Performance Software, well-known vendors of NetScanTools Pro. They've got a free subset of those selfsame tools called NetScanTools Basic Edition (Zip file download). It includes a handy Ping Sweep tool named Ping Scanner that does a nice job on LANs. Here's a screencap: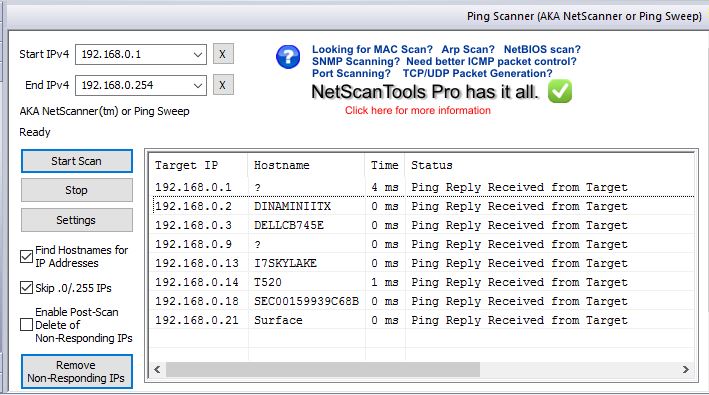 The "remove non-responding IPs" button is what makes this tool great.
What Makes This Handy PING Sweep Tool Special?
As the preceding screen capture's caption intimates, the tool includes a button (lower left corner) of particular interest. It's labeled "Remove Non-Responding IPs." What it does is to drop listings for all inactive addresses in the range that gets scanned from the resulting output. That means the only listings shown are for IP addresses actually active on the network when the scan occurred.
The two question mark items fall at 192.168.0.1 and 192.168.0.9. Savvy readers already know that the first address is also the first usable address in that Class C Private Address subnet. It represents the router/gateway device that provides Internet access, DHCP, access controls, and more for the LAN. 192.168.0.9 is my son's Xbox which doesn't identify itself with a hostname. But it's really the absence of all the empty addresses that makes the tool valuable. One sees only what's out there, and nothing else, with no empty slots to skip over.
I like this very much, and so will you. Other tools in this program provide information about DNS, ping and traceroute, whois, and more. Grab yourself a copy today, and try it out.
---
January 2, 2017 5:19 PM
Windows 10
,
Windows Update Management
MS has included a built-in update troubleshooter for Windows 10 for some time now. But there's a new WU troubleshooter to try, if that tool fails or falters. It's available through an MS Support page entitled "Fix Windows Update errors." There, you can download a file named latestwu.diagcab to a target PC. This software is device independent, so you could easily carry it on a USB flash drive for field use. I tried it on a handful of Windows 10 PCs and it worked just fine on all of them. Here's what it looks like: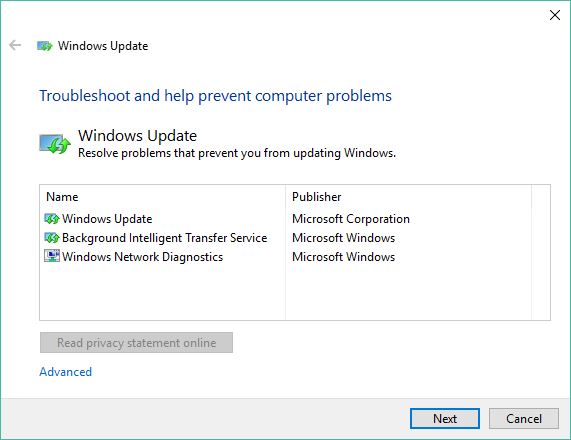 The name of the download, appropriately enough, is latestwu.diagcab
What's Up with the New WU Troubleshooter?
I wish I could say definitively. Those already familiar with the built-in tool will immediately recognize that the new, downloadable version looks exactly like the older, built-in version. The release date for the new one appears on MS Web pages dated 12/15/2016. It's identified as revision 37, with an ondisk file size of 161 KB. Thus, admins should run the new version manually rather than using the Control Panel Troubleshooting widget.
I'm guessing this situation is temporary. It should show up in some future Windows 10 update as a Control Panel/Troubleshooting item. However, this may not happen until the next major version of Windows 10 comes along in April 2017 though. Therefore, you might want keep this in your admin toolkit until then!
---
December 29, 2016 12:36 PM
Blue Screen of Death
,
Windows 10
About mid December, Windows Insider boss Dona Sarkar nixed release of further Insider Preview builds in 2016. Even so, build 14997 leaked via BetaArchive on 12/24. It's apparently chock-full of changes, including an amusing shift in the color palette. When Windows 10 crashes in 14997, instead of showing a blue screen, the background is now green. Thus, the acronym is no longer BSOD for "blue screen of death" but rather, GSOD for "green screen of death." BSOD meet GSOD!

Neowin reports speculations that the color change makes it easier to distinguish Insider Preview crashes from production Win10 versions.
When BSOD Meets GSOD, What Happens Next?
Apparently, the color difference is supposed to help MS support staff quickly determine whether problems come from Insider or production OS versions. Though there's no official word on this from MS yet, most insiders believe that the change is purely cosmetic. After living with BSODs since the 1990s, it's amusing and intriguing to see such changes come along. Who knows what other changes 14997 — or the next real Insider Preview build — will bring? We'll have to wait until after New Year's to find out.
Rank-and-file users probably won't notice anything different. Hopefully, it's because they will see no "screens of death" of any kind. But if they do see any, they'll remain true-blue for the foreseeable future. Happy New Year!
---
December 26, 2016 12:48 PM
background
,
Wallpaper
,
Windows 10
In keeping with my lighter topics for the holiday break, I'm looking around for new desktop themes. Because I use two 27″ monitors on my production PC, I need big images that span both displays. As it turns out, this means I need panoramic desktop themes for Windows 10. Good thing there are plenty around, including a big batch from Microsoft. Their themes pages include an entry labeled Panoramic (dual monitor). Generally, MS offers fabulous images for its various desktop themes, and the panoramas are particularly fetching. In fact, the panoramic page includes 17 tasty offerings:
I've been using the Forest Panoramas on my desktop for almost a year now, and will use something else instead with the New Year. At the moment, the New Zealand (NZ) panoramas top my list of candidates. We'll see what strikes next weekend when the calendar flips over!

I had to shrink this from its 3840×1080 resolution to get it to fit here, but it's still a nice image.
Non-Microsoft Panoramic Desktop Themes
There's more out there than Microsoft when it comes to desktop themes. There's an item at hongkiat.com called 70 Beautiful Dual Monitors Desktop Wallpapers that's worth checking out. Appstorm has a similar collection of 60 items, with different images. But the king of them all is dmb, or dual monitor backgrounds, where you'll find hundreds (if not thousands) of such images. You can also easily create your own dual monitor desktop theme. Simply put all your chosen dual monitor/panoramic images in the same folder. Then, pick the Slideshow option in the Background pull-down in the Personalize menu in Settings. Given a big collection of such images, you can craft a theme of your own!
---
December 23, 2016 3:45 PM
Games
,
Windows 10
For folks who've been at the Windows game for a while, it's surprising what can cause nostalgia amidst that crew. In my case moving from Windows 7 to 8 and beyond meant leaving the old games folder behind. It also meant giving up some favorite time-wasters that included FreeCell, Hearts, Solitaire, and so forth. But thanks to my friend and colleague Sergey Tkachenko and his WinAero.com website, that need not be the case. You, too, can grab this free Win7 games download for yourself. In fact, here's a screen capture from my very own Win10 menus (themselves courtesy of Start10):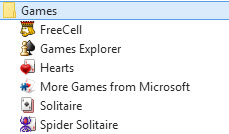 I didn't elect to install them all, but you can if you want to. This list shows my personal faves.
Where to Get the Free Win7 Games Download?
Consider this a holiday gift of information, if not also of the fun and diversion you can get from installing and playing these old warhorses. Download them from WinAero.com, then unpack the ZIP file into a folder of your choosing. After that, run the exe file and you'll be able to pick which items you wish to install (the default, as shown, is to pick 'em all):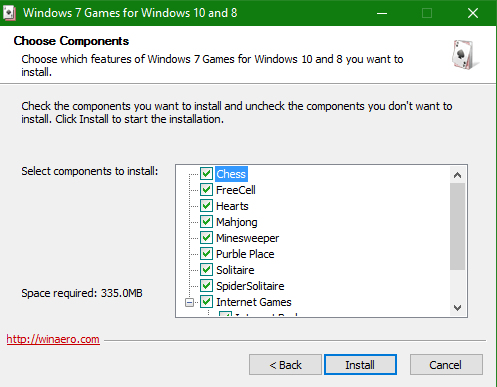 By default, installer picks everything, but you can uncheck your unfaves.
Give yourself a small treat for the holidays this year. If you don't already have these games installed on your Win10 PC(s), that's quick and easy to fix. Enjoy!
---