---
December 21, 2015 8:00 AM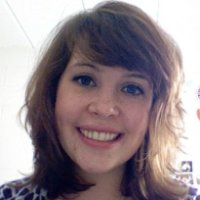 Profile: Margaret Jones
Windows 10
As 2015 draws to a close, the staff of TechTarget's end-user computing sites took to Slack and held an hourlong chat about the year's biggest trends. Over the next few days, we'll bring you slightly edited excerpts from those discussions. In today's post, our editors discuss Windows 10 and the uncertain future for tablets.
Jamison Cush, executive editor: Windows 10 threw cold water all over the so-called tablet revolution. It's a mouse- and keyboard-friendly OS, closer to Windows 7 than Windows 8. The wholesale rejection of Windows 8, which was developed at a time with the iPad was king, illuminated the fact that people aren't ready to ditch QWERTY and precision navigation for finger taps and swipes.
Maggie Jones, site editor: But it's adaptive, too. You can still use it on a tablet. Is that not a good user experience?
Jamison: It's tablet-friendly, but Windows 8 was tablet-focused. In other words, the tablet experience on Windows 10 stinks. It's an afterthought.
Maggie: That seems backwards to me. There's all this talk about Continuum, the feature that lets Windows 10 tell what device you're using, which is obviously focused on 2-in-1s.
Jamison: It's so ham-fisted, I turn it off. It's annoying and sluggish.
Maggie: What's the point of a 2-in-1 that runs Windows 10, then? Just get a straight-up laptop.
Jamison: Portability, mostly. And some of the various modes are useful. Tent mode works well.
Colin Steele, editorial director: What about the overall trend of tablets becoming more PC-like? We've had the Surface for a few years now, but things really stepped up in 2015 with the Surface Book and iPad Pro. Is this just a slow realization that there aren't a lot of tablet-specific use cases?
Jamison: People misread what made tablets so popular from 2010 and onward. It wasn't the touch navigation that we liked, but the all-day battery life, the instant-on, the thin design and portable build.
Alyssa Wood, managing editor: It's a realization that tablet use cases are really most viable in certain verticals like manufacturing but not really in the office.
Maggie: And if you have to add a keyboard and mouse to make a tablet work for you, then how much of a tablet is it?
Bridget Botelho, senior news director: People like the idea of a tablet — the cool factor — but ultimately need a laptop experience to do meaningful work.
Colin: I don't think people  need  laptops, per se. But they do need a device that replicates most of its functionality. I love traveling with my iPad Air 2 for work, but why do I love it? Because it has Word and a physical keyboard, like a PC.
Adam Hughes, news editor: As someone who has had an iPad for four years now, I learned very quickly that you can't get any real work done on it. Even with Office as an app, I'm still going for my crappy Dell laptop to work on a story.
Colin: Totally disagree. I do real work (writing and editing) on my iPad all the time.
Bridget: You are using a keyboard, not the touchscreen, to do work. I can't even do that, though. I brought an iPad to a conference, with a Bluetooth keyboard, and by the end of the day I wanted to throw the damn thing.
Adam: I had a keyboard a few years ago with my iPad, and it was fine for the most part. I mean, it cost over $100, but again, it just felt more inconvenient than using my laptop. I stick to my iPad to watch Netflix and answer emails.
Jamison: The rise of big-screen smartphones have also dented tablet sales. We really don't need them. A phablet and a laptop is good enough.
Bridget: The iPad in my house is primarily used by my 3-year-old to watch Nick Jr. I have a Fisher-Price safety case on it. Does that say it all about the usefulness of tablets?
Maggie: Once I got a smartphone and my super-thin Dell from IT, I pretty much stopped using my iPad altogether.
Read our prior Slack chats on EMM market consolidation and mobile device hardware.
December 18, 2015 9:54 AM
Windows 10
,
Windows Updates
It's been an interesting last couple of days on the Windows 10 front. Just yesterday, I got word that a new technical preview had become available, so I upgraded both of my test machines to what promises to be the first in a series of builds whose numerical designations begin with "11xxx" instead of the "10xxx" associated with the initial version first released this summer. Later that same day, a new Cumulative update (KB3124200) for production Windows 10 showed up with a designation of 10586.36 (up by .07 from the previous production version numbered 10586.29). Here are the side-by-side Winver outputs from my production PC (left) and Dell VP 11 7139 (right):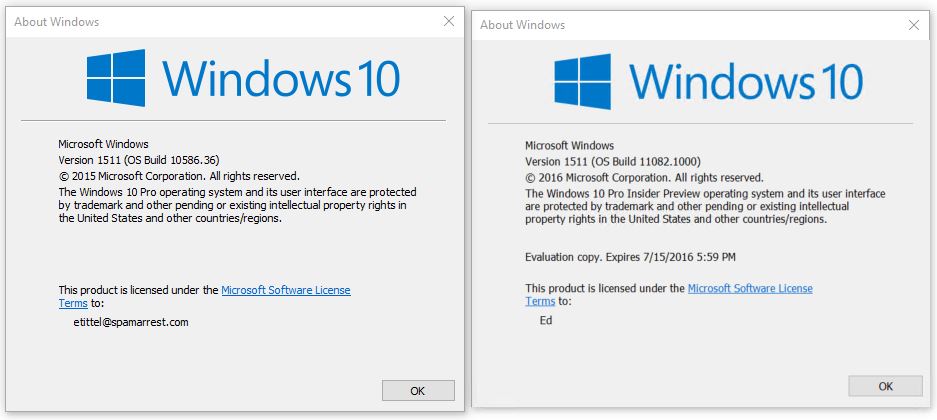 The downloads from Windows Update were flying fast and furious yesterday (12/17/2015).
[Click image for larger version]
The New Tech Preview: 11082.1000
I'm not sure where the .1000 suffix in this version number comes from, but there you have it. Installation went without a hitch on both test machines (a Dell VP 11 7139 hybrid tablet, and an i7-2600K homebrew desktop), and quite quickly as well. Total size of the download was on the order of 2.5 GB, and the Windows.old files on the post-install systems were just over 15 GB (Dell) and 18 GB (desktop). I did find some spurious drivers (older versions rendered obsolete by newer ones) in the DriverStore after the update, mostly for graphics devices (Intel and Nvidia), system devices (Intel and others), and network adapters (Atheros and Intel). But both systems kept chugging along nicely after the upgrade was complete, and seem to be working just fine. So far, I can't tell much difference between the pre- and post-update OS versions, but I haven't made a detailed pass over the basic system utilities and File Explorer interfaces just yet, either. I'll report further later as stuff pops up under my eyeballs, or in the news elsewhere.
A New Cumulative Update Takes Production Win10 to 10586.36
As is apparently now typical for Windows 10 cumulative updates, KB3124200 (x64) appeared without explanatory details as to what's been changed or updated with this code tweak (see Catalog page for complete collection; IE required to view this page as intended). So far, only a few TenForums users are reporting issues with the update (one with PIN vs. password login, some with miscellaneous error codes) and most are reporting modest but noticeable performance improvements, especially in File Explorer and the built-in search function. A handful have reported fixes to some networking and Bluetooth issues. Over at InfoWorld, Woody Leonhard reports that "one bug that caused the WLAN AutoConfig service to crash randomly, bringing down Wi-Fi services in the process" may have been fixed. Woody also provides an interesting list of cumulative updates released since build 1511 first appeared that confirms my gut feeling that we'd been seeing these things at a better-than-once-a-week frequency:
In the five weeks since build 1511 appeared, I count six cumulative updates:

Version 1511 (OS Build 10586), released Nov. 12, is the first version 1511 — the one that raised the old RTM build 10240 version of Win10 to the November Update/Threshold 2 level
*  Cumulative Update 1, KB 3105211, Nov. 10, build 10586.3
*  Cumulative Update 2, KB 3118754, Nov. 18, build 10586.11
*  Cumulative Update 3, KB 3120677, Nov. 24, build 10586.14
*  Cumulative Update 4, KB 3116908, Dec. 2, build 10586.17
*  Cumulative Update 5, KB 3116900, Dec. 8, build 10586.29
*  Cumulative Update 6, KB 3124200, Dec. 17, build 10586.36
None of the other usual sources for good Windows 10 news and details (such as WinBeta.org and NeoWin.net) shed any further light on this cumulative update as yet. Stay tuned for more news on this, too!
---
December 16, 2015 3:56 PM
Windows 10
,
windows 10 upgrade
,
Windows 7
,
Windows 8.1
Users who haven't used the GWX Control Panel to remove the "Get Windows 10" stuff from Windows 7 or 8.1 systems are now faced with an interesting choice when that runtime facility triggers in the OS. Here's what it looks like: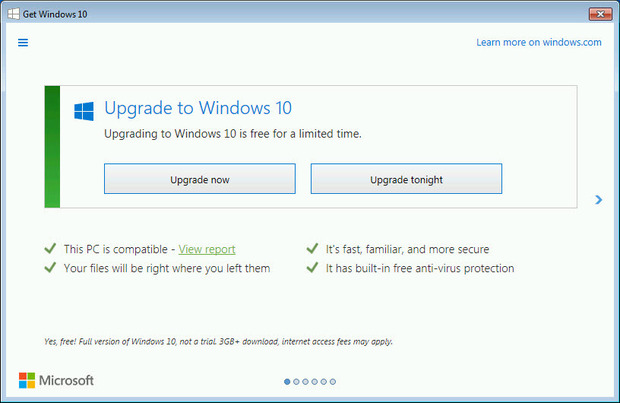 If you didn't know better, you'd have to believe what it says…
[Source: InfoWorld 12/15/2015]
To the untutored eye, it looks like the user MUST upgrade to Windows 10. If not immediately, then later on over the remains of the same day. But that's not really the case: one need only close the window without selecting either option (the "Alexandrine solution," from the story of the Gordian knot), and then make sure to uncheck the box for the Windows 10 upgrade option the next time one chooses to run Windows Update. No upgrade required, unless it's a matter of free and unfettered choice.
Of course, there's been another hue and cry about Microsoft's weasel ways in using all of its considerable wiles to move users up from their current older versions of Windows to Windows 10. InfoWorld's story does a pretty good job of detailing the skulduggery of which MS has been accused including installation of the GWX program dating back to April 2015, nagging from a balloon notification emerging from the system tray to inform users that the upgrade is ready to install, background downloads of the necessary upgrade files (a 3 to 5 GB load on the drive where the Download directory lives), and even accidental selection of the checkbox in Windows Update to fire off the upgrade in October.
I can understand why MS wants to move users up to its latest and greatest desktop OS, but I have a little more trouble understanding why they think it's necessary to badger, bludgeon, and bedazzle users into making that upgrade so forcibly. I'm still running 8.1 on a test system so I can try stuff out in that OS, and I have Windows 7 VMs at my disposal, so I've been there and done that. But I have also installed — and updated — the GWX Control Panel on all of those installations, both physical and virtual, 'cause I just got tired of dealing with it. Sigh.
---
December 14, 2015 12:42 PM
ISOs
,
WIMBoot
,
Windows 10
I've been reading about it for some time now on TenForums.com, but I finally decided to visit the MS TechBench site over the weekend.

For those who don't want to use the MS Media Creation Tool (and I'll explain some reasons why later in this post), this online resource provides download access to the following x86 and x64 versions of Windows 10:
+ Windows 10
+ Windows 10 KN (Korea, no Media Player, Music, Video, Voice Recorder or Skype)
+ Windows 10 N (Europe, ditto above)
+ Windows 10 Single Language
There's also a set of documentation to explain how the environment works, as well as the ISO files for the various Windows 10 versions one might wish to grab. Alas, once you've chosen a particular version from some particular PC, that's the only version you'll be able to see as long as the cookie for the TechBench page remains present. I was able to work through the options and selections by logging in from different browsers and PCs, but you'll want to be aware of this restriction.
Why Might Somebody Want a Windows 10 ISO?
There are several reasons for this, including wanting to be able to access the .wim file that the ISO includes (I spoke to a Windows-head over the weekend who maintains a current .wim by using DISM to add packages to that image for each new Windows update, to make sure he can always patch his running image using the /restorehealth option in DISM and that patched image for the /sources parameter), the ability to use Rufus or some other third-party tool to create a bootable installer USB flash drive, or the desire to customize the image to be installed before actually performing the installation (many tools are available to operate on .wim files, including DISM; I can't find any other than DISM that offer even minimal abilities to do likewise to .esd files).
So, if you need a windows image file (.wim) for Windows 10, TechBench is the place to go to get one (though you can also get them at MSDN if you've got a subscription with download rights to that file repository). One more thing: if you'd like to convert an .esd file to a .wim file (or vice-versa), the free Wim Converter utility from Winreducer.net is up to the task. Lots of ways to get around this .esd-vs-.wim situation, as it turns out…
[Note added 8/19/2016: TechBench has been closed down since just before the Anniversary Update came out on August 2. These days, the place to grab a current Windows 10 ISO file is from the Download Windows 10 Disc Image (ISO File) page in the Microsoft Software Download pages. I'm not sure why this has changed, but it looks like TechBench is no longer around.]
---
December 11, 2015 1:27 PM
Windows 10
,
Windows Deployment Services
,
Windows Update Management
I'm currently on tap to develop a Webinar for Spiceworks that's sponsored by Microsoft on a number of Windows 10 topics (I'll add an update to the end of this post when I find out the broadcast and/or access details for this event). First and possibly  foremost among those topics is "Windows as a Service," which caused me some initial confusion because this term is subject to multiple uses even by Microsoft itself. I'm pleased to report here that for most purposes and situations, WaaS refers to the new model for Windows updates in Windows 10. In Windows 10, the OS is subject to a "consistent stream of updates" that "is in alignment with the Microsoft cloud services strategy across Office 365, Azure, and Microsoft Dynamics CRM online" (both quotes come from the Microsoft US Partner Community blog in a 9/21/15 post from Diane Golshan entitled "Windows 10 Partner Community: Understanding Windows as a Service, and what it means to you as a partner").
The next statement in that blog post pretty much sums up the philosophy of WaaS, so I'll repeat it verbatim here, then tease it apart with some analysis:
By providing users with always-on updates, we can better protect their systems and let them take advantage of new user experiences, productivity tools, and hardware innovations as they are released by the Windows engineering team. This approach supports the four Windows 10 innovation for business promises:

Protection against modern security threats
Managed for continuous innovation
Increased productivity
Innovative devices for your business
In practice, this means that consumer-grade users get updates as they are pushed to Windows Update, within the constraints on their Windows Update settings. The idea is to make sure that vulnerabilities and exposures get patched ASAP, and that upgrades and enhancements to the OS can be pushed out incrementally, rather than waiting for Service Pack level updates (or even the next upcoming "Update Tuesday" on the current calendar). I'm not sure how this translates into increased productivity, but MS has been both aggressive and proactive about updating firmware for its own PC products (Surface, Surface Pro, and Surface book chief among them) and adding drivers for new devices and classes of devices on a pretty timely basis.
For WaaS, MS divides Windows devices into 3 classes with matching "branches" of the Windows as a Service codebase, namely personal ("Current Branch"), specialized systems ("Long Term Servicing Branch"), and business ("Current Branch for Business"). The key differentiator is how updates are staged and deployed to the devices in each class as described in this table from the afore-cited blog post: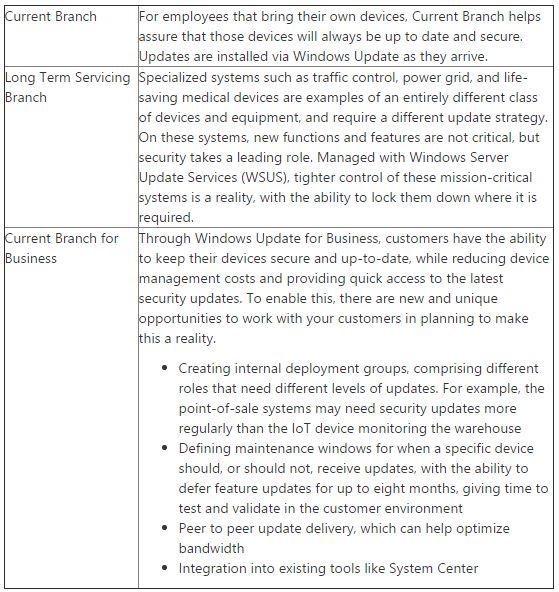 The more sensitive to updates Microsoft judges your environment to be, the longer you have to test them, and the more control over them.
Please note that ordinary, garden-variety users (consumers, small businesses, and so forth) all fall into the Current Branch model, too, where they get updates as soon as they hit WU, within the constraints established on their devices for when and how automatic updates get applied.
To conclude the US MS Partner blog post from which I've been drawing this description of WaaS, the company offers up some interesting (and free) online training resources on Windows 10, among other things. Of particular interest: Windows 10 Management Masters (6 weeks, 5 major topic areas, good stuff: partners and employees only), Getting Started with Windows 10 for IT Professionals (MVA, free to all, 8 modules, about 4 hours of training), and the Windows 10 Tech Center, a collection of resources, downloads, and more. See also the (free) video presentation entitled "Preparing Your Enterprise for Windows as a Service."
---
December 9, 2015 10:51 AM
Configuration management
,
System Center Configuration Manager
,
Windows 10
On December 8, 2015, Microsoft announced the release of a new version of its System Center Configuration Manager (the SCCM I used in the title of this post, for brevity's sake). There's some interesting stuff here, not least of which is that the product now explicitly references Windows 10, to the point of assuming Version 1511 as part of the product's identification. An SSCM Team Blog post labels the platform as "System Center Configuration Manager and Endpoint Protection (Version 1511)" for which trial (or licensed) versions are available for download from the  Microsoft Evaluation Center, MSDN, and/or the Volume Licensing Service Center. Here's a relevant graphic from the video included in that PR piece: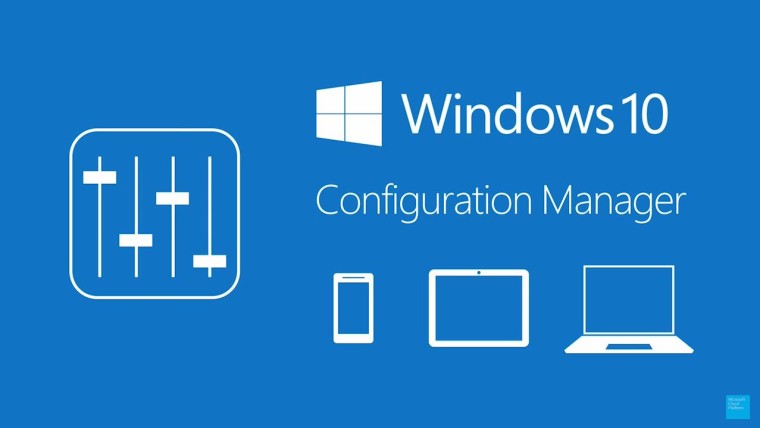 Lots of former functionality gets dropped from this release, as Windows 10 support gets added.
By far, the most interesting coverage of this latest version of SCCM appears in TechNet, under the heading of "What's new in System Center Configuration Manager," also updated on 12/8/2015. Here are some snippets from that page:
Starting with this release, SCCM drops the year or product identifier from its name, as was previously the case with versions such as Configuration Manager 2007 or System Center 2012 Configuration Manager. As the 1511 nomenclature in the current name, SCCM will now support "incremental in-product updates, also called update versions."
In-console updates for Configuration Manager will be used to install new update versions, to be released periodically, and will includes product updates and sometimes, "new features you can choose to use (or not use) in your deployment."
Service Connection Point replaces Microsoft Intune Connector.
Usage data about sites and infrastructure will be compiled and submitted to the MS cloud service by the service connection point. It is "required to enable Configuration Manager to download updates for your deployment that apply to the version of Configuration Manager you use."
Native support for Intel Active Management Technology (AMT) has been removed from Configuration Manager. Going forward, continuing with AMT will require using the Intel SCS Add-on for Microsoft System Center Configuration Manager. A complete list of removed and deprecated features for SCCM is available online, and includes dropping XP and Vista on the desktop, and Server 2003 and 2003 R2, along with various Mac OS X versions (10.6-10.8), Nokia Symbian Belle, and Windows CE 5.0-6.0.
A new task sequence to upgrade an OS from an upgrade package has been added, to upgrade PCs from Windows 7, 8 and 8.1 to Windows 10. A Windows PE peer cache has been added to minimize WAN traffic when deploying in branch office situations. Also, support for Windows as a Service is now a valid method for managing Windows in SCCM.
There are lots of new enhancements for application management in the latest SCCM version, including support for Universal Windows Platform (UWP) apps, installer-based apps, in-house iOS apps, and more.
For all the details, please visit the "What's New…" page.
---
December 7, 2015 8:19 AM
DISM
,
Windows 10
,
Windows Update Management
Later last Friday (12/4), MS fired off KB3122947, labeled "Update for Windows 10 Version 1511 for x64-based Systems." At first, I thought nothing of it, after getting it installed on a handful of PCs. But when I tried to update my Surface Pro 3, I encountered a repeated failure condition with error code 0x80070643. When I went looking for the manual update file to download and install by hand, I couldn't find one (still can't, in fact) but I did find something even more interesting. It turns out that the Deployment Image Servicing and Management command, aka DISM, also includes an add-package switch that lets admins target updates and install them directly and immediately. Here's the fix, as it applied to this update file: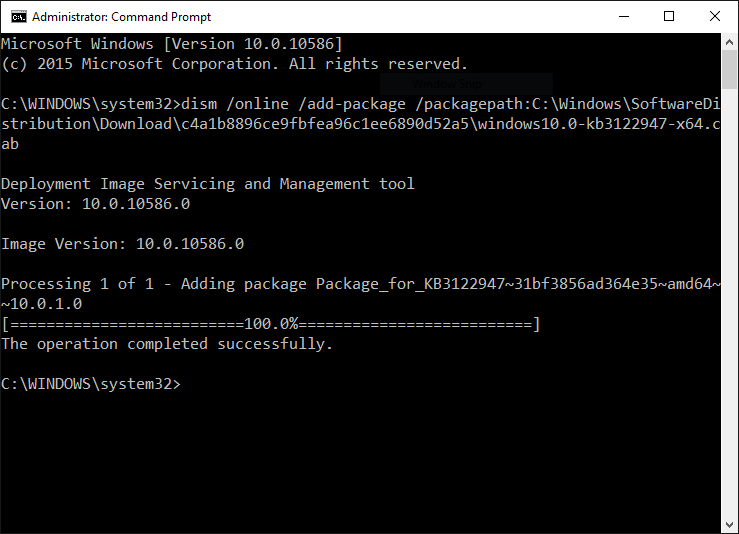 Turns out that if you know where to look for failed update install files, you can turn DISM loose on that task.
As the foregoing screen capture goes, the general syntax looks like this:
dism /online /add-package
/packagepath:%windir%\SoftwareDistribution
\Download\<dir-spec>\<pkg-spec>
The trick, of course is in finding the package file, which is relatively easy to do because it includes the KB article designator — KB3122947 in this case — as part of the filename. I used my search tool of choice (Search Everything) but you can simply use the built-in Windows Search facility through File Explorer if you prefer. Other than making sure to get the packagepath syntax (and content) correct, the process couldn't be simpler. And because WU generally leaves the files it downloads in the SoftwareDistribution folder hierarchy even if installation fails, there's no need to download a manual installer for balky updates ever again.
Sweet! I'm starting to think of DISM as something of a "Swiss Army Knife" of Windows maintenance and upkeep. Sooner or later, I'm going to have to pull all of the individual bits and pieces I've been documenting here in the blog into a more comprehensive reference. I just wish MS offered something more than a man-page type of reference for this increasingly excellent tool.
---
December 4, 2015 10:30 AM
DISM
,
Windows 10
,
Windows System Files
Every now and then, things happen in Windows-world that defy common sense, not to mention best practices. I've become a somewhat obsessive user of the system file checker (SFC) and the deployment image servicing and management (DISM) commands lately checking on the health and well-being of my system files (SFC) and image/component store (DISM). DISM works as sort of a backstop for SFC, so that when you can't manually repair corruption or issues that the file checker detects, you can use the /restorehealth option in DISM to repair those files programmatically — at least, most of the time.
In the wake of a recent Nvidia driver update (395.06) and the latest Cumulative Update to Windows 10 (KB3116908, for x64 systems, which takes the Build number up to 10586.17) these two tools have fallen out of step with one another. Here's a screenshot from one of my Nvidia-equipped PCs that shows the mismatch (I understand some AMD/Radeon drivers have also occasionally fallen prey to the same kind of thing, too):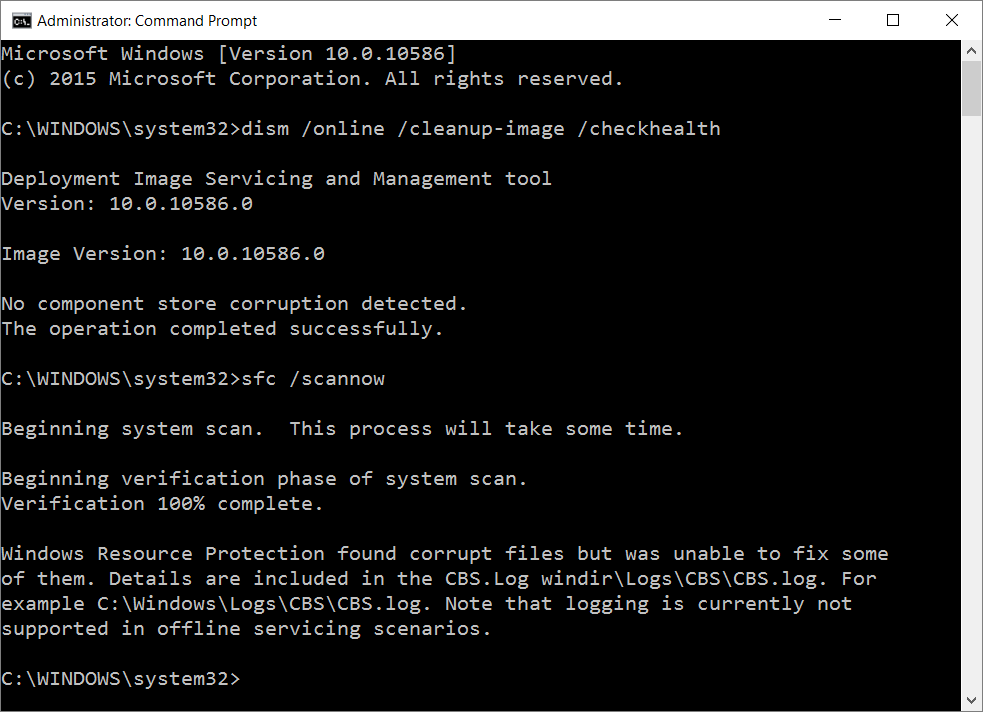 Ordinarily, if one finds problems, so does the other; not this time!
In reading up on this issue (links to two good discussions, one at TenForums.com, the other at the Nvidia forums are also worth following) I learned that there's a difference between the vendor version of opencl.dll that Nvidia wants to use (which ranges between 110 and 120KB in size, depending on recent driver versions) and the generic version of the same file that Microsoft provides (about 30K in size, which MS seems to insist on finding at the moment, even though best practice is to defer to manufacturer driver versions for that maker's own hardware). If you look at the CBS log file that SFC produces, you'll quickly see that all of its "corruption" complaints come from that single file in multiple locations, because it doesn't match what MS expects to find. Yet DISM reports the component store is OK, as the screencap shows.
I'm not sure exactly what to do next, and have to agree with a recent poster to TenForums that the best strategy is to "…wait for MS to fix their problem." In other words, "If it ain't broke, don't fix it" has to be the watchword here!
---
December 2, 2015 9:18 AM
Market trends
,
Windows 10
,
Windows desktop
A recent set of data from the US Government's Digital Analytics Program (aka DAP) shows that most of Windows 10's growth appears to come from users switching from Windows XP or Windows 7 to the new flagship desktop OS. In a recent story entitled "Windows 7 and XP are the biggest losers with Windows 10's rapid growth…," Paul Hill at Neowin.net posted a very nice table of figures extracted from their downloadable source data to show what's been up among the population of users visiting or using US Government websites sites over the course of 2015:

Numerically, Win10 is the biggest gainer for November, and Win7&XP are the biggest losers.
[Figure comes from afore-cited Neowin 11/29/15 story.]
Given that XP is only workable for those paying exorbitant post-end-of-life contract fees to MS (of which there is no shortage within some government branches and agencies), XP is clearly fading to black. That said, it continues to amaze me that an OS that hit end of life more than 18 months ago still registers so strongly on the radar. Please note that the percentages represent market share shifts, not percentages of the category/OS counts, so that you'd interpret the table to mean that Windows 7 is down by 7.0% ytd, and XP down by 2.1% ditto, while Windows 10 has gone from 0 to 12.4% over the same time period. Thus, the other items shown on the table account for the remaining 3.3% necessary to account of Windows 10's growth.
By way of comparison, take a look at my 11/27 blog, which reviews recent desktop OS marketshare figures from NetMarketShare.com (NMS). There are differences across the board from these two different sample populations:
Windows 7 stands at 55.71% on NMS, and 64.2% on DAP.
Windows XP stands at 11.68% on NMS, and only 3.7% on DAP.
Windows 8.1 stands at 10.68% on NMS, and 15.7% on DAP.
Windows 10 is at 7.94% on NMS, but 12.4% on DAP.
I could go on, but you get the idea: the breakdown of desktop OS still varies quite a bit, according to the composition of the sample population from which its drawn. But the foregoing table shows pretty clearly that other Windows OSes are trending downward (except perhaps for Windows 8.1), while Windows 10 is trending strongly upward. I still don't see enough momentum to get Windows 10 to the 1 Billion user mark by 2017 as per Microsoft's stated wish, but it could be a closer call than I had originally thought. Time will surely tell!
---
November 30, 2015 9:42 AM
Bios setup
,
USB keyboard
,
Windows 10
As is often the case on a holiday weekend, I like to tinker with my PCs. This Thanksgiving weekend, I found myself wanting to access the BIOS on my production PC with its Gigabyte X77X-UD3H motherboard. But instead of switching over to the BIOS when I struck the DEL key during pre-Windows startup, the system stubbornly persisted in ignoring that input and booting into Windows nevertheless.
As it turns out, something about my Comfort Curve 4000 keyboard was preventing me from accessing the BIOS during boot-up.
Some quick online research was in order, and by searching on "unable to access BIOS" and the motherboard ID, I quickly learned that one or two factors were the most likely culprits:
1. The USB port I was using for the keyboard was not being read during boot-up
2. The keyboard I was using was too slow to get the keypress data to the UEFI shell during initial boot-up
I'm still not entirely sure which of those two causes was at fault, because I simply plugged a different keyboard into one of the front-panel USB 2.0 ports for this PC, knowing that the back-panel USB 3 stuff could easily be coming from an add-on card, and it being too much of a PITA to pull the machine all the way out of the baker's rack in which it sits to check out that possibility.
At any rate, the new keyboard/front panel USB connection did the trick, and on the next reboot I was able to access my BIOS settings with no further difficulties, though I did also have to switch the Logitech wireless receiver that talks to my M325 mouse to a front-panel USB port for it to be recognized as well. Temporary set-up now working, I made the changes I needed to make to the BIOS, and happily reverted back to the old configuration on the next restart. My current favorite keyboard is a Microsoft Comfort Curve 4000, and the mouse usually plugs into a USB 3.0 port on the PC's back panel right next to the port where that keyboard plugs in. The old set-up still works just fine — as long as I don't need to access that PC's BIOS.
It's funny how PCs have their little quirks and foibles, and even funnier that Windows or the hardware has a way of reminding us of such things from time to time. Lessons now learned about troubleshooting "unable to access BIOS" for this machine, it's back to post-holiday work for me!
---