---
January 9, 2017 1:00 PM
Troubleshooting
,
Windows 10
Here's a Win10 troubleshooting alternative when attempting fixes: image repair or an in-place upgrade install. This insight has bubbled up as I've worked with the TenForums community over the past six months and more. Fixing many Windows 10 problems takes hours and hours. But using sfc and dism for file and image repairs seldom takes more than an hour and fixes many problems. Likewise, you can always perform an in-place upgrade using the current version of Win10. This replaces all Windows files but leaves applications and other files alone. IMO, these two strategies can fix most serious Windows issues.
All of this insight urges a new Win10 fix strategy: any time troubleshooting comes up, consider the time involved. If it looks like it could take more than an hour, consider one or both alternatives instead. Use the sfc/dism strategy when running dism /online /cleanup-image /checkhealth  calls for repairs. This command completes in under a minute on most PCs, for a quick call on these tools. Use in-place upgrade/repair install when research reveals nasty or intractable problems, or when a PC won't boot or run properly.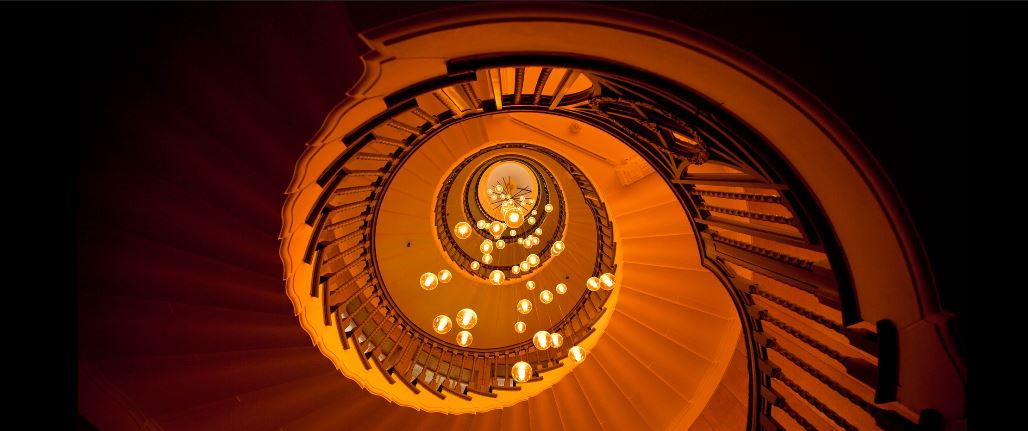 Don't let troubleshooting run you around in circles!
[Source: Microsoft Lockscreen/Wallpaper Images]
Beyond the Win10 Troubleshooting Alternative
But wait, there's more! If you face virus or malware issues, wiping affected drives and restoring a (clean) backup makes most sense. Clean install is the final solution for systems unfixable through other methods. Also, if you've got image(s) for (re)install that include all applications users need, jump this fix to the head of the queue. There are very few problems a clean install with new user credentials added won't fix.
From personal experience, I can report that the thrill of chasing down and resolving a problem can cloud one's judgement. Consider your options carefully before you start down the troubleshooting trail. Then, should you take that path, keep an eye on the clock as you go. Once you've spent more than an hour troubleshooting anything, my suggested alternatives will look increasingly attractive as the clock keeps ticking.
Here are some terrific TenForums tutorials to help with various elements of this process:
SFC Command – Run in Windows 10
DISM – Repair Windows 10 Image
Repair Install Windows 10 with an In-place Upgrade
Windows 10 – Clean Install
Enjoy!
January 6, 2017 2:09 PM
Command line
,
Windows 10
,
Windows PowerShell
I reported here back on November 28, 2016, that MS swapped the command line prompt for PowerShell. This affects the Start and File Explorer context menus in Insider Preview build 14971. This change continues in recent builds as well. However, there are well-documented fixes to restore cmd.exe throughout the OS. But recently certain sources suggest that cmd.exe is doomed. That's untrue, says Microsoft Senior Program Manager Rich Turner in an MS Developer blog post. Published January 4, it's entitled "Rumors of Cmd's death have been greatly exaggerated." Thus "CMD.exe NOT going away in Win10" is a fair and truthful claim. This tagline from the blog post says it more emphatically:

How's this for emphasis?
Why Say "CMD.exe NOT Going Away in Win10?"
To explain his emphatic rejection, Turner offers the following points (reproduced verbatim from his blog post):
Much of the automated system that builds and tests Windows itself is a collection of many Cmd scripts that have been
created over many years, without which we couldn't build Windows itself!
Cmd is one of the most frequently run executables on Windows with a similar number of daily launches as File Explorer,
Edge and Internet Explorer!
Many of our customers and partners are totally dependent on Cmd, and all it's quirks, for their companies' existence!
I hope this clarification renders this tempest in a teapot moot. Anyway, it's hard to assert that CMD.exe is on its way out, in the face of the preceding claims. And FWIW, my own testing confirms that what works at the command line in Windows 10 (mostly) works completely unaltered inside PowerShell equally well. So please: let's drop this issue and tackle another controversy instead! For example, I'm ready for a frank and candid discussion about the huge number of reports of freezing and instability in Window 10's Current Branch release. What about you?
---
January 4, 2017 11:35 AM
Network Scanners
,
Windows 10
In the song Hey You, Pink Floyd raises a question that all network admins have surely uttered. That question goes: "Is there anybody out there?" While its nuances aren't as dark for networks as in the song, this question is one that occasionally demands an answer. To that end, some kind of network scanning tool helps. I just found a good, free tool from Northwest Performance Software, well-known vendors of NetScanTools Pro. They've got a free subset of those selfsame tools called NetScanTools Basic Edition (Zip file download). It includes a handy Ping Sweep tool named Ping Scanner that does a nice job on LANs. Here's a screencap: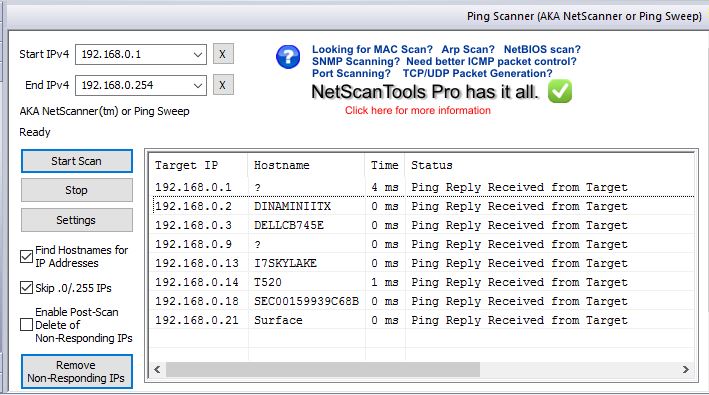 The "remove non-responding IPs" button is what makes this tool great.
What Makes This Handy PING Sweep Tool Special?
As the preceding screen capture's caption intimates, the tool includes a button (lower left corner) of particular interest. It's labeled "Remove Non-Responding IPs." What it does is to drop listings for all inactive addresses in the range that gets scanned from the resulting output. That means the only listings shown are for IP addresses actually active on the network when the scan occurred.
The two question mark items fall at 192.168.0.1 and 192.168.0.9. Savvy readers already know that the first address is also the first usable address in that Class C Private Address subnet. It represents the router/gateway device that provides Internet access, DHCP, access controls, and more for the LAN. 192.168.0.9 is my son's Xbox which doesn't identify itself with a hostname. But it's really the absence of all the empty addresses that makes the tool valuable. One sees only what's out there, and nothing else, with no empty slots to skip over.
I like this very much, and so will you. Other tools in this program provide information about DNS, ping and traceroute, whois, and more. Grab yourself a copy today, and try it out.
---
January 2, 2017 5:19 PM
Windows 10
,
Windows Update Management
MS has included a built-in update troubleshooter for Windows 10 for some time now. But there's a new WU troubleshooter to try, if that tool fails or falters. It's available through an MS Support page entitled "Fix Windows Update errors." There, you can download a file named latestwu.diagcab to a target PC. This software is device independent, so you could easily carry it on a USB flash drive for field use. I tried it on a handful of Windows 10 PCs and it worked just fine on all of them. Here's what it looks like: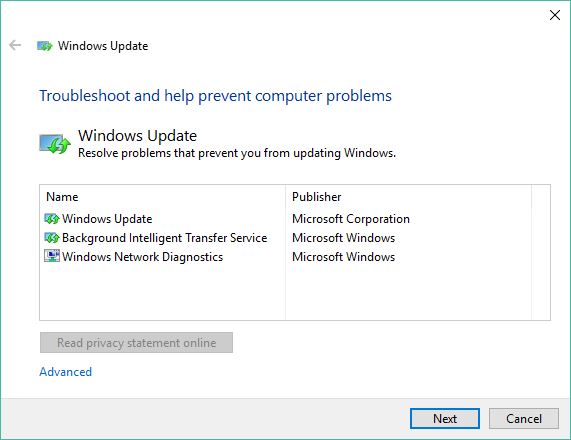 The name of the download, appropriately enough, is latestwu.diagcab
What's Up with the New WU Troubleshooter?
I wish I could say definitively. Those already familiar with the built-in tool will immediately recognize that the new, downloadable version looks exactly like the older, built-in version. The release date for the new one appears on MS Web pages dated 12/15/2016. It's identified as revision 37, with an ondisk file size of 161 KB. Thus, admins should run the new version manually rather than using the Control Panel Troubleshooting widget.
I'm guessing this situation is temporary. It should show up in some future Windows 10 update as a Control Panel/Troubleshooting item. However, this may not happen until the next major version of Windows 10 comes along in April 2017 though. Therefore, you might want keep this in your admin toolkit until then!
---
December 29, 2016 12:36 PM
Blue Screen of Death
,
Windows 10
About mid December, Windows Insider boss Dona Sarkar nixed release of further Insider Preview builds in 2016. Even so, build 14997 leaked via BetaArchive on 12/24. It's apparently chock-full of changes, including an amusing shift in the color palette. When Windows 10 crashes in 14997, instead of showing a blue screen, the background is now green. Thus, the acronym is no longer BSOD for "blue screen of death" but rather, GSOD for "green screen of death." BSOD meet GSOD!

Neowin reports speculations that the color change makes it easier to distinguish Insider Preview crashes from production Win10 versions.
When BSOD Meets GSOD, What Happens Next?
Apparently, the color difference is supposed to help MS support staff quickly determine whether problems come from Insider or production OS versions. Though there's no official word on this from MS yet, most insiders believe that the change is purely cosmetic. After living with BSODs since the 1990s, it's amusing and intriguing to see such changes come along. Who knows what other changes 14997 — or the next real Insider Preview build — will bring? We'll have to wait until after New Year's to find out.
Rank-and-file users probably won't notice anything different. Hopefully, it's because they will see no "screens of death" of any kind. But if they do see any, they'll remain true-blue for the foreseeable future. Happy New Year!
---
December 26, 2016 12:48 PM
background
,
Wallpaper
,
Windows 10
In keeping with my lighter topics for the holiday break, I'm looking around for new desktop themes. Because I use two 27″ monitors on my production PC, I need big images that span both displays. As it turns out, this means I need panoramic desktop themes for Windows 10. Good thing there are plenty around, including a big batch from Microsoft. Their themes pages include an entry labeled Panoramic (dual monitor). Generally, MS offers fabulous images for its various desktop themes, and the panoramas are particularly fetching. In fact, the panoramic page includes 17 tasty offerings:
I've been using the Forest Panoramas on my desktop for almost a year now, and will use something else instead with the New Year. At the moment, the New Zealand (NZ) panoramas top my list of candidates. We'll see what strikes next weekend when the calendar flips over!

I had to shrink this from its 3840×1080 resolution to get it to fit here, but it's still a nice image.
Non-Microsoft Panoramic Desktop Themes
There's more out there than Microsoft when it comes to desktop themes. There's an item at hongkiat.com called 70 Beautiful Dual Monitors Desktop Wallpapers that's worth checking out. Appstorm has a similar collection of 60 items, with different images. But the king of them all is dmb, or dual monitor backgrounds, where you'll find hundreds (if not thousands) of such images. You can also easily create your own dual monitor desktop theme. Simply put all your chosen dual monitor/panoramic images in the same folder. Then, pick the Slideshow option in the Background pull-down in the Personalize menu in Settings. Given a big collection of such images, you can craft a theme of your own!
---
December 23, 2016 3:45 PM
Games
,
Windows 10
For folks who've been at the Windows game for a while, it's surprising what can cause nostalgia amidst that crew. In my case moving from Windows 7 to 8 and beyond meant leaving the old games folder behind. It also meant giving up some favorite time-wasters that included FreeCell, Hearts, Solitaire, and so forth. But thanks to my friend and colleague Sergey Tkachenko and his WinAero.com website, that need not be the case. You, too, can grab this free Win7 games download for yourself. In fact, here's a screen capture from my very own Win10 menus (themselves courtesy of Start10):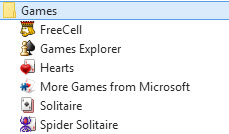 I didn't elect to install them all, but you can if you want to. This list shows my personal faves.
Where to Get the Free Win7 Games Download?
Consider this a holiday gift of information, if not also of the fun and diversion you can get from installing and playing these old warhorses. Download them from WinAero.com, then unpack the ZIP file into a folder of your choosing. After that, run the exe file and you'll be able to pick which items you wish to install (the default, as shown, is to pick 'em all):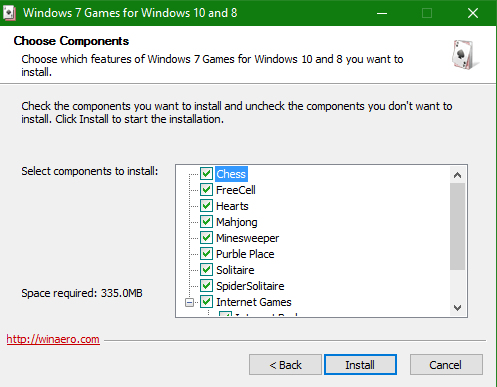 By default, installer picks everything, but you can uncheck your unfaves.
Give yourself a small treat for the holidays this year. If you don't already have these games installed on your Win10 PC(s), that's quick and easy to fix. Enjoy!
---
December 21, 2016 5:15 PM
Malware prevention
,
Scan for malware
,
Windows 10
Neither business nor home users should run PCs without malware or endpoint protection in place. But what one package misses another might still find, so a periodic secondary scan is also wise. That's why savvy Windows admins usually install or access secondary malware scanners at regular intervals on client PCs. Just as there is a myriad of products that offer real-time protection against malware of all kinds, so are a large number of secondary scanners. Here is my personal list of go-to tools in this category:
Bitdefender RescueCD (create or use a bootable malware repair utility)
Crystal Security (cloud-based security scanner comes in installer and portable forms)
dBug 2.0 (kills all non-essential Windows processes so malware scanners/repair tools can run)
Dr.Web CureIt! (rootkit removal)
Farbar Recovery Scan Tool (FRST, examines Windows runtime environment to seek out malware, works from PE bootable USB)
Kaspersky TDSSKiller (rootkit removal tool)
Malwarebytes AdwCleaner (adware/PUP removal), Antimalware (MBAM scanning-only tool), Antiexploit (beta)
Microsoft Malicious Software Removal Tool (MSRT, also released monthly through Windows Update)
Panda Cloud Cleaner (cloud-based security scanner)
Trend Micro Housecall (general security scanner)
Trend Micro Rescue Disk (bootable disk from which to run malware scans and repairs)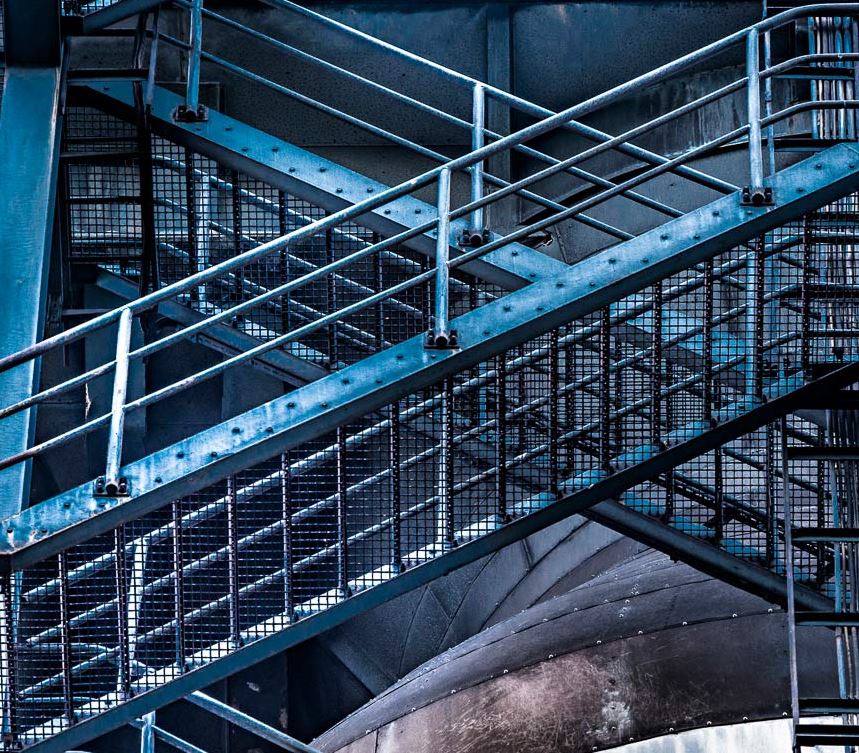 A periodic secondary scan for malware helps promote peace of mind.
Using Secondary Malware Scanners Properly
A secondary scanner offers information, not protection. Though it may also include malware removal amidst its capabilities, a scanner does not offer real-time antimalware protection. Thus admins should use these tools simply to make sure that primary real-time protection isn't missing anything. Scheduling a periodic task at weekly or monthly interval to run a general-purpose scanner will suffice. Tools in this category on the preceding list include Crystal Security, MSRT, Cloud Cleaner and Housecall. Other, more specialized tools are best held in reserve, and trotted out when a specific type or cause for infection mandates their use. A bootable rescue tool (Bitdefender Rescue CD, FRST properly installed, or Trend Micro Rescue Disk) comes in handy when a system won't boot, or when booting poses a risk to disk contents.
Keep this thought in mind as you walk the antimalware recovery trail: it may be faster and easier to restore a backup instead. On my systems I can restore a backup in 3 to 9 minutes (I use Macrium Reflect), and it might take another 5 minutes to recover recent files from File History and incremental backups. If you spend more than an hour trying to recover a PC from a virus or other malware issue, you should be thinking about switching to backup recovery instead.
More Resources for Secondary Malware Scanners
There are hundreds of alternate tools for malware scanning, recovery, and repair. You'll find tons of additional resources on this topic at MajorGeeks or Gizmo's Freeware. At MajorGeeks, check out these pages: Malware removal & repair, ransomware removal, and rootkit removal. At Gizmo's freeware, the Security Scanners page will help you find your way into this topic area, and identify active, capable user forums where professionals can obtain useful advice and instructions on dealing with specific infections and problems.
---
December 19, 2016 1:10 PM
Hard Drive Cloning
,
UEFI
,
Windows 10
Swapping out disk drives happens on Windows systems for various reasons. Driving factors can include improved performance (HD → SSD), added capacity (smaller → larger disk), or drive replacement (damaged or failing disk → healthy disk). Whatever that reason might be, a typical operation involved in switching disks is called "drive cloning." This activity involves making a more-or-less complete and exact copy on one disk from another. Here's a primer or some "Win10 Drive cloning 101" coverage to shed light on that process.
Win10 Drive Cloning 101: The Easy Case of Data Drives
There's little danger or difficulty involved in cloning a data drive for Windows 10 (or other modern Windows versions). This describes a drive whose role involves only storing information for OS access and use. It's not involved in booting or running the OS, which require special considerations. One need only use a backup or cloning utility to clone a source drive on a target of one's choosing. I've had good luck with a range of such programs. These include free versions of Macrium Reflect and AOMEI Backupper, and paid versions of Acronis True Image and Paragon Backup and Recovery. In fact, MajorGeeks has a whole page of "drive cloning and imaging utilities" from which one can choose.
Win10 Drive Cloning 101: The Harder Case of Boot/System Drives
Things get more interesting when the source (and target) drives boot a PC, and supply its OS. Old-fashioned BIOS PCs work fine with simple drive cloning. But newer (and more common/modern) PCs boot using the Unified Extensible Firmware Interface (or UEFI). This environment records a globally unique identifier (GUID) for each boot drive in nonvolatile memory, and checks that ID during the boot process. If the value discovered doesn't match the value recorded, the system won't boot. Thus one must manage UEFI boot data as part of the drive cloning process.
Numerous tools and methods make this task possible. One approach means using a specialized tool like Paragon's Migrate OS to SSD. (This web page also includes a nice explanation of the nitty-gritty details). Another approach is to clone the drive, and then to undertake boot repairs. First, disconnect all drives except the boot drive. Second, boot the system from a recovery or repair flash drive. Third, boot into the Advanced options for OS repair, and run the Startup Repair options. This should rewrite the Boot Configuration Data (BCD) to reflect the GUID for the newly-provided boot disk. If that fails, consult this Microsoft Developer Note "Adding Boot Entries" to use BCDedit at the command line for manual repairs instead. (The "BCEDit /set" reference is also helpful when working with this utility at the command line.)
There's another raft of considerations involved in switching from legacy BIOS to UEFI when swapping a boot/system drive. See the TechNet article "Converting Windows BIOS Installation to UEFI" for a broad introduction (the article focuses on Windows 7 and 8 versions, but also applies to Windows 10 except that partition 1 should be 450 MB, and partition 2 — the EFI partition — 100 MB in size; see also UEFI/GPT-based hard drive partitions for layout data).
---
December 16, 2016 10:24 AM
Device drivers
,
USB devices
,
Windows 10
If you've followed this blog lately, you know I'm a big fan of TenForums.com. This Windows 10 self-help site is a huge source of news, information, and tools referrals. I hit paydirt yesterday when I found a mention that German website Win-Raid offers updated USB 3.0/3.1 Win10 drivers. Actually, Win-Raid offers quite a bit more than that. Its forums also include AHCI/RAID, NVMe, Intel Chipsets, and more. The site's curator, Fernando (aka Dieter), has done a tremendous job in organizing this stuff. He's broken out the individual .cat, .inf, .dll and other files that go into collections so users can manually update drivers in DevMgr. Thus, users can pinpoint individual drivers and update them easily.
Taking Advantage: Win-Raid Offers Updated USB 3.0/3.1 Win10 Drivers
Interested admins and power users must follow forum instructions carefully. For USB 3.0/3.1 this starts with downloading the necessary files from the General: Storage Drivers forum. For the Intel USB 3.0 controllers on several of my systems, that meant first registering Win-Raid's certificate with my local certificate authorities. The download includes a .cmd file that automates the job if launched from an admin command prompt (or PowerShell environment). Next, comes a manual update for the generic Intel USB 3.0 eXtensible Host Controller. After that, likewise for the USB 3.0 Root hub. And for those with a USB 3.0 Switch device, there's a similar update (none of my systems includes such a beast, however). Here's a "before and after" screencap from a system with a Z87 (Intel 8 Series) chipset:

DevMgr USB device info: before Win-Raid install left; after right.
[Click image for full-size view]
Installing the Win-Raid drivers replaces the 1.0 (Microsoft) USB 3.0 eXtensible Host Controller with a newer version. The latter shows a file date of 8/18/2016 on the Driver tab/Properties window, instead of a 2013 date. Ditto for the root hub. Better than new, however, is those drivers' stability and performance. Both offer improvements over the default items. Sure you must jump through some hoops during the install process, but the results are worthwhile. Check it out!
---