---
January 22, 2016 10:53 AM
In case you missed the news, MS has issued a recall on the power cords from all Surface Pro, Surface Pro 2, and Surface Pro 3 models sold before March 15, 2015. As the owner of a Surface Pro 3 purchased on 3/14/2014 — according to my online warranty info for the device — I'm entitled to claim a replacement, as are others who own Surface Pro machines of the proper vintage.
Always glad to avoid potential hardware troubles or failure, I visited the "Microsoft AC power cord recall…" web page to request my replacement unit. To complete that process, I had to first sign into my Microsoft account, verify my ship-to information, select my Surface Pro 3 device by serial number, and then submit the replacement request. The whole shebang took less than a minute to complete, and didn't require me to jump through any unduly unpleasant hoops. One must, of course, have registered all Surface Pro units beforehand to make it this simple, or register all such units before requested cord replacements. For those who must do this for multiple Surface Pro units, as in many businesses where IT will request them en masse, it's a good idea to print out a list of their serial numbers in advance, because that's the identifier that MS uses to distinguish among such units. And alas, AFAIK, a separate replacement request must be submitted for each affected Surface Pro unit on a one-off basis.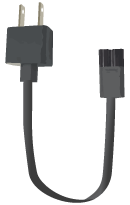 Here's the culprit, which apparently suffers from shorting potential if the cord itself is tightly wound or sharply kinked.
I hadn't noticed any signs of trouble with my power cord, but then again, I mostly use the AC cord that plugs into the Sruface Pro 3's dock enclosure anyway. It is not subject to the same recall (nor would one need to mess with its power cord much anyway, under ordinary circumstances). That said, it's nice to benefit from Microsoft doing things right, and making it easy for its affected customers to participate in a recall.
January 20, 2016 10:46 AM
Enterprise Windows Computing
,
Windows 10
,
Windows OS Migration
Wow! Has there been a lot of Windows 10 action at the enterprise lately, or what? The Internet has been abuzz with everything from rants to raves for enterprises interested in — or already piloting or deploying — Windows 10. In fact, I can't help but see something of a "stick and carrot" approach emerging from Microsoft in making the case for Windows 10 to its all-important enterprise user base.
On the carrot side, there's been some interesting coverage of enterprise adoptions of Windows 10 that are worth researching further for interested parties. On January 12, Terry Myerson, MS's EVP for the company's Windows and Devices Group posted an item entitled "Windows 10 Embracing Silicon Innovation" to the Windows Experience blog. It actually speaks to both sides of a carrot-and-stick dynamic where enterprise adoption of Windows 10 is concerned.
Walk Softly, But Carry a Big…
There's little difficulty seeing the stick side of things in this statement regarding upcoming chips and chipsets:
Going forward, as new silicon generations are introduced, they will require the latest Windows platform at that time for support. This enables us to focus on deep integration between Windows and the silicon, while maintaining maximum reliability and compatibility with previous generations of platform and silicon. For example, Windows 10 will be the only supported Windows platform on Intel's upcoming "Kaby Lake" silicon, Qualcomm's upcoming "8996" silicon, and AMD's upcoming "Bristol Ridge" silicon.
I don't think it's unfair to characterize this statement as equivalent to "If you want the latest and greatest new circuitry, you're going to have to run Windows 10 thereupon." I can't help but see this as a way for Microsoft to limit its need to develop multiple versions of device drivers — particularly at the device class level, where it often takes the lead in creating driver frameworks that manufacturers can then customize and optimize for their particular device offerings — or at least to test those device drivers on "current" (i.e. mainstream supported) operating systems. I have no trouble understanding why they want to do this, but I also have no trouble understanding why I surely won't be the only one to see the stick in this statement, particularly amidst the enterprise audience. Ditto for Myerson's later statement in the same blog post that Skylake support for Windows 8.1 and 7 will apply to "devices on the supported list" until July, 2017, after which only the most critical security updates will be addressed for those configurations…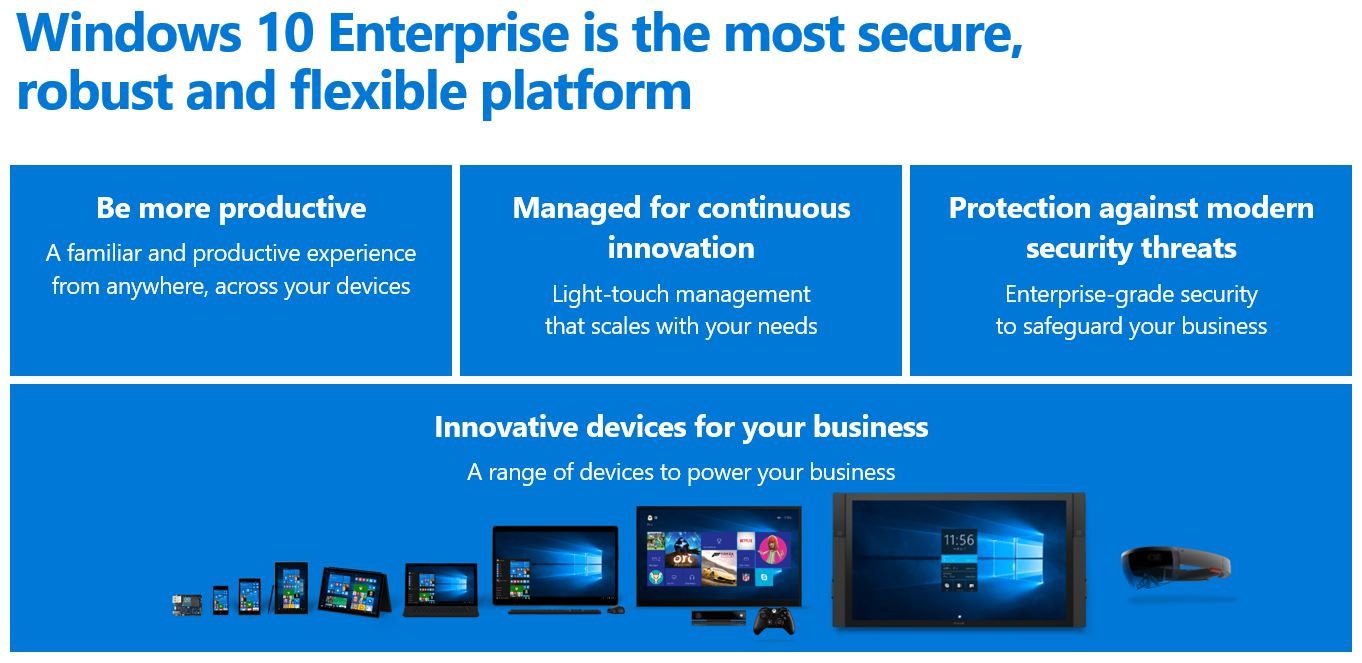 If you read carefully here, both carrot and stick are evident in this MS slide.
Carrots Help One See Better in the Dark
In the same blog post, Myerson also reports on Windows 10 action in its enterprise customer base, "with more than 76% of our enterprise customers in active pilots and over 22 million devices running Windows 10 across enterprise and education customers." Quotes from Kimberly-Clark, the Australian Government's Department of Human Services, and NASCAR Information services touting improved security, speedy deployment, and identity management follow. MS is doing everything it can do position Windows 10 as a useful and productive desktop OS for business use, and pulling out all the stops in getting its message out.
In the end, it's sometimes hard to tell which of the carrot and the stick proves the most powerful inducement to change. It's clear that MS understands it must use all the means at its disposal to move enterprises forward onto Windows 10, whether lured by anticipation of improved security and capability, or forced by the inexorable forward move onto the latest silicon platforms.
---
January 18, 2016 12:42 PM
WaaS
,
Windows 10
Thanks to a recent story on WinSuperSite, a positive and powerful benefit of Windows 10's new "Windows as a Service" posture is now evident. Because the Windows Update stream includes regular Cumulative Updates –they've occurred once or twice monthly, since the release of Build 10240 in July, 2015 — the process of catching Windows up from a clean install involves much, much less time and effort than for either Windows 7 or Windows 8.1.
In his 1/18/16 story entitled "Windows Updates versus Cumulative Updates," Richard Hay explains what he observed in updating all of the virtual machines he uses for testing, which currently includes VMs for Windows 10, Windows 8.1, Windows 7, and even Windows XP. Omitting the totally obsolete outlier (XP), here's what he observed after creating new VMs for each of those (newer) operating systems:
The Windows 7 VM needed over 50 items from Windows Update to be installed to achieve currency, for  VM with a "freshness date" of July 2015 (the same time that Windows 10 was released).
The Windows 8.1 VM needed over 170 items from WU to do likewise.
The Windows 10 VM only needed the latest Cumulative Update (released last Tuesday, 1/12) plus other updates from that day to achieve currency (under half-a-dozen)
Extrapolating from Hays' observations, and my own understanding of how WU works, in general this means that catching up a clean install of Windows 10 at any given moment will require applying only the most recent CU plus whatever other updates were released along with it, and any that have been released since that date. My best guess is that because CUs are released at least monthly these days, that the total number of updates for Windows 10 that would be required under any circumstances would seldom top one dozen. That's a nice improvement over the 50-plus updates that Windows 7 requires for an image current as of July 2015, and a massive improvement over the 170-plus required for Windows 8.1.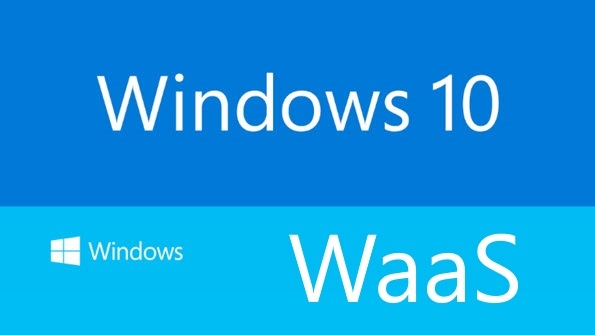 Windows as a Service offers at least one powerful benefit: faster clean installs.
[Image Source: Supersite for Windows, 7/17/15.]
Who knows: maybe there really is something positive to the whole "Windows as a Service" thing, after all? IMO, this is a pure and unalloyed benefit of the new streaming updates approach inherent in that implementation. Even for business users, who probably won't be on the Current Branch version of the OS, this benefit still adheres, because their branch ("Current Branch for Business") will also be easy to make current as of its most recent Cumulative Update as well. Ditto for Long-Term Servicing Branch, too, in fact.
---
January 15, 2016 9:49 AM
Control panel
,
Desktop Management
,
Windows 10
As part of the most recent "Patch Tuesday," MS pushed Cumulative Update KB3124263 out to all Current Branch users for Windows 10. As sometimes happens, this caused some settings in the runtime environment to be reset. Perforce, this meant reaching out to restore such tweaks as I find useful or necessary and in so doing, I was reminded of a tip I wanted to add to this blog a while back, but forgot to document.

The only way this shows up on the Windows desktop is if you tell File Explorer to show hidden files.
While I like to see hidden items in the Windows file system in the vast majority of instances — especially as they pertain to system files and other normally obscured aspects of the OS — I don't like my desktop cluttered up with irrelevant icons, either. Selecting the "Show hidden files, folders, and drives" option in the File Explorer Options widget in Control Panel applies that policy everywhere, which means the display shown above here (with two instances of "desktop.ini" on my personal desktop) is what happens when that selection is made.
But for those who'd like to tidy those items away, including me, there's a quick and simple trick to hide them from view. In File Explorer, navigate to the Desktop (I simply select the Desktop entry in the left-hand pane beneath the "This PC" entry), then click the View tab at the upper left. If you simply uncheck the "Hidden items" checkbox in the "Show/hide" area of the ribbon UI at the top, desktop.ini will no longer appear on the desktop.
I'd also wondered for some time why I kept seeing two instances of desktop.ini appear. Checking the Details tab data after right-clicking the icons, then selecting Properties, I learned that one of those items belongs to the current logged-in user account, while the other comes from the Public folder that applies to all user accounts. Using this technique happily hides both of those entries.
Enjoy!
---
January 14, 2016 2:19 PM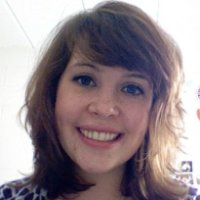 Profile: Margaret Jones
Windows 10
When I started working on SearchEnterpriseDesktop, I thought it would be easy. I was wrong.
The information that IT administrators need about Windows isn't always easy to find—and it's often difficult to digest. There are so many versions and editions of the OS, each with its own quirks, and every organization's deployment is unique. As a result, Windows admins have some really important questions, especially when it comes to Windows 10: Is it really free? How do I get it? Should I upgrade? What do I need to know before I migrate? And how the heck do I get off Windows XP?
For starters, only some versions of Windows 7 and 8.1 are eligible for the free upgrade, and there are a few steps in the download process that might seem a little foreign. Getting continued updates from Microsoft is different in Windows 10, too. Instead of the monthly Patch Tuesdays of the past, smaller and more frequent fixes and feature updates will come down the pike. And as for the question of getting off Windows XP, the answer is simple, but it's not one admins will necessarily want to hear: Get ready for a clean install.
Download this three-part handbook to get even more answers and learn about the shiny new Windows 10 operating system.
---
January 13, 2016 11:47 AM
Reading over the recent forum posts at Spiceworks this morning, a thread entitled "Windows 10 reinstalls after July 2016?" caught my eye. Inquiring readers want to know when the automatic key recognition from an earlier Windows 7 or Windows 8 installation on revamped Windows 10 hardware will quit working. In other words, how much does the hardware in a system have to change before it is no longer recognized as the same computer that was upgraded? In post 17 in the thread, an MS employee named Chris Le Texier provides a pretty definitive answer.
Anything up to, but not including, a motherboard change should still permit Windows 10 to be reinstalled on an upgrade key.
Le Texier goes on to cite a passage from the Windows OEM licensing FAQ to support his position, including the kind of argument someone will have to make with Microsoft (namely, that the mobo was replaced to repair a defect if it is not identical to the original, as provided in the manufacturer's warranty) to re-activate that key, if necessary. Interestingly enough, this appears to indicate that when the warranty period ends, subsequent motherboard replacement will indeed require obtaining a new license, or burning another license from an organization's supply under some kind of volume licensing agreement.
Now we know!
---
January 11, 2016 10:14 AM
Windows 8
As of tomorrow, January 12, Windows 8.0 support comes to a close. Those who exam the Windows Product Lifecycle table might be inclined to think they have longer, based on this snapshot from that resource: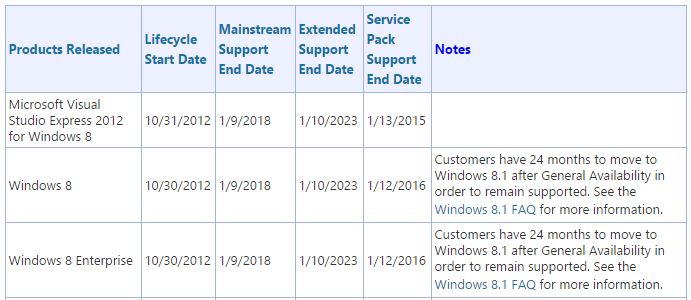 Dude! Table sez "Mainstream Support End Date is 1/9/2018?!?
There is, however, some applicable "fine print" that actually supersedes the date information shown in the table. The Windows 8.1 Support Lifecycle Policy FAQ includes this unambiguous counter-claim in its first paragraph: "With the General Availability of Windows 8.1, customers on Windows 8 have 2 years, until January 12, 2016, to move to Windows 8.1 in order to remain supported." As you can see from the "Notes" field in the Windows 8 entries above, MS is pretty clear about warning users on the need to move onto Windows 8.1 by 1/12/2016.
Yep, that's tomorrow, as Paul Thurrott stated in the recent article that reminded me of this little gotcha. What surprised me most in his story is that "over 41 million people [are] still using Windows 8.0 for some reason, as it's installed on about 2.75 percent of all PCs currently in use" (based on stats from a familiar source: NetMarketShare.com). Thus, those who haven't moved some of their users from 8.0 to 8.1 (or 10) should probably get going on that process, so as to minimize the window during which support is absent and security risks escalated thereby. Time to get a move on!
---
January 8, 2016 12:59 PM
Windows 10
,
windows intune
What many IT admins don't know is that Microsoft has a strong play to offer in the area of BYOD — namely, Microsoft Intune, which is now included as part of that company's Mobile Device Management (MDM) offering. Though Intune, enterprise IT can deliver application and device management via the cloud, or on-premises through integration with System Center Configuration Manager, using a single, coherent management console.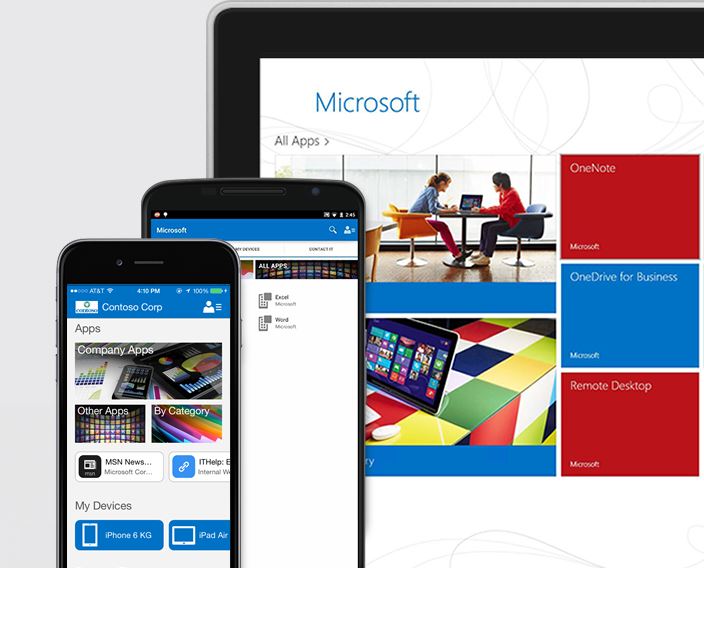 Intune lets businesses manage end-user devices including smartphones, tablets, and PCs (Android, iOS, and Windows included).
What's coming sometime this month? According to a recent NeoWin story, the upcoming optimizations will provide enhanced management capabilities for Windows 10, including improvements to support new native features such as the Health Attestation Service and Microsoft Passport. Perhaps equally significant, the update will enable admins to remotely wipe all data on Windows 10 desktops enrolled with the Intune service. Health Attestation relies on Trusted Platform Module (TPM) capabilities in laptops and PCs, and allows admins to check configuration trustworthiness (BitLocker status, malware check results, and so forth) before permitting users to access in-house resources. The upcoming update makes it possible for admins to enforce Attestation Service compliance on applicable devices, and to view data from Intune as part of its ongoing service delivery.
In the same vein, the upcoming update also permits administrators to define and enforce policies for Microsoft's so-called "Passport for Work" feature, whereby admins can configure specific authentication methods that users must then employ to log into devices enrolled with Intune. Likewise, Android and iOS devices will get some Intune improvements, too — namely, the ability to configure the Smart Lock feature in Android 5 (Lollipop), and the ability of iOS users to select their own e-mail app, while continuing to send diagnostic reports via Intune (only the default app is currently supported).
According to MS, this update should be released sometime on or before January 14. See the Intune blog post (1/6/16) entitled "Coming Soon: Support for new Windows 10 features, Apple VPP for business, and more" for further information.
---
January 6, 2016 10:26 AM
market research
,
Windows 10
On Monday, January 4, Yusuf Mehdi posted that "Windows 10 [is] Now Active on over 200 Million Devices" to the Windows Experience blog. This not only ups the official count for Windows 10 installations, it also changes the basis upon which Microsoft publishes such counts. The last official count that MS announced was 110 million, and it occurred on October 6, at the Windows 10 Devices Event. But this count was based on the number of copies of the OS that had been downloaded by that date, and included technical previews downloaded through the Windows Insider program, as well as upgrades to Windows 7 and 8.1, as well as new licenses issued via OEM, enterprise (volume licensing), and retail sales.

Here's the headline from the "new count" post to the Windows Experience Blog on 1/4.
Now the basis for counting is somewhat different. The latest count is based on "active users," which means it counts only unique instances of Windows 10 encountered as running and in use via MS telemetry. This is indeed a much more accurate and rational basis for counting, because it's based on running instances of the OS rather than a count of downloads of that same OS (which may or may not actually be running anywhere, and may instead be sitting on a drive somewhere not yet installed or in use).
In the same blog post, Mehdi also shared some other interesting usage and uptake statistics about Windows 10, including the following items (summarized from that content, see original for his precise wording):
More than 40% of new Windows 10 devices have become active since Black Friday (11/27/2015).
According to MS, Win10 is "on the fastest growth trajectory of Windows … ever" and is at 140% of Windows 7 and 400% of Windows 8 at the same point in time (3 months) after RTM.
Customers are showing an increasing preference for Win10 on the PCs they're buying.
Enterprise and education customers are also starting to get involved with Win10, with 22 million devices running Win10 among enterprise and education customers, and 76% of enterprises now actively piloting Win10 deployments.
According to other sources (Neowin) this latest number also includes some 30 million Xbox One consoles, now also running Windows 10 since a major update in late November 2015. I wish the company had provided more information to understand the faster uptake claims for Windows 10 vis-à-vis Windows 7 and 8 as well. Other sources (PCWorld) have recently reported that Windows 10 uptake has fallen behind that for Windows 7 at about five months past RTM, based on reported usage statistics from NetApplications. However, given the new basis for Microsoft's counts on telemetry pick-ups, the company may very well have an effective counter to such numbers, though the inclusion of Xbox One consoles makes the whole thing somewhat tricky. This should be an interesting development to follow throughout 2016 — especially in light of Mark Twain's famous epigram ("There are three kinds of lies: lies, damn lies, and statistics").
---
January 4, 2016 12:24 PM
Windows 10
,
Windows 7
,
Windows 8.1
,
Windows desktop
Thanks to the magic of Web analytics, and the generosity of TechTarget for sharing its data with me, I can report on — and link to — the ten most popular blog posts right here at Windows Enterprise Desktop for 2015. This data was provided to me in November, so it really only covers the first 11 months of the year, but is highly interesting nonetheless. Check it out (publication dates appear in monospaced font to the right of or below each linked page title):
| | |
| --- | --- |
| Page Title | Page Views |
| Windows 8.1 Administrivia: Accessing .mobi files with Kindle 3.24.14 | 3,652 |
| KB 3001652 Goes Bad on Update Tuesday 2.11.15 | 3,308 |
| Windows Enterprise Desktop (blog landing page: no date) | 2,941 |
| Refresh/Recimg.exe Gone Missing in Win10 6.1.15 | 2,426 |
| Auto-Update for KB2310138 Spreads Consternation for MSE Users 7.27.11 | 2,304 |
| Seismic Shift in Windows Punditsphere 1.17.15 | 1,936 |
| Factory Reset Offers Way Out for Surface Pro 3 Catch-22 8.10.15 | 1,593 |
| Windows ADK for 8.1 Now Available 9.25.13 | 1,544 |
| Windows 10 Free Upgrade for Win7, 8.1, Phone 8.1 Users for One Year After GA 1.21.15 | 1,519 |
| Goodbye CCleaner, Hello Wise Disk Cleaner? 8.27.14 | 1,348 |
There are lots of interesting things to note about this table, that speak to apparent uses for this blog's content, including:
Dates in red above indicate items dated from years prior to 2015. I have to presume that the only way people would get to this content would be via search engine. Given that 4 of the 10 items fall into this category, that says people read such items to solve current problems or address current topics despite their age (one dates as far back as 2011, much to my surprise).
Some of the biggest hits were what I'd call news items rather than tech items, including the KB item (number 3), the seismic shift item (which explains that Paul Thurrott has left WinSuperSite.com to start Thurrott.com), and the free upgrade item. I would have to guess these items' visit counts spiked close to their publication dates, as old news is usually not very interesting news.
I can help but be amazed that the top-ranked item is a brief explanation of where to put .mobi files in the Windows 8.1 file hierarchy (also works for Windows 7 and 10) so as to make them accessible to Kindle. Even though that item was 17 months old when the data was compiled, it still comes out on top. That tells me this is a subject that isn't explained well elsewhere, though perhaps it should be.
It's nice to know that this blog apparently has a greater impact than simply providing current information about Windows desktop topics. To me, these results also speak eloquently to how modern workers consume information, and how important search engines remain to finding useful and/or interesting information.
---