---
April 25, 2018 3:13 PM
Setup and deployment
,
Windows 10
Imagine my surprise upon stumbling across mention of a new Window 10 edition yesterday. An alert installer named Lucan found it in the latest Skip Ahead Insider Preview (Build 17650). That's how I cobbled my headline — "Skippy Shows Off Lean Win10 Edition" — together. But it's not yet clear what it really means, though it has promoted several interesting guesses online.
How Skippy Shows Off Lean Win10 Edition
The old saw: "A picture's worth 1,000 words" seems apt here. To that end, here's the OS selection window from the 17650 setup.exe. It shows Lean as a new item at the top. It appear above Home (and Home N) and Pro (and Pro N) editions.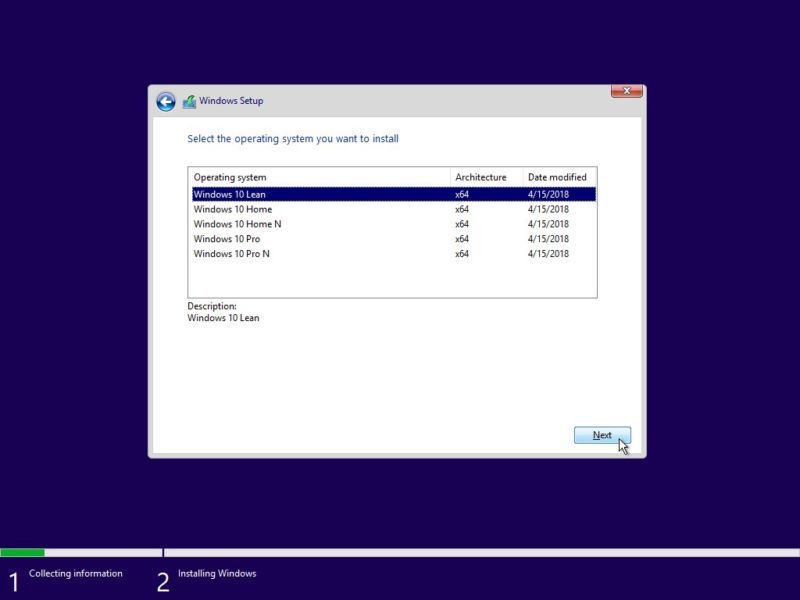 The new Lean edition appears at the head of the list on 17650's OS selection pane.
What apparently makes this OS lean is that it's about 2 GB smaller than Win10 Pro. The space savings apparently comes from foregoing various bells and whistles. These include IE, wallpapers, the Microsoft Management Console, the Registry Editor, and other items. According to Lucan, Lean runs UWP programs from the Store, and also old-school Win32 applications as well.
The Verge cites anonymous sources "familiar with Microsoft's plans" to position the new edition for OEMs with low-budget laptop and tablets (and limited RAM and storage). It claims that "the edition will be available for devices with 16GB of storage…" And further, "…  it's primarily designed to ensure these machines will still receive Windows updates." Others have speculated that with a folding screen device patent in the works, MS is ready to jump back into the mobile device market. Peter Bright at Ars Technica speculates that Lean is unlikely "to be the final branding." He observes further that this OS edition self-identifies internally as "Windows 10 S." (It's true, even though MS claims to have abandoned that moniker as an edition label.)
It will be interesting to see how all this works itself out. Once we get past 1803 and advance toward the upcoming Fall feature update/upgrade, we'll probably know more. Stay tuned!
April 23, 2018 11:19 AM
nickname
,
Windows 10
For some reason, lots of people — including me — take pleasure from following the procession of Windows 10 release names. That's why I jumped all over a Neowin.net news item today. It's entitled "The upcoming feature update for Windows 10 will be called the 'April Update'." It even provides visual proof for this assertion. April Update shows up verbatim in Welcome page after upgrading Insider Preview to Build 17134. Although MS has not confirmed the nomenclature, it seems fair to say that Build 1803 Equals April Update nevertheless.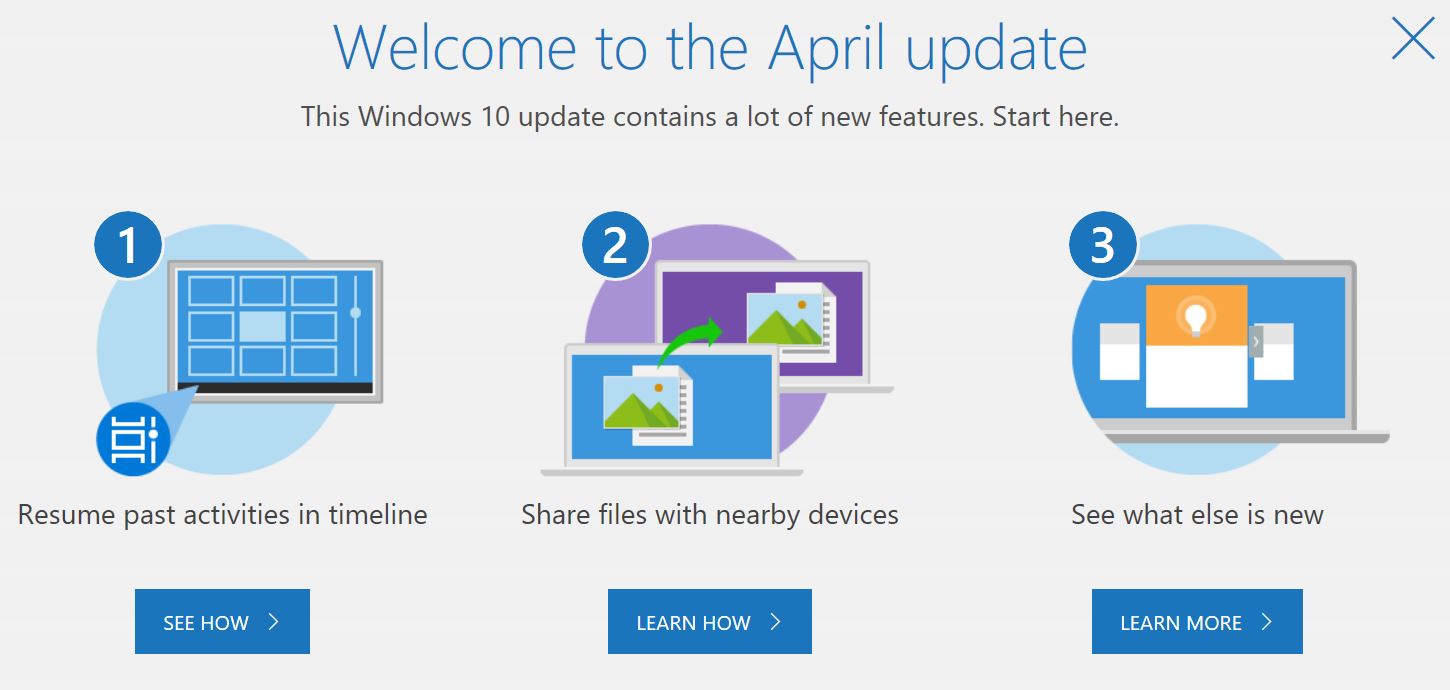 Says April update right at the top of the latest Welcome screen in Build 17134. What else ya need?
Proof That Build 1803 Equals April Update
The top line of the Welcome page indisputably says "April update." The last contender in the name sweepstakes comes from output from the PowerShell Get-VMHostSupportedVersion command. I blogged about this on March 12. I used it to assert that the current name candidate was "Spring Creators Update." So I ran the command again just now to find this output instead: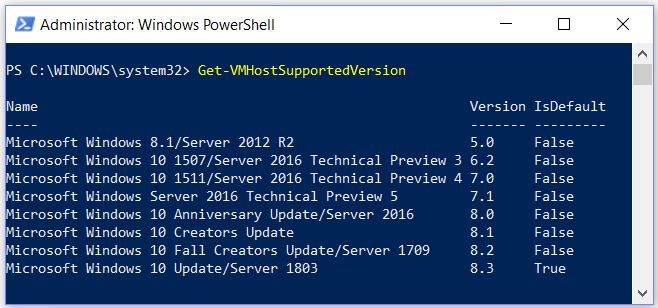 Notice the bottom line now reads "Windows 10 Update/Server 1803." No hard data to confirm or deny a name here.
Of course, this could easily be a placeholder. MS could substitute a different name on the Welcome page when the RTM comes out for real. But half the fun comes from finding and pondering clues that MS lets slip as RTM draws nearer. At least, April gets away from the "hemispheric bias" of associating releases with seasons in the Northern Hemisphere. Maybe MS has finally recognized that what's Spring for us in the USA or Europe is Fall (or Autumn) for those in Latin America, Africa or Australia (and lots of other places, too).
Here's hoping this signals a new global point of view for release names in general. I still think they should stick to Version (1803) and Build (17134.1) numbers and be done with it. Not much room for mixed or missed references or ambiguities there!
---
April 20, 2018 1:46 PM
MS Office
,
Troubleshooting
,
Windows 10
God Mode is a nickname for a special folder in Windows. God Mode is not built into Windows, and requires some modest effort to create. For instructions about this, see my 2008 blog post right here at WED. But once created,  God Mode offers immediate access to 200+ tools otherwise accessible only through Control Panel. It's handy to have around, and lots of power users put it to work. But alas, I've recently learned that God Mode causes Win10 Office URL insert fail on some PCs. In other terms, it makes Office components (Word, Excel, PowerPoint, and so forth) crash when you insert a hyperlink into one of the related document types (.doc and .docx, .xsl and .xsls, .ppt and .pptx, and so on) while editing. Not good!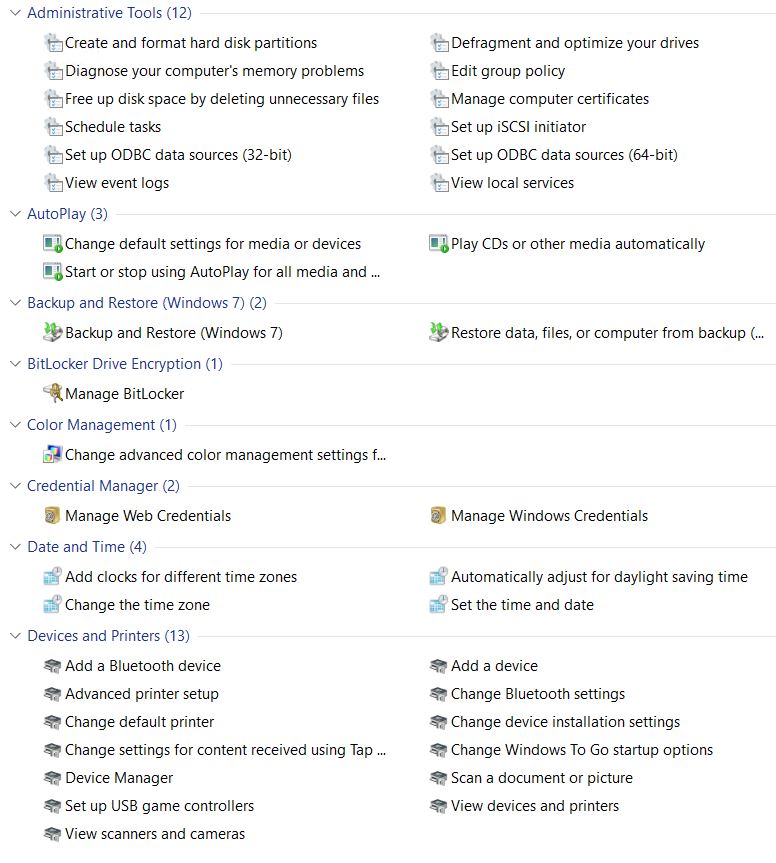 Here's a partial snap of what God Mode looks like in File Explorer.
[Click image for full-sized view]
Fixing God Mode Causes Win10 Office URL Insert Fail
Fortunately, this problem doesn't afflict all Windows 10 users. Only some of them will ever encounter this problem. But while the fix is easy, it also means doing without God Mode. Yes, that's right: the only workable fix at present is to delete the folder you must create to put God Mode to work. When it's deleted, God Mode no longer works. But at least you can paste URLs into Office apps without crashing them!
Thanks to the posters at TenForums. com, who aired this issue in a thread named "MS Office 2016 crash when inserting hyperlink." Special thanks to user AndreTen, who started the thread and provided the related fix. He also confirmed that some, but not all, Windows 10 PCs are subject to this gotcha. This is one of those kinds of things that will make a small, but immediately happy, minority of readers exclaim: "So THAT'S what it was." The rest of us should merely keep this in mind for the future should it jump up to bite again. Another possible plus for Win10 that MS probably won't advertise is AndreTen's statement. He said that "With Microsoft moving more and more commands from Control Panel to Settings, it's easier to give up on Gode Mode…" Well said.
[Note Added 4/21]Other fixes for this issue are also emerging, thanks mostly to poster Denis on the same thread. For those with this issue in Outlook, a check on this Microsoft Knowledge Base article is also worthwhile: Hyperlinks are not working in Outlook. Additional threads in this post also explain some helpful and related registry hacks, too (especially threads #3 and #6).
---
April 17, 2018 12:21 PM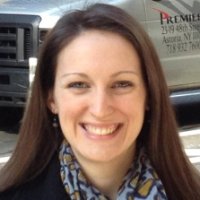 Profile: Alyssa Provazza
[UPDATE: Microsoft on April 24 released the next preview build of Windows Server 2019, which includes RDSH. "Because of a bug, the RDSH role was missing in previous releases of Windows Server 2019 – this build fixes that," the company said in a blog post announcing Build 17650.]
Remote Desktop Session Host is coming to the Windows Server 2019 preview and official release, Microsoft has confirmed.
The Remote Desktop Session Host (RDSH) role was not available in the first preview build of Windows Server 2019 that Microsoft released to the Insiders Program in March. At that time, experts said they did not expect the company to include RDSH when the operating system becomes generally available later this year.
In a statement to SearchVirtualDesktop this week, however, a company spokesperson said: "The RDSH role will be in the preview build available for Insiders soon. Windows Server 2019 will have the [Remote Desktop Services] roles like in Windows Server 2016."
Mixed messages on Windows Server 2019 RDSH
Up until now, the messaging from Microsoft around RDSH in Windows Server 2019 caused confusion and frustration among some in the IT community. The company declined to officially comment on the future of RDSH in March, although some members of the Windows Server team posted on Twitter about the issue.
Jeff Woolsey, principal program manager for Windows Server, said in March that Remote Desktop Services (RDS) — the set of technologies that provide remote desktop and application access — was "not gone." Last week, he reiterated that statement, and Scott Manchester, Microsoft group manager for RDS, said RDSH would be coming to the Windows Server 2019 preview in about two weeks.
IT administrators and industry observers wondered why Microsoft had not clarified earlier that Windows Server 2019 would indeed have the RDSH role.
"Microsoft was disconcertingly quiet about the feature omission," said Jeff Wilhelm, CTO at Envision Technology Advisors, a solutions provider in Pawtucket, R.I. "There was much speculation."
One possibility is that the code for the RDSH role simply wasn't ready, and instead of releasing something incomplete or buggy in the preview, Microsoft removed it altogether.
Other speculation focused on a potential new multi-user Windows 10 feature. Microsoft has not commented on that, but it may continue to be a possibility for session-hosted desktops without RDSH.
The news that RDSH will be in the next Insider build should mean "a sigh of relief" for service providers and IT admins, Wilhelm said in an email.
"RDSH provides an important feature to users at many organizations, and the announced improvements, including HTML5 support, are a welcome addition," he said.
---
April 16, 2018 1:19 PM
Recovery Drive
,
Troubleshooting
,
Windows 10
The built-in Windows facility to create a recovery drive can be a real life-saver. Simply type "recovery" into the Windows 10 search menu to fire this up. But sometimes, when you try to create such a recovery drive the process may fail en route to completion. In such cases an error message like the one depicted below pops up. Turns out that fixing recovery drive creation problems is surprisingly easy — some of the time, at least.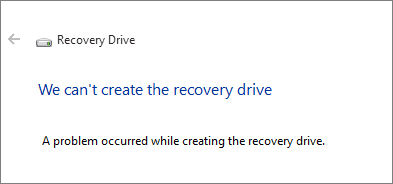 If you see this error message, it may not spell as much trouble as you think.
What's Involved in Fixing Recovery Drive Creation Problems
If you get the error message, there's a sequence of actions you can try to get past it. In at least some cases, it will result in the creation of a bootable USB drive that you can use for system repairs. When you fire off the Recovery Drive tool, the first screen appears just like this: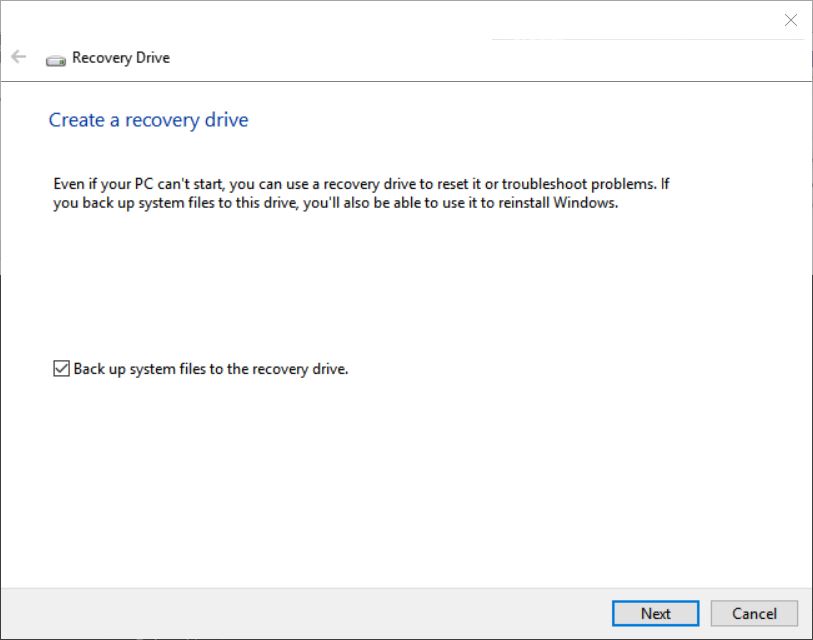 By default this tool checks the box that reads "Back up system files to the recovery drive."
The potential fix is dead simple, and easy to try out. Here are the steps involved:
1. Uncheck the "Back up system files …" box
2. Click Next
3. Wait as the system scans drives and builds a list of recovery drive possibilities
4. Select the target drive for recovery (Reminder: all contents will be erased!)
5. Create the recovery drive, sans system files. Wait until the process completes.
6. Do NOT click the Finish button. Instead, click the back arrow at the top left of the window. Keep clicking that back arrow until you return to the original screen.
7. Check the "Back up system files …" box, and repeat steps 1-5.
If the process works then you can click Finish. If it doesn't work you'll get the now-familiar error message instead. In that case, it's probably time to try a different USB flash drive, or perhaps a different system, on which to build the recovery drive.
Thanks to the folks who contributed to the "Can't create a recovery drive" thread at TenForums.com. Double thanks to user KarlFollman, who came up with the solution.
---
April 13, 2018 10:07 PM
firmware update
,
Troubleshooting
,
Windows 10
So, I've got this Dell Venue Pro 11 7130 hybrid tablet. It's a pretty nice little machine, actually. If memory serves I bought it in 2013, so it's an older tablet. The recent Spectre/Meltdown firmware updates made it a bit wonky, though. It won't restart normally. I have to yank the battery and temporarily disconnect the AC power, to get it to boot at all. When I saw a recent BIOS update (A23) for that unit appear I was hopeful it would fix that issue. But when I tried to run the Dell BIOS flash utility in Windows 10, it failed because of the reboot hang. That's why I sought some way of updating BIOS UEFI when Windows app fails for that machine.
How to Go About Updating BIOS UEFI When Windows App Fails
I knew there had to be some way to update the BIOS even if I couldn't do it inside a running Windows OS. Sure enough, by poking around the Dell Forums, I learned that there's a pretty easy and straightforward way to do this. All I had to do was to download the BIOS update file — named 7130_A23.exe, prosaically enough — copy it to the root of a FAT32 USB flash drive, and point the BIOS flash utility at that file in an alternate boot. Sounds pretty easy, right?
What sounded easy in theory turned out more challenging in practice. First, I had to find another Dell Forum thread that clued me into the trick of holding down the volume up button on the left side of the tablet, just after getting the haptic feedback when pressing the power button on the tablet's right side. That brought me into a menu that included flashing the BIOS as one of the options. Then I had to figure out — by inspection, as it turned out — that the device with the file I was after was named FS4. Once I identified the 7130_A23.exe file, and told the PC to flash the BIOS, it succeeded in updating the machine to the A23 version. Here's proof: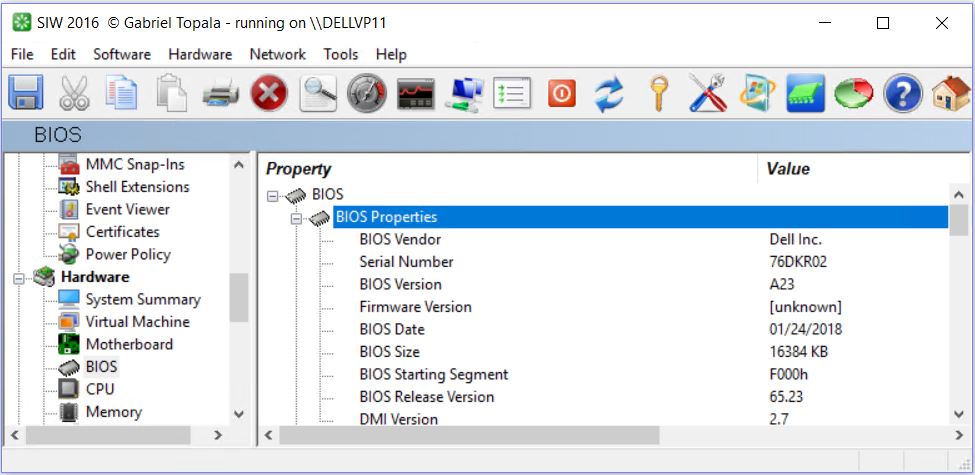 Once I got the right instructions, and figured out how to execute them, the BIOS UEFI flash was easy.
You Win Some, You Lose Some
Did I get my BIOS UEFI flashed? Yes. Did it fix my reboot problem? Alas, no. I still have to yank the battery and disconnect AC power to get it to restart/boot. But at least I figured out how to use a UFD to flash the firmware. I think I also eliminated one potential cause of the issue, too. Hopefully, some upcoming Windows version or new Dell firmware patch will fix this. We'll see. And so it goes, here in Windows world!
---
April 11, 2018 10:36 AM
USB device not recognzed
,
USB devices
,
Windows 10
OK, so I'm poking around in Device Manager yesterday researching an NVMe issue. What do I spy, with my little eye? The dreaded "Other Devices" category, with the "Unknown device" beneath it (see screencap below). Because I know a little bit about this kind of stuff, my next move is to click on the details tab, and then to check the values for Hardware IDs. All three of those values start with USB\ASMEDIAROOT_Hub so I already have a pretty good idea what's up. But when I go poking around for Asmedia drivers, even at the Asrock website, I come up dry. Then it hits me: When USB hub gets weird Win-RAID provides fix!

Here's the visual cue that a Win10 device has gone off the rails. A quick check of Hardware IDs tags the culprit!
How Win-RAID Provides Fix for Wonky USB Hub
And by that I mean checking the outstanding driver mod and BIOS hacking site, Win-RAID.com, where its German operator Dieter (aka Fernando) runs the show. The Latest USB 3.0/3.1 Drivers page there includes a detailed entry for USB drivers from all major makers, including ASMedia. Here's what that entry looks like: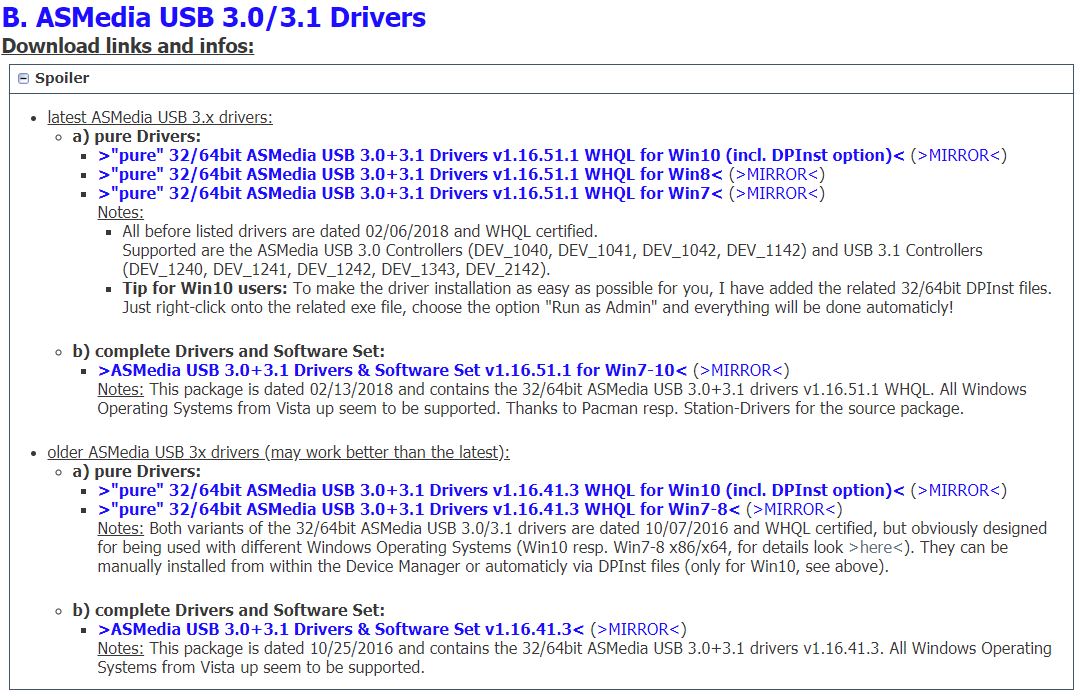 I grabbed the first entry from the list, and pointed the "Update drivers"/"Browse my computer…" functions at the folder where I unpacked the linked .rar file. Problem solved!
[Click image for full-sized view.]
Over the years, I've learnd to turn to Win-RAID when I need storage or USB drivers and I can't find a good source from the manufacturer or the motherboard maker. And indeed, this was another case where Win-RAID rode to my rescue. I'm already running their modded USB 3.0/3.1 drivers for Intel, so adding their ASMedia hub support was kind of a no-brainer for me. Great stuff! If you do decide to use these drivers, be sure to read (and follow) the instructions for installing them, which are described in the "Preliminary Notes" section at the head of the USB3.0/3.1 Drivers page at Win-RAID. Warning: It's a little different from the normal routine!
---
April 9, 2018 5:29 PM
File
,
File management
,
Windows 10
Late last week, Craig Wittenberg released source code for a slightly updated version of the old Windows File Manager on Github. "How old?" you ask. According to Tom Warren at The Verge, we're talking almost 28 years ago. Circa-1990, Windows 3.0 vintage. I learned this courtesy of Shawn Brink at TenForums.com this morning. He even includes a download link in his piece "Microsoft open sources original File Manager from 90s for Windows 10." Just for grins I downloaded a copy, unpacked the zip file, and fired it up. It runs pretty well. So, when MS releases open source Win3.0 File Manager code, it even works!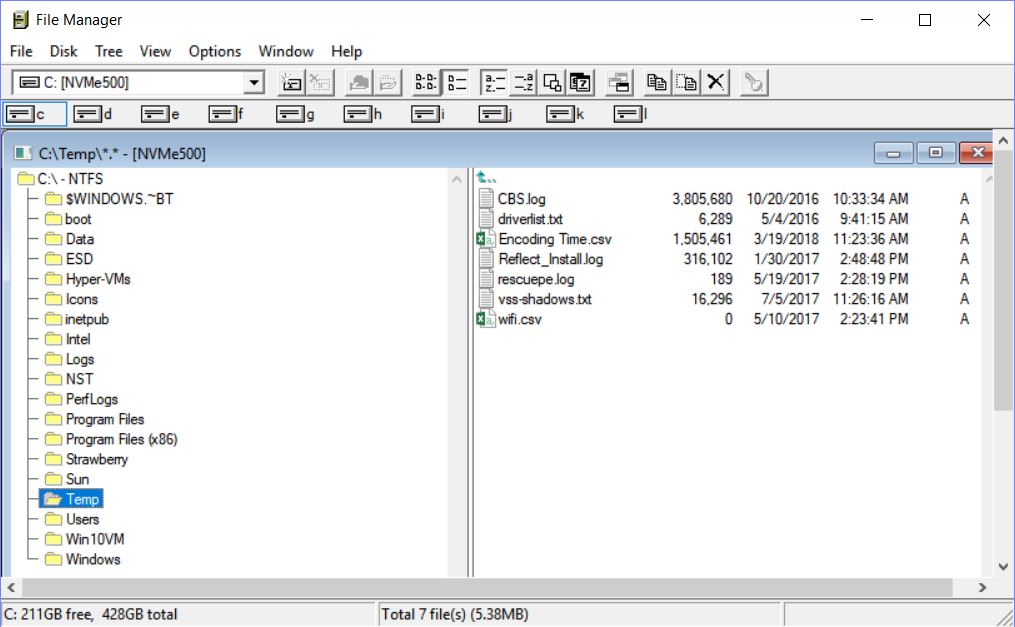 Blast from the Past: Looks hauntingly familiar, and runs pretty fast, too.
If MS Releases Open Source Win3.0 File Manager, What Makes It Work?
According to Wittenberg's note on Github:
Winfile.exe depends on the VS 2015 C++ runtime; you can download that from
https://www.microsoft.com/en-us/download/details.aspx?id=48145
Interestingly, Peter Bright at Ars Technica observes that the public release version is for x86 (32-bit) Windows. He revisited the source code and cleaned up some minor issues he found to create a version that also builds in 64-bit mode. The 32-bit version runs just fine, though, even on 64-bit machines. I've included a screen cap from my production PC's desktop to prove it. Be aware that you have to double-click entries inside File Manager to make things happen. Just like in the old days.
The Open Sourcing of Windows … 3.x?
This raises the very interesting question of what else from Uncle Bill's closet might start showing up on Github. I can't wait to see what other old stuff starts seeing the light of day. This could get interesting!
---
April 6, 2018 12:47 PM
Windows 10
,
Windows Security
Well, we always knew that Intel wasn't going to go back to the beginning of time in crafting microcode updates to address Spectre Variant 2. Now we know more about what's in and what's out, where such coverage is concerned. On April 2, Intel updated its "Microcode Update Guidance" document (PDF). This spells things out pretty clearly (look for changes on those charts in yellow). That why saying "Intel excludes older CPUs from Spectre updates" sums things up nicely.
When Intel Excludes Older CPUs from Spectre Updates, What's Out?
According to the afore-linked charts, newly-added Spectre v2 updates include:
Lynnfield (Core and Xeon: CPUID 106E5)
Nehalem EP, WS & EX (Xeon: CPUIDs 106A5 & 206E6)
Arrandale (Core and Celeron: CPUIDs 20652 & 20655 )
Clarkdale (Core, Pentium and Xeon: CPUID 20652 & 20655)
Westmere (Xeon processors: CPUIDs 206C2 & 206F2)
And per those same charts, update work on the following processors has been stopped:
Bloomfield (Core & Xeon: CPUIDs 106A4 & 106A5)
Jasper Forest (Celeron and Xeon: CPUID 106E4)
Clarksfield (Core: CPUID 106E5)
Harpertown (Xeon: CPUIDs 10676 & 1067A)
Penryn/QC (Core 2, Pentium, and Celeron: CPUID 1067A)
Sofia 3GR (Atom processor: CPUID 506D1)
Wolfdale CO, EO, MO, RO (Core 2 Duo, Pentium, Celeron and Xeon: CPUIDs 10676 & 1067A)
Yorkfield (Core 2 and Xeon: CPUID 10677)
Gulftown (Core and Xeon: 206C2)
Making Sense of the Data Using Code Names
There are tools abounding that will tell you about your CPUs. My two favorites are Franck DeLattre's CPU-Z and the Intel Processor Identification Utility. CPU-Z provides code names explicitly, like so: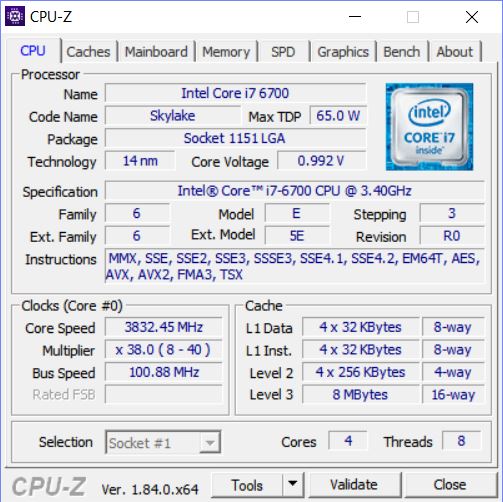 CPU-Z offers up a field named Code Name that identifies the CPU as Skylake directly
The Intel utility doesn't map processor names to the code names for matching what you've got up with the preceding data (and Intel's charts). You'll have to go from the make and model information to figure things out. Thus for example, the Intel tool reveals that my machine has an i7-6700 installed.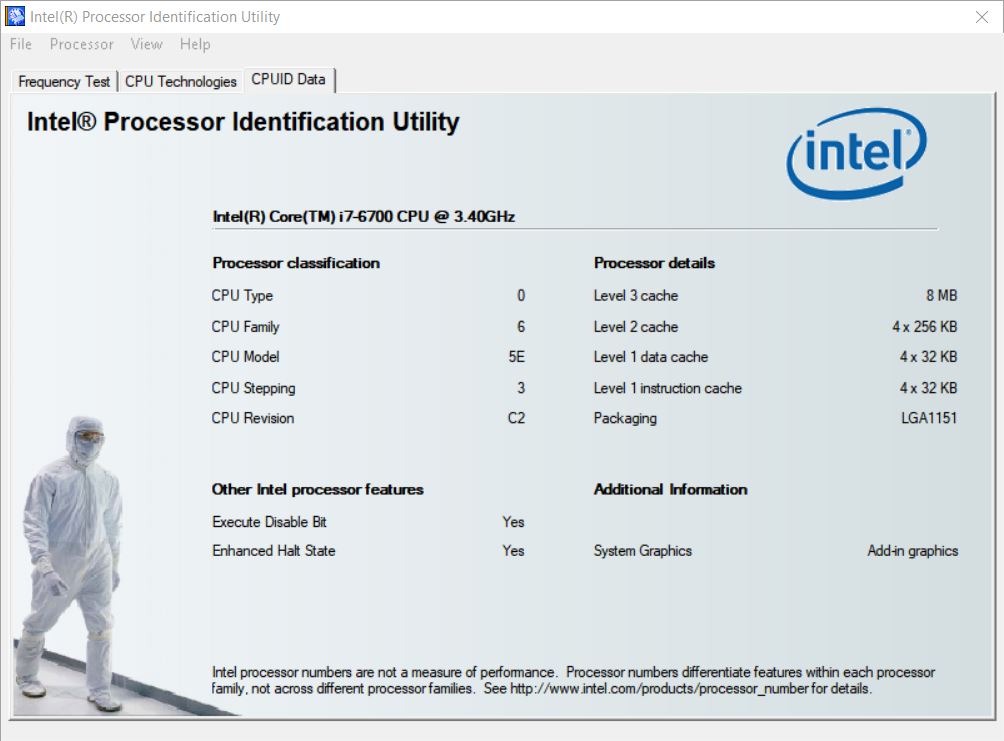 The key information appears in bold near the top of this display: i7-6700.
Next, I can search on "i7-6700" for its ark.intel.com page, which tells me its code name is Skylake.
The code name shows up in the first column of the Intel charts. This is the key, and how you reconcile what's in your machines with that coverage information.
---
April 4, 2018 5:53 PM
IT jobs
,
Windows 10
In looking over the release notes for Insider Preview Skip Ahead Build 17639, I saw an interesting teaser. It led me to revisit the Microsoft Professional Program (MPP) of online training. In fact, it led me further than that. Right now, I'm about one-fourth of the way through a course meant to train up IT tech support support agents. That's why I assert that the MPP IT Support Track offers interesting insights. It's actually called the Microsoft Professional Program for IT Support track, for those who might wish to check it out for themselves. Here's the snippet from the release notes that caught my eye:

You can audit the IT track's courses for free or pay US$99 per course (4 total) for credit.
[Click image for full-sized view. Links to AI track and GeekWire article.]
How MPP IT Support Track Offers Interesting Insights
If you want to understand how Microsoft views tech support, you couldn't find a better source of information than this course. It explains that the role of tech support pretty thoroughly. That role is not just to answer questions and deliver support though these things are important. It's also equally important to champion consumption and help the organization achieve its business goals. Pretty lofty stuff for entry level tech support staff to dig into.
I found myself most impressed with the course's emphasis on continuous learning, self-improvement, and staying ahead of the technology curve for Tech Support workers. It's pretty good information and also inspiring for those in need of motivation to excel at and enjoy what they do for a living. I plan to work my way through all four courses in this curriculum over the next few days. If other gems emerge from this prospecting work, look for more of them to appear here in this blog. In the meantime, you could do worse than to check this resource out for yourself.
---