---
July 27, 2018 12:02 PM
I just clean-installed Windows 10 1803 on one of my test machines. In that install's wake, I found myself unable to RDP into that machine. "Oho!" I thought to myself "I bet the network is set Public, not Private." Although my presumption was correct, I had trouble figuring out how to make that change in Settings. A quick visit to Google informed me that a command-line remedy could do the trick in PowerShell (PS). I immediately put it to work. Here's what that looked like, as a PS cmdlet turns Win10 networks Private: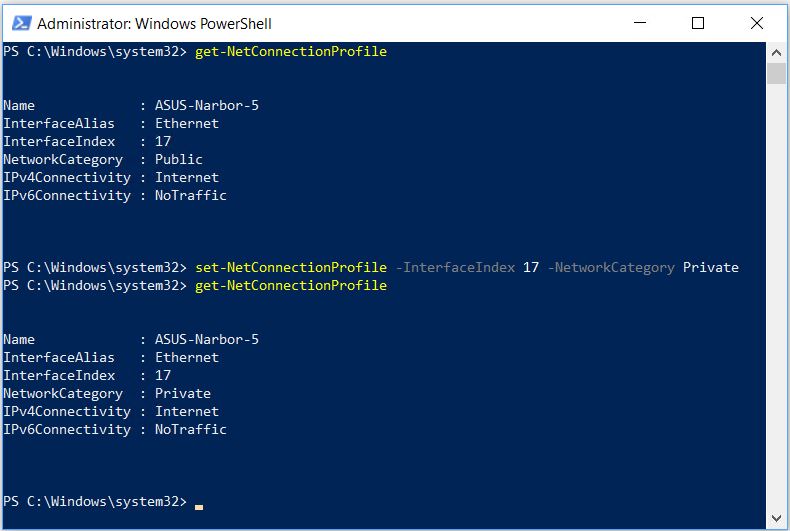 You need Get-NetConnectionProfile to see what's up with your network profiles. This drives use of Set-NetConnectionProfile to make the appropriate profile Private.
[Click image to see full-sized view.]

How a PS Cmdlet Turns Win10 Networks Private
Because Win10 PCs can have multiple network profiles — think WiFi and Wired, plus one or more virtual switches for VMs — it's important to target the right one when making the switch from Public to Private. That's where Get-NetConnectionProfile comes into play. Use it to target the InterfaceIndex whose NetworkCategory value needs to change accordingly.
PowerShell cmdlets use a verb -noun stucture. The cmdlet's name represents a verb, or action, that does something. Get-NetConnectionProfile is a verb that lacks a required noun. That's because it looks stuff up that the system already knows. For Set-NetConnectionProfile, on the other hand, one value identifies a specific profile, and one or more others make changes to associated value(s).
Here's more detail on Set-NetConnectionProfile syntax, using text from the preceding example. (If the following string breaks across multiple lines, it should appear as a single line in PowerShell):
Set-NetConnectionProfile -InterfaceIndex 17 -NetworkCategory Private
where
Set-NetConnectionProfile is the verb that indicates we're going to set one or more values associated with a specific network profile.
-InterfaceIndex 17 identifies the specific network interface whose profile gets a value change. For this PC, the index is 17. It will vary on other machines, including yours.
-NetworkCategory Private assigns the NetworkCategory (Public/Private) the value "Public" for the designated interface index.
It's pretty darn simple to do this, so worth getting to know.
But Wait: There's IS a GUI Way to Do This, Too!
After a bit more poking around online, I did eventually find a way to make the necessary change in the GUI as well. By clicking Start → Settings → Network & Internet → Change connection properties, you get to a Settings page with a "Network profile" section at the top that includes radio buttons for Public and Private. It looks like this: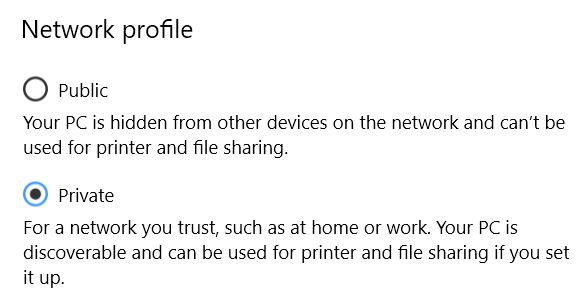 Settings does provide a path to this control, though it isn't intuitively obvious (or wasn't obvious to me, anyway).
Given how easy this is, why I did blog about the PS cmdlet alternative? Because I had trouble finding the GUI element myself, and because some people have reported being unable to access the Network profile control through the afore-mentioned sequence of interface clicks. In Windows, there are always multiple ways to get things done. This is one case where having another way can make the difference between completing a desired task, and leaving it undone. When it comes to using RDP with my battery of machines, the latter possibility is intolerable, so I *HAD* to find another way…
July 25, 2018 4:56 PM
Found myself in a bit of a pickle yesterday. Downloaded the 1803 ISO using the Windows ISO Download Tool from HeiDoc.Net. Quickly learned that it includes 13 different Windows 10 images (see below). After I used Rufus 3.0 to build a bootable installer, for some odd reason it installed the first image. Athough an OS pick window should appear, none did.  Instead, it installed Windows 10 Home. I fixed that by upgrading Home to Windows 10 Pro. But I also wanted to learn how to extract the right image from a portmanteau ISO. That's how I learned that DISM Export-Image grabs selected image installer, easily used to update the bootable USB Flash Drive (UFD) that Rufus built.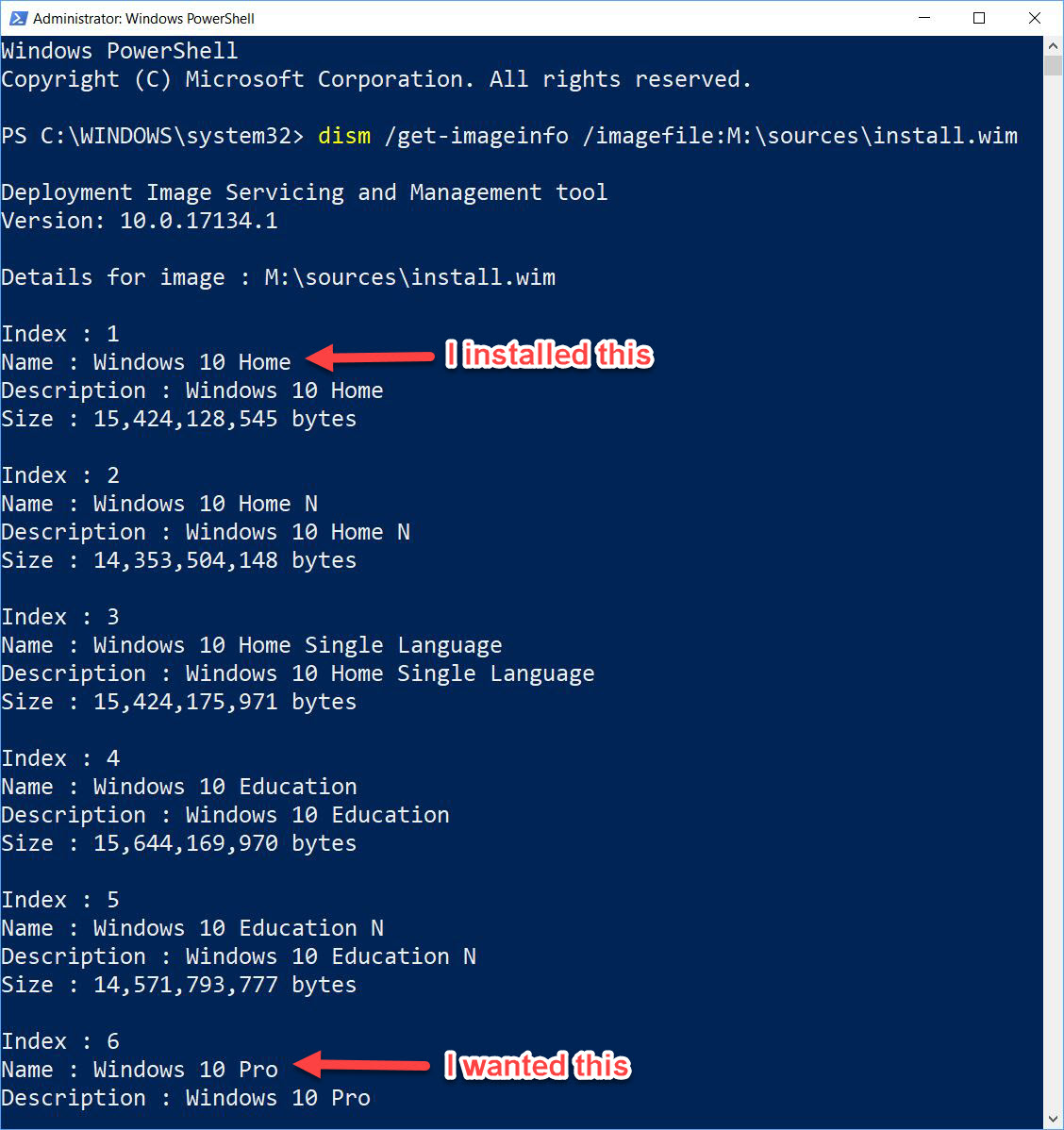 Notice that Windows 10 Home appears in first place, but Windows 10 Pro in sixth (Index:6).
[Click image for full-sized view.]
Use DISM Mount-Image Grabs Selected Image Installer to Build Bootable UFD
Once I figured out that I needed the Windows Pro image from position 6 in the 1803 ISO file, I needed to do two things. First, I needed to access the install.wim file I wanted. And second, I needed to copy that image onto my prepared UFD. Both things turn out to be fairly easy.
Use DISM Export-Image to Make Its Files Accessible
This particular DISM command exports a specific image standalone.  As already noted, I wanted the image with Index 6. On my system, the ISO file named Win10_1803_English_x64.iso lives in L:\MSDN. To access its WIM file, I simply mount the ISO. To do that, right-click the ISO file in File Explorer and select Mount from the resulting pop-up menu. (If that doesn't work, click "Open with" and select File Explorer from the list of applications.)
On my system, the mounted image shows up as drive M. The file I'm after takes this specification: M:\Sources\install.wim. In my case, I created a folder named WIMTest on the I: drive to receive the desired install.wim file.
Here's the syntax for my system, which I'll explain in generic form, too:
DISM /Export-Image /SourceImageFile:"M:\Sources\install.wim" /SourceIndex:6
/DestinationImageFile:"I:\WIMTest\install.wim"
Note: Even though this line breaks in this blog post, it's actually a single instruction and should be entered as such in PowerShell or Cmd.exe.
Now, let's explore the DISM command elements involved.
/Export-Image: Tells DISM to export the designated image file.
/SourceImageFile:"M\Sources\install.wim": identifies the windows image file from which the chosen image is exported.
/Index:6: identifies the index or position of a specific image file in the overall sequence (6, in this case) for export.
/DestinationImageFile:"I:\WIMTest\install.wim": identifies the file for the exported image.
Copy the Result File Over the Old Image File
The Rufus-created UFD has the drive letter O: on my system (YMMV, replace accordingly). All I had to do now was to over-write the old install.wim in the O:\Sources folder with the newly-exported install.wim from the I:\WIMTest folder. Now, booting the installer automatically installs Windows 10 Pro instead of Windows 10 Home. Of course, even though my system is installed the UFD is useful for repairs, too. Problem solved!
---
July 23, 2018 12:02 PM
Boot failure
,
chrging battery
,
surface pro 3
,
Windows 10
This weekend, I learned the hard way that a successful Surface Pro boot requires minimum charge levels. How did I learn this, and what made it hard? My wife and son took our Surface Pro 3 with them to Germany, in case they needed a PC while there. Turns out they didn't, so it never even left its protective neoprene case during the trip. When I got around to unpacking and installing it in the Surface Pro 3 dock this weekend, I expected to update it immediately. Wrong!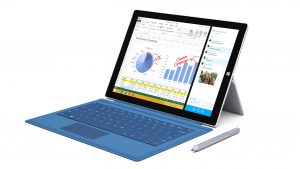 Despite the occasional quirk, my now 4-year-old Surface Pro 3, has been (mostly) a reliable, portable, and handy mobile PC.
What Surface Pro Boot Requires Minimum Charge Means…
Sure, I tried to fire up the device once I stuck into the charging cradle in the dock. But it stubbornly refused to boot, or stay booted. I was able to get past the spinning balls, and occasionally to the lock screen. But then, the device would power off. After three unsuccessful boots in a row, it even when into repair mode, just as it should have. But I couldn't boot into the recovery partition, either. Over time, I was able to figure out that the Surface Pro 3 — and, from what I read online, other Surface devices with non-removable batteries — won't boot successfully unless the battery has a 5% charge or better.
It seems that because the Surface Pro's battery had completely discharged while sitting idle for 3-plus weeks, it wasn't ready to return to work without a minimal level of charge. Even though the device was plugged into the dock and getting power that way, something about the Surface design keeps it from working (and booting) properly until the battery regains some basic level of charge. By watching the BatteryBar utility, I was able to correlate a successful boot with charge levels of 5% or greater. On my Surface Pro 3 model (i7 4650U CPU, 8GB DDR3 RAM, 256GB Samsung SSD) that took about 10 minutes.
Since encountering this, I've heard from other friends and colleagues that such behavior is not limited to surface devices. Other laptops (especially ultrabooks) and tablets with sealed/non-removable batteries seem subject to this kind of thing, including smartphones, certain HP models, and more. It never hurts to be patient, I guess, even when it comes to updating or inspecting mobile PCs and other devices with completely empty batteries.
---
July 20, 2018 11:03 AM
Windows 10
,
Windows Deployment Services
,
Windows OS Migration
Jeremy Moskowitz, Group Policy MVP, offers an interesting survey covering Windows 10 migration challenges. It's entitled "The 2018 State of Windows 10 Migration Challenges Report." (Sign-up link for download: registration required.) The survey involves over 500 organizations from over 30 countries, of which 80% of respondents came from the USA. By size, 41% of organizations were SMBs (1-500 employees), 13% had 501-1000, 24% had 1001-5000, and 22% employed 5001 persons or more. The top 10 verticals covered include an interesting mix. 23% came from education, 13% government, 10% finance, 9% manufacturing, the same (9%) for professional services. Also 8% came from technology, 7 % healthcare, 6% non-profit, and 5% each for consumer and energy & utility outfits. All in all, this Win10 migration survey reveals 2018 challenges that organizations face today (and tomorrow).
With over 500 organizations reporting in, the survey tilts toward education (23%) and goverment (13%) which together represent over 1/3 of all respondents, about 7% behind their aggregate percentage of GDP (42.9%).
How Win10 Migration Survey Reveals 2018 Challenges
The survey breaks migration into four phases: (1) Planning to move, (2) Pilot only, (3) Mid-migration, and (4) Nearly complete. Here's how organizations break down in terms of these categories, by organization size: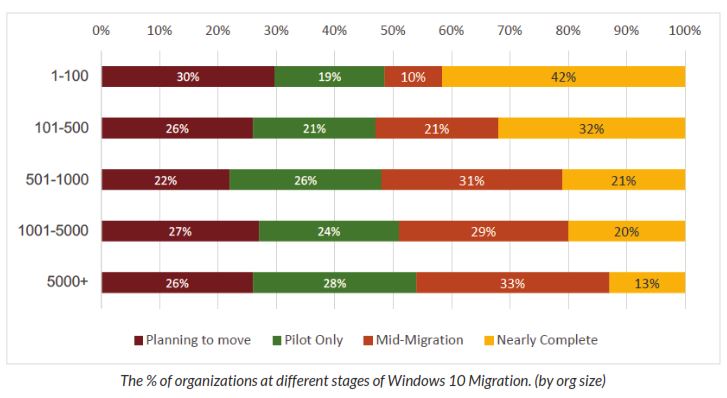 There's a surprising degree of parity across all organization sizes, particularly for phases 1 and 2 (planning and pilot, respectively).
Surprisingly, the smallest organizations report the highest degree of completion. Nearly half (42%) of them are already nearing completion or have finished the migration process. Thus, only between 1/4 and 30% of organizations across the board remain in the planning phase. The rest have launched the migration process. Thus, they are somewhere on the continuum from pilot projects through nearly (or completely) done. Moskowitz observes on page 4 that "It's promising to see such low percentages of organizations still in their planning phases — it means most orgs are taking the upcoming lack of support seriously."
Listing Key Migration Challenges
A list of challenges that organizations face during the migration process includes the following:
Win10 file or application associations
This refers to linkage between a file extension or type and an application. This is what supports double-clicking a file in Explorer to launch an appropriate application. Certain specific associations caused migration issues. These include .pdf, .html (and associated Web files), multimedia (players), Adobe Acrobat, line of business applications, and miscellany. Surprisingly, a majority of organizations choose to manually update individual systems or leave this task to users.
Standardizing Win10 Start Menu and Taskbar
This involves tailoring the environment to facilitate user productivity and ease of access to key applications. A majority of organizations surveyed rightfully see this as an important element in the migration process. For most organizations this includes Office apps, a browser, various line-of-business applications, and department or job role specific applications. Many organizations solve these issues with group policy settings. Overall, the emphasis is on automating configurations as much as possible.
Standarized Win10 image deployments
Image deployments take teams of 2-5 people, and take from 25-52 hours per person to build and test initial images. Add 17-40 hours per person to repeat the process when images must be rebuilt or modified. Typically, this occurs  in the wake of feature upgrades or significant cumulative updates. Thus, this involves significant resource allocations and expenditures. Typical image manipulations include (1) removing non-essentials apps (79%), (2) hardening security (58%), setting up BitLocker (45%), adding printers (43%), miscellany (26%), and turning off (!) Hyper-V (19%).
Local Admin rights reduction or removal
In efforts to boost security, organizations are getting more serious about role-based security and controls. Increasingly, this means revisiting the issue of what Moskowitz calls "whether [or not] to assign local admin rights to low-level users" (pg. 10). He finds that a majority of organizations (57%) still do this, trending upward with the size of the organization "to allow some assignment of local admin rights" (pg. 10). In fact, the reasons for delegation are varied. They include allowing software installation (51%), granting UAC-based elevation of privileges (43%), miscellany (42%), the ability to run admin-level scripts (27%), installing printers (22%), and installing fonts (9%). There's a great deal more discussion of this topic in the report, which makes for interesting reading.
Net-Net and Takeaways
Indeed, Moskowitz's report is worth downloading and reading. This goes double for IT pros who work for organization in earlier phases of the migration journey. It might just help them anticipate and deal with common issues more readily and expeditiously. I say this, even though obtaining the report requires registering with the site, and agreeing to accept ongoing email communications from PolicyPak.com. It also further validates two of my recent suppositions. First, it confirms that the wave of upcoming Win10 migrations is nowhere near its peak. Second, it supports the idea that hardware refreshes for a move to a new OS are also likely to continue for some time.
---
July 19, 2018 3:36 PM
Troubleshooting
,
Windows 10
,
Windows Upgrades
I've owned a Dell Venue Pro 11 Model 7130 with keyboard dock since 2013. For a 5-year-old hybrid tablet, it still works and runs remarkably well. I've used it as a test machine for Insider Builds since the first Technical Peview of Windows 10 appeared in October 2014. Until recently, it's been more or less trouble-free in that role. I did have a spate of issues with its built-in Dell Wireless 1537 WiFi adapter back in 2015/2016 but that was easy enough to fix with a USB GbE adapter to regain network access. I've been unable to install the last three Builds (17704, 17711 and 17713), though. At the same time, though, a long-standing gotcha on that machine has fixed itself. As I explain further, you'll understand why Dell Venue Pro 11 7130 strange upgrade issues are on my mind.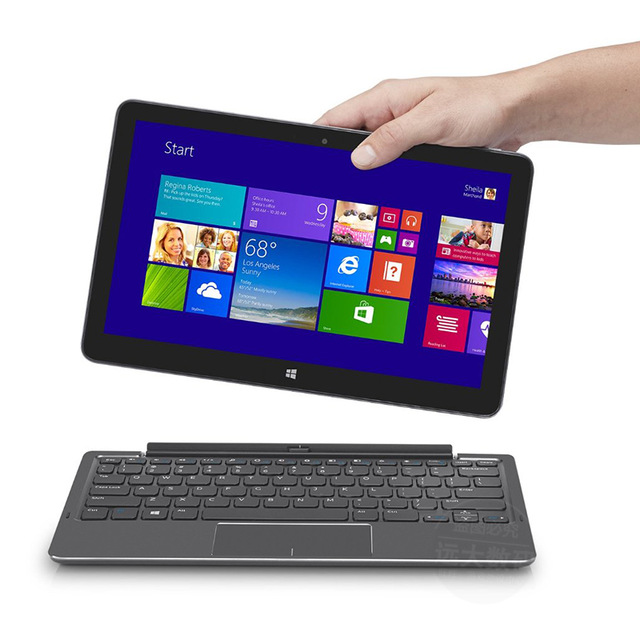 The Venue Pro 11 is a good, small tablet with a decent detachable keyboard dock (that also doubles battery life).
What Are My Dell Venue Pro 11 7130 Strange Upgrade Issues?
Simply put, I can't get the upgrade to complete all the way. I can download the upgrade and get all the way to the final boot screen. When I attempt to reboot into OOBE (Out Of Box Experience), it fails and rolls back to Build 17692.1000. On my last such attempt, I couldn't boot the OS and had to run the reset option. At that point, although the reset was an apparent success I found myself stuck in a loop. Winver reported that the PC was running Build 17692, but Settings/Update reported I needed to reboot to finalize that upgrade. But alas, multiple restarts didn't clear the message.
My next step was to run the built-in Windows Update troubleshooter. It found no problems, despite the "stuck restart" status. So I switched to the online version of the Windows Update Troubleshooter next. It found what it identified as "Windows Update Database Corruption" (makes sense, given that with 17692 installed, it wants me to restart to install what's already there). Then, it goes off to check for pending updates. After it reports successful fixes across the board, I return to WU in Settings to check status one more time. Still stuck at restart for a transition from 17692.1000 to 17692.1004. Only now, I recall this was a feature upgrade disguised as a minor upgrade.
When in Difficulty, Try WUMT
Next, when I run into problems with the built-in Windows 10 update (WU) functions, I switched to the Windows Update MiniTool (aka WUMT). It downloaded 17692.1004 pretty quickly, once I switched from the WiFi NIC to my ASIX USB GbE interface instead (though the download size shows up as 73.73 GB in WUMT, the actual download is only 2.94 GB). WUMT launches the installation process, and completes the 17692.1004 update. That's when I figure out I've somehow gotten reset to the slow ring on this machine which is why the WU shows my machine as current. A change to the Fast ring, and presto! I'm now downloading (and hopefully installing) the latest build 17713.
I'm not exactly sure where Dell Venue Pro 11 updates went wrong. But I'm glad that by following the usual methods for WU repair I was able to put it back into what passes for normal behavior. Just another day at the office, here in Windows World!
---
July 13, 2018 11:18 AM
I've been working long half-days since last weekend, on the road in the DC area. I've been gone long enough now to really, really miss my home office setup. After writing a couple of white papers, 5 blog posts, and dealing with email and surfing, I've identified important personal productivity elements missing here. And that, dear readers, is why this post explains important office PC setup benefits.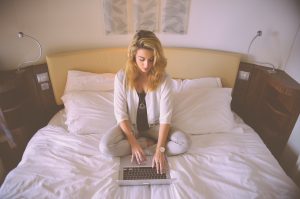 At least my hotel room has a desk at which I can write. I'm no fan of working in bed, either.
[Image source: Pexels]
Key Office PC Setup Benefits
There are more reasons than those I mention why I'm more productive at home than on the road. But these are the things I miss most right now about my usual day-to-day computing/working environment:
Large Dual Monitors: As a writer and researcher, I very much depend on digging into numerous resources on one screen, and taking notes or writing about them on the other screen. Sometimes, I even slave one or two laptops into my display environment, to extend my visual real estate still further (See Synergy as an example of one such tool).
Ergonomic Keyboard: I'm a long-time user of the Microsoft Comfort Curve 4000 keyboard. Working on my Lenovo T520 laptop on the road makes me miss its feel and my improved typing speed on that layout. So far, I haven't had to write enough to bring on wrist pain, but the reason I adopted the Comfort Curve to start with was because of that very thing.
Working Mouse and Touchpad Together … or Not: I have a Logitech Ultrathin Touch Mouse with me, that works over Bluetooth. But I really have to disable the touchpad on the T520 to get the best use out of an external mouse. Otherwise inadvertent touchpad contact makes input far too flaky and time-consuming. At least, this is one thing I can handle on the road through Windows itself.
Fast Internet: To a surprisingly large extent, my productivity hinges on how quickly I can access stuff on the Internet. At home, I have a 940 Mbps connection that is exclusively mine during a normal working day. Here at the hotel, I'm lucky to get 60 Mbps on my wireless connection. That's a ratio of over 15:1. Need I say more?
Test PCs: I have almost half-a-dozen additional machines at my disposal at home for trying things out on. I am unhappy using a VM on my laptop, for sandboxing experiments away from my production environment. This is vexing enough to limit my inclination to experiment. But that remains the best way to learn and/or document ANYTHING about Windows, apps, and so forth. Sigh.
Given Infinite Budget, How Much Could I Fix?
If I had to become a road warrior, I could fix some of these things. I would buy a newer and more powerful laptop, with more memory, to facilitate more and better use of VMs. My Win10.Guru business partner Kari reminded me (Doh!) that bringing an HDMI cable on the road would let me use the TV in my room as a second monitor. (My current hotel room has a 42″ LG full HD TV with an open HDMI port. With a little wrestling, I could easily move the TV onto the desk here and do just that!)
There are also portable USB and HDMI monitors available for $150-200 that I could schlep with me on the road. Likewise, there are two-piece ergonomic keyboards (like the Ovation ML) that would fit nicely into my Targus laptop bag. And finally, I could — and sometimes do — carry a second laptop with me that I could put to work as a separate test machine.
Thus, the only thing I really can't fix is Internet speed in a hotel room. My Verizon bandwidth sucks here, too, so ganging up in-room WiFi with my 4G hotspot offers little hope of relief in my current situation. That said, my room does have an RJ-45 jack and it would probably be worth testing to see if a wired connection is any faster than a wireless one. Possible, but unlikely. But that's just one of the productivity barriers I'm facing that I really can't fix completely. The others can be overcome with a little ingenuity, some modest expense, and more weight to ferry between home and remote locations. I suppose I'll have to give it a try on my next road trip. I'll report on those results at some undetermined future date. Please: stay tuned!
---
July 11, 2018 9:23 AM
Microsoft downloads
,
Windows 10
,
Windows Update
I'm on the road this week, working in the mornings from a hotel room. This morning, I'm downloading the latest round of Patch Tuesday updates released yesterday. Because the Network Meter gadget shows me that my download speed is in a band between 6-8 Mbps, I also learned something about how MS handles updates on slower pipes. Because my slate of updates is pretty sizable, I observed that WU downloaded them in reverse size order (smallest first). I also observed that WU limited itself to two downloads at any given time, and that (perforce) it downloaded the Cumulative Update last. And that, dear Readers, is what the title of this post — MS smartens update downloads — really means.
Take a look at today's slate of updates, captured nearly complete, to see evidence of this approach in action: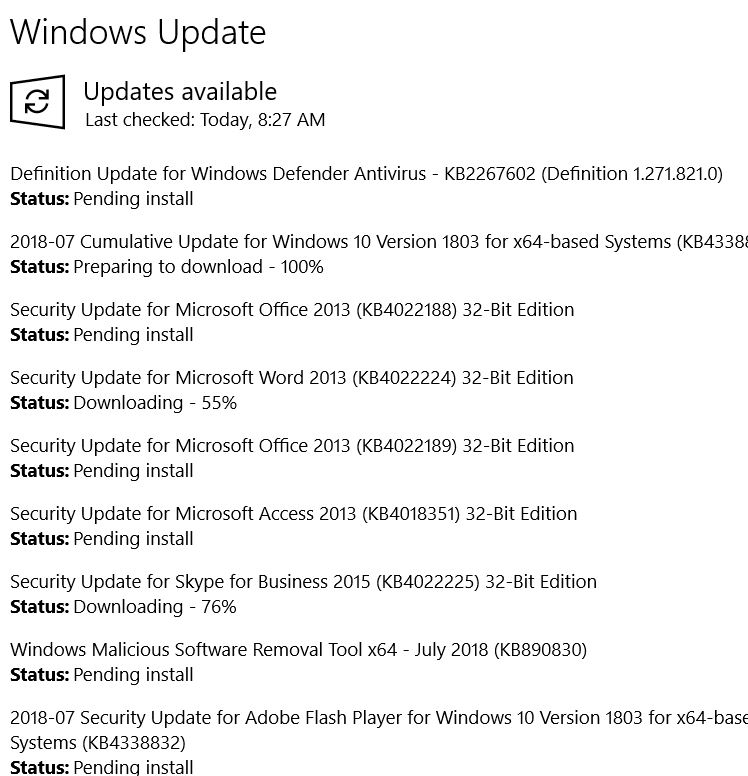 Note that the next-to-last pair of downloads is underway here, while the last item (the Cumulative Update) awaits its turn.
[Click image for full-sized view.]
It's a Good Thing MS Smartens Update Downloads
Normally, when I work at home where effective download rates exceed 300 Mbps, I notice none of this. Today, with only limited bandwidth available, it becomes blindingly obvious. MS is smart to tackle items in reverse size order, and also to limit simultaneous downloads to two items. This limits the number of retries required should a download get interrupted, and helps improve the odds of a successful and relatively speedy download session.
What I didn't understand, however, was the order of update application. The Cumulative Update comes first, followed by the Office Components (5 in all). Then comes the Adobe Flash Player update, the Malicious Software Removal Tool (MSRT), and, finally, the Defender update. I can understand why MS might want to patch the OS first and foremost. But what I don't understand is why the MSRT doesn't come next (or even first). Surely, it doesn't make sense to update an infected or infested system? At present the only thing I can find on this is from the MS Answers forum, which simply says that MS determines dependencies among updates and installs them so as to address or resolve them. I'm going to do some more research on update application order, and see what I can learn. If I find anything interesting or useful, I'll post about that again soon. Stay tuned!
---
July 9, 2018 8:57 AM
Troubleshooting
,
Windows 10
,
Windows Upgrades
I'm working on my Lenovo T520 laptop this week, visiting with my Dad in his nursing home. Yesterday, I was scanning that PC's C: drive and saw two anomalies. First, a Windows.old folder, and second, the $GetCurrent folder. Both of these are related to Windows ugrades. Windows.old, of course, is where the previous OS version gets stashed for 10 days (by default) after the upgrade. $GetCurrent includes logs of the most recent upgrade, and may also include the install files for that process. I'd already run Disk Cleanup on this machine after the 1803 upgrade in April, so I was a little surprised to see these hangers-on persisting so long after the act, so to speak. But I've been upgrading Windows 10 long and often enough to know that an occasional resurgence of Windows.old (and other stuff, like $GetCurrent) is just something that happens from time to time.
Cleaning Up After An Occasional Resurgence of Windows.old
As soon as I realized what was going on, I also realized I didn't bring a bootable repair disk or USB stick with me. I won't be making that mistake again, as I plan to drop one into my traveling bag as soon as I return home. I tried my recovery partition on the laptop only to be informed that it wouldn't boot. So I have some repair work ahead of me upon my return home.
The easiest way to root out Windows.old is by running Disk Cleanup with admin privileges. But because I'd already done that on this PC, I knew something odd was up in the Windows.old file structure. On previous such encounters, I've seen audio and video drivers remain in use in Windows.old despite the handover to a new Windows image. This time, though, it was something different. The  folder named
C:\Windows.old\Users\Username\AppData\Local\Packages\
Microsoft.Windows.Cortana_cw5n1h2txyewy\LocalState
wouldn't go away when I tried deleting the entire Windows.old folder from its root.
Effecting the Cleanup
So instead, I navigated into this directory structure as far as the file system would let me go, and used an admin command prompt and the rmdir (remove directory) command to work my way up from the bottom of the path to the top. I could only navigate as far as Local before the actual file structure petered out. Working my way up from Local to AppData to Username (using my real account name, of course), to Users to Windows.old did the trick this time. If I'd had a working recovery environment, I could have simply booted that instead, and deleted the Windows.old folder from the root. But because I didn't, backing out with rmdir at each step of the way did the trick.
As for $GetCurrent? It resisted my deletion not one bit. I was able to remove the 200K or so of files and the folder in a single delete command. Its permissions or file structures weren't munged, unlike the remaining (if miniscule) Windows.old folders. Nor did the install files stick around, either (that would have been 6 GB or so, not 200 K). And with that, my cleanup was complete!
Here are pointers to some useful links I found while researching these strangely persistent folders:
Cannot Delete LocalState folder (MS.answers)
What Are the $GetCurrent and $SysReset Folders, and Can I Delete Them? (HowToGeek)
Delete Windows.old (TenForums Tutorials)
---
July 6, 2018 3:31 PM
Windows 7
,
Windows 7 migration
I was amazed to learn yesterday, upon visiting Microsoft's Retired Exams page, that the Windows 7 exams are scheduled to retire at the end of this month. I suppose it should have come as no surprise, given that mainstream support for Windows 7 ended on January 13, 2015. And in fact, as you can see on the Microsoft Lifecycle Fact Sheet, extended support for Windows 7 comes to a screeching halt  in less than 18 months. As of January 13, 2020, the only way to keep Windows 7 alive will be by purchasing special "life extension" support from Microsoft. If you think back about XP, the same thing happened back then, too. To me, because MS Win7 cert exams expire July 31, 2018, it's a strong reminder that another, similar train wreck may be in the offing.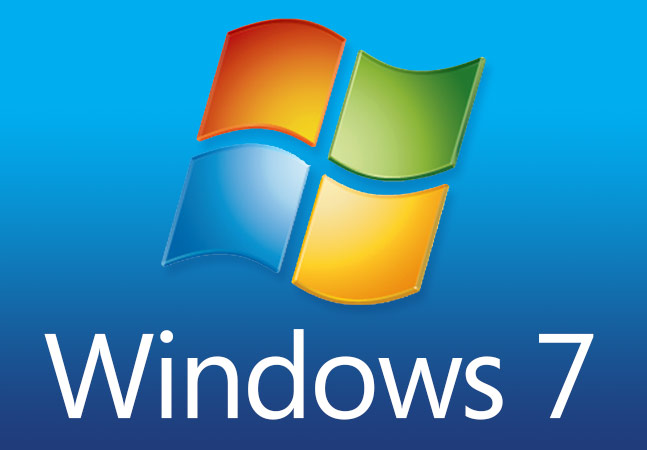 It's almost time to say "Bye-Bye" to Windows 7, yet it still runs on nearly half of all Windows PCs.
After MS Win7 Cert Exams Expire July 31, Then What?
These exam retirements signal that Microsoft is closing the doors on Windows 7 internally. That said, the rest of the world seems far less ready to move onto newer Windows versions. As of today (7/6/18) NetMarketShare reports that 43.38% of Windows devices run Windows 7. By comparison, 32.08% run Windows 10. Win10 devices, according to MS at the May Build conference, number over 700 million. That means that at least 946 million devices still run Windows 7. My best guess is that the majority of those systems are in business rather than personal use.
What does it all mean? For one thing, it means that those businesses that haven't  yet upgraded to Win10 should really get that ball rolling right away. For another, it means that they have less than 17 months to migrate unless they want to shoulder added costs for extended support. Third, it suggests that IT pros can still benefit from Win10 certifications (which include the MCSA: Windows 10 and the MCSE: Mobility credentials). And fourth, it portends a possible spike in new PC purchases because it's probably time to refresh a lot of old hardware that's still running Win7, too.
One more thing's for sure: it's going to be interesting to watch what happens as the clock ticks down to the "real end" for Windows 7. There are still a lot of devices that will need to migrate to stay supported for owners unwilling or unable to incur added costs for extended support. Stay tuned!
---
July 4, 2018 3:32 PM
DISM
,
Windows 10
,
Windows Update
,
Windows Update Management
As Windows 10 garners updates, superseded components can accumulate in the Windows Component Store (aka WinSxS). You can use the Deployment Image Servicing and Management (DISM) command to clean such things up. This is useful, not just for one-at-a-time grooming of Windows images in everyday use. It's also a good idea to use this capability on canonical images used for enterprise deployment. So, whenever you update an image, you can use DISM to check if if cleanup is needed. If it is, you'll be pleased to understand that DISM cleans up after Windows Update easily and happily. That said, the cleanup process can take some time to complete so be patient.
When Is DISM Cleans Up After Windows Update Necessary?
Good question! And, as it happens DISM itself can tell you if cleanup is needed or not. Here's how it's done for online images. (For offline images see this MS article "Reduce the Size of the Component Store in an Offline Windows Image." In general, it requires targeting a specific offline image.) The AnalyzeComponentStore option provides the necessary information, as shown here: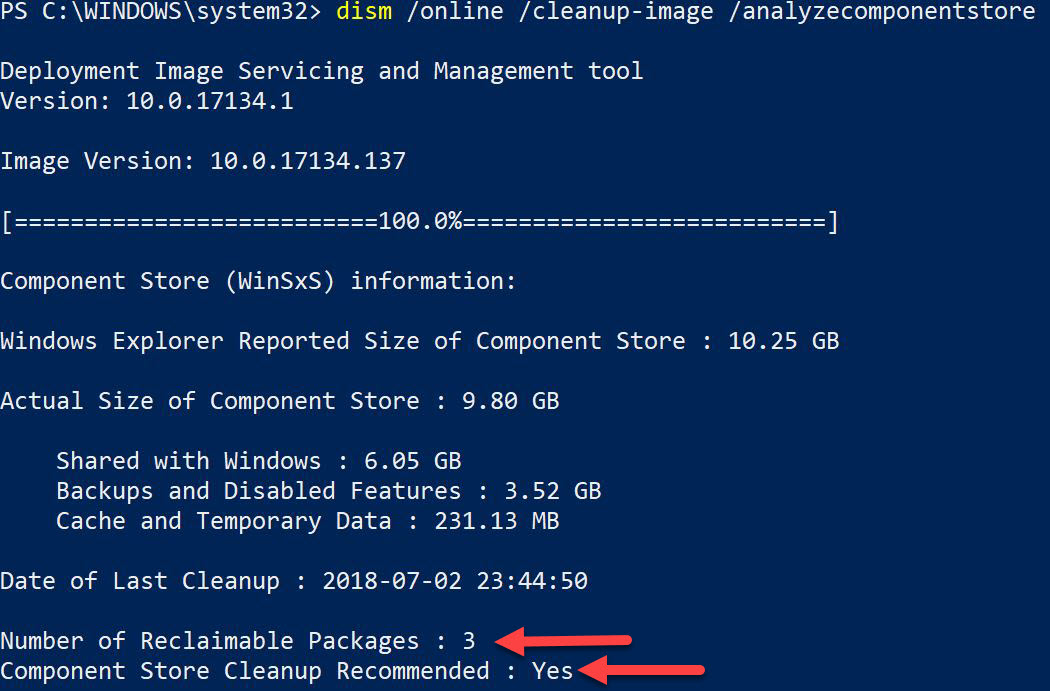 If the number of reclaimable packages is greater than zero (top red arrow), the cleanup recommendation will always be "Yes" (bottom red arrow).
[Click Image for Full-Sized View.]
This DISM command also provides other useful information as well. Note that it shows the size of the WinSxS folder (the Component Store) in Explorer, and also the actual on-disk size. The latter item includes the sum of the Shared with Windows, Backups and Disabled Features, and Cache and Temporary Data Items. The former includes additional disk space reported to Windows Explorer because of hard links in WinSxS files. This can be useful info to keep track of, too, all by itself.
Performing Component Store Cleanup
The actual syntax for cleanup is pretty simple and straightforward, too, and comes with an interesting twist. This appears in the next screenshot with usable DISM command syntax. Note that DISM reports progress in two bars, rather than one. I've noticed that it seems to restart its progress count on a separate bar as soon as it encounters the first package in need of reclamation. I've seen this number as low as under 10 percent (as shown below), but I just saw it as high as 92% on the other machine that prompted this blog post (not shown).
And remember, because this cleanup involves copying over the entire component store, while removing the reclaimable packages, this takes some time to complete. It took over 4 minutes on my i7 Skylake production PC with a 6.38 GB WinSxS folder. That stretched over 12 minutes on my older, slower Lenovo T520 laptop with a 9.8 GB WinSxS folder.

After the cleanup is complete, you can assess its impact on the Component Store by repeating the AnalyzeComponentStore directive. For the T520 used for the preceding screenshots, the post-cleanup size is 6.7 GB (actual) and 6.81 GB (Explorer). The original values were 9.8 and 10.25 GB respectively. That means savings of 3.1 GB (actual) and 3.44 GB (reported in Explorer). Not bad, for purging 3 packages!
---