---
July 27, 2010 2:51 PM
Here's an interesting table from CNET that reports on the 64-bit installed Windows base vis-v-vis 32-bit versions by OS for Windows 7, Vista, and XP:
It certainly looks like the ability to access and use RAM sizes in excess of 3.1-3.2 GB or so (about the best you can do with Windows 7 32-bit versions, even with 4 GB of RAM installed) has to be contributing to this change in the makeup of the Windows OS distribution when it comes to relative numbers of 32- and 64-bit versions for recent Windows OSes. With memory getting cheaper, increasing use of virtual machines, and a growing number of applications designed to take advantage of 64-bit data structures, file sizes, and so forth, there are also lots more reasons why it makes sense to buy a PC with 64-bit Windows pre-installed, or to switch from 32-bit Windows XP or Vista when upgrading to Windows 7.
As I look at my own PC population in-house, I see that except where 64-bit versions aren't possible (as on Atom-based netbooks) or don't make sense (as on older hardware with 4 GB or less of RAM installed), my own preference has been to upgrade to 64-bit Windows 7 on existing hardware. All of the systems I've purchased recently (except for an HP MediaSmart Server, for which 64-bit Windows is not available) in fact, have come with Windows 7 pre-installed as well.
July 27, 2010 2:35 PM
Just over a month ago, I cited reports that Microsoft's run rates for Windows 7 sales worked out to 7 copies per second in my blog "Windows 7 Posts 150M LIcenses Sold…" In the 29-day period from June 23 to July 21, that run rate jumped to 10 copies per second, given cumulative sales of 25 million licenses over that interval, according to a story posted at Computerworld last Friday. My later posting discussed speculations that Microsoft might not be able to maintain this momentum in light of its relatively low (25%) conversion rate among enterprise-class buyers, most of whom continue to use Windows XP. Looks like that has not dampened momentum for Windows 7 uptake, in light of this recent uptick.
That raises the very interesting question of whether or not surveying blog or article readers to assess market intentions or status is valid. My best guess is that those who read articles about Windows 7 are already showing tangible signs of interest in the OS, and that they probably represent a different population than the entire enterprise IT sector. What makes the question — or rather the characteristics of those who would choose to read and respond to such surveys — interesting, is that the composition of such readership isn't clear, nor can it be demonstrated to consist solely (or even mostly) of enterprise IT professionals.
My gut feeling is that those who are interested in Windows 7 come from all walks of life, including some enterprise IT professionals but also SMB IT professionals as well as plenty of people who probably work outside the IT umbrella entirely. Surveying this population to determine enterprise interest or intent is probably a risky proposition at best, if not downright meaningless. The close correlation between the survey results and the declared intentions of enterprise-class outfits might be accidental or uninformative as well.
I have to believe that the combination of an aging PC fleet, impending cutoffs for XP support and updates, and genuine performance and security improvements in Windows 7 as compared to XP will help, not hinder, enterprise migrations from the older Windows platform to the newer one. When the balance will tip and enterprise adoptions and migrations start speeding up, however, remains anybody's guess. Just in case the conventional wisdom that enterprises will indeed wait for SP1 to be released before migrating proves true, MS would be well-advised to push that date forward rather than allowing it to occur later rather than sooner.
---
July 22, 2010 1:45 PM
OK, so I'm on vacation this week and I'm learning how not to be at work most of the time, and how to be relaxing and enjoying my family and my freedom instead. To some extent, this is a challenge all by itself because I'm so used to hunkering down by myself in my office, immersed in a world that's more virtual than real, chasing interesting phantoms of thought and technology.
This week, my challenge is of a completely different order. I'm out of the customary routine, now responsible for finding things to do, places to visit, and sights to see not just for my own family, but also for my sister's family (herself, her husband, and their 11-year-old son and 14-year-old daughter). Of course, I'm not in this alone — there are three other adults around to provide input, exert leadership, and guide choices, and the kids are never shy about making their wants and wishes known, either.
But so far we've managed nicely to enjoy ourselves and our surroundings. We've hit the local beaches four times, have visited a nifty museum or two, and have taken several lengthy hiking excursions into nearby local attractions. It's always interesting getting a bunch of people moving, and keeping them moving at enough of the same pace to make satisfactory progress between points A and B (or as Tolkien put it as the subtitle for The Hobbit:  "There, and Back Again."
In the meantime, I'm observing that many of the same skills I've developed in setting up, configuring, and troubleshooting technology have some small value in helping to manage family affairs and activities. More humorously, my tendency to make assumptions about causes and solutions can also lead me away from the truth just as well in this sphere as it can in my more customary haunts. But gosh, it sure it fun to turn my hand (or more appropriately, to lend that hand) toward steering "rough consensus" about what we should do today, and helping to foster a situation where everybody gets to have fun, and enjoy themselves.
Now, if only I could figure out how to bring this spirit and attitude to work, too!
---
July 20, 2010 2:42 PM
Work. Work. Work. Go all day, deal with the rest of life as busy schedules permit, catch a few Zs, then get up and do it all over again. That's the typical rhythm of life for most of us working stiffs, most of the time. Every now and then, though, it's a good idea to make a break from the dull routine and go do something else.
That's why I've found myself singing "I'm on vacation. I'm on vacation. I'm on vacation." over and over again during the past few days. The family and I have broken with the usual routine and are spending our days together right now, exploring places and activities we'd never normally undertake during the week. And though the new routine has its own rhythm and I still fall into bed exhausted (or at least, pleasantly tired) each night, it's different enough for me not just to recharge my batteries, but also to get some perspective on working life as well.
Summer is a traditional time for vacations. And although it's hot and sometimes difficult to be outside wandering around, it's a terrific break and a positive and pleasant change. I'm off for the next week, which I hope will be long enough for me to regain my balance, refresh myself, and to feel good about jumping back into the workaday routine by the time I officially return to my desk next Tuesday (June 27). In the meantime, I'll be sharing some idle but hopefully also productive thoughts about working life and plans from the "different place" that is the vacation mindset. Please stay tuned for more, and I hope you too get the chance to change your venue and perspective in the same way soon, if you have recently done so already!
Best wishes,
–Ed–
---
July 15, 2010 3:23 PM
The TechNet Evaluation Center released the combined Windows 7 and Windows Server 2008 R2 SP1 beta package yesterday. Check out this warning that advises end users to steer clear:
Anybody who wants to grab the beta can do so, however, but the usual restrictions apply. To me the most onerous typical restriction is that the machine upon which such a beta gets installed usually has to be wiped and a clean base OS installed against which to apply the final version of the service pack when it becomes available. Thus, this isn't for production machines by any stretch of the imagination, and I can readily understand why MS wants to discourage home or casual users frm attempting giddy experimentation with this code without fully appreciating what kind of work will be involved when it's time to replace the beta with the final release.
That said, enterprise and other Windows 7 admins looking to evaluate the impact of SP1 — who usually have test machines at their disposal — will probably want to grab this update and get going on installation and impact analysis. SoftPedia has a pretty nice summary of SP1 available, including a useful overview of the changes that SP1 will bring to both Windows 7 and Windows Server 2008 R2. It's worth checking out, if you want to understand better what's under the hood here.
---
July 14, 2010 9:57 PM
Yesterday was the second Tuesday in July aka "Patch Tuesday" so it also witnessed the release of the scheduled updates for the month and an accompanying Security Bulletin. Today, the Help and Support remote code execution vulnerability described in MS10-042 is reported as the focus of a "zero-day exploit" (an exploit that occurs the same day that a vulnerability is acknowledged) that is reported in this ZDNet blog "25,000 PCs attacked with latest Windows zero day [exploit]" as what can only be summarized as an extremely active infection or infestion on the Internet. Patch your systems quickly, folks!
Other items updated in the latest round include the following:
MS10-043 Vulnerability in Canonical Display Driver Could Allow Remote Code Execution (Critical, but affects only x64 versions of Windows 7 and Windows Server 2008 R2).
MS10-044 Vulnerabilities in Microsoft Office Access ActiveX Controls Could Allow Remote Code Execution (Critical, but affects only MS Office 2003 SP3 and 2007 SP1 and SP2 versions)
MS10-045 Vulnerability in Microsoft Office Outlook Could Allow Remote Code Execution (Important, and affects Office XP SP3, 2003 SP3, and 2007 SP1 and SP2 versions)
The usual monthly elements (Windows Malicious Software Removal Tool, Outlook Junk Email Filter, and so forth) were also distributed as well. My x86 (32-bit) systems didn't require a reboot after installing these updates, but my x64 (64-bit) systems did. Enjoy!
---
July 13, 2010 5:40 PM
Hey! I just read a fascinating ditty in Jason Hiner's recent Between the Lines blog for ZDNet; it's entitled "74% of work PCs still run XP, and they're 4.4 years old." This item does a short, scary, and convincing job of calling the big wins into question that Microsoft has been reporting for sales of Windows (150 million copies sold as of the end of May, or 7 copies per second since the official release in October 2009) — at least, as far as enterprise sales and adoptions are concerned.
Let me explain. Hiner reports that Microsoft shared what can only be call "very interesting numbers" at its Worldwide Partner Conference 2010. At that summit, MS Windows Corporate VP Tammi Reller revealed that 74 percent of business computers still run Windows XP, and also indicated that the average age for corporate PCs is 4.4 years. These are surprising numbers, especially in light of other surveys on enterprise/business OS pilot, adoption, and use plans. They could also spell disappointment for Steve Ballmer's prediction last Monday (July 12, 2010) that Microsoft would sell 350 million copies of Windows 7 by the end of this year.
Given the low current adoption rate Microsoft is convinced that it's a golden opportunity that will result in huge sales for the foreseeable future. And certainly, a PC fleet that's averaging around four-and-a-half years old is past due for a hardware refresh as well — especially if you put any credence into studies about the IT hardare lifecycle, which indicates that machines over three years old become increasingly difficult and expensive to support, and that five years is about as much productive life as any organization should try to squeeze of its PCs (and for notebooks, the cycle is more like 3-4 years, given increased wear and tear to which mobile machines are subject).
On the other hand, Hiners observes that with 74 percent of corporate machines still running XP, and with Windows 8 now under discussion, it's possible that some portion (maybe even a substantial one) of this population may decide to stay put, and wait even longer to upgrade. Just for grins, I took the survey on his blog page to see how previous readers have reacted to a couple of questions, and those results firmly underscore the notion that what MS spins as an opportunity could also result in fewer sales than projected:
Although there's no information available about the size (or quality) of the population being surveyed here, the results certainly provide a rough-and-ready affirmation of what's reported regarding adoption plans and PC age. Now, it remains to be seen whether the need to avoid unpleasant increases in support and maintenance costs trumps an apparently strong desire to stand pat with XP, or vice-versa!
---
July 7, 2010 4:58 PM
In the over-reported and -analyzed business and IT technology world in which we live, yesterday's grist for news — such as my preceding blog "Windows 8 Slide Leaks the Shape of Things to Come" — can itself become fodder for today's news. At least, that's what I thought when I saw Tony Bradley's thought-provoking piece for PCWorld this morning, entitled "Leaked Windows 8 Details Could Slow Success of Windows 7."
Mr. Bradley's basic premises go something like this: Windows 8 mentions interesting and possibly significant new hardware requirements (for example, a Web cam used for facial recognition, among numerous other jazzy and snazzy planned features and functions). Windows 8 will probably be out in two to three years. Some companies and organizations may elect to delay their OS upgrade and hardware refresh still further to wait for Windows 8 to get finished, so they can buy hardware on which it will run.
I find it interesting, but I don't buy it. Lots of studies show that as desktops and notebooks age, especially over three years for notebooks, and four to five years for desktops, the costs of supporting and maintaining older hardware rise impressively. With many companies and organizations having already pushed the envelope past its normal tearing point (many notebooks are 4-5 years old, and desktops 5-6 years old in a large number of enterprises, companies, government offices, schools, and so forth), there's little chance that enough elasticity resides in those poor old things to permit them to eke out another 2-3 years of productive use.
My personal belief, well-supported by reports from major PC manufacturers and Microsoft itself, is that the "big refresh" is already underway, and that it will be accelerating over the next 12-24 months. I don't think it matters that Windows 8 is around a corner not too far away: it's the distance from the last corner (Windows XP) and the corner that got skipped (Windows Vista) that really makes the difference right now.
Perhaps Mr. Bradley is right to the extent that the pace of Windows 7 purchases (7 per second, according to recent MS press releases) may drop off a bit. But I think the old desktop and netbook fleet is too old to hold out for another 2-3 years for the next, bigger, and better Windows to come along.
---
July 2, 2010 3:10 PM
Earlier this week, an Italian Windows site named Windowsette posted a collection of confidential Microsoft slides about Windows 8, proprietary watermarks and confidentiality notices included. Because I don't read Italian very well (not at all, actually) I found a copied set on the MSFTkitchen.com Website entitled "Windows 8 Plans Leaked Numerous Details Revealed," where you too can look things over in detail at your leisure.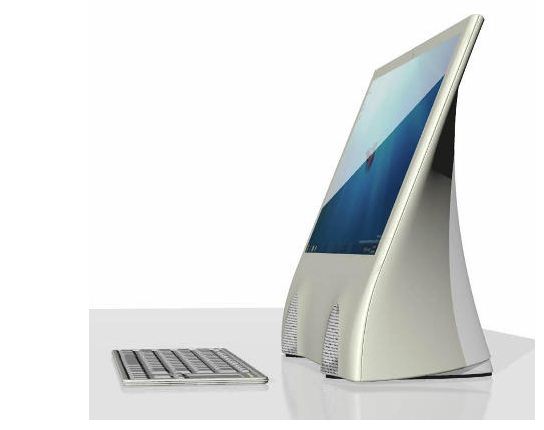 The preceding image is a touchscreen PC, with all cables cleverly hidden below that festoons a slide labeled "Focus: Hardware Capabilities" and mentions multiple contact points, improved (touch) sampling rates, automatic ambient light controls over display brightness, and voice control among numerous other topics.
Now that Windows 7 is off to a resounding start, Microsoft is apparently beginning to plan the next version of Windows in earnest, where lots of interesting topics still figure into their design and development plans. These include an ongoing focus on faster boot-up and startup, a keen appreciation for what Apple has been able to accomplish with a strong interest in replicating their systems and software success, more attention on the post-purchase installation and user experience, and even built-in facial recognition for systems that include Web cams (which nearly all notebooks do nowadays, along with an ever-increasing number of desktops).
To me, it's not just an interesting indicator of what might (or might not) lie ahead for Windows, these slides also tell us a lot about what Microsoft thinks is important, where and how it perceives its competitors and problems, and what kinds of buzzwords and "keen technologies" are currently grabbing mindshare in Redmond and elsewhere. If you're interested in Windows, and want to get some sense of what lies ahead for upcoming versions, take a look at these slides — you won't get a lot of details or substance, but you will be tantalized and teased with what's possible and promised, though neither scheduled nor actually on the table for implementation just yet.
---
June 25, 2010 9:33 PM
Hey! Big new on Brandon LeBlanc's Windows Blog for June 23. It's entitled "150 Million Licenses of Windows 7 Sold…" and goes on to make the claim that this version of Windows is "…the fastest selling operating system in history with 7 copies of Windows 7 sold every second." Does this mean we can finally all stop moaning and groaning about Vista? Gosh, I certainly hope so, because the total and the run rate are both pretty considerable numbers.
LeBlanc's blog also goes on to mention this interesting factoid as well: according to Tami Reiller's keynote at the BofA/Merrill Lynch Technology Conference earlier this month, a whopping "…75% of enterprises are looking at Windows 7 for their organization."  A recent Lifehacker study on Windows 7 user satisfaction reports that 72% are absolutely satisfied with the OS, and that 22% designate themselves as "I've got some complaints, but overall I'm happy." Microsoft combines these numbers to report that 94% of all Windows users are "happy" with the OS, though maybe "some kind of happy" might be a bit more on the mark. Likewise a recent Gartner study that Tom Bradley at PC World covered on May 26 predicts 22% growth in global PC sales for 2010, which Bradley (and Microsoft) are more than happy to attribute not just to the global economic rebound — such as it is — but also to "…the success of Windows 7."
Looks like things are looking up for Windows 7, and if you don't have it on a desktop near you (or your own desktop, in fact) already, it should be showing up there sometime soon.
---