---
April 18, 2011 2:11 PM
I occasionally cover great (and mostly free) Windows software tools in this blog, in the interests of helping other Windows admins stock their handy-dandy toolkits. This weekend, I stumbled across a fabulous little (334 KB download, 539 KB installed) free file and folder search tool named Search Everything. Here's a snap from its download page that tells most of the story quite nicely:
Even though I'm running on a reasonably fast Windows system (Intel QX9650 CPU overclocked to 3.5 GHz, Intel 80GB SSD) Explorer is still a little laggy on that machine, especially when I fire off the built-in search facility. Everything beats the pants off Explorer on a series of simple sample searches by a margin of almost 2 to 1 (which is to say it's nearly twice as fast). That said, it does search only file and folder names, not file contents. But in most cases, it finishes the search before or exactly as you type your search string, whereas Explorer can take a few seconds, particularly when pointed at non-indexed drives. Definitely worth a spot in your tool collection!
April 15, 2011 2:25 PM
I've switched over from IE8 to IE9 on about half of my Windows 7 PCs, including two desktops and one of my laptops. So far, things have been going reasonably smoothly in the two weeks or so I've been using this new browser, but I have encountered one set of "interesting" problems (in the sense of the famous Chinese curse "May you live in interesting times"). Curiously enough, these have to do with the very program in which I'm creating this blog post — namely, WordPress. In fact, I'm posting my blogs using Chrome these days because while the site operators know that IE9 is having problems, they haven't yet figure out how to fix them.
Let me recount my current difficulties:
I can't access any of the toolbar elements at the head of the primary posting window (as shown in the following screen snippet). This is the usual method for controlling text, using bulleted or numbered lists, managing text alignment — and entering hyperlinks to attach to other Web pages. I can click on the icons and see them highlight to indicate they have been selected, but for some reson the associated actions that usually go with them don't fire off and do their respective things.
When I try to upload a graphic to illustrate my blog, I can launch the Explorer based download widget, access the file navigation and selection window, but when I click the Upload button, the widget display area goes all white, and essentially freezes in that state without every uploading anything.
Alas, these two sets of problems are more than sufficient to keep me from writing and posting my blogs using IE9. I've communicated my issues to the site operators, and they've dispatched some programmers to look into and try to solve these problems, but it's been a week and so far there's no word as yet even with an ETA as to when things might be fixed. Until then, I have no choice but to use an alternate browser for the ten or more blogs I routinely write every week.
This leads me to recommend to my enterprise admin readers that they test Web-based applications and UIs carefully with IE9 before rolling the new browser out. This goes double for any custom or home-grown Web apps, many of which tend to be seriously sensitive to browser eccentricities and idiosyncrasies. Looks like some  period of "bug shakeout" (or being more charitable, "change adjustment") will be necessary before IE9 can take up a predictable spot on enterprise desktops around the corporate world!
---
April 13, 2011 1:53 PM
Here's what I found waiting for me on my production Windows 7 Professional (x86) machine this morning, in the wake of the latest Patch Tuesday:
Notice that only two items are unchecked by default: KB2511250 relates to an issue printing SVG graphics or CSS3 style sheets in IE9, and the Malicious Software Removal Tool is a usual Patch Tuesday feature. The former is something many users are not likely to need, while Microsoft is being smart about leaving the latter unchecked because it takes some time to run to completion and has occasionally caused problems when batched in with Patch Tuesday stuff in the past.
All this said, here's a quick abstract of the Security Bulletin Summary for April 2011:
Bulletin ID

Bulletin Title

Rating and Impact

Restart Required

Affected Software

Cumulative Security Update for IE (2497640)

Critical
RCE

Yes

MS Windows,
IE

Vulnerabilities in SMB Client Could Allow Remote Code Execution (2511455)

Critical
RCE

Yes

MS Windows

Vulnerability in SMB Server Could Allow Remote Code Execution (2508429)

Critical
RCE

Yes

MS Windows

Cumulative Security Update of ActiveX Kill Bits (2508272)

Critical
RCE

Maybe

MS Windows

Vulnerability in .NET Framework Could Allow Remote Code Execution (2484015) to bypass Code Access Security (CAS) restrictions.

Critical
RCE

Maybe

MS Windows

Vulnerability in GDI+ Could Allow Remote Code Execution (2489979)

Critical
RCE

Maybe

MS Windows,
MS Office

Vulnerability in DNS Resolution Could Allow Remote Code Execution (2509553)

Critical
RCE

Yes

MS Windows

Vulnerability in JScript and VBScript Scripting Engines Could Allow Remote Code Execution (2514666)

Critical
RCE

Maybe

MS Windows

Vulnerability in the OpenType Compact Font Format (CFF) Driver Could Allow Remote Code Execution (2507618)

Critical
RCE

Yes

MS Windows

Vulnerabilities in MS Excel Could Allow Remote Code Execution (2489279)

Important
RCE

Maybe

MS Office

Vulnerabilities in MS PowerPoint Could Allow Remote Code Execution (2489283)

Important
RCE

Maybe

MS Office,
MS Server Software

Vulnerabilities in MS Office Could Allow Remote Code Execution (2489293)

Important
RCE

Maybe

MS Office

Vulnerability in Windows Fax Cover Page Editor Could Allow Remote Code Execution (2527308)

Important
RCE

Maybe

MS Windows

Vulnerability in MS Foundation Class (MFC) Library Could Allow Remote Code Execution (2500212)

Important
RCE

Maybe

MS Developer Tools and Software

Vulnerability in MHTML Could Allow Information Disclosure (2503658)

Important
Information Disclosure

Yes

MS Windows

Vulnerability in WordPad Text Converters Could Allow Remote Code Execution (2485663)

Important
RCE

Maybe

MS Windows

Vulnerabilities in Windows Kernel-Mode Drivers Could Allow Elevation of Privilege (2506223)

Important
Elevation of Privilege

Yes

MS Windows
Note: RCE is my abbreviation for Remote Code Execution, by far the most likely type of vulnerability you'll encounter in this month's batch of updates. Lots of important IE vulnerabilities are addressed here, including some recently reported zero-day and the latest PWN2OWN exploits as well. Roll up your sleeves, admins: you've got some work to do!
---
April 11, 2011 1:35 PM
OK, so I've been watching Windows 7 market share numbers climb steadily month after month, ever since its general availability date in October 2009. Here's what the latest marketshare distribution looks like for March 2011, according to NetMarketShare.com:

But as the saying that Mark Twain popularized in 1906 as "There are three kinds of lies: lies, damned lies, and statistics" would have it, numbers can be diced and sliced in an infinite variety of ways. That's why I read the following ComputerWorld headline this morning with great interest and eventual bemusement "Windows 7 share tops XP for first time in US."
Here's one line from that story that says it all, with tongue-in-cheek homage to the "three kinds of lies" epigram: "In the first 10 days of April, Windows 7's average daily share was 32.2% as measured by StatCounter, besting XP's average of 30.7%." Later on in the same story ComputerWorld fesses up to relate: "Data from rival metrics vendor Net Applications paints a less-impressive [Ed remark: and more consistent with NetMarketShare.com] pciture for Windows 7. Net Application's March numbers put Windows 7's global usage share at 24.2%, compared to XP's 54.4%.
The key issue here, of course, is the source of the numbers involved. The graph at the head of this blog comes from all over the world, and StatCounter's report is focused purely on the United States market.  StatCounter's explanation for the difference, as relayed in the CW story is: "Because China accounts for a major chunk of all computer users and because a higher percentage of Chinese users run Windows XP than those in virtually every other country, Net Applications' XP numbers are higher than StatCounter's." And you can't get NetMarketShare (or its parent company, NetApplications) to disclose market share data by country without a for-a-fee "geolocation upgrade."
But this contrasting graph from StatCounter, which clearly shows the crossover point between Windows XP and Windows 7 in the US occurring in early April (dark blue and light yellow lines), does give some credence to StatCounter's reporting. But without independent and reliable confirmation, I can only treat this report as suggestive, rather than conclusive. Even so, Microsoft should be taking great cheer from these numbers, while also hoping that the Chinese legions get on the upgrade bus before the end-of-life date for XP in 2014.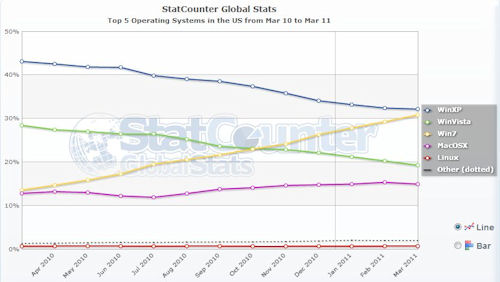 ---
April 8, 2011 4:24 PM
Next Tuesday's 17 security bulletins will address 64 known vulnerabilities across all current Windows versions plus MS Office, Internet Explorer, Visual Studio, the .NET Framework, and GDI+ (current version of the graphics device interface code for C/C++ that handles basic 2-D graphics on-screen). Nine of those 17 bulletins are rated as "critical," which is Microsoft's most dire security label for updates.
Check out this partial screencap from the Microsoft Security Bulletin Advance Notification for April 2011, just released yesterday (4/7/2011).
As is usual for advance notifications, the details are not yet exactly clear, nor will they be clarified until Patch Tuesday arrives and the actual April 12 Security Bulletin is released. It seems pretty clear that IT admins should prepare some lab time, so they can start assessing the impact of rollouts on their production environments. With nine critical updates in this mix, it's a sure bet that some or all of those items will be on their "must-handle" lists at around 11 AM PDT Tuesday, when MS traditionally releases its bulletin and pushes the updates into the Windows Update environment.
---
April 6, 2011 2:59 PM
Every now and then, MS offers major discounts to the academic population to stimluate interest in and uptake of their products. Apparently, now is one of those times. By visiting the Microsoft for Students page, individuals currently registered at an accredited college or university can request and obtain an e-mail from MS with further instructions to take advantage of this offer (a 54% discount or thereabouts). Also available, Microsoft Office Professional Academic 2010 ($79.95) and the Microsoft Office Language Pack ($9.95). If you've got a student in the family, or happen to be a student yourself, this is a pretty good deal: one worth taking up, if you're eligible.
---
April 4, 2011 2:29 PM
Analysts attribute Microsoft's desire to cash in on the tablet/touchscreen device boom currently underway in the computing and telecomm industries right now to a possible speed-up in the release schedule for Windows 8 now widely speculated (for example, see CNNMoney.com's 4/4/2011 story "Brace yourself: Windows 8 is coming soon"). The cause for the raft of Windows 8 rumors now swirling around in cyberspace is a series of screenshots taken from a private test beta test release of Windows 8 leaked on the Winreview.ru Website over the weekend. The site is now closed down, so that even though Google still lists (and caches) pages for the site, you can't actually access the "real thing" right now.

Before this takedown occurred, however, WindowsUpdate8.com grabbed a few tantalizing screenshots from Winreview.ru, as did the CNNMoney page cited in the preceding paragraph and inserted into this blog as well.

It's going to be really interesting to see if MS will mount a major offensive to get Windows 8 out the door in time for 2011 holiday buying season, which begins in earnest in November of the year. Frankly, I'll be suprised if they can pull if off, but the whole tablet and smartphone market opportunity given them lots of reasons to go for the gold as it were. But only time will tell: Microsoft, as usual, won't comment on the record about software still in early stages of development.
---
April 1, 2011 1:45 PM
My Dad is 87 years old, and still in good health, and he's got a Dell D630 notebook PC that he uses daily to read e-mail, check his investments, and do some very light Web surfing. He's by no means a savvy PC user, and when I try to pilot him through Windows GUI stuff by phone, he has no idea what a title bar is, a menu layout, the notification area, and other landmarks on the screen so necessary to steer users around. Thus, I must often take control of his system in northern Virginia from my desktop in Texas to diagnose and fix the problems he sometimes encounters. Case in point: last year, it took me about 45 minutes to finally understand that he'd maximized his Internet Explorer window and couldn't see or access the other on-screen controls, simply because he didn't know how to tell me what he was seeing on-screen, and couldn't understand my instructions, either.
Until recently, I've used the built-in Remote Desktop Connection (RDC) in Windows 7 to jump from my machine to his across the Internet. It works, but it does blank his screen so he can't see what I'm doing and learn from what I can show him. But about two weeks ago, his ISP (Cox Cable) switched its networks over to IPv6 addresses, and I can no longer use RDC to access his machine. My edge router device is IPv4 only, and tunneling doesn't cut it when I enter an IPv6 address in the RDC computer name field. That's how I found myself looking for a better remote control option, and one that was preferably free for non-commercial use.
Enter TeamViewer, the brainchild of German software company TeamViewer GmbH. The company makes a complete, fully-featured package available for free for non-commercial use on the theory that people like me who use it to support friends and family members over the Internet will be more inclined to recommend or demand use of the paid-for commercial version in the workplace as they get to know and like the product. For my own part, I'm already sold on this logic as well as the products the company puts forward:
TeamViewer Full Version: Remote control software that works through firewalls, NAT, and even across IP versions (IPv4 to IPv6, as when I go from my machine to my Dad's; plus IPv6 to IPv4 as well). Within the TeamViewer window, anything you can do directly via local access becomes available through remote access, quickly and transparently. There are also no keyboard sequences or special tricks to change focus from the remote connection to the local desktop or vice-versa: the software knows where the cursor is (inside or outside the TeamViewer window) and behaves appropriately, with cut'n'paste capability in both directions. Also includes all the other items mention below, except for TeamViewer Manager, which is only available for commercial or trial use with 5-users, and comes as a separate software module, and Team ViewerMSI, only available by corporate license. TeamViewer encrypts all communications, using 1024 bit RSA for authentication and credentials exchanges, and 256 bit RSA for subsequent data transport once a session is established. It also works with all major VPN technologies.
TeamViewer QuickSupport: Small, basic end-user module (what runs on my Dad's PC) that requires no installation, configuration, or admin level access to provide the receiving end of a remote access connection. Dead simple to run and use; perfect for non-PC-savvy users like my Dad. A corporate version can be customized wih logo and welcome text if buyers so choose.
TeamViewer Host: Sets up a system service on a remote computer with login/logout and remote reboot facilities. Deisgned for server access and maintenance, it also makes a peachy add-in for home office computers to which remote users want to connect while on the road.
QuickJoin: A remote presentation delivery tool that enables remote viewers to login to online meetings and presentations. Much smaller footprint than Windows Live Meeting, GoToMeeting, On24, or other remote meeting software I've used to attend and deliver Webinars of late.
TeamViewer Portable: Runs the software from a UFD (USB Flash Drive) so that you can take very little with you on the road, yet gain access to your home base from any Internet-connected machine. I love portable software like this, and this particular implementation works quite nicely.
TeamViewer Manager: A database-based software tool that stores remote host/client information in a centralized database, with distributed access to its contents to authorized users, and a powerful logging and reporting facility. It's not inappropriate to think of this as an IT/admin console for an entire collection of TeamViewer installations and accounts across an entire enterprise.
TeamViewer MSI: An alternative installation package for TeamViewer host, designed for deployment via Group Policy Objects (GPOs) in an Active Directory environment, as is typically found in larger corporations or organizations.
Beyond the functionality, small footprint, and nice collection of different modules for different usage scenarios, what I like best about TeamViewer is their pricing model: client and remote host connections are essentially free. Buyers of commercial licenses only pay for the number of simultaneous seats they need for on-shift support staff to maintain active TeamViewer connections at any one time. Thus, even an enterprise that runs three global shifts of support staff only needs to buy 30 seats, if that's the maximum number of support staff that will be using the toolset during any single shift. This is vastly different, and more affordable, than most other remote access and remote support solutions available in today's marketplace.
check TeamViewer out. It's free for trial or non-commercial use. I predict that once you get to know this little gem, you'll start factoring it into your future on-the-job software acquisition planning.
---
March 30, 2011 2:04 PM
I've recently finished work on a forthcoming book about phishing attacks entitled Cyberheist, and have also updated my CISSP Study Guide and Computer Forensics JumpStart titles in the past three months. If there's one lesson I've absorbed into the marrow of my bones as a result of these projects, it's that unleashing old disk drives to others is an invitation to security disasters. That's because a competent forensics analysis of a disk drive — even one that's been erased and reformatted — can turn up all kinds of interesting remnants of its former contents for anybody who has the right tools and knows how to use them.
Thus, when I found myself in the situation of needing to recycle some old disk drives that "the boss" (my wife, Dina) told me needed to get themselves gone from our house, I turned to the Internet to find a usable drive wipe utility that would perform an acceptable drive wipe on some drives that never had financial or other sensitive information written to them (those I would crush or incinerate). After a few false starts that showed me that you really have to try out a drive wipe utility for yourself to see if it does what you want it to (wipe an entire drive clean, in my case), I settled on the free version of a tool named Active@ KillDisk to do the job (the free version does a one-pass erase only, the $49.95 Windows and $59.95 Suite versions support 17 different standard drive-wipe algorithms). The drives in question contained photos, music files, and archives of books and other writing projects, so I wasn't overly worried about accidential disclosure anyway. Users with more sensitive data should probably take the "crush or incinerate" route, or purchase a commercial drive wipe tool that does multiple erase passes (the DoD recommends a minimum of seven "erase and write random data pattern" passes over a drive to consider it "clean for re-use" — they also recommend "crush or incinerate" for proper drive disposal too, BTW).
Here's what the GUI for the program looks like:
I mounted my old drives into USB enclosures, plugged them into a laptop USB port, fired off the program and let it chunk all night to wipe each of the two 3.5″ PATA drives I'm taking to Goodwill this coming weekend. Safe enough for non-sensitive data, and easy enough to use, though very time consuming (22 hours for a 200 GB drive, and 29 hours for a 300 GB drive). Check it out!
---
March 28, 2011 1:30 PM
With six or seven computers around my office at any given time, in various states of (dis)repair, I find myself devoting at least three or four hours a week to system checkups, diagnoses, updates, and repairs or upgrades. When something like Windows 7 SP1 comes along that number hits a temporary spike but otherwise, this is a pretty consistent number (it also includes fiddling with new programs, drivers, and other aspects of PC maintenance).
This weekend, I cranked up my favorite problem child PC, an HP HDX 9203W (aka "The Dragon") for which HP doesn't support Windows 7 (they stopped updating software for this machine at Vista). When I ran my usual weekly Secunia check, I realized this machine had been off since before last Patch Tuesday (March 8th) because a slew of updates was waiting for me to install on that machine, including the ultimate Patch Tuesday (PT) tip-off, the Windows Malicious Software Removal Tool x64 – March 2011 (KB890830). But every time I tried to run the whole batch up updates en masse the update process would hang and never even get to downloading files. In other words, something in the batch was causing the update process to fail.
I started knocking off the March PT elements one at a time. All of the important updates went through single-file without a hitch:
Update for Windows 7 for x64-based systems (KB2524375)
Update for Windows 7 for x64-based systems (KB2505438)
Security Update for Windows 7 for x64-based systems (KB2479943): This is the one that Secunia noticed was missing, and what clued me in to the need for a visit to Windows Update.
Windows Malicious Software Removal Tool x64 – March 2011 (KB890830)
It was the optional update for Silverlight [Security Update for Microsoft Silverlight (KB978464)] that was hanging. Next, I tried a couple of different installation techniques: by itself from Windows update, then from the standalone KB download link, both without success. Along the way, Windows 7 continued to perform the installation after I triggered a system restart with a new pre-shutdown message "Installing update. Do not power off your PC until installation is complete." No dice for any scenario.
After reading up on Silverlight, I learned that MS issues a new version of the install executable each time it issues a Silverlight update. So I used a workaround to fix the problem instead: I uninstalled the old version that I couldn't patch for whatever reason, then simply installed a brand-new version with changes already incorporated. This went without a hitch, and Windows Update even gave the system a clean bill of health when I performed a post-install check to make sure everything had worked as it should have. I'm still not sure why the Silverlight update wouldn't install on the Dragon, but at least I found a way around that problem and have caught the machine up. It will be interesting to see if I need to go through the same manuevers the next time a Silverlight security update hits.
---