---
April 17, 2013 2:15 PM
Thanks to testing of some leaked images for the upcoming "refresh" for Windows 8 — codenamed "Blue" or "Windows Blue" at present — numerous sources have now confirmed that it may be possible to boot the next major Windows 8 release directly to the desktop. Likewise, the Start button and its related menu may return to the user interface as well. Various element of this rethinking are reported in recent stories from longtime MS watchers Mary Jo Foley (ZDNet) and Tom Warren (The Verge).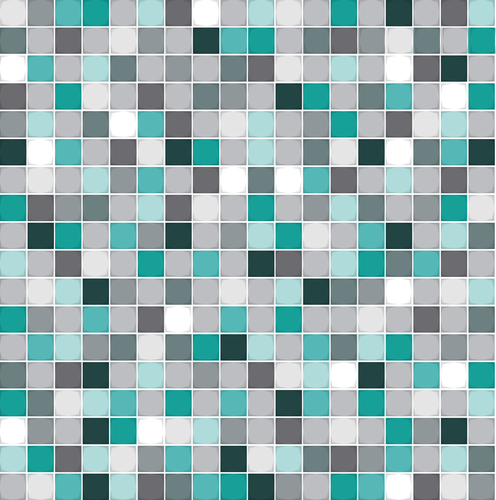 A mosaic of rumors is forming around UI changes to Windows 8.1, code-named "Blue."
[Image Credit: Shutterstock 133089986]
Of course, there was a start button in the developer beta of Windows 8, too, which subsequently disappeared with the consumer preview beta. It's possible this could be a transitory element, but I agree with both Foley's and Warren's analyses which basically posit that MS is bowing to consumer pressure and profound pushback in restoring this kind of functionality to the Windows 8 desktop, despite their explicit philosophy of moving users to a different UI paradigm whether they like it or not.
Where Foley and Warren differ in their stories is regarding the return of the Start button and menu: Foley believes it's on its way back in, while Warren is convinced that the "boot to desktop" option will remain unaccompanied by a Microsoft-supplied Start menu. If the latter proves true, this will be a major boon to companies like Stardock Corporation, whose Start8 $5 start menu replacement has proved enormously popular with Windows 8 users around the globe.
Of course, we need to wait for official betas to emerge from the shadows before we'll know any of this for sure. I find it fascinating that MS resisted input from all sectors to bring back the Start menu and to provide a boot to desktop option, both of which are sure-fire hits with business users who generally stick to desktop-based applications anyway (especially while working in the office), but is now apparently acceding to demand for such changes. But only time will tell, so we'll all have to wait and see!
April 13, 2013 8:35 PM
In recent days, IDC has reported that PC sales fell in the aggregate by a whopping 14% for the final quarter of 2012, the biggest decline ever recorded since they started keeping tabs on such things about 20 years ago. In the wake of this report, some interesting headlines have begun to appear in the computer trade press online and off. Here's a sampling, just to give you a flavor of what's making those headlines (please, hover your mouse above the links to get the full versions of these sometimes-truncated link listings):
1. Is Windows 8 Killing PC Sales? (Forbes)
2. Should Microsoft Kill Windows 8 Immediately? (The Motley Fool)
3. PC makers need to refocus after Windows 8 pushes PC sales off a cliff (The Inquirer)
4. The real reasons to blame Windows 8 for plummeting PC sales (PCWorld; here, like me, author Tony Bradley downplays an overt causal link between Win8 and PC sales)
5. Tepid Reception To Windows 8 Blamed for Drop in PC Sales (NPR News blog)
Of course, headlines are designed to suck readers in, so those who write them aren't above using a little hyperbole or sensationalism to attract more eyeballs, but the notion that Windows 8's less-than-stellar market reception is related to the decline in PC sales seems to have struck home with lots of writers, as a quick look at this Google News search will attest with over 300 hits on this presumption.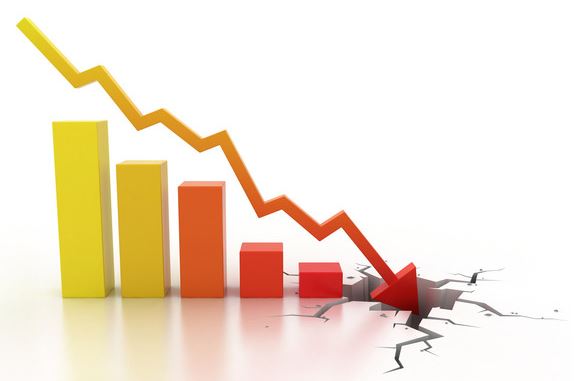 Do Windows 8's lagging sales explain why PC sales in general slumped by 14% for Q4'12?
[Image credit: PCWorld]
I'm not sure I buy into this notion, for lots of reasons. First, Windows 8 didn't become commercially available until one-third of Q4 had already elapsed (its GA date was 10/26). Second, new Windows OS sales seldom take the world by immediate storm, even when they're timed to (somewhat) accommodate the all-important holiday shopping season. Third, I think it's unfair to blame Windows 8 for the well-appreciated tablet and smartphone phenomenon that's occurring worldwide. That is, technology buyers are opting in enormous droves to eschew PCs in favor of smaller, cheaper, touch-oriented computing devices that don't begin to match PCs in overall functionality, but that do meet needs for access to communication, email, social networking, and a little light-duty Web surfing quite nicely. Why should those buyers spend money they don't have to obtain more functionality that they don't need? This is especially true for those in the developing world where the difference between a $50-100 smartphone and even a $300 laptop translates into  "limited computing" versus "no computing" for those who simply can't afford $300 or more to get into a budget PC or notebook (including Chromebooks, outside the Windows umbrella).
I really don't think this is a decline that can be laid entirely at Windows 8's door. Sure, sales are not as robust as OEMs or Microsoft would like. Sure, there are well-documented issues with Windows 8's mind and market share, and it's failed to capture the imagination of the buying public. But there's a lot more at work here than just a stubborn and well-intentioned attempt to remake the user interface for Windows, and to pick up and run with a touch-friendly runtime environment. In fact, the real problem is not Windows 8, as far as I can tell: it's the fact that even the cheapest PC of any kind costs at least twice as much as an acceptable smartphone, and that a good tablet looks and feels like a better buy to those with a little more money to spend than does a bottom-of-the-barrel notebook or desktop PC. That's what's causing PC sales to plummet, IMHO, and it doesn't look likely to stop any time soon, either.
Call me a Pollyanna if you like, but I don't even think Windows 8 is a turkey at all. It may pose some interesting challenges to those not ready for a remake of a familiar desktop environment, but those challenges can be overcome with a little time and elbow grease (or the application of a low- or no-cost Start menu replacement program). There are much bigger forces driving PC sales down than a not-so-popular Windows OS, and no amount of software development is likely to reverse those trends either. Get ready for the "post-PC era" — looks like it will soon be upon us!
---
April 12, 2013 3:41 PM
Here's one for the record books — though perhaps not, when you pause to think about it further. This New Yorker headline from The Borowitz Report kind of says it all: "North Korean Missile Test Delayed by Windows 8." Seems that the North Koreans updated their missile testing environment from Windows 95 (!) to Windows 8 sometime last year (presumably, on or after October 26, when Windows 8 made its commercial debut). I spent a fruitless hour or so combing through the past 3 days' press releases from the Korean Central News Agency (the official press outlet for the DPRK) without being able to find the original, much to my disappointment. Word has it (via Borowitz) that in addition to his displeasure with the South Korean and US governments, President Kim Jong Un also has considerable pique left over for Microsoft, too.
Even thermonuclear Armageddon must take a back seat to Windows bugs, it seems!
While I see no signs that the DPRK will tone down its hyper-aggressive threats and bombast, it's nice to know that their plans for world domination can fall prey to the same kinds of mundane problems as everybody else's. And though most of the world domination that Windows 8 helps to fuel is of the business variety rather than the geopolitical kind, I'm sure there are plenty of cases where bugs and gotchas have delayed or derailed those kinds of plans, too.
At any rate, this gave me a much-needed laugh for this Friday morning, so I thought I would pass it on here. Enjoy!
---
April 9, 2013 7:24 PM
MS must be getting a little desperate to start moving its huge installed XP base to a newer version of Windows. That's the only good reason I can come up with for the company's ongoing promotion — good through June 30, 2013 (not 2014, alas) — for buyers of Windows operating systems and Windows Office suites. A 15% discount will be available for up to 249 copies (which puts this on the low end of SMB spectrum, which the SBA defines as a going concern with anywhere up to 500 to as many as 1,500 employees, depending on one's market niche). Such purchases must go through a Microsoft Partner company, which you can dig up through their Microsoft Pinpoint pages.
This effort comes in tandem with a white paper that MS commissioned from IDC entitled "Mitigating Risk: Why Sticking with Windows XP is a Bad Idea." The paper's banner bears a Windows 8 logo, but the descriptive copy includes the phrase "this white paper covers the business and operational benefits associated with a move to Windows 7 and why remaining with Windows XP is no longer a good business decision." Microsoft's advice is for SMBs to "get modern" and drop the old stuff in favor of the new, because it's not just faster and better, it's also more secure, better able to work with modern software and apps, experiences less downtime, and — of course — is still eligible for MS support services.
I'd say this was a good deal if the discounts were deeper and the window of opportunity a little bigger. But for those operations already considering migration or upgrade, this could be a nice inducement to go ahead and take advantage of the savings it can deliver. For those inclined toward brinksmanship, the inevitable question is "If they're offering 15% a year before the end-of-life date, will the discounts get better as that date approaches?" Who knows?
---
April 6, 2013 8:45 PM
Just read a fascinating article over at the DealNews website. Entitled "Windows 8 Sales Are Terrible, But That's Great News for Laptop Deals," it makes the point that slow Windows 8 uptake in the marketplace continues to exert downward pressure on low-end laptop prices for units that come with Windows 8 pre-installed. And indeed, a quick trip to that site's Laptop Deals page (set to list laptops by increasing prices, lowest first) reveals more than a dozen interesting items  with Windows 8 installed for $450 or under.
Here's what I found that comes with Windows 8 installed in the first two screens there (hover over the links for the "spec line" from that site, if you'd like to see more info, or follow the link to get the sales page for each unit):
1. Gateway AMD Dual Core 16″ Laptop $300, free shipping
2. Toshiba Satellite Intel Celeron 16″ Laptop $300, free shipping
3. Refurb Asus Dual Core Pentium 14″ Laptop $300, free shipping
4. HP 2000z AMD Dual Core 16″ Laptop $335 + $10 S&H
5. HP Pavilion Core i3 Dual Core 14″ Laptop $348 after rebate + $11 S&H
6. Lenovo G580 i3 Dual Core 16″ Laptop $358 + $11 S&H
7. Lenovo IdeaPad AMD Quad Core 14″ Laptop $380 + free shipping
8. Dell i3 Dual Core 16″ Laptop $380 + free shipping
9. HP 650 Dual Core i3 16″ Laptop $400 + $8 S&H
10. Lenovo IdeaPad S400 Dual Core i3 14″ Laptop $400 + $8 S&H
11. Dell Inspiron 17R Dual Core Pentium 17″ Laptop (1600×900) $400 + free shipping
12. HP Pavilion Dual Core AMD 16″ Laptop $415 + $10 S&H
13. Sony VAIO Dual Core AMD 12″ Laptop $430 + free shipping
14. Dell Inspiron Dual Core i3 17″ Laptop $450 + free shipping
It's pretty amazing what $300-350 will buy you, as represented by items 1-6 on the preceding list. You can expect only 1366×768 resolution for that price, 2-6 GB of RAM, and a hard disk of 500 GB or less, but it's still a very good deal. I jumped on a $300 deal for my son's school machine last year (2012) and what I got for the money seems downright antediluvian by comparison. It's an Acer 5552-3691 with a 2.2 GHz AMD P340 Dual Core CPU, and came with 4 GB RAM — since upgraded to 6 GB — a 1366×768 display, and a 320 GB 5,400 RPM hard disk — since upgraded to a 128 GB OCZ Agility 3 SSD, and it runs Windows 8 Professional quite nicely. It looks like that same $300 buys a lot more these days, including Windows 8. The standard resolution is on the low end (1366×768), and the processors are by no means killer models, but if my experience on the older Acer model is an indication, they should work just fine for your kids' school machines, a couch laptop, or for loaner units at work for temp or contract workers who need something for basic workaday computing.
If you're willing to extend your budget by $50-150, to the $350-450 range, you can find some pretty powerful big-name machines — albeit with a preponderance of AMD CPUs and continuing in the 1366×768 resolution vein — for the money. In particular, Newegg's prices for refurb units seem to offer great combinations of low price and strong functionality, so you might want to start dropping in on their site to check deals from time to time, because they come and go very quickly all the time. I've also found TigerDirect — the purveyor of my son's Acer 5552 $300 notebook from last year — sometimes offers some pretty incredible refurb and sales prices as well.
---
April 5, 2013 11:14 PM

Profile: Diana Hwang
After a month of searching for the right person, I finally found him. I had to look under every rock but he's really out there. It's the lone guy on the planet who loves his Surface Pro and he doesn't work for Microsoft!
Truly, it was a huge accomplishment to find someone who could wax poetic all about the Surface Pro and was willing to go on record without making sure any quotes needed to pass through the lawyers.
His name is Dan Nainan. Dan is a techy geek who travels the world billing himself as a clean comedian. The guy used to be an Intel senior engineer and for years gave technical demos with Andy Grove at major events. Along the way, Dan discovered he could make people laugh and now loves his new life as a comedian.
And, by the way, did I mention he loves his Surface Pro?
I asked Dan why he didn't choose another vendor's tablet given that the Surface Pro was a first generation device. He got all serious.
"It has to be able to run Windows," he told me. "I look at Siri as a gateway for voice dictation. Its speaker independent and anyone can talk to an iPhone and iPad. But true voice dictation takes place when you use Dragon Naturally Speaking and that only runs on Windows or Mac."
By that he means, the full package, not the Dragon Dictation iOS app for email and text messages. (In fact, Dan has written a book using the voice recognition package and is now working on another one. )
When the Surface Pro came out, Dan bought the 64 GB version.
"When I'm on the road, I can replace both my laptop and my iPad," he recalled. In fact, Dan lightened his load by rolling his mobile content creation and consumption device into one.
I thought Dan would want the Surface Pro that had the most storage on it. After all he is a techy geek and don't early adopters want the latest and greatest technology with the most storage?
The 128 GB device was sold out at the time, Dan explained. But he's not too worried about having only a 64 GB unit because of the Surface Pro's extra microSDXC expansion slot.
Dan has yet to try is loading up his workhorse Adobe Premiere video editing software on the device. The reason? He needs a bigger screen.
Is there anything Dan doesn't like about the Surface Pro?
"Windows 8 takes time to get used to," Dan conceded. I guess Dan suffers from the same issues that countless others have panned Microsoft for: The Windows 8 tile interface is a major change for anyone to get used to. (Thank God Microsoft had enough smarts to provide users with the desktop view).
"I like the touch screen and I use the pen once in a while. There is one USB slot and another one built into the power adapter," Dan said. "But it doesn't work." Of course.
"The only thing I need to plug into is a USB headset," Dan explained. I guess that's why he hasn't complained to Microsoft about the USB slot on his power adapter not working. He doesn't really need it right now.
While there are probably other Surface Pro lovers somewhere out there, Dan is the one who happened to turn up. Microsoft should be grateful to Dan for evangelizing the Surface Pro, especially when the company is getting a very cool response to Windows 8 and Windows RT from the enterprise. I'm waiting for the Surface Pro to make its way into Dan's act. Who knows what he'll say about it then?
---
April 5, 2013 3:20 PM
In early 2012, I wrote a two-part series of blog posts on "Buying a Touchscreen for Windows 8," (Episode 1, Episode 2) as I worked through finding a suitable touchscreen for a Windows 8 test machine in connection with a book on Windows 8 I was researching at that time. While plenty of affordable touchscreens were available at the time, only a very few — and more costly — touchscreens actually complied with the Windows 8 touch requirements for such devices. I determined that somebody insistent on compliance with those requirements would have to spend over $1,000 to meet them, most likely in the form of a very nice 3M M181866PW Multi-Touch Display, if not something bigger. Today, that monitor still costs over $1,100, while bigger models cost even more (3M's offerings go all the way up to 32″ for a whopping $4,500 or thereabouts).
But first, ask yourself this: "Do I REALLY need touch?"
I raise this important question because I've now had over one year of day-in, day-out experience working with Windows 8 on desktop, notebook, and tablet PCs. Because I work primarily on the Windows 8 desktop (not running Windows Store/Modern UI apps, in other words, and using a conventional keyboard and mouse) I've observed that while touch is nice to have, it's not absolutely essential unless I'm working on a tablet device or a smartphone, where touch is the ONLY user interface available. Here's why: when you work mostly on the keyboard and with a mouse, you have to move your hand some distance away from its usual home location to access a touch display. This is disruptive to work flow (my work flow, at least) because it take time to make those moves, and then to get re-set to work the keyboard when returning from the display, or vice-versa. And here's another thing to consider: you can spend a lot less ($60-80, in most cases) to purchase a touch mouse (both Microsoft and Logitech have nice models) or trackpad instead of a touch display, without disrupting workflow, and still get the benefit of the gestures that touch permits to drive the Win8 interface.
If you still want a touch display or a notebook with a touch screen, you'll be pleased to learn that…
Prices have fallen dramatically, and the number of purchase options have increased likewise, for touchscreen displays that comply with Windows 8 Touch requirements (now under the umbrella of the Microsoft Hardware Certification program, as the former Windows Logo program has been renamed). With just a little trolling online, I found recent articles from ComputerWorld, PC World, and PC Advisor that provide buying advice and product reviews on offerings from numerous well-known vendors, including Acer, Dell, LG, and Viewsonic, among others, and a carefully-crafted Google Shopping search turns up more company names, including Planar, ELO, TouchSystems, HP, NEC, Samsung, and others.
The good news here — as the afore-cited review articles from PC World and ComputerWorld attest — is that you can find any number of Windows 8 hardware certified touchscreen monitors in a size range from 21 to 23″ for $700 or less. Hooking up these monitors does mean giving up a USB port (for the human interface device, or HID, communication that touch itself requires) in addition to a VGA, DVI, HDMI, or DisplayPort link for the video (and audio where applicable), but that's a modest additional resource requirement that these devices demand. Conventional wisdom remains that it costs about $100-200 more to add touch to a monitor of a given size (bigger monitors require larger touch surfaces, so the cost differential tends to rise in tandem with display size), so that's the cost increment for replacing an existing monitor (or for adding a touchscreen as an additional monitor, as many users choose to do instead).
So now that there's no question that you can find a reasonably priced touchscreen for Windows 8 use (and double ditto for Windows 8 laptops or ultrabooks), the real question still remains: Do you really want to go the touchscreen route, or try a touch-friendly mouse or trackpad instead? My suggestion: start with the mouse or trackpad and see if you can live with it (I do myself, every day). Only if you can't should you spring for the added expense (and desktop real estate) of a Windows 8 hardware certified touch monitor.
[Note added 4/5/2013: No sooner had I posted this blog, than I found a fantastic article over at Ars Technica on the general subject of touch displays: it's entitled "From touch displays to the Surface: A brief history of touchscreen technology" and it's a great read on the history, present, and future of touch displays and their many and increasing applications.]
---
April 4, 2013 2:47 PM
Make of it what you will, but prices at the Microsoft store are being slashed. I found the best coverage of this phenomenon at C|NET where Brooke Crothers' story recites details on discounts for various makes and models from (in alphabetical order, by maker) Acer, Asus, HP, Samsung, and Toshiba. From what I can see, discounts range from $50 to $400, with a median value of about seven percent. The real stand-out is the Toshiba Satellite U925T-S2130 Convertible Ultrabook, whose price has been cut from $1149 to $799 (a whopping 34.8%!). Here's the Tablets and Convertibles page where you can see all those items in the store, and which ones are being discounted.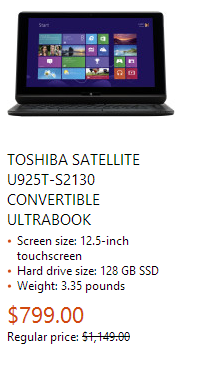 Various articles on these discounts speculate that Microsoft seeks to reduce excess inventory, and get these products moving off its store shelves. That doesn't sound like an unreasonable interpretation to me, and it's doubly interesting to observe that the specific Toshiba modeled pictured at left in this post is available exclusively at the Microsoft Store — so presumably, it's also got the biggest margins at which MS can chip away in its efforts to get them into customer's hands. CNET's video review of this unit mentions that its list $1,149 price comes at a premium over similarly-equipped non-convertible ultrabooks (i5, 4 GB RAM, 128 GB SSD, 1366×768 touchscreen). Presumably, the fairly serious price cut on this unit puts its prices on par with such ultrabooks and makes it a much better deal to those inclined to accommodate its unusual slide-over design (when used as a tablet, and for transport, the display slides over the keyboard).
Other discounted items of potential interest to buyers might include a couple of Samsung models: the ATIV Smart PC Pro 700T tablet and the ATIV Smart PC 500T Tablet with AT&T 4G LTE (the 700T includes an i5, the 500T an Atom Z2760) have both been reduced by $200 — the 500T from $899 to 699 (about 22.5%), and the 700T from $1199 to $999 (about 16.7%). Alas, both garner lukewarm reviews (of the 700T, C|NET says that it "…walks the line between ultrabook-level laptop and tablet, but doesn't truly excel at either").
I'm not ready to interpret these discounts as an overall devaluing of the Windows 8 touch experience, but it does look like not all of the PCs that flock inside the Microsoft Stores are eagles. I perceive that at least some of these are not moving as briskly as Microsoft would like, and that it is taking steps to cull some turkeys from the denizens of this aviary. I'll be more inclined to take this as a sign of something more significant if MS extends those discounts to more of the models on sale at its stores — especially if any Surface models start attracting knock-offs. As it is, I don't expect any such discounts to appear until next-generation Surface models make their debut, and MS seeks to flush older units from its inventory.
---
March 31, 2013 8:50 PM
In Windows 7, Microsoft introduced a canned report from the built-in Windows Performance Monitor — renamed to the Resource and Performance Monitor — sometimes known as the Windows "Health Check" or "Health Report." From a search box or the command line, you can enter perfmon /report to produce this survey of any Windows 8 system and its current health and resources. This produces a window that looks something like this on Windows 8:
If any of the indicators are red, you can use the plus signs at the far left to drill down into underlying information more deeply. Thus, for example, the first time I ran this tool to produce the screen shot for this blog post, I discovered I'd accidentally turned off the Windows Search service (which some Windows pundits decry, but which I have come to appreciate, thanks to its ever-improving built-in capabilities so readily available through the File Explorer search box, and other search boxes elsewhere in the system — as in the old Win7 position when using the Stardock Start8 Start Menu replacement tool, as I so often do). I had just finished fooling around with the latest version of Iolo's System Mechanic (v11.7 Pro) on the system, and had apparently and inadvertently turned off the Windows Search service as part of their recommended "tune-up" settings. A quick jump to services.msc to restart the service and restore it to Automatic status, and I was back in (normal) business.
The other tabs in this report are also worth exploring, so here's a little bit of explanation for what you'll find there:
1. Performance provides an overview of resource utilization for CPU, Network, Disk, and Memory.
2. Software Configuration provides oodles of information from OS Checks, Security Center, lots of details on System Services, and Startup Programs.
3. Hardware Configuration covers various Disk Checks, System details, desktop performance rating data (from Windows Experience), BIOS info, and key Device Manager details.
4. The CPU heading provides information about running processes and their resource consumption (Image Statistics), Service Statistics, active/running services, and a raft of system performance counters and data.
5. The Network heading tracks protocol-related counters and data for TCP, the physical interface (data link layer), IP, and UDP, and provides great detail on network traffic levels and activity.
6. The Disk heading provides information on so-called "Hot Files" (major files that Windows uses heavily at run-time), disk activity, physical disks, and NTFS performance.
7. Under the Memory heading, you can examine RAM consumption by process, along with working set size, total commit charges, and distribution between shareable and private memory, along with all the major memory counters that Performance Monitor supports.
8. Report Statistics ties the report content to a specific PC and OS installation, with information about files run and created to generate the report, and events processed to obtain the report's contents.
Not only is this a useful report when checking up on a system, it's also a quick and easy way to obtain (and even to retain) system state, health, configuration, and components/devices information for any PC on which it's run. Worth getting to know!
---
March 29, 2013 9:28 PM
A recent spate of stories on the Web (The Verge, Ed Bott/ZDnet, and so forth) disclose Microsoft's interesting alteration of its minimum hardware requirements for Windows 8 devices. Whereas tablets had been limited to a minimum of 1366×768 in the past, Microsoft has dropped that number to 1024×768 (which old-timers like yours truly recognize as the old XGA monitor standard that's been around since the early 1990s). This matters because it opens the door for seven- and eight-inch display form factors on Windows 8 tablets, which has naturally also led to speculation that a "Microsoft e-reader" could be in the offing, as well as a Windows Phone 8 based competitor to the wildly successful Galaxy tablet/phablet designs from Samsung.
Ed Bott reports further that this change appeared in the March 12 (2013) Windows Certification Newsletter, which provides information for hardware OEMs interested in selling systems — tablets, in this case — that meet Microsoft's requirements for obtaining an official Windows Logo designation (this program had been known as the Logo Program in the past, but is now called the Windows Certification Program, not to be confused with credentials offered to IT professionals through Microsoft Learning).
There is a catch, however, and it's not a pretty (or convenient) one: the lower resolution does indeed disable the Windows 8 "snap" feature, which permits two Modern UI/Windows Store apps to appear side-by-side on a Windows 8 display. OEMs will be required to warn buyers in advance that this particular screen resolution does NOT support this feature. Bott goes on further to discuss the on-year anniversary of a patent settlement between Barnes & Noble and Microsoft, and a possible partnership between those two companies to produce an e-reader based on the upcoming "Blue" version of Windows 8. The most interesting aspect of this partnership, which Bott obtained via Mary Jo Foley (another ZDnet Windows maven) is "…the formation of a joint Microsoft/B&N company (Nook Media, LLC, called 'NewCo' in the SEC disclosure, with this tantalizing language in the agreement: 'Microsoft Reader.
If Microsoft creates such an e-reader, Microsoft may include an interface to the NewCo Store in that reader and may surface in that reader all Content purchased by customers from the NewCo Store.'" Veeeeeeeeeeeeeeery interesting, sez I! If, as Bott speculates, such a item could hit the market at a price under $300, there could be a whole new game in town, not only because of the B&N relationship, but also because a Win8-based 7″ tablet could also run any of a number of other PC-ready e-reader programs, including the Amazon Kindle app.
---