Sep 22 2014 10:14AM GMT

Profile: Ed Tittel
Tags:
Looking at the desktop operating system market share pie chart over at NetMarketShare.com this morning, I couldn't help but observe that Microsoft's "zombie OS" — by which I of course mean Windows XP, now nearly half a year out of ongoing support status — still outnumbers installations of Windows 8.1 (7.09%) and Windows 8 (6.28%) by a whopping 10.52% (XP still runs on 23.98% of those desktops that NetMarketShare surveys). Here's what that pie chart looks like: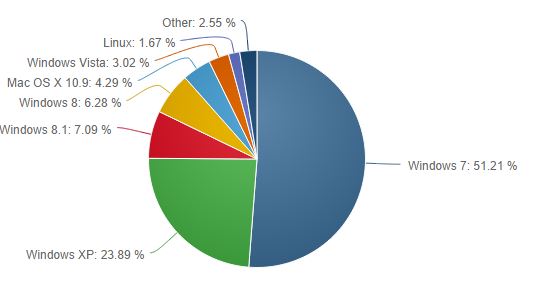 It's a weird world in which a thirteen-year-old — and obsolete — desktop OS still outnumbers the latest MS flagship versions.
[Source: NetMarketShare.com Desktop OS by Version chart 9/2//2014]
Also taking Windows 7's bare majority status on this chart into account, I guess that makes it painfully obvious why the upcoming release of Windows 9 is such an important make-or-break moment for the mavens at Microsoft. If they can't get this one right, the overwhelming tide of users onto mobile devices may make Microsoft a historical footnote in another few years.
There are those who believe that desktop OS releases at Microsoft come in sort of a "two-stroke" rhythm, where one good version is followed by a bad one. Certainly the recent sequence of XP-Vista-7-8 seems to bear this out, with Vista and Windows 8 versions being the bad boys in this particular bunch. That may instill optimism about Windows 9 in those who believe in this phenomenon, but it only underscores just how very important it is for MS not to screw the next release up. Ditto for being able to sell the "one Windows" notion across desktops, notebooks, and mobile handheld devices, so as to permit Windows to surf upon the cresting and tsunami-like mobile computing wave sweeping across the face of the computing world for the foreseeable future.
All of this makes me await the upcoming Windows 9 preview scheduled for late this month or early October with unusual interest. The smart money is backing a "later, rather than sooner" date for that unveiling, as MS no doubt continues to struggle valiantly and mightily in the background to make sure that Win9 will create the biggest possible splash and best possible first impression on pundits, press folks, and prospective users alike. In the meantime, I've found Paul Thurrott's 9/18 article "A First Look at the Windows Technical Preview" to offer the best illumination of what's about to come our way in a more public fashion. Be sure to check it out, if you're curious about this upcoming pre-release.
Maybe those whose continued employability depends on a Windows to explain, support, or make more workable should keep their fingers crossed that Win9 will be a success, whatever MS actually ends up calling the next desktop OS release. I'm pretty sure that will keep them in close league with its maker, whose employees are no doubt doing likewise!