Sep 18 2013 10:40AM GMT

Profile: Ed Tittel
Thanks to a report from Mary Jo Foley at ZDNet that posted yesterday, I can now tell you how much Windows 8.1 will cost those who wish to upgrade from a version of Windows earlier than 8.0 to Windows 8.1. For Windows 8.0 users that upgrade will be free, but others must pay for the privilege of moving up to Windows 8.1. Those running Windows XP, Vista, or Windows 7 will pay $119.99 to upgrade to plain-vanilla Windows 8.1, or $199.99 to upgrade to Windows 8.1 Pro. Those prices are the Microsoft list prices (MSRP, as it were, and of course thus also what the Microsoft Store will be charging) and apply both to digital downloads and to retail-packaged boxed versions with DVDs sold at big box stores around the world. As MJF observes in her story, "these are the same prices Microsoft charged users of older versions of Windows for the Windows 8 and Windows 8 Pro upgrades."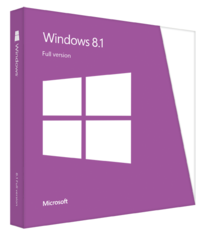 A snapshot of the new retail package (box) for Windows 8.1, courtesy of MJF and MS.
This time around, however, there will be some differences vis-a-vis the last set of downloads and boxed products that MS offered for Windows 8.0 versus 8.1:
The boxed version incorporates a "full-version" installer. In plain English, that means even though it's called an upgrade, you can still use it to perform a bare-metal install on a brand-new machine with no prior OS to upgrade from. I had been puzzled why MS hadn't mentioned anything about a separate full-version SKU (which usually costs more than an upgrade-only SKU) but now we all know that the upgrade is also a full-version so there's no need to buy (or pay extra for) a different version for that purpose. This is great news for those who build their own systems, or who want to blow away their boot/system drives completely to perform what you might jokingly call a "squeaky-clean install!"
Those who move from Windows 7 to 8.1 may indeed be able to perform an "upgrade install" but they won't be able to bring their desktop apps along for that ride. For the first time ever, MS will require a fresh re-install of desktop apps following an upgrade install  from 7 to 8.1 (bummer!).
MS recommends that those with PCs running XP or Vista skip the upgrade install completely, and perform a clean install instead. MJF provides this explanation "older hardware plus Winodws 8.1 won't make for an optimal experience" and says that "Microsoft is advising them to buy the retail DVD, rather than download the bits and boot from the DVD to do a clean install…"
Users who purchase new hardware running Windows 8.1 will be able to buy a Windows 8.1 Pro Pack from MS for $99.99, to add support for Pro features along with Windows Media Center. Users already running Windows 8.1 Pro can buy Windows Media Center for $9.99.
There are no current plans to offer limited-time savings on Windows 8.1 upgrades. For some time after Windows 8.0 went into General Availability (the GA release on October 26, 2012), anybody who owned a copy of XP, Vista, or Windows 7 was able to purchase an upgrade to Windows 8 for a paltry $40. It doesn't look like they're going to repeat that offer, alas.