Feb 3 2014 10:06AM GMT

Profile: Ed Tittel
When I started seeing the news online this morning about recent discounts on various Windows 8.1 tablets, I couldn't take them seriously. But upon traipsing over to the Microsoft Store online (the digital counterpart to Microsoft's brick-n-mortar stores around the USA and in other locations), I discovered the following items and prices on their Discount PCs page:
1. $699 for the HP Envy Rove 20″ touchscreen tablet/PC.
2. $499 for a 4 GB RAM/128 GB SSD Ivy Bridge model Surface Pro.
3. $229 for a Dell Venue 8 Pro (32 GB) and $299 for the 64 GB model.
4. Toshiba Encore 8″ tablet (32 GB) for $249.
5. Lenovo Miix 2 8″ tablet (32 GB) also $249.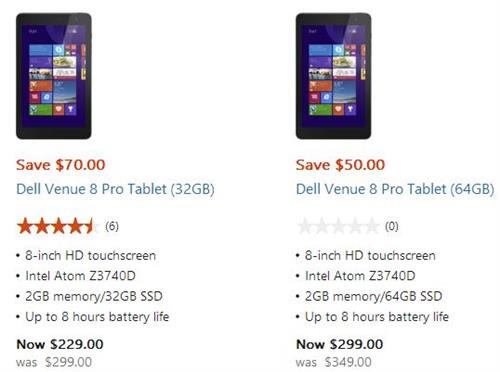 There are lots of good discounts on Win8 Tablets at the Microsoft Store right now, but this Dell Venue 8 Pro offer is especially hot.
For those interested in trying out a small format tablet at low cost, the Dell, Toshiba, and Lenovo items are especially compelling. The old-model Surface Pro is also a lot more palatable with its 4-hour battery life and limited storage capacity at $500 than it was at $900. Given the great reviews the Dell Venue 8 Pro has been collecting of late (despite its 1366×780 screen resolution) it's almost too good a deal to pass up. I may have to find an excuse to pass by the Microsoft Store about 6 miles from our house sooner rather than later myself!
There are those who speculate that the depth of these discounts indicates problems in selling Windows 8 PCs in general, and Windows 8.1  tablets in particular, into the consumer market. My 9-year-old son loves our local physical Microsoft Store, so we've spent more time in there over the past year or so than many people. I have to say that if the size of the crowds and the amount of foot traffic is any indication of interest, there may be fewer passers-through and more buyers at these stores over coming weeks, thanks to better buying incentives in the form of lower prices. With margins on PCs and tablets already razor-thin, MS can't be making much profit from such deep discounts — that's for sure.