Aug 27 2014 9:50AM GMT

Profile: Ed Tittel
Tags:
One of the sites I scan regularly for fodder for this very blog is MajorGeeks.com (MG), a well-curated site of mostly free (some shareware) Windows tools and utilities. I've been a devoted and enthusiastic user of Piriform's CCleaner for many years now, so I was more than curious to see a story at MG entitled "Has Piriform pulled the 'Slim' version of CCleaner?" dated 8/26/2014 this morning. It explains the following chronology observed at the Piriform website of late:
1. Until about a month ago, Piriform made a free version of its CCleaner utility available with some minor hoops to jump through to get it (you had to know where to look for it, click through some "calls to buy" a fee-based version, and so forth)
2. Over the past month, Piriform added bundleware to its free CCleaner version, but allowed users to wait 5 days to obtain a link to download a non-encumbered version of the program. According to the author of the MG article (see comments following article text) that bundleware is a notorious advertising software module known as OpenCandy (see also Malwaretips.com "How to remove PUP.Optional.OpenCandy").
3. According to MG, the non-encumbered ("Bundleware free Slim") version of CCleaner is no longer available, so users have no choice but to download the encumbered version.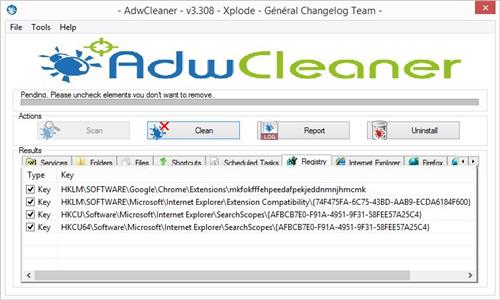 AdwCleaner turns up some unwanted registry keys, and a few sneaky browser extensions.
Nothing loath, I used the AdwCleaner tool to inspect my system and, sure enough, it found some minor traces of OpenCandy on my system (and I double-checked to make sure that CCleaner provides no  opportunities for users to opt out of its installation, nor does it even inform them that this "bundleware" is being installed). I'm appalled and distraught, primarily because I've recommended CCleaner to many of my readers without knowing that the program has started to include questionable payloads along with its advertised/documented capabilities. Sigh.
MG goes onto recommend Wise Disk Cleaner as an alternative disk cleaner, noting that it finds and cleans more files than CCleaner does (and sure enough, it located about 712 MB more stuff on my system to get rid of, even after running the latest CCleaner version on that PC: 4.17.4808). I hesitate to unstintingly recommend this tool without spending more time with it myself, though I am comfortable with passing MG's own recommendation onto readers, having observed them to be very careful about choosing and recommending software themselves over the 10 years or so I've been paying attention to the site. As for myself, I need to clean after OpenCandy on my system(s) with CCleaner, and then get to know Wise Disk Cleaner a bit better. Stay tuned!
[Note added 8/28/2014: The "Slim" (adware-free) version of CCleaner has returned to the Piriform.com website. Timothy Tibbetts (author of the MG article that spawned this blog post) says this about its appearance as of 9:52 AM (CDT) this morning:
Within 24 hours, they have put the new version of Slim up for download. For those who commented below and didn't understand why this was written, here's why; We have been listing CCleaner for as long as I remember. 10+ years maybe? There's a system: Standard and Portable get released and the Slim version remains available one version back for exactly 5 days. This time the Slim version was not available for download at all and that has never happened. Ever. Oddly enough another first, the download for Slim re-appeared with the new version the next day. Again, this has never happened. Was it a response to this article? I'll never know. Only time we ever heard from the guy (I mean Piriform) was for a cease and desist.
As long as users know they should only grab and use the Slim version going forward, I guess there's no reason not to stay with that version. I don't recommend the standard version any more, though.  If you want to do that, you must visit the CCleaner – Download Builds page to grab the Slim version of the program: you can't find it on the regular download page. 'Nuff said.]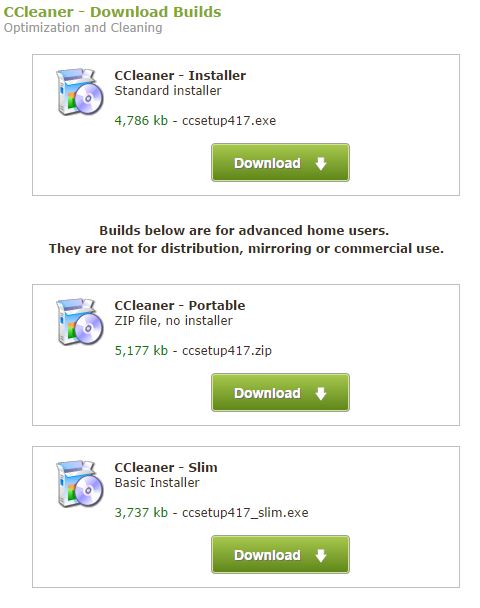 Only the "Slim" versions of CCleaner omit OpenCandy