Jan 24 2014 11:16AM GMT

Profile: Ed Tittel
I've just taken delivery of a new Fujitsu Q704 Tablet with a keyboard dock that turns it into a somewhat hefty (4 lbs 12 oz, or 2.175 kg, according to my digital office scale) notebook PC. Although I ordered a Windows 8.1 model, I was surprised to see the unit arrive running Windows 7 SP1 and to hear the Fujitsu support tech tell me that it was up to me to install Windows 8.1 from the included system recovery DVDs (all three of them). Lucky for me, I had a USB DVD drive that I hooked up to the unit, and proceeded to do just that. As I worked after the Windows 8.1 install completed, I took notes on the system changes I ended up making and the software I installed, so as to provide a snapshot of what it takes to get a desktop or notebook PC for production use.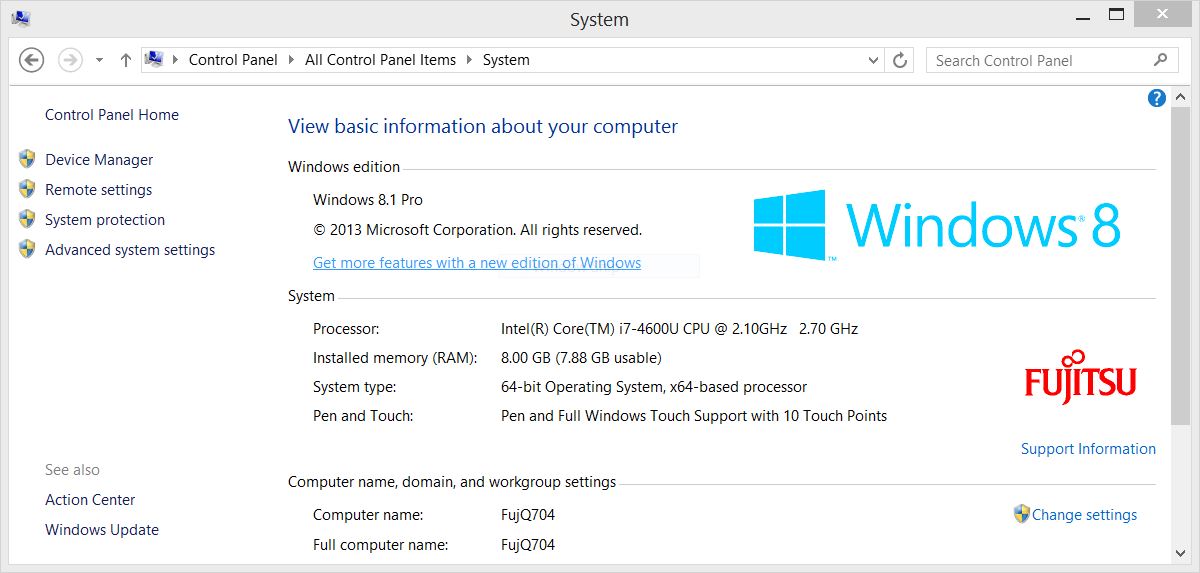 The new convertible Fujitsu Q704 tablet gets uplifted to Windows 8.1
Here's what I ended up doing, over the course of a pretty long day, after completing the Windows 8.1 install from the media (which took longer than I'm used to, having now been pretty well spoiled by installing from a USB 3.0 UFD instead of optical media: about 70 minutes from DVDs, versus 15-20 minutes from UFD):
1. Cycle through Windows Update to get all 27 updates available installed, which required three passes and three system reboots to accomplish.2. Download and install the Fujitsu Download manager, to download and sift through 36 potentially applicable driver updates, to decide about 23 of them were needed, including a BIOS update and numerous peripherals.
3. During the previous process, I downloaded and installed my go-to compression/unpacking tool, 7Zip from the 7Zip.org download page.
4. A gaggle of helpful utilities came next, including: CCleaner, Start8 ($5), 8GadgetPack, Rufus, CPUID's CPU-Z and HWMonitor, FileZilla, IrfanView, RecImgManager, Revo Uninstaller, and finally, WinDirStat. All are free except Start8, which is part of my standard Win8.1 desktop setup anyway. I also added Google Chrome and Mozilla Firefox to my browser arsenal. For the "mother of all Windows utilities management" try out the free Windows System Control Center (WSCC), but because it adds 140-odd programs to the Windows environment and requires operation with admin privileges, this is an "admin-and-power users only" kind of thing.
5. Downloaded and installed Microsoft Office 2013 from MSDN (subscription required).
6. Turned on Hyper-V capabilities using the Control Panel Programs and Features / Turn Windows features on or off facility.
7. Downloaded and installed some commercial software I like to use, including Corel PaintShop Pro X6, Gabe Topala's System Information for Windows (SIW), and Norton Internet Security 2014 (NIS).
Those with enough identical systems to image (and reimage as needed for repair or restoration) would clearly benefit from using Windows Image Management and maintenance tools (such as DISM, System Center, and so forth) to create canonical images with all this stuff slipstreamed in, and ready to go.