Dec 26 2018 10:54AM GMT

Profile: Ed Tittel
Tags:
When a program gets installed onto Windows, it can extend all kinds of hooks into the OS. It might make numerous Registry changes, add services, schedule tasks, and much, much more. When the same program gets uninstalled, even its makers may have trouble completely rooting out all traces of its former presence. That's one reason why specific "removal tools" exist for a range of applications. These include things like security software or heavy-duty devices such as graphics cards.These programs are seldom standalone. Rather, they are best understood as tool suites, collections of intertwined programs. Where so much infrastructure needs cleaning up, removal tools can help. For cleaning up graphics card drivers and their attendant tool suites, Display Driver Uninstaller (DDU) is a nonpareil. That's why I assert that DDU removes display drivers completely.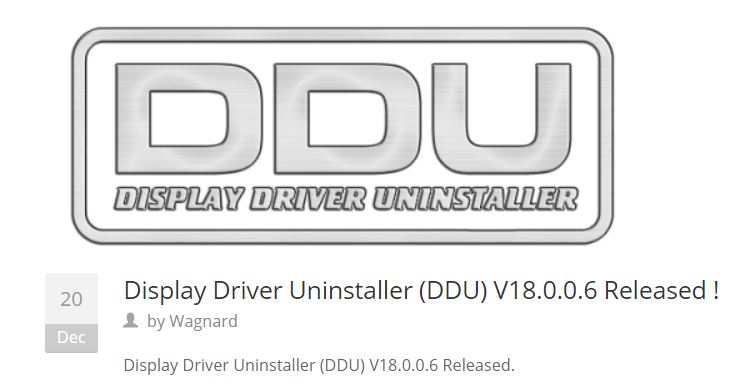 As you can see from the preceding tagline, the latest DDU version arrived on 12/20/2018, as of this writing. [Download page for 18.0.0.6.]
Why DDU Removes Display Drivers Completely Is a Good Thing
DDU is a free program (donationware) that comes from software toolmaker Wagnardsoft. You can always download the program from the Wagnardsoft home page, under the "Software" heading there. I've known about this tool for years, which does an ace job of rooting out any and all traces or remnants of Intel, Nvidia, and AMD graphics drivers.
I've used DDU on numerous past occasions. Recently, I had to put it to work on a couple of my PCs. Two of my PCs include GeForce GTX 1070 graphics cards. Nvidia's been issuing beaucoups graphics drivers lately, not all of which have agreed with my 1809 or 19H1 Windows 10 installations. In fact, I've been subject to a spate of LiveKernelEvent (Code 117) errors lately on both machines. Turns out that issues with a couple of November and December GeForce drivers have been responsible.
It just so happens that when graphics driver errors recur, it's often a good idea to root them out completely. After that, a clean install of a newer, better, or different driver may address (or prevent) further issues. That's what I used DDU for last week, just before I upgraded to GeForce 417.35 on those machines. No subsequent problems since, either. DDU is worth knowing about because it can sometimes resolve graphics driver issues amenable to no other solution. Don't bother to download it until you need it, though: the folks at Wagnardsoft update it regularly (usually in synch with driver releases from AMD, Intel and Nvidia).