Jul 23 2014 3:53PM GMT

Profile: Diana Hwang
By Diana Hwang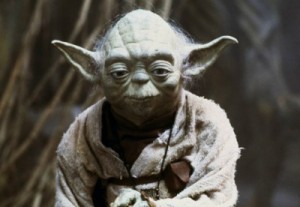 Satya Nadella reminds me of Yoda.
That's saying a lot since Microsoft has always had been likened to the Evil Empire and whomever was at the helm was Darth Vader.
No, Nadella is not short, green and wrinkled with big ears (far from it), but he is the intelligent yet humble public and behind-the-scenes persona that gets Microsofties to focus on the company's big picture strategy just as Yoda guided Luke and the rebels throughout the Star Wars series. (Just for the record, I'm a fan of the old Star Wars – Episodes IV, V, and VI).
Nadella has led the $86.8 billion company for six months now, and he's focused on a few key messages: mobility, cloud, productivity, and melding digital life and work experiences.
What does it all mean? Everything Microsoft does is about helping people be more productive and getting things done.
But here's an interesting tidbit that came up during Microsoft's fourth quarter and fiscal year 2014 earnings call this week: Nadella confirmed Microsoft will consolidate multiple Windows operating system into one version.
"We will streamline the next version of Windows from three operating systems into one, single converged operating system for screens of all sizes," Nadella said during the call.
It's about time. There is absolutely no need to have separate OSes for PCs, tablets and smartphones. Why? Because technology like CPUs and screens have improved so much that devices are much more mobile friendly. They can handle the full Windows workloads while offering   workers a full day of battery life
As a result, the streamlined Windows OS built on a single core could generate other beneficial results like developers being more motivated to create more relevant business apps for the Windows Store.
The converged Windows also furthers along Microsoft's universal apps vision. Developers won't need to spend more time building separate Windows PCs, tablets and Windows Phone apps. This is especially important as Windows Phone and Windows tablets have a miniscule market share compared to Apple iOS and Google Android devices.
If developers can create one Windows app that works across a PC, tablet or smartphone and simply optimize it for the screen, it becomes a decent value proposition. It's the next step for continuing this vision of the universal app Microsoft unveiled at Build 2014 this past spring. Developers can now view the world of Windows devices not in a segmented fashion but as a whole.
"We will unify our stores, commerce and developer platforms to drive more coherent user experiences and a broader developer opportunity," Nadella said on the financial call. He promised the next wave of Windows enhancements in the coming months.
With Microsoft simplifying its engineering teams and refining its vision, the industry will closely watch how well it can execute its strategy.
The numbers don't lie
No matter how promising the strategy, it all comes down to the bottom line.
For the fourth quarter 2014, Microsoft posted revenue of $23.38 billion and net income of $4.6 billion. For its fiscal year 2014 ended June 30,  Microsoft  posted revenue of $86. 8 billion and net income of $22 billion.
Microsoft attributed much of its growth to cloud services such as Office 365 and Azure. The commercial cloud annual revenue run rate doubled and hit $4.4 billion. Microsoft said it added over 1 million subscribers to Office 365, bringing the number to 5.6 million users.
But Microsoft also took a $700 million operating expense hit from the acquisition of Nokia. Just last week, Microsoft laid off 18,000 workers, of which 70% of those impacted occurred in the Nokia Devices and Services division.
The company created a new phone hardware  segment  to account for revenue from its smartphone business. It contributed $1.99 billion in revenue this quarter to Microsoft's bottom line, driven by sales of its Lumia 500 and 600 series smartphones.
Microsoft will continue to compete with its OEMs to create new devices like Surface and as Nadella says, the company will "responsibly make the market for Windows Phone."
"However, we're not in hardware for hardware's sake, and the first-party device portfolio will be aligned to our strategic direction as a productivity and platform company," Nadella said.
It remains to be seen how successful Microsoft will be. Just like Star Wars Episode VII is expected to be released in 2015 with the old cast of characters returning but with some new twists. Microsoft too is coming back to its original successful productivity roots but with some new twists as well.
May the Force be with you.