Jul 17 2015 1:28PM GMT

Profile: Ed Tittel
Tags:
Ha! Ha! No sooner did I post a blog about a build hiatus for Windows 10 Insider that did Microsoft release an honest-to-gosh release candidate in the form of Build 10240. How do I know this is a candidate for sure? Simple: no more watermark at the lower right of the screen (which labeled the software as an evaluation copy and a preview of some kind or another: technical, insider, and so forth). Also, check out what Winver now shows for the 10240 build: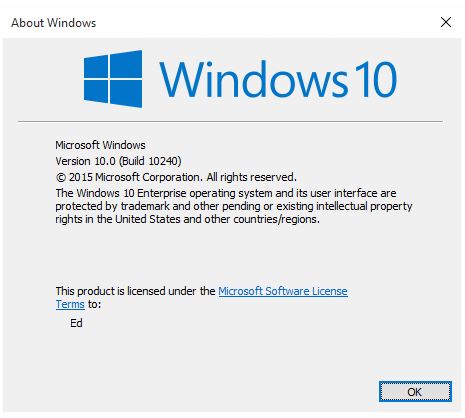 No more expiration date, no more mention of evaluation or preview of any kind.
In its comments on this build, WinBeta raises some interesting questions about whether or not it's an RTM version. Whatever its status, all the signs point to something that's really close to finalized, if not the actual cigar itself. The old Windows installation (build 10166, in my case, for both test machines) still weighs in at just under 20 GB, so it's still worth cleaning up. I did have to update the RealTek Audio driver after this install, and I also found 72 copies of that driver in the DriverStore after running the DriverAgent installer for same, of which I was successfully able to delete 71 without difficulty. I also found three extra copies of the Nvidia GeForce drivers as well, and tossed them, too. If there's one thing I've learned from all the many Windows 10 installs I've done during the preview period, it's that checking and cleaning the DriverStore afterward is every bit as important as getting rid of Windows.old. Use Driver Store Explorer aka RAPR to get this job done.