Nov 15 2013 1:20PM GMT

Profile: Ed Tittel
I found myself on the phone this morning, talking to my former MCSE trainer, Herb Martin, who also happens to be something of a PowerShell and .NET programming whiz as well. I've gotten far enough into my Powershell script to know I've got something potentially useful. Now it's time to bring in a real professional to turn it into something ACTUALLY useful instead. So that's what I'm doing. Here's what the output from the script looks like at the moment: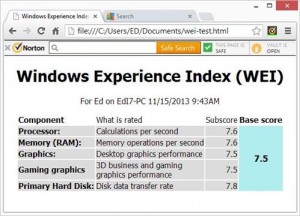 It's the same info as reported in earlier WEI versions, with the same general layout, and a "close enough" format to be instantly intelligible.
In the course of our discussion, I found myself explaining to Herb why I'm doing this, and taking a "next step" beyond my own abilities to turn the work into something worth sharing with the world at large. Here's how I justified the extra effort and expense involved in doing things right: I told Herb that anybody can complain or whine about Microsoft, or point out how something that MS is doing (or not doing, as seems to be the case here) isn't right, fair, of sufficient merit or quality, or whatever other stimulus may be causing the complainer to hold forth. But once I understood that anybody could grab and use this information I realized that given my knowledge of HTML, XML, and PowerShell, I could put something together that anyone could use. So rather than rail at Microsoft for leaving WEI out of Win8.1, I'm simply going to offer a simple, straightforward tool to remedy that lack.
Herb made some great suggestions about this tool in our initial discussion, which we'll follow up on next week. Independently, he also suggested converting the code to a small C# program that could then be compiled into an .exe file to make it into a "real program." That sounds like absolutely the right ticket to me. But whether it stays a script, or turns into a program, I hope readers will find the approach of building something that's missing better than waxing wroth because MS didn't include it in the 8.1 System control panel applet. If you're really dying to play with this before I'm ready to set it free on the Internet, drop me an email at ed at edtittel dot come with "Send WEI Script" as your subject line. You can play with it before it's finished, too, if you like.
Stay tuned for further news on this software development. I'll let everybody know when the final version is completed, and the resulting tool becomes freely available to any and all interested parties.
[Note added 11/15/2013 2:20 PM: A near-final version of the build-wei.ps1 script is now complete, and apparently working, so I can provide that file and operating instructions to those who send e-mail requests for same. Don't forget to put "Send WEI script" in the subject line, and send it to ed at edtittel dot com, please!]