Nov 9 2016 10:04AM GMT

Profile: Ed Tittel
Tags:
Yesterday, the latest Cumulative Update for Windows 10 Current Branch, KB 3200970 appeared. After installing that item, cleanmgr.exe reports that the 3.99 TB cleanup continues. I first reported this on October 12 after KB3194798 appeared, and it's back!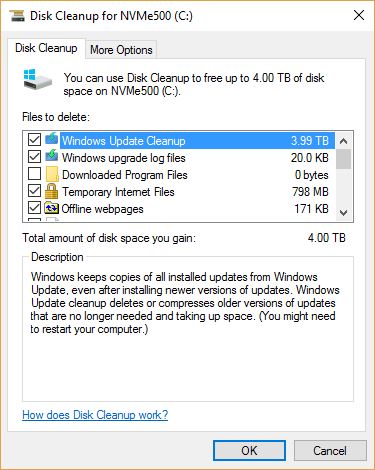 It's such a neat trick to clean up 3.99 TB from a smaller drive that MS is doing it again!
What's Up With 3.99 TB Cleanup Continues?
The same behavior I observed in the previous cleanup continues in this one. Disk Cleanup runs a long time (about 25 minutes on average across my half-dozen CB machines). It requires a reboot to fully flush the actual update files involved. And again, disk space recovered averages around 1.4 GB.
I'm not exactly sure what's going on inside the Cumulative Update file itself. Presumably, some hard-linked element is pretty pervasive in the OS file hierarchy. Given the way cumulative updates work, it's undoubtedly the same file that originally provoked this cleanup behavior. When the Unified Update Platform (UUP) gets rolled into the CB, this effect should disappear. That's because UUP downloads update elements in Cumulative Updates once, and only once. But until this new feature appears in the CB version of Windows 10, this giant cleanup will continue.