---
April 29, 2015 10:56 AM
Windows 10
,
Windows installation
Just for grins, I decided to re-try the Windows Update download for Windows 10 Build 10061 on my Dell Venue 11 Pro 7130 yesterday afternoon. The last two times I'd tried, I'd not sat in front of the machine while the upgrade was underway, and each time it failed upon attempting to reboot after...
April 27, 2015 8:51 AM
Windows 10
,
Windows Upgrades
Although Microsoft has itself described its upcoming plans to provide a no-cost copy of Windows 10 to Windows 7, Windows 8.1 and Windows Phone 8.1 devices to those who move up in the first year after its release as a
---
April 24, 2015 10:03 AM
Beta Testing
,
Windows 10
If something happens once, it's impossible to tell if it's an anomaly or an expected behavior. Let it happen even one more time though, and a suspicion of pattern or predictability can't help but rear its head. When I installed the last "fast ring" (10049) build on my two test machines, here's what...
---
April 22, 2015 12:35 PM
Last week, my wife told me the Internet was running slowly, so of course I checked the Ookla Speed Test page to see what was what. When speeds in the usual range manifested, I assumed the problem was a hiccup and nothing more. I was wrong, but it took me quite some time to figure out why. As it...
---
April 20, 2015 11:54 AM
Release cycles
,
Windows 10
,
Windows RTM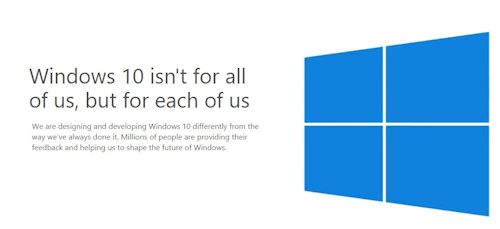 Lots of sources on...
---
April 17, 2015 10:54 AM
Authentication
,
Biometrics
,
Windows 10
Back in mid-March, Joe Belfiore (VP of the OS Group at MS) posted about a new biometric authentication technology to Blogging Windows. It's called "Windows Hello" and although it...
---
April 15, 2015 10:36 AM
Windows 10
Has it really been that long since the first Windows 10 Technical Preview went live? Sure enough: Builds 9841, 9860, and 9879 all expire on April 15, 2015, and will quit booting when the clock ticks over to April 30, 2015, in just over two weeks. Here's the blurb from the Windows 10 Insider Hub...
---
April 13, 2015 12:19 PM
Backup and restore
,
Disk image
,
Windows 8.1
In experimenting with a full system recovery recently on my Microsoft Surface Pro 3, I've been trying various methods to get from a current bad system state to a current good one. But while a recovery from a system image produces a complete restore of the system at the time of its capture,...
---
April 10, 2015 10:39 AM
Device drivers
,
Surface Pro
,
Troubleshooting
,
Windows 8.1
Over the past two weeks, I've been engaged in a part-time exercise to rebuild my Surface Pro 3 from a clean re-install of Windows 8.1 Update 1. This has proved to be an interesting exercise for many different reasons, not least of which has been an ongoing trial-and-error effort to determine which...
---
---