---
June 28, 2013 10:53 AM
OK, so I've gotten far enough into the Windows 8.1 Preview that I've learned about two different ways to get hold of the software and run it on a test (or other) PC. On the one hand, you can find an online source (such as MSDN or the


RSS Feed

Email a friend
June 26, 2013 10:41 AM
11:30 Preview is available!!!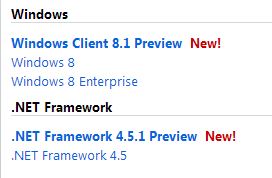 ---
June 24, 2013 11:06 AM
The Microsoft Build conference for software developers kicks off at the Moscone Center in San Francisco this Wednesday and by no coincidence whatsoever that's the same day MS will fire off a preview beta version of its
---
June 22, 2013 3:52 PM
If you've been following this blog for any length of time, you've seen me write repeatedly about Israeli software company Soluto and their Soluto PC management and tracking software. These days, it's hard to find another solution that beats Soluto for managing a small to middling sized number of...
---
June 21, 2013 8:47 AM
The analysts have never been terribly kind to Windows 8, with the majority of firms maintaining what can only be described as a "safe distance" from Microsoft's latest desktop offering launched in October 2012. But a new Gartner blog post from in-house analysts Michael A. Silver and Stephen...
---
June 19, 2013 9:11 AM
When I bought two Lenovo notebooks last year -- a T520 and an X220 Tablet -- one of my regrets was that I had to buy immediately and couldn't wait for the USB 3.0 versions of those models to become available. Last week I learned that my regrets were well-founded. Thanks to the Mushkin
---
June 8, 2013 11:19 PM
I have half-a-dozen different notebook PCs in my office, and three desktops total, all of which I like to manage remotely from my primary production desktop, because it's got two great big honkin' 27" monitors hooked up to it. I can devote one whole screen to a remote desktop and still get plenty...
---
June 7, 2013 2:13 PM

Profile: Diana Hwang
[caption id="attachment_3429" align="alignleft" width="300"]
---
June 6, 2013 9:42 PM
These days ultrabooks and tablets make DVDs passé for Windows installs. UFDs (USB Flash Drives, that is) are the way to go. I'd discovered the free Microsoft
---
June 6, 2013 9:12 PM
OK, come on: you may balk at the "Geeks-only" term in my blog headline, but who else could possibly care about the Cisco Press Facebook Sweepstakes now underway? Here's the deal: register to win, and you might qualify for a free Cisco Marketplace Store shopping spree or $1,000 in Cisco equipment...
---