---
January 10, 2020 10:36 AM
Notepad
,
text editor
Notepad is one of those built-in Windows applications that seldom requires much thought or attention. It's been around since the earliest days of Windows. (I remember it from the 3.0/3.1 days, which is when my Windows exposure began in earnest, circa 1990-1992.) Last night, I ran into something using Notepad I'd never seen before. It left me momentarily stumped: text appeared right-justified, but new text entry still went left-to-right. A quick Google search on "Windows 10 notepad opens with text at right" showed me that a built-in setting had somehow been changed. Notepad supports both left-to-right and right-to-left text alignment. A quick hop to an MS Community post entitled "Text Alignment in Notepad" also provided the fix. It's a right-click menu option, which lets me say Notepad RTL reading order gotcha has easy fix.
Notice the right-click menu item "Right to left reading order" is checked. Uncheck this item, and all goes back to left-to-right normal.
[Click image for full-sized view.]
If Notepad RTL Reading Order Gotcha Has Easy Fix, What Is It?
Somehow, the normal left-to-right (LTR) text alignment in Notepad got reset to right-to-left (RTL). Simply unchecking the corresponding right-click item set things back to rights, so to speak. I was initially flummoxed when I saw this, because I'd never run into it before. Thus, I had no idea what was going on. But, as usual when Windows gets weird, a quick Google search showed me the way back to what's normal for English (LTR). I'm sure users in other languages that run RTL will also benefit from this insight, though it will work for them in reverse.
I'm amazed that I ran into this for the first time nearly 30 years after my initial exposure to Windows. But it's a big and wonderful world unto itself. And obviously, this won't be the last such revelation for me (and my readers) as our Windows adventures continue. Cheers!
January 8, 2020 3:25 PM
Disk drive
,
disk management
,
Windows 10
This morning, as I was reading through new or changed posts at TenForums.com, I saw mention of another great Nir Sofer tool. This one's called DriveLetterView. That is, NirSoft DriveLetterView shows assigned Win10 drive letters. This applies to letters for drives actively mounted and accessible on a Win10 system right now. It also applies to letters assigned to drives previously mounted but neither present nor active. That status (Connected = "No") usually applies to USB drives of some kind, often UFDs (USB Flash Drives). Here's what the program's output looks like on my production PC. It currently shows 10 (ten!) connected drives, and 5 disconnected ones.
I sorted the listings on the "Connected" column, so you see all ten connected drives at the top of the listing.
[Click image for full-sized view.]
What NirSoft DriveLetterView Shows Assigned Win10 Drive Letters Really Tells You
The disconnected drives appear with a question mark (?) at the upper right of their drive icons. If you look at their "Instance ID" fields, some are blank and some are occupied. The blank ones usually correspond to UFD drives, while the non-blank ones represent specific peripherals. The item for the A: drive clearly shows a floppy disk assignment: "USBSTOR\SFloppy…" The one that starts with "SCSI/CdRom…" shows that I attached my USB Blu-ray/DVD/CD player to this PC some time ago (P:). The item that starts with "USBSTOR…USB_DISK_3.0" is for one of my USB 3.0 SSD drive enclosures or caddies (Q:).
To check this assertion, I plugged in a UFD. Immediately the listing for Drive M changed to connected. The Instance ID string now reads
USBSTOR\Disk&Ven_MUSHKIN&Prod_MKNUFDAM16GB&Rev_PMAP\070B8286BBA8CC34&0.
That tells me it recognizes the 16GB Mushkin Atom UFD I just plugged in. Good-oh!
What DriveLetterView Is Good For
I like this tool because it shows me which drive letters are occupied. I can also click on any drive letter, then click the red X delete symbol in the toolbar at top left, and delete that drive letter assignment. This makes it suitable for cleaning up after UFDs or removable drives I may no longer have or use. But the program is also pretty informative in and of itself. It provides device IDs normally accessible only through Device Manager, along with all kinds of other descriptive drive info. Check it out! I predict you'll like — and use — it.
---
January 6, 2020 3:48 PM
Context menu
,
explorer.exe error
,
Internet Explorer error messages
,
Troubleshooting
,
Windows 10
OK then, I got back from 8 days in the Washington, DC, area on Saturday (January 5). Upon inspecting my production PC I was stunned to see a series of 17 BEX64/CompatTelRunner.exe application faults. Normally, when I leave the machine alone, it runs at a steady "10" Reliability Index. That's because I'm not messing around with things constantly, as is my usual practice when working on that PC. I wrote a post here on November 8 about this very kind of thing. It's entitled "Debugging Win10 Explorer Crashes," and prescribes looking at the most recently installed context menu items to identify the culprit. NirSoft ShellExView pinpoints Explorer context menu problems quite nicely. Here's what the program showed me about recent shell extension items.
Of the four newest items only one says "Context menu." Seems pretty obvious, eh?
[Click image for full-sized view.]
When NirSoft ShellExView Pinpoints Explorer Context Menu Problems, Then What?
Troubleshooting Context Menu shell extensions can be difficult when there are lots of potential culprits to deal with. In such cases, one must disable them one at a time, and see which one makes the crashing stop. In this particular case, fortune smiled upon me. There was only one Context Menu item in the batch of new items (all dated Christmas Eve, ironically enough). And indeed, disabling that shell extension seems to have stopped the crashing. My Reliability Index has been steadily climbing since late in the evening of December 4, when my "WTF" moment immediately led to disabling the otherwise excellent 8GadgetPack's Content Menu extension as shown above.
Windows 10 has its foibles, to be sure. Sometimes, fixing them can be an ordeal. This time, luck prevailed and it was a snap! May it be likewise for you, so you can do as I did with the same good effects.
---
December 26, 2019 11:06 AM
Control panel
,
Network Adapters
,
Settings
,
Windows 10
In reading Windows 10-related news, I found a nice summary of new features for Windows 10 2004 at BleepingComputer. Amidst that summary, I was reminded that Network Status now shows multiple networks. (Settings → Network & Internet → Status) That said, on laptops with both wireless and wired Ethernet, plug in the wired connection so it shows up. Thus as 2004 gets new Network Status, you must understand its workings to get the most of its capabilities. Here's what it looks like, on my Fast Ring Lenovo X380 Yoga:
You won't see the (wired) Ethernet item unless that interface is active. But when it is, you see both.
If 2004 Gets New Network Status, What Does That Bring?
Beyond showing both interfaces (under the right circumstances), Network Status shows data consumption over the last 30 days. Click the Properties button to access network profile, metered connection, and IP settings info. It also summarizes key adapter properties (see below) . The Data Usage button provides a breakdown by application. It brings the ability to set a data limit on a per-interface basis.
A decent summary of Ethernet characteristics for the Lenovo's built-in I219-LM module, including driver version and important IPv4/v6 addresses.
In general, the Settings sub-windows continue to usurp what has formerly been the sole responsibility of the Control Panel widgets (in this case, Network and Sharing Center, and its subsidiaries). I expect we'll continue to see this kind of evolution with new Windows 10 major versions, as Settings gradually provides visibility into all of Control Panel's capabilities.
---
December 24, 2019 12:09 PM
software updates
,
Windows 10
,
Windows Update Management
In the period from 2010 to 2016, I blogged about a product named Secunia PSI no less than 28 times. PSI used to be (but is no longer) a PC application that would scan all the third-party software on your PC, check release info, and update everything it could. It did so automatically, and the software was free. It worked like a champ, too. But it was withdrawn from the market by its new owners (Flexera) in mid-to-late 2016. I've been missing Secunia PSI ever since.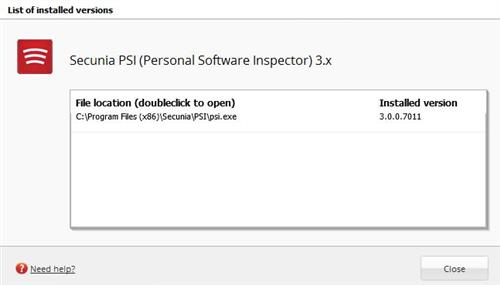 Back in the day, I kept Secunia PSI updated regularly and used it at least weekly.
Why Am I Missing Secunia PSI?
There are two answers to this question. The first shorter answer is because I learned to lean on it, and depended on its help to keep my systems up-to-date. The second longer answer is that I've simply been unable to find a worthwhile replacement. That said, I've had decent results with two programs. Both come in free versions. First and best (but most limited) is ITarian Patch My PC Updater. It does pretty much what Secunia PSI did, but it covers only 300 Apps, of which I use less than 50.  Second and more informative but less capable is KC Softwares Software Update Monitor (aka SUMo). On my production PC it finds 76 products, of which 25 still need updates. I used Patch My PC Updater (PMPU) because it is so much less work to use than SUMo is.
Let me explain. In PMPU, there's a button that says "Update all apps." You push that button, and it goes off to update everything it finds that needs it. In SUMo, there's a list of all apps, from which you must pick those that need updates one at a time. This takes you to the maker's website (or to MajorGeeks and a few other reputable alternatives). Then you must download the update file, run the installer, and work through installation on your own. Also, I disagree with some of SUMo's findings, which include the Intel ProSet software and some motherboard utilities. The program says they need updates, but Intel and the board maker says they're fine. When in such contention, I follow the path of least resistance and do nothing!
Causes for Nostalgia
So while the two programs are good, and cover my systems reasonably well, PMPU is not comprehensive enough, and SUMo is too much work to use quickly and easily. And that, dear readers, is why I am still missing Secunia PSI, gone now for nearly four years. Sigh.
---
December 23, 2019 12:20 PM
Windows 10
,
Windows Update
,
Windows Update Management
MS continues to refine its update download options. Starting with Build 19536, Insiders on the Fast Ring have a new Windows Update download option. That is, Windows 10 2004 gets "view optional updates" as a selectable link in Settings → Update & Security → Windows Update. Here's what that looks like on my Lenovo X220 Tablet (which fortunately needed some USB driver updates, as you'll see):
Note the blue text at the bottom of this snippet. It reads "View optional updates." When it appears, you can click it to see what's available, optionally.
When Windows 10 2004 Gets View Optional Updates, Then What?
If may click the link that reads "View optional updates." If you do, a list of one or more available items appears on an "Optional Updates" Setting page.
Here's what just showed up on my Lenovo X220 Tablet, with the Driver Update category expanded. As you can see, I've got a couple of apparently identical USB drivers waiting for this PC. Apparently, a separate install is needed for each of the two built-in USB hubs on this machine. You must check the boxes to the left of any item, after which the "Download and install" button goes live. Then you can click it to start that process on its way.
Both of my USB hubs apparently need a "new" driver dated 2016!
[Click image for full-sized view.]
What Else Might Appear as an "Optional Update?"
According to the 19536 announcement, in addition to device drivers, optional updates can also include "feature updates, and monthly non-security quality updates" as well. The goal here, according to MS, is to bring all this kind of update information together "in one place." The hope is to make such updates easier to see, manage, and control. It looks like the ire of many users of earlier Windows 10 versions about having updates forced upon them with no opportunity to decline or defer might finally be assuaged. Good stuff!
---
December 20, 2019 3:27 PM
Troubleshooting
,
usb not working
,
Windows 10
Nir Sofer strikes again! Nirsoft USBLogView monitors USB events on Windows, so you can see what's happening on PCs when the USB mount and dismount tones are sounded. I have a Lenovo X380 Yoga laptop that keeps belling those tones repeatedly, so I wanted to figure out what caused this. Turns out these events don't register with Reliability Monitor. Also, they're difficult to catch inside Event Viewer. Of course, now that I've found this excellent tool, the errant laptop hasn't acted up yet. So I'm leaving the tool running constantly, in hopes it will catch something when it (and if) it happens again.
As I plug in and unplug a USB flash drive, USBLogView catches each action. It does likewise for all USB bus events.
[Click image for full-sized view.]
When Nirsoft USBLogView Monitors USB Events, What Does It See?
As you can see in the preceding screen capture, USBLogView catches plug and unplug events. On another X380, it sees my dual-drive dock as a USB Attached SCSI (UAS) Mass Storage Device. Interestingly, though, when I plug in a USB-C/Thunderbolt hub, it does not see USB devices attached via that device. It does, however, see the hub itself as a USB Root Hub (USB 3.0). And, as soon as that hub is connected, it automatically gets disconnected one second later. I'm trying a powered USB-C/Thunderbolt hub next, and starting to believe there may be an issue with the USB-C/Thunderbolt port itself. But no: the powered USB-C/Thunderbolt port keeps on ticking.
And I learn something new: I have to grant explicit permission through the Thunderbolt app to allow this device chain to access the X380. When I do that, I can see the USB devices I plug into the Thunderbolt hub show up in USBLogView. Here, you see it all, courtesy of USBLogView:
Here, you also see the unpowered hub fail to stay plugged in, then the powered hub goes in, and the Mushkin UFD gets unplugged from its USB 3.0 port into a similar port on the powered hub. Good stuff!
[Click image for full-sized view.]
Hopefully, the tool will help me diagnose my strange and still-mysterious USB issues sometime soon. Stay tuned!
---
December 18, 2019 3:08 PM
Troubleshooting
,
Windows 10
,
Windows Update
,
Windows Update Management
Last weekend, I had trouble updating my older T520 Lenovo laptop (mfgr circa 2012, purchased 2013). I could click the "Check for updates" button, but the check never completed. Under those circumstances the next thing to try is a Windows Update reset. (See this great TenForums.com tutorial for step-by-step instructions and a batch file to automate command line stuff.) But after a couple of failed reset attempts, I had to consider an upgrade repair install as my next move. That's when UUPdump.ml came into play, with a surprising alternative. In fact, it's what makes UUPDump.ml invaluable resource: it will build an ISO for the most current, completely up-to-date version of Windows 10. I found this appealing because I needed to upgrade to the latest Build 18363.535 anyway.
As the most recent CU for 19H2/18363, .535 appears right now at the top of the list.
[Click image for full-sized view.]
Using the UUPDump.ml Invaluable Resource
When you go to the UUPDump.ml home page, simply click on the search button at the top of that page that reads 19H2. This takes you straight to the page shown in the preceding screencap. From there, you can find builds by Version (1909) and Build number (18363.535). Then, you must match the download to your platform type (x64 for me and most readers) and click the corresponding download link. This creates a ZIP file that you must download to your PC. Then, you'll copy that ZIP file to its own folder, and unpack its contents therein.
Among its contents, Windows users will find a file named aria2_download_windows.cmd. Run that command at an administrative command prompt (or in PowerShell, likewise administrative) and UUPdump's program will do the rest — namely:
1. Grab the Windows OS elements it needs in cab format
(this involves 8.5 GB worth of downloads)
2. Convert those cab files to esd files
3. Assemble those .esd files into various .wim and other Windows install files
4. Apply the latest KB updates to the Windows image files
(two install.wims and WinRE.wim)
5. Create an ISO file for the current, updated version of Windows 10
Even on a fast PC with a fast Ethernet connection this takes a while. I have an i7-6700K with 32 GM RAM and a Samsung 950 NVMe SSD, and my Spectrum Internet link is nominally 940 Mbps, with actual rates as high as 800 Mbps from time to time. It still took about half an hour to go through the whole process. Just building an ISO for the base OS usually takes only 15-20 minutes, so updating the image files using DISM is pretty time-consuming. That said, UUPdump really is an invaluable resource because you can use it to build a mountable ISO for just about any version of Windows 10 you might ever need. This is just the thing, when repairs or clean installs are necessary. Add it to your favorites list right away!
To Learn More
I conducted an interview with UUPdump.ml's developer earlier this year, and learned more about the web site's inner workings. If you'd like to get better educated on this terrific tool, check out my blog post at Win10.Guru: A Peek Inside UUP dump. I hope you'll find it both interesting and informative. Cheers!
---
December 16, 2019 11:40 AM
Windows 10
,
Windows Update
,
Windows Update Management
,
Wireless access
At first, it was indeed pathological. Running Windows Update (WU) on my old Lenovo T520, I couldn't get the update process to run to completion. I just blogged about that experience, and its fix, at Win10.Guru. Afterwards, I ran WU on my various PCs to see if the T520 was an outlier. I wanted to answer this question: Is WU slowing down?
Here's what I observed. On PCs with wired network connections, it takes 15-20 seconds from clicking the "Check for updates" button for a response from the Microsoft servers. For newer laptops with 802.11ac wireless connections, it takes more like 35-40 seconds. On my two oldest Lenovo laptops (T520 and X220 Tablet) it takes 1:25-1:30. The new PCs have 802.11ac adapters, while the oldest ones have 802.11n adapters. So, just for grins, I plugged an RJ-45 cable from my switch to one of the oldest Lenovo laptops. (It's the X220, with the same GbE and 802.11n adapters as the T520, but it's right next to my desk.) Sure enough, it took just over 20 seconds over wired Ethernet to get a response from the WU servers.
Is WU Slowing Down? Apparently Not, Except When Things Get Weird.
Looks like most of the delay is a function of network latency. I have a nominal 940 Gbps link to the Internet from Spectrum. Right now, SpeedTest reports it at 795 Mbps, interacting with an ISP (Suddenlink Communications) 8 miles from my present location. That drops to about 300 Mbps on my 802.11ac laptops (which are interacting with an Asus AX6000 802.11ax router in the same office) and to a about 150-160 Mbps on the 802.11n laptops.
My conclusion is that network speeds matter quite a lot — more than I expected, in fact — when it comes to handshaking with Microsoft's WU servers and getting a response from them. So no, WU doesn't appear to be slowing down. Looks like the relatively slow back'n'forth in using the 2.5 Ghz channel on the Asus router is responsible for most of the delay involved.
But when the T520 wouldn't complete its "Checking for updates" activities at all (I let it run for half-an-hour), I knew my problem was of a different sort. And that's when a Windows Update Reset (using the batch file from this great TenForums.com tutorial) did the trick for me, but not without overcoming the Catch-22 described in the Win10.Guru post to which I linked in the first paragraph here. And so it goes, here in Windows-World!
---
December 13, 2019 2:57 PM
On December 12, Jon Friedman posted previews of new Microsoft icons at medium.com. As the company's Corporate VP for Design and Research, you might say he's got ultimate oversight of such things. Included amidst those items was a new look for the Windows 10 icon, in the same vein as the new Office icons introduced just over a year ago (November 29, 2018). If you look at the graphics snippet from Friedman's post, you'll see that MS unveils new Win10 icon.
The item encircled in RED is a somewhat skewed version of the new Win10 logo.
[Click image for full-sized view.]
General Icon Redesign Means MS Unveils New Win10 Icon
In fact, Friedman explains the redesign reflects a "world where . . . social connectedness and collaboration are paramount to succcess. A world with immense potential for creativity and growth thanks to new flows of information." Moreover, MS wants to  to "help facilitate and enhance these kinds of interactions and experiences." Apparently, this drove MS to scale up its latest "icon design effort from 10 products to over a hundred." Friedman's blog post explores and explains the considerations that go into an across-the-board effort like this. It also recognizes the huge amounts of interaction and collaboration required to pull it off. Plus, where else could you find a figure caption like this one? "Rich gradients, soft curves, and fluid motion connect the Edge and Office logos to each other and the rest of the icons."
I can't help but wonder when the new icon shown above will make its official debut. Logic and guesswork tell me that it's likely to take over from the current logo when Windows 20H1 aka 2004 is officially released. If history is any guide, that means sometime in April or May of 2020. In less than 150 days, we should know for sure. Stay tuned!
---