Sep 7 2010 9:12AM GMT

Profile: Karl Gechlik
By starting up your Windows 7 computer with your Windows 7 disk in the optical drive you can choose the option to repair your installation.  The option will be Repair your computer. This will be on the same screen as the Install button.
After selecting repair your computer you will need to select the partition your Windows 7 installation resides on. Then you will see the following option menu: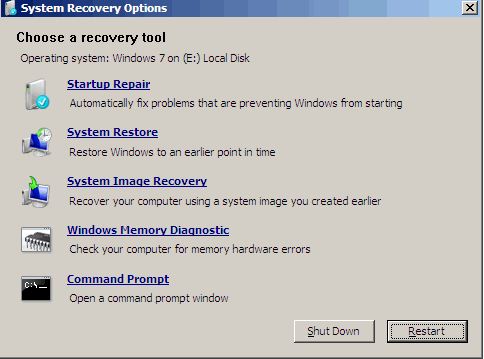 From this screen you will be able to choose from Start up repair, System restore, System image recovery, Windows memory diagnostic and a command prompt. This is a HUGE improvement over previous versions of Windows operating system repair menus. Normally you would just be taken to a system recovery console. Now you have options.
Microsoft has streamlined some of the repair process and broke it down in easy to understand menu items instead of needing to launch the recovery console and needing to type in specific commands.
Below you can see what each menu option does and relevant links to Microsoft's website that expand on these:
System recovery option

Description

Startup Repair

Fixes certain problems, such as missing or damaged system files, that might prevent Windows from starting correctly. For more information, see Startup Repair: frequently asked questions.

System Restore

Restores your computer's system files to an earlier point in time without affecting your files, such as e‑mail, documents, or photos.

If you use System Restore from the System Recovery Options menu, you cannot undo the restore operation. However, you can run System Restore again and choose a different restore point, if one exists. For more information, see System Restore: frequently asked questions.

System Image Recovery

You need to have created a system image beforehand to use this option. A system image is a personalized backup of the partition that contains Windows, and includes programs and user data, like documents, pictures, and music. For more information, see What is a system image?

Windows Memory Diagnostic Tool

Scans your computer's memory for errors. For more information, see Diagnosing memory problems on your computer

Command Prompt

Advanced users can use Command Prompt to perform recovery-related operations and also run other command line tools for diagnosing and troubleshooting problems.
Do you have any tips or tricks to repair a failing Windows 7 system? If you do we would love to hear from you in the comments!