Sep 23 2010 8:53AM GMT

Profile: Karl Gechlik
Check out http://www.lookinmypc.com/ to download an application that you can run on a suspect machine before you begin to repair it. This is very handy!
You can see a sample report here: http://www.lookinmypc.com/ReportPage1.htm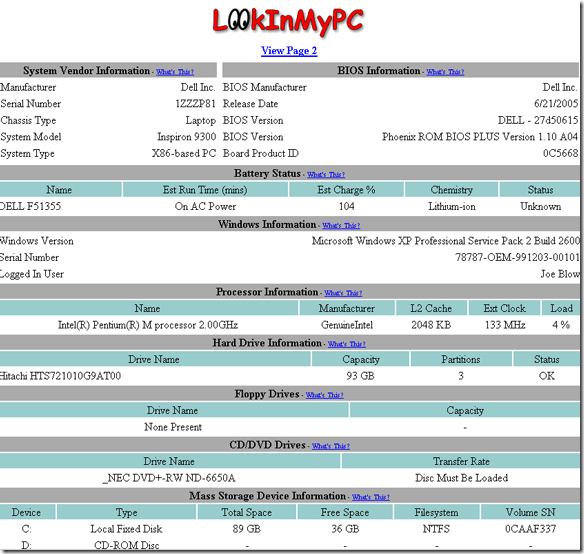 Direct from their website:
Several years ago, we incorporated a system into our popular CYBERsitter product that allowed users to include a complete system profile automatically whenever they requested technical support. This helps reduce support costs and provide accurate solutions to users issues quickly. This has proven to be so useful, we decided to offer a stand alone version and make it available to everyone for free. With over 15 years experience in developing and supporting commercial software, we have included every item about the system we would like to know about when a user needs help. Whether you are a computer novice or a seasoned professional, LookInMyPC is an invaluable tool for troubleshooting problems and seeing what is actually going on inside your computer.

LookInMyPC generates a complete, comprehensive system profile that includes information on all installed hardware and software. Additionally it provides system diagnostic information such as details on running processes, installed services, startup programs, Windows updates and hot fixes, active network and Internet connections, TCP/IP port usage, event log detail, and much more. All this is provided in an easy to read, formatted report that you can view and print using your web browser. We have also hyperlinked many items so you can quickly and easily "Google" them to find out what they are or if some programs might be spyware or viruses. It is also completely non-invasive and makes no changes to your computers settings whatsoever. We have even included a handy function that allows you to create a full system profile and diagnostic report and automatically send it as an email ZIP file attachment to a tech support or help desk person.

Best of all, it's completely FREE for personal and commercial use. There is no adware, no spyware, no system drivers, no hidden malware of any kind, nothing. No information is ever transmitted to anyone (unless you want it to).