---
February 1, 2019 12:55 PM
BT has announced plans to train another 3,000 apprentices  on top of 3,500 engineers, including apprentices, hired last year.
The announcement included an update on BT's plans for new and upgraded training centres to train Openreach staff (announced in March last year) when the Secretary of state for Work and Pensions opened the second of the new centres, in Peterborough. The first, near Bradford, became operation before Christmas. Yarnfield (near Stoke-on-Trent) was an upgrade and expansion of an existing centre. The other new centres are Bolton, Crawley, Exeter, Livingston, Newport, Nursling (Southampton), Romford (Essex), Thornaby (Tees-side) and a centre in Northern Ireland. Three of these are due to open over the next three months. By March BT will have doubled the learning days it deliver annually to 160,000.
It expects, however, to have no capacity available to sell to others.
BT has yet to fully recover from the 50% cut in both infrastructure investment and preventive maintenance budgets in 2008. A side effect of PIA access has been a need to train thousands of engineers to, for example, inspect poles, ducts and cabling that have not been checked in years and to retrain thousands of others to handle GFast, let alone Fibre to the Premises: Openreach also announced 11 new locations where it will be building new FTTP networks during 2019 – including Bury, Barking & Dagenham, Bexley, Croydon, Greater Glasgow region, Harrow, Merton, Redbridge, Richmond upon Thames, Sutton Coldfield, and Salford. This brings the total number of towns, cities and boroughs that Openreach will be building in to 25. Those already announced are: Birmingham, Bristol, Cardiff, Edinburgh, Leeds, Liverpool, London, Manchester, Exeter, The Wirral, Coventry, Nottingham, Belfast, Swansea.
Successful applicants in England and Wales who complete 12 months at Openreach will receive a BTEC Level 2 Diploma in professional Competence for IT & Telecoms Professionals. Scottish joiners will receive a Diploma for IT and Telecommunications Professionals at SCQF Level. BT is looking for partners to help it get the programme agreed as a level 2 Apprenticeships so that it can claim its levy back!
The expansion of the BT in-house engineering workforce over the year ahead, net of "wastage" (e.g. retirement) will be about 1,600. It will remain heavily dependent on external contractors.
Meanwhile the estimated shortfall of those competent to help build in contractors, and those of its competitors, to build full fibre networks is about 15,000.
To that should be added the shortage of those competent to construct hybrid networks (cable and wireless) networks to serve multiple dwelling units and smart building complexes (from office block through to airports, business parks, football stadiums and shopping malls to Universities science parks).
The Digital Policy Alliance meeting on 21st January to address the shortage of Digital  Infrastructure Construction Skills to which I referred in my previous blog  was fully booked, action packed and off-the-record. By the end February I expect the participants to ready for a formal announcement of the actions that were agreed and their implementation plans. In the meantime I have been asked not to steal their thunder.
The plans cover most, but not yet all of the actions identified on November 26th. The main exception is co-operation on talent acquisition programmes. For example – how do we get the message to physically fit youngsters who balk at the idea of £50 – 60,000 of debt and no job in prospect, but are willing to get out of bed early in the morning, whatever the weather, to train for their chosen sport and also willing and able to get a driving license (if they do not already have one) that they can be earning £40,000 within the year. More-over they can be on the bottom rung of a hybrid career path (via degree-linked apprenticeships and other training programmes) towards building, maintaining and exploiting the digital infrastructure of the future. And they are likely to be paid, at each stage of that career rather more than those who began with £50 – 60,000 of debt.
That message will not go down well with schools dependent on the funding that goes with 6th formers. It will not go down well with those Universities who are not already making the transition to working with employers on degree-linked apprenticeship. But is a reflection of the changes of status that go with the 4th Industrial Revolution
Please contact the Digital Policy Alliance  if you would like to join the group to co-operate on talent acquisition programmes (from teenagers, through armed forces veterans and the under-employed to those returning to work force) and the organisation of local skills partnerships and training facilities to meet you own needs.
Also make contact if you would like details of what was agreed on the 21st January and the implementation plans as soon as these are agreed for announcement.
December 29, 2018 8:39 PM
BDUK
,
Carillion
,
DSS
,
Gigaclear
,
Hyperoptic
,
idea
,
Liberty Global
,
Uncategorized
,
Virgin Media
Problems with quality, not just quantity threaten to derail full fibre roll out as they did cable TV roll out 25 years ago.
Over the past couple of years broadband roll-out projects (BT, Virgin, City Fibre etc.) have become increasingly delayed because of shortages of relevant construction skills. The current excuse for these is Brexit but the current problems began when BT restarted investment after receiving BDUK funding. They are similar to the quality problems which derailed the roll-out of Cable TV in the 1990s and lost the shareholders' investments as the industry "consolidated" and NTL and Telewest went into Chapter 11. Sub-contractors, many from Eastern Europe, did not have the competence they claim. They damaged other utilities, destroyed gardens, killed trees, failed to correctly reinstate roads and pavements and angered local residents and potential customers. The consequent hostility led to delays in getting approvals for construction and the cable companies ran out of funds before achieving critical mass. But for local loop unbundling the rump of the industry would probably have been bought by Sky for £1 instead of salvaged for the US Bondholders by Virgin Media and sold on to Liberty Global.
The UK skills base imploded after Local Loop Unbundling.
Then local loop unbundling destroyed the business case for the BT 21CN programme. This led to the decimation of BT's in-house engineering teams, to savage cuts in spend on outside contractors and to a decade long standstill in external infrastructure investment. By the time the BDUK funds began to flow the skills had emigrated to build networks around the world leaving behind neither a pool of new generation telecoms construction skills nor a talent pipeline.
And the collapse of Carillion compounded the problems
Then, at the point demand for network construction skills began to recover, the collapse of Carrillion  delivered a double whammy. BT and its network construction suppliers (like Fujitsu) had contracted much of the civil engineering work to Carrillion – which had, in turn, hoovered up much of the UK construction industry and dominated its supply chains. The latter imploded in chaos at that same that those with dual source contracts with its competitors, like Telent  wanted to use them to plug the gaps left by Carillion. The BT response included plans to recruit and train 3,000 new "engineers" to meet the needs of Openreach but, in the period before setting up the ten new training centres announced three months later, work on BDUK contracts inevitably slowed.  The delays with the Gigaclear full-fibre roll-out across Devon and Somerset also began with the collapse of Carillion. A take-over of the next contractor delayed matters further and Gigaclear had to be refinanced to cover further cash flow delays while expanding its in-house workforce and training programmes.  About this time Virgin Business Media began planning its apprenticeship programmes and City Fibre had to refinance its expansion plans on less generous terms than those expected by shareholders at the time of its most recent rights issue .  Meanwhile those serving multiple dwelling units, like Hyperoptic and Community Fibre were also setting up their own training operations. Those planning to rely on existing civil engineering sub-contract supply chains face increasing problems as competition for suitable trainees, let alone experienced contractors, increases.
There is a view that Brexit will make matters worse but the use of supposedly skilled Eastern Europeans has been part of the problem. The skills to build robust full fibre, wireless or hybrid networks are in short supply across the EU as the roll out of 4-5G infrastructures accelerate. Those genuinely competent can earn more in, for example, Germany. Those not competent bring their employers into disrepute – compounding problems with agreeing timely access, wayleave and streetworks and causing expensive remedial work. Their streetworks IDs can be based on certifications from centres where no-one who paid the fee failed the course. We have demonstrable free movement of the incompetent because the blacklisting of those demonstrably incompetent is no longer legal and there are no common processes for registering employer-validated log books of past performance.
Current plans to rebuild the UK skills base do not yet address the inherited quality problems, let alone the changes in skills for building new converged fibre (backbone) and wireless (fixed and mobile) networks. And little is being done to create pipelines for the skills to roll-out and exploit  the smart infrastructures of the future. In consequence when, last July, I was asked to speak to the UK Fibre Connectivity Forum on Digital Infrastructure Skills we had a glut of would-be infrastructure investors because shortages of the construction skills to turn planning into cash flow had led to an implosion of credible investment opportunities.  Today a growing number of  local authorities are dreaming of becoming smart cities or counties but unless they are also planning to help contractors recruit and train those to build the infrastructure, (as well as working to provide easy access to highways, wayleaves and anchor tenants) their Council leaders are likely to have retired before construction begins.
My presentation on skills standards, paraphrased here  followed one on the Local Full Fibre Roll Out programme. The DDCMS presenter confirmed that the Skills to deliver the programme was now their main concern. They felt the Barrier Busters now had credible plans for addressing the other issues. In October the Broadband Stakeholders Group organised a round table with the DDCMS Skills Barrier Buster and the Treasury Digital Infrastructure Team and a cross section of  network operators and construction companies. This led to a consensus that IET (not present though a number of participants were members), be asked to look at the standards and quality control problems, particularly the practicality of creating registers of competence.  A couple of weeks later I was being chased by DDCMS over progress and was able to say that I planned to use the session on barriers to broadband roll out at the INCA 2018 Conference  to summarise progress and invite delegates to help. By the time of the INCA event I was able to announce a DPA round table on 26th November, hosted by the Digital Skills Solutions team of Newham College. Newham College not only turns inner-City NEETs into digital apprentices for the major employers in City of London (working with City and Guilds, CompTIA, Microsoft, Samsung et al) it has also been chosen as the GLA Construction Academy. It was thus an ideal host for bridging the gap at the hart of the Digital Infrastructure Skills problem.
Creating coalitions of the willing to meet the needs of their supply chains as well as themselves
That round table on 26th November was unusual in many ways – including both venue (the London Fashion and Textile Museum happens to be administered by Newham College and the creative industries are massive consumers of bandwidth at the heart of the digital world) and format. It brought together planning and personnel directors from network operators and construction companies alongside the chief executives of training provider and Local Government broadband champions and Economic Planning Directors. The interplay revealed the gaps in understanding that have bedevilled thinking to date  For example – a driving license is a now mandatory pre-condition for more trainee posts than a digital qualification. Think about it. Most of Uber generation of urban teenagers does not bother to learn how to drive because they cannot afford the insurance, have nowhere to park and perceive no need. But construction workers and service engineers  need to drive a van to get themselves and their tools to the customer site and most of the "paper work" can be handled over mobile phone – no need for a lap top and "digital skills".
They participants identified a series of potential action plans (see below) capable of delivering scalable solutions within months, not years.
Even more important, several of those present had agreed action plans before they left.
Within a fortnight the IET had hosted a meeting with DSS, City and Guilds and the Chief Executive of the Highways Electrical Association to look at how to crack the quality control problem with existing streetworks registers and also host co-operation on talent acquisition and modular training delivery programmes. They plan to present possible solutions (which builds on existing inter-operable log-book standards) to employers on 21st January with the aim of piloting implementation within the quarter. Invitations are being sent using the list assembled for the embryonic Digital Policy Alliance Digital Infrastructure Skills Group. Click here for an invitation to ask to register as a prospective member and/or ask for background information. I suggest you also ask for me to be informed because I will be serving as an advisor until I retire (again!) at Easter.
Summary of the current situation as identified on 26th November:
1. Shortages of the basic civil and electrical skills to competently and safely lay cables alongside/under roads and pavements and reinstate surface threaten to inflict delays on full-fibre roll-out programmes akin to those which derailed the roll out of cable TV. There are similar shortages and quality problems with regard to installing cabling in multiple dwelling units,
2. Most of the skills in immediate shortage are not "digital". More-over they can be acquired inside 2- 3 months, using short modules interspersed with on-the-job experience by physically fit trainees who have (or are able to acquire) a driving license. "Pop – up" training facilities to deliver the modules necessary can supposedly be created at a month's notice, given suitable premises and paying customers. Most network construction is planned 12 – 18 months in advance.
3. The shortages arise primarily because commercial confidentiality regarding the roll-out plans of the network operators means that construction contractors cannot pre-plan recruitment and training and training providers cannot pre-plan the necessary modular delivery capacity.
4. The problems with talent attraction arise largely because careers advice, whether for school-leavers or armed forces veterans is geared almost entirely towards acquiring class-room based qualifications. "Building the physical/digital infrastructure of the future" does not feature as a career path. Potential recruits are not made aware of the opportunities on offer to "earn while they learn in the open air". Current funding mechanisms which require 20% of working hours spend in off-the-job learning do not help. Nor does the inability to charge recruitment and selection costs against the levy.
5. There are issues with the provision of standards, training modules and practice facilities with regard to some modern network construction techniques. There are also issues to do with the assembly of modules and work experience into apprenticeships to enable training costs to reclaimed against the levy. This is now paid by most network operators and construction companies and almost none have yet been able to reclaim. These problems overlap with those faced by employers in other industries.
Summary of the Actions Needed:
1 Create registers of demonstrated technical competence, based on existing qualifications (updated as necessary) to provide the evidence missing from the Streetworks Qualifications Register . These might build on the Highways Electrical Association  and other professional/trade association, log books such as City and Guilds Digital Me (which shares the Open Badge Standard with players like IBM and Microsoft)) and/or programmes like iDEA (to draw in NEETs and others).
2 Organise talent attraction, acquisition and development programmes to meet shared needs, both short and long term, using existing processes and standards. National and local campaigns and competitions offering work experience opportunities to pupils and students might be organised with JISC and the Grids for Learning to convey messages and materials to not only schools and colleges but those commonly left out of such exercises, from youth groups and those in care as well as to under-employed adult communities.
3 Share information on forward needs with current and potential training providers and plan modular delivery when and where needed. The aim here would be to bring Local Authorities and FE College serving communities where broadband roll outs are planned alongside network builders, contractors and commercial training providers to remove risk by organising joined up local recruitment and training to meet known needs.
4 Identify those willing to work together on the longer term career development and skills delivery plans to plan, build, maintain and exploit the Smart (including secure, resilient, inter-operable fix and mobile 4/5G) infrastructures of the future.
Context for the possible action plans – both problem and opportunity – summarising some of the points made in discussion on November 26th:
1 How do we fit skills in short supply, which can be mastered inside with days of weeks by suitable trainees who can be productive from day one, into current skills frameworks?
A wide range of skills are needed and there are many career paths but the skills in immediate shortage are those at the bottom. These can be used to get trainees revenue earning from the very start, before either side commits to a longer term training programme or apprenticeship. They include basic streetworks (e.g. digging trenches, laying cables and reinstating road surfaces) or safely installing cabling in buildings (e.g. cutting through and reinstating fire resistant barriers – not leaving the building vulnerable both inside and outside like the Grenfell Tower). In many cases trainees can be "productive" from day one – shadowing and learning from a skilled operative on tasks which require a second person for safety purposes only, e.g. to watch for traffic).
Most of the subsequent technician skills can be acquired in short modules (e.g. to use complex equipment or plan operations) interspersed with supervised practice. Few require significant periods of off-the-job training – as opposed to the on-site or evening use of distance learning materials, simulations and assessments to acquire and demonstrate understanding of background knowledge.
Unfortunately most current public programmes are unattractive because they mandate periods of off-the-job training (20% is mandatory on apprenticeships) which are not relevant to most of the skills in current shortage or modern industrial and commercial training practice. Why should apprenticeship levy payers be pre-cluded from spending their levy on more cost effective ways of developing basic skills among those who may later proceed up the skills ladder?
2 How could/should we address known problems of quality control with the certification of supposed skills, including those claimed by immigrants, whether from EU or elsewhere?
Problems with unskilled staff, often with limited English, whose competence does not match that indicated by their Streetworks ID cards, exacerbates conflict with Local Authority Highways Departments and property owners and tenants and complicates the implementation of Streetworks Guidance or compliance with building regulations. There may, or may not, be a need to update the qualifications/certifications which these record but there is a clear need to record the competence and/or conduct shown in the work place, using employment log books and registers that can be checked and validated by future employers. There are a number of industry registers for electrical staff which could be used as the basis for shared registers which also cover streetworks and  intra-building skills. A growing number of certification bodies offer similar services using global standards for inter-operability (e.g. City and Guilds, Digital Me ).
Action: identify those interested in working together to produce shared/inter-operable employment records/log books using the "Open Badge" standard https://openbadges.org/ or similar pending reform of the Streetworks and/or other statutory registration programmes.
3 How could/should we work together, with who, to attract suitable trainees.
Current mainstream careers advice and activities are almost entirely geared towards routing youngsters to University and/or semi-academic FE qualifications with digital literacy (commonly using Microsoft and Google products and services on laptops) for the socially excluded (whether excluded for mental, physical, legal or cultural reasons).
Almost no attention is paid to the "physically fit but non-academic" and/or those who wish to work with their bodies as much as their minds (unless they wish to follow sporting careers). Even less is paid to those who prefer working outside – even though it can pay considerably more for those who do not reach consultancy, managerial or professional level in their chosen careers. Traditional prejudices are reinforced by the league table motivations of schools and teachers.
A pre-requisite for many infrastructure construction posts is a driving license for a van and (often) equipment trailer. Fewer urban teenagers in the "uber generation" learn how to drive Either they do not see the need, or they cannot afford the insurance, (more of a problem than the driving lessons or cost of an old, but roadworthy, car). There are few, if any, public or employer funded training programmes, other than for would-be bus and lorry drivers. There is a common view that such skills will be made redundant by driver-less vehicles but "digital skills" (alias use of current office systems) as opposed to "coding for all" (using raspberry pi  and microbit to develop abstract and applied logic and engineering skills), are already becoming redundant.
We pay lip service is paid towards social inclusion while failing to address the practical problems with attracting and/or supporting those from problem families, coming out of care, young offenders institution, prison or the armed forces. DWP insists that the timing and other gaps between loss of benefits (including by other members of a family where no-one else is in work) and earnings be treated on a case by case basis. In practice this presents almost insurmountable problems. Meanwhile recruitment costs, work experience and selection costs (let alone pastoral care costs) cannot be offset against the apprenticeship levy. Employer provided/supported accommodation is not only not reimbursable but is additionally taxed as a benefit in kind. By contrast most Universities now have programmes to support those from disadvantaged backgrounds doing full time degrees.
The first need is to produce careers messages, materials and events that will be attractive to the target audiences and will still be used by teachers and careers advisors. The key headline message for generation Uber might be: "Earn good money while you learn how to build, maintain and exploit the digital infrastructure of the future and widen your career choices" – with a clear sub-text that a physically fit recruit (any age from 20 – 60), willing to work in the open air, with no qualifications other than a driving license and the ability to use a mobile phone can be earning £20 – 25,000 (plus bonus) inside three months, with all necessary training (perhaps including to acquire the driving license!) paid for by the employer. Employers need to also show that their work placements are not charity but extended "interviews" for places on career paths that lead (including via subsequent training programmes, including apprenticeships, degree-linked or not) to the management of complex network installation programmes as well as a kaleidoscope of other opportunities building, maintaining and exploiting the smart utility infrastructures of the future.
But careers materials have to be used. We also need to identify channels and organise campaigns to promote those materials and events to those who will benefit most and/or bring most to the participating employers. These include e.g. physically fit NEETs of all ages, those trapped indoors with jobs they do not enjoy (or in prison), armed forces veterans and others used to organisational challenges or who enjoy the out-of-doors team-building exercise more than the day job. These might include working with high status groups like the City Livery Companies to exploit links with groups like Barnados, Founders4Schools, NSPCC, Placer, Veterans Associations, YMCA etc. DDCMS should also be asked to close the loop with MoJ plans to improve prison training and release programmes..
Action: Identify those employers and training providers interested in working with the Grids for Learning, National Charities, Local authorities and others to organise and publicise work experience opportunities, recruitment materials and events to attract suitable recruits from target audiences in relevant travel to work areas.
4 How could/should we set about overcoming the problems of commercial confidentiality and competition policy which get in the way of predicting demand (numbers and location) with sufficient accuracy to reduce the risk of organising supply.
There is much confusion over the scale and nature of the skills in current and prospective demand. BT is seeking thousands of contractors as well as a new generation of in-house skills. Others are scaling up from dozens to hundreds of new engineers per month or quarter. Some of the demand is because of problems with previous contractors. Some is genuinely new.
The techniques used for most publicly funded skills forecasts use definitions which are of little, if any, practical value to those planning course content, location or capacity. There appears to be no reliable data on how many skilled individuals are currently needed, where, or by who – let alone those who will be needed in the future to deliver the plans being worked on confidentially. This need not be so. Network builders commonly know their plans, expectations and aspirations over the next two to three years and most of the necessary training programmes can be organised at three months notice by the private sector. I will not comment on the problems to do with public sector planning/funding cycles. I am running late in producing a separate paper on these.
For reasons of commercial confidentiality the forward roll-out plans are rarely conveyed to construction contractors, training providers or recruitment agencies in time to enable the latter to also plan ahead. There is similarly little linkage between those planning 5G and smart products, technologies, buildings and/or cities and those who should be planning now to provide the necessary skills modules. [see also my blog on the IET plans in this space].
The aim should be to enable processes to bypass commercial confidentiality and enable local authorities, trade associations and others to collate demand based on collating the forward manpower plans and budgets of those intending to service their locations. Where this is not practical, analyses of current and planned recruitment advertising, like those produced by Burning Glass for Comptia and/or local authorities in the UK have been consistently better at identifying trends in demand but are of limited value in looking ahead.
This is, however, a poor second best to enabling network planners, local authorities, product developers, human resources directors (various titles), training providers and recruitment agencies to share confidential information and facilitate investment in rapid-return pop-up training facilities which have the potential to grow into facilities to meet long term evolving needs – as tangible demand emerges from the fog of forecasts.
The second, overlapping but different, need is to assemble a group to similarly work with technology and equipment suppliers, would-be smart local authorities, professional bodies and skills providers to plan ahead for the skills needed to build, maintain and exploit the inter-operable, critical infra-structure utilities for a smart (5G etc.) world. This should link to the IET work to produce guidance on standards, inter-operability, planning, procurement and skills issues for a 5G/Smart world. [see link above]
Actions:
• Identify leadership team and invite participants (and others to be identified) to form a subgroup to agree what forward short-medium term planning information they are willing to share, with whom and to identify who else they would like to invite.
• Identify leadership team and invite participants for a longer-term planning exercise
5. Addressing the problems of reviewing and implementing current/proposed apprenticeship frameworks, including delivery and support, within current frameworks
There is much confusion with regard to what can and cannot be done using existing and planned apprenticeship and other skills frameworks and these are known to be under review, with political pressure for further change under way.
The problems are generic, apply to all industries and date from decisions by DfE officials to by pass the Sector Skills Councils. The solutions are also generic and will undoubtedly form part of the recommendations from the Prime Minister's review into the Funding of Further and High Education. The means change will be delayed, perhaps indefinitely, while some of the UK's most powerful interest groups fight to preserve their century old funding structures and way of life. Hence the reason so many in industry thought it easier to import talent than to sort out the UK education and training system.
Given the likely timescale for such fundamental change, it is more productive to identify what can be achieved by expanding delivery using already approved standards and suppliers, creating partnerships to increase throughput and serve additional locations as necessary. In parallel we should be to look at how these can be used to attract recruits for pre-apprenticeship work experience programmes and/or to look at new standards where necessary. This will also facilitate incremental change as students and parents are enabled to take better informed decisions rather than being herded towards debt funded full time degrees and the economic serfdom that follows.
Action: identify those interested in working on which apprenticeship standards, including those willing to work with BT on the Level 2 Trailblazer group which they are chairing.
Other longer term actions should then include:
• Publicising and replicating good practice in the provision of world-class local training access, when and where needed, including in co-operation with local authorities, Colleges, Universities, LEPs and others planning provision for the jobs of the future.
• Working with others across industry and political boundaries to secure action at whatever level necessary to improve current skills and apprenticeship frameworks so that they are fit for purpose and economically/socially sustainable.
---
December 21, 2018 12:40 PM
Abilitynet
,
Artificial intelligence
,
Biomemetics robotics
The big challenge for 2019 is not Brexit. It is the demographic time bomb. Britain can no more leave "Europe" than it makes sense to tie our economy to a protectionist "ever closer Union". I will not attempt to discuss how best to delay the decision process until the European parliamentary election, coupled to growing regime change across the members states, enables us to have constructive dialogues with new negotiating teams on both sides. Instead I would like to take the opportunity of the current CPF consultation on Disability policy to take a look at an issue that has been taboo for 30 years too long. It also happens to be an area where the more imaginative use of technology turns problems into opportunities on a massive scale.
"Simple demographics show that over the next few decades our workforce will shrink and the number of pensioners to be supported will grow. Meanwhile the cost of energy and raw materials will continue to increase. If we do not make better use of technology to create more wealth and simultaneously release and equip manpower to take better care of the elderly, you and I will grow old and cold alone, in the dark." No End of Jobs, CPC 1984.
Since that was written we have imported millions of health and care workers from around the world to plug the gap the UK demographic gap. But birth rates are now falling around the world. We can no longer use immigrants to postpone the inevitable.
We have to use technology, including robotics and artificial intelligence, as prosthetic extensions to human ability, to harness the talents of those who previous generations might have regarded as "disabled". We should remember that we too will be disabled for the final months or years, (perhaps even decades), of our lives. We need those supposedly job-threatening technologies to extend the period in which we can look after ourselves and enable a shrinking number of careers to look after the growing number of us when we can no longer do so.
This gives a very different perspective to debate over robotics, AI and the effect on employment. The over 55s control over 80% of the nation's disposable wealth (and funds for investment). We should empower them to use it change the economics and structures of our fragmented care system at all levels. Shuffling us between domiciliary care, care home, nursing home. hospital and hospice according to regulatory structures may be egalitarian (equality of suffering) but is neither humane nor a good use of public funds. We should make effective use of technology to join up our care systems in the patient's interest, while making the savings that will enable us to better serve everyone – whether or not they can afford to pay for themselves.
Below is the  Conservative Science and Technology Forum response to the Conservative Policy Forum Disability and Inclusion Discussion Paper.
The CSTF exists to advise the party , at all levels, on the impact of scientific research and new technologies on society, exploiting the benefits and avoiding the risks. It welcomes the impact of experts, whatever their politics and also aims to provide well informed inputs to the consultations of the Conservative Policy. Membership details are here .
The CPF aims to involve party members across the UK in discussing the major policy issues that will face us over the years ahead. CPF has also taken a decision to encourage its groups to welcome inputs from non-members with relevant experience and expertise. This draft includes comments from the first round of consultation, including over Linked In.
The subject of the discussion brief may look narrow but the open-ended questions below offer the opportunity to juxtapose muddled thinking about the "Fourth Industrial Revolution" with the need and opportunity to redefine what we mean by "disability" in the face of global, not just UK, demographic time-bomb.
Housing: How might we better build homes and buildings that everyone can access and use, so as to build a society in which all can participate fully?
New technology enables us to bring many of the jobs of the future to where the workers wish to live, provide they have full fibre and 5G to the home. It enables us to bring telemedicine diagnostics and treatment equipment to the care home or surgery and can empower domestic carers (under remote supervision) to do much of that which currently requires a visit to the surgery or hospital.
We need to consider the homes that workers with limited physical mobility wish to inhabit. They need secure parking outside and/or wide doors, corridors and lifts for their mobility buggies inside. They also need space, power and monitoring connectivity for a variety of automated devices to aid domestic life (robotics for rheumatics and AI for the forgetful).
A first step might be to expedite DHCLG approval for the Ashford local plan (with its requirements for the broadband connectivity of new developments. Another step could be to publicise the authority-wide Access and Wayleave arrangements being pioneered by, for example, Southwark, to enable full-fibre broadband to existing social housing at no extra cost to Council or tenant.
Transport: How might we better adapt our transport systems so as to offer people with disabilities the same access to transport as everyone else?
The first and most important action is to stop removing inner city parking suitable for use by the disabled and/or those providing them with personal transport. If there has to be choice, disabled parking spaces should have priority over cycle lanes.
Providing more space on buses and trains for mobility scooters to compete with baby buggies and bicycles is a stop gap unless we replace fixed seats with folding seats that are also easy to use by those with limited ability to stand for long. We also need to look at how to encourage Uber, the licensed taxi trade and others (including those employing drivers who are themselves disabled) to provide customised mobility services.
Health: How might we more effectively reduce the health gap experienced by people with a learning disability, mental health conditions or autism, so as to help everyone to live full, healthy and independent lives?
We need to encourage the creation of joined up on-line care monitoring and delivery systems, akin to those for diabetics which were presented to MPs decades ago by St Thomas's. They had brought together medical, welfare and care practitioners, across professional and organisational boundaries, in the interest of the patients. There are issues of access to sensitive information but the gap will not be bridged without continuity of locally joined up care and support.
The ban on using services like Babylon GP at Hand https://en.wikipedia.org/wiki/Babylon_Health to support such groups needs to be reviewed. Properly used (and there are indeed issues of privacy, security, audit, testing and peer review hat need to worked through) the underlying approach can be used to deliver significantly improved care at significantly lower cost provided the diagnostic systems are linked to joined-up records under patient control. There is also a significant body of research to indicate that many members of such vulnerable groups can be happier dealing with well-programmed avatars (synthetic human beings with infinite time, patience and predictability) than with genuine human beings.
In this context the ai-based, commoditised voice control/synthesis services (Alexa, Echo, virtual assistant etc.) available from Google, Amazon and others may have issues (some of the parodies of their behaviour are very funny) but they have taken such technologies from the expensive niche to the common place and could/should be used to enable the disabled to be control their own lives and/or be better cared for and supported at much lower cost.
Employment: How might we work more effectively with employers and people with health conditions so as to help as many as possible to get into and stay in employment?
We need to distinguish between those health conditions which limit employment prospects and those which make individuals well suited to particularly types of employment. Thus GCHQ and some other cybersecurity employers are happy to cover the cost of clinical care and pastoral supervision and care for those with particular neuro-diverse conditions. Meanwhile call centres and monitoring centres (e.g. those providing real-time surveillance on shopping malls) find the physically less mobile an able and loyal workforce. The need is to support intermediaries motivated to place the "disabled" into work (including part-time for when they are able) not just to assess them.
Participation in Society: How might we better support candidates with disabilities to stand for public office, so that those elected better reflect the diversity of society?
CCHQ should support an "Enabled 2 Win" network, akin to Women2Win.
Culture Change: How might we all deliver further positive change for people with disabilities, so that society does not miss out on the contribution of any person?
Publicity for those employers actively seeking to recruit those who others regard as disabled.
Publicity for services like Accessable which enable the disabled to plan their shopping and entertainment and promote the services of those who welcome them as visitors and customers. Commission them to audit the accessibility of central and local government offices, libraries, leisure centres and other facilities and include the results in their services.
Require those organising public sector websites and on- line services to make them fit for use by their target audiences, whether or not the latter can use a conventional screen and keyboard. There is a wealth of interfaces available – but few central and local government departments and agencies – design for their use.
Organisations like Abilitynet should be commissioned (i.e. paid) to provide advice when needed and audit the services of those who not think they need advice.
Any other question you think should have been asked or observation you would like to make?
All public on-line access and information should be fit for use by their target audiences, whether or not the latter can use a conventional screen and keyboard. There is a wealth of interfaces available – but few central and local government departments and agencies – design for their use.
There is a need for publicly accountable processes to test (including peer review) and audit the means by which we plan and deliver services to those who are socially excluded because of perceived disabilities. Commercial confidentiality should have little (if any) place in publicly funded services except during a competitive tendering process. This area needs public debate because the implications of the growth of such confidentiality in support of IPR protected business models using publicly funded research and data are not well understood.
This is particularly so with regard to Artificial Intelligence (whether rule based, derived from algorithmic searches of "big data" or hybrid) based diagnostic or control (robotics) products and services where third party testing and audit (including published peer review) are complicated by current interpretations of IPR law and non-disclosure agreements.
---
December 19, 2018 12:10 PM
Uncategorized
We have had a barrage of reports and articles telling us what the various types of Brexit deal really mean,
None of them come remotely close to this for clarity and vision.
That from the British Council is, by comparison nebulous.
Brexit may be an existential threat to the Digital Establishment and its lobbyists but I confidently that is a years time the British (a ragbag mix of immigrants from around the world, Celts, Saxons, Vikings, Huguenots, Arabs, AfroCaribbeans, Indians, Chinese etc.) will still inhabit a foggy, soggy set of islands, a little over 20 miles offshore from a protectionist sub-continent, approximately equidistant from the original home of information technology (paper, printing and gunpowder) and its current home (Silicon valley and Seattle).
More-over they will still be arguing about whether they wish to protect the past or build a better future.
For forms of government let fools contest, whate'er is best administer'd is best …
I also suspect the English, Scots, Welsh and Northern Irish will still be unable to agree which they like least … rule from London or from Brussels.
---
December 18, 2018 2:29 PM
Uncategorized
So far only one of the presents we have ordered on-line this year failed to arrive – more than one e-mails telling us of delivery slots arrived after the parcel. It was therefore only chance that some-one was in to collect.  I did,  however, enjoy the you tube video referenced in the BBC article on Amazon's attempts to cut down on parcel theft  How long before Royal Mail uses tracker stamps for its premium rate services.
---
September 5, 2018 3:00 PM
Unless you understand the past you cannot make sense of the present let alone make sensible preparations for an uncertain future. Unfortunately most discussion on education and training policy is based on mythology about the past, systemically flawed measures of success/failure with regard to the present and muddle, misunderstanding and conflict over objectives, let alone strategies, for the future.
1) The pace of change and the revolt against student debt are part of an existential challenge to UK educational hierarchies and systems not just current systems and processes.
I have written many times over the last thirty years on the consequences of our failure to recognise that digital disciplines change slowly, if at all, while the skills in demand change faster than we can agree a curriculum, let alone deliver courses or tests of the knowledge/competence acquired. But the problems we now face go much deeper.
Our inherited social values are endangered  by the idea that it is economically, ethically, morally and politically acceptable for half the population to enter the workforce with a millstone of debt that many will never repay. The idea of rebranding student loans as a "graduate tax" appears to be part of the growing trend of using bonded servitude (alongside,  IR35, RTI and Universal Credit) to preserve Platonic caste-based "careers for life" and the wage slavery of the 20th century "mixed economy: with public services and nationalised industries replaced by hand-in-glove (commercially confidential) "strategic relations" between the tribes of Whitehall, Westminster  and Town/County Hall and a mix of outsourcing conglomerates and regulated monopolies.
But each "industrial revolution" has brought about fundamental changes. "Establishments" which resist those changes do not survive. The survivors have worked out how embrace and exploit change, recruit the best of the innovators into a new and evolving "Establishment".
Insult is added to injury as many young graduates realise their debt was spent inefficiently acquiring knowledge that has not enhanced their future earnings. They will never catch up with those, lucky enough to get a graduate level apprenticeship, who are now managing them. I say "lucky enough" because it is harder to get a place on current graduate level or degree linked apprenticeships than almost any full-time degree course.
Each industrial revolution has led to a wave of social change that triggers a student revolt against "the establishment". That accompanying the 4th industrial revolution is now under way.  It has already cost the Government its majority at the last election. It has led to massive pressures to improve the quality of teaching and universities having to compete for students as never before. It has led to cut throat competition (and dubious offers) for a shrinking pool of gullible applicants. But, as yet, too few of the latter have an informed choice. Hence the focus on this in the Prime Minister's review of FE/HE funding. The winners will be those Schools, Universities and Colleges who help all ages, not just the youth of today, to also continue learning while they earn sufficient to regain the additional freedom of choice (including of home, family choice and a dignified old age) that a crumbling crypto-socialist/capitalist state can no longer provide. We can already see the Public Schools, masters (and mistresses) of survival, beginning to involve their alumni with organising careers fares which offer globe-trotting graduate apprenticeships with residential periods in best of breed Universities around the world.  At the other end of society, we  can see the provision of full fibre broadband to social housing estates enabling those not in education, employment or training to enjoy access to world class education and training programmes.
History is made by those who show up  One of the recurrent themes of this blog is that the silent majority gets what is deserves – ignored.
I regularly call on readers to be active via the political parties of their choice, via their professional bodies and/or trade association. I am currently trying to find those who will take over from me in driving the groups via which I have tried to influence, inter alia, skills policy. If you agree with the analysis which follows, and more importantly if you disagree, please contact me via Linked In (with your e-mail address) and volunteer to help build the future you want.
2) The structures and concepts behind our educational values and hierarchies are under global threat … or are they?
On-line access to modular materials, courses and assessments enables employers around the world to "cut the time from learning to earning" from years to weeks. Schools with access to full fibre broadband can similarly transform the delivery of STEM education and careers advice, using the wealth of material already available. The future I envisaged in the early 1980s is coming to pass.
There is, however, now an even bigger challenge. Examination systems around the world are under threat. That threat is not just from internet-assisted cheating (from cyber hacking to get the answers through "electronic examination aids" to impersonation) or because employers are looking for different attitudes, aptitudes and competences. It is from the use of Cloud and AI based techniques to better assess achievement and competence, not just to identify latent talent  and individualize the delivery of content that will attract and harness that talent. The "gamification" (alias user attractive/seductive front ends) of educational products and services at all levels makes it far easier to engage the non-academic.
It is not as though the concepts are new.
One of my favourite educational texts is a battered copy of the 1918 edition of the Board of Education "Suggestions for the consideration of Teachers and others concerned in the Work of Public Elementary Schools." It is all about education in its classical form, the drawing out and harnessing of innate ability. Most startling for the audiences of today, a century later, is the apparent iconoclasm of 1905 (reiterated in a preface dated 1917) with regard to the values we take as "given" today, particularly our belief in the value and virtue of a national curriculum:
"The only uniformity of practice that the Board of Education desire to see in the teaching of Public Elementary Schools is that each teacher shall think for himself, and work out for himself, such methods of teaching as may use his powers to the best advantage and be best suited to the particular needs and conditions of the school. Uniformity in details of practice (except in the mere routine of school management) is not desirable even if it were attainable."
Today the range and variety of online materials and teacher aids that could be used by teacher to extend their "powers" are constrained only by the curricula over which so many professionals spend so much time with the aim of maintaining, enforcing and updating a Stalinist uniformity in details of practice which our ancestors regarded as anathema.
3) The impact of AI on education and training will be both more and less than I predicted in 1981

In 1982 Norman Tebbitt (then Secretary of State for Employment used a comparison between the Bloodhound Missile (controlled by two kilos of programmable hardware powered by electricity) and the English Electric Lighting Fighter (controlled by half a kilo of wetware powered by gin) to bring a debate on the effect of AI on jobs down to earth. 1989 the then Minister of State for Education, Angela Rumbold, introduced a BBC schools programme on a competition for schoolgirl produced IT careers videos by describing her personal computer as an extension of her mind. A similar point lies at the heart of "The Digital Ape" in which Nigel Shadbolt and Roger Hampson describe how we should live in peace with smart machines .
If we look though the other end of the telescope – at the opportunity instead of the threat – technology enables us to bypass planning processes which have failed for more than over five decades and appear increasingly irrelevant to the future, even if they could be made to work.
Instead of preserving the past we need to ease the pain of transitioning from a centralised, standardised vision of education as a means of imposing the thought patterns of the current establishment on the youth of today to a reinvention of devolution, innovation and evolution to enable them to handle a future which neither we nor they can predict with any more accuracy and certainty than our ancestors.
4) From the Generic to the Digital: from computing in schools to replacing the Tech Partnership?
The problem with discussions on computing in schools is that, once again, the basic disciplines change slowly, if at all. Meanwhile products and services available and the skills supposedly in demand change faster than the timescale for agree a curriculum, let alone deliver. Coding was fashionable in the early 1980s and the micros in schools programme produced a generation of talent including the sound and visual effect engineers, (alias real-time programmers) who enabled British bands to dominate the world. Then came the focus on the mass market "use of IT", alias how to use Microsoft Office.  This served to turn off the next generation – IT became synonymous with boring. The profession wanted a TV soap to enhance its image. It got The IT Crowd.
Now coding is back in fashion. But its greatest value is that it can draw the non-academic into the world of pure logic, bypassing the boring bits – for example by programming microbits to control physical objects and illustrate the disciplines of practical engineering in ways akin to the exercises in the Board of Education Guidance (to which I referred above). Add data analytics (probably best embedded in history or geography projects) and systems thinking (whose absence lies behind most IT disasters of recent years) and we have the basic disciplines needed for most of modern life – not just for "computer scientists". Meanwhile learning how to cheat an AI based examination system may well be the best way of cutting through the mix of hype and fudge to comprehend the reality behind the emerging "smart" world.
While I was Secretary General of EURIM (now the Digital Policy Alliance) I organised and/or chaired a series of meetings at which a common theme was the need to rationalise the number of channels via which employers were expected to submit their views on what they wanted. A classic statement of the need was in the 2001 IT Skills Summit when the then head of Academic Relations for Microsoft said that his 12 staff had logged over 3000 requests to attend meetings to discuss inputs to exercises to plan courses and curricula. He reckoned he could reasonably schedule attendance at about 300 but there was no way of getting Universities, Colleges, School Course and Curriculum bodies, Funding Agencies etc. to talk to each other. Hence the case for having all such requests routed through a Sector Skills Council (e-Skills, which later became the Tech Partnership). But it never received the funding/authority to fulfil that role. The Funding Agencies kept it on a drop feed, lest is show true independence and the Universities kept bypassing it.
The termination of public funding for the Sector Skills Councils and the consequent winding up of, inter alia, the Tech Partnership has led to a re-fragmentation of the channels via which digital employers and skills providers can make their views known to those working on course and qualification development and delivery. It is, however, interesting that the large IT employers funding one of the successor bodies, that looking after standards and quality control for graduate level digital apprenticeships, are making clear to Universities that they have no time to respond to contacts other than collectively via the new group. Other industries appear to be agreeing similar de facto arrangement with the Institute for Apprenticeships, including for technician level apprenticeships.
Will DCMS support the Digital Industries in organising similar arrangements with Ofsted and the Funding Agencies, who control all but the content frameworks? If so, what will happen with regard to the much wider, and more amorphous, digital user community?
Hopefully, with the Prime Ministers review into funding, we will soon the end of the long standing disconnect between employers needs and the programmes they recognise and public funding processes to support those who do not benefit from industry funded learning/training opportunities. The Digital Policy Alliance 21CN Skills Group recently agree a sub-group to look specifically at this lssue.
5) How do we manage the transition when time is not on our side?
The new processes for applications, technician and professional level apprenticeship standards and delivery are not yet agreed, let alone operational. It is unclear which existing standards frameworks can be re-used with new technical content. The pressure from employers who are unable to offset their current training spend, including on apprenticeships, against the new levy is mounting. We can expect many to go political during the party conference season.
Meanwhile the pressure to reduce reliance on imported skills and the unpopularity of the Student Loan scheme led to the Prime Minister's review. The responses have been mixed. Some are busy preparing response to defend their current process and deferring difficult decisions until they see both the report and the implementation plans. After all they have seen off many such exercises in the past. Other believe that is it now different. Whatever it recommends the writing is on the wall and they are beginning to organise what they think it should recommend.
I therefore ask readers if they are willing to help organize/co-ordinate well-informed inputs to that review and to the various policy studies (Conservative Science and Technology Forum, Labour Digital etc.) being conducted in parallel, for who-ever (if anyone) wins the next General Election, whether before, after or instead of Brexit.
But given we would be immortal if death came from Whitehall (or Brussels, Vienna, Berlin, Moscow, Rome, Spain, Washington … take your pick), it is more important to support those building on existing successful/good practice – regardless of what Government does, or does not plan.
In this context I would like to commend the TeSLA project being worked up via iStemplus with the support of WCIT (the IT Livery Company) and the work being done via the National Education Network (the collective body for the Grids for Learning, who organise secure Internet connectivity and access to content for most schools in the UK) to not only put such materials on-line but also transform access to careers advice.
Put the two together, add in the Open University, JISC/Janet (the "mutual" which connects UK Universities, Colleges and provides the backbone for the Grids) and LINX (the "mutual" which connects UK internet users with each other and the outside world)  and the UK has a world class educational "utility" infrastructure that could give us prime-mover advantage in moving to a world class open market in cloud/AI based education, training and competence assessment products.
"All" that is missing are shared vision and ubiquitous fat fibre pipes. When the politicians lift their sights and begin to look at a world beyond Brexit I hope that is what they will begin to seek. I hope that you, dear reader, will be thinking how to help them find it.
---
August 25, 2018 1:05 PM
I recently looked at the Hays Index for 2017 to put the UK skills situation into international context. I strongly recommend reading the  report on "Regional dynamics of the Global Labour market – skills in demand and tomorrow's workforce" . The main shortages are not peculiar to the UK. They cannot be addressed by simply importing supposedly skilled staff from overseas. I then used the Index Comparison Tool to go behind the headline figures and had a surprise.  I found clear evidence to help explain the bitterness of the current debate on freedom of movement. Those who trumpet the virtues of immigration and untrammelled freedom of movement are indeed living in a different world to those, mainly in the private sector, who voted for Brexit. Their wages, career development and employment prospects have indeed been held down by immigration. Meanwhile those in the public sector blame austerity, bankers and outsourcing and, now, fear of Brexit.
The seven indices measure the pressures currently affecting labour markets compared to the past.  The UK scores well on Labour Market Flexibility (which includes the ease of importing skills), compared to Germany, India or the USA – even before Trump. The UK also scores well on Education Flexibility. But it does badly when  it comes to harnessing the output of its education system. The pressures in the UK resulting from "Talent Mismatch" (between the skills wanted by employers and those available in the market)  are among the highest in the world. Those in Germany are among the lowest. The UK also scores poorly compared to most other countries when it comes to labour market participation.
Meanwhile the pressure in the UK from overall wage inflation is less than in China and significantly less than in Germany. The pattern is similar when it comes to "high skilled occupations" where the wage inflation pressures in Germany are higher than most other countries. But the big difference comes with meeting the needs of "high skilled industries" where the wage inflation pressures are lower in the UK than in China or India while they are through the roof in Germany and the US. Is that because the UK is running down its "high skilled industries", staffing them with immigrants or both?
This analysis helps explain the bitterness behind the view that UK big business and high tech have ignored the needs of the indigenous workforce, pupils, students and those who would like to return to work. They are accused of lobbying for freedom of movement when they should have been trying to reform the UK skills system. In consequence, despite a revolution in education and training technology, politicians and officials have a common (but probably now faulty) that it is natural for it to be cheaper and easier to import supposedly skilled staff from abroad than to train your own. The consequent scale of recent importation has been such as to hold down wages at all levels, not just for the unskilled. Hence the revolt of the English working class , particularly those in the private sector, against claims those who claim that immigration is good for us all. Those in the public sector blame austerity, bankers and tax-avoiding big (and often high tech) business rather than immigrants for their wages also failing to keep up with inflation.
We should, however, take a closer look at cause and effect.
Was the effort necessary to bring the UK skills system into line with the needs of employers, as opposed to the interests of the education and training establishment, more than could reasonably be expected of those who have businesses to run?
Was it a rational decision on the part of big business to focus instead on making it easier to import talent?
If so, what should be the response, now that we have an electoral revolt and no apparent prospect of consensus on the way forward?
In the 1980s I was at the heart of attempts to reform the UK IT skills system to cope with skills shortage. What I learned led me to write a Bow Group paper entitled "Training for jobs not just jobs for trainers". I managed to persuade three successive Secretaries of State of the need for change. But each time there was a change of Minister I had to start again – with officials trying harder to block my path. There was a similar pattern when Labour came to power. I had been asked to brief Gordon Brown, as  shadow chancellor, on the potential impact of Y2K (was it for "real" or just another IT rip-off). After the election he organised funding direct from Treasury for the Millennium Bugbusters' programme, with "industry strength" quality control on the training providers to ensure value for money. The follow up, using local ring-fenced pilots to test the use of tax incentives to transform vocational training with trades union support, was boycotted by the "skills establishment". They would not even launch what was announced in the budget. Then came the fiasco of the Individual Learning Accounts – a great concept but launched with no quality control and thus wide open to fraud. Skills policy reverted to preserving past ways of delivery with a veneer of digital literacy programmes, pilots repeating variations on what had already failed and ignoring successful local initiatives unless they could be repackaged, scaled and managed centrally. One of the lesson of the past half century is that local success , unless designed for seamless scalability, tends to fail when subject to centralised planning and procurement processes.
The problems are bipartisan.  The common feature is that processes supposed to be driven by the needs of employers are hi-jacked by hierarchies of consultative and funding committees. That means decisions are taken by those with continuity of attendance. The views of those too busy to attend because they have businesses to run are not heard. Employer representation is therefore commonly via the UK CEOs (alias Country Managers) of overseas multi-nationals. Some have significant UK employment bases and/or have done a good job representing the interests of their UK suppliers and customers. But many have only a sales arm and a limited technology transfer arm (to work with UK University research programmes), with their taxable revenues routed via Luxembourg or Dublin. They have little or no "skin in the game" when it comes to developing in-house technician or professional skills.
The good news is that we have a great opportunity to use  blended learning (including the use of AI-based processes to assess aptitude, attitude and achievement) to upskill our existing workforce (both technician and graduate level) and gain competitive advantage against overseas high tech employers – who are suffering even worse skills shortages than we are. Some employers are already beginning to do so, including with the help of players like Hays. Others are, however, hung up trying to overcome the barriers to using the Apprenticeship Grant and Levy system to help them and those in their distribution and supply chains do so.
I am still trying to find out how far the barriers are for real, or just the result of ignorance. What I find will form part of the background papers for the round table on which I will be helping the Digital Policy Alliance.
The irony is that, had the UK not voted for Brexit, that  round table would probably have been held last year with the aim of using EU programmes to provide the carrots to bring about change in the UK – including in the context of communautaire (alias French, German, Danish etc.) interpretations of "Freedom of Movement".
As a "remain" voter who wasted his vote (because it now appears that we have to leave to bring about the reforms I spent the second half of my working life trying to achieve), I find the intellectual shallowness and dishonesty, on all sides, of current debate on skills and freedom of movement very disheartening.
I look forward to getting Brexit day behind us so we can start building a new and more constructive relationship with our European friends and allies, as well as with the rest of the World – including on global, not just pan-EU, co-operation on skills.
I should perhaps add that I personally envisage the need for "evolutionary" strategies/ frameworks which enable forward looking employers and their university, college and commercial training provider partners to pilot scalable win-win solutions which gather pace over time as changes in both demand and supply outpace the ability of centralised planning to keep pace. I also expect those frameworks to be a mix of local, sectoral, national and international (global not just pan-EU) – with blurred and shifting boundaries .
---
August 21, 2018 8:03 AM
Uncategorized
What happens when you put modern processing power and data storage and reliable communications to cloud based services behind 40 year old AI processes, repackage the results to get protection under US IPR law and then add a flow of press releases from academics hungry for research funds, start-ups hungry for investment and consultants suppliers hungry for clients?
Rory Cellan-Jones has just done an excellent short piece, querying whether AI is just a buzzword, to introduce a Tent Tech talk by Zia Chishti who has recently built a $2billion business (Afiniti) using technology that was already mature when I was one of the speakers at the Sperry briefing on AI and Robotics for the UK Technical Press in 1981. Last week we had massive publicity for a claim (by UCL and a UK research team) that AI was equal to experts in diagnosing eye diseases . The use of the same techniques (albeit then for diagnosing cancer) were described by Walter Bodmer and Ed Feigenbaum in 1981. They also described the obstacles to take up by the medical profession. Those obstacles are still there. They are the prime reason for the slow take up of other technologies that could have transformed the delivery of  remote diagnosis, telemedicine and telecare decades ago.
What has changed over recent decades is that the data files being used to "train" the algorithms are much bigger, the response times from on-line services (alias "the cloud") are much faster and the internationalisation of development is beginning to bypass cultural and institutional  obstacles to take-up. This is illustrated by the US and International Study which the publicity for the UCL  work was probably intended to upstage in the eyes of UK funding bodies.
What has not changed is the nature of the threat to employment. And that threat is not to the low paid.  The  Bank of England Chief Economist recently joined those warning  that AI could cut a swathe through the jobs market, hollowing out the middle. Back in 1981 I was tasked to speak to the impact of AI and Robotics on the world of education and training . I began by making a similar prediction: "the book-learning and machine-like logical skills of most lawyers, accountants and consultants …  most of the work of the Inland Revenue, most administrative accountancy, the routine conveyancing that keeps most solicitors in business, the complex diagnoses that elevate the Harley Street consultant above the local general practitioner, can already be done faster and more accurately by computer. In twenty years the local tax office will give an instant response to your query and the general practitioner will no longer refer you to the hospital for analyses and diagnoses but will do them himself with the aid of his surgery expert systems backed by links to national epidemiological and other databases".
How wrong I was.
Nearly forty years on and those predictions have yet to come true.
It is instructive to consider some of the reasons why:
the growth of ever more complex and labour intensive regulatory and compliance regimes, from data protection (the common excuse for not using technology to improve customer service) to defensive medicine (not just by doctors but through the entire NHS).  In consequence we had have had burgeoning employment opportunities for accountants, lawyers, consultants and compliance staff while doctors and teachers complain that much of their time is spent on "paperwork" instead of with patients or pupils.
our failure to train professionals and technicians, let alone users, in the disciplines related to the development, testing and application of AI based systems.  That has only just begun to change. Last week a graduate level  apprenticeship standard for Data Scientists was approved with support from the BCS and over 40 employers. Hopefully that standard, coupled with the standard for technician level Data Analysts will help break the log jam. That is particularly important because AI systems are particularly vulnerable to GIGO (garbage in leads to garbage out) when the data used by the algorithms has not been subjected to adequate quality control.
the structures, cultures and statutory/legal positions of those whose roles could, in theory, be largely automated. Thus the NHS is "the worlds most successful brand": a common image masking a service that is neither national, nor holistic, nor standard. It takes time to identify and spread any new technique across the tangled web of organisations, roles and responsibilities which works only because of the personal dedication of its staff. Spreading the use of processes like AI, which threaten the status of those at the top of the main tribes (alias Royal Colleges). is not easy.  And Medicine is not unique. We have similar situation with the other main professions.
security, responsibility and liability: who do you sue when a "decision" by an AI controlled device or process (car, robot, diagnostic system) leads to death or suffering?  Liability for third party risk is now routinely excluded from cyber insurance polices. Cyber is routinely excluded from all mainstream insurance policies. No-one offers product liability insurance for IoT devices.  This problem is not new. I was able to attend the 1981 event on Robotics and AI (and spend time preparing my own paper) because I had been tasked to look at whether The Wellcome Foundation (Foundation, not Trust) should enter the medical technology market (including AI assisted diagnosis). The issues of liability were a show-stopper.
But that is not the whole story. Many doctors are technophiles who like to keep embrace new technology when allowed.  They routinely use AI based techniques, products and services  without recognising or acknowledging hem as such. Many (most) accountants and lawyers have long done likewise. Tomorrow came yesterday.
That brings me back to the headline for this blog. Why is there all the current hype about AI?
I have recently engaged in a Facebook exchange on whether the digital world has produced any new concepts in the last 40 years or whether it has been simply applying more computing power, bigger data files and more reliable communications to old ones and rebranding them. The effects have indeed often been transformative. But, as in so many other areas, our ability to exploit AI is limited by our failure to train technician and professional level staff with the necessary disciplines. I have added AI to the list of skills areas that I will suggest be covered in the  round table which I recently agreed to help organise for the Digital Policy Alliance. With the final wind up of Tech Partnership there is a need to identify who is willing to work with who in digital skills partnerships to train those that they (and those in their supply and customer chains) needed in a world in which demand changes fasting than curriculum planning can handle and most forecasting techniques are of little, if any, practical value. AI is one of the areas where understanding, let alone take-up, is crippled by the lack of relevant education and training as at all levels. The way in which the GDPR is being used to deny access to the data files needed to "train" AI systems is symptomatic of another skills black hole – no training or qualifications, just lots of "marketing seminars" from consultants and lawyers. Contact me via Linked In is you are interested in helping organise action – not just "admiring" the problem.
---
July 14, 2018 11:31 AM
Pornography
it is now a year since the Digital Economy Act required age checking for pornography web sites . A growing number of providers (from Age Checked  through Call Credit  to Yoti ) offer the services necessary to help improve child safety. Many of them offer secure anonymity in line with PAS 1296  (why do most ISPs or on-line website/retailers need to know any more than that you are over or under a given age?). But the law requiring websites and ISPs to use reputable age checking services has not yet been implemented. This appears to be because a determined rearguard action by the Open Rights Group  has spooked officials and regulators.
Now we have evidence as to the scale of ongoing suffering caused by the delay.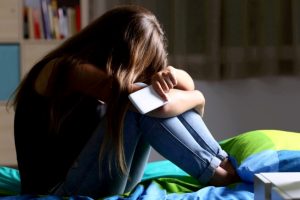 The London Grid for Learning  which provides secure on-line connectivity for around 10% of UK schools has published an analysis of 40,000 responses to a survey of children's views. Perhaps the most startling headline is that 1 in 10 of those who video chat with strangers have been asked to change or undress on camera.
Overall there is a shift in risk from contact-based to content-based with:
• Sexting and child sexual exploitation via live streaming flagged as a major issue by children and young people
• A marked growth in mental health issues, especially self-harm and distress caused by sharing of sexual and violent videos
• A greater prevalence of violent or sexual content – whether sending or receiving, volunteered or coerced
• Conduct – the third C of the 3Cs of online safety (content, contact and conduct) – remaining as challenging as ever and shaping all aspects of online safety.
The report focussed on six main topics including: video chatting and live streaming; experiences on apps, sites and games; contact risk – making friends and meeting people online; seeing, sending and receiving content; pornography; online friendships, bullying and mental health.
The report also flagged the elements of the online world pupils enjoyed, including the opportunity to learn new skills, build relationships and broaden their horizons.
Key findings included:
Video chatting and live streaming
• Nearly one in ten children who video chat with people they haven't met have been asked to change or undress on camera
• Youngest pupils (aged 7 – 8) were just as likely to be asked to get undressed as students in the first four years of secondary school
• One in eight pupils said they had video chatted with someone they had not met in person.
Experiences on apps, sites and games
• 3.5% said that the apps helped them feel good about their body
• Over 50% of pupils wanted privacy settings to be made better, easier and clearer
• 18% of children said their online activities helped them make new friends
• Nearly 1 in 3 pupils say it's hard to stop using apps, sites and games
Contact risk – making friends and meeting people online
• One in three young people have made new friends online (who they did not know previously)
• Boys are more than twice as likely as girls to chat to people they have never met face-to-face or go on to talk to new gaming friends on other sites or messaging apps
• Half of those who chat to people they met on games went on to talk to them on other platforms
• One in ten 7-16 year olds have made friends with an adult online for the first time
• Of those who met an online friend in person 81% took or told somebody else.
Seeing, sending and receiving content
• 22.4% of pupils had seen violent images/videos online
• 12.8% of these had received these from a young person and 6.2% from an adult
• Boys were a quarter more likely than girls to see this material
• 41% of 15-16 year-olds have seen violent images or videos online
• 9% of those surveyed had received a naked or semi-naked image from another young person
• 15.1% of secondary students had received a sexual message; 5.4% from an adult
• 5.1% of secondary students said they had sent a sexual message themselves; 1.8% to an adult.
Pornography
• 14.5% of secondary pupils admitted to having seen pornography online
• This began from 5.3% in the first year of secondary school, doubling to 10.8% of 12-13 year olds, 18.1% of 13-14 year olds, 24.2% of 14-15 year olds and 31.9% of 15-16 year olds.
Online friendships, bullying and mental health
• 1 in 4 pupils report being bullied online
• 1 in 13 pupils admitted to bullying others online
• 1 in 3 pupils has witnessed bullying online
• Almost 1 in 6 pupils have seen something that encourages self-harm.
Commenting on the survey Mark Bentley, Online Safety and Safeguarding Manager at LGfL DigiSafe  said, "The danger of meeting strangers online is often treated as the main online safety concern. This report however, shows that today violent or sexual content has become far more prevalent. We are concerned by the mental health concerns raised by the survey, particularly regarding self-harm.
"It is however encouraging to see that so many pupils consider the internet a force for good. Comments on the things pupils love about their online lives included learning new skills, broadening their horizons and building strong relationships. Another huge positive is the fact that 73% of pupils said they trust parents on online safety with 71.2% of pupils who spoke to someone telling a parent or carer and 36.1% telling a teacher about negative experiences."
John Jackson, CEO at LGfL concluded, "LGfL's ground breaking survey underlines our commitment to protecting children and equipping teachers with the knowledge and tools to help pupils in their care. The dangers of the internet are real and serious. However, so are the many opportunities – it's important we prepare young people to navigate the worst and thrive on the best of the online world.
"It's incredibly important that we all harness the findings from the survey to drive positive change and a much better understanding of how technology, particularly social media, is impacting children.
"It is encouraging to see government getting behind these calls for change with papers such as the Internet Safety Strategy. It's crucial that technology companies embrace these policies and put safety first when it comes to new developments."
The full LGfL DigiSafe Hopes and Streams report on the 2018 Pupil Online-Safety Survey is available on the LGfL website at pupilsurvey.lgfl.net
The full range of LGfl support material on online safety and safeguarding including teaching and classroom resources is at saferesources.lgfl.net
My personal view is simple.
Of course no technologies are perfect and of course some adolescents will find their way round any obstacles placed in their way (on-line or off-line) but the time has come for balanced debate, based on evidence not allegation. It is time for those suppliers who believe that the Internet should be a safe place for the whole of society to step up to their responsibilities. Those who believe that new technologies, such as AI, offer new solutions should be aware that some of these are already in use, both to exploit and to protect children. The response of the CEO of Barnardo's to the DCMS call to the Tech Giants to also step up to the plate is apposite. Once again we need open and honest debate, not obfuscation and claims that these are technical matters, too difficult for anyone other than the "experts" to understand.
---
July 9, 2018 12:06 PM
5G
,
IET
,
iot
,
Planning
IET to address the 5G/IoT Confusopoly
A major obstacle to planning today for the world of tomorrow is the confusopoly of current and potential operating systems and standards and the lack of information as to which products and services are intended to be capable of rapidly, accurately and securely with which, let alone whether they actually do so. ARM, for example, is monitoring the work of over 120 standards bodies around the world. How can those buying "smart" products and services today short list those intended to be capable of communicating with those from their rivals, not just their partners, in the smart car, building, high street or hospital, let alone City, of tomorrow.
I was, therefore, delighted to learn IET is about to announce plans to organise neutral guidance for those who have to make infrastructure and network planning and procurement decisions now, with which they will have to live over the next couple of decades as the world goes smart. The programme manager has already begun assembling a SharePoint site of existing material and sources of information. The launch is expected to include an initial sponsorship/partnership package of £5 – 25,000 depending on whether the organisation expects to be a "participant" or a "lead player" (helping to grow and drive the exercise forward). Either way, the intention is that happy initial sponsors/partners will then turn their initial contributions into operational subscriptions for ongoing shared services to meet information the needs of themselves and their customers/clients/partners.
Those who want to be lead players in the creation of what will hopefully grow into a global information service should contact Andrew Syddell  who is currently drafting the "call to arms": alias an advance notice to IET members who have, in the past, co-sponsored the production of reports or creation of new services. I doubt that IET has had any exercise that is so potentially transformative in its national and/or international impact since the original creation of INSPEC. It is therefore good to know that they plan to follow the "rules" of the Internet Age – think big but start small and be ready to scale fast on success.
Why is IET the ideal home for such an exercise?
The UK and IET are neutral between the 5G/IoT power blocks: American, Chinese, European, Japanese and Korean as well as between governments, regulators, academic and research institutes, technology developers and vendors, network builders and operators, customers and consultants.
What will make the exercise succeed?
A critical mass of current and would-be suppliers and consultancies who see public support for such as exercise as central to their marketing strategies as well as an invaluable tool for their own in-house product and service development and integration teams and for the innovative SMEs in their supply and distribution chains.
What is the biggest threat to success?
HMG and/EU (and/or their standards bodies or regulators) trying to "adopt", "support" and/or help "plan" the exercise – as opposed to sponsoring/subscribing, alongside suppliers, consultancies and overseas governments and regulators, while allowing it to evolve in line with the needs of those who pay, whether up-front or via access fees (full or explicitly subsidised under government programmes.
The scale and nature of the Challenge/Opportunity
We can already see what the smart world of the future will look like with products  and apps  which stalk us  and our children  and enable our cars to cheat emissions controls and be tracked and/or hijacked . Those who think in fifteen to fifty year planning cycles from the managers of Canary Wharf  to the Grosvenor Estates  have already started to install open access infrastructures to enable incremental change. But we also have technology suppliers who expect to be able to automatically update the operating systems and security or applications software  in our computers, phones or device control systems on monthly, or even weekly cycles as well as, in the event of serious compromise, at no notice.
HMG  is supporting 5G trials and testbeds and 20 UK communities are included in the Huaewi its Smart Cities index but has yet to help the local authorities involved to adopt planning regulations akin to those in Spain and Portugal which mandated future-ready ducting and wiring standards to enable open connectivity. Those authorities which try to do so, like Ashford have been actively resisted by the British Homebuilders Federation . However Ashford fought back (see page 7 onwards, including the report from Analysis Mason justifying the policy). Three of the relevant appeals were withdrawn and the Ashford plan now appears to be on track for approval subject to some minor changes.
.
It is now over a year since the Interim Report of the Future Communications Challenge Group  indicated the scale of the challenge the UK faces if it wants to be a leader, not a laggard in the world of tomorrow. Since then the rest of the world has moved on. It is powering ahead with practical preparation and implementation. Meanwhile the UK has pilots and test beds and a growing number of "guides" and "white papers" designed to attract strategic consultancy business for the authors, as opposed to helping organisations under increasing financial pressure to plan incremental change on positive cash flow – with savings today funding further savings tomorrow – while building on the willingness of pension funds to provide low cost fiancé for low risk utility infrastructure investments.
Start small with an obvious need and a scalable proof of concept
Last year the IET  identified the need to provide practitioner guidance to help ensure that the "smart" procurements being made today by Local Authorities to improve service while reducing cost (e.g. installing new generation street lighting to save energy or environmental and safety monitoring, control and response systems in sheltered housing) open up opportunities for low cost future inter-operability and do not lock them into dead-end proprietary operating systems and architectures. Given that local authority budgets are likely to be even tighter in the smart world of tomorrow, because of the need to support an ageing population in an increasingly IT dependent, joined-up, networked health and welfare systems, the sooner such guidance is available the better.
Those wanting the property industry bring forward its investments in smart buildings, shopping malls, business parks etc. have a similar interest in giving them confidence that they can install future-ready ducting, accommodation and open access networks today that will not need expensive overhaul inside the decade. And the best way of persuading the Luddites in the British Homebuilders Federation to build future ready properties is to give them simple guidance on how to do so – combined with evidence that it will make their members more money when linked to schemes, like the connectivity traffic lights being worked on by INCA or the more sophisticated performance certificates (akin to an energy efficiency certificate, being tested by Hyperoptic, to enable purchasers to know what they will be getting.
Last week I was delighted to learn that the IET publications committee approved what looks like a strategy to build on what is already available around the world to create not just a report but an independent portal into the knowledge that will be needed by professional planners, buyers and developers (product, service and property) and their advisors (electronic, civil and mechanical engineers, architects, surveyors etc.).
Success will depend on the response of the IET's target partners and sponsors but the programme manager planning the exercise has already begun building a sharepoint body of relevant knowledge, including sources of information, to help inform the practitioner workshops that will be used to distil good practice. Access to that body of knowledge and the ability to use it to focus and promote their own areas of expertise is of immediate commercial value.
I should perhaps add that the programme manager used a similar approach to help me turn round the NCC Microsystems Centre (the heart of the awareness programmes of the early 1980s) into a shared library, information services and test centre within walking distance of the Central London heart of the main pre-internet age UK software, services and consultancy complex. The subscribers rarely visited but they all subscribed to the monthly updated "Directories on Disc" which indexed the hardware, software and training products, services and suppliers of the day. He also set up our processes for testing whether products and services di what they claimed. His subsequent career zig zagged across helping large organisations to put in systems to manage massively complex technical documentation with front ends that senior management could understand. He is the ideal man to develop a system to make sense of a confusopoly of technical standards and accreditation and testing processes and results.
Why have those looking at UK Industrial Strategy not previously spotted the point of leverage?
Why such an exercise has not yet happened already – given the amount DCMS and BEIS spend on support for pilots and innovation as part of a supposedly targeted industrial strategy?
The answer is that the way Government encourages Universities, Institutes. Local Government and other to compete for funding, with "challenges" gets in the way of co-operation in the common good. I first came to appreciate the pernicious side effects of the "challenge" mentality in the 1980s, when the Training and Enterprise Councils (the LEP equivalents of the day) were persuaded to, collectively, spend more in bidding for "challenge" funding than the amount on offer. Already, as an advisor to the High Tech Unit of Barclays Bank, I had been asked to help the Bank identify applications to the software innovation schemes administer by the National Computing Centre who had been failed for lack of originality and/or additionality. The penny then dropped. I have never since spent effort supported any bid for "challenge funding". "Challenges" are a job creation scheme for officials and consultants. Collectively they destroy more initiative and enthusiasm than they harness. But demonstrable waste of money is not enough to kill off accepted Whitehall wisdom. It takes political ridicule, collective boycott and/or a National Audit Office investigation followed by a Public Accounts Committee report
The support for a neutral "indexing" service, akin to INSPEC  is linked to the fear that HMG would put the organisation out to tender between commercial or academic rivals. Hence the suggestion that IET should take the initiative and "allow" Government to provide funding for access via LEPs, Innovation Centres etc. but not to get in the way of the evolution of a collectively funded, shared information services, which meets the collective needs of those providing core funding and/or willing to pay for access.
The global positioning at the heart of a credible UK Industrial Strategy
When it comes to looking at industrial strategy we need to take a cool look at the remaining strengths of the UK, particularly our position as an attractive host for activities which bridge the global rivalries between standards and accreditation bodies (ARM is monitoring the work of over 120) and between American, Chinese, European, Japanese and Korean research, development and production consortia. These give us the opportunity to be the neutral host/base for products and services which enable secure inter-operability between those produced by rival camps.
When the need for such a service was first identified, by some of those who produced the FCCG report,  I thought this could be a natural role for the National Physical Laboratory – including hosting the provision of low cost access for innovative UK SMEs to standards activities and data on which products and service modules had been tested/audited, by whom, against which standards. I now realise that it is improbable that any Government body would be allowed the flexibility necessary to allow the services needed to evolve and grow. I therefore came to the reluctant conclusions that, instead, NPL, the Catapults, the LEPs and other publicly funded services should have explicit budgets to pay for their target audiences to have access to reputable, neutral third party services.
Hence my original support for a workshop last year to help the IET to seek sponsorship on the scale necessary to produce robust, meaningful and independent practitioner guidance. It was then agreed that this might best be achieved by engaging sponsors via sector/market/problem specific practitioner workshops to distil current good practice into draft guidance that could be used by those who will have to make planning and procurement decisions before the final versions are agreed and published. This would also enable all participants to see results over time, without waiting a year or 18 months – by which time many decisions will have had to be taken
The intention was that workshops should be funded by suppliers who want publicity for examples of good practice using their products and services (including the architectures and standards they have adopted or are promoting). The success of the workshops should be used to encourage other suppliers to join and also help support/sponsor the creation of information services which cover the success or otherwise of the many pilots being planning around the world and also provide access to audits of which versions of which products and services adhere to which standards.
I suggested we target those who would not blink when asked to budget £50 – 250,000 from their marketing budgets, to be drawn down as opportunities emerge. In fact, the IET will almost certainly be launching a more modest, much lower risk "Phase 1", at 10% of the cost/risk, to meet the needs of those having to commit investments in smart infrastructures this year and next. But I am delighted that the intention is for the guidance to "front-end" an information database that is designed to be capable of evolving, incrementally, into a much more ambitious scalable service.
---