---
May 4, 2015 10:45 AM
PCL
Thank you to Computer Weekly for enabling me to download the pcl report "Made to Measure: Intelligent Personality Assessment – inside the mind of IT Professionals". I remember when the British Computer Society wanted a soap opera to promote IT careers. We got "The IT Crowd". The diagram on page 18 of the pcl report, summarising the average personality and competence profiles of different professionals shows how accurate it was. The IT professionals come top in studiousness and bottom in sociability, assertiveness, compliance and composure. They also perform poorly on perfectionism (which might come as a surprise to some, but not to others!) and on sensitivity (no great surprise).
Given that the industry has long used psychometric tests in its recruitment processes this raise the interesting question of whether the nerdish profile is the result of nature, nurture or is a side effect of the industry's selection processes. At any rate, it does not augur well for the production of more successful systems in the future.
At any rate, it helps explain what I reported in my last blog entry – that there is a wide and growing gulf between the priorities of the IT industry and its lobbyists and the rest of the electorate.
If we really do want to change the profile of the industry and deliver more successful and reliable systems we have to begin by rewriting our careers material – to attract sociable, sensitive and imaginative perfectionists as opposed to studious, rebellious (i.e. low on compliance) introverts.
Now back to the pavement, meeting 'real' people.
May 3, 2015 6:36 PM
I am indebted to David Pitcher for an advance sight of the material he plans to present to MPs at the event on the 9th July to recruit "Digital Ambassadors" to help get the skills and jobs of the future for their constituencies.
It illustrates just how much is being done to turn FE Colleges into learning hubs helping employers, large and small, develop the skills of the future locally with no need to offshore tasks along uncertain supply chains to locations with no protection for IPR or Data, or to import "skilled consultants" whose qualifications may be worth little more than the paper they are not printed on,  even if you knew how to check them).
The main report on "Colleges and Employers working together to to create a highly skills workforce " can be found on the Association of Colleges Website.
Computer Weekly readers looking for digital skills within a creative context should read the report and then follow the links within David's paper (see below) before calling a recruitment consultant. They would then do well to call one of those who helps identify and recruit potential apprentices (of all ages), because they are increasingly unlikely to find the mix of skills they are seeking on the open market, let alone at an affordable price.
===
"A strong and growing economy is in all of our interests, and colleges play a central role in sustaining the recovery – they are the skills powerhouses that drive the local and national economy. Further education colleges across England make sure future workers have the skills employers require, and provide young people with the education and training they need to succeed.
Some of Britain's most respected companies, such as Mulberry, BAE Systems and the Met Office, want their staff to have appropriate skills and work with colleges to ensure this. This is achieved in two ways – through designing qualifications specifically for the employer and through businesses working with colleges to inspire students. This relationship boosts aspirations, highlights the importance of employability skills and promotes the different roles available in a range of industries.
For smaller employers the Creative Industry has addressed the skills gap in the industry during the last five years through an established network of FE and education partners delivering apprenticeships where there are local skills gaps.
Creative and Cultural Skills promotes and drives industry skills and employment needs to its founder college network (46 providers) and also engages smaller SME's (which is most of the industry) in training,  development and partnership with colleges. It has a multitude of success stories with regard to improving Industry/education links in order to make a difference
Two new Apprenticeship frameworks at Level 3 and 4 developed via a consortium of eight FE colleges have now been running for a year. The aim of the frameworks is twofold; first to enable students to understand instructional design in an education context, supporting FE to develop its own digital capability and deliver FELTAG targets for online learning and second to develop local skills hubs to supply digital capability to small businesses.
There are currently ten colleges across the UK delivering Design e-Learn
The Education Foundation's report, "Digital Colleges- The Journey So Far" was an outcome of research across the FE sector identifying the current state of whole college digital resource, infrastructure and teaching and learning. The Education Foundation in partnership with Digital Business Britain, IBM and the Association of Colleges (AoC) launched the new report on the future of the digital agenda within the Further education and skills (FES) sector."
---
May 1, 2015 1:38 PM
Ansip
,
AT&T
,
Broadband
,
BT
,
Conservative
,
DPA
,
ICANN
,
IETF
,
IIC
,
Internet safety
,
ISOC
,
Labour
,
Liberal
,
manifesto
,
s
,
Socitm
,
Strategy
,
Technology
,
Website
The technical press and industry lobbyists appear to be living on a different planet to most voters when it comes to assessing what the election will mean for on-line services and technology related jobs. The views of mainstream voters may come as nasty shock to those who have grown used to believing their own propaganda and expect end-users to be grateful for what they receive. The gulf of misunderstanding is likely to have significant implications, particularly if the next government is unstable and has to cope with a collapse of sterling and a sharp rise in public sector borrowing costs – leading to a choice between stagflation and yet more austerity – with cuts in public sector IT spend seen as preferable to cuts in those delivering front-line services.
There appear to be three main technology areas which voters wish to discuss. These appear taboo among technical circles – perhaps because credible responses involve taking on interest groups on whose goodwill the trade associations and professional bodies rely. The main IT and Communications suppliers will, however, have to find constructive ways of addressing them if they are not to be hit hard, where it hurts, in the wallet, with a mix of taxation and regulation. At the same time public sector spend on outside suppliers (except where the latter help local authorities get rapid payback from instant savings) is likely to shrink – leading to further cutbacks on the part of those most dependent on taxpayer funded business.
No-one has referred to the EU Digital Single Market reform strategy (whether in the UK technical press or elsewhere during the campaign), despite the widespread leak of the main draft and supporting "evidence". This should be of serious concern to those who think that the "real" decisions are being taken in Brussels. The only group reviewing that strategy and organising inputs in time to have effect is the DPA Digital Single Market Group, chaired by Malcolm Harbour. My own review of the section on digital skills has just been circulated to the group for comment and may already have been "leaked" to the Commission in advance of the publication of their "final" draft – due next week.
But back to the technology concerns of UK voters:

1) The first area on which voters (particularly those employed in the public sector) often have strong views is the perceived poor quality of service from outsourced public sector operations. The public is no longer willing to accept that this is because of "cuts". They are beginning to blame (rightly or wrongly) "multi-national suppliers who take profits overseas" and cut their own costs by employing immigrant contractors or exporting jobs to maintain inflexible legacy contracts.
2) The second area which voters (from those affected by the abuse of family members to those running small businesses) often have strong views concerns the safety, security, privacy and reliability of on-line services run by those who do not pay their fair share of taxes. Almost all have had personal experience of abuse and or fraud (usually trivial amounts which have been refunded). The patronising attitudes of those they go to for help mean that global ISPs are now about as popular as Banks. The list of those voters want targeted for tax avoidance tends to begin with well-known technology companies and on-line retailers – alongside Greek Shipowners and Russian oligarchs.
3) The third is broadband, where small firms in urban areas are making common cause with rural activists and those who have slow or unreliable landline services at home or work or are plagued with notspots or roaming charges when they travel.
There is no credible red blood, blue water or yellow bile between the parties on broadband policy but the views expressed by voters, and the comments candidates are having to make at local hustings. will almost certainly come back to haunt the new intake of MPs when they stand for election again with a year or so – after the widely expected hung parliament has led to a replay.
We can, therefore, begin to predict what will happen after the election – who-ever (if anyone) is in power.
1) Anger with public service delivery – leading to devolution and "right sourcing"

Most voters take for granted those systems and services that work reliably and are easy to use. But they increasingly dislike those who provide them, from outsource suppliers to Internet Service Providers, usually because of the patronising and unhelpful responses they get when things go wrong. That is especially so when those pressing for change are told that the service is working well, in line with procurement or framework contracts, the details of which are "commercial in confidence".
I spent nearly half a hour on one doorstep (I "waste" time because I am actually interested in what people think) listening to a social worker complaining about the fragmented benefit and welfare services that condemned those she served to poverty and unemployment, because they could not afford to take the work available and thus begin the climb back into "society". She had chapter and verse on the traps and the nature of the work available locally (plenty of it but nearly all temporary and transitory), was IT literate (more up-to-date than me in contrasting the software used in the public and private sectors for end-user support systems) and was a great fan of Ian Duncan Smith's insistence that the Universal Benefit systems be tested with real people before being rolled out. She also thought that the government should be able to reduce welfare spend by far more than 12 billion from welfare by helping her clients (and their peers) into work – if only they stopped using expensive, contract driven, proprietary services from outsource suppliers who took their profits overseas and took the work back in house! She also named the suppliers and consultants she thought were to blame.
Such attitudes (and inside knowledge) are not unusual.
A couple of nights ago I was at a crowded hustings meeting (standing room only) where the rise in demand for foodbanks from those whose benefits had been delayed was directly blamed on an named outsource provider. There was applause from the floor when it was said that the contractor, originally appointed by the previous government, had been fired and service was now improving. The reality is more complex – but I am reporting what I heard – not what I believe to be correct.

Who-ever is in power after the election we can expect a more "robust" approach to negotiations with suppliers and an increasing willingness of ministers to devolve responsibility to local government – so that some-one else can be blamed. Those suppliers who help groups of local authorities to work together across boundaries to use cloud over broadband to deliver more and better for less look set to inherit the market – especially when they support incremental change on positive cash flow. I am pleased to say that I had a very positive response from some of the Cloud Suppliers at the SOCITM Spring Conference where I presented "Plan B". They are already working on the opportunity.
2) "Something must be done" about the Internet
The time has passed when the Internet was "special" and it was OK for suppliers to provide "free" services in return for harvesting our personal data (to use how they wished) while avoiding responsibility for helping take action when other users did "bad" things. Unfortunately current debate about that "something" that "must be done" is incoherent. But those who claim that "nothing" should be done, because of that incoherence, risk bringing about the worst of all worlds. Once again, realistic progress will be incremental: hence the importance of well-targeted initiatives like the DPA Age Verification Group, focused on harnessing existing technologies to improve customer confidence at the same time as making it very much easier to meet regulatory requirements around the world, not just in the UK.
That is, however, but one small shuffle in a long march. During the campaign I have heard a number of well-informed views from small businesses, including one who was incandescent about the way that the .co.uk name to which they thought they should be entitled had been sold to some-one with a fictional address on the other side of the world. It was being used for fraud which was being blamed on him. He had been deeply unimpressed by the process for halting the abuse. Having observed the actions of the lawyers working on behalf of their clients to prevent the reforms that would help greatly reduce the risk in this area, I said as little as possible. I look forward, however, to the build up of an unstoppable campaign for change.
I would, however, far prefer to see those who have good business reasons for working together to improve confidence in the Internet working through the IETF, ICANN and ISOC (as well as the regional and national registration supply chain) to produce rather better "solutions" than the politicians would.
3) We have to enable those who will benefit most to help pull through investment in Ubiquitous Broadband
I do not believe the headline that claims broadband will influence one in five voters but it is easy to see why Conservatives representing rural constituencies are very much more concerned about the issues than Labour MPs representing urban constituencies . We need to see an end to policies based on protecting BT's past investment and subsidising extensions of its legacy networks while BT focuses its own efforts on a quad play business model..Earlier this this week I was privileged to go direct from an IIC Meeting on funding the transition from copper to fibre to a London Business School Alumni event at which Sir Michael Rake talked about the task of turning round BT after its business model and share price had been destroyed by Ofcom. I attended LBS in the early 1970s when Michael Beasley taught us regulatory economics, The way in which regulation then supported the ossification of the AT&T monopoly was one of his case studies. His thinking lay behind the creation of Oftel in such a way as to incentive the incumbent to invest and innovate. The way Ofcom subsequently removed those incentives and BT responded in order to survive, would make a great case study for future LBS students.
We have to make it more attractive for those who have a choice to invest in UK infrastructure than that of the North or South America. We also have to allow enable those who have no choice, (householders, landlords, small firms and local government), to pool their budgets and use municipal enterprise to make the difference – hence Plan B to pull through the F plan. The location of our current high tech hubs is no accident – they cluster where there is good broadband and gravitate to where there needs are taken seriously. It is similarly no accident that INCAs next Smart City event is in Bristol where the Council is looking to pool budgets to attract serious infrastructure players to help its growth plans. .
Meanwhile remember the motto for our postal voting system that would disgrace a banana republic – vote early, vote often.
---
April 10, 2015 11:43 AM
DCIS
,
IPv6
,
IRS
,
Janet
,
PSN2
,
Verizon
I forget a key component when I used the analogy of the construction of the railways and canals in my blog yesterday on the means of implementing the Digital Communications Infrastucture Strategy and making a reality of Martha Lane Fox's vision for "Dot Everyone".

The success of both canals and railways depended on standards.
Unless we take action soon we will face the Internet equivalent of the battle of the gauges within a few years.
The rest of the world is going IPV6.
The cost of transition is relatively trivial for those who plan in advance. It will not be so for those left behind. Internet innovators who cannot develop and test for an IPV6 world, because they lack on-line "native" access, are at an increasing disadvantage.
Verizon, the largest US network operator, transitioned its core network nearly a decade ago. It mandated IPV6 for its linked mobile operators as long ago as 2009. In 2010 the US Federal Government set deadlines of 2012 to convert all public facing Federal Applications to support IPV6 and 2014 for all internal applications. In consequneces almost all mainstream communications equipment installed over the past five years, anywhere in the world, including in the UK supports IPV6.
But the facilities have not yet been "switched on" by most UK national networks because of problems with their legacy equipment. In consequence, if you wish to develop products and services for the IPV6 world (e.g. for "Smart Buildings" or the "Internet of Things") you can be at a severe disadvantage unless you can get space in an innovation centre linked direct to JANET – the only UK network that has fully transitioned. Hence another of the reasons for the rental differential between those on opposite sides of the road in Shoreditch.
Were HMG to copy the US Federal Government in mandating IPV6 compliance for PSN2 and all forward taxpayer funded projects that situation would change very rapidly – although it there would be opposition – as there was when the Inland Revenue Service tried to ignore the US Presidential Order five years ago.
I have therfre edited the blog entry on Plan B to include reference to IPV6 – and apoligise to thsoe readers who forcefully pointed out the ommission.
---
April 9, 2015 12:12 PM
)2
,
1799
,
3
,
BT
,
canals
,
CCRV
,
consultation
,
DCIS
,
DCMS
,
DECC
,
ECC
,
FCC
,
Georgina
,
KCOM
,
Landlord
,
Liverpool
,
Mobile
,
Non-Dom
,
PSN
,
railways
,
roadband
,
rural
,
Shard
,
Sky
,
Smart grid
,
Smart meter
,
Socitm
,
Virgin
,
Virgin Media
,
Vodafone
,
Wifi
,
Woking
Shortly after the budget I blogged a welcome for the DCMS-Treasury Digital Communications Infrastructure Strategy. Last week I welcomed Martha Lane Fox's vision for Dot Everyone, albeit expressing my fear that a national institution, let alone a "plan", will constrain growth and innovation (in line with the business models of currently dominant players) instead of achieving the transformation needed. I concluded by promising that I would follow the F-PLan with Plan B – for a business-led transformation.
It is apposite that the Labour Party has referenced the problems Britain faced in 1799 in its attack on the tax status of non-doms . In 1799 Britain was still recovering from a disastrous slump after the loss of the American Colonies. It was, yet again, at war with the rest of Europe (albeit more rather bloodily that our current regulatory spats). The government was in desparate need of money, but dared not choke off economic recovery lest it too face a revolutionary bloodbath (like the rest of what is now the EU). It also feared the defection of its wealth generating colonies in the West Indies to the nascent zero taxation United States. The first volume of Gibbons "Decline and Fall of the Roman Empire", (destroyed from within by bureaucracy and over-taxation), had been read by many more politicians than Adam Smith's Wealth of Nations. The Britain had been turned round from the slump that followed to loss of the American Colonies by a deliberate bonfire of regulation and the scrapping of all taxes that cost more than they raised. The politicians of the day also had a strong prejudice prejudice against central planning, "If death came from Rome we would all be immortal". That prejudice lasted nearly a century. I do not intend to defend the current tax status of non-doms, in part because I too think it unfair and suspect that the difference between Ed Balls and George Osborne is small print that will serve only to make money for tax lawyers and accountants. I do, however, wish to draw parallels with regard to the creation of the infrastructures, from canals to through railways, water, gas and electricity to the telephone network, on which we still depend.
The Georgian canals and Victorian railways were nearly all funded by consortia of landlords and businessmen who expected to benefit from rising property prices and falling transport costs for their raw materials and produce. Today funding from those who expect to benefit most is missing from almost all plans to organise and finance the transition from 20th century voice and data networks to a 21st century, Internet age, mesh of high resilience, inter-operable, IPV6 based networks. Work is taking place on most of the other elements, from regulatory (where the US FCC has shown the way by classifying broadband as an essential utility) to standards (as for PSN, Smart Cities and Smart Grids). But those calling for a "national" policy have yet to address the issues of funding. They appear to expect a small group of incumbents operators to pay for bottleneck removal and network build that wll not make them more money, indeed it may even reduce their revenues. They expect government subsidy to make up the differnce. Meanwhile a growing number of communities are benefiting from alternative investment models at the local level. The most recent are Liverpool and Woking.

80% of the cost of new network build is civil engineering, including wayleave and access arrangements. In rural areas the cost falls dramatically when farmers provide uncharged access and help with trenching in return for service and shareholdings. In urban areas the cost reductions can be similarly dramatic. A recent meeting of inner city property owners (both commercial and residential, including social housing) and operators (both fixed and wireless) identified that the legal fees involved in agreeing wayleave and access arrangements (because current standard agreements are inappropriate for multi-tenanted buildings) averaged nearly as much as the equipment costs. Meanwhile the potential revenue from wayleave rentals and access charges is negligible compared to added value that comes from offering a choice of world class communications and smart building services to tenants.
New-build properties such as the Shard or Heron Tower incorporate shared communications spines to handle the network demands, including from smart building controls, anticipated over the next few decades. Such spines has already been retrofitted during major rebuilds and upgrades, such as for Tower 42 and Centre Point in London. Incremental change, to upgrade existing communication infrastructures, as tenants come and go in multi-tenanted properties, whether commercial or residential (as in common in inner cities), is more complex and needs to allow for the risk of one operator disrupting the services of another during maintenance, upgrade or when a new tenant wants a change of service. A growing number of players are, however, offering services in this space and the rate of take-up for these has accelerated over the past 18 months. Similarly a growing number of landlords and of those managing large portfolios of multi-tenanted properties can see the value of using semi-standard agreements for shared wayleaves and access which give changing populations of tenants a choice of service.

Conversely innovative operators wish to use the upgrade of legacy arrangements (which often assume exclusivity, rapid access for sub-contractors of unknown provenance and one-way break clauses) to organise profitable, rapid payback, offers to attractive groups of tenants.
The issues relating to Inner Cities, (tiers of ownership and control from freeholder, leaseholder, sub-leaseholder, tenant and sub-tenant, plus managing agents and building controllers) are different to those in a suburban or rural area where ownership and control have fewer tiers but may be more fragmented. The value to participants of the solutions on offer also differs. Some landlords and property owners welcome and may help fund incremental infrastructure investments that meet their own needs and those of their tenants. Others are less enthusiastic. The issues that need to be addressed are not, therefore, readily amenable to nationally standard solutions: hence the failure of the first attempt to update the Electronic Communications Code and narrowness of those being addressed by the current consultation deadline 30th April.
The need is to bring together those who wish to address the future needs of themselves and their customers, their tenants and, in the case of local authorities, their voters and business rate-payers.A group of inner London landlords, local authorities and network operators is looking at wayleave and access arrangements and has its second meeting next week.

In January I attended a workshop organised by Regional Network Solutions and hosted by BT Redcare to learn from case studies of co-operation, pooling budgets for CCTV, traffic and street furniture management and using local authority wayleaves and the spirit behind the Social Value Act (not just the small print) to massively upgrade shared infrastructures at the same time as enduring serious budget cuts and transitioning to PSN standards – whatever they are. I will not embarrass the speaker who knifed to the heart of successful collaboration with the wonderful phrase "the ego has landed". The "real" obstacle to effective collaboration is rarely business case or even ring-fenced budgeting – there are usually ways round. The real obstacles are "status" and "politics". "Success is driven by those willing to undergo a "charisma bypass" and give credit to those whose support is needed – even if they have had to be bludgeoned into giving it.
The bad news is that I agreed to try to organise the production of a "Dummies Guide to Collaboration", without having identified who to get to do the work necessary, let alone who to get to pay them. I had assumed that the suppliers who would stand to benefit from new spend during a time of increasing austerity cutbacks would be enthusiastic. I now realise that the suppliers are divided into two main camps. There are those working flat out with all the business they handle, usually on incremental projects with payback within weeks or months – not years. And there are those sitting on their hands, spinning out legacy contracts and hoping that the next government will unleash a new round of PFIs,
Meanwhile the world has changed. The purchase of O2 by Hutchison Whampoa (to merge with 3), on top of that of EE by BT, the £3 billion roll-out plans of Virgin Media (backed by HMG loan guarantees) and the rate of growth of traffic over networks like that of Sky (more than doubled in a single year) also mean that Vodafone has gone from market leader (with a massive war chest from Verizon to finally sort out its inheritance from Cable & Wireless) to laggard. Whether or not the "collective" business model of bundled "Quadplay" services will survive (let alone thrive), none of them is currently meeting the needs of business users and the backhaul networks they currently share (in shifting consortia) are creaking as traffic growth accelerates, now doubling in under a year.
Hence the growing investment in local projects to install fibre to the premises or femto (supporting a mobile or wifi cell), particularly business premises: from start-ups like B4RN (enlisting community labour to hold down costs), through players like Gigaclear , Hyperoptic (backed by George Soros and City Fibre to inward investors like Hong Kong Telecom (their parent PCCW owns UK Broadband or EMCOR (helping Woking leapfrog even further ahead of its competitors as a business location Most commercial players are, however, only looking at locations where the local authority will help them cut costs (e.g. by providing shared access to its own wayleaves and infrastructure and accelerating planning permission) and reduce risk (by helping them identify customers who will pay, or at least commit, up front). That enables them to achieve the rapid payback necessary to fund the next project (or three) without the need to dilute their equity.
BT and the other incumbent players are still trying to work out whether this is a threat or an opportunity to pass the cost of improving local business connectivity to others, while they focus on improving backhaul – so as to harvest the new traffic for their national networks, while plotting to take over the new networks when those running them get tired or bored – as is now happening in Sweden with the municipal dark fibre networks being taken over by the incumbent. This was, of course, what happened in the 19th century when the National Telephone Company hoovered up local operations before it was taken over by the General Post Office (so that Government could tap the phone lines!!!).
Meanwhile BT has joined Virgin and KCOM in resisting calls to open up its own backhaul and distribution networks, at least until they get access to those of others (e.g. to replace copper lines on electricity poles with fibre without paying ludicrous, to them, fees). And who is to say they are actually wrong, given the need to improve capacity and resilience with regard to some of the choke points where other players are most wanting access.
Given such a potentially competitive market, however, the cost of serving the socially and geographically excluded, whether in inner city social housing or rural areas, should fall. The only reason to fear that it will rise is if government support policy is focussed on enabling BT to extend its legacy networks and thus to cherry pick those who are easiest to serve – as opposed to creating integrated networks using alternative technologies that are better suited to remote, or otherwise difficult, locations and unusual topologies.
In short, there is a lot happening. The time is also ripe to stop waiting for GODOT (Government obfuscation, delay or other time-wasting) and let local enterprise (local authorities in partnership with property owners, landlords, estate agents, property developers tenants, business and residents) do the job – while adhering to the international inter-operabiity standards (including IPV6) which mean that any who fail or get bored can be taken over and integrated with the operations of those who stay the course.

On 23rd April I therefore plan to use the opportunity of the SOCITM Annual Conference to call for local authorities to work together to show central government how to do digital infrastructure better – with Manchester showing London how to leapfrog Hong Kong into the 21st Century and Leeds refighting the Wars of the Roses to show Manchester that Yorkshire can do IT even better.
I am now seeking to engage those suppliers who see making money by helping build the future as a better use of their resources than lobbying the next government (via the corridors of Westminster and Whitehall, trying to use Son of PSN" or the current DECC consultation) to preserve and extend bloated legacy contacts until they go belly up, like stranded wales, rotting on the beach of history.
P.S. The DECC consultation (deadline 15th June) looks particularly odd – like an attempt to herd the existing smart meter networks serving business onto the new domestic smart metering system before the latter collapses for lack of take-up. The business (as opposed to political) case for a separate network for smart meters was always suspect (it dates back to when Ed Milliband, as Secretary of State replaced the proposed industry-funded scalable pilots by a national programme). It now looks positively dated as the landlords of shared office blocks and business parks are looking to install shared infrastructures (ducts, masts, risers and equipment rooms if not necessarily shared cables and aerials) for wifi, mobile, smart buildings and all forms of business and industrial communication.
---
April 7, 2015 10:55 AM
21CN
,
BDUK
,
Big Data
,
Broadband
,
BT
,
DCMS
,
fixed
,
FSA
,
Ghostery
,
Groundhog
,
ICANN
,
inter-operability
,
ISOC
,
itc
,
LINX
,
Mobile
,
NPL
,
Ofcom
,
Olympic
,
standards
I was not able to watch this year's Dimbleby Lecture when it happened but over the Easter week-end I made time to watch the challenge that Martha Lane-Fox made to the Dimbleby's (and the other media figures and journalists present) to help educate politicians and industry leaders on the actions needed to help the UK leapfrog the competition and lead the rest of the world into the Internet Age. I liked the concept of "Dot Everyone" but fear that any attempt to create an "institution" would achieve the oppostie of what she intended: for reasons to which she alluded. I totally agree with her point on the need to engage more women in key roles. This government has just made a leap forward and Ofcom appears to have begun its overdue transformation even before its new female chairman and chief executive arrived. [I remember Patricia Hodgson from University – charming but highly disciplined and a rigorous intellect. I too would have begun to mend my ways if faced with the prospect of her as my chairman].
I also liked Martha's points on the need to use the Anniversary of Magna Carta to take a lead in addressing ethical and moral issues, . I would add that we need practice as well as theory. I have strong reservations regarding on the ability of any government support institution to be moral and ethical, hence the caution of my welcome, earlier this year, for the Labour Party plans to focus on social inclusion and ethical policy rather than cost savings . It should indeed be possible to achieve to achieve all three – but only if policy is driven incrementally by users (alias victims) – not by "experts". All too often the most unfeeling, heartless, bureaucratic and wasteful of policy implementations turn out to have been produced by "professionals", supposedly following the "best practice" of their "Institution".
I would, however, like to focus on Martha's first point: the need to spread understanding about how the Internet actually works and how we ensure social inclusion. I would extend her argument to cover am understanding of the actions necessary to deliver socially inclusive communications infrastructures that are fast, fit for purpose, flexible, future proof, fail safe and fraud resistant. I, like her, began life as a historian, before spending time (after Business School) as a corporate planner, looking at how to cope with the future – based both on what we knew and what we did not know. I strongly believe, in consequence, that FIRST we have to be honest about the present and how we got here.
I have often been critical about the way BDUK has bolstered BT's monopoly position, beginning almost immediately after its creation but my blogs have rarely recognised why it did what it did, or its very real achievements. I would like to correct that. In 2010 the coalition government inherited a 20th century communications policy that had run out of steam. Neither DCMS, BIS or Ofcom had the skills and understanding to do any better and DCMS officials had to give priority to the Olympics . The inherited policy was based on accessing on-line services over infrastructures designed for the telephone age. More-over the New Labour decision to switch from "competition in the local loop" to "local loop unbundling" had destroyed the business case behind BT's plans to upgrade and extend its 21CN network to provide "full motion, broadcast quality, video to the home" (the original definition of broadband) by 2002. Meanwhile the Government decision not to re-invest the £20 billion receipts from spectrum auctions in communications infrastructure had starved both BT and the mobile operators of funding. New investment stopped. Preventive maintenance fell behind. The networks were beginning to crumble even before the financial crisis- although few recognised this at the time.
The BDUK procurement process bought time for BT and enabled it to delay new commitents until after it had delivered the infrastructure and support for the Olympics. Most voters now live within a kilometre of a fibre-connected cabinet capable of providing services that are fit for most of their current needs, fixed or mobile. But many business users, as well as those living more than a mile away, are left trying to run "motorway traffic" over "country lanes" (copper and aluminum telephone lines that may be fifty years old or more). More-over the national fixed and mobile infrastructures to which they connect are overloaded and creaking, with traffic volumes rising faster than capacity: more than doubling over the past year, for example – with growth accelerating.

Meanwhile consumers expect services to be digital by default and much of life, from watching sport to shopping (whether on-line or in a supermarket) would grind to a halt if we lost access to the Internet because of fire , flood or digititis. The rest of the world has begun the transition to a new world of ultra-reliable, resilient, ubiquitous mesh networks. As Martha Lane Fox said in her Dimbleby Lecture, we must not only catch them up, but leapfrog them – if we wish our children to have the education and jobs of the future.
That means not just fibre to the front door or local mobile or wifi aerial, but networks that are inter-operable with the future as well as with each other, using global standards at prices we can afford. That means giving investors confidence to fund the infrastructures needed – by providing a fair and stable tax and regulatory regime and by pooling public and private money to serve areas where the business case depends on saving costs in public service delivery.
Helping heal the wounds of the past market requires the application of TCP
1 TRANSMISSION – better infrastructure to remove the jams between you and your home or business and the Internet: copper = country lane, fibre = motorway, radio needs sites/masts
2 CAPACITY – copper = rationing, radio = local, fibre = global, ration-free connectivity
3 PROTECTION – against fraud and abuse as well as network failure, that requires partnership policing for the on-line world and one-stop-shop reporting to those who will take action.
Hence my support for the Digital Infrastructure Strategy that was announced in parallel with the budget. Later this week I plan to blog on how I believe that the way forward will be driven: not by an "institution" by local co-operation between those who wish to provide world-class access and those willing to pay for it. In the mean time I would like to address some of the understanding gaps – beginning with the current meanin gless babble about "speed.
The first "F" in the F plan is for Fast. This does not mean meaningless nominal speeds. It means rapid and reliable response times. These depend on a variety of factors, from
• issues with the end-user equipment (browsers, routers, wiring etc.), through
• contention over local networks and bottlenecks in backhaul networks, to
• delays while well-known sites load tracking and monitoring and other software ("to improve your experience") and your security software decides which are to be allowed.
[It is not "just" the "cookies" inserted by the shopping services you use. Ghostery identifies 14 items of spyware when you visit the Guardian Website, 17 for the Daily Mail and 27 for the Daily Telegraph – and so on].
It is positively misleading to report speeds based on "average" response for a network that is unused for much/most of the 24 hours of the day, but degrades sharply in the early evening (when farmers or small businessmen do their paperwork, children their homework and teenagers gossip or swap videos). There is a need for Ofcom to use and publish performance measures that reflect user experience. It has made a start and has promised more in its Annual Plan (see the references in my Groundhog day blog) for the year ahead but its plan references dependencies on work with the Internet Engineering Taskforce and others i.e. global not just national action. We need the UK to be seen to be in the lead on this, not just waiting and accepting that which fits the priorities of those who think our digital footprints are their "oil" to be refined and sold to who-ever pays best.
The second "F" stands for Fit for Purpose. This entails reliability, resilience, response and security, not just "nominal" speed. It is the improved reliability, not just speed, of all-fibre networks that is transformative. "Digital by default" policies should be linked to the use by Ofcom of performance benchmarks that relate to those on-line services on which HMG expects target audiences to rely for communications relating to welfare and benefits as well as taxes. Thus, if farmers cannot do their Rural Payments Agency business on-line then the rural broadband service is not fit for purpose. If those dependent on disability payments, or their choice of trusted carer, cannot use the service then the services to inner cities, social housing complexes or those dependent on "care in the community" are not fit for purpose.
In 2012, George Osborne mandated that no new system should go live after 2014 unless "the responsible minister can demonstrate that they can themselves use the system successfully" . Thus "the Minister" (George Eustace MP) was personally involved with the three week "agile" cycle for the new Rural Payment Agency systems. Similarly the Universal Credit systems cannot go live unless ministers can use them, hence much of the controversy over costs and delays. The launch of the new Digital Accessibility Alliance should be followed by a policy of mandating the testing of all digital by default" public service delivery systems with members of the target audience, over the access services not available to them before roll out is contracted.
Next come Flexible and Future Proof: Any attempt to forecast demand or technology five years out, let alone ten is doomed. It was five years from the bankruptcy of Thomas Cooke (after getting his business model wrong for a tour of the Highlands, in 1846) to the Great Exhibition of 1851, for which he organized transport and accommodation for over 150,000 (out of 6 million) visitors. The need to cope with uncertainty with regard to demand (including as prices fall, and performance, availability and reliability improve), entails product, service and technology inter-operability (as with the standard gauge railways of the 19th century). Inter-operability standards enable competition at every level, with customers able to mix and match according to need and investors to reap safer rewards from incremental innovation. Standards do not, however, come about by chance or "simple" market forces. Dominant incumbents will always seek to lock customers into "integrated" services. Today they are competing to sell entertainment content subscriptions linked to phone line and broadband. Tomorrow we cna expect to see them face mounting anti-trust pressures leading to a new round of "unbundling"
The tensions over standards require constant government attention, including as the largest customer in the market (mandating inter-operability standards for public sector network procurement) and as regulator. We also need to note how most standards come about, via hierarchies of what are essentially "vanity publishing houses". The standards bodies respond to the willingness of groups of industry players to come together to fund the agreement and publication of specifications which they then make money from selling. The more copies a standard sells, the more successful they think they are.
However, communications standards are now global and we need to ensure that the UK is in the vanguard of ensuring that our innovators and suppliers are meeting international business and consumer needs and we are not dependent on importing that which has been specified, developed and manufactured overseas. In 2014 the IETF, ISOC and ICANN, the bodies which set the standards for the Internet, all had annual plenary conferences, with thousands of delegates, in London. We need to make it attractive for them (and the international telecommunications organizations) to not only visit the UK but base more of their routine meetings and support functions here so that our innovators benefit from direct access.
The National Physical Laboratory, still the UK's main measurement and testing operation, should be funded to provide UK business with access to all global standards, current and proposed, plus the certifications (who tested, what, to which standards) that indicate which products and services abide with which. This service should then be used to support a policy of mandating adherence to internationally accepted standards whenever public funds are involved. Such a service would also be a very effective use of the UK's limited technology transfer funding to attract world class development, not "just" research, facilities back to the UK. Subsidized access. Including support to enable UK innovators to take part in global standards activities, should be confined to those based in the UK, including for the collection of royalties and payment of VAT or Corporation Tax in the UK.
We also need the digital infrastructure to be Fail Safe and Fraud Resistant. As society becomes increasingly dependent on on-line services, (e.g. telemedicine and care, on-line banking, food, fuel and energy distribution etc.) resilience and security become ever more critical. Both have many dimensions, from whole networks going down for hours, (sometimes even days) as a result of fire, flood, storm or theft, to individuals losing access for days (even weeks) as a result of local faults or fraud. There is also the question of who is, or should be, responsible for taking action against abuse and criminal activity.
Network resilience entails multiple routings and systems that continue running despite disruption. Hence the drivers behind the move towards "local internet exchanges" to handle the rapidly growing volumes of machine to machine traffic and local social networking. As yet the devolution from central operations, like the London Internet Exchange (LINX), to regional operations, like that in Manchester, is limited. But the benefits, including not only the capacity to handle greatly expanded traffic volumes and complexity (as with the growth of the Manchester Media City) but also the growth of high-tech Internet based spin-offs (London's Financial Services Computing is clustered round the locally devolved LINX hubs) , are obvious.
A growing number of Cities with ambitions to be not only "smart" but also "innovative", are looking to support local hubs in national and global incubator networks. They should be encouraged to do so. In this context is should be noted that LINX is a "mutual", owned by over service providers. This, like many functions at the heart of the Internet, is an area where "privatization", "market forces", "public ownership" and "state control" all have clear limits.
Meanwhile The Financial Service Authority has mandated that critical parts of London's financial services industry must have standby routines which not only inter-operate but can run even if BT entire network goes down (as well as vice-versa). Such an approach to reliability and resilience needs to be adopted across the UK, including the use of wireless and satellite to provide back-up to location where it is not economic to build and run more than one landline network. We need to balance the obvious savings from infrastructure sharing against the need for resilience.
We also need to be much better at addressing the suffering and loss caused by simple service problems, let alone actual abuse. Who do you contact, and how, after your Internet connection has gone down or your e-mail or social network account has been hi-jacked? And what can you expect them to do about it? Most voters have an elderly relative who has been rung by a nice man telling them their computer has a fault and offering to help them fix it over the phone. Most mobile phones are regularly vished (voice phishing) by those who want to help us claim compensation for the payment protection insurance or car accident we have not had. Meanwhile politicians appear obsessed with the use of the Internet by terrorists. And everyone else is playing pass the parcel.
There is a similar dialogue of the deaf with regard to "Big data", between those who wish to keep their personal details private for fear they will be copied and used to abuse or defraud them or their families and those wishing to hoover up our digital footprints and personal data to refine into "the new oil" for sale to "Improve their services to us (alias sell to advertisers) but not to provide to law enforcement. There is a need for a joined up approach to the resilience and security of on-line services before confidence collapses in the face of a rising tide of abuse and fraud, compounded by sporadic network and service collapses in the face of storm, fire, flood and digititis ("software problems during a "routine service upgrade".
Hence my strong support for the calls by Sir Tim Burners-Lee and Martha Lane-Fox to restore confidence that the UK takes the issues seriously by using the 800 hundredth anniversary of Magna Carta bringing the various debates and tensions over privacy, surveillance and information governance together with independent judicial oversight reporting to the Supreme Court.
In short there is much to be done. So who can we expect to do it. Those who believe that Government, alias politicians, is competant should listen again to Martha Lane Fox's Dimbleby Lecture and reflect on the current state of political debate. Our Victorian ancestors had no doubts. They knew only too well that Westminster was incapable of thinking ahead – unlike local government, landowners and businessmen coming together to build for their children and grandchildren. Hence Plan B (for Business Broadband) – on which I have been working recently and intend to cover in my next blog.
---
---
April 2, 2015 3:43 AM
Some players see publicity and support for the NSPCC Childline campaign announced on Tuesday  as a potential threat to the "freedom" of the Internet. Others see it as an opportunity to rally support for activities to help provide children, families and silver surfers with freedom from fear and abuse over the Internet.
Both are correct.
Technology has moved on over recent years and ways to reconcile security and privacy are becoming increasingly practical. But they have yet to be effectively used. This is partly because of muddled and misinformed debate between players with very different agendas  (from surveillance and "security" to privacy and "civil liberties") and with different levels of understanding. The consequent potential for confusion can be seen with the range and variety of players concerned about child safety issues within the UK alone.
The overall effect is an erosion of trust in the Internet as a safe place to learn, play or make money: whether you are child, a parent, a silver-surfer, an employer – or anyone else without state-of-the-art information security expertise.
That is not good for business.
I have recently been privileged to sit in on some of the discussions that led to the formation of a working group that is trying to make practical progress on one of the points of leverage: a standard for processes which enable robust, consent-based, confidential  age verification.  , i.e. without the need to ask intrusive and unnecessary questions.
Seven years ago such an approach was probably not practical. Today the problems are more to do with the all-too-common practice of collecting information that is not needed for the service or transaction in question, but might be "valuable", without considering the possible  consequences . There is, however, growing evidence that asking unnecessary and intrusive questions costs paying customers. Some years ago a British Retail Consortium survey indicated that the cost of lost business, because of intrusive security, accounted for more than half the cost of e-crime, including the amount spent on information security. Recent data indicates that the proportion of transactions abandoned as questions become more intrusive is rising.
Hence the desire of those running commercial on line transaction services operations to be able to use reliable third party verification services, in order to avoid the need to ask unnecessary questions.  An invaluable first step, for most, is the ability to verify age, (e.g. old enough to buy a drink or qualify for a bus pass or young enough to get a discount) independently of identity.
The UK is on the cusp of defining processes to underpin the roll out of scalable, viable, cost effective, age verification solutions, built on the principles of 'verify once, use many times'. The next step is to turn these into internationally recognised interoperable standards, supported by certification programmes that define liability models.
The process is currently being driven by those required by their respective regulators to do age checks. However, wider support for the approach is such that the time has come for social networking platforms, data aggregators and advertisers to also re-visit their attitudes towards age verification. The aim should not just be to ensure compliance with current or future legislation designed to protect children on-line, but to facilitate the confident use of on-line services by all age groups.
The working group already brings together representatives of the on-line gambling, adult entertainment, tobacco, on-line dating and vaping (e-cigarettes) industries and aims to engage with the alcohol industry and educational network operators, as well as those concerned with child protection, silver surfers, social inclusion and, of course, with crime prevention.
Details of the C-Plan for "consent -based, confidential, on-line age verification"   and a summary of those involved can be found on the Digital Policy Alliance Website.  The group is actively recruiting  so as to ensure that all relevant stakeholders are engaged.
---
March 20, 2015 2:31 PM
Broadband
,
BT
,
CCTV
,
DCMS
,
fibre
,
Gigaclear
,
Hyperoptic
,
ITS
,
LEP
,
Ofocom
,
Sky
,
treasury
,
Virgin
,
Vodafone
The Digital Communications Infrastructure Structure Strategy announced in parallel with the Budget shows that DCMS and Treasury have responded to the inputs to the consultation last year and raised their sights. The new targets are 100 mbs to all but the most remote households but, more importantly, fibre to the premises (a gigabit plus) for business. The strategy recognises that different markets have different priorities between speed, capacity, ubiquity, symmetry, latency, reliability and resilience: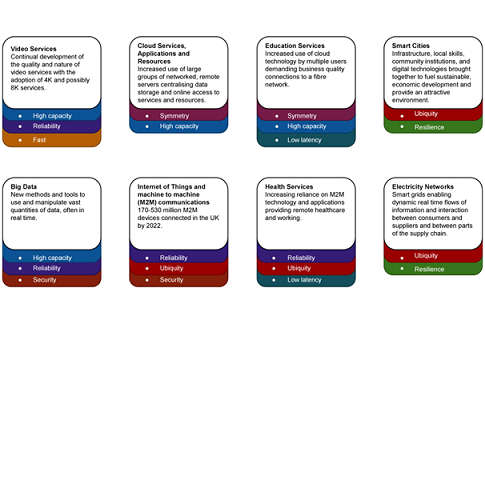 It is most unlikely that one architecture will fit all future needs, any more than it does at present. Even the current BT network remains a hotpotch of heterogeneous architectures and technologies – built on the legacy from when the Labour government's switch to local loop unbundling destroyed the business case behind Ben Verwaayen's dash for growth and left BT saddled with debt commitments after its exchanges had been mortgaged and its share price had collapsed.
The recognition of the pace of change is most welcome. The strategy, quotes actual traffic increases of 40 – 50% p.a. annum over recent years with households connected by "real" fibre to the premises generating nearly 60% more traffic. I recently learned that the rate of traffic growth is accelerating and bandwidth improves. Traffic over Sky's broadband network has more than doubled over the past year – and that over the mobile networks may be growing even faster. In consequence BT's back haul networks are creaking at seams. Most weeks see several exchanges going down, sometimes for hours on end. In consequence financial services regulators, for example, now insist that critical services have standby facilities which do not depend on the BT network.
Hence the reason that Virgin, Sky, Vodafone and others, who had relied on BT for much of their backhaul, as well as for unbundled local loops, have been looking at major investment programmes of their own and partnerships with the local network suppliers (City Fibre, Gigaclear, UK Broadband, Hyperoptic, ITS etc.).
The announcement on the means of encouraging investment and enabling change to a world of competing but inter-operable fixed and mobile networks is also important: using the £40 billion UK Government Guarantees Scheme to underpin investment, with the £3 billion Virgin plans "pre-qualified" to show that it is serious about opening markets to genuine competition. See section 3.2 of the Strategy for details, although it does not say how others should apply, merely that they will be welcome to do so.
The strategy also contains the first public reference I have seen to the consultation on reform of the Electronic Communications Code Note the deadline for inputs of 30th April. The importance of the Code as an obstacle can, however, be over-estimated. The new code will not address the need for a critical mass of landlords and network operators to agree a new generation of framework contracts for multi-tenanted properties (office blocks, business parks, social housing complexes etc.) where the value of being able to offer tenants a choice of world class communications access and smart building services is greater than any revenue from wayleave and access charges. More-over those wanting rapid access to fix faults also need to accept liability for any damage or disruption caused by their staff or subcontractors to services on which other tenants rely.
The good news is that a recent meeting hosted by Westminster City Council illustrated the practicality of doing so. I am therefore hopeful that the Digital Policy Alliance will succeed in providing a neutral umbrella to build on success by bringing together those who wish to make rapid progress without waiting for GODOT (the General Obfuscation, Delay or Time- wasting that occurs with attempts to get agreement on a mandatory policy using statutory powers).
The group will probably not be looking at the lowest common denominator agreements that tend to arise from national standard agreements but at "future proof guidelines" that can be used by those planning new developments or refurbishments designed to last for decades and also for incremental retrofitting to existing properties as tenants change.
The Treasury Review of business rates to redress the balance between the on-line world and the off-line world gives a long-overdue opportunity to reform the current valuation regime so that it no longer deters investment in new fibre networks and helps high street retailers come on-line [link]. The return of increases in business rates to local authorities (beginning with a pilot covering Greater Manchester) will give an added incentive to local authorities to use broadband improvements to help deliver more for less – including by pooling their communications budgets (including for CCTV and traffic management as well as fixed and mobile staff and business communications) with those of local landlord and businesses, perhaps in partnership with their local LEPs (as suggested in the Strategy Paper) and foster local economic growth.
In parallel Ofcom is to do its first strategic review of the Telecoms market since that which concluded in 2005 enshrining its then priorities. I have previously welcomed the new focus of Ofcom on business broadband in its business plan for this year but some of the inputs for the DCMS-Treasury review show just how dated the focus of Ofcom had become. I do hope that those wanting to see Ofcom reinvigorated for the 21st century will use the opportunity.
Finally a quick comment on Spectrum wars. The Ofcom threat to claw back unused satellite
spectrum should be seen in the light of the Budget comments on raising the Universal Obligation from 2 to 5 mbs and using satellite to reach the final 2 – 5% of the population. Those fighting for fixed wireless or fibre to the premises for remote areas have been complaining not just of latency but of lack of capacity and contention. I am looking forward to seeing inputs on the quality of service that is available over modern satellite services. I undertand that 3% of Avanti's global capacity is used for on-line gaming: i.e. 50% more than the capacity used to service UK customers. I also undestand that a numer of mobile radio networks trunk their trffic over satellite. I therefore suspect misinformation which may annoy satellite providers but not sufficiently for them to spend time countering when they can sell all the capacity they currently have available to other parts of the world.
In short, I do urge you to read the strategy and then think how to work together locally to help build the future without waiting for GODOT nationally.
P.S. I have been asked to try to put together a group to provide guidance for parliamentary and council candidates on how they could/should support local community groups (from Parish Councils to City Corporations) to use the new opportunities to work with local businesses, property owners and potential suppliers and leapfrog the competition (whether it be in the county or on the next continent). I look forward to hearing from those interested in helping.
---
March 20, 2015 8:14 AM
.gov.uk
,
Asdpire
,
budget
,
Cabinet office
,
dwp
,
GDS
,
HMRC
,
Verify
Yesterday this blog was devoted to Jim Prideaux's take on the budget. Last night a reader pointed out the reason for the ambiguity,
The success of HMRC's record tax take this spring was critically dependent on taxpayers ignoring Verify . Moreover, one of the highlights of the budget speach was the abolition of the annual tax return. The programme to achieve this relies on rebuilding the in-house IT skills of HMRC for a post ASPIRE world. It is not based on passing roles to those in Cabinet Office who have been bogged down in the the five year struggle to bring transparency to the murky relationships between HMG and its outsourcing suppliers have resulted from two decades of "over enthusastic" outsourcing.
Should the Cabinet Office teams succeed in their efforts to deliver processes a that work reliably, efficiently and securely, they have a future. Should they not ….
Meanwhile the battle between backward-looking suppliers seeking to preserve a world of cosy, confidential, complex, lawyer-driven outsource contracts and those looking forward to a world of open-inter-operability goes on.
But taxes have to be collected and benefits paid,
That means rebuilding the in-house skills of the civil service (particualrly those of HMRC and DWP) at all levels. Hence some of Francis Maude's comments earlier this year. But should delivery skills be in Cabinet Office or should it focus on co-ordinating and quality controlling the outputs of those created elsewehere – while departments develop the ability to transition to a world of cross-cutting, co-operative incremental change. I suspect the latter, if we really do want Gov.UK to be more than "lipstick on the face of a herd of pigs".
---