---
May 30, 2008 8:38 PM
Data protection
,
FIPR
,
GCHQ
,
Google
,
Microsoft
,
privacy
,
Surveillance
At the FIPR 10th birthday I was fascinated to hear an attack on HMG plans to record all on-line communications by a well-known civil liberties activitist who makes a point of using g-mail: because it is not Microsoft. There is an increasingly surreal quality to...
May 22, 2008 7:28 AM
Successful Delivery
There have been many successful public sector systems, some very very large like the original computerisation of PAYE in the 1980s. There is much excellent guidance on how to do IT properly. But the National Plan for IT failed for very similar reasons to HISS or the DSS Operational Strategy over...
---
May 15, 2008 11:13 AM
ethics
,
Morality
,
social inclusion
Most government on-line systems are inaccessible to most of those of those they are most intended to serve - was my personla summary of the of the introductory discussions at the EU workshop on Ethics and e-Inclusion that I attended on Monday. The consequences are not only unethical, they are...
---
May 8, 2008 4:21 PM
awards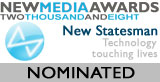 Rebecca Froley, deputy web editor for ComputerWeekly.com,...
---
May 8, 2008 8:35 AM
Successful Delivery
Earlier this year I was asked to update a presentation that I did five years ago on why all the guidance material on how to deliver complex systems to time and budget is commonly ignored. The result, edited to remove a little of the more intemperate vitriol, is now published.
---
May 1, 2008 12:42 PM
ethics
,
social inclusion
How ethical is it to try to persuade the socially-excluded and digitally naive to go on-line when you are not going to provide them with easy to use and secure access or keep the data they enter secure from predators, fraudsters or those who would use it to enforce the "honour" of the family, clan,...
---