---
June 13, 2016 3:49 PM
Apprenticeship
,
apprenticeships
,
BIS
,
Digital skills
,
European Commission
,
Pitcom
,
Trailblazer
This morning the House of Commons Science and Technology Select Committee released its report on the "Digital Skills Crisis"  This afternoon the House of Lords debated the government response  to its "Make or Break" report last year . Last week the European Commission published a proposal for a Skills Guarantee . Meanwhile BIS is ploughing ahead with byzantine routines for a return to the type of training grant and levy scheme that was  scrapped (for good reason) in 1980s.  Unfortunately though dead, the idea of grants and levies, job creation schemes for bureaucrats, will not stay buried. In 1992 I helped kill an attempt to revive it with a Bow Group Paper on the theme of "Training for jobs not just jobs for trainers".  The processes proposed by BIS to fund "approved "training organisations to deliver apprenticeships which meet criteria dictated by officials not employers, make the average European "initiative" look like a model of efficiency.
I therefore applaud the recommendations by the Select Committee that
"Government needs to work with closely with employers, higher education institutions and schools to understand the apprenticeship marketplace, to ensure that education aligns with industry's requirements, and that apprenticeships are delivered in a flexible way to adjust to future changes in the digital sector"  (Para 54)
"Government should emphasise the need for more digital skills components in all apprenticeships … " (Para 55)
"should review its Trailblazer initiative, making it more streamlined and accessible … simplifying the scheme's processes" (Para 56) and
"… make it easier for industry to partner with universities and colleges to support student teaching … work placements … allow the cost to be written off against the Apprenticeship Levy contributions" (Para 57)
I am less happy with the recommendation that  "The Government should review the qualifying requirements for the new IT roles added to the Tier 2 visa "shortage occupation list" , making it easier and more flexible for SMEs to recruit top talent from outside the EU" (Para 30).  The European Commission proposal for a "Skills Guarantee" to help adults stuck in low paid jobs is more forward looking but the Committee's recommendation is perhaps inevitable,  given the 50 years of policy failure summarised in my evidence to the House of Lords report (see pages 1057 – 70) and referred to in my blog entry, describing the need to break out of groundhog day, when that report was first published.
"The crisis is over. The patient is dead" .
We failed to use the past "crises" as a catalyst for change. Things came to a head during the run up to Y2K and the "false start" of the transition to mass-market, Internet-based on-line systems. My 2001 IT Skills Trends report was about surviving the bursting of the dotcom bubble and preparing for the skills that would be in shortest supply when recovery came – in 2005 – 6. But that recovery did not come. By 2006 demand and salaries for those jobs which could easily be moved off-shore had stagnated. Much of the software and support industry had come to be staffed by a mix of overseas systems development and imported contract labour. We were facing the consequences of our inability to retrain our existing workforce, let alone our failure to educate and train our children.  I stopped writing the reports. They had become too depressing and the only ones taking action were those who helped write them.
An Apprentice Levy without a credible, let alone efficient, Grant process
Today we have a curate's egg  wth unemployed computer science graduates in parallel with unprecedented shortages of competent and trustworthy recruits for Fintech and Security roles and another exercise to dig up the dodo of levies and grants – this time with the grants ring-fenced to meet the costs of "approved providers", officials trying to dictate the requirements that employers are allowed to have and different processes for England, Wales, Scotland and Northern Ireland. Last week I attended a briefing session for employers. Those serious about training their future employees with the skills they will need were already looking at how to bypass the system, writing off the levy as a payroll tax on those jobs they could not realistically subcontract or move out of the UK. It was, as the Commons Select Committee has pointed out, not only unfit for purpose when it comes to the needs of SMEs (Para 30), it looks unlikely to meet the evolving needs of those large firms who already train their own and/or those in their supply chains.
But markets do not stand still. The Commons Select Committee call for the annual "dynamic mapping" of initiatives against demand so as to create a long term mechanism for adjusting the strategy (Para 29) is therefore particularly welcome.
The recommendation that Government should commit "to work with the Tech Partnership to develop industry-led, vocationally focused careers advice …" (Para 43) is also most welcome, but this should be extended to cover school-leavers. We can no longer afford to peddle the immoral fantasy that the majority of our children will benefit from starting their working lives saddled with student debt after spending three years to become less employable than if they had been paid to do a graduate level apprenticeship. In 1982, in "Learning for Change" I attacked both
"the examination treadmill to which we chain our adolescent youth in a set of puberty rites crueler than those of primitive Africa, At least in Africa they do not label any of the participants as failures" and
our confusion of "education" with taxpayer subsidy for the middle class ritual of kicking the fledglings from the nest.
The many recommendations of the Select Committee with regard to computing schools in schools are worthy but the most important boring is  Paragraph 83 where it recommends working with the Tech Partnership "to raise the ambition for, and coverage of, industry led digital training, and to make it easier for business of all sizes to get involved".
The need to "break open the educational ghettos" has been a key message since  1982, when PITCOM organised for relays of school-children (from 30 schools) to man an exhibition in the Upper Waiting Room of the House of Commons (26 computer systems, up to 14 running at any one time running off three power points, at a time when Parliament had no facilities for schools visits!). That exhibition was attended by 120 MPs: one returning six times to get a group doing Economics A Level to run variations on the Treasury Economic Model – hence my long-standing support for Donald Michie's idea that MPs should be able to simulate the effect of the legislation, including amendments, which they are expected to approve.
That was over 30 years ago. It is therefore particularly sad that the same messages have to be repeated as though they are new. The reason is linked to the prevalence, evident in paragraphs 70 – 76, that teachers (whether in School, College, University or Industrial Training Centre) have to be expert in IT in order to educate their pupils/students.  If that is correct then there is no solution – other than to rely on those (in other parts of the world) who use their limited supply of skilled educators to supervise the delivery of blended learning (mix of packaged learning materials, personal contact and supervised work experience) by mixed teams of assistants and subject experts: which is what successful digital "informal learning" groups (para 70 – 77) as well as enlightened employers, have been doing since before school computing curricula or computer science degrees were invented.  Hence some of the recommendations in my own submission to the Select Committee
July 14, 2018 11:31 AM
Pornography
it is now a year since the Digital Economy Act required age checking for pornography web sites . A growing number of providers (from Age Checked  through Call Credit  to Yoti ) offer the services necessary to help improve child safety. Many of them offer secure anonymity in line with PAS 1296  (why do most ISPs or on-line website/retailers need to know any more than that you are over or under a given age?). But the law requiring websites and ISPs to use reputable age checking services has not yet been implemented. This appears to be because a determined rearguard action by the Open Rights Group  has spooked officials and regulators.
Now we have evidence as to the scale of ongoing suffering caused by the delay.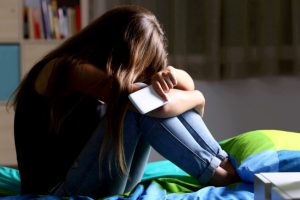 The London Grid for Learning  which provides secure on-line connectivity for around 10% of UK schools has published an analysis of 40,000 responses to a survey of children's views. Perhaps the most startling headline is that 1 in 10 of those who video chat with strangers have been asked to change or undress on camera.
Overall there is a shift in risk from contact-based to content-based with:
• Sexting and child sexual exploitation via live streaming flagged as a major issue by children and young people
• A marked growth in mental health issues, especially self-harm and distress caused by sharing of sexual and violent videos
• A greater prevalence of violent or sexual content – whether sending or receiving, volunteered or coerced
• Conduct – the third C of the 3Cs of online safety (content, contact and conduct) – remaining as challenging as ever and shaping all aspects of online safety.
The report focussed on six main topics including: video chatting and live streaming; experiences on apps, sites and games; contact risk – making friends and meeting people online; seeing, sending and receiving content; pornography; online friendships, bullying and mental health.
The report also flagged the elements of the online world pupils enjoyed, including the opportunity to learn new skills, build relationships and broaden their horizons.
Key findings included:
Video chatting and live streaming
• Nearly one in ten children who video chat with people they haven't met have been asked to change or undress on camera
• Youngest pupils (aged 7 – 8) were just as likely to be asked to get undressed as students in the first four years of secondary school
• One in eight pupils said they had video chatted with someone they had not met in person.
Experiences on apps, sites and games
• 3.5% said that the apps helped them feel good about their body
• Over 50% of pupils wanted privacy settings to be made better, easier and clearer
• 18% of children said their online activities helped them make new friends
• Nearly 1 in 3 pupils say it's hard to stop using apps, sites and games
Contact risk – making friends and meeting people online
• One in three young people have made new friends online (who they did not know previously)
• Boys are more than twice as likely as girls to chat to people they have never met face-to-face or go on to talk to new gaming friends on other sites or messaging apps
• Half of those who chat to people they met on games went on to talk to them on other platforms
• One in ten 7-16 year olds have made friends with an adult online for the first time
• Of those who met an online friend in person 81% took or told somebody else.
Seeing, sending and receiving content
• 22.4% of pupils had seen violent images/videos online
• 12.8% of these had received these from a young person and 6.2% from an adult
• Boys were a quarter more likely than girls to see this material
• 41% of 15-16 year-olds have seen violent images or videos online
• 9% of those surveyed had received a naked or semi-naked image from another young person
• 15.1% of secondary students had received a sexual message; 5.4% from an adult
• 5.1% of secondary students said they had sent a sexual message themselves; 1.8% to an adult.
Pornography
• 14.5% of secondary pupils admitted to having seen pornography online
• This began from 5.3% in the first year of secondary school, doubling to 10.8% of 12-13 year olds, 18.1% of 13-14 year olds, 24.2% of 14-15 year olds and 31.9% of 15-16 year olds.
Online friendships, bullying and mental health
• 1 in 4 pupils report being bullied online
• 1 in 13 pupils admitted to bullying others online
• 1 in 3 pupils has witnessed bullying online
• Almost 1 in 6 pupils have seen something that encourages self-harm.
Commenting on the survey Mark Bentley, Online Safety and Safeguarding Manager at LGfL DigiSafe  said, "The danger of meeting strangers online is often treated as the main online safety concern. This report however, shows that today violent or sexual content has become far more prevalent. We are concerned by the mental health concerns raised by the survey, particularly regarding self-harm.
"It is however encouraging to see that so many pupils consider the internet a force for good. Comments on the things pupils love about their online lives included learning new skills, broadening their horizons and building strong relationships. Another huge positive is the fact that 73% of pupils said they trust parents on online safety with 71.2% of pupils who spoke to someone telling a parent or carer and 36.1% telling a teacher about negative experiences."
John Jackson, CEO at LGfL concluded, "LGfL's ground breaking survey underlines our commitment to protecting children and equipping teachers with the knowledge and tools to help pupils in their care. The dangers of the internet are real and serious. However, so are the many opportunities – it's important we prepare young people to navigate the worst and thrive on the best of the online world.
"It's incredibly important that we all harness the findings from the survey to drive positive change and a much better understanding of how technology, particularly social media, is impacting children.
"It is encouraging to see government getting behind these calls for change with papers such as the Internet Safety Strategy. It's crucial that technology companies embrace these policies and put safety first when it comes to new developments."
The full LGfL DigiSafe Hopes and Streams report on the 2018 Pupil Online-Safety Survey is available on the LGfL website at pupilsurvey.lgfl.net
The full range of LGfl support material on online safety and safeguarding including teaching and classroom resources is at saferesources.lgfl.net
My personal view is simple.
Of course no technologies are perfect and of course some adolescents will find their way round any obstacles placed in their way (on-line or off-line) but the time has come for balanced debate, based on evidence not allegation. It is time for those suppliers who believe that the Internet should be a safe place for the whole of society to step up to their responsibilities. Those who believe that new technologies, such as AI, offer new solutions should be aware that some of these are already in use, both to exploit and to protect children. The response of the CEO of Barnardo's to the DCMS call to the Tech Giants to also step up to the plate is apposite. Once again we need open and honest debate, not obfuscation and claims that these are technical matters, too difficult for anyone other than the "experts" to understand.
---
July 9, 2018 12:06 PM
5G
,
IET
,
iot
,
Planning
IET to address the 5G/IoT Confusopoly
A major obstacle to planning today for the world of tomorrow is the confusopoly of current and potential operating systems and standards and the lack of information as to which products and services are intended to be capable of rapidly, accurately and securely with which, let alone whether they actually do so. ARM, for example, is monitoring the work of over 120 standards bodies around the world. How can those buying "smart" products and services today short list those intended to be capable of communicating with those from their rivals, not just their partners, in the smart car, building, high street or hospital, let alone City, of tomorrow.
I was, therefore, delighted to learn IET is about to announce plans to organise neutral guidance for those who have to make infrastructure and network planning and procurement decisions now, with which they will have to live over the next couple of decades as the world goes smart. The programme manager has already begun assembling a SharePoint site of existing material and sources of information. The launch is expected to include an initial sponsorship/partnership package of £5 – 25,000 depending on whether the organisation expects to be a "participant" or a "lead player" (helping to grow and drive the exercise forward). Either way, the intention is that happy initial sponsors/partners will then turn their initial contributions into operational subscriptions for ongoing shared services to meet information the needs of themselves and their customers/clients/partners.
Those who want to be lead players in the creation of what will hopefully grow into a global information service should contact Andrew Syddell  who is currently drafting the "call to arms": alias an advance notice to IET members who have, in the past, co-sponsored the production of reports or creation of new services. I doubt that IET has had any exercise that is so potentially transformative in its national and/or international impact since the original creation of INSPEC  . It is therefore good to know that they plan to follow the "rules" of the Internet Age – think big but start small and be ready to scale fast on success.
Why is IET the ideal home for such an exercise?
The UK and IET are neutral between the 5G/IoT power blocks: American, Chinese, European, Japanese and Korean as well as between governments, regulators, academic and research institutes, technology developers and vendors, network builders and operators, customers and consultants.
What will make the exercise succeed?
A critical mass of current and would-be suppliers and consultancies who see public support for such as exercise as central to their marketing strategies as well as an invaluable tool for their own in-house product and service development and integration teams and for the innovative SMEs in their supply and distribution chains.
What is the biggest threat to success?
HMG and/EU (and/or their standards bodies or regulators) trying to "adopt", "support" and/or help "plan" the exercise – as opposed to sponsoring/subscribing, alongside suppliers, consultancies and overseas governments and regulators, while allowing it to evolve in line with the needs of those who pay, whether up-front or via access fees (full or explicitly subsidised under government programmes.
The scale and nature of the Challenge/Opportunity
We can already see what the smart world of the future will look like with products  and apps  which stalk us  and our children  and enable our cars to cheat emissions controls and be tracked and/or hijacked . Those who think in fifteen to fifty year planning cycles from the managers of Canary Wharf  to the Grosvenor Estates  have already started to install open access infrastructures to enable incremental change. But we also have technology suppliers who expect to be able to automatically update the operating systems and security or applications software  in our computers, phones or device control systems on monthly, or even weekly cycles as well as, in the event of serious compromise, at no notice.
HMG  is supporting 5G trials and testbeds and 20 UK communities are included in the Huaewi its Smart Cities index but has yet to help the local authorities involved to adopt planning regulations akin to those in Spain and Portugal which mandated future-ready ducting and wiring standards to enable open connectivity. Those authorities which try to do so, like Ashford have been actively resisted by the British Homebuilders Federation . However Ashford fought back (see page 7 onwards, including the report from Analysis Mason justifying the policy). Three of the relevant appeals were withdrawn and the Ashford plan now appears to be on track for approval subject to some minor changes.
.
It is now over a year since the Interim Report of the Future Communications Challenge Group  indicated the scale of the challenge the UK faces if it wants to be a leader, not a laggard in the world of tomorrow. Since then the rest of the world has moved on. It is powering ahead with practical preparation and implementation. Meanwhile the UK has pilots and test beds and a growing number of "guides" and "white papers" designed to attract strategic consultancy business for the authors, as opposed to helping organisations under increasing financial pressure to plan incremental change on positive cash flow – with savings today funding further savings tomorrow – while building on the willingness of pension funds to provide low cost fiancé for low risk utility infrastructure investments.
Start small with an obvious need and a scalable proof of concept
Last year the IET  identified the need to provide practitioner guidance to help ensure that the "smart" procurements being made today by Local Authorities to improve service while reducing cost (e.g. installing new generation street lighting to save energy or environmental and safety monitoring, control and response systems in sheltered housing) open up opportunities for low cost future inter-operability and do not lock them into dead-end proprietary operating systems and architectures. Given that local authority budgets are likely to be even tighter in the smart world of tomorrow, because of the need to support an ageing population in an increasingly IT dependent, joined-up, networked health and welfare systems, the sooner such guidance is available the better.
Those wanting the property industry bring forward its investments in smart buildings, shopping malls, business parks etc. have a similar interest in giving them confidence that they can install future-ready ducting, accommodation and open access networks today that will not need expensive overhaul inside the decade. And the best way of persuading the Luddites in the British Homebuilders Federation to build future ready properties is to give them simple guidance on how to do so – combined with evidence that it will make their members more money when linked to schemes, like the connectivity traffic lights being worked on by INCA or the more sophisticated performance certificates (akin to an energy efficiency certificate, being tested by Hyperoptic, to enable purchasers to know what they will be getting.
Last week I was delighted to learn that the IET publications committee approved what looks like a strategy to build on what is already available around the world to create not just a report but an independent portal into the knowledge that will be needed by professional planners, buyers and developers (product, service and property) and their advisors (electronic, civil and mechanical engineers, architects, surveyors etc.).
Success will depend on the response of the IET's target partners and sponsors but the programme manager planning the exercise has already begun building a sharepoint body of relevant knowledge, including sources of information, to help inform the practitioner workshops that will be used to distil good practice. Access to that body of knowledge and the ability to use it to focus and promote their own areas of expertise is of immediate commercial value.
I should perhaps add that the programme manager used a similar approach to help me turn round the NCC Microsystems Centre (the heart of the awareness programmes of the early 1980s) into a shared library, information services and test centre within walking distance of the Central London heart of the main pre-internet age UK software, services and consultancy complex. The subscribers rarely visited but they all subscribed to the monthly updated "Directories on Disc" which indexed the hardware, software and training products, services and suppliers of the day. He also set up our processes for testing whether products and services di what they claimed. His subsequent career zig zagged across helping large organisations to put in systems to manage massively complex technical documentation with front ends that senior management could understand. He is the ideal man to develop a system to make sense of a confusopoly of technical standards and accreditation and testing processes and results.
Why have those looking at UK Industrial Strategy not previously spotted the point of leverage?
Why such an exercise has not yet happened already – given the amount DCMS and BEIS spend on support for pilots and innovation as part of a supposedly targeted industrial strategy?
The answer is that the way Government encourages Universities, Institutes. Local Government and other to compete for funding, with "challenges" gets in the way of co-operation in the common good. I first came to appreciate the pernicious side effects of the "challenge" mentality in the 1980s, when the Training and Enterprise Councils (the LEP equivalents of the day) were persuaded to, collectively, spend more in bidding for "challenge" funding than the amount on offer. Already, as an advisor to the High Tech Unit of Barclays Bank, I had been asked to help the Bank identify applications to the software innovation schemes administer by the National Computing Centre who had been failed for lack of originality and/or additionality. The penny then dropped. I have never since spent effort supported any bid for "challenge funding". "Challenges" are a job creation scheme for officials and consultants. Collectively they destroy more initiative and enthusiasm than they harness. But demonstrable waste of money is not enough to kill off accepted Whitehall wisdom. It takes political ridicule, collective boycott and/or a National Audit Office investigation followed by a Public Accounts Committee report
The support for a neutral "indexing" service, akin to INSPEC  is linked to the fear that HMG would put the organisation out to tender between commercial or academic rivals. Hence the suggestion that IET should take the initiative and "allow" Government to provide funding for access via LEPs, Innovation Centres etc. but not to get in the way of the evolution of a collectively funded, shared information services, which meets the collective needs of those providing core funding and/or willing to pay for access.
The global positioning at the heart of a credible UK Industrial Strategy
When it comes to looking at industrial strategy we need to take a cool look at the remaining strengths of the UK, particularly our position as an attractive host for activities which bridge the global rivalries between standards and accreditation bodies (ARM is monitoring the work of over 120) and between American, Chinese, European, Japanese and Korean research, development and production consortia. These give us the opportunity to be the neutral host/base for products and services which enable secure inter-operability between those produced by rival camps.
When the need for such a service was first identified, by some of those who produced the FCCG report,  I thought this could be a natural role for the National Physical Laboratory – including hosting the provision of low cost access for innovative UK SMEs to standards activities and data on which products and service modules had been tested/audited, by whom, against which standards. I now realise that it is improbable that any Government body would be allowed the flexibility necessary to allow the services needed to evolve and grow. I therefore came to the reluctant conclusions that, instead, NPL, the Catapults, the LEPs and other publicly funded services should have explicit budgets to pay for their target audiences to have access to reputable, neutral third party services.
Hence my original support for a workshop last year to help the IET to seek sponsorship on the scale necessary to produce robust, meaningful and independent practitioner guidance. It was then agreed that this might best be achieved by engaging sponsors via sector/market/problem specific practitioner workshops to distil current good practice into draft guidance that could be used by those who will have to make planning and procurement decisions before the final versions are agreed and published. This would also enable all participants to see results over time, without waiting a year or 18 months – by which time many decisions will have had to be taken
The intention was that workshops should be funded by suppliers who want publicity for examples of good practice using their products and services (including the architectures and standards they have adopted or are promoting). The success of the workshops should be used to encourage other suppliers to join and also help support/sponsor the creation of information services which cover the success or otherwise of the many pilots being planning around the world and also provide access to audits of which versions of which products and services adhere to which standards.
I suggested we target those who would not blink when asked to budget £50 – 250,000 from their marketing budgets, to be drawn down as opportunities emerge. In fact, the IET will almost certainly be launching a more modest, much lower risk "Phase 1", at 10% of the cost/risk, to meet the needs of those having to commit investments in smart infrastructures this year and next. But I am delighted that the intention is for the guidance to "front-end" an information database that is designed to be capable of evolving, incrementally, into a much more ambitious scalable service.
---
June 26, 2018 10:24 AM
Apprenticeship
,
Communications
,
Digital infrastructure
Capital investment in UK broadband infrastructure has quadrupled over the past two years, albeit it has not yet recovered to the level before local loop unbundling. This has revealed severe shortages in the supply of the skills to construct and/or upgrade networks. The problem will get worse as investment in ubiquitous, local, mixed, full fibre and wireless mesh infrastructures, to support smart buildings, business parks, cities and countryside, takes-off. The rest of the world, including Europe, has the same problem as they too acclerate their investment in the future. This is would not be a problem that can be solved by importing supposedly skilled staff, regardless of immigration policy.
The solutions are simple.
Most of the skills in short supply can be acquired and assessed within days or weeks provided employers and those in their supply chains come together to agree standards and organise co-operation to meet common needs.
But who is organising the necessary skills partnerships: from setting standards, through delivering training and supervising work experience to assessing and accrediting competance?
On 18th June I was asked to introduce discussion on skills issues at the quarterly meeting of the UK Fibre Connectivity Forum after their meeting in the House of Lords  (for which they had to whittle 500 applicants down to 200 to make room for the MPs and Peers). The UKFCF brings the supply chain of cable and equipment suppliers and construction companies alongside those building and operating networks to lobby for investment in a full fibre and 5G future. Unlike other groups it is not concerned to protect the past from the future.
My contribution (paraphrased below) followed a presentation on the current state of the Local Full Fibre Network programme. It was, in turn, followed by speakers on the current state of the UK market for investment in full fibre and 5G as part of the critical national infrastructure of the future. In the course of the following discussion I learned that DDCMS and almost all players in this space (large and small) are agreed on the scale of the problem and the urgency of the need for action. But agreement does not mean action will happen. That is up to YOU.
My main points were:
1) The incumbents now trying to rebuild their in-house teams are now training enough to meet their own needs. They are therefore competing with new entrants for an already inadequate pool of experienced and competent contractors.
The success of City Fibre (now co-owned by the infrastructure arm of JP Morgan), Gigaclear (now 80% owned by the infrastructure arm of the Prudential with the other 20% held by British Rail) and Hyperoptic (backed by George Soros) means there is no shortage of expansion capital (debt or equity) for those who have shown they can run a viable business serving a thousand of so customers. There are more funds chasing investment opportunities than there are local authorities with the joined up policies and processes for access and wayleaves, building regulations and planning permission necessary to create those opportunities.
Add in the investment plans of BT, Arqiva, Gamma, O2, Virgin, Vodaphone, WIG, Zayo and others, let alone those of the property companies who are looking to build their own infrastructures to enable multi-operator access (the VX model) and we face a massive short terms skills problem. But it is not a bubble. It is the foothills of a ten year boom to create the ubiquitous critical infrastructure utility connectivity of the smart society.
2) The pace of change has outstripped the ability of current UK public sector funding, accreditation, regulation and delivery structures to respond.
In my recent blog, on the Education Select Committee enquiry into the challenges of the Fourth Industrial Revolution, I referred to the accelerating pace of change "no current curriculum can prepare young people for the future. Education has to focus on basic disciplines and the willingness and ability to learn new content and skills as and when needed."
But there is good news:
The growing use of on-line packaged materials, not just for content delivery and practice but for course planning and performance assessment has transformed industries' ability to identify raw talent and turn it into competent, revenue earning technicians or professionals within weeks or months, not years.
This has changed the balance of economic and social value between full time degrees and modular graduate level training programmes (including, but not just, apprenticeships). A talented teenager on a well-structured blended learning programme (mixing supervised, experiential on-the-job learning with off-the-job contextual/academic modules) can soon do sufficient productive work to cover most, if not all, of their ongoing training costs and salary.
I will not list all the obstacles in the way of harnessing the technology to turn talent into competance, including by cross-training the existing workforce, but these began with:
• confusion over what is good practice (at almost every level)
• consultation and planning overload
3) The problems, (of relevance, quality and quantity), are at their most urgent and acute with regard to the construction of full fibre and wireless networks – but these are only the beginning.
The UKFCF asked me to address the problem of apprenticeship standards, without which it is no possible for employers to offset their training spend against their levy charges. Apprenticeships vary, in level, quality and content, even more than degrees. But a discussion of standards only makes sense in context. I therefore began with numbers before addressing quality, relevance and the interplay with regulatory politics. But delivery is everything – especially in a time of accelerating change. That leads to the need to work together on creation of skills pipelines, from schools, through apprenticeships to workforce updating, to meet demands that will evolve and grow as smart communities increasingly depend on high reliability, resilient, secure and inter-operable utility infrastructures, both fibre and 5G.
4) We need to unpack the demand for Digital Infrastructure Skills by nature and by volume:
• Deep Skills/R&D – where demand is only in hundreds and is limited mainly by willingness to pay for courses/modules.
• Professionals – where demand is may be in thousands but is mostly for skillsets which experienced technicians can acquire rapidly.
• Technicians – the area where failure to act on shortages will indeed constrain growth. With curent supply negligble compared to demand in tens of thousands, but mostly for skillsets which can be acquired/assessed within days/weeks given flexible/modular programmes and/or skills incubators
• Applications technicians – where long term demand is millions: from plumbers/electricians installing "smart" networked systems to catering staff and careworkers maintaining and using them
Deep skills are needed by a relatively small number of suppliers and consultancies who want post graduate level skills but are reluctant to commit the time and money to develop them. Much of the current demand for graduate professionals is really for the technician level skills that have been neglected over recent decades. But by far the biggest demand will be for application technicians, from those installing smart systems along high streets or in shopping malls, commercial centres and business parks, to digitally competent plumbers and electricians installing home systems amd careworkers looking after the growing numbers of elderly dependent on such systems.
The technician level is that with the most immediate problems in demand and supply, crossing the boundaries of current telecoms, construction and customer service apprenticeship standards. But most of the technical skills in demand can be acquired within days or weeks using packaged materials available from technology, product and service suppliers. The issue is to organise supervised work experience and the assessment of competance, when and where needed, within programmes that enable employers to reclaim against the apprenticeship levy.
5) We have to address the processes for accrediting quality, relevance and funding
At the heart of the problem of addressing the quality and relevance of standards lies the decision taken last year, (apparently by officials while ministers were pre-occupied with a snap general election), that the new Institute for Apprenticeships would deal direct with employers, cutting out the Sector Skills Councils, created in 2002 to streamline consultation with employers but never allowed to replace the confusopoly of duplicated funding agency and academic channels.
Nothing has yet taken the place of the Sector Skills Councils although some have been turned by their active participants into employer funded operations to collectively handle their inputs. In the case of Digital, the Tech Partnership operations handling the accreditation of the ITMB (and other degrees) are being spun out and extended to handle degree level apprenticeships .  It is, however, unclear what is happening with regard to those at Level 3 and 4 – where the demand is very much greater.
• Standards (including but not just for apprenticeships) see IFA Website for details
o Digital Solutions Professional – L6
o Network Engineer – L4
o Unified Communications Technician – L3
o Infrastructure Technician – L3
o Network cable Installer – L3
o Digital Applications Technician – L3
o Building & Highways – L2, 3, 4
• Delivery (including shared skills incubators) see IFA website for currently approved
• Accreditation: (trainers, suppliers) processes being tested by Ofsted with large employers (e.g. IBM)
• Certification (individuals): serious mismatches between those recognised by employers and those recognised by funding agencies
• Registration (individuals competent to …) c.f. CNI Utilities, Aircraft maintenance, Medicine
UK-centric standards built on the skills maintain/extend the legacy networks of BT and Virgin and/or other computer networks are of limited value for a world in which standards, including for full fibre and 5G, are set globally. There are many relevant short courses and certifications from the academies of suppliers like CISCO, Huawei, IBM and Microsoft. But the number of UK Colleges and Universities offering these dropped sharply after the accreditation costs were effectively excluded from public funding.
Then came the Trailblazer Apprenticeship Standards which the Institute for Apprenticeships is due to start reviewing. The number of training providers offering to help employers use them is low and current throughput is almost negligible, although BT has announced plans to train and/or retrain a several thousand. Meanwhile Amazon Web Services and its commercial training partners (like QA) are now training thousands each year in the secure use of cloud-based services (for which there are no apparent apprentice standards). AWS has joined those who global players who recognise that their local markets (of which the UK is but one) are constrained by the skills of their customers and run "Academies" and "Garages" accordingly.
BT and Royal Signals have been involved with many of Digital apprenticeship standards produced to date. But it is unclear how many of these can be used to cover the skills for modern public utility open communications infrastructure as opposed to networked computer systems. For example, I am told that the "Unified Communications Technician" apprenticeship standard, advertised as suitable for telecoms technicians, does not yet cover the skills needed for broadband access or mobile networks. It is also unclear whether such skills are covered in the standard for Network Engineer. Meanwhile the Network Cable Installer standard has yet to be agreed.
When it comes to the civil engineering side of network construction, a number of Construction industry standards seem relevant for those concerned with wiring up smart buildings and highways but they were not drafted with this in mind and responsibility for maintaining and implementing the standards appears fragmented with little or no apparent co-ordination.
Will this area be addressed and/or co-ordinated as part of the new Construction Industry Training Board skills programme ?
Which digital infrastructure employers are working to ensure that their civil engineering contractors participate and/or benefit?
Logical Conclusion
Those who wish to offset the cost of training employees (or those in their supply chains) building, installing or maintaining the fibre and wireless networks of the future against the apprenticeship levy need to get engaged with those who are working on the standards that will enable them to do so. But the uncertainty over the future of the Tech Partnership makes it difficult to work out how to do so. Hence the reason I was invited to present to the UKFCF.  Meanwhile the task of the officials in the Institute for Apprenticeships and Ofsted (responsible for accrediting providers) will become easier if, instead of complaining, the malcontents can support consortia of those who understand how to specify and maintain standards, particularly those who are also involved with UK inputs to global bodies, to help fill the gap as necessary.
Fibre and wireless networks are part of the UK critical national utility infrastructure in all but regulatory status.  We will therefore need to accredit and certificate the competence of employees and contractors, including to obtain professional indemnity insurance for the damage they could do to other networks sharing the same duct, mast or utility room. Most critical networks, connecting data centres or hospitals or supporting power networks, now run across infrastructures built, maintained and/or owned by multiple operators. BT may remain the largest UK employer of telecoms apprentices for some years and is talking about opening its training facilities to others, but the future is a structure of regulated, utility partnerships, not a BT or Openreach maintenance monopoly.
That means partnership in setting standards, accrediting suppliers and certificating the ongoing competence of individuals – as with other utilities and industries – from power supply to aerospace. The initial apprenticeship is not enough. Are the individuals keeping up to date as technologies and applications change.
We need to build Digital Infrastructure Skills partnerships to:
• Agree and maintain Standards
• Share and accredit evolving delivery
• Certificate and Register evolving competance
• Create pipelines to handle accelerating change
So who is willing to work with who, via which channels to achieve what?
(BCS, Creativeskillset, DPA, IET, INCA, SDEMTA, Tech Partnership, Tech UK, UKCFC …) 
The immediate task is to help those already working on the existing standards to agree processes for assembling a much wider variety of modules (standards, content and assessment) into more flexible skills development programmes (alias apprenticeships) which run for at least a year from start of programme to final competence assessment. That timescale is to enable the levy to be reclaimed, even though the apprentice may be fully productive in their current role from within days or weeks of starting. It enable use of an apprentice training contracts to recover other employer funded training costs from those who leave early (Strathclyde Regional Council v Neal is the relevant test case)
The pace of change is, however, such that the actual (as opposed to theoretical generic) competences required may change within the year. Hence the importance of the processes for maintaining standards, including for product and service accreditations. This also means that the first apprenticeship is but one step on a ladder with a need to also certificate ongoing competence. More-over an accreditation worth having is also worth falsifying – hence the need for robust registration and audit trails.
In parallel there is a need to work together to ensure that the Ofsted processes for accrediting training providers are compatible with those used for reputable in-house or vendor "academies" and/or industry accredited Colleges, Universities and commercial providers. This has added importance when it comes to using shared skills incubators to deliver supervised work experience on behalf of those unable to do so themselves.
Work on the creation of registers of certificated technicians, whether by trade associations like FCS or professional bodies like IET may be less urgent but will soon become  equally important. We are on a treadmill of accelerating change. Short term actions should be designed to also facilitate the creation of partnerships and pipelines to attract the talent and develop the skills for the future.
Successful partnerships are, however, driven by coalitions of the willing.
Hence the core question is – "who is willing to work with who, to achieve what?" beginning by working with and through those, like the Tech Partnership, who are already working with the Institute for Apprenticeships to tackle the gaps in current standards and ensure the processes necessary to update these in line with evolving needs.
But we also need to consider how to organise and fund a massive increase in thoughput.
Several members of the Digital Policy Alliance were in the audience and discussed with the UKFCF team the need is for a round table of those who will bring budgets and resources to the table, not just bids to spend other people's money. There were also some very interesting ideas on how to transform the numbers and quality of technician level training including, for example, expanding the relevant military training programmes with civilian intakes, instead of waiting to recruit time-expired servicemen.
Please let me know if you would be interested in being invited in a follow up discussion on how to work together to the problems into opportunities.
---
May 31, 2018 4:21 PM
Skills
The Education Select Committee of the House of Commons has invited evidence for an enquiry into the challenges posed and opportunities presented by the Fourth Industrial Revolution: "Characterised by the emergence of a range of new technologies including artificial intelligence, robotics and the internet of things. The changes are likely to have a major impact on both productivity and the labour market, with low and medium skilled jobs most at risk."
Back in 1982, when my personal reputation as a futurologist was riding high, with the implementation of the micros in schools programme that I had sold to both Conservative and Labour parties during the run-up to the 1979 election, the late Donald Michie set me a challenge similar to that posed by the Select Committee. He had been invited to organise the annual Sperry seminar for the UK Technical Press on "The Next Ten Years" with speakers on artificial intelligence, expert systems and the future of work, education and medicine on education and skills. My presentation was on "Training for Multi-Careers Lives". I recently retrieved the original text and put it on-line when the topic again became fashionable.
Much has changed since 1982, although much has not. Those who attacked my analysis because it undermined all they held dear (from "the examination treadmill" to the "PhD rat race") have successfully resisted change to Government academic funding and accreditation structures and priorities until now. But the treadmill is rotten (with model answers available over the Internet almost as soon as they have been agreed for issue to moderators) and global intellectual piracy (alias "the free interchange of knowledge for the benefit of all") makes it much harder to assess the abilities of the rats. Governments and select committees and others have organised many studies and consultations into skills gaps and/or the skills of the future over the decades since.  Most summarise the mixes of platitudes, generalisations and minutiae on which the main interest groups can agree. I therefore encourage those interest to reply individually, not just via the interest groups to which they belong.
None of the groups with which I am linked are to be blamed for my thoughts below on the topics on which the Committee has invited submissions – although I have stolen some of the better material (i.e. that which I agreed with then and still do so today) from many of them.
1) The interaction between the Government's industrial, skills and digital strategies
I referred in my most recent blog  to my experiences with the only one of the 1970 Industrial Strategy exercises to deliver its objectives. Central to that success was the recognition that "The Way Ahead" was constrained by the ability to recruit, retrain and/or relocate the skills needed. Later, as a Corporate Planner for the Wellcome Foundation (later sold by the Wellcome Trust to GSK), I saw how a global player decided where to base R&D and production (as opposed to marketing and packaging) operations and how central and local governments competed to attract us.
The key factors for inclusion on our short lists were:
• Reliable access to reliable global telecommunications – to enable informed/accurate response to an outbreak of disease or a quality problem, anywhere in the world, inside 48 hours.
• Rapid physical access to an efficient hub airport – to carry product or people to/from anywhere in the world inside 24/48 hours as part of an emergency response.
• Were key staff (scientists, technicians etc.) willing to move there – mix of life style, schooling, housing, health service, law and order and personal taxation.
• The quality of the local workforce – attitude, education, skills.
One of my tasks at Wellcome was to help get more reliable global data communications (including via multiple routes which did not pass through the same UK exchanges). Hence the willingness of my Director to allow me to spend time on Telecoms Liberalisation and Privatisation before and after the 1979 election. That helped lead to my subsequent career with the National Computing Centre (no relation to later reincarnations), the Parliamentary IT Committee (now PICTFOR) and EURIM (now the Digital Policy Alliance), looking at ICT policy from the perspective of corporate users and those who had to make the technology work in practice (the victims). That often put me at odds with the suppliers, academics and enthusiasts who wanted us to spend more (time and money) in using it – whether or not it was cost effective or fit for purpose.
The local availability of reliable, resilient full fibre access to multiple backhaul networks is still the main constraint on attracting the businesses the future to most parts of the UK. The "Industrial Strategy" should include using a mix of Janet/JISC (the UK national IPV6 ready network connecting University super-computer centres) and the Grids for Learning (who provide secure internet connections to most schools, peered via Janet) to help pull through investment in both the backhaul and the local access networks. They are part of the critical national infrastructure (including for health and welfare) . They are crucial to economic survival, not just competitiveness. They also underpin put ability to give the skills of the future to our current and future workforce.
That approach enables the use of reliable cloud-based educational products and services to transform local access (from school, college, workplace, bedroom or community centre) to world class education and training. This is currently constrained in the UK by the risk that an obsolete mixed (copper, aluminium and fibre) network may go down – leaving classrooms in chaos.
Meanwhile there is also a much better case for supporting local airports, from Plymouth to Newcastle and Manston to Manchester in preference to further distorting the UK economy with taxpayer support for either Heathrow or  HS2.
2) The suitability of the current curriculum to prepare young people for the Fourth Industrial Revolution
Thirty five years ago I argued that the pace of change was such that no "current curriculum" would prepare young people for the future. Education had to focus on basic disciplines and the willingness and ability to learn new content and skills as and when needed. Coding is one of those disciplines -as a mental discipline and training in pure and applied logic. Linked to basic robotics (whether computer controlled Meccano/Lego or squadrons of robot tanks battling it out on the classroom floor) it is also great at engaging the hearts and minds of the non-academic and can be used to foster social inter-action and skills between those of very different attitudes, aptitudes and abilities (including physical).
In 1997 in "Reskilling Europe for the Information Society" a working group of employers, professional bodies and trade associations summarised the curriculum problem thus:
"The increasing rate of change is such that the "half life" of IT skills is down to little more than two years. But the time taken to approve new technical degree courses or qualifications in most parts of Europe is at least three years …
Education and training decision processes must distinguish between:
• fundamental skills, where demand changes slowly (such as literacy, numeracy, languages and academic/professional disciplines);
• vocational skills, where curricula may need to change at 12 18 months notice (for example demand for new mixes of technology, business and language skills); and
• product or technology skills, where courses may need to be developed, piloted and packaged for mass roll out within 2 – 3 months ( for example, when a new operating system like Windows 95 or NT rapidly captures a mass market).
. . .
Basic literacy, numeracy and learning skills are essential, but national curricula are commonly too narrow to ensure students are well prepared to compete for employment in global markets. … Competing international networks might … be more effective … Thus a Montessori network serving schools from Sienna to Stornoway might give better service to Salen (a small village on the Isle of Mull) than a Strathclyde network based on Glasgow.
…
There is a …need … to streamline the means of agreeing … objectives …
The problem is apparent if one takes a specific area and asks:
• what should be the outputs from schools/colleges?
• what are the processes for achieving those outputs?
• what skills/resources do the teachers or lecturers need?
• how will the teachers/lecturers acquire those skills/materials?
• what is the timescale from start of debate on objectives to start of delivery?
Many skills needed in telecoms, broadcasting, networking and multimedia production are not even acreditable under current processes …. competition is likely to provide better answers than central planning.
We cannot afford the delay if programmes for the emergent skills were to be based on yet another layer of professional/academic co ordinating bodies."
3) The impact of the Fourth Industrial Revolution on the delivery of teaching and learning in schools and colleges
The growing use of on-line packaged materials, not just for content delivery and practice but for course planning and performance assessment has transformed industries ability to identify raw talent and turn it into competent, revenue earning technicians or professionals within weeks or months, not years. This has changed the balance of economic and social value between full time degrees and modular graduate level training programmes (including, but not just, apprenticeships) . A talented teenager on a well-structured blended learning programme (mixing supervised, experiential on-the-job learning with off-the-job contextual/academic modules) can soon do sufficient productive work to cover most, if not all, of their ongoing training costs and salary. By the time they are 21 they may, in some industries such as banking, be managing graduate trainees with over £50,000 of debt and who will never bridge the seniority, let alone earnings, gap.
Large technology employers and well-known Universities can see the consequences. The balance of effort on talent acquisition and development is beginning to change from graduate recruitment and a merry-go-round of job-hopping to in-house staff development, whether or not linked to apprenticeships, training contracts and other forms of staff retention. They are therefore working together to repackage the best of existing processes as graduate level apprenticeship so that the employers can reclaim their levy, jointly accrediting universities for residential modules. Some are also working with schools and colleges adjacent to their main locations to organise "feeder" apprenticeships for technician level skills and to meet the needs of SME in their supply chain.
The growing volume of STEM and other educational available to schools on line, including to plan courses against the national curriculum, is beginning to transform delivery but most teachers are still unaware of the support already available , let alone the volume of content "curated" by panels of teachers and pupils for secure distribution and support over the Grids for Learning and their partners/suppliers , let alone that available globally (albeit less securely) from their other sources over the Internet.
Meanwhile those planning new courses and curricula appear unaware how material already available over the Grids can be used to remove much of the workload involved in planning delivery and assessment. Looking ahead AI-based packages are already being used by industry used for "one size fits one" delivery and assessment (bypassing the problem of model answers being downloaded and shared). We will soon see similarly techniques on offer to schools around the world.
The biggest obstacles to change in the UK include:
• confusion over what is good practice (at almost every level)
• consultation and planning overload – too many education and training providers (from government agencies, through colleges and universities) asking employers similarly unanswerable questions and making unreasonable expectations of schools, teachers and parents
• lack of information on what is known to work (and any pre-conditions for success)
• lack of information on who is doing what/how (and on opportunities to copy and/or co-operate)
• lack of effective communications channels between employers, schools, parents and pupils (for example there is no UCAS equivalent for apprenticeship programmes and the Careers and Enterprise Company is being expected to help the LEPs fill a long-standing (since 1992 when the Department for Education and Science became the Department for Education and no-one picked up support for  careers advice) the gap at the same time as supporting short term activities.
4) The role of lifelong learning in re-skilling the current workforce
In 1982, when "Training for multi-career lives" was edited into "Learning for Change" (the second best-selling Bow Group paper of all time), I said that "a single career change may not be enough in an age of fundamental structural evolution". I then envisaged three or four career changes in a lifetime with the need for an in-career "update" every other year. By 1997 the half-life of many digital skills was indeed down to two years. Today we can see the spread of annually updated professional and technician "certificates to practice" from medical consultants aerospace engineers to other areas where proof of current competence is essential. Meanwhile digital marketing or security practitioners can become seriously out of date within months unless they spend time each week keeping up to date.
The distinction between the mix of structured education and training to acquire a skill and the stream of continuous development to maintain current technical/professional competence has become blurred. This is an opportunity for those Universities and Colleges to provide/host updating services for local employers and alumni around the world. It is a growing revenue stream for those professional bodies (as yet usually American) who also run quality controlled, professionally run, accredited mentoring programmes – as opposed to the voluntary schemes involving unpaid amateurs, retirees and semi-social meetings, commonly offered in the UK.
We also need to remember that those whose skills no longer in demand are bigger source of experienced and motivated talent than school leavers or graduates for many of the skills in greatest shortage. Conversion and returner courses should be a large a source of income for colleges and universities as they are for many commercial training providers.
5) Place-based strategies for education and skills provision
The UK population (including the workforce) is split between a mobile minority (e.g. students and young graduates) and the majority, who rarely move home because of the expense, let alone because of family commitments and other ties. The split is growing because of the need for graduates to repay student loans at a time of increasing housing shortage. This leads to well publicised "skills crises" in locations where employers are competing for recruits without investing in their own "affordable accommodation" facilities (e.g. networks of "approved" landladies, apprentice/student hostels and/or apartments/flats for employees to rent).
The majority of recruitment, education and training is within well-established travel to work/school areas (whether urban or rural). Meanwhile analyses of "national demand" reflect the needs of the minority of large employers who recruit nationally (nearly always for jobs in and around London or a handful of University Cities and their adjacent commercial/manufacturing centres and science parks). The consequences can be seriously misleading with regard to local plans based on "national average" demand and supply. Hence the unenviable UK track record of failure when it comes to top down, nationally planned education and training programmes. Even attempts to scale up locally successful pilots commonly fail. There is massive diversity of local demand, supply, resources and competence in "travel to work or training areas".
Arguably the only successful large scale UK education and training change programmes were the original Micros in Schools Programme, the Information Technology Exchanges (who delivered City and Guilds 726 in the 1980s) and the Millennium Bug Busters Programme (during the run up to Y2K). The first succeeded because of the publicity provided by the BBC and the efforts of the suppliers and enthusiasts in the period before the DfE finally created the Micro-electronics Support Units (later BECTA). The ITECs were killed off because they focussed on applications for which local employees would offer work experience projects and mentoring. This did not suit funding agencies who counted those who preferred jobs (however well paid) to "qualifications" as failures. Few of the then DfE training providers met the "industry strength quality control" criteria demand by Treasury as a condition of funding for the Bugbusters Programme. The lessons were therefore ignored as irrelevant.
The way forward is to support the creation of local skills partnerships akin to that in Plymouth . This builds on local networks, some of which go back over forty years . Many other communities have similar potential but there are some common constraints:
• the availability of local training providers (college, university or commercial) capable of helping employers to select modules relevant to their needs and organize "just in time", blended learning, including mentoring and supervised work experience, when and where needed.
• The availability of potential shared skills incubators to support those in SMEs too small to provide application-related mentoring and supervisory skills let alone to customize programmes from the wealth of material already on offer from around the world.
• The willingness of universities, council economic development units and local enterprise partnerships to host meetings to bring together local public (including NHS, law enforcement etc.) and private sector employers (including via their existing groups), recruitment agencies, commercial training providers, colleges and schools to help each other meet their respective objectives, without necessarily bidding for OPM (other people's money).
• Pre-occupation with bids for funding from central government "challenge" schemes. The mix of competition and central control flies in the face of the spirit of co-operation between equals to create "self-help coalitions of the willing" which appears to drive local.
6) The challenges and opportunities of the Fourth Industrial Revolution for improving social justice and productivity
35 years ago I wrote "the impact of technology on personal service jobs, from street cleaning to street walking, will be negligible. Gardeners, window cleaners, plumbers, cooks and so on will be needed as much as they are now. At the other end of society , however, the changes may well be traumatic as expert systems render obsolete the book learning and machine like logical skills of most lawyers, accountants and consultants.".
I then went on to list a series of jobs that "can already be done faster and more accurately by computer".
Since then our legislators and regulators have performed a magnificent role creating ever more complex compliance systems to keep otherwise redundant bureaucrats fully occupied. One consequence is that we have been unable to redeploy talent to the challenge of looking after our aging population. "No End of Jobs" (Conservative Political Centre 1984 – not available on line but a few quotes here) began with a chilling analysis "Simple demographics show that over the next few decades our workforce will shrink and the number of pensioners to be supporter will grow. Meanwhile the cost of energy and raw materials will continue to increase. If we do not make better use of technology to create more wealth and simultaneously release and equip manpower to take better care of the elderly, you and I will grow old and cold alone, in the dark." A period of runaway immigration then helped delay the crisis – but it is now upon us.
Meanwhile those in inner cities and rural areas, whether or not they have been excluded from mainstream education and are among the 30% who have acquired criminal records or need assistance to go on-line, are falling ever further behind those who have access to full fibre broadband and the education and training facilities it enables.
There are a growing number of imaginative programmes to identify those with, for example, neuro-diverse talents who could be turned from "problems" into assets. But these are pissing in the wind without serious attempts to enable every community, faith, health or welfare centre or outreach service to also draw those they support into on-line lifelong and on-line social contact programmes that meet their needs. The Grids for Learning could provide the necessary infrastructure and carry the content at relatively low incremental cost – but infrastructure and content carriage are not enough. Those who are economically and socially excluded need people contact to help them get on-line without being further victimised on the way.
---
May 31, 2018 9:32 AM
Skills
I am currently assembling material to quote in a submission to the Education Selection committee enquiry into skills for the Fourth Industrial Revolution. The EURIM Briefing below was prepared in response to a request from Sir Leon Brittan to help with the planned follow up to the "European Year of Lifelong Learning". The Briefing  summarised the views of a substantial working party drawn from Employers (including BT, IBM, ICL, Microsoft and SAP), Trade Associations (including FEI, now part of tech UK) and Professional Bodies (including BCS and IET). Before publications it was reviewed by the EURIM directors from Conservatives and Labour parties for political balance.
It is therefore a good example of the state of industry/professional thinking 20 years ago – and a good start for considering how/little debate has moved on since – let alone how much/little has been done at either UK or EU level to address the challenges and/or exploit the opportunities.
But we should also consider why the response of the education "establishment" has been as it has .
To use a phrase then common among the graduates of "Big Blue" – "With Opportunities like these, who needs challenges".
A more communautaire explanation was given by Niccolò Machiavelli  "It must be remembered that there is nothing more difficult to plan, more doubtful of success, nor more dangerous to manage than a new system. For the initiator has the enmity of all who would profit by the preservation of the old institution and merely lukewarm defenders in those who gain by the new ones. "  The history of the EU has been of attempts to give the illusion of change without offending any of those sufficiently powerful to object. Hence the current Remain/Brexit game of huff, puff and bluff while the compromises to buy out the interest groups are worked out.
EURIM Briefing No 18 – Reskilling Europe for the Information Society – Sept 97
Introduction
Without rapid and effective action the majority of Europeans will be among the unemployed have nots of the Global Information Society. The vast majority of infrastructure and content will be developed and supplied by US based consortia employing the rapidly developing IT and multimedia skills bases of the Far East. European players will continue to migrate their operations across the Atlantic. Individuals who do acquire marketable skills while working on EU programmes are more likely to practice them overseas than with indiginous suppliers.
The Commission is building on the lessons from the European Year of Lifelong Learning with a series of communications on Learning in the Information Society. That on Education has already been issued and that on Training is due in 1997. On 17th January, Sir Leon Brittan, Vice President of the European Union and "godfather" of EURIM, included "reskilling the workforce in and through new technologies, as a normal part of workplace activity" among his six priorities for action in 1997 and encouraged EURIM to submit its views.
Technology assisted learning is widely perceived to be the solution to many of the education and training problems that beset Europe, but progress in large scale delivery, outside a few centres of excellence, is slow. The majority of pilots, even if successful, are not scaled up for live running nor are they replicated elsewhere. Decision taking and procurement are fragmented and slow. Meanwhile we face accelerating change in the skills in current and prospective demand, in the means of delivering learning content, and in the means of assessing and accrediting the knowledge or skills acquired.
We also face an immediate IT skills "crisis". Present shortages of current IT skills will be compounded over the next couple of years by the conjunction of the Year 2000 date problem and the need to re write financial and administrative systems to handle Economic Monetary Union (almost regardless as to which nations are in the first round).
Summary of Conclusions
1. Education and training policy must better distinguish between core educational and academic skills (which rarely change over time) and vocational and technology skills (where traditional methods can no longer cope with the pace of change).
2. Vocational curricula and course content and delivery must be better related to current and emerging skills needs and employers' recruitment and training plans.
3. Commercial market research and quality assurance techniques should be used to assess skills demand and the relevance and effectiveness of training delivery.
4. High quality multimedia is expensive to produce, requires tutorial support and must be regularly updated. It requires volume throughput to be cost effective.
5. Development programmes must therefore be structured to enable the economies of scale that justify investment in quality.
6. The "Year 2000" and EMU problems should be used as catalysts for wholesale change to the European training infrastructure.
7. Our future skills competitiveness depends on bringing current players together in world class development and delivery teams.
The Pace of Change
The increasing rate of change is such that the "half life" of IT skills is down to little more than two years. But the time taken to approve new technical degree courses or qualifications in most parts of Europe is at least three years. Even the time to approve shorter publicly funded training programmes, whether National or European, is commonly over two years. Many public sector courses and materials concerned with leading edge skills are therefore out of date before the first student is enrolled. The consequences can be seen in rising student drop-out rates and graduate unemployment.
Education and training decision processes must distinguish between:
fundamental skills, where demand changes slowly (such as literacy, numeracy, languages and academic/professional disciplines);
vocational skills, where curricula may need to change at 12 18 months notice (for example demand for new mixes of technology, business and language skills); and
product or technology skills, where courses may need to be developed, piloted and packaged for mass roll out within 2 3 months ( for example, when a new operating system like Windows 95 or NT rapidly captures a mass market).
Short order retraining commonly requires that trainees already have learning skills from their previous education. It may also require a grounding in relevant vocational/professional disciplines. Thus IT professionals can be rapidly "cross-trained" to use C++ or JAVA, but only if they already have experience of similarly structured languages and methodologies. It is learning and practising the structured approach which takes the time. Similar analogies can be found in most technology related professional and vocational arenas.
Even allowing for the slower pace of change in basic disciplines, the lapsed time from the identification of emerging needs to the piloting of courses with new technology content must be cut from years to months with mass replication and roll out inside the year. The challenge is organisational, not technical. Many private sector IT trainers have long been able to pilot new courses at 10 12 weeks notice and then to package them for mass roll out, in the light of feed back, inside a further 10 12 weeks.
The task is to enable the public sector approval, funding, certification and qualification routines, designed for "batch education", also to handle "just in time learning". This probably entails the use of value chain analysis and fast feed back quality routines and making much better distinctions between basic disciplines (where traditional approval methods may well continue) and changing technologies or product specific skills (where new approaches will be necessary). Many public sector education and training organisations may also need to adopt planning and control routines akin to those of the best commercial IT training organisations.
Mismatches Between Demand and Supply
Across Europe, the minimum educational standards necessary for employability and training are rising. There is often graduate unemployment in parallel with skills shortages. There are growing mismatches between employer expectations and educational standards and objectives.
Much of the information used for public sector education and training decisions and careers advice is unreliable, out of date and based on one-off, low response surveys of intentions and perceptions.
The most accurate and timely current sources of information on skills needs are the private sector salary surveys and analyses of recruitment advertising. To complete the picture we need to add information from recruitment and contract agencies (including on unadvertised demand) and from commercial training providers (on throughput and forward bookings).
We also need to explore and test ways of improving feedback from recent "graduates", as well as from their employers, to provide better and faster information on publicly funded course quality and relevance. Such feedback should distinguish between skills for life and skills to meet immediate needs. The marketing and monitoring of NVQs and of courses leading to NVQs needs similar attention.
Too few teachers are trained in the use of new technology and newly trained teachers are still arriving with poor, if any, IT skills. Many cannot make time to undertake "off the job" training. Head teachers need training in IT strategy, procurement and management. Current changes in employment structures mean that schools and colleges are the largest organisations of which most of their students will ever be a part.
We should use the technology to free teachers from administration and paperwork and to retrain themselves using open learning facilities (as in private sector establishments of equivalent size), in school during breaks between classes or out of hours, not merely in service.
At the other end of the education and training chain, the greatest cause of European competitive weakness is the lack of the attention paid to management education. Business IT skills (including the ability to manage the development and application of multimedia) will be needed by many more than will need technical IT skills.
We need greatly to improve the availability of well regarded course modules on the application of IT to meet business needs. (eg those from Bradford, Cranfield, INSEAD, Kingston, London Business School, Strathclyde or Templeton)
Changing the Economics of Delivery
Technology assisted learning (both courses and materials) is very much more expensive to develop than the traditional "face to face" equivalent. Given the increasing pace of change the content needs frequent update.
Multimedia materials can be invaluable in developing basic skills and the youngest pupils can derive most benefit, but, it will rarely be possible to cost justify investment in this enabling technology unless it is intended for use by thousands or millions of students. Material that needs special hardware or software or that will not run over common Internet compatible networks is also likely to have too small a market to be commercially viable.
Basic literacy, numeracy and learning skills are essential, but national curricula are commonly too narrow to ensure students are well prepared to compete for employment in global markets. Those supplying materials for local curricula are also denied the economies of scale necessary to justify investment in world class products.
In consequence most European education, training and multimedia content suppliers are more concerned to sell to the United States and Far East than to other parts of Europe. Those who are successful often then relocate their development and marketing operations. Communications suppliers are also more interested in installing transatlantic capacity than in improving intra European links in the face of nationalist regulatory barriers. In consequence the ability to rapidly access materials from US based servers is increasing faster than from European sources. We need to stimulate our local content markets by streamlining regulatory, licensing and funding regimes.
Many schools and colleges now have multiple functions, mixing academic/vocational education, commercial training and "leisure-learning". They are often unable to pool resources funded from different sources to meet common needs. Funding regimes should foster the local bringing together of public and private resources (grants, fees, contracts etc) to meet the education and training needs of the whole community, from children to pensioners, from unemployed to employers.
Urgent priority should be given in National and European programmes to projects which demonstrate the practical interoperability of materials, networks and delivery platforms (hardware and software) from rival suppliers. The projects should involve marketing, delivery, support (technical, tutorial etc) and accreditation routines which cross organisational boundaries as well as demonstrating hardware, software and network interoperability.
We also need readily available, low-cost, high-speed, high-capacity, Internet-compatible Intra-European pathways between our former national telephone monopolies and between them and their new competitors, local and international.
Reducing Market Fragmentation
Less than 30% of the funds available under most National and European training programmes are said to go on delivery as opposed to adjudication, administration and review. The combined bid costs for some schemes are said to be greater than the amounts awarded. We need to rationalise and streamline the agencies and committees administering public sector education and training funds.
There is also a need to greatly improve feedback on current and past schemes, to disseminate information on the availability and quality of existing materials and to facilitate the replication and roll out of the best. The continued focus on pilots and development projects all too often encourages continued duplication of effort, including the reinvention of square wheels.
Future funding should be focussed on projects which are "scaleable and sustainable". We need to transfer resources from re inventing methodologies and re developing materials to replicating what is known to be successful. No proposals for new courses or materials should receive public funding unless there is known to be no suitable equivalent already available at affordable cost and appropriate quality. There is, however, a need for greatly improved information on what is already available (sources, content, quality, methodology etc).
Building Partnerships
Institutionalised divisions between the different types of education and training operation are unhelpful.
The common conflict between "equity" (one or two systems per school/college) and "critical mass" (to change the way the students learn) is best resolved by the use of shared facilities: thus the school/college is also after hours study centre, adult education centre and small firms open learning centre.
Sharing requires flexibility in funding, regulation and content licensing. Problems in merging educational organisations and structures (with differences in expectations, values, processes and cultures) are also easier to address when change includes the ability to earn discretionary funding to meet local needs and reduces the need for approval from central agencies.
Regional networks (eg Highlands and Islands of Scotland or Ulster) can probably handle the scale of change in prospect. National systems (eg England or France) appear too hierarchical and centralised to do so in the time available.
Expectations that schools and colleges will individually procure hardware, software, materials and support to address centrally determined curricula could lead to "the worst of all worlds".
Competing international networks might, however, be more effective than regional monopolies in enabling schools, colleges and their suppliers to achieve world class delivery at affordable cost. Thus a Montessori network serving schools from Sienna to Stornoway might give better service to Salen (a small village on the Isle of Mull) than a Strathclyde network based on Glasgow.
Either way, the spread of multimedia and technology assisted education and training across Europe should be user driven (ie it should meet the known needs of teachers and students). There is still far too much technology push, including by national and European agencies as well as by suppliers.
Re Engineering Decision Structures
There is a common need across Europe, as well as within the UK, to streamline the means of agreeing the objectives of publicly funded education and training and of planning, co ordinating, funding and monitoring delivery to common standards or curricula.
The problem is apparent if one takes a specific area and asks:
• what should be the outputs from schools/colleges?
• what are the processes for achieving those outputs?
• what skills/resources do the teachers or lecturers need?
• how will the teachers/lecturers acquire those skills/materials?
• what is the timescale from start of debate on objectives to start of delivery?
Many skills needed in telecoms, broadcasting, networking and multimedia production are not even acreditable under current processes. But, as in most other markets, EURIM believes competition is likely to provide better answers than central planning.
We cannot afford the delay if programmes for the emergent skills were to be based on yet another layer of professional/academic co ordinating bodies. Employers should be approached directly to agree common requirements against which competing qualifications can be graded.
The objective should be competitive European markets in internationally accepted qualifications and not just interoperability between national monopolies. At the mass computer literacy level, the European Computer Driving Licence might be used to provide a model. At the professional level a model might be the way in which Surgeons can choose between the examinations of the English, Scottish or Irish Colleges.
We must rapidly restructure our education and training systems around an open and competitive approach to qualifications, courses and materials if we are to educate and maintain a workforce that can compete on equal terms with those of the United States and Asia. The growth of "competing but inter operable" pan-European development and delivery networks, involving both public and private partners, is also essential to the cost-effective local delivery of life-long learning whether in school, home or workplace.
---
May 23, 2018 1:48 PM
Uncategorized
The BBC cover of a report from the Environment Agency warning of serious water shortages by 2050 while sufficient to supply 20 million consumers is being wasted prompted an attack of déjà vu. Similar statements were made in the 1970s and led to the formation of the Regional Water Authorities. So I looked up my file copy of "The Next Years – A computing development plan for Regional Water Authorities": This was the report of the programme on which I worked after leaving London Business School in 1973. My role was to look at the financial systems needs of the re-organised industry. I thought the studies that had led up to the wholesale merger of water boards, sewage and sewerage boards, river authorities and nature conservancy operations were being with-held from me. My father, a senior civil servant in MAFF, thought they did not exist. He explained how ill-informed Whitehall usually was and why. He suggested that instead we  should put what they might have been and ask our contacts whether it fitted with their "information".
I spent a fortnight using what I had learned at Business School to do a strategic analysis of the Water "industry" based on the data available from Municipal and other Year Books. The result was "The Economic Profile of the Average RWA". Given more time I could have profiled each potential RWA but was told instead to send my analysis to the members of the Steering Group for comment at the same time as asking the Department of Environment. It was the first tangible output from the programme. It was also unlike any analysis the members of the group had even seen. I would be promoted or fired, dependent on the reaction.
That decision proved critical to the subsequent success of the study. It became the only one of the DTI "Industrial Strategy" exercises of the 1970s to achieve its objective of enabling British Industry to win against overseas suppliers with neither subsidy nor compulsion. The realisation that debt service already accounted for 24% of spend (i.e. more than administration, maintenance and customer service added together) changed the nature of discussion over future governance and management structures. Doors opened. Those wanting key financial roles in the new industry wanted to grill ICL's young business graduate, to see whether he was pretentious prat and , if not, what else they could get out of the study.  Meanwhile my colleague looking at Operational, Hydrometry and Water Quality systems was at similarly fallow ground.
A "dry/techie computer study" had moved centre stage of the politic is of re-organisation. As we moved forward, asking questions about the validity of what we found rather than giving answers, we uncovered the wealth of work and thinking that had already done by those working in different parts of the "industry". Almost all was unknown to the policy makers in Whitehall. All we had to do was "listen to the users" and the report "wrote itself". Meanwhile my boss (who had the expense account) thanked all those helping us – thus ensuring that that the key figures in the industry recognised their own recommendations in our write-ups. His boss, who I otherwise still rate very highly, remains puzzled by our success in "telling them how to run their own industry".
But "listening to the users" was, and still is, anathema to most of those in the Computing, IT and now Digital worlds.
So too is basing Government (whether Whitehall or Brussels) policy on "real world" experience as opposed to the jockeying of the lobbyists of the big consultancies and suppliers whose funding (direct and indirect) also dictates the inputs from trade associations and professional bodies.
Hence the reason the "real world" is now revolting against the digerati as well as against the political classes and the "post rational liberal intelligentsia" – and "none of the above" (35% "don't know") has overtaken Jeremy Corbyn (27%) as second choice to Theresa May (37%) for Prime Minister.  Plus ca change …. In the late 1970s Margaret Thatcher was the outsider who stormed the ramparts. Today it would appear that neither Labour nor the LibDems are ready for a leader who is not white, male, pale and stale like the other misogynists who run the European Union and most of the On-line World. Both groups have mindsets stuck in the 1960s/70s of their respective cultures – "Post WW2 war corporate statism" versus "Californian counter-culture meets free enterprise".  Hence their problems in coping with the wave of change, intellectual as well as economic, that may be about to engulf us all
In the 1970s I joined the Real Time Club .Last night I attended their discussion on how the Internet is killing democracy . The discussion was chilling – with contributions from those at the heart of current and emerging technologies as well as voices from the past. The conclusion was that the opening speaker, Jamie Bartlett  is an optimist.  Indeed the participants were so concerned, including over the collapse of quality control, governance and accountability (at all levels and in all dimensions – technical, legal, regulatory etc.) that for the first time in the Club's fifty year history they suspended the Chatham House rule. In March, during the 101st Meeting of the IETF in London, I attended a discussion on "How to build trust between politicians and engineers in tackling the security, or otherwise, of the Internet of Things". One theme was the importance of separating the processes for handling the building blocks from those for handling the way they are assembled into applications, let alone subsequently used.  Yesterday, at the Real Time Club,  I was disturbed to learn that some of those "blocks" are no more robust today than they were 50 years ago. Indeed some are still in use and still have same vulnerabilities. Next week I am looking forward to the discussions at the 40th Anniversary of FIPR but am not expecting to be reassured as to the state of honesty and probity with regard to discussions on, for example, privacy.
Before then I plan, however, to blog on my own impressions from, the Real Time Club discussions yesterday. I have never been quite sure what "democracy" means. My theme is therefore more likely to be "accountability" – whether it is to "God", "the planet", "the people", "the customer" or your conscience. Given my personal concerns over the evil that can be done in the name of professional or legal accountability, let alone party loyalty or patriotism I think it will be an interesting blog to draft.
---
May 16, 2018 12:47 PM
Gartner
,
This morning I received an e-mail with extracts from a Gartner press release saying: "Infrastructure and Operations skills (I&O) gaps will cause 75% of organizations to experience visible business disruptions by 2020. Given the lack of digital dexterity for hire, I&O leaders must begin by developing these skills with the talent they already have. Most companies don't have an accurate inventory of the available skills of their current IT workforces, so this must be a first step." 
The release goes on to call for IT departments to work with their Human Resources colleagues to do tactical skills audits while awaiting long term solutions. But most will have also outsourced HR. The e-mail I received was from a "transformation" consultancy offering a 90 day skills audit package.
Skills Audits were part of the "Manpower Planning" module at London Business School in 1971 – 73. They were common in well-run IT departments in the 1970s and 1980s. They fell out of fashion with the rise of outsourcing. But many of those who outsourced failed to maintain the in-house expertise necessary to ensure they got value from their outsource contractors. In consequence we got the rise of rigid, bloated, consultant driven deals from public sector PFIs to the private sector deals which brought sporadic leaks, collapse and chaos to telcos , banks and airlines
The zenith of outsourcing (both public and private sector was a decade ago. The subsequent unravelling of many of the underlying business models has now brought about  the collapse of Carrillion , mounting problems for players like  BT  and Capita and calls for the break up of the Big Four accounting firms who agreed the contract valuations which "underwrote" the fees and bonuses given to those who negotiated the contracts and the share values of the outsourcing companies.
Today we have the slow but steady rise of insourcing, using lower cost modular, flexible, cloud-based products and  services, and the need to rebuild in-house expertise. Skills audits, (to identify in house talent, plus manpower planning to develop it, are coming back into fashion.
In late 2013 I did a couple of blogs which, inter alia, looked at the problem in the context of cybersecurity where most boards of large organisations were already well aware that they had problem but were being sold platitudes, as opposed to credible solutions which separated that which could be outsourced, if necessary, from that which should not
Perhaps the key quote in those blogs was from the CEO of Tempest who said "Neither the direction of the threat analysis not the communication of the results can be sensibly outsourced". The reason was that both required in depth understanding of the business and its culture and risk appetite and profile. Retaining those roles in-house also meant the organisation had to maintain the in-house skills to make use of its threat intelligence sources (like those of Tempest) as well as of all the techie tasks that it might be sharing/outsourcing.
The same applies to the outsourcing of any other IT functions that is critical to the health and safety of the business.
The current GDPR job creation farce has brought this home – with a split between those using the opportunity to improve customer contact and reduce their risk profile, those tying themselves in lawyer driven knots and the dominant monopolists (whose behaviour is usually the most egregious to start with) telling their customers, who have no choice, to give consent or piss off.
This is the kind of area where professionalism (as opposed to "mere" technical competence") is most needed – and least likely to be found.
Take a look at the skills definitions used in most "continuous professional development" schemes and you can see how the skills agenda has, as too often, become driven by introverted, siloed, time served, techies who lack the breadth of knowledge to integrate, let alone negotiate or manage outsourced operations. Hence the popularity of the ITMB and the efforts being made to use it as the basis for mature entry apprenticeships to cross train user managers. Hence also the popularity of shared skills incubators (like that in Plymouth for Cybersecurity skills) to provide supervised work experience using leading edge tools and techniques and not only turn talent into technical competence within months not years but also begin the process of embedding professional attitudes and a desire to build a career not just a job – moving on to a degree-linked, graduate level apprenticeship – "earn while you learn".
Gartner is very good at identifying and "jargonising" a trend that is already under way. This one will accelerate. Those who do not take a good look at developing the talent they already have in house, with the skills they will need in the future, will have only themselves to blame if it leaves.
---
April 29, 2018 4:36 PM
The "scandal" concerning the "Windrush Generation" appears to be collateral damage from the failure to agree coherent policies for sharing public sector identities and personal information after the collapse of proposals for identity cards. The Home Office may have destroyed the landing cards for the Empire Windrush (or sent them to the National Archive) but the passenger lists, (collated by the Department of Transport) are not only in the National Archive but are used in one of their education resource packs . After landing the immigrants would have been given identity and ration cards, the records of which were later used to create central registry of the NHS . The identity card numbers survived as NHS numbers until the 1980s when they were  restructured into the current format . It is also difficult to see how either the Windrush Generation, or their children, would have been able to get jobs or claim benefits without National Insurance numbers, now in the hands of HMRC.
I wonder how many of those who successfully opposed the introduction of ID Cards believe that Home Office staff should not be allowed, let alone encouraged or required, to look across the records of other Departments before deporting those without Home Office "recognised documentation" such as a residents permit or passport.  Then comes the status of records transferred to the National Archive after the full implementation of GDPR.  When it comes to Government, Health and Welfare records the right to be forgotten should be an informed choice, not a default.
I look forward to the day when GDS Verify and the ID programmes of other Government Departments (including the separate ID systems for those at  School and those at College or University, with a ban on dual use) enter the real world and offer or recognise identity systems that do something else useful – like age checking (preferably to PAS 1296 so as to be able to tell the real from the fake) before giving access to controlled or sensitive products and services. Meanwhile perhaps the time has also come to revisit the original concept, under Home Secretary Michael Howard, of an entitlement card , issued via local not central government – giving as much (or little) access to benefits/housing/health and as "non-residents" have in Denmark, Germany or Holland. If so, that could indeed be an existential threat to Whitehall (and Home Office).
I could go on but the moral of the Windrush Saga is – "Be very careful what you wish for ….  when it comes to preventing data sharing and demanding the right to be forgotten".
---
March 24, 2018 12:55 PM
DPA
,
IETF
,
ISOC
The story of how Cambridge Analytica used Facebook data collected by an Academic intermediary to supposedly help Remain "steal" the UK referendum campaign and Trump "steal" the US Presidential campaign can be read at many levels with many different questions.
What was so offensive/different about the Facebook processes for encouraging us to share our personal data (so that they can make it available to advertisers, researchers and others to enable them to target their messages), while making its privacy settings unintelligible to anyone other than a Californian geek.
What was so offensive/different about the conduct of academic conducting large scale psychometric research which he proceeded to turn to commercial advantage in ways which the "Big Data Institutes of many of the worlds leading Universities (including Oxford, Cambridge, Southampton and UCL) are exploring, encouraged by bodies like the Open Data Institute
What was so offensive/different about the behaviour of Cambridge Analytica, compared to those who ran similar exercises to help the President Obama get elected, the EU and Government supported Remain Campaigners to fight a gaggle of Brexiteers and/or Momentum to turn a snap election into a bloody nose for those who called it.
The BIG question, however, is whether this is a storm in a teacup, a minor hiccup in an inexorable march towards the dictatorship of the sysadmins or a watershed, with those who control our access to the on-line world, including over 60% of all traffic over the Internet, about to be brought to heel?
But, if so, who is about to bring them to heel? Governments (who their lobbyists can buy) or Advertisers (who they have to persuade to keep spending)?
One of the delightful ironies of this controversy is that it took place during the 101st meeting of the Internet Engineering Task Force in London. The IETF comprises the 15 – 20,000 engineers who maintain the building blocks that enable the global inter-operability on which the Internet depends. 1,200 of them were gathered in London this week – and no journalists asked for their views. In consequence their one "political" meeting, a discussion in the House of Lords on "How to build trust between politicians and engineers in tackling the security (or otherwise) of the Internet of Things", was able to have a quiet and constructive discussion. That meeting was organised by the Internet Society (the nearest the IETF has to an oversight body), ICANN (which looks after the addressing system) and the Digital Policy Alliance.
That meeting identified that the problems arise with the processes used when the building blocks are assembled into applications, increasingly in ways that no-one foresaw. The alleged abuses of social media data for political ends are a good example,. So too are the weaknesses that allow the spoofing of addresses, facilitating impersonation and complicating enforcement. But neither IETF nor ICANN has policing powers and it would be unrealistic to expect the Internet Society to try to boycott those who do not follow good practice – especially since the latter can afford to fund the best lawyers and lobbyists that money can buy. The meeting was attended by the chairs of both the Internet Engineering Task Force and the Internet Society. The panel for the discussion included the Chairman of the IETF Internet Architecture Board, the Chief Internet Technology Officer of the Internet Society, the Chief Executive Officer of ICANN and Baroness Neville-Jones (former security Minister and chairman of the DPA Cybersecurity group). The main achievement of the meeting was to leave the audience with a shared recognition of the problems and the need for ongoing dialogue between policy groups and those who keep the Internet running in order to improve the government policies and the regulatory, certification, quality control and enforcement processes within which the product and service engineers, corporate lawyers and salesmen and their employers operate.
That dry and cautious conclusion provides an essential backdrop for public discussion about what it was that Facebook, Cambridge Analytica and their Academic fall-guy did differently (if anything at all) and why "the roof fell in" after a sting operation akin to those offered to the under cover reporters by the CA CEO.
I will conclude with a few more questions:
1. Should the current furore been seen as propaganda for the supposed power of "Big Data" analysis to target online advertising/messaging to, inter alia, persuade a "gullible" electorate  Or is it a set of excuses to enable an introverted and complacent establishment (that lost touch with the electorate) to call for a rerun of history?
I alluded to this argument in my blog on Brexit as an existential threat to the new UK "establishment" but Dominic Cummins makes the argument much better using inside knowledge of who did what. He concludes that story is a set of convenient excuses for those who lost the trust of the electorate . Unfortunately misplaced belief in that power is not only expensive for Corporate advertisers and lucrative to high tech snake oil salesmen, it is politically dangerous. It is akin to the belief of many Germans that the Jews were to blame for the collapse of their Armies on the Western Front at the end of 1918. That led directly to World War 2. Will belief that Trump or the Russians stole the US election or the Brexiteers stole the UK referendum lead us down a similar road? Did the Prime Minister lose her majority in 2017 because the snap election caught no-one save Conservative Office by surprise? Or was it stolen by student activists using social media to organise massively duplicated on-line voter registration and exploit a postal voting system that "would disgrace a banana republic"? Was the use of Facebook for political campaigning as mundane as, for example, paying .67p for a targeted advert that was seen by 87 people – albeit on a much larger scale. Or was it really more sinister?
2. How many other "academic researchers" have provided plausible deniability to similarly egregious data collection from, for example, UK NHS and US Veteran's Administration patient records?
This question goes to the heart of Big Data governance models and the idea that academic researchers are somehow more virtuous than, for example pharmaceutical or insurance companies. The latter take security, privacy and data protection very seriously because leaks cost commercial advantage and may even destroy the business (if a rival patents compounds before a decision to incur the cost of safety testing). It is not "just" a matter of fines. Meanwhile academics have a tendency to believe that their life saving (or reputation making) research is more important than, for example, the privacy of vulnerable patients who might be of interest to the state or the media (for whatever reason).
3. Who owns my data? Me? The state? A faceless corporation that persuaded me to give them uninformed consent in return for access to an app? Which of them, if any, is serious about protecting my data from those who really might be a threat to me? 
Emily Sheffield in the Evening Standard summarises well our inability to understand the privacy settings of services which make it all too easy for us to give permission for sharing with those we have never heard of. She also raises some killer questions for both those who believe in the value of Big Data and those who believe in the importance of blanket data protection (as with the GDPR) as opposed to genuinely informed choice and targeted action against those guilty of serious abuse.
4.  Which of us actually care about protecting the lies, half truths and exagerations we post about ourselves on social media?
Back in 2008 I was a UK representative at the workshop in Bled which led to EU Etica Project.  The conclusions of our workshop on the Ethics of Public Service delivery were edited out of the final report but I covered some of them in a blog written about the time the project came to an end. . In the course of the workshop I came to appreciate that those from Eastern Europe found it hard to comprehend the Western naivety with regard to those claiming to want to help them, including those wanting to do so on-line. They had a simple approach – never ever tell the truth on-line unless there is a very good reason to do so. Sooner or later all that you do on-line will be collated and used against you. You therefore create a "safe" persona (or more than one) and use them for all on-line transactions that you cannot do anonymously from an Internet café.  Today I avoid investing in those who pay for on-line pop-up adverts for products I have just bought or hotels in towns I recently visited. I also avoid sites where response times are clogged with data collection spyware and avoid search engines where what I want to find is hidden among promoted results.
4. Why was harvesting Facebook data (and other big data analytics exercises to target voters) praiseworthy when used to help elect Obama but not when used to elect Trump?
This is a bit like asking why the dirty tricks and lies used to get John F  Kennedy elected and to prepare for his re-election were unacceptable when used by Richard Nixon.
5. Will any Facebook fine go into the ICO's budget – whether as an ad hoc top up or as part of a switch to using "the proceeds of crime" to fund Internet law enforcement – including by the Trading Standards officers who are in the front line alongside the Information Commissioner and the City of London Police?
A £billion fine on Facebook for the processes which allowed its data to be harvested would transform the ability of the Information Commissioner to do her job and set a welcome precedent for raising the funds for effective law enforcement action, at all levels  to tackle on-line crime and misbehaviour. It would also have a very powerful motivational effect and cause service providers to take more robust action to enforce their contractual conditions and reduce the risk of exposing third parties who might take legal action against them.
6. What, if any, are the roles of the IETF, ICANN and Internet Society in using the opportunity to help address some of the taboo ways in which the Internet can be manipulated, whether by adding new security building blocks, promoting the use of those that already exist, or informing politicians and regulators? so that thel atter can enforce better practice in assembling them into products and services. 
The debates will run and run. There is something for every conspiracy theorist, technology enthusiast and luddite.
Those who are serious about finding a constructive way forward should join the Digital Policy Alliance and/or the Internet Society and help organise well-informed follow up debate. But that will require honest enquiry and rational argument about balance of risk in a world of evolving technologies and differing values. And honesty and rationality are all too rare in politic al debate. And the hoi polloi understand balance of risk (as in betting odds and having a flutter at impossible odds on the lottery as a way of keeping hope alive) rather better than the intelligentsia.
---
March 2, 2018 9:42 PM
The difference between the wording in the BBC news coverage of the Prime Minister's Speech , which lists "Mutual recognition of broadcasting rules to allow UK channels to continue to be seen in Europe"  and the wording in the full text (below)  may well explain why the BBC is so anti-Brexit that the British public notices . The wording in the PM speech reads as follows:
"On broadcasting, we recognise that we cannot have exactly the same arrangements with the EU as we do now. Currently, because of the "country of origin" principle, a company based in the UK can be licensed by Ofcom and broadcast into any EU member state and vice versa.
The relevant directive will not apply to the UK, as we leave the EU, and relying solely on precedents will hurt consumers and businesses on both sides.
The UK's creative hub leads to the development of products that European consumers want – the UK currently provides around 30% of the channels available in the EU. But equally, many UK companies have pan-European ownership, and there are 35 channels and on-demand services, which are offered in the UK but licensed in the EU.
So we should explore creative options with an open mind, including mutual recognition which would allow for continued transfrontier broadcasting – recognising the enriching role that British broadcasters and programme makers play, not only in British – but more broadly in our common European – culture."
In other words Brexit poses the risk that the BBC, and more particularly BBC Worldwide , will be taken outside the EU territorial licensing regime as part of an exercise to encourage the creative industries as whole. Is that an existential threat or an opportunity? Only time will tell but this helps explain the Ofcom review on the role of the BBC on which I blogged recently.
Meanwhile I think that the lack of detail on digital signifies that Amazon, Apple, eBay, Facebook, Google will have to pay taxes in the UK, not Luxembourg or the Irish Republic and that UK innovators will not be bound by regulations that we have not helped agree. But it also implies that forward co-operation remains open, particularly on Data Protection and Cyber Security.
On digital, the UK will not be part of the EU's Digital Single Market, which will continue to develop after our withdrawal from the EU. This is a fast evolving, innovative sector, in which the UK is a world leader. So it will be particularly important to have domestic flexibility, to ensure the regulatory environment can always respond nimbly and ambitiously to new developments.
I spent over thirty years of my life trying, and failing, to make a reality of the Digital Single Market. But it is still easier to make a cross-border online transaction via the US (or some other offshore hub) than direct.  I can therefore hope for the best – a new and more constructive co-operation. But I now suspect that, on balance, we (except for the global multinationals) will be better off out than in. That said, there is a lot of work going on, including (especially?) via the Digital Policy Alliance to try to ensure that Brexit leads to closer and more constructive co-operation where it matters.
Anyway, enough of my speculation – I recommend you read the  full text and then ponder.
'ROAD TO BREXIT' SPEECH FULL TEXT
FIVE TESTS
I am here today to set out my vision for the future economic partnership between the United Kingdom and the European Union.
There have been many different voices and views in the debate on what our new relationship with the EU should look like. I have listened carefully to them all.
But as we chart our way forward with the EU, I want to take a moment to look back.
Eighteen months ago I stood on Downing Street and addressed the nation for my first time as Prime Minister.
I made this pledge then, to the people that I serve:
I know you're working around the clock, I know you're doing your best, and I know that sometimes life can be a struggle.
The government I lead will be driven not by the interests of the privileged few, but by yours.
We will do everything we can to give you more control over your lives.
When we take the big calls, we'll think not of the powerful, but you.
When we pass new laws, we'll listen not to the mighty but to you.
When it comes to taxes, we'll prioritise not the wealthy, but you.
When it comes to opportunity, we won't entrench the advantages of the fortunate few.
We will do everything we can to help anybody, whatever your background, to go as far as your talents will take you.
We are living through an important moment in our country's history. As we leave the European Union, we will forge a bold new positive role for ourselves in the world, and we will make Britain a country that works not for a privileged few, but for every one of us.
That pledge, to the people of our United Kingdom is what guides me in our negotiations with the EU.
And for me that means five things:
First, the agreement we reach with the EU must respect the result of the referendum. It was a vote to take control of our borders, laws and money. And a vote for wider change, so that no community in Britain would ever be left behind again. But it was not a vote for a distant relationship with our neighbours.
Second, the new agreement we reach with the EU must endure. After Brexit both the UK and the EU want to forge ahead with building a better future for our people, not find ourselves back at the negotiating table because things have broken down.
Third, it must protect people's jobs and security. People in the UK voted for our country to have a new and different relationship with Europe, but while the means may change our shared goals surely have not – to work together to grow our economies and keep our people safe.
Fourth, it must be consistent with the kind of country we want to be as we leave: a modern, open, outward-looking, tolerant, European democracy. A nation of pioneers, innovators, explorers and creators. A country that celebrates our history and diversity, confident of our place in the world; that meets its obligations to our near neighbours and far off friends, and is proud to stand up for its values.
And fifth, in doing all of these things, it must strengthen our union of nations and our union of people.
We must bring our country back together, taking into account the views of everyone who cares about this issue, from both sides of the debate. As Prime Minister it is my duty to represent all of our United Kingdom, England, Scotland, Wales and Northern Ireland; north and south, from coastal towns and rural villages to our great cities.
So these are the five tests for the deal that we will negotiate.
Implementing the decision of the British people; reaching an enduring solution; protecting our security and prosperity; delivering an outcome that is consistent with the kind of country we want to be; and bringing our country together, strengthening the precious union of all our people.
A CRUCIAL MOMENT
We are now approaching a crucial moment.
There s no escaping the complexity of the task ahead of us. We must not only negotiate our exit from an organisation that touches so many important parts of our national life. We must also build a new and lasting relationship while, given the uncertainty inherent in this negotiation, preparing for every scenario.
But we are making real progress.
At the end of last year, we agreed the key elements of our withdrawal.
We are in the process of turning that agreement into draft legal text. We have made clear our concerns about the first draft the Commission published on Wednesday – but no-one should be in any doubt about our commitment to the Joint Report we agreed in December.
We are close to agreement on the terms of an implementation period which was a key element of December's deal.
Of course some points of difference remain – but I am confident that we can resolve these issues in the days ahead.
Both the UK and the EU are clear this implementation period must be time-limited and cannot become a permanent solution. But it is vital to give governments, businesses and citizens on both
sides the time they need to prepare for our new relationship.
With this agreed, I want both sides to turn all our attention and efforts to that new relationship.
But before we can do that, we need to set out in more detail what relationship we want, building on my Lancaster House and Florence speeches.
So last month, I spoke in Munich about the security partnership we seek.
And today, I want to talk about the other pillar of that relationship: how we build our economic partnership.
EXISTING MODELS WILL NOT WORK
In my speech in Florence, I set out why the existing models for economic partnership either do not deliver the ambition we need or impose unsustainable constraints on our democracy.
For example, the Norway model, where we would stay in the single market, would mean having to implement new EU legislation automatically and in its entirety – and would also mean continued free movement.
Others have suggested we negotiate a free trade agreement similar to that which Canada has recently negotiated with the EU – or trade on World Trade Organisation terms.
But these options would mean a significant reduction in our access to each other's markets compared to that which we currently enjoy.
And this would mean customs and regulatory checks at the border that would damage the integrated supply chains that our industries depend on and be inconsistent with the commitments that both we and the EU have made in respect of Northern Ireland.
This is a wider issue in our negotiations and I want to dwell on this for a minute.
Successive British governments have worked tirelessly – together with all the parties in Northern Ireland and with the Irish Government – to bring about the historic achievement of peace.
This is an achievement that we should all be proud of, and protect. That is why I have consistently put upholding the Belfast Agreement at the heart of the UK's approach.
Our departure from the EU causes very particular challenges for Northern Ireland, and for Ireland. We joined the EU together 45 years ago. It is not surprising that our decision to leave has caused anxiety and a desire for concrete solutions.
We have been clear all along that we don't want to go back to a hard border in Ireland. We have ruled out any physical infrastructure at the border, or any related checks and controls.
But it is not good enough to say, 'We won't introduce a hard border; if the EU forces Ireland to do it, that's down to them'. We chose to leave; we have a responsibility to help find a solution.
But we can't do it on our own. It is for all of us to work together.
And the Taoiseach and I agreed when we met recently that our teams and the Commission should now do just that.
I want to make one final point. Just as it would be unacceptable to go back to a hard border between Northern Ireland and Ireland, it would also be unacceptable to break up the United Kingdom's own common market by creating a customs and regulatory border down the Irish Sea.
My personal commitment to this is clear.
As Prime Minister of the whole United Kingdom, I am not going to let our departure from the European Union do anything to set back the historic progress that we have made in Northern Ireland – nor will I allow anything that would damage the integrity of our precious Union.
FACING UP TO SOME HARD FACTS
So existing models do not provide the best way forward for either the UK or the EU.
But before I turn to what a new and better model might look like, I want to be straight with people – because the reality is that we all need to face up to some hard facts.
We are leaving the single market. Life is going to be different. In certain ways, our access to each other's markets will be less than it is now. How could the EU's structure of rights and obligations be sustained, if the UK – or any country – were allowed to enjoy all the benefits without all of the obligations?
So we need to strike a new balance. But we will not accept the rights of Canada and the obligations of Norway.
The second hard fact is that even after we have left the jurisdiction of the ECJ, EU law and the decisions of the ECJ will continue to affect us.
For a start, the ECJ determines whether agreements the EU has struck are legal under the EU's own law – as the US found when the ECJ declared the Safe Harbor Framework for data sharing invalid.
When we leave the EU, the Withdrawal Bill will bring EU law into UK law. That means cases will be determined in our courts. But, where appropriate, our courts will continue to look at the ECJ's judgments, as they do for the appropriate jurisprudence of other countries' courts.
And if, as part of our future partnership, Parliament passes an identical law to an EU law, it may make sense for our courts to look at the appropriate ECJ judgments so that we both interpret those laws consistently.
As I said in Munich, if we agree that the UK should continue to participate in an EU agency the UK would have to respect the remit of the ECJ in that regard.
But, in the future, the EU treaties and hence EU law will no longer apply in the UK. The agreement we reach must therefore respect the sovereignty of both the UK and the EU's legal orders. That means the jurisdiction of the ECJ in the UK must end. It also means that the ultimate arbiter of disputes about our future partnership cannot be the court of either party.
The next hard fact is this. If we want good access to each other's markets, it has to be on fair terms. As with any trade agreement, we must accept the need for binding commitments – for example, we may choose to commit some areas of our regulations like state aid and competition to remaining in step with the EU's.
The UK drove much of the policy in this area and we have much to gain from maintaining proper disciplines on the use of subsidies and on anti-competitive practices.
Furthermore, as I said in Florence, we share the same set of fundamental beliefs; a belief in free trade, rigorous and fair competition, strong consumer rights, and that trying to beat other countries' industries by unfairly subsidising one's own is a serious mistake.
And in other areas like workers' rights or the environment, the EU should be confident that we will not engage in a race to the bottom in the standards and protections we set. There is no serious political constituency in the UK which would support this – quite the opposite.
Finally, we need to resolve the tensions between some of our key objectives.
We want the freedom to negotiate trade agreements with other countries around the world. We want to take back control of our laws. We also want as frictionless a border as possible between us and the EU – so that we don't damage the integrated supply chains our industries depend on and don't have a hard border between Northern Ireland and Ireland.
But there are some tensions in the EU's position too – and some hard facts for them to face as well.
The Commission has suggested that the only option available to the UK is an 'off the shelf' model.
But, at the same time, they have also said that in certain areas none of the EU's third country agreements would be appropriate.
And the European Council's Guidelines aspire to a balanced, ambitious, and wide-ranging deal, with common rules in a number of areas to ensure fair and open competition.
This would not be delivered by a Canada-style deal – which would not give them the breadth or depth of market access that they want.
And it is hard to see how it would be in the EU's interests for the UK's regulatory standards to be as different as Canada's.
Finally, we both need to face the fact that this is a negotiation and neither of us can have exactly what we want.
FUTURE ECONOMIC PARTNERSHIP
But I am confident we can reach agreement.
We both want good access to each other's markets; we want competition between us to be fair and open; and we want reliable, transparent means of verifying we are meeting our commitments and resolving disputes.
But what is clear is that for us both to meet our objectives we need to look beyond the precedents, and find a new balance.
As on security, what I am seeking is a relationship that goes beyond the transactional to one where we support each other's interests.
So I want the broadest and deepest possible partnership – covering more sectors and co-operating more fully than any Free Trade Agreement anywhere in the world today. And as I will go on to describe we will also need agreements in a range of areas covering the breadth of our relationship.
I believe that is achievable because it is in the EU's interests as well as ours.
The EU is the UK's biggest market – and of course the UK is also a big market for the EU. And furthermore, we have a unique starting point, where on day one we both have the same laws and rules.
So rather than having to bring two different systems closer together, the task will be to manage the relationship once we are two separate legal systems.
To do so, and to realise this level of ambition, there are five foundations that must underpin our trading relationship.
First, our agreement will need reciprocal binding commitments to ensure fair and open competition.
Such agreements are part and parcel of any trade agreement. After all, why would any country enter into a privileged economic partnership without any means of redress if the other party engaged in anti-competitive practices?
But the level of integration between the UK and EU markets and our geographical proximity mean these reciprocal commitments will be particularly important in ensuring that UK business can compete fairly in EU markets and vice versa.
A deep and comprehensive agreement with the EU will therefore need to include commitments reflecting the extent to which the UK and EU economies are entwined.
Second, we will need an arbitration mechanism that is completely independent – something which, again, is common to Free Trade Agreements.
This will ensure that any disagreements about the purpose or scope of the agreement can be resolved fairly and promptly.
Third, given the close relationship we envisage, we will need to have an ongoing dialogue with the EU, and to ensure we have the means to consult each other regularly.
In particular we will want to make sure our regulators continue to work together; as they do with regulators internationally. This will be essential for everything from getting new drugs to patients quickly to maintaining financial stability. We start from the place where our regulators already have deep and long-standing relationships. So the task is maintaining that trust; not building it in the first place.
Fourth, we will need an arrangement for data protection.
I made this point in Munich in relation to our security relationship. But the free flow of data is also critical for both sides in any modern trading relationship too. The UK has exceptionally high standards of data protection. And we want to secure an agreement with the EU that provides the stability and confidence for EU and UK individuals and businesses to achieve our aims in maintaining and developing the UK's strong trading and economic links with the EU.
That is why we will be seeking more than just an adequacy arrangement and want to see an appropriate ongoing role for the UK's Information Commissioner's Office. This will ensure UK businesses are effectively represented under the EU's new 'one stop shop' mechanism for resolving data protection disputes.
And fifth, we must maintain the links between our people.
EU citizens are an integral part of the economic, cultural and social fabric of our country. I know that UK nationals are viewed in entirely the same way by communities across the EU. And this is why at every stage of the negotiations, I have put the interests of EU citizens and UK nationals at the heart of our approach.
We are clear that as we leave the EU, free movement of people will come to an end and we will control the number of people who come to live in our country.
But UK citizens will still want to work and study in EU countries – just as EU citizens will want to do the same here, helping to shape and drive growth, innovation and enterprise.
Indeed, businesses across the EU and the UK must be able to attract and employ the people they need. And we are open to discussing how to facilitate these valuable links.
Reciprocal commitments to ensure fair and open competition, an independent arbitration mechanism, an ongoing dialogue, data protection arrangements and maintaining the links between our people. These are the foundations that underpin the ambition of this unique and unprecedented partnership.
It will then need to be tailored to the needs of our economies.
This follows the approach the EU has taken with its trade agreements in the past – and indeed with its own single market as it has developed.
The EU's agreement with Ukraine sees it align with the EU in some areas but not others. The EU's agreement with South Korea contains provisions to recognise each others' approvals for new car models, whereas their agreement with Canada does not. Equally, the EU's agreement with Canada contains provisions to recognise each others' testing on machinery; its agreement with South Korea does not.
The EU itself is rightly taking a tailored approach in what it is seeking with the UK. For example, on fisheries, the Commission has been clear that no precedents exist for the sort of access it wants from the UK.
The fact is that every Free Trade Agreement has varying market access depending on the respective interests of the countries involved. If this is cherry-picking, then every trade arrangement is cherry-picking.
Moreover, with all its neighbours the EU has varying levels of access to the Single Market, depending on the obligations those neighbours are willing to undertake.
What would be cherry-picking would be if we were to seek a deal where our rights and obligations were not held in balance.
And I have been categorically clear that is not what we are going to do.
I think it is pragmatic common sense that we should work together to deliver the best outcome for both sides.
GOODS
Let me start with how we do this for goods.
This is the area where the single market is most established and both the UK and the EU have a strong commercial interest in preserving integrated supply chains that have built up over forty years of our membership.
When it comes to goods, a fundamental principle in our negotiating strategy should be that trade at the UK-EU border should be as frictionless as possible.
This means we don't want to see the introduction of any tariffs or quotas. And – as the Secretary of State for Exiting the European Union set out in his speech in Vienna last week – we must ensure that, as now, products only need to undergo one series of approvals, in one country, to show that they meet the required regulatory standards.
To achieve this we will need a comprehensive system of mutual recognition.
The UK will need to make a strong commitment that its regulatory standards will remain as high as the EU's. That commitment, in practice, will mean that UK and EU regulatory standards will remain substantially similar in the future.
Many of these regulatory standards are themselves underpinned by international standards set by non-EU bodies of which we will remain a member – such as the UN Economic Commission for Europe, which sets vehicle safety standards. Countries around the world, including Turkey, South Africa, South Korea, Japan and Russia, are party to the agreement.
As I said in my speech in Florence this could be achieved in different ways.
Our default is that UK law may not necessarily be identical to EU law, but it should achieve the same outcomes.
In some cases Parliament might choose to pass an identical law – businesses who export to the EU tell us that it is strongly in their interest to have a single set of regulatory standards that mean they can sell into the UK and EU markets.
If the Parliament of the day decided not to achieve the same outcomes as EU law, it would be in the knowledge that there may be consequences for our market access.
And there will need to be an independent mechanism to oversee these arrangements.
We will also want to explore with the EU, the terms on which the UK could remain part of EU agencies such as those that are critical for the chemicals, medicines and aerospace industries: the European Medicines Agency, the European Chemicals Agency, and the European Aviation Safety Agency.
We would, of course, accept that this would mean abiding by the rules of those agencies and making an appropriate financial contribution.
I want to explain what I believe the benefits of this approach could be, both for us and the EU.
First, this associate membership of these agencies is the only way to meet our objective of ensuring that these products only need to undergo one series of approvals, in one country.
Second, these agencies have a critical role in setting and enforcing relevant rules. And if we were able to negotiate associate membership we would be able to ensure that we could continue to
provide our technical expertise.
Third, associate membership could permit UK firms to resolve certain challenges related to the agencies through UK courts rather than the ECJ.
For example, in the case of Switzerland, associate membership of the European Aviation Safety Agency means that airworthiness certifications are granted by its own aviation authority, and disputes are resolved through its courts. Without its membership, Swiss airlines would need to gain their certifications through another member state or through the Agency, and any dispute would need to be resolved through the ECJ.
Fourth it would bring other benefits too. For example, membership of the European Medicines Agency would mean investment in new innovative medicines continuing in the UK, and it would mean these medicines getting to patients faster as firms prioritise larger markets when they start the lengthy process of seeking authorisations. But it would also be good for the EU because the UK regulator assesses more new medicines than any other member state. And the EU would continue to access the expertise of the UK's world-leading universities.
And, of course, Parliament would remain ultimately sovereign. It could decide not to accept these rules, but with consequences for our membership of the relevant agency and linked market access rights.
Lastly to achieve as frictionless a border as possible and to avoid a hard border between Northern Ireland and Ireland, we also need an agreement on customs.
The UK has been clear it is leaving the Customs Union.
The EU has also formed a customs union with some other countries.
But those arrangements, if applied to the UK, would mean the EU setting the UK's external tariffs, being able to let other countries sell more into the UK without making it any easier for us to sell more to them, or the UK signing up to the Common Commercial Policy. That would not be compatible with a meaningful independent trade policy. It would mean we had less control than we do now over our trade in the world. Neither Leave nor Remain voters would want that.
So we have thought seriously about how our commitment to a frictionless border can best be delivered. And last year, we set out two potential options for our customs arrangement.
Option one is a customs partnership between the UK and the EU. At the border, the UK would mirror the EU's requirements for imports from the rest of the world, applying the same tariffs and the same rules of origin as the EU for those goods arriving in the UK and intended for the EU. By following this approach, we would know that all goods entering the EU via the UK pay the right EU duties, removing the need for customs processes at the UK-EU border.
But, importantly, we would put in place a mechanism so that the UK would also be able to apply its own tariffs and trade policy for goods intended for the UK market. As we have set out previously, this would require the means to ensure that both sides can trust the system and a robust enforcement mechanism.
Option two would be a highly streamlined customs arrangement, where we would jointly agree to implement a range of measures to minimise frictions to trade, together with specific provisions for Northern Ireland.
First, measures to ensure the requirements for moving goods across borders are as simple as possible.
This means we should continue to waive the requirement for entry and exit declarations for goods moving between the UK and the EU.
And we should allow goods moving between the UK and the rest of the world to travel through the EU without paying EU duties and vice versa.
Second, measures to reduce the risk of delays at ports and airports. For example, recognising each other's "trusted traders" schemes and drawing on the most advanced IT solutions so that vehicles do not need to stop at the border.
Third, we should continue our cooperation to mitigate customs duty and security risks.
And fourth, measures to reduce the cost and burden of complying with customs administrative requirements, including by maximising the use of automation.
And recognising the unique circumstances in Northern Ireland, and our shared commitments to avoiding a hard border, we should consider further specific measures.
80% of North-South trade is carried out by micro, small and medium sized businesses.
So for smaller traders – who as members of the community are most affected but whose economic role is not systemically significant for the EU market – we would allow them to continue to operate as they do currently, with no new restrictions.
And for larger traders we would introduce streamlined processes, including a trusted trader scheme that would be consistent with our commitments.
Both of these options for our future customs arrangement would leave the UK free to determine its own tariffs with third countries – which would simply not be possible in a customs union.
I recognise that some of these ideas depend on technology, robust systems to ensure trust and confidence, as well as goodwill – but they are serious and merit consideration by all sides.
So to conclude on goods, a fundamental principle in our negotiating strategy is that trade at the UK-EU border should be as frictionless as possible with no hard border between Northern Ireland and Ireland.
We believe this can be achieved via a commitment to ensure that the relevant UK regulatory standards remain at least as high as the EU's and a customs arrangement.
We recognise this would constrain our ability to lower regulatory standards for industrial goods. But in practice we are unlikely to want to reduce our standards: not least because the British public would rightly punish any government that did so at the ballot box.
AGRIFOOD AND FISHERIES
This approach to trade in goods is important for agriculture, food and drinks – but here other considerations also apply.
We are leaving the Common Agricultural Policy and will want to take the opportunity that brings to reform our agriculture and fisheries management.
The UK has among the highest environmental and animal welfare standards of any nation on earth. As we leave the EU we will uphold environmental standards and go further to protect our shared natural heritage. And I fully expect that our standards will remain at least as high as the EU's.
But it will be particularly important to secure flexibility here to ensure we can make the most of the opportunities presented by our withdrawal from the EU for our farmers and exporters.
We are also leaving the Common Fisheries Policy.
The UK will regain control over our domestic fisheries management rules and access to our waters.
But as part of our economic partnership we will want to continue to work together to manage shared stocks in a sustainable way and to agree reciprocal access to waters and a fairer allocation of fishing opportunities for the UK fishing industry.
And we will also want to ensure open markets for each other's products.
SERVICES
Just as our partnership in goods needs to be deeper than any other Free Trade Agreement, so in services we have the opportunity to break new ground with a broader agreement than ever before.
We recognise that certain aspects of trade in services are intrinsically linked to the single market and therefore our market access in these areas will need to be different.
But we should only allow new barriers to be introduced where absolutely necessary.
We don't want to discriminate against EU service providers in the UK. And we wouldn't want the EU to discriminate against UK service providers.
So we want to limit the number of barriers that could prevent UK firms from setting up in the EU and vice versa, and agree an appropriate labour mobility framework that enables UK businesses and self-employed professionals to travel to the EU to provide services to clients in person and that allows UK businesses to provide services to the EU over the phone or the internet. And we want to do the same for EU firms providing services to the UK.
And given that UK qualifications are already recognised across the EU and vice versa – it would make sense to continue to recognise each other's qualifications in the future.
There are two areas which have never been covered in a Free Trade Agreement in any meaningful way before – broadcasting and, despite the EU's own best efforts in the Transatlantic Trade and Investment Partnership, financial services.
But we have some ideas for how we can do this – and it is in all our interests to explore these.
On broadcasting, we recognise that we cannot have exactly the same arrangements with the EU as we do now. Currently, because of the "country of origin" principle, a company based in the UK can be licenced by Ofcom and broadcast into any EU member state and vice versa.
The relevant directive will not apply to the UK, as we leave the EU, and relying solely on precedents will hurt consumers and businesses on both sides.
The UK's creative hub leads to the development of products that European consumers want – the UK currently provides around 30% of the channels available in the EU. But equally, many UK companies have pan-European ownership, and there are 35 channels and on-demand services, which are offered in the UK but licensed in the EU.
So we should explore creative options with an open mind, including mutual recognition which would allow for continued transfrontier broadcasting – recognising the enriching role that British broadcasters and programme makers play, not only in British – but more broadly in our common European – culture.
Similarly, on financial services, the Chancellor will be setting out next week how financial services can and should be part of a deep and comprehensive partnership. We are not looking for passporting because we understand this is intrinsic to the single market of which we would no longer be a member. It would also require us to be subject to a single rule book, over which we would have no say.
The UK has responsibility for the financial stability of the world's most significant financial centre, and our taxpayers bear the risk, so it would be unrealistic for us to implement new EU legislation automatically and in its entirety.
But with UK located banks underwriting around half of the debt and equity issued by EU companies and providing more than £1.1 trillion of cross-border lending to the rest of the EU in 2015 alone, this is a clear example of where only looking at precedent would hurt both the UK and EU economies.
As in other areas of the future economic partnership, our goal should be to establish the ability to access each others' markets, based on the UK and EU maintaining the same regulatory outcomes over time, with a mechanism for determining proportionate consequences where they are not maintained. But given the highly regulated nature of financial services, and our shared desire to manage financial stability risks, we would need a collaborative, objective framework that is reciprocal, mutually agreed, and permanent and therefore reliable for businesses.
There are many other areas where the UK and EU economies are closely linked – including energy, transport, digital, law, science and innovation, and education and culture.
On energy, we will want to secure broad energy co-operation with the EU. This includes protecting the single electricity market across Ireland and Northern Ireland – and exploring options for the
UK's continued participation in the EU's internal energy market. We also believe it is of benefit to both sides for the UK to have a close association with Euratom.
On transport, we will want to ensure the continuity of air, maritime and rail services; and we will want to protect the rights of road hauliers to access the EU market and vice versa.
On digital, the UK will not be part of the EU's Digital Single Market, which will continue to develop after our withdrawal from the EU. This is a fast evolving, innovative sector, in which the UK is a world leader. So it will be particularly important to have domestic flexibility, to ensure the regulatory environment can always respond nimbly and ambitiously to new developments.
We will want our agreement to cover civil judicial cooperation, where the EU has already shown that it can reach agreement with non-member states, such as through the Lugano Convention, although we would want a broader agreement that reflects our unique starting point. And our agreement will also need to cover company law and intellectual property, to provide further legal certainty and coherence.
The UK is also committed to establishing a far-reaching science and innovation pact with the EU, facilitating the exchange of ideas and researchers. This would enable the UK to participate in key programmes alongside our EU partners.
And we want to take a similar approach to educational and cultural programmes, to promote our shared values and enhance our intellectual strength in the world – again making an ongoing contribution to cover our fair share of the costs involved.
In all these areas, bold and creative thinking can deliver new agreements that are in the very best interests of all our people – both in the UK and across the EU.
And in the face of a worrying rise in protectionism, I believe such agreements can enable us to set an example to the world.
POST BREXIT BRITAIN
For the world is watching.
We should not think of our leaving the EU as marking an ending, as much as a new beginning for the United Kingdom and our relationship with our European allies.
Change is not to be feared, so long as we face it with a clear-sighted determination to act for the common good.
Nor is Brexit an end in itself.
Rather, it must be the means by which we reaffirm Britain's place in the world and renew the ties that bind us here at home. And I know that the United Kingdom I treasure can emerge from this process a stronger, more cohesive nation.
A United Kingdom which is a cradle for innovation; a leader in the industries of the future; a champion of free trade, based on high standards; a modern, outward-looking, tolerant country, proud of our values and confident of our place in the world.
This is an optimistic and confident future which can unite us all.
A Global Britain which thrives in the world by forging a bold and comprehensive economic partnership with our neighbours in the EU; and reaches out beyond our continent, to trade with nations cross the globe.
The approach I have set out today would: implement the referendum result, provide an enduring solution, protect our security and prosperity, helps us build the kind of country we want to be, and bring our country together by commanding the confidence of those who voted Leave and those who voted Remain. It is an approach to deliver for the whole of our United Kingdom and our wider family of overseas territories.
I am in no doubt that whatever agreement we reach with the EU, our future is bright. The stability and continuity of centuries of self-government, our commitment to freedom under the rule of law, our belief in enterprise and innovation, but above all, the talent and genius of our people – and especially our young people – are the seeds of our success in the future, as they have been the guarantors of our success in the past.
I look forward to discussing our future partnership with our European friends. Because although we are leaving the EU – and in that regard we will become separate – we are all still European and will stay linked by the many ties and values we have in common. And because it is only by working together that we will find solutions that work for all our peoples.
Yes, there will be ups and downs over the months ahead. As in any negotiation, no-one will get everything they want. We will not be buffeted by the demands to talk tough or threaten a walk out.
Just as we will not accept the counsels of despair that this simply cannot be done. We will move forward by calm, patient discussion of each other's positions. It is my responsibility as Prime Minister to provide that leadership for our country at this crucial time. By following the course I have set out today, I am confident we will get there and deliver the right outcome for Britain and the EU.
A generation from now what will be remembered is not the rough and tumble of negotiation but whether we reached an enduring solution cast in the interests of the people we are all here to serve.
So my message to our friends in Europe is clear.
We know what we want.
We understand your principles.
We have a shared interest in getting this right.
Let's get on with it.
---