Jul 11 2007 9:15AM GMT

Profile: Ivy Wigmore
Hard to believe, but the White Stripes are playing my sleepy little home town, Charlottetown, PEI. It would be hard to believe, that is, if I didn't know about their Canadian tour, ocean to permafrost.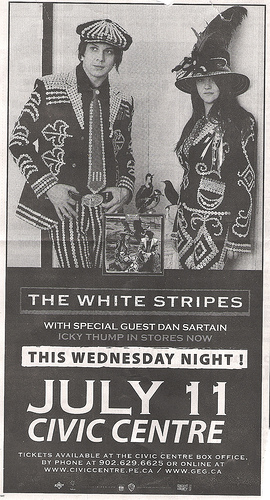 And from ocean to ocean, and all the way to the permafrost, the Stripes are setting new standards of cool on this tour, especially with their secret shows. Unscheduled pre-concert gigs are a tradition for many big acts. However, as you might expect, the Stripes are doing it a little differently. On the flash mob model, Jack & Meg have been getting the word out to fans — via texting, forum posts and WOM buzz — about free appearances where no band has gone before:
They played an inner city youth centre in Edmonton
They played a transit bus in Winnipeg
The Stripes also played a little backup for a local busker in Winnipeg. (See video.)
They played a bowling alley in Saskatoon
They played for 40 seriously ill kids at the Bronson Center in Ottawa.
Occasionally, I become a little disenchanted with technology, and daydream about going incommunicado on some remote desert island. But tech is constantly expanding our ability to connect, and making events like that secret show possible. And — really — how cool is that?
~ Ivy Wigmore