Apr 15 2016 1:01PM GMT

Profile: Ivy Wigmore
Tags:
CES 2016: LG Display shows off displays that you can roll up, see through, and use in your car
When I saw that article on Tech Republic, my heart skipped a beat. Could the rollable display finally deliver my electronic newspaper?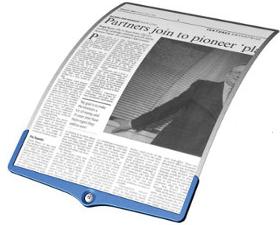 I have been waiting a long time. In 2009 I wrote about having been waiting a long time. As the years passed, my thinking evolved. Back in the day, I envisioned a dedicated device but now I'm thinking converged is the way to go.
Rollable or foldable would be nifty but not necessary. Flexibility isn't going to make or break the deal. Actually, it probably needs to be at least somewhat rigid since it will be a touchscreen. It doesn't have to curve — flat is fine.
Gyricon seemed to have a lot of potential for e-paper but… where is it? We wrote the definition more than a decade ago and, although it was demonstrated it has never hit the market.
Essentially, what I'm looking for is a large tablet with a couple of essential characteristics:
It has to be big enough to replicate the newspaper format.
It has to be light enough that I can spend an hour or so with it without having to prop it on anything.
OLED displays might just have what it takes. Sadly, though, they may not be available anytime soon.