---
August 28, 2009 6:26 PM
File this under "Lessons learned through pain": When I first started playing online Scrabble, I frequently tried to look a word up in the dictionary and didn't realize until too late that I'd been in the chat function instead. Leaving my friends to ponder what I meant by "kraqi," for example. And then I'd have to cleverly cover my tracks by following up with "is not a word, apparently." Slick.
So now I'm terrified of doing something similar on Twitter and looking like an idiot not just to my nearest and dearest but to the hordes of people that might, potentially, see my message.
The only way to send a private message on Twitter, as it turns out, is to DM — direct message. Not reply or retweet, both of which will make your message public.
So, um, that said — I probably wasn't talking to you, per se, when I asked you to pick up a bottle of wine on the way home. Then again, could it hurt?
August 4, 2009 6:32 PM

Beth Pariseau reported on HP's plans to upgrade its storage line:
Hewlett-Packard has pledged to upgrade its entire storage line to 6 Gbps small form factor (2.5-inch) Serial-Attached SCSI drives, and many expect the whole data storage industry to follow by offering 6-gig SAS as an alternative to Fibre Channel (FC) in enterprise data storage systems.
---
July 17, 2009 2:39 PM
At theONbutton, Neil Berman is less than thrilled by the low processing power of nettops:
Whilst we are eternally grateful to Asus for the original EEE PC and the Netbook offspring it spawned, why do OEMs continue to think it's OK to package an Intel Atom with GMA950 graphics in a home PC?
Apart from the potential electricity savings why would a sane person ever say, "I'd sure like to have an underpowered home PC which will struggle to play YouTube vids". And given how much longer this PC would have to be powered-on to complete tasks which an Intel CULV chip could complete in a fraction of the time, are there really power savings there at all?
---
July 16, 2009 12:33 PM
Our Word of the Day today is DNS redirection, a hot topic since Comcast announced they'd be testing the practice under the name "Domain Name Helper Service," in Arizona, Colorado, New Mexico, Oregon, Texas, Utah, and Washington.
Here's Karl Bode's analysis:
While ISPs enjoy painting the services as ultra-helpful consumer-centered affairs, their primary purpose is to deliver a new revenue stream to ISPs driven by your crappy typing skills.
---
June 8, 2009 7:33 PM
I've been looking at getting a definition of  e-reader online for a while now. We had definitions for e-book, e-paper,  and electronic newspaper. But we didn't have one for e-reader. That one seemed to be a little slippery… For example, is an e-reader a dedicated device or the associated software? (Because, after all, you can download software to read books on your iPhone.) Anyway, every time I started trying to pin it down, that slippery one slithered to the bottom of the pile.
But there's so much going on around e-readers, e-books and newspapers these days, the pressure got to be too much and I finally came out with a definition. On Friday, we featured e-reader  as the Word of the Day. Right down to the end of the afternoon, though, the discussion continued as to what, exactly, we were trying to define. And what should we call it? Some people are calling them e-book readers but, you know, you can read lots of stuff other than books on them. Newspapers, for example. E-reader displays are getting bigger, I think at least partially to be more suitable for newspaper display. But they still don't look like this: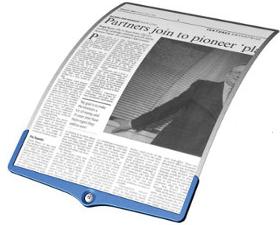 What about the standalone electronic newspaper? Will that ever come to fruition? I started looking at our definition last week and wondered if I should edit it into past tense. I'm finding it hard to let that dream go. I might eventually give in and embrace the idea of reading my newspapers on a rigid, smaller-than-newsprint display — but not if I have a choice. I really want the Gyricon version. Can't someone make it?
It must be about 10 years ago that site director Margaret Rouse and I were first discussing e-readers. Or e-books, which we called them at the time, because that was their sole use. (Although, of course, even then there was that issue of whether the e-book was the device. Or the content. Or the application.) I remember we were pretty excited about the idea of a backlit book that we could read in the dark. Probably goes back to our childhoods, reading books under the covers with flashlights long after "lights out."
Lounging with newspapers and tea is a sacred weekend morning ritual around my house and I'm attached to the whole experience. Arranging the sections in the required sequence, folding the pages to read the articles, gauging the read to come by the size of the "whump" it makes as the whole thing lands on the breakfast or coffee table.  A lot of the experience seems to be created by the format. (I don't imagine, for example, that dropping my e-reader on the table will make a satisfying whump.)
Nevertheless, back those years ago, when I read about a foldable, rollable, single-sheet electronic newspaper more-or-less the size of a current newspaper page, I was intrigued. Add the capacity for wireless connectivity, full-color, and multimedia and I can hardly wait. So why do I have to?
I believe we have the technology. For crying out loud, they've finally made my flying car… surely someone can make me an electronic newspaper?
~ Ivy Wigmore
---
April 20, 2009 3:05 PM


"It turns out customers don't actually want utilities to turn off their appliances."
~ Mark Farber, Photon Consultants
Well, there's a shock. In her post on Earth2Tech.com, Josie Garthwaite writes about the challenge of convincing consumers that smart grid technologies are actually in their best interests. Here's an excerpt:
Making the smart grid's most basic elements — two-way communication between utilities and energy users, advanced control systems and smart devices — appealing to consumers could be key to its success. So how can smart grid backers make the investment look more like a boon, and less like a boondoggle for those on the other side of the meter?

For many utilities, adding information technology and two-way controls to electronic devices and appliances represents a potential gold mine of efficiency and a workaround for building expensive new power plants. As Farber put it, "A button is as close to a dispatchable power plant that you can imagine."

For consumers, however, the benefits of the smart grid have proven to be less obvious, despite promises that it will offer more insight and control over their energy use (and spending). "It turns out customers don't actually want utilities to turn off their appliances," said Farber, referring to the two-way control technology that would allow a utility to cut power use when demand strains supply.
If that translates to my espresso machine sputtering to a halt when I need it most… I'm not sure I could be convinced.
---
April 19, 2009 8:47 PM
Here it is, Sunday afternoon. I thought I'd just pop into my office (Yes, that's one of the perils of working from home.) and finish up a definition for IP surveillance, maybe update the blog. But first, I checked the editors' mailbox. And there was a note from a reader suggesting his Web series for inclusion in our Fast Guide to IT Humor. The series was pretty funny, I thought, so I went into our content management app to edit it into the guide. And there went my afternoon. "While I'm in here," I thought, back all those hours ago, "I'll check the links for rot." Oh my. There are a lot of links. I'm happy to say that most of the URLs still worked but even whatever fraction of the links it was that were bad took a while to fix/remove.
Okay. In the interests of full disclosure, I have to admit that I did a little revisiting. I mean, how is one to resist trying to find out what Jessica Simpson has to say about "Open source routers?" (They're HOT, apparently.)  And there's much more. Much, much more.
Have you got any favorite IT humor sites? Let me know. Maybe next Sunday, I'll update again…
---
April 19, 2009 5:29 PM
[kml_flashembed movie="http://www.youtube.com/v/NVOFmu2ZIqI" width="425" height="350" wmode="transparent" /]
---
April 19, 2009 5:09 PM
[kml_flashembed movie="http://www.youtube.com/v/1LLTsSnGWMI" width="425" height="350" wmode="transparent" /]
---
March 24, 2009 1:16 PM
Eric Stahl from Salesforce.com sent us this video explaining cloud computing in straightforward terms.
[kml_flashembed movie="http://www.youtube.com/v/ae_DKNwK_ms" width="425" height="350" wmode="transparent" /]
See also:
In her Overheard in the Blogosphere cloud archives, Margaret Rouse includes a cloud computing glossary of cloud computing terms.
---