---
March 13, 2008 10:08 AM
This Google Tech Talk addresses each of the new features in the upcoming standard for C++. You can read more about them in depth at the Wikipedia entry for the new standard, C++0x.
[kml_flashembed movie="http://www.youtube.com/v/ZAG5txfYnW4" width="425" height="350" wmode="transparent" /]
March 12, 2008 10:53 AM
This canine version of access control combines radio transmitters with a high pitched warning signal to keep each dog away from the other's bowl. The scenario is similar to many that role-based access control (RBAC) solves in an enterprise.
Unfortunately, programmers would still have to eat their own dogfood.
[kml_flashembed movie="http://www.youtube.com/v/sSJrjugfmHA" width="425" height="350" wmode="transparent" /]
I wonder if this would help keep my roommate out of my beer.
---
March 11, 2008 9:35 AM
In this Google TechTalk, Ted Nelson discusses implementing the original hypertext concept and how transclusion should be used now to fulfill its original potential.
While Nelson is credited with coining the term "hypertext, Vannevar Bush is responsible for inventing the concept, which he described as "instant cross referencing."
[kml_flashembed movie="http://www.youtube.com/v/Q9kAW8qeays" width="425" height="350" wmode="transparent" /]
As usual, we tread in the path of giants.
---
March 10, 2008 9:13 AM
Fox News aired a report in 2006 that described how the FBI can turn on the mic on a cellphone and eavesdrop — even if the phone is turned off.
[kml_flashembed movie="http://www.youtube.com/v/O61YfvPZGJs" width="425" height="350" wmode="transparent" /]
Today's Word of the Day, government Trojan, describes efforts by various governments to covertly survail traffic of all kinds to and from suspect hard drives, including VoIP, cellphones and email.
These kinds of measures are only likely to increase as groups of all stripes turn to the Web to organize and communicate about activity the government wants to monitor. I find the "analog hacks" used here intriguing. VoIP or cellphone conversations and email messages may be encrypted during transmission but if an agency can record a target on the microphone or by using a keylogger, even quantum encryptography could be sidestepped.
---
March 7, 2008 10:16 AM
One of our newest definitions explains OpenID:
"OpenID is a decentralized single sign-on authentication system for the Internet. The goal of the OpenID initiative is to allow users to log in at websites around the Internet with one ID instead of having to create multiple unique accounts. OpenID was developed using the open source software model to be an interoperable protocol independent from any single organization. (Continued…)"
Activating and using an OpenID is quite easy — I was able to sign up for TravelWiki, for instance, using one from Yahoo!. Activation and setup took about a minute. I've embedded three videos below that explain more about how OpenID works and how to use it. Enjoy!
The video below explains more about how to use an OpenID to login, in this case to votay.com:
[kml_flashembed movie="http://www.youtube.com/v/wN2DG95V8Gk" width="425" height="350" wmode="transparent" /]
Here's another one that explains how to use OpenID with WordPress:
[kml_flashembed movie="http://www.youtube.com/v/Uu_MAUOdZVo" width="425" height="350" wmode="transparent" /]
Dave provides a short, clear explanation of OpenID using a whiteboard here:
[kml_flashembed movie="http://www.youtube.com/v/xcmY8Pk-qEk" width="425" height="350" wmode="transparent" /]
And finally, in a Google TechTalk, Simon Willison  (co-creator of the Django Web framework) discusses the implications of OpenID and explores the best practices required to take advantage of the new technology while avoiding the potential security pitfalls. This one's a bit long but excellent. 
[kml_flashembed movie="http://www.youtube.com/v/DslTkwON1Bk" width="425" height="350" wmode="transparent" /]
---
March 6, 2008 2:35 PM
CommonCraft.com is already well known in the blogosphere and social media world for creating brilliant, lucid short videos that explain tricky concepts.
The two-person team that make up CommonCraft (Sachi and Lee LeFever) put it simply: they solve explanation problems.
I love that tagline. It's rather similar sort of thing we try to do here at WhatIs.com. To that point, I've embedded three of CommonCraft's previously released videos on our site, each of which explore and explain a different social media technology:
The newest addition to the mix is a video explaining what Twitter is and how it works.
As you may know, Twitter is a popular microblogging service that launched almost exactly one year ago at the SXSW Music Festival in Austin, Texas. While we've blogged about it right afterwards. Due in no small part to the high percentage of geeks and "digerati" at the festival who had the opportunity to try it out and start networking with each other, Twitter really took off. Twitter is now a leader in the "social messaging" category that includes Pownce and Jaiku, spanning the gap between our online and offline worlds. Each allows users to update a microblogging service using SMS messages, a Web interface or a desktop application. (Twitter relies on third party apps for the last based upon its APIs. Try Snitter if you have Adobe Air installed.)
CommonCraft's video sheds worthwhile additional insight. Watch it below:
[kml_flashembed movie="http://www.youtube.com/v/ddO9idmax0o" width="425" height="350" wmode="transparent" /]
There's plenty of interesting activity going on out there, too. Just check out this mashup of Twitter, Google Maps and live election results for intriguing insights into the 2008 presidential primary season.
And if you'd like to find/follow me on Twitter, head over to http://twitter.com/digiphile.
---
March 5, 2008 9:27 AM
Joe Tucci (Chairman of the Board at EMC) tells Bob and Joe to get rid of some tapes.
[kml_flashembed movie="http://www.youtube.com/v/n-kCkz5IJxg" width="425" height="350" wmode="transparent" /]
Who knew storage guys were so much fun?
---
March 3, 2008 4:37 PM
Simply put, it's doing in your homework. Just look at this sample M&A due diligence checklist.
In IT and the law, of course, the term "due diligence" has considerably more precise meanings. WhatIs.com's definition for due diligence states it as:
…the process of systematically researching and verifying the accuracy of a statement. In everyday language, due diligence is synonymous with "the degree of effort required by law or industry standard."

The term originated in the business world, where due diligence is required to validate financial statements. The goal of the process is to ensure that all stakeholders associated with a financial endeavor have the information they need to assess risk accurately.

When due diligence involves the offering of securities for purchase, as in an IPO (initial public offering), specific corporate officers are responsible for the proper completion of the process…
As is the case with so many other things in life, context matters. In general, due diligence includes the careful identification and evaluation of data sources, identification of potential risks and any other issues relevant to the statement or scenario in question.
Civil litigation and real estate law are even more specific, as you'll read in our definition.
IT, as ever, is its own beast.
[Cartoon Credit: ScienceCartoonsPlus.com]
In the context of information technology, due diligence could mean determining whether a new operating system would be incompatible with important existing legacy applications, if a new developer understands the difference between Javascript and Java or whether new servers will fit on existing racks in a data center.
Due diligence can also be applied to careful testing of data or network security, disaster recovery preparedness, or any other critical infrastructure asset.
Failure to meet proper due diligence in these areas could leave the organization or client in question open to data breaches or malware infections.
In this sense, completing due diligence can be taken to be completing the steps that are "industry standard" in a particular area, like penetration testing or other code validation. Software companies that do not meet these goals may be liable for zero-day attacks, customer data breaches or other losses of mission-critical functions that could have been prevented with more stringent preparation.
It's might be fair to say, for instance, that if TJX had had a better IT audit that mandated a switch to WAP instead of WEP security, one of the biggest data breaches in history might have prevented.
Or maybe not. Either way, the relevant IT guys probably should have done better due diligence before transmitting customer information over a wireless network protected only by weak encryption.
Any DB that doesn't do due diligence testing to ensure that a database is recoverable from a major hardware of instance failure is similarly negligent.
There are plenty of examples out there. AstuteDiligence.com hosts a list of more general due diligence horror stories, with specific company and individual names redacted. There are some classic scenarios listed — the acquisition of a software company based upon a flashy demo, good PR and a well-designed website that turns out to be a maker of vaporware.
CFO Magazine ran a feature story back in '04 about companies that installed safeguards against merger surprises after due diligence failures.
In many circumstances, of course, due diligence works quite well, as Jan Stafford reported in a story about how a bank's senior systems architect, sought and found a virtualization technology to help facilitate hardware consolidation and operating expenses low during system upgrades.
As Joseph Bankoff, a partner in the intellectual property and technology practice at law firm King & Spalding in Atlanta put it in a 2006 Infoworld article on the topic, "Due diligence is going in and digging a hole in the ground and seeing if there's oil, instead of taking someone's word on it."
After all, you wouldn't like it if someone else drank your milkshake.
---
February 14, 2008 10:56 AM
Many people derisively refer to Valentine's Day as a "Hallmark" holiday, invented and popularized by commercialized interests in the greeting card, floral and chocolate industries.
Not so!
Valentine's Day was named after two Christian martyrs named (wait for it) "Valentine." According to Wikipedia, Valentine's Day became associated with romantic love in the circle of Geoffrey Chaucer in the Middle Ages. Lovers have been expressing their love for one another on that day ever since.
Geeks can have special challenges, of course. Bonding with your laptop or server cluster can be a little lonely. Your iTouch is sexy… just not in that way. What to do? If you're feeling lonely, stressed out over expressing your love or have an unrequited geeky crush, fear not! The interwebs are your friend! [Tetris Heart from Mitch at 4colorrebellion.com]
If the target of your affections has a sense of humor, fill out this "Declaration of Romantic Intent."
If you have a crush on a fellow photographer, follow this helpful howto from Wired and turn your flickr crush into real romance.
The Road to Know Where has a ton of templates you can use to put together an electronic Valentine Day card, including a Silverlight "Share the Love" ecard builder.
Your Mom's Basement gets pretty specific about how to meet a girl and navigate the pitfalls of romance. If you're spending time in your mom's basement, can we assume you need the advice?
If you're trying to decide what to get a geek for Valentine's Day, there's a Slashdot thread to help you with a last-minute purchase, along with a gazillion other shopping guides.
Finally, if you just need a laugh, Josh Frolinger put together a hilarious list of geek Valentine's Day videos. My favorites?
Computer Camp Love:
[kml_flashembed movie="http://www.youtube.com/v/0svZJtyDDOc" width="425" height="350" wmode="transparent" /]
Internet Love Song:
[kml_flashembed movie="http://www.youtube.com/v/4gSJpeZslqo" width="425" height="350" wmode="transparent" /]

Finite Simple Group (of Order Two)
[kml_flashembed movie="http://www.youtube.com/v/BipvGD-LCjU" width="425" height="350" wmode="transparent" /]
(This last betrays my own geeky love for collegiate acappella, bringing me back to the glory days of singing under the arches and then networking some PCs together to play Marathon. Nothing says loving like a good fragging. )
---
February 14, 2008 10:03 AM

Profile: Ivy Wigmore
Hey Sweetie! I got you a little something for Valentine's Day: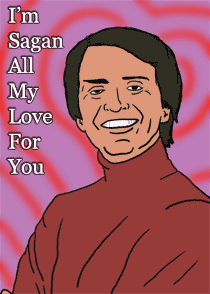 Yes, February 14th has rolled around again and if you've got (or want) a sweetie, you'd be well advised to show you care. And I found the perfect thing: Ironicsans.com has a lovely selection of valentines featuring our real heart-throbs: Scientists! In addition to the dreamy Carl Sagan *sigh!* there's Darwin: "I select you, naturally!" Lots more on the blog as well as some excellent reader suggestions in the comments (e.g. Charles Richter: "I'm all shook up over you!")
Ironic Sans began life as an idea for a font name. Until that dream is realized, photographer David Friedman is using it as the name for his blog.
Oooooh… New ones include Pavlov and Stephen Hawking. Decisions, decisions…
~ Ivy Wigmore
---