Feb 14 2008 10:03AM GMT

Profile: Ivy Wigmore
Hey Sweetie! I got you a little something for Valentine's Day: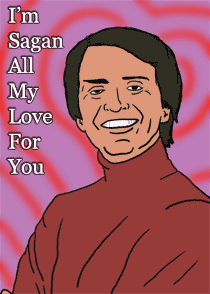 Yes, February 14th has rolled around again and if you've got (or want) a sweetie, you'd be well advised to show you care. And I found the perfect thing: Ironicsans.com has a lovely selection of valentines featuring our real heart-throbs: Scientists! In addition to the dreamy Carl Sagan *sigh!* there's Darwin: "I select you, naturally!" Lots more on the blog as well as some excellent reader suggestions in the comments (e.g. Charles Richter: "I'm all shook up over you!")
Ironic Sans began life as an idea for a font name. Until that dream is realized, photographer David Friedman is using it as the name for his blog.
Oooooh… New ones include Pavlov and Stephen Hawking. Decisions, decisions…
~ Ivy Wigmore