Aug 7 2007 3:31PM GMT

Profile: GuyPardon
Sometimes, Internet memes are just too powerful to ignore. Especially for a blog that delves into online humor at times. Witness the rise of the LOLcats.
For me, the tipping point may have been when a fellow editor emailed the WhatIs team a Schrodinger's LOLcat.
For those unschooled in quantum theory, Schrodinger's Cat is a famous illustration of the principle of superposition, proposed by Erwin Schrödinger in 1935. Our definition of the concept also happens to be one of the most popular pages on WhatIs.com, as you'll often see on our recently added/updated page.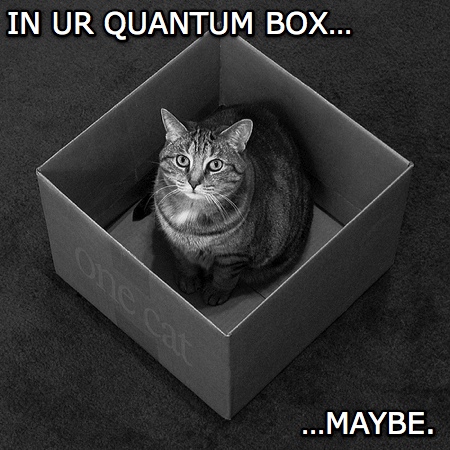 As pictured on the right, it's just darn funny.
GeekFriendly.org tells the story of how the Schrodinger's LOLcat was created, if you're intrigued. Credit goes there for the image, naturally.
It's just one of the latest creations (albeit one more thought-provoking than some) to emerge from the minds of punchy technologists and quirky geeks.
So what is an LOLcat?
Put simply, an it's an image of a cat with text on top of it.
As usual, there's considerably more history to the etymology of the word.
Adam Koford, in fact, believes that the idea is much older, going alllll the way back to the early past of last century, where a cartoonist (his great-grandfather, Aloysius "Gorilla" Koford) he produced a comic strip entitled "the Laugh-Out-Loud Cats."
Whether you believe the modern phenomenon is based upon that or not, LOLcats are in many ways a throwback to the early days of the Internet, where Usenet posters would use image macros to insert an appropriate image behind text captions to make a more emphatic point.
And, in fact, that concept fully fleshes out an more accurate definition for LOLcat, an image macro where humorous, idiosyncratic or insightful text is pasted as a caption onto an image of a cat that's engaged in some sort of funny activity.
Call them "cat macros" for short.
For once, we might be "chasing the tail" of deadtree media, as TIME Magazine wrote about the LOLcat phenomenon recently, bringing this element of Internet culture out of the blogosphere and into mass culture.
While the fervor over LOLcats has subsided a bit over the past few months as netizens hit the beaches, these furry funnies are still popping up everywhere, not just encyclopedia entries over at Wikipedia, UrbanDictionary, Encyclopedia Dramatica or Answers.com.
And, lest you think this is just about "kittybloggers," BoingBoing has been blogging up a storm about LOLcats.
Witness this tremendous post that dives deep into the etymology of the LOLcat (alluded to above.)
Or this one, where Xeni alternately praises, with tongue firmly in cheek, a "pedantic overanalyzation" of LOLcat history.
Personally, I rather admired how the author, David McRaney, offered such a thorough discussion of leetspeak and Internet slang.
BoingBoing and David aren't the only commentators on the phenomenon, of course. Anil Dash, of SixApart fame, made a thoughtful post about LOLcat grammar and Internet pidgin languages.
Mahalo also has a great LOLcat roundup.
If you just want your LOLcat fix, however, Xeni also linked to two huge archives of LOLcat pictures, here and here. You can find more at LOLcat.com, LOLcats.com and ICanHasCheeseburger.com.
If that still isn't enough, you can sort through images and pages tagged with lolcat at Flickr, StumbleUpon, del.icio.us and WordPress. (This relatively new phenomenon of being able to link to tag aggregations on social bookmarking sites as useful reference material is, by the way, one of my favorite outcomes of the Web 2.0 movement.)
If those reams of LOLcats still don't slake your thirst for cat macros, you can always make your own at either of two great LOLcat generators, LOLcatr.com or kscakes.com.
If you want to extend the LOL meme beyond cats, you can also roll your own LOL at laughingsquid.com.
Above is a personal favorite, to round out the post for those of you who love a good unexplained paper jam.
(Credit: ljg)