Jun 8 2009 7:33PM GMT

Profile: Ivy Wigmore
I've been looking at getting a definition of  e-reader online for a while now. We had definitions for e-book, e-paper,  and electronic newspaper. But we didn't have one for e-reader. That one seemed to be a little slippery… For example, is an e-reader a dedicated device or the associated software? (Because, after all, you can download software to read books on your iPhone.) Anyway, every time I started trying to pin it down, that slippery one slithered to the bottom of the pile.
But there's so much going on around e-readers, e-books and newspapers these days, the pressure got to be too much and I finally came out with a definition. On Friday, we featured e-reader  as the Word of the Day. Right down to the end of the afternoon, though, the discussion continued as to what, exactly, we were trying to define. And what should we call it? Some people are calling them e-book readers but, you know, you can read lots of stuff other than books on them. Newspapers, for example. E-reader displays are getting bigger, I think at least partially to be more suitable for newspaper display. But they still don't look like this: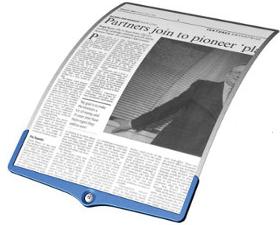 What about the standalone electronic newspaper? Will that ever come to fruition? I started looking at our definition last week and wondered if I should edit it into past tense. I'm finding it hard to let that dream go. I might eventually give in and embrace the idea of reading my newspapers on a rigid, smaller-than-newsprint display — but not if I have a choice. I really want the Gyricon version. Can't someone make it?
It must be about 10 years ago that site director Margaret Rouse and I were first discussing e-readers. Or e-books, which we called them at the time, because that was their sole use. (Although, of course, even then there was that issue of whether the e-book was the device. Or the content. Or the application.) I remember we were pretty excited about the idea of a backlit book that we could read in the dark. Probably goes back to our childhoods, reading books under the covers with flashlights long after "lights out."
Lounging with newspapers and tea is a sacred weekend morning ritual around my house and I'm attached to the whole experience. Arranging the sections in the required sequence, folding the pages to read the articles, gauging the read to come by the size of the "whump" it makes as the whole thing lands on the breakfast or coffee table.  A lot of the experience seems to be created by the format. (I don't imagine, for example, that dropping my e-reader on the table will make a satisfying whump.)
Nevertheless, back those years ago, when I read about a foldable, rollable, single-sheet electronic newspaper more-or-less the size of a current newspaper page, I was intrigued. Add the capacity for wireless connectivity, full-color, and multimedia and I can hardly wait. So why do I have to?
I believe we have the technology. For crying out loud, they've finally made my flying car… surely someone can make me an electronic newspaper?
~ Ivy Wigmore